Return to the Home Decorating & Design Forum
|
Post a Follow-Up
---
| | | |
| --- | --- | --- |
| Kitchen Window Treatment Help | | |
Posted by
twn85
(
My Page
) on
Fri, Mar 15, 13 at 10:51
Good morning GW! Here I am looking for more help on my still not yet finished kitchen/home.
I cringe at the awkward high window everytime I look at it and think some sort of window treatment mounted at the ceiling will help.

My original thought was to do a sort of relaxed roman shade or valance in a pretty patterned fabric to bring some much needed softness and color into the kitchen. Now that I finally have the light up, Do you think that a patterned/color fabric will compete with the stripe in the light?

Some have suggested a dark woven shade/bamboo-esque, but will that be too hard a contrast?

This project is never-ending, and I am long past decision fatigue. Any insite you might have would be a tremendous help!

(please ignore the crazy mess)
---
Follow-Up Postings:
| | | |
| --- | --- | --- |
| RE: Kitchen Window Treatment Help | | |
Are the stripes in the light globe a taupe or gray color? Have you chosen a paint color, or will there be tiles with any color installed? If yes to either question, can you post colors or pictures?
---
| | | |
| --- | --- | --- |
| RE: Kitchen Window Treatment Help | | |
It doesn,t look like that light fixture really works there. I think I would change that out and go with a nice soft fabric (since thats what you like hang from ceiling height and just hanging over the top of the window to balance the height of the window with the higher cabnets. I think I would frame out the bottom of that window as well.
---
| | | |
| --- | --- | --- |
| RE: Kitchen Window Treatment Help | | |
The stripes are a true gray. Backsplash is proving to be very hard to choose. I feel like the kitchen needs color, yet I can't seem to find any tile (not glass) that is enough but not TOO much color. So I find myself leaning towards white or gray subway tile, possibly in a herringbone pattern.

Below is a better picture of the kitchen.
---
| | | |
| --- | --- | --- |
| RE: Kitchen Window Treatment Help | | |
I think the gray tile would be really pretty and tie everything together really well while the herring bone pattern will add some nice texture too the room. What are you planning for the back splash behind the stove? As far as a valance if your planning on hanging it low and covering a foot or so of the window with it , your going to make a already short window appear even shorter and block light. How about going to the store and buying the first couple of valances that catch your eye and tacking them up so you can get a idea of the overal effect of the color and fabic without any real comitment? You can always stick them back in the package and return what you don,t like. Even if you don,t find a fabric or color you like right away that would tell you would at least know if thats the direction you want to go in. I love what you have done with keeping it nuetral. It will make it really easy to add pops of your fav. color here and there and change it out easily when the mood strike you.
---
| | | |
| --- | --- | --- |
| RE: Kitchen Window Treatment Help | | |
I don't think I'd introduce color at the window unless you have an overall plan for adding the color throughout the kitchen. For a basically white-with-dark-floor kitchen I think a soft color works. You might get an off white with some gray trim, or just a white. I wouldn't use a high definition color or pattern, because it doesn't seem like you want the window to set a new tone for the room, but just to sing along in the chorus.

For example, I don't really like this one; the print doesn't seem to relate to anything.
div>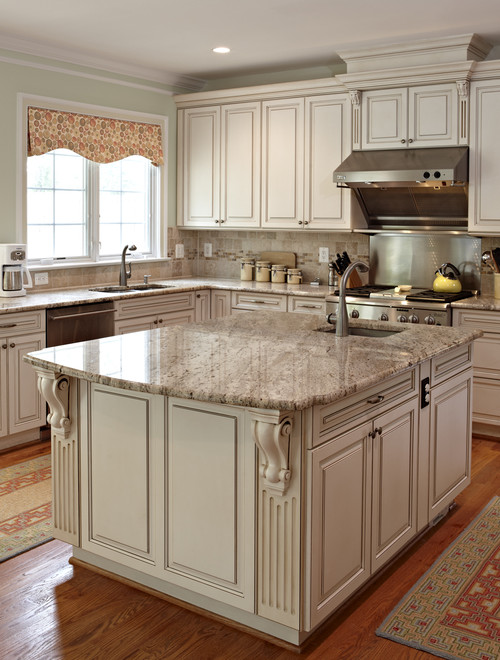 But these work for softening, without standing out.

And this looks good with an inside mount -- the fixture fills the space between the ceiling and the top of the window/shade. Yours would probably look good like this.
---
| | | |
| --- | --- | --- |
| RE: Kitchen Window Treatment Help | | |
Oh, beautiful kitchen - with that gorgeous floor I don't think you "need" any more color! The herringbone backsplash would add nice texture as mentioned.

Do you need a window treatment (does sun come in too bright)? i would do a simple roman shade or wood wide slat blind.
---
| | | |
| --- | --- | --- |
| RE: Kitchen Window Treatment Help | | |
My kitchen window is similar but deeper, and I love the swags on them. I used a tension rod and it just took minutes to hang.

Figure out your accent colors before you commit to fabric, if that's what you'll use.

For security, I have a roller shade hidden behind the swag so I can lower it at night.

Woven blinds harden a room, IMO.

I also have 2 red & white schoolhouse lights similar to your's (red stripes) and they add great color! Red and black accents would go well with your light.
---
| | | |
| --- | --- | --- |
| RE: Kitchen Window Treatment Help | | |
I really like that striped light fixture. I would look for another striped or geometric fabric that doesn't compete with but accentuates the light fixture.
---
| | | |
| --- | --- | --- |
| RE: Kitchen Window Treatment Help | | |
Thank you for the input so far!

Jamies, I love the fabric in that second photo.. It really makes me think that although I want color, light and neutral may be the way to go.

tinan and madeyna, I really don't need the privacy or light control, In fact, the kitchen gets very little light. The window treatment would just be to make use of the awkward space above the window, and perhaps make it look larger. I do not want to obstruct the window more than a few inches if necessary.

You mention framing the bottom of the window. I have thought of that too. But won't it look funny since there would be no side trim?
I just figured I'd wrap the backsplash around it on the bottom ledge and up to the bottom of the cabinets.

Since we're at it.. here is a photo of both the gray and white subway tile.
---
| | | |
| --- | --- | --- |
| RE: Kitchen Window Treatment Help | | |
It looks like you'd have to move the light forward to do a window treatment from the ceiling. Otherwise, it's a fire hazard having it so close to the fixture.

I don't think a splash of color at the window would not work. Maybe you could do a sill and a pretty molding treatment above the window.
---
| | | |
| --- | --- | --- |
| RE: Kitchen Window Treatment Help | | |
Gray tile would look great.
For some color? How about yellow? The window treatment can be gray, white and yellow. Add some yellow accessories around the room. And of course if you can find things with all those colors.
---
| | | |
| --- | --- | --- |
| RE: Kitchen Window Treatment Help | | |
You could put a window ledge at the bottom of your window, all the windows in my house are like this.

I took this picture of the window over my sink to give you an example of what it would look like, hope it helps!

You could even have the window ledge be the same material as your counters.
This post was edited by Sandy1963 on Fri, Mar 15, 13 at 16:40
---
| | | |
| --- | --- | --- |
| RE: Kitchen Window Treatment Help | | |
I like the idea of a window ledge. That's what I have. If the window was trimmed out, then it would be too crowded.

A lace valance would look nice. You don't need anything above the window.

I vote on the white subway. White is a tricky color for kitchens unless you have the perfect lighting. Gray would only darken it since you don't get much sun. Do you have undercab lights? They make a huge difference.
---
| | | |
| --- | --- | --- |
| RE: Kitchen Window Treatment Help | | |
I would put a ledge and leave the window untreated, that is if a ledge won't get in the way of the opener. . It is an awesome window and needs nothing to make it so. I'd put some herbs on the ledge of that window.
---
| | | |
| --- | --- | --- |
| RE: Kitchen Window Treatment Help | | |
I love the idea of a ledge! i'm going to try to convince DH of this NOW. It never occurred to me that it would work without other moulding around the window, but based on that photo I think it's the answer to a problem I didn't know I had!

Thank you all for your kind words and input. This community is so incredibly helpful. It's exactly why I love GW. There are so many solutions and observations that are offered to help solve our home challenges, be them big or small.
---
| | | |
| --- | --- | --- |
| RE: Kitchen Window Treatment Help | | |
I didn't notice that there wasn't room for trim at the sides. But you could still do a header on the window along with the sill which I think would finish it off nicely.
---
| | | |
| --- | --- | --- |
| RE: Kitchen Window Treatment Help | | |
Our kitchen window has a bottom sill but no frame around, in fact our other windows are like that too! They are 6" deep in a mission-style (stucco) style townhome.
---
| | | |
| --- | --- | --- |
| RE: Kitchen Window Treatment Help | | |
I can,t seem to find my last post on this thread. Just been one of those days I guess. The ledge in the last photo was what I was talking about. They even have a version of it in the first two pics using the countertop material. I love the widow covering in the second pic, simple but elegant.
---
| | | |
| --- | --- | --- |
| RE: Kitchen Window Treatment Help | | |
From your photo, the schoolhouse light appears to be very close to the wall. Is there space behind the light for a window treatment? If so, the treatment can be mounted high on the wall toward the ceiling.I prefer a valance of some type at the sink window. Longer curtains risk getting wet (certainly in my house). Not sure of your style,but a stationary roman shade would be a clean (not frilly) look. As for colors, that's a personal choice-look at lots of pictures.
---
| | | |
| --- | --- | --- |
| RE: Kitchen Window Treatment Help | | |
That was my concern with that light fixture as well. It seems to be crowding the space. I,m looking at mine and its a good foot from the side of the light fixture to the edge of the wall, spacing the light more directly over the middle of the sink. The diff. could be that new lights don,t throw off anywhere near the same heat as the old ones did. After looking at the pic of tiles in the third pic.how about alternating the white and grey ? That way you could have both. I like using the gray because it helps tie in the grey applicances and large hood. If you find a fabric simular to the one on pic two its a neutral so you could still had the color you wanted in other areas of the room threw things like kitchen towels vases plants ect. Your husbands going to slap me this time;) but I would also use a peice of bottom trim under the upper cabs. When we redid ours last that was the only thing I used that the cabnet designer suggested that I used. It really helps give the room a finished designer look and only cost about thirty bucks to do.
---
Post a Follow-Up
Please Note: Only registered members are able to post messages to this forum.
If you are a member, please log in.
If you aren't yet a member, join now!
---
Return to the Home Decorating & Design Forum
Information about Posting
You must be logged in to post a message. Once you are logged in, a posting window will appear at the bottom of the messages. If you are not a member, please register for an account.
Please review our Rules of Play before posting.
Posting is a two-step process. Once you have composed your message, you will be taken to the preview page. You will then have a chance to review your post, make changes and upload photos.
After posting your message, you may need to refresh the forum page in order to see it.
Before posting copyrighted material, please read about Copyright and Fair Use.
We have a strict no-advertising policy!
If you would like to practice posting or uploading photos, please visit our Test forum.
If you need assistance, please Contact Us and we will be happy to help.

Learn more about in-text links on this page here