Return to the Home Decorating & Design Forum
|
Post a Follow-Up
---
| | | |
| --- | --- | --- |
| Trim or symmetry for archways? | | |
Posted by
OntarioMom
(
My Page
) on
Sun, Mar 17, 13 at 9:47
Hi,

We are slowing plodding along on a big home addition. We will have two archways (plain rectangles not curved at this point) in a structural wall. One archway leads to the living room from our kitchen and one leads to the hall and down to foyer also from our kitchen. There is a long pennisula attached to the wall in between the archways. My designer was suggesting leaving 3 inches of wall on each side of the pennisula counter overhang just in case we wanted to put trim around the arches at some point. However if we go down to 2 1/4 inches on each side we can get the archways the exact same size (around 50 inch opening). I have attached an image of the kitchen.

My questions:

1)Do people trim around archways? I prefer a more transitional style leaning a bit to the traditional style. Our house prior to addition was built 22 years ago so not an old historical house at all (not in an old neighbourhood either). I wasn't planning on trimming around the other archways in the house, just wondered about these two due to size and place in the home.

2)Would it be better to have the two archways exactly the same size or have them slightly different sizes so we could have room to trim.?

TIA

Carol
---
Follow-Up Postings:
| | | |
| --- | --- | --- |
| RE: Trim or symmetry for archways? | | |
I would make them identical since they'll be very close to each other.

Here are pictures of trimmed and untrimmed archways. These are all curved which is what an archway is, but the pictures will give you a good idea on what they'd look like either way.
Here is a link that might be useful: Archways
---
| | | |
| --- | --- | --- |
| RE: Trim or symmetry for archways? | | |
LOL, I had to comment that on first glance, I read your post to state you had a big home Addiction.....very fitting on Garden Web!
---
| | | |
| --- | --- | --- |
| RE: Trim or symmetry for archways? | | |
Oakleyok,

Thanks for the link and your vote. Given we had planned on rectangle archways I guess we don't need the option of trim. I don't see any example of rectangle archways with trim (or whatever you call those doorless entries that are not curved).

juliekcmo,

Yes I do have a big home addiction right now!!. It is a new addiction brought on with constant obsessing over decisions since starting this addition. LOL!

Carol
---
| | | |
| --- | --- | --- |
| RE: Trim or symmetry for archways? | | |
I call doorless, rectangular entries "cased openings" and I think they definitely benefit from trim! Every cased opening in my house is trimmed, some more elaborately than others, based on location. IMO, untrimmed openings look unfinished, unless it is a very modern-styled home.
Here are some of mine.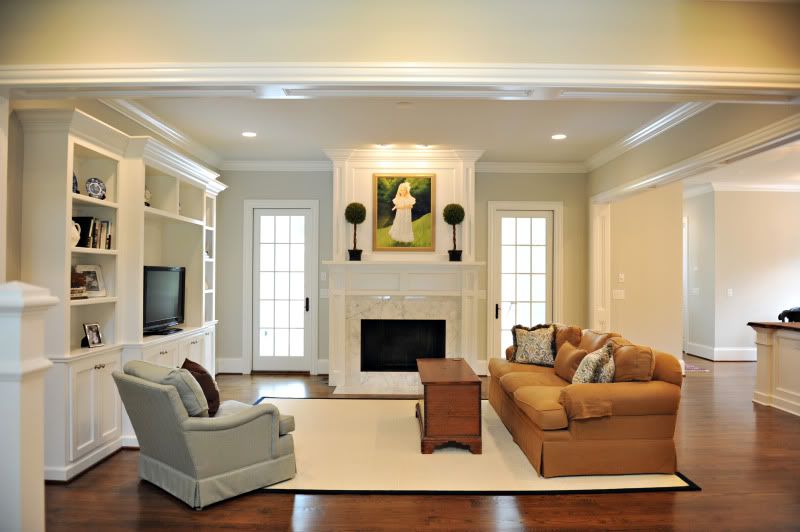 ---
| | | |
| --- | --- | --- |
| RE: Trim or symmetry for archways? | | |
And I prefer them without trim so there you go lol.
---
| | | |
| --- | --- | --- |
| RE: Trim or symmetry for archways? | | |
I prefer openings trimmed, because I have kids and I know what kids do to drywall.
---
| | | |
| --- | --- | --- |
| RE: Trim or symmetry for archways? | | |
trimmed if rectangular, curved untrimmed unless you want to go over the top,
---
| | | |
| --- | --- | --- |
| RE: Trim or symmetry for archways? | | |
Thank you all so much for your thoughts and education. I now know the openings are called cased openings and not archways. After seeing your gorgeous images Nini804, I definitely want trim!!! So, what do I do? The house is framed in and the electrical is starting, but not in this area for a few days. We do have a framer coming tomorrow that could make some adjustments.

To have trim which I now want for sure my options are:

1)Keep the slight lack of symmetry (right now the cased opening on the bottom left side is 1 1/2 inches larger than the opening on the right)

2)Increase the depth of the closet/storage run on the left of the screen, thereby decreasing the larger cased opening slightly to match the smaller one. This will cost a few hours of labour from the framer and a bit of lumber.

3)Decrease the depth of the peninsula and probably the island so they match. The peninsula could easily be less deep, but the island would be squishy for three seats if it was any less wide. Also, I think the dimensions of the islands will be more accommodating for standard cabinets with a width counter to counter of 51 inches.

What is my best option? Please help me decide as this is only one of many decisions that I need to make ASAP so I don't slow down the electricians.

Thanks!

Carol
---
| | | |
| --- | --- | --- |
| RE: Trim or symmetry for archways? | | |
My vote is for casing and for symmetry around the peninsula and the openings. If you are standing dead center at the end of the peninsula facing the wall, you should be able to look towards the wall and see the same amount of wall space on either side of the peninsula counters and both openings should be the same size. The easiest way to achieve this, I think, is to simply reframe the bottom left opening so there is a small corner return of the wall before the doorway starts. Does that make sense? You don't need to reframe the closet, just make the door opening smaller.

In your picture, there is a similar return on the bottom right side by the 36" pantry.
---
| | | |
| --- | --- | --- |
| RE: Trim or symmetry for archways? | | |
Definitely trim them. They look unfinished without and so pretty with.
---
| | | |
| --- | --- | --- |
| RE: Trim or symmetry for archways? | | |
The link to the arches was to give you a general idea of how any doorway would look, whether arched or rectangle.

I like them both trimmed or untrimmed. Just make sure there's plenty of wall space between the trim and the counters so they won't look crowded.
---
| | | |
| --- | --- | --- |
| RE: Trim or symmetry for archways? | | |
@ Oakleyok,

I don't know about being able to provide plenty of room on either side of the peninsula, but we have allowed three inches on each side of the peninsula counter top (3 inches of rough opening). The thickness of the trim can take up a bit of the opening. The trim will have to be no wider than 3 inches. I believe if we shrink the size of the peninsula to allow more than 3 inches, we will be forced to buy some custom cabinets. Do you think we will not be able to pull off the look with only 3 inches each side. Again the extra three inches is from the rough framing stage.

@Sarakat You are right. Now that I have seen what the openings look like trimmed, I agree they look gorgeous. I have never had a home that had much trim (builder special homes are minimal on trim).

@Geokid,

I think you solution will work and thanks for your explanation for sure! I agree that is the best solution. I love symmetry and trim.

Carol
---
| | | |
| --- | --- | --- |
| RE: Trim or symmetry for archways? | | |
Or trim is also called molding, but that may be only in a designer's world. I have arches that are w/o molding, tho pretty, would have preferred they be trimmed out. At the time I was building, I was trying to keep expenses down. I have thought of hiring someone and having it done, and will probably pay more. Do what you want now, to avoid regrets later, as well as possibly paying more. It also becomes just a small part of the mortgage. ;o)
---
| | | |
| --- | --- | --- |
| RE: Trim or symmetry for archways? | | |
patty_cakes,

Thanks for your thoughts. I bet you could find someone who would trim out your arches now. If you pay cash, it would cost you way less as it would not be on the mortgage. We may not have the funds to do the trim right away either, but I sure want to have the option to put the trim in at some point.

Carol
---
Post a Follow-Up
Please Note: Only registered members are able to post messages to this forum.
If you are a member, please log in.
If you aren't yet a member, join now!
---
Return to the Home Decorating & Design Forum
Information about Posting
You must be logged in to post a message. Once you are logged in, a posting window will appear at the bottom of the messages. If you are not a member, please register for an account.
Please review our Rules of Play before posting.
Posting is a two-step process. Once you have composed your message, you will be taken to the preview page. You will then have a chance to review your post, make changes and upload photos.
After posting your message, you may need to refresh the forum page in order to see it.
Before posting copyrighted material, please read about Copyright and Fair Use.
We have a strict no-advertising policy!
If you would like to practice posting or uploading photos, please visit our Test forum.
If you need assistance, please Contact Us and we will be happy to help.

Learn more about in-text links on this page here