Return to the Home Decorating Forum
|
Post a Follow-Up
---
| | | |
| --- | --- | --- |
| kitchen color scheme and paint recommendations? | | |
Posted by
cottonpenny
(
My Page
) on
Thu, Mar 8, 12 at 9:35
I'm trying to design our new kitchen in our new build. It's hard cause I can't see anything together yet!

So far we are having:
creamy white perimeter cabinets
espresso island cabinets
caesarstone raven perimeter counters
caesarstone misty carrera island counter
SS appliances and hood
American cherry hardwood floor
backsplash undecided but maybe just white or marble

I have a few pieces of Le Creuset cookware that are Flame and Red.

I saw this paper which pairs a lightish turquoise blue with orangey red and green (link below).

Do you think this sort of color would look good in my kitchen? Any idea of what blue paint would look good with the orange Le Creuset?
Here is a link that might be useful: japanese paper
---
Follow-Up Postings:
| | | |
| --- | --- | --- |
| RE: kitchen color scheme and paint recommendations? | | |
The best blue color I have ever seen by far is 'Contemplation' By Bher. Its a grey, green, blue. Would look wonderful.
---
| | | |
| --- | --- | --- |
| RE: kitchen color scheme and paint recommendations? | | |
You might check out these Ben Moore colors: Palladian Blue or Wythe Blue. Or, more subtle -- Quiet Moments.

Love the combination of aqua blue and orange.
---
| | | |
| --- | --- | --- |
| RE: kitchen color scheme and paint recommendations? | | |
My kitchen is very dark cherry with creamy white. My drapes are aqua, red, orange, green and creamy white! The color palette was inspired by some favorite cookware. The walls are not blue so perhaps these photos will not be helpful to you but I'll post them anyway.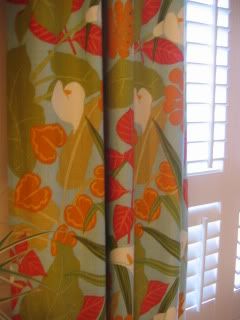 ---
Post a Follow-Up
Please Note: Only registered members are able to post messages to this forum.
If you are a member, please log in.
If you aren't yet a member, join now!
---
Return to the Home Decorating Forum
Information about Posting
You must be logged in to post a message. Once you are logged in, a posting window will appear at the bottom of the messages. If you are not a member, please register for an account.
Please review our Rules of Play before posting.
Posting is a two-step process. Once you have composed your message, you will be taken to the preview page. You will then have a chance to review your post, make changes and upload photos.
After posting your message, you may need to refresh the forum page in order to see it.
Before posting copyrighted material, please read about Copyright and Fair Use.
We have a strict no-advertising policy!
If you would like to practice posting or uploading photos, please visit our Test forum.
If you need assistance, please Contact Us and we will be happy to help.

Learn more about in-text links on this page here