Return to the Home Decorating Forum
|
Post a Follow-Up
---
| | | |
| --- | --- | --- |
| BM Putnam Ivory | | |
Posted by
janine09
(
My Page
) on
Mon, Mar 16, 09 at 9:25
Does anyone have experience with this shade--pros and cons? How does it work with other shades, does it run yellow or green?

We are considering it in a family room which is connected to the livign room (currently in BM Windham Cream). Room gets alot of natural light.
---
Follow-Up Postings:
| | | |
| --- | --- | --- |
| RE: BM Putnam Ivory | | |
Hi

My kitchen must have a weird combination of colors ( counter, floor, cabinets, back splash ) but it looked very fleshy/orange to me. IIRC, someone else described it as a flesh colored bandaid.

Good luck finding the right color. My kitchen is still not repainted.

Linda ( aka MaiLynn
---
| | | |
| --- | --- | --- |
| RE: BM Putnam Ivory | | |
Here are some pics of my living room in Putnam Ivory. I also get a lot of natural light in this room and have never seen it turn fleshy or orangy. It has worked well for us. Excuse the living room, it is in transition.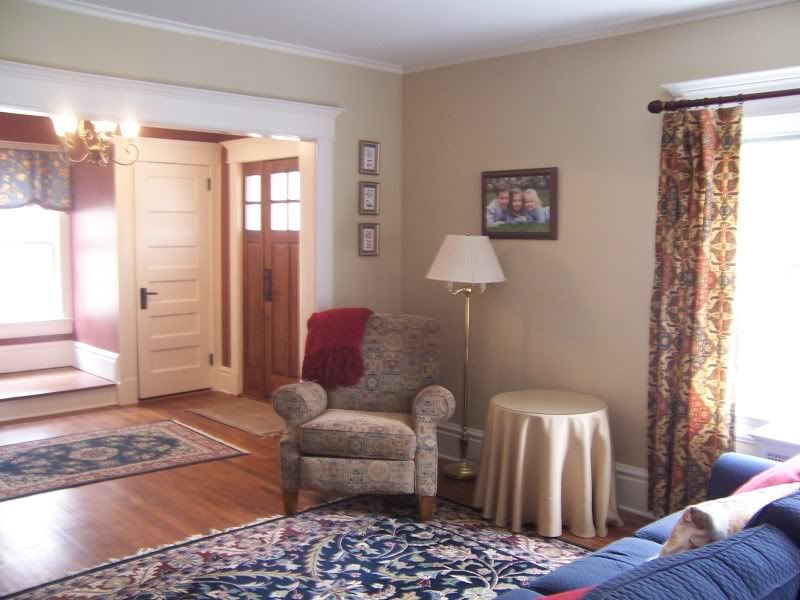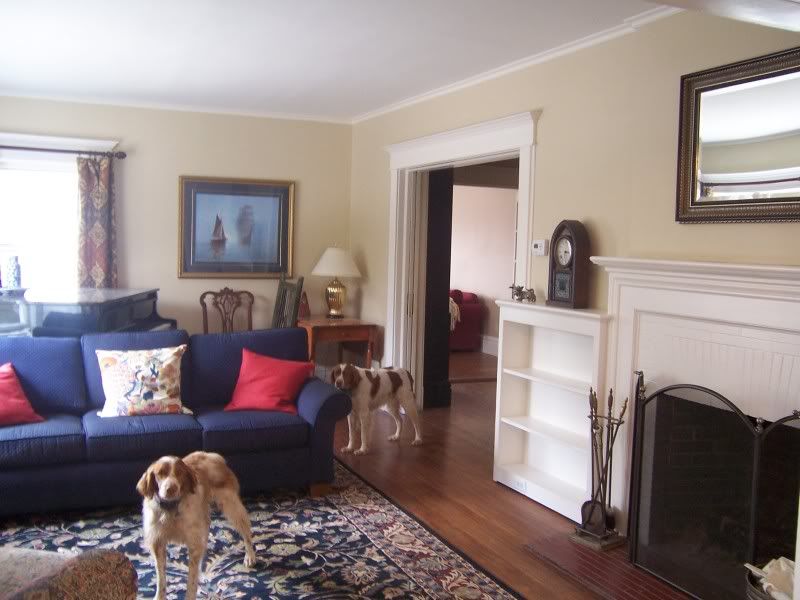 ---
| | | |
| --- | --- | --- |
| RE: BM Putnam Ivory | | |
donna, I can and will not excuse your living room because it's gorgeous! It's architecturally beautiful and I love your choice of colors and patterns. The dogs, of course, add the final touch of warmth and class. I'd love to see more of your home, this has been such a treat.
---
| | | |
| --- | --- | --- |
| RE: BM Putnam Ivory | | |
Thank you Ingrid. Our home is 100 years old and the big molding and trim is one of the things we love about it. I just recently rearranged the furniture. The piano moved in to this room after we got it out of storage. The couch was on the wall under the picture of my children and there was also a blue matching chair that had to move out because it was too crowded. The rug is not a favorite, but will have to do for now. I always thought the room looked too "blue", so I recently bought the pillows on the couch from pottery barn and I like the way they look. The bookshelf and mantle are bare because everything was packed up due to a major kitchen reno, so I am slowly getting things unpacked, and trying to rearrange things as I go. Sorry to hijack this thread.
---
| | | |
| --- | --- | --- |
| RE: BM Putnam Ivory | | |
Thanks Donna. Your LR is lovely. I actually love the blue--it adds weight and depth. And those doggies!!

The Putnam looks great in your room, but seems to run a bit yellow maybe? I'm only noticing since quite a few rooms in our house are yellow, so maybe it'll be overkill. On the other hand, maybe this is supposed to be a good thing for flow.
---
| | | |
| --- | --- | --- |
| RE: BM Putnam Ivory | | |
Thanks Janine. Could be my camera, it's not the best, but to me the Putnam ivory runs a tad green. I've never got a yellow vibe from it.
---
Post a Follow-Up
Please Note: Only registered members are able to post messages to this forum.
If you are a member, please log in.
If you aren't yet a member, join now!
---
Return to the Home Decorating Forum
Information about Posting
You must be logged in to post a message. Once you are logged in, a posting window will appear at the bottom of the messages. If you are not a member, please register for an account.
Please review our Rules of Play before posting.
Posting is a two-step process. Once you have composed your message, you will be taken to the preview page. You will then have a chance to review your post, make changes and upload photos.
After posting your message, you may need to refresh the forum page in order to see it.
Before posting copyrighted material, please read about Copyright and Fair Use.
We have a strict no-advertising policy!
If you would like to practice posting or uploading photos, please visit our Test forum.
If you need assistance, please Contact Us and we will be happy to help.

Learn more about in-text links on this page here