Return to the Home Decorating Forum
|
Post a Follow-Up
---
| | | |
| --- | --- | --- |
| lascatx BR chandelier | | |
Posted by
mtnrdredux
(
My Page
) on
Fri, Mar 2, 12 at 8:29
its beautiful

Tell us/show us more
---
Follow-Up Postings:
| | | |
| --- | --- | --- |
| RE: lascatx BR chandelier | | |
Thanks. We love it.

For those who don't know what we are talking about

This one is by Elegant Lighting, is 28" of crystal and weighs about 80 lbs. It is hung on 4 steel cables. We were looking to replace a dining room fixture and were taken with the idea of the crystal drum, but it wasn't right for our room. After we bought that one and got it installed, I thought it was a shame that we didn't see it more and kept thinking about this one and how fun it would be to have it in the bedroom every day.

The bottom is like a hundreds of crystal golf balls and the side has square and long rectangles and inside are 15 bulbs. I think it will take 60 watt bulbs, but I can't imagine using them. No, it does not spin, but when we told one of the sale people that we kept getting asked, she said you can get a spinner. LOL
Schoenbeck makes a very similar one in their Plaza collection. Both offer different crystal options and the overall sizes are slightly different. Elegant lighting shows the bottom crystals all at the same level. Schoenbeck shows the center one hanging down lower. Ours came with the center crystal longer, but they shortened it for us when it was installed so either one can probably be hung either way.
THIS is what I picked for the dining room -- after thinking I wanted something simple, classic, glass arms for sparkle, but also a bit unusual. Well, glass arms gave way to antique silver and the bit unusual was the size of the large crystals, assorted shapes -- it's like crystal rain. I loved the rain drops and the center crystal ball. Simple? Maybe not, but the silver and crystal are simply beautiful against the deep blue. At least they tickle me every time I see them.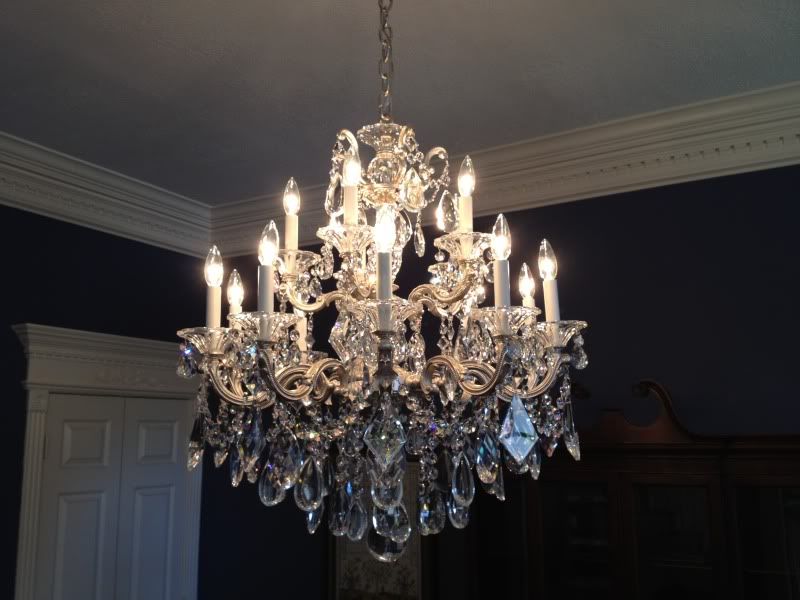 ---
| | | |
| --- | --- | --- |
| RE: lascatx BR chandelier | | |
ooooooohhh! Those are absolutely breathtaking! I love a little bling in my surroundings and those would make me joyful to see every day!! (I have to admit, I'm also having millwork envy. *sigh*)
---
| | | |
| --- | --- | --- |
| RE: lascatx BR chandelier | | |
I LOVE the first one! Both are very nice, but that first one even this contemporary/modern girl can adore!
---
| | | |
| --- | --- | --- |
| RE: lascatx BR chandelier | | |
I love both of them! I saw that silver finish chandelier when I was looking and just LOVE LOVE LOVE it, and it looks perfect with your blue walls---that is exactly how I imagined it looking in the right setting!
---
| | | |
| --- | --- | --- |
| RE: lascatx BR chandelier | | |
The drum style is so unique. I like how it marries a simple humble shape with an over-the-top material. Gorgeous
---
| | | |
| --- | --- | --- |
| RE: lascatx BR chandelier | | |
Glad you enjoyed seeing it. I saw a lot of contemporary fixtures I liked, as I do furniture when I am looking, but I have a traditional home with traditional furniture, including my grandmother's mahogany dining room set that I just can't part with, even though I am sometimes tempted. This was one fixture I saw a way to have fun with and not have it feel out of place in a room with traditional furniture. I also like a number of the drum shaped fixtures, but DH hates fabric shades and would nix anything I liked with them. However, he likes crystal. He might have felt he was induling my whimsy on this one when I started talking about getting it, but now he loves it as much as I do.

Schoenbeck has a number of other geometric styles, including some small pendants that would be great in a bedroom or bathroom. Elegant Lighting and others may have some too -- the best of Schoenbeck always seems to have knockoffs, and there are some other great originals out there.

Thaks kswl. We saw a larger version of that fixture in a dark bronze finish. I was taken with the crystals, but it was too large. The dark finish could have worked, but not been as good and since we'd just repainted, I wasn't thinking of changing it (but could have). It was really nice to see it come in and look as good as you imagined and then some. It just dazzles. :)
---
| | | |
| --- | --- | --- |
| RE: lascatx BR chandelier | | |
lascatx, that second chandelier has me drooling. I just painted my DR a darkish gray which now has a gold plated and pewter chandelier. Maybe I should switch out my crystal chandelier that is now in my breakfast room and too big anyway (long story). You've got me thinking!!! Anyway thanks for sharing.
---
| | | |
| --- | --- | --- |
| RE: lascatx BR chandelier | | |
When we did our wall repair, I toyed with painting the DR a dark gray or something into a purple/plum zone. DH and the boys both wanted the same color, so -- not finding the extra gallon of paint we had, I made it just a tad darker. Would love to see your gray. Sounds like the chandelier would be really pretty with it too.
---
| | | |
| --- | --- | --- |
| RE: lascatx BR chandelier | | |
Thought I would mention to anyone considering something like that chandelier -- if light fixtures creating shadows on your walls bothers you, this fixture is not for you. The whole room is cast with shadows, mostly through those long side crystals and on the walls. I hadn't really thought about it at first and it threw me a bit the first time I saw it lit at night. I hardly notice now, but was just looking up at all the sparkles across the bottom and then looked across the room and remembered reading a thread a while back. The OP there was bothered by the shadows cast by the design on the side of a drum fixture. ;)

Seems like we started something. Still looking for a new breakfast room fixture and found this one for out gameroom dormer. Simple, seeded glass in a classic shape, used a short downrod and put a vintage style bulb in it. Nothing over the top this time.
---
| | | |
| --- | --- | --- |
| RE: lascatx BR chandelier | | |
las, just saw this. Here is the gray color I am using. Do you think I should change the chandy with the crystal one? If not I will probably sell the crystal one because although I like it, it just doesn't work in my breakfast room. DH got it from a historical home and it's just a little too big for the breakfast room.

Work in progress:
---
| | | |
| --- | --- | --- |
| RE: lascatx BR chandelier | | |
Lascatx, could you please tell me the name and brand of your diningroom chandelier? It is exactly what I would love to have in my dining room! Thank you so much.
---
| | | |
| --- | --- | --- |
| RE: lascatx BR chandelier | | |
Cam,

I like a silver tone better w grey, but I see you have a gold tone mirror too so maybe stick w what you have?

OT, but why arent the workmen covering your carpet?!

And in one shot I though you had an "H" monogram on the wainscoting ... only to realize it is an outlet, LOL
---
| | | |
| --- | --- | --- |
| RE: lascatx BR chandelier | | |
Cam,

Do you have a photo of the crystal one?

Love las's chandys. Love the colors in these photos too!!
---
| | | |
| --- | --- | --- |
| RE: lascatx BR chandelier | | |
Thanks Beek! I love your style and mtnrdredux's, so it's nice to get a thumbs up from the two of you.

Anncarolyn, the dining room one is a Schoenbeck La Scala. There are a number of sizes in that group. It still gets me each time I see it. So does the drum -- perhaps I am enjoying this a bit too much? My son is afraid I'm going to put crystal in every room. We could, but nah. LOL

Cam, I searched and found the Aura paint thread (is that Granite, per chance?) but not a photo of the crystal chandelier. The historical home source is definitely intriguing, but not seeing that or the furniture you have for the dining room, and noting that it appears the mirror and fixture both pick up silver and gold tones, it would be hard to say keep or switch. Especially with gold tones coming back into fixtures now. Do you have another room that would take one of them? Bedroom? Didn't occur to me until a couple of months ago. ;)
---
| | | |
| --- | --- | --- |
| RE: lascatx BR chandelier | | |
mtnrdredux, LOL, I am the painter!!! I had the rug out of the DR while I was painting but had put it back in there to see if I could live with the colors. I was putting a second coat of finish paint on the small molding on the lower part of WC so I thought it was safe enough to just fold the rug back. Funny about the outlet!

lascatx, I had BM match this paint color from a valspar paint, 4003-2B named Rugged Suede.

My chandy is not nearly as pretty as yours. I don't have a picture of mine but this one below is close. Mine is taller/larger than this one and mine has extra bowls (pointing up) and additional center parts so its a little bigger although mine does have nine arms.
I already have a small crystal chandy in the sitting area of my bedroom and this one would be too big for that area.
I will be getting new DR furniture in the next year so that is not really a concern right now.
I really don't love my chandy so I would be fine selling it and putting the money toward one like yours or I could just keep the gold and pewter one that is there now.
I would love all opinions!!! Thanks!
---
| | | |
| --- | --- | --- |
| RE: lascatx BR chandelier | | |
That's a pretty style too, but I would like the bobeches (little cups) under the candles pointing up. You say yours are, so I would probably like it better. I do think it would fit with your room and give it a very classic, heritage look. If that is consistent with the furniture you expect to get, I'd at least give it a try. If you don't cut wires, all you are out is a little time (but make sure your mount is strong enough for the weight (I think my DR one is 46 lbs, but the bedroom one is 80 lbs!). I might hold onto the one you have in there now until you get the new furniture unless you are truly ready to part with it. The good news is that a year or two ago you probably couldn't pay anyone to take something with brass or gold unless they had a can of spray paint in the other hand, but now you are seeing more metallics in general and more gold in all kinds of furnishings.
---
| | | |
| --- | --- | --- |
| omg! | | |
Just to point out that, with my mind on other things, I slipped an e in and was misspelling SCHONBECK, they are following me! I am seeing ads for light fixtures on my pages and just had the square version of my bedroom chandelier staring back at me with SCHONBECK stamped across it. I stand corrected! I apologize. Stop following me -- I can't buy any more chandeliers right now! LOL
---
Post a Follow-Up
Please Note: Only registered members are able to post messages to this forum.
If you are a member, please log in.
If you aren't yet a member, join now!
---
Return to the Home Decorating Forum
Information about Posting
You must be logged in to post a message. Once you are logged in, a posting window will appear at the bottom of the messages. If you are not a member, please register for an account.
Please review our Rules of Play before posting.
Posting is a two-step process. Once you have composed your message, you will be taken to the preview page. You will then have a chance to review your post, make changes and upload photos.
After posting your message, you may need to refresh the forum page in order to see it.
Before posting copyrighted material, please read about Copyright and Fair Use.
We have a strict no-advertising policy!
If you would like to practice posting or uploading photos, please visit our Test forum.
If you need assistance, please Contact Us and we will be happy to help.

Learn more about in-text links on this page here