Return to the Home Decorating & Design Forum
|
Post a Follow-Up
---
| | | |
| --- | --- | --- |
| Help with hard water | | |
Posted by
deee
(
My Page
) on
Wed, Mar 5, 14 at 7:45
I know this doesn't sound like a decor question but our water is so hard that it does effect my decorating choices. I stay away from anything dark - floors, sinks, counters and faucets because the water stains everything. I can even see the hard water stains from spills on my white kitchen counters and light oak floors..

I really don't like the taste or feel of softened water. We have a fridge filter and filters on our showers which help with smell and taste but I don't think they do a great job of reducing the staining minerals.

If anyone has any suggestions or tricks I would love to hear them.
---
Follow-Up Postings:
| | | |
| --- | --- | --- |
| RE: Help with hard water | | |
I would talk to a water person. First water should not have a smell. I would check into getting the water tested for contaminants. The water person can also discuss the different technologies for softening water. Some are more salt/potassium based, but others less so. Water that is over-softened can feel slimy and make it hard to dry off. To me, it's not only about the staining of your decor, but about what metals and minerals are going into your body in excess amounts that may cause issues.
---
| | | |
| --- | --- | --- |
| RE: Help with hard water | | |
So what you want is a whole house water filtration system without the softener additives. You might want to post your question on the plumbing forum and see what systems they point you to.
---
| | | |
| --- | --- | --- |
| RE: Help with hard water | | |
Annie - Unfortunately, sulfur smell in treated water in one of the negative aspects of living on the coast in the South and is not unusual.

graywings - I feel like some of the other forums tend to attract people that are excessively analytical and sometimes opinionated. I posted here to see if any like minded people had personal hard water cleaning and treatment tips.
---
| | | |
| --- | --- | --- |
| RE: Help with hard water | | |
Ok then, I guess I'm not like minded. They do have ways of treating water to remove sulfur smell too, but it depends on the size and expense of the water treatment plant you are willing to tolerate in your home. Each to his/her own.

I hope you find a solution to your problem.
---
| | | |
| --- | --- | --- |
| RE: Help with hard water | | |
My advice is to get past your objection to taste and feel of softened water.... Hard water can ruin your plumbing fixtures, which is much worse and more expensive than not liking the taste/feel. Actually, I only "felt" my newly softened water the first week of use. After that, I got used to it and it felt normal. Also, I can't say the taste is any different....
---
| | | |
| --- | --- | --- |
| RE: Help with hard water | | |
Hi again Annie - As I said in the original post, our individual faucet filters take care of the sulfur smell. My concern is the staining from the dried water. Thanks though.

lolauren - Unfortunately, I really can taste the the difference in softened water. I drink tons of water and was hoping not to solve one problem by adding another.

I guess I'm being obtuse. As Emily Litella said, "Never mind". :)
---
| | | |
| --- | --- | --- |
| RE: Help with hard water | | |
We have the most awful water. I just gave up drinking it altogether and have poland springs delivered just like they do at the office. I realize that might not be an option for everyone, but ours is not just hard, it is filled with iron and "rusty" as well., It is really just the most horrible I have seen. The house is only 20 years old and the previous owners had another well dug. That should have been a sign. Not sure if I knew before we purchased or realized how bad it could be! We have a whole water system that we rent (tried the kind you purchase and it jsut didnt cut it) Now they ahve to come out and mess with it when it gets out of balance.

I am going to be picking tiles that won't look terrible if the rust gets on them. Do you know how hard it is to get the rust off white tiles when the system is out of sorts a couple times a year for a few days. UGH! I was thinking I will have to go with brown or slate or something. :)

OK my rant over. Good luck.
---
| | | |
| --- | --- | --- |
| RE: Help with hard water | | |
My only other suggestion is to talk to a chemist...in order to know how to remove the stains, you need to know what made the stains. We don't have issues with calcium, lime or rust, but CLR is supposed to be designed to remove the stains. Mother had hard water with a lot of copper in it which would stain her white sinks bluish green. Maybe from the color or maybe by having it tested you can find out exactly what minerals are the problem and then what chemicals may remove them.
---
| | | |
| --- | --- | --- |
| RE: Help with hard water | | |
Where I live it's typical to soften all but the cold water at kitchen faucet. That can be used for drinking. We have so much iron in our water that we soften all. I have no problem with optimally softened water - can't imagine trying to live with hard water.
---
| | | |
| --- | --- | --- |
| RE: Help with hard water | | |
I've been living with very hard, mineral-laced water for the past 21 years, here in our mountain community. As I read your initial post, I was nodding my head right along with you. When we had this place built, we had a water softener put in out in our attached garage. The water goes through that before entering the house. There are sodium-based and non-sodium granules you can use in them. We use the non-sodium, but I agree, both leave the water tasting "off" . . . and that water still leaves mineral residue on every, counter, around every faucet, anywhere a drop of water dries. So I feel your frustration and pain. BTW, all softened water does not feel slimy. This is NOT normal! If that occurs, your unit controls need to be re-adjusted.

To eliminate the weird tasting water, we had an R/O (reverse osmosis device) installed under our kitchen sink to further filter our drinking water. This water tastes wonderful and perfectly normal and leaves no mineral residue. So why would we not use a big R/O for the entire house one might ask? I wish that was possible! But, here in the Southwest, we are very much into water conservation. With R/Os, I believe that they use something like 3 gallons of water for every gallon of filtered water they produce. That's too much waste for people like us on private or community wells. Plus, our community covenants strictly prohibit that kind of waste. Unfortunately, these R/Os take up space under a sink and for that reason we don't have one in each bathroom. This means that water from those faucets, while totally safe to drink, tastes a bit weird. To me, it tastes like there is baking soda in the water. Not a lot, but enough that I prefer to bring in a glass of water from the kitchen to keep on my bedside table at night.
For anyone unfamiliar with a Reverse Osmosis device, it is a tank that, for most of us, is installed under a sink and attaches to the water pipe that feeds up to your faucet. Because you want to use that water exclusively for drinking and for some cooking, and not for dishes, etc., a separate R/O faucet needs to be installed. I'm attaching 2 pics below. One is of the configuration of our regular and R/O faucet, which is pretty standard around here. The other is the only one I have at the moment of our undersink area showing the R/O on the left (white tank). The black tank on the right is the garbage disposal. As you can see, when we had our total kitchen reno 7 years ago, we made sure that we had an extra large undersink cab installed to hold everything easily. I realize that in most sink cabs, an R/O device would crowd it . . But they are so wonderful we all couldn't do without them!

To, to deal with the mineral deposits, I keep several of those generic spray bottles filled with R/O water and clean rags to use as a kind of final rinse for my counters, etc. For our showers, tubs and sinks, I mix R/O water with white vinegar.
I wish that I had a better way of dealing with this problem, but I do pretty much the same thing that every other person I know out here does. It is what it is. Where you live in the South, large R/Os may be available and allowed.
Lynn
---
| | | |
| --- | --- | --- |
| . . . adding those 2 pics | | |
My casted right hand is making it difficult for me to attach pics this morning. Here they are:
My kitchen sink with the regular and R/O faucets. BTW, it really looks better, in my opinion, to have a single faucet for your regular one. Pre-reno we had a separate one for hot, for cold and for the R/O and it looked too busy and cluttered to us.

My undercab area. R/O is the white canister on the left: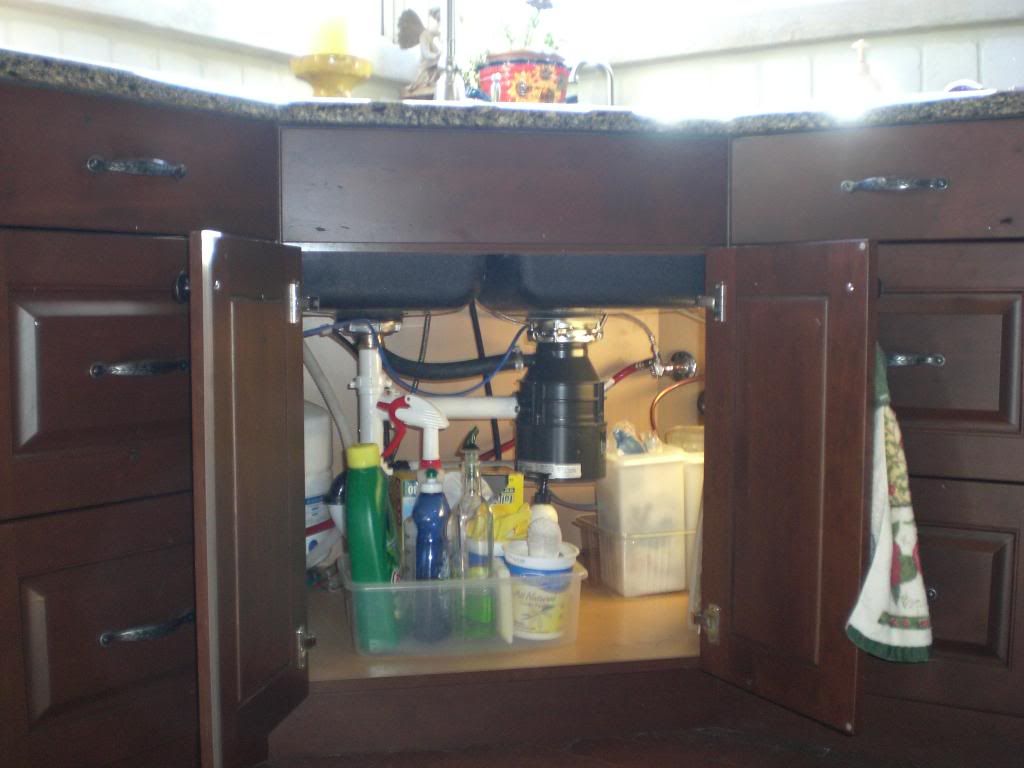 ---
| | | |
| --- | --- | --- |
| RE: Help with hard water | | |
Like Lynn, I have extremely hard water too. We have a whole house water softener. I use sodium softener in the winter and potassium in the irrigating months. The switch is because we recycle a lot of our water for landscaping. The potassium is much, much, much more expensive.

For drinking, we use reverse osmosis water but I just get 5 gallon jugs that I fill at Wal-Mart (27 cents a gallon) and we also use that for houseplants and coffee/tea. It sits in a big water crock on the counter. I think the potassium softened water tastes better but prefer to drink the RO water.

When we first moved out here and the water softener was not hooked up yet, the first load of dishes run in the dishwasher were absolutely gray due to the film. I cried. I would not be without a water softener in our locale. We do have to change the settings ever so often depending on the water hardness at the time. Our hardness goes up in the summer (sometimes as high as 27 grains) and can be around 15-20 in the winter. Thankfully our water system lets us know the hardness with each monthly bill.

For cleaning, you could try mixing vinegar in with the water which would soften it but unfortunately will not keep out the excess minerals. I feel your pain on the issue, it is not a fun one to deal with.
---
| | | |
| --- | --- | --- |
| RE: Help with hard water | | |
I've used white vinegar and, believe it or not, baby oil.
---
| | | |
| --- | --- | --- |
| RE: Help with hard water | | |
I use lemon juice for the hard water build up around the faucets, tried vinegar but the lemon juice cuts through it the best.
---
| | | |
| --- | --- | --- |
| RE: Help with hard water | | |
If staining is a problem, you may just need a whole house sediment filter which is totally different than softening system or RO system. But the most important thing is to get a comprehensive water test so you know exactly what you are dealing with. Have you had such a test? Do you know for a fact that water softening system is the solution to your staining? Maybe it needs some tweaking to make it work better.

If you are on a municipal water supply, then there should be a water quality report available. If you are on well water, you need to get an independent test for aesthetic issues as well as bacteria levels.

It is critical to find an INDEPENDENT water testing laboratory that does not sell water treatment systems before proceeding. It should cost about $100 or so depending on your market.
---
| | | |
| --- | --- | --- |
| RE: Help with hard water | | |
You can work with your local water works, you can check with a university in your area, you can use water filters, or until you can accomplish that, get a really good pH meter from a local university or one of their recommendation (a university that has a great horticulture or agriculture school). If you do not have one in your area, I like the one at Texas A&M, Auburn University and FSU. You can add vinegar to your water and the measure will tell you when you have added enough. They can work with you on how to set about this. In fact, I think I would start with my county agent and go forward. We master gardeners are always contacting the county agents when we find the pH balance either very high or low, which affects the softness or hardness of the water and is equally bad on plants as it is on clothing or housekeeping, etc.
---
| | | |
| --- | --- | --- |
| RE: Help with hard water | | |
ph and hardness are two of the parameters in a typical water quality test. Here are the various test parameters at a water testing lab I am familiar with:
---
| | | |
| --- | --- | --- |
| RE: Help with hard water | | |
Thank you everyone. Great information. I really appreciate the detailed comments with scientific information and personal experiences. Off to do lots of Googling!
---
Post a Follow-Up
Please Note: Only registered members are able to post messages to this forum.
If you are a member, please log in.
If you aren't yet a member, join now!
---
Return to the Home Decorating & Design Forum
Information about Posting
You must be logged in to post a message. Once you are logged in, a posting window will appear at the bottom of the messages. If you are not a member, please register for an account.
Please review our Rules of Play before posting.
Posting is a two-step process. Once you have composed your message, you will be taken to the preview page. You will then have a chance to review your post, make changes and upload photos.
After posting your message, you may need to refresh the forum page in order to see it.
Before posting copyrighted material, please read about Copyright and Fair Use.
We have a strict no-advertising policy!
If you would like to practice posting or uploading photos, please visit our Test forum.
If you need assistance, please Contact Us and we will be happy to help.

Learn more about in-text links on this page here