Return to the Home Decorating & Design Forum
|
Post a Follow-Up
---
| | | |
| --- | --- | --- |
| Woven shades - how to do it right | | |
Posted by
GWlolo
(
My Page
) on
Mon, Mar 18, 13 at 5:43
Any idea what kind of woven shades these look to be? DH and I like this look a lot. This is my inspiration photo for our living room.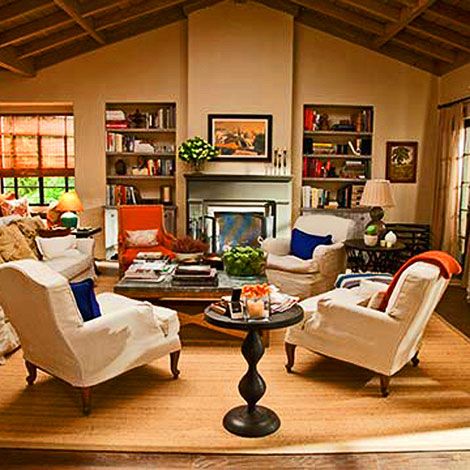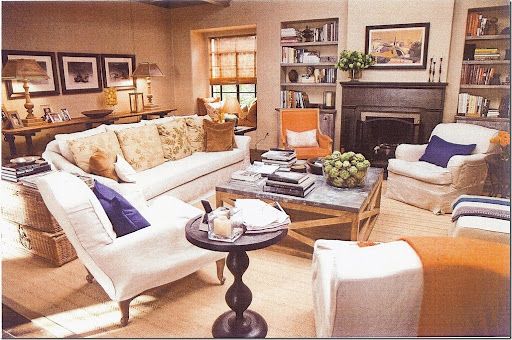 I would love some advice on how to do it right. Who sells good quality shades? I have seen recommendations for the Shade Store and Smith and Noble for window treatments in general. Do either of these do a nice job with shades or are there other companies who specialize in woven natural shades. Is it worthwhile to get the pros to come and measure and install? Or is this simple enough for us to measure and order online and get a handyman to install. What are the options to consider. Stepping through the wizard online, the options seem to be borders, lining, cord lock vs. continuos loop, and something called top up bottom down. I basically want the shade to open close reliably and be able to open it halfway if needed.
---
Follow-Up Postings:
| | | |
| --- | --- | --- |
| RE: Woven shades - how to do it right | | |
Those look similar to the roll blinds I got at Lowe's ... I'm sure you wouldn't want these though as the tops, while incredibly easy to hang...2 hooks... requires a valance to cover the hardware. But they were very inexpensive. Just beware that they add some light control but zero privacy as you can see the barn through the shade...and esp at night with the lights on, it feels warmer and private on the inside, but from the outside, it's almost like no shades at all.
---
| | | |
| --- | --- | --- |
| RE: Woven shades - how to do it right | | |
I have woven shades in the sitting area of my kitchen. I usually only close them when it is very hot and sunny. They do a nice job of filtering the sun but still let a little light in which I like. The wood slats in my blinds are a combination of match stick and approx. 1 inch strips so they are not as see through as just matchstick. My blinds came with an attached valance.
I bought my woven words and numerous other window treatments over the years from American Blinds. They carry different brands as well as their own brands. They will send you free samples. I did the measuring and installing. It was not difficult at all. If you are worried about getting the measurements correct, I believe for a small fee when you order you can insure the fit. I have never used that service. It's not that hard to measure. Just follow their instructions. I have been 100% satisfied with ordering from them.
Here is a shot of my woven woods.

---
| | | |
| --- | --- | --- |
| RE: Woven shades - how to do it right | | |
A couple of the windows that these will go on are for privacy, so I am not sure if I can just do the bare filtered light look.

Do privacy liners make them bulky?
---
| | | |
| --- | --- | --- |
| RE: Woven shades - how to do it right | | |
Justblinds.com has some nice ones.

Privacy liners totally change the look of woven wood blinds, they will lose the light airy look. For privacy, mount a simple roller blind behind them you can pull that down separately at night.
This post was edited by tinan on Mon, Mar 18, 13 at 12:38
---
| | | |
| --- | --- | --- |
| RE: Woven shades - how to do it right | | |
I have bought the woven shades from JCPenney for my last house. I also had one from Lowe's for my hall bathroom. That one needed the privacy, so I somehow made a liner for it.

I think the ones at Lowe's can be purchased with or without liners. They don't really add too much to make them bulky. You might need to special order them at Lowe's if they don't have them in your size.
---
| | | |
| --- | --- | --- |
| RE: Woven shades - how to do it right | | |
Can you make out what kind of shades the ones in the picture are? Are they bamboo?
Also, what kind of cords work well?
---
| | | |
| --- | --- | --- |
| RE: Woven shades - how to do it right | | |
I have Roman bamboo shades from Lowe's and they look to be what's is in the room pictured because of the 'fold up' at the bottom. The valance seems to have been removed~if you look closely, you can see the cord mechanism. Like bee said, they can be purchased w/wo liners, but if it's privacy you're wanting, I would definitely suggest the lined ones~you *can* see thru them.
---
| | | |
| --- | --- | --- |
| RE: Woven shades - how to do it right | | |
I posted a link to these guys...we just bought a shade for a room from there and like the quality. If you look at the woven blinds they offer you can see the difference in terms of lightness and privacy between the lined and unlined or less or more heavily woven styles.
Here is a link that might be useful: Blinds to go
---
| | | |
| --- | --- | --- |
| RE: Woven shades - how to do it right | | |
I don't know where you live, but I have used Budget Blinds in both RI and MA and I assume they have franchises elsewhere. You can google them. I bought woven wood blinds, different types, and they will come out and show you a ton of options and samples, measure, then come back and install. I thought their prices were reasonable given that if we had ordered them ourselves, it would have taken DH several weekends of procrastinating, then probably half a day of labor and complaining to get them up. The installers from BB had the blinds hung SO quickly when they installed them. And I haven't had one bit of trouble with the blinds.

I've had mixed experiences with Smith and Noble.
---
| | | |
| --- | --- | --- |
| RE: Woven shades - how to do it right | | |
If your doing inside mounts, this could be a do-it-yourself project. If you know how to read a tape measure you can measure for these. If you need help, let me know. For an inside mount installation, throw away the brackets that come with it and get a couple 3 inch longs screws. Just drive the screw up through the wood headrail and into your window opening. Here's a picture of what the headrail looks like, it'll give you an idea of what I'm talking about.
Here is a link that might be useful: Woven Wood with cord loop control
---
Post a Follow-Up
Please Note: Only registered members are able to post messages to this forum.
If you are a member, please log in.
If you aren't yet a member, join now!
---
Return to the Home Decorating & Design Forum
Information about Posting
You must be logged in to post a message. Once you are logged in, a posting window will appear at the bottom of the messages. If you are not a member, please register for an account.
Please review our Rules of Play before posting.
Posting is a two-step process. Once you have composed your message, you will be taken to the preview page. You will then have a chance to review your post, make changes and upload photos.
After posting your message, you may need to refresh the forum page in order to see it.
Before posting copyrighted material, please read about Copyright and Fair Use.
We have a strict no-advertising policy!
If you would like to practice posting or uploading photos, please visit our Test forum.
If you need assistance, please Contact Us and we will be happy to help.

Learn more about in-text links on this page here