Return to the Home Decorating & Design Forum
|
Post a Follow-Up
---
| | | |
| --- | --- | --- |
| Conversation Rooms | | |
Posted by
czecheart
(
My Page
) on
Fri, Mar 15, 13 at 5:28
I'm thinking of converting my "formal" dining room to a "conversation room' - four chairs grouped around a round coffee table.I'm thinking of making/keeping it elegant. The room is rectangle , open on three sides. I'm picturing light shimmering gray damask wallpaper on the fourth wall, a chandelier over the coffee table all on a pretty rug.

( The room would be open and highly visible from the front entry and kitchen. )

Some , but not many photos of conversation rooms on houzz. What do you think about conversation rooms ? Do you have one? Would you put one in your home? What do you think of my idea specifically?
---
Follow-Up Postings:
| | | |
| --- | --- | --- |
| RE: Conversation Rooms | | |
I think they are often lovely rooms. As long as you don't need the dining space or don't mind people eating in your conversation room, if needed.
---
| | | |
| --- | --- | --- |
| RE: Conversation Rooms | | |
Sounds lovely....and certainly if you aren't using the formal dining space as such, it makes sense to turn it into something that will get used. Reminds me of what they do in a lot of coffee shops these days with club chairs and coffee tables where people either sit and chat or sit and use their computer.
---
| | | |
| --- | --- | --- |
| RE: Conversation Rooms | | |
Our conversation room is what many would call the living room.
It doubles as a reading room.

Go for it!
---
| | | |
| --- | --- | --- |
| RE: Conversation Rooms | | |
A few years back, someone posted a photo of her living room done like that. It was a lovely room, and we all swooned over it and I am sure it has been much copied.

I'm drawing a blank on her name this morning, but hopefully someone else will remember it and be able to bring up the photo or the old thread.
---
| | | |
| --- | --- | --- |
| RE: Conversation Rooms | | |
What LuAnn said...

In our old house, we had two sofas in the living room. They were the wrong style for this house, so we started from scratch.

I remembered seeing a room with four big comfy chairs around an oversized ottoman in a Junior League house, and I always liked it. It seems to me that three-seater sofas don't really work that well for entertaining. All three people can't easily chat at the same time. It's two people talking and one sitting there. Or, noone sits in the middle.

In a family room, or any room where you might watch TV. hang with kids, or take a nap, a sofa is a must. But I don't think they work that well in living rooms.

Anyway, our living room is an octagon. We have window seats on 5 sides, so there is still a lot of seating when we entertain. When we don't entertain, we use it for our "book clubs" (really just the nightly reading that our three kids do, and book chat). It is a lovely room for reading. Great for the Sunday paper too! And, when we have company, it is a great place to chat.

I love our "conversation room"
---
| | | |
| --- | --- | --- |
| RE: Conversation Rooms | | |
I like it. I like the idea of each person having his own chair -- his own territory, so to speak. If you have friends over (or just your own kids/family), they can settle in with their bag, drink, book, iPad, whatever. And they can shift, move around, get up and down, etc. without worrying about disturbing anybody else.

To make it work in my house, the table would have to also function as an ottoman. Because we are people who put our feet up and relax.
---
| | | |
| --- | --- | --- |
| RE: Conversation Rooms | | |
I've never had guests sit three to a sofa, it's always two people with a big space in between. People will prefer to sit on a dining chair pulled into the living room before they'll squeeze into the middle spot. I say go for it and enjoy!
---
| | | |
| --- | --- | --- |
| RE: Conversation Rooms | | |
| | | |
| --- | --- | --- |
| RE: Conversation Rooms | | |
Many years ago I went to visit my British friend who had purchased a home in Newport R.I. After lunch we headed to see her little home. When we walked in the tiny foyer I was awed by the beauty inside. Let me first say she's a decorator who worked for Sister Parrish. Her kitchen was sooo different and would compare to an upscale loft kitchen today but this was 40 years ago. He living room was layered in oriental rugs, blues, reds, and in the center a large table surrounded by five chairs all upholstered right down to the tassels on the chairs . The walls had gorgeous huge tapestries, a secretary desk with all unique items on it and on and on. Her's was the first bathroom I ever saw (tiny) wallpapered in a black background with flowers. It was gorgeous. When we left to go back outside I felt like I had left the land of Oz. I'll never forget her little house and I always wanted a room like that but that was not in the cards. In my lake house I purchased individual chairs rather than couches and they're so much more conducive to conversations. There's something about having your own chair with no one near you that makes for a coziness.
---
| | | |
| --- | --- | --- |
| RE: Conversation Rooms | | |
I agree with the other posters. I firmly believe you should use rooms in ways that suit your lifestyle the best. Later, if you need to sell your house, you can stage the rooms as they generally would be used.

I have a friend who has turned the eat-in area of her kitchen into a conversation area. There's still a table, but she has added comfortable wing chairs and a nice deep banquette. It's a great place to congregate and converse, nosh and play board games.

Graywings, I knew exactly which room you meant in your first post. I still love that room.
---
| | | |
| --- | --- | --- |
| RE: Conversation Rooms | | |
Conversation Rooms. I love the concept. One of my favorite rooms is the living room in the movie It's Complicated. It is a Nancy Meyers movie and the living room has a bunch of comfy chairs and one sofa arrnaged around a largish slate coffee table that looks a little higher than the usual coffee tables. I love the natural fabrics and the color palette that is muted with some throws for pops of colors. I love the house itself as it is an adobe house in So. cal and the feel of it is gorgeous. If only I could capture that in my adobe home :)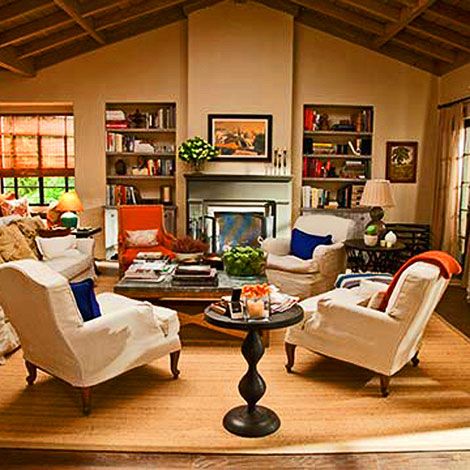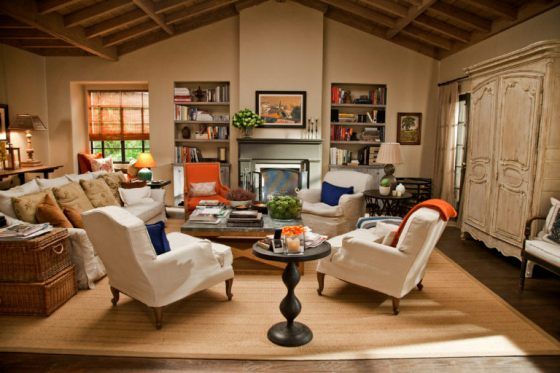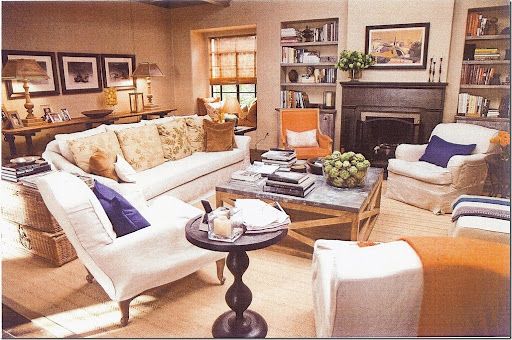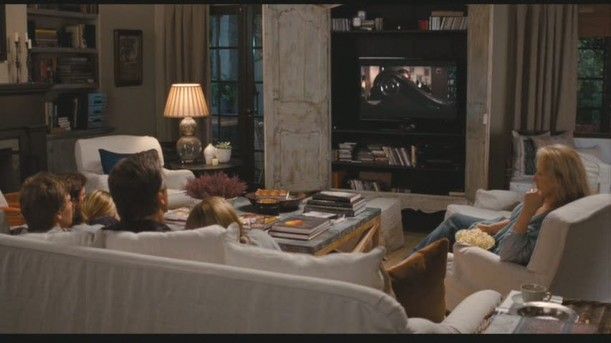 Here is what the set design notes said..
Meyers also took her design cues from the color of the rooftops of the idyllic coastal town of Santa Barbara
. "What I like about Santa Barbara is the rich color that saturates your vision at every turn," she says. From cashmere throws and chair upholstery to a bowl of fruit on the dining table, the color orange (think of the orange/brown color of an Hermès box) is used as an accent throughout the film. The decor had to accent Streep's fair complexion as well, so Meyers used "creams and beiges that would capture the beauty of her skin."
Rubino mixed high-end furnishings--Calvin Fabrics and Dessin Fournir and George Smith furniture--with antiques from 1st Dibs and items from West Elm. "My goal was to capture the essence of Meryl's character as someone who dances to the beat of her own drum, " she explains.
This post was edited by GWlolo on Fri, Mar 15, 13 at 14:31
---
| | | |
| --- | --- | --- |
| RE: Conversation Rooms | | |
"four chairs grouped around a round coffee table.'

I like the way it looks, but am I the only one who doesn't like sitting in a circle like that?

The picture above looks more relaxed and comfortably spaced.
---
| | | |
| --- | --- | --- |
| RE: Conversation Rooms | | |
I love the intimacy of a circle.. especially in a smaller room. I like the option to sit next to another's chair-- so I can reach out and touch a hand, arm or leg.. or the option to sit across the table.

I'd do this in a heartbeat if I had a family room .. and four matching chairs (which I personally think is key).

My only comment on your plans -- and this is totally a personal preference-- for conversation, reading, game playing, I'd prefer a more relaxed and less formal space. Formal would obviously work if your gatherings are more formal.
---
| | | |
| --- | --- | --- |
| RE: Conversation Rooms | | |
Most such arrangements feature four chairs, so I could never do it.....we are a family of five and even though they are all off or in school, I still couldn't bring myself to leave anyone out, even metaphorically. And a group of five armchairs around a coffee table would look like a committee meeting.
---
| | | |
| --- | --- | --- |
| RE: Conversation Rooms | | |
That last goes directly to what I've been thinking. The idea of a conversation room is wonderful. But four chairs are too limiting. Three people at right angles to each other have a hole on one side, and five can't use the room at all. Unless a person regularly entertains 3 good friends, it's inherently dysfunctional, although charming in pictures.

How about accomplishing the intended purpose by instead using more flexible seating pieces set less rigidly, like the picture above (which I also love), but pulling them in nice and close around a smaller coffee table--or even an upholstered hassock for someone to plop on briefly or for feet as people really settle in? An upholstered piece would allow/invite someone else to "drop in." In any case, though, as Funart says, close enough for at least some to reach out and touch or pat a chair arm or arm, i.e., to enable more of the nonverbal communication that's a big part of really good conversation.
---
| | | |
| --- | --- | --- |
| RE: Conversation Rooms | | |
agree, sounds like what i would think of as a formal living room... i like the idea of chairs only, though if you had a couple of couples over, it would be limiting... only 2 couples could sit for conversation... bottom line is it would depend on how you really envision using the room...
---
| | | |
| --- | --- | --- |
| RE: Conversation Rooms | | |
I'm sitting in my "conversation room" right now. Don't tell because generally it is a technology free zone.

Anyway, I'm not sure what you mean about it not working for three people. But I do agree that you need to have a way to accommodate more than four when needed. We have three large window seats, each of which could hold 3 or 4 if needed, plus a chaise on one wall. But most of the time it is a subset of our family of five using the room at any given time.

Maybe you can have benches or ottomans, or depending on your guest demographics, even floor pillows to use to expand the seating.
---
| | | |
| --- | --- | --- |
| RE: Conversation Rooms | | |
I LOVE the idea!!!

And not to hijack your thread, but F2B said:

"I have a friend who has turned the eat-in area of her kitchen into a conversation area. There's still a table, but she has added comfortable wing chairs and a nice deep banquette. It's a great place to congregate and converse, nosh and play board games. "

This is exactly the vision I have for my eat in area, but I'm afraid my kitchen is too small for a couple of wing chairs :(

Would love to see a pic of your friends conversation area.
---
Post a Follow-Up
Please Note: Only registered members are able to post messages to this forum.
If you are a member, please log in.
If you aren't yet a member, join now!
---
Return to the Home Decorating & Design Forum
Information about Posting
You must be logged in to post a message. Once you are logged in, a posting window will appear at the bottom of the messages. If you are not a member, please register for an account.
Please review our Rules of Play before posting.
Posting is a two-step process. Once you have composed your message, you will be taken to the preview page. You will then have a chance to review your post, make changes and upload photos.
After posting your message, you may need to refresh the forum page in order to see it.
Before posting copyrighted material, please read about Copyright and Fair Use.
We have a strict no-advertising policy!
If you would like to practice posting or uploading photos, please visit our Test forum.
If you need assistance, please Contact Us and we will be happy to help.

Learn more about in-text links on this page here