Return to the Home Decorating Forum
|
Post a Follow-Up
---
| | | |
| --- | --- | --- |
| Great Room Fireplace | | |
Posted by
mskitchen
(
My Page
) on
Mon, Mar 14, 11 at 4:53
I would appreciate suggestions and or pictures of a fireplace in the great room - 9 foot ceiling, it will be in the middle of the wall with built in cabinets on either side. Our builder took us to one of his almost completed homes today - there were two fireplaces in that home. Both were constructed of Dominican Ohio drystack, I'm wavering between that and brick. Simple stained mantle in their great room and a more elaborate painted one in the living room with the borders extending up to the ceiling.

On the back wall of our home (facing the deck), there will be stained french doors with a window on either side and transom windows above all. The room will be 20 X 17 with hardwood floors and this room will be visible as soon as you enter the front door. Dining room to the right of the front door and we've eliminated the columns in that room in favor of walls to place my server, etc. although the 2 entrance doors will be quite wide. Just added a tray ceiling in the dining room today so even though I would love a vaulted ceiling in the great room, DH would probably kill me.

Planning on mounting the flat screen tv over the mantle of the fireplace by the way.

If anyone can help, thanks!
---
Follow-Up Postings:
| | | |
| --- | --- | --- |
| RE: Great Room Fireplace | | |
| | | |
| --- | --- | --- |
| RE: Great Room Fireplace | | |
One of the "great debates" here is whether or not to put a TV on a mantel. If you plan on using the FP often, I wouldn't do it. Not only that, neck strain from looking up (if you watch a lot of TV) becomes a pain. Plus it takes the fun away from decorating a mantel. lol

We put our rock FP in a corner which gave us more wallspace for the TV and cabinet.

On cold winter's day I love sitting on the rock ledge we built next to the FP warming my toes and watching TV without straining to do so.
---
| | | |
| --- | --- | --- |
| RE: Great Room Fireplace | | |
Our lower level den has a ceiling height of almost 11 feet. Real stone, cedar mantel. TV is to right of FP:
Our great room is 24x19, with double french doors along the back wall (to the upper veranda). DR is to the left of foyer, both foyer and DR have arched openings into the great room. So very similar to your room, but ours has a cathedral ceiling that peaks at 22 feet.
I didn't want built-in cabinets in either room, but we did turn the front coat closet niche into a TV equipment/DVD storage closet. With such a large room, the TV over the FP is fine. We are far enough away from it that we don't get strained. (Top of FP is 6ft from floor to help you scale the room.) I didn't want the TV showing - it's DH deal. I never turn it on. So it's covered during the day or when we have company. I can still decorate the mantel and it's easy to open/close the sliding panels.
Here is a link that might be useful: Great Room FP with TV over mantel
---
| | | |
| --- | --- | --- |
| RE: Great Room Fireplace | | |
I'll share a pic of ours since it meets the specifications (9ft ceilings great room fireplace with built-ins). We just moved in last month and it's an older home so we're going to work with what we've got although we plan to make several changes (paint, add doors to the bottom, etc) so this is a "before" pic. If I was building a home, I would never plan it this way. I would do something like srg215, for sure! Excuse the crappy cell pic quality and lack of decor....this is straight off the moving truck...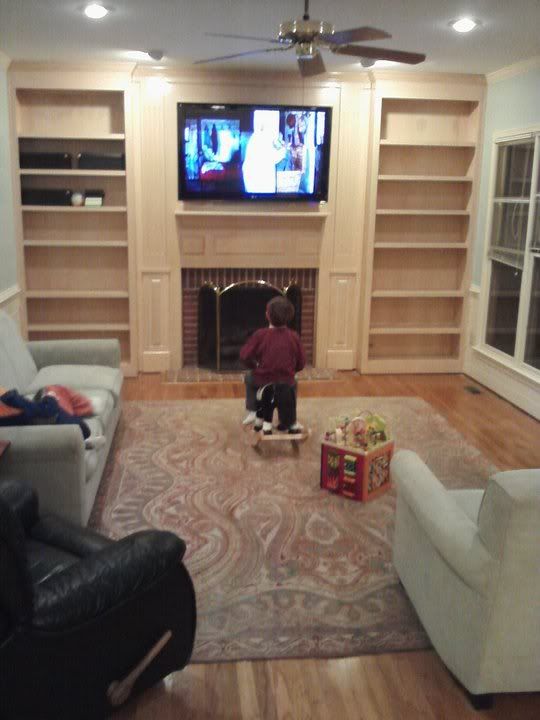 ---
| | | |
| --- | --- | --- |
| RE: Great Room Fireplace | | |
Our fireplace was designed to have built-ins on either side but we opted out since I don't like FP mount TVs, and that meant the TV went in a corner (which would have been occupied by the built-ins). Ceilings are 9ft throughout. Faux stone with a reclaimed barn beam mantel.
The built-ins would have flanked the fireplace, under each of the windows (you can only see one of them, but it's mirrored on the other side).
This is how the space was designed (with FP mount TV and built-ins):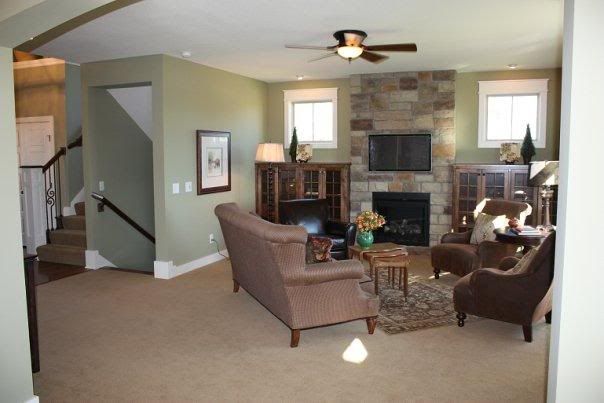 ---
| | | |
| --- | --- | --- |
| RE: Great Room Fireplace | | |
| | | |
| --- | --- | --- |
| RE: Great Room Fireplace | | |
Thanks, everyone for your pictures and helpful suggestions. I think we'll have to address the tv location soon. I think I'm leaning toward drystack now and saw a very nice fireplace done in that material on the Houzz website - it didn't have a tv over the mantle. I need the built-ins for the surround sound equipment, books, CD's etc and didn't want to waste the space for a tv. Maybe we can buy a smaller tv, I'm sure DH will love that idea!
---
| | | |
| --- | --- | --- |
| RE: Great Room Fireplace | | |
| | | |
| --- | --- | --- |
| RE: Great Room Fireplace | | |
You may be able to put sound equipment in another area...or at least *some* of the equipment in another area. We have all of our wiring go behind the built-ins and under the house then up to a closet in the hall just outside of the great room. Everything is controlled with radio frequency remotes so being in closet doesn't matter.
---
| | | |
| --- | --- | --- |
| RE: Great Room Fireplace | | |
crescent50, beautiful room, regina phalange, I'll mention that to DH. Decided last night to go with the fireplace in drystack I saw on the houzz website, tv will be in one of the side built-ins (at this point, don't know when those will be made), painting the mantle (very similar to your mantel, crescent50) and woodwork now a creamy white now to match the rest of the house. Emailed the builder the photo and updated info, I'm sure he's just about had it with me by now

All, thanks for your help!
---
| | | |
| --- | --- | --- |
| RE: Great Room Fireplace | | |
crescent50 - I love your entertainment wall. So unusual...so is srg215.

Ours was originally designed to look similar to avesmor's plan. We lengthened the windows, and like avesmor, kept the floor space, yet added shelving to the side walls and fireplace sides.

This photo is of my previous home. You mentioned wanting to have a vaulted ceiling. :)
---
| | | |
| --- | --- | --- |
| RE: Great Room Fireplace | | |
newhomebuilder, that's a gorgeous fireplace and I love how you had the side shelves designed in your current home, also loved your previous one as well
---
| | | |
| --- | --- | --- |
| RE: Great Room Fireplace | | |
NHB-- I actually saved the fp picture from your previous home and gave it to our builder as one of the inspiration pictures for our built-ins. We wound up with a combination of your look between the family room and the living room so a BIG thank you goes out to you!
Also, I loved the look of the shelves around the windows that you did in your current house. That was one of the inspirations for our office built-ins. No windows but we surrounded the french doors with narrow shelves so again THANKS!
Here is a picture of the living room built-ins ( copied your deeper main shelf) & office in case you are interested.

Living Room:

Office:

---
| | | |
| --- | --- | --- |
| RE: Great Room Fireplace | | |
Absolutely beautiful and much better than what I have. I was disappointed in how the carpenter made the shelves in the family room. It was one of the last things to get down, and I was just too tired to have it changed. :(
---
| | | |
| --- | --- | --- |
| RE: Great Room Fireplace | | |
Sorry to hear it isn't everything you hoped for but I think it looks great!

I felt like as we got close to the end of our build, I just got tired. We are only in 4 months-- so much more to do and I do have some regrets as well as a punch list as long as my arm.
Details, details, details-- UGH!
---
| | | |
| --- | --- | --- |
| RE: Great Room Fireplace | | |
Is it OK for me to save your photos for our next build? :) :)
---
| | | |
| --- | --- | --- |
| RE: Great Room Fireplace | | |
newhomebuilder and crescent50, you both have beautiful homes. Crescent50, do you have the manufacturer's name re the foyer light, it's very attractive from what I can see of it. Also, what is the height of your ceilings?
---
| | | |
| --- | --- | --- |
| RE: Great Room Fireplace | | |
mskitchen-
thanks! Our ceilings are 9 feet on the 1st floor. The foyer light is from Hubbardton Forge. It is the Acharn Foyer Pendent with Water Glass. It is available in 2 sizes-- we did the smaller one.

Here is a link that I hope works:
http://www.hubbardtonforge.com/ProductsInfo.cfm?Design=121024
---
| | | |
| --- | --- | --- |
| RE: Great Room Fireplace | | |
srg215, can you tell me the name of the tile /stone you used around your fireplace? Also, what color paint are your cabinets? Thanks. I love the look of your wall.
---
Post a Follow-Up
Please Note: Only registered members are able to post messages to this forum.
If you are a member, please log in.
If you aren't yet a member, join now!
---
Return to the Home Decorating Forum
Information about Posting
You must be logged in to post a message. Once you are logged in, a posting window will appear at the bottom of the messages. If you are not a member, please register for an account.
Please review our Rules of Play before posting.
Posting is a two-step process. Once you have composed your message, you will be taken to the preview page. You will then have a chance to review your post, make changes and upload photos.
After posting your message, you may need to refresh the forum page in order to see it.
Before posting copyrighted material, please read about Copyright and Fair Use.
We have a strict no-advertising policy!
If you would like to practice posting or uploading photos, please visit our Test forum.
If you need assistance, please Contact Us and we will be happy to help.

Learn more about in-text links on this page here