Return to the Home Decorating & Design Forum
|
Post a Follow-Up
---
| | | |
| --- | --- | --- |
| X-Post: Help with living room layout for small bungalow! | | |
Posted by
artemis78
(
My Page
) on
Wed, Mar 12, 14 at 2:34
[x-posted from Smaller Homes]

We are finally, finally getting new living room furniture--hooray! I'm hoping to take the opportunity to completely rethink how we use the space in this room, however. I would love some ideas on how you would configure furniture in this space to try to create some more distinct "zones," and what pieces you might choose.
Here's our space, with a little snippet of the adjoining rooms shown for context. It's roughly 20' by 12'. (House is 1250 sf 2BR/1BA, so what you can't see is just the DR and kitchen on the left and bath and master bedroom on the right.) The window at the top is a large picture window that runs most of the length of the room. Right now, we just have one long sofa up against the window, which faces a television/media cabinet that takes up most of the blank wall on the lower right. Not a great use of space, but that was the furniture we had when we moved in. We're inclined to keep the media cabinet in its current location since it fits the style of the house and that's pretty much the only place in the room to put a television anyway, but open to suggestions. The fireplace wall is two built-in bookcases with leaded glass doors and a stone fireplace in the middle--mantel is too high to hang a television above and no way to put it in the bookcases so that wall stays as-is.

With the new layout/furniture, I'd like to create dual focal points--the television since functionally that has to work, but also the fireplace/built-ins. When we have company, we frequently bring in dining chairs and ring the room with them, and definitely have a need for more people-oriented seating. So we are either looking at a pair of smaller sofas/loveseats or possibly a sectional (still lukewarm on that since house is 1915 Arts & Crafts and that feels quite modern, though, in addition to being more challenging to reuse in a future house). I'd also like to figure out a way to effectively divide this room in two--not physically divide it, but be able to set up the space on the left as a play area with table and chairs, easel, etc. for our preschooler and not feel like it's bleeding into the main LR space (as it does now with no sense of division). One idea was to put a low bookcase or sofa table against a sofa facing the fireplace, but not sure how well that would work. The entryways into the foyer and dining room do not have doors so those are just open framed spaces.

Any wise thoughts on how to use space more efficiently in a small house? What furniture would you choose here, and how would you orient it? Thank you!
---
Follow-Up Postings:
| | | |
| --- | --- | --- |
| RE: X-Post: Help with living room layout for small bungalow! | | |
As another bungalow owner, the best advice I can offer is SMALL Furniture. Sectionals will overtake your LR faster than you can blink. Your 2 small sofa/loveseat idea is great. Also consider chairs with visible wooden frames and only upholstered backs/seats. Small occasional/coffee tables.

What else is in your media cabinet? Keeping that piece is going to limit your options. We have the tv in one of the built ins to the side of our fireplace.

Where's the doorway/entry to your dining room? I would have expected that from the LR. Are you going to need a walking line thru the LR other than to the front door.

If the media cabinet was gone, you could use that wall for 2 chairs and table between. Leave the sofa in front of the window and have a coffee table in front of it. Play around with chairs on the left wall with the single window.

The really key thing is small furniture.
---
| | | |
| --- | --- | --- |
| RE: X-Post: Help with living room layout for small bungalow! | | |
How high are the bottoms of the windows and what do you see out of them? (is there a view you enjoy, I mean)?

If you post some pics of the room, I think you'll get more responses.

I don't get the bias against sectionals in small spaces. I have one and it really provides way more seating than two small sofas because there are only 2 arms instead of 4. People love hanging out on it and it works so well when I have a crowd. Mine doesn't have a chaise that sticks into the room and it's quite traditional/transitional looking.

Similar to this and it would create a nice division for your toddler space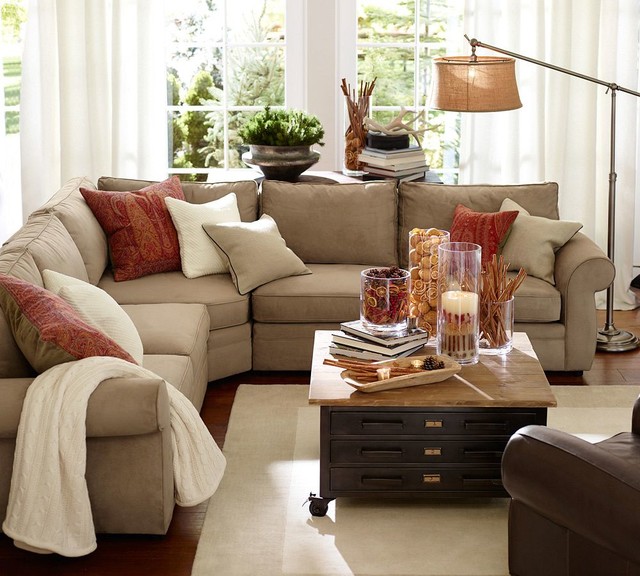 ---
| | | |
| --- | --- | --- |
| RE: X-Post: Help with living room layout for small bungalow! | | |
Thanks! The bottoms of the windows are about 2.25' off the ground, and we do love the view--although we currently look out the windows while sitting on our sofa, which backs up to the window, so we don't necessarily need to have a sofa face the windows to enjoy the view.

Olychick, your photo is roughly what I was thinking about when considering the sectional. The alternative would be to create the same type of seating with two loveseats or a sofa and loveseat with a corner table, but still form an L.

Media cabinet has tv, record player, CD, tuner, etc. in it--much of that could theoretically go in the built-ins or elsewhere but not sure there's any way to fit the television in there. We do want to be able to hide the television, although rice paper in the glass doors of the built-ins could work if there were a way to make it fit. However, putting it there would put the television at an awkward height (below eye level if in the cabinet, well above eye level if over the fireplace). Open to playing around with that for sure, but not sure there's really a solution there.

I'll try to get some photos!
---
| | | |
| --- | --- | --- |
| RE: X-Post: Help with living room layout for small bungalow! | | |
Artemis, I think the forum needs photos of your room, esp. of the fireplace and built-ins, and dimensions of the TV to be more helpful.
---
| | | |
| --- | --- | --- |
| RE: X-Post: Help with living room layout for small bungalow! | | |
Thanks! Here are the best photos I could get--hard to capture the whole room in one frame and the dark on the bottom two isn't helping (nor is the fact that we lost a window to a windstorm last night...there is usually a second casement window where the big board is, and for better or worse it means we're now replacing at least the two casements before we get new furniture!) You can see why we need new furniture, too. ;)

Television is 40". There's one more window not shown here--the one on the lefthand wall in the plan.
---
| | | |
| --- | --- | --- |
| RE: X-Post: Help with living room layout for small bungalow! | | |
Would you consider putting the television above the fireplace? I know many people dislike that for a variety of reasons, but it does create just one focal point and would allow you to clear off the wall the television is currently on and use that as the play space. We had ours put there in our 1926 French Revival's living room because we have just one useable wall and that's where the couch must go. We find the height fine for viewing and it makes the room work so much better. Eventually we plan to have a "mirror" cover put over it with a nice frame to improve the appearance.
---
| | | |
| --- | --- | --- |
| RE: X-Post: Help with living room layout for small bungalow! | | |
We explored that early on, but it was just too high for us. (The top of the mantel is a little over 4.5', so the tv would need to hang at around 7' to fit there.) It also requires drilling through the mantel and one of the bookcases to wire (there's no access to that wall from the crawlspace below b/c of the fireplace and window configuration, so currently no wiring at all there) which we are pretty lukewarm on at best. The tv would fit into one of the cabinets if we reworked the shelving but I think that just trades some problems for others since I'm not sure how we would configure furniture to be able to see a tv on one of the two sides. Will mull this over more, though.
---
| | | |
| --- | --- | --- |
| RE: X-Post: Help with living room layout for small bungalow! | | |
I'd suggest going to homestyler.com. They have a free, easy to use on line room planner where you can put in your dimensions and doorways and such and then add furniture of various sizes and play with the layout on line.
Here is a link that might be useful: Homestyler
---
| | | |
| --- | --- | --- |
| RE: X-Post: Help with living room layout for small bungalow! | | |
Another 1920's tudor owner with young ones who must say after years of fighting putting the tv above the fireplace, am now so glad I gave in. We did not mount it we just placed its stand on the mantle, which is also 56 inches off the floor, and we replaced our 40 inch with a 32 and it is perfectly comfortable to view and the room looks and works so much better for us now. I think the key was using a smaller set and just resting it on the mantle when I tried it with the 40, which is now in our lowerlevel den, the set was way too high to view easily.

At the same time we moved the tv we also replaced a love seat /sofa set with a smaller sized sofa, chair and ottoman and small accent chair with round, rather than square cocktail tables, this served to allow us more useable roomto add more chairs when entertaining and for everyday use it feels so much more spacious.

I guess I am thinking that the space would be more family and entertaining friendly if you placed a small scale sofa across the room facing the fp and than use comfy swivel chairs on each side of the fire place with cocktail tables beside them. And than behind the sofa set a play zone maybe concealed in a storage offering sofa console and a small easy chair in the corner across from the large entry way. Small scale furniture is key though!
---
| | | |
| --- | --- | --- |
| RE: X-Post: Help with living room layout for small bungalow! | | |
I think roarah's suggestions make sense. Perhaps she could post a photo to illustrate her transformation. Your fireplace area with cabinets and windows is quite lovely, as is the layout of your big window wall. I do not like the entertainment system around the TV at all. To me, it looks cluttered. If you keep the TV on the same wall, I would buy an entertainment base. Adding a hutch would be optional. That would neatly contain all of your components. Or put a fabric with an open weave texture in the windows on the window wall with the TV on that wall. Please treat GW participants with photos of the transformation.
---
| | | |
| --- | --- | --- |
| RE: X-Post: Help with living room layout for small bungalow! | | |
My room is oriented differently than Artemis' room and I can only find one poor before pic that does not have people in it:(. But here is a bad before of the oversized love seat/sofa combo. To the left of the FP was a tv armoire which is now in the opposite corner used to house games and toys.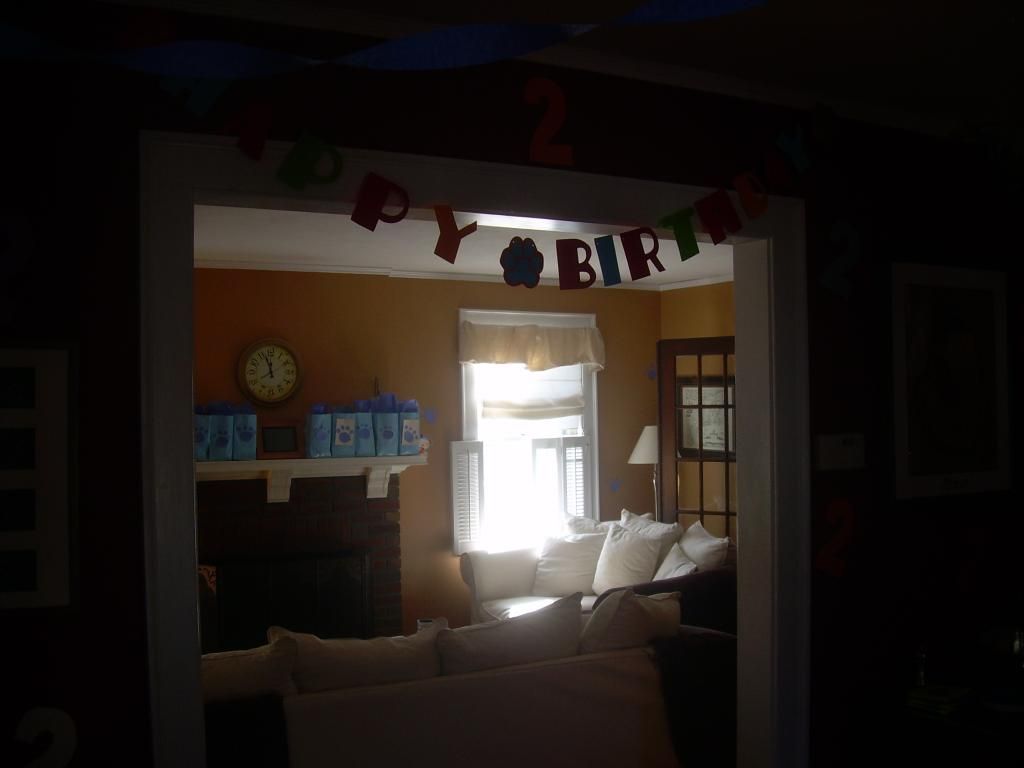 Here is a pic from the same point of view of the room today. Not sure if the before really works to show the difference, I will try to find a better before later if you need one
---
| | | |
| --- | --- | --- |
| RE: X-Post: Help with living room layout for small bungalow! | | |
Here is the Armoire obstructing a window to view tv from sofas.
And the giant moved to opposite corner to house games and toys.
---
| | | |
| --- | --- | --- |
| RE: X-Post: Help with living room layout for small bungalow! | | |
We have a small living room in a 1926 house. We have tried having smaller sized furniture thinking it would make the room look and feel bigger. We now have gone back to regular size furniture (not oversized) and think the room looks and feels better. In a small house I have learned to not automatically go for smaller furnishings.

We have a rental house with a fireplace/bookcases set up just like yours. I have had tenants who put the TV on the mantle, in front of the fireplace, and in a entertainment center on a different wall. I found it very awkward to watch tv when on the mantle or in front of the fireplace (low to the floor). The set up that looked the best and seemed to function best was when the TV was on a different wall.

Can you paint the entertainment center white so it looks like the built ins? Or get a different one?
---
| | | |
| --- | --- | --- |
| RE: X-Post: Help with living room layout for small bungalow! | | |
Thanks all! We are definitely open to looking for something to replace the media cabinet, but have looked intermittently over the years and had a hard time finding something that closes (DH feels strongly about this aesthetically, and we also have young kids so the out-of-sight-out-of-mind thing is very valuable for both safety and sanity) and is deep enough to accommodate the receiver, tuner, etc.--many of the newer pieces made for flat screen tvs seem to either be intended as bases with the tv out in the open, or do close but are quite shallow. I'll take another look around and see if anything new is out there, though!

@roarah, thanks for the photos--your space is beautiful (and I love the window seats!) I can show DH and see if it's worth revisiting the tv on the mantel idea. We'd looked at hanging it rather than just setting it on the mantel, so maybe that would make a difference. We do have a 40" tv and replacing it is not in the cards, though.

We've been considering what I think is normal-sized furniture--current sofa is 84" and you might be able to tell from the photos/plan that it has quite a big of space in the room (there's room between the sofa and the bookcase for a light and a side table), so thinking if we go with an 81" sofa (one option in a design I like) that would be a good bet if we keep it on that wall and then get a slightly smaller one (72") to form an L. If we go with chairs instead of one sofa/loveseat--and I do like that look in roarah's room--I'll have to rethink that a bit, though. Off to play with Homestyler--thanks for that tip!
---
| | | |
| --- | --- | --- |
| RE: X-Post: Help with living room layout for small bungalow! | | |
Oh, and for jmc01, the dining room is the room that's cut off on the lower left below the porch and foyer--so no paths through the LR to worry about, fortunately!
---
| | | |
| --- | --- | --- |
| RE: X-Post: Help with living room layout for small bungalow! | | |
I have not read the replies and I am so bad at seeing floor plans vs. being in the room . . .

So, maybe this would not work, but could you put two small sofas back to back? One would face the FP and the other would face the other wall. On the other wall, you could put the TV. Or, maybe one sofa facing the FP, and 2 chairs facing the TV? In my LR/sun room combo, I have a total of 3 chairs, 1 sofa, and 1 loveseat. For sure, the chairs get the most use. I would almost always opt for more chairs vs a loveseat unless there is a space where a loveseat fills the space best. (A chair would not be long enough, for example.)

I deal with a long and narrow room myself (mine is super narrow in some spots due to the FP-- only 7 ft!), but I also have several awkward entrances. I find it very important to find as many ways to put items (such as furniture and rugs) parallel to the short side of the room. Opposite of what one might think and can be challenging. This really expands the room and relaxes the eye.
---
| | | |
| --- | --- | --- |
| RE: X-Post: Help with living room layout for small bungalow! | | |
Roarah, your daughter is adorable!
---
| | | |
| --- | --- | --- |
| RE: X-Post: Help with living room layout for small bungalow! | | |
Thanks, anele! That would work as far as the space, though not quite able to visualize it so I'll have to play around with it. Started working with Homestyler, and we measured the space--discovered my numbers were a bit off, so the room is closer to 17' x 14' (more square than I'd thought). I believe it is right in the plan above, though, since I measured before creating that a few years ago. We're currently leaning towards doing one sofa and two chairs rather than two sofas, so glad to hear that you like that! This does mean I have to regroup on dividing the space, though, since putting a bookcase right behind the chairs looks strange (whereas it looked appropriate behind a sofa).

Interesting about being parallel to the short side, though--I will play with that, as our rug is 8' x 10' so could go either direction in the space. (Right now it's parallel with the long side and I'd just assumed would stay that way.) DH wants to just go to the store where we plan to buy the furniture and compare the comfort of the chairs to the loveseats, and then decide based on that. A sectional does fit the space best but DH hated it when he saw the 3D rendering, so that is 100% out. So, we're slowly making progress!
---
| | | |
| --- | --- | --- |
| RE: X-Post: Help with living room layout for small bungalow! | | |
Artemis (great name-- my daughter dressed as her for Halloween!), I was wondering about your dimensions. The floor plan did not seem as narrow as the original numbers suggested. 14 X 17 is even easier to work with! Very nice size.

Since your room isn't long and narrow as you originally mentioned, you are not fighting the bowling alley feeling . . .you don't have to stick to with focusing on the short side of the room!

I think the benefit of chairs vs. a loveseat is the flexibility. Look at the overall proportions of the furniture, though, like how bulky the arms are. That will make a huge difference in terms of how open the room is. If the chairs are overstuffed it can make the room feel as though it is, too. (Of course, too-small chairs have their own problems in large rooms, too.) Just try to visualize the furniture in your own room vs the large showroom. If any furniture is going in front of the window, you might want to keep it low profile.

Whatever you do, don't rush the furniture selection. If possible, have as many pieces in place mentally/on paper (window treatments and such) BEFORE you buy anything.

Sorry about your window. :( I think your house is great! I love that you are creating a space for your child right in the LR. I always say, no matter if I lived in a mansion, my children (their choice) would be right at my heels! Better to just plan for it!
---
| | | |
| --- | --- | --- |
| RE: X-Post: Help with living room layout for small bungalow! | | |
Thanks! The big upside (for someone as indecisive as me, at least...) is that we have a somewhat limited, though nice, set of pieces to choose from (since we've been waiting to buy new furniture made without flame retardants--our state has required them for many years and just changed the law a few months back, and we delayed getting new furniture by a couple of years to wait for the law to go into effect). So there is only one manufacturer in our price range that has those pieces available in 2014, with most places waiting till 2015 to switch. They sell through a couple of different big retailers, and each line has somewhat different pieces and sizes available. So we can choose a style or two that we like and then see how the options within those lines fit our space. (I actually predict that it will come down to which chair DH likes best, since he's much pickier about stuff like that than I am--they seem to vary in style a lot more than the sofas do.) I haven't bought furniture other than boring things like tables in a decade, so it's kind of like going into a candy store to try it all out! (Then, of course, there will be the issue of choosing a color...gah!)
---
| | | |
| --- | --- | --- |
| RE: X-Post: Help with living room layout for small bungalow! | | |
It's a good thing your choices are narrowed down!

When you look at color, look at everything in the room (planned and purchased before you pick).

Much easier to decide ahead of time.
---
Post a Follow-Up
Please Note: Only registered members are able to post messages to this forum.
If you are a member, please log in.
If you aren't yet a member, join now!
---
Return to the Home Decorating & Design Forum
Information about Posting
You must be logged in to post a message. Once you are logged in, a posting window will appear at the bottom of the messages. If you are not a member, please register for an account.
Please review our Rules of Play before posting.
Posting is a two-step process. Once you have composed your message, you will be taken to the preview page. You will then have a chance to review your post, make changes and upload photos.
After posting your message, you may need to refresh the forum page in order to see it.
Before posting copyrighted material, please read about Copyright and Fair Use.
We have a strict no-advertising policy!
If you would like to practice posting or uploading photos, please visit our Test forum.
If you need assistance, please Contact Us and we will be happy to help.

Learn more about in-text links on this page here