Return to the Home Decorating Forum
|
Post a Follow-Up
---
| | | |
| --- | --- | --- |
| Problems with new sofa | | |
Posted by
nlmorejon
(
My Page
) on
Fri, Mar 18, 11 at 0:58
I posted this first in the Furniture Forum and then I thought that I would get better responses here. So please read on.

Our first leather sofa was bought five years ago. Within three years we noticed that the color was rubbing off (yes it was made in China). This year we decided to do an upgrade. I did not want another leather sofa for fear of having the same experience. But my husband felt that a higher quality sofa would not do this. I gave in and we bought a nice Hancock and Moore sofa and recliner. The leather is called Antelope Saddle, which came from Germany. The sofa itself was constructed in the United States.
The furniture arrived two days ago. The recliner is beautiful but the sofa has many leather issues. We noticed the following problems:

1. Several places on the leather do not appear to be fully dyed .
2. There is a raised mark on top of one cushion. Instead of smoothing it out with this grade of leather, dye was applied on top of it. It cannot easily be missed.
3. There are white specks throughout the cushions.
4. On one of the armrests, there are two swirling grey marks.
5. Not knowing that the white specks and grey marks were imbedded in the leather, we attempted to remove them with a damp tissue that resulted in the dye coming off on the tissue.

We bought the sofa online from another state and paid to have it delivered to us. We contacted the dealer who we bought the sofa from. He stated that most of what we described is due to damage caused by the delivery company. He said that the pigment loss is typically seen when tape is placed on the leather and removed. The tiny white specs are due to heat in back of the trucks coupled with flexing of the leather (Heat? Its winter!) . The dealer is sending us a leather cleaner/conditioner kit that he says will take care of most of the problems.

I would like to know if anyone else has experienced this. How did you determine it was due to the delivery company? Were you able to permanently fix the problems? Also, do you think that in three years the color will start to rub off, leaving large patches of white, like it did on my old sofa?

---
Follow-Up Postings:
| | | |
| --- | --- | --- |
| RE: Problems with new sofa | | |
we purchased an H&M sofa 5yrs ago & have had no problems at all.

If you purchased from a reputable dealer they should be sending someone out to examine what you describe.

Posting a pic here may help
---
| | | |
| --- | --- | --- |
| RE: Problems with new sofa | | |
Here are some pictures and thanks for you comments:

Tissue w/ leather stain on it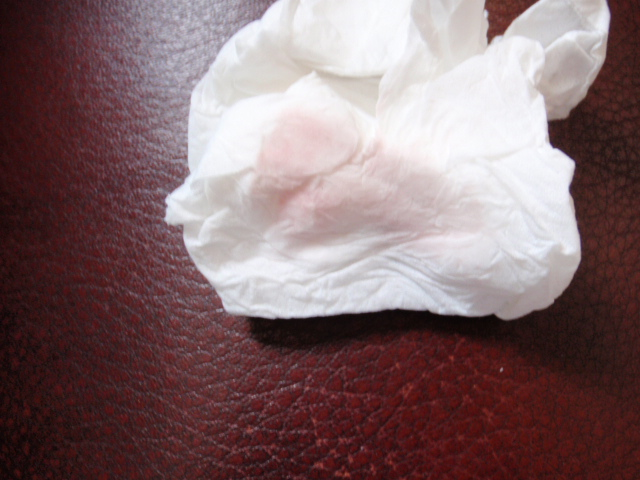 Cushion w/blemish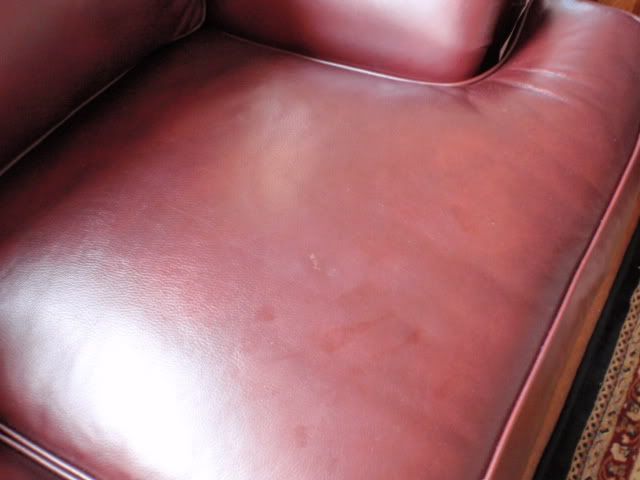 Incomplete color

White speck inbedded in leather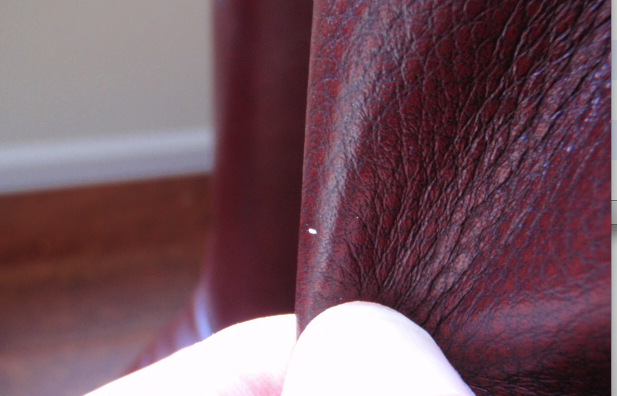 ---
| | | |
| --- | --- | --- |
| RE: Problems with new sofa | | |
Well - wasn't that just so easy for the retailer to put blame on the delivery truck and got of rid of you.

I would call H&M - and have them send out a factory rep. I think your issues are significant. I've had my leather sofa (can't remember the name) but equal quality of H&M for 10 + years and the leather is still in perfect condition!

I do have a leather seated chair by H&M and the while the leather is still good (only used this chair occassionally) it did get faded by the sun. Funny, my other brand of furniture did not fade at all
---
| | | |
| --- | --- | --- |
| RE: Problems with new sofa | | |
Hancock and Moore is premium leather and you paid a premium for it. I have a fifteen year old H & M sofa and the leather is as gorgeous as it was new. I would expect the same from a new H & M sofa. It should be beautiful for years.

Please call Hancock and Moore directly. I would also contact your bank and dispute the charges. If the delivery company inadvertantly taped the leather ad removed pigment, then the factory-applied glazing/sealent has been ruined. No after market care kit will restore that damage that you should not accept. The furniture store hired the delivery company. They need to take this matter up with the delivery company. That's what they pay insurance for.

I would also add that furniture is routinely damaged in transit. However, when you buy locally, it is touched up before you ever see it so you don't know the damage is even there. Which isn't exactly fair but it's the way it is. However, this level of damage to a Hancock and Moore sofa would be unacceptable to me. I think even if they offered me 20% off of the purchase price to keep the sofa as is that I would not take that price reduction because the blemish on the cushion is bound to get worse looking through time.

You paid for a perfect sofa. Please call your bank and contest the charges. Then tell the dealer you did so and you expect a replacement

1. Sofa
2. Cushion with the promise that the cushion will match the sofa to your 100% satisfaction.
3. Refund

Perhaps a phone call to Hancock and Moore would be the first step. You can google their phone number.

Please keep us posted.
---
| | | |
| --- | --- | --- |
| RE: Problems with new sofa | | |
I agree that your sofa does have some condition issues that should be evaluated and addressed, but good leather will have blemishes and scars in it that you sometimes do not see in lesser grades because lesser leathers are sometimes treated on the surface to improve texture, and the dyes are more opaque like paint, all the way down to "bicast" leather, which cannot be called leather in some countries, which is the under layer of the animal's hide that is pressed and embossed and dyed.

I bought a full hide in Edelman Leather for a custom upholstery job and it had some clear scars and blemishes in it just like a human's skin would.
---
| | | |
| --- | --- | --- |
| RE: Problems with new sofa | | |
One more thing....never pay in full for anything before you see it in yout home.
I had issues about 12 years ago with leather furniture, I bought a sofa love seat and 2 ottomans. Repeatedly something was wrong with one piece or another and I kept sending it back. On the 4th delivery, the delivery driver asked me to come out to the truck because he said...I don't think you will want this.
So I walked and bought from another company.....because I had not yet paid for it!!
Stop payment and tell them to come get their junk!
---
| | | |
| --- | --- | --- |
| RE: Problems with new sofa | | |
I know that certain sorts of leather have blemishes, even such things as scars from wounds from a barbed wire fence (which are highly desirable to some), but our Hancock and Moore sofa seems blemish-free. Perhaps they have a way of treating the hide so that imperfections are minimized, perhaps the hides comes from a herd of pampered livestock. I don't know. But our sofa is just about perfect. leather-wise.

I hope that the OP can at least get a replacement cushion. Many manufacturers attach a swatch of leather to the sofa and perhaps that is how you can color match the replacement? H& M has been selling many of the same leather colors for years. They'll know how to fix your problem.
---
| | | |
| --- | --- | --- |
| RE: Problems with new sofa | | |
I don't think you should have to accept it as is or his answer of blaming it on the shipping company. We're having problems with a sofa we just bought, the shipping company did damage it (tears in several spots) but it also was ordered in the wrong fabric. We saw the sofa we wanted online but then bought through a local store. Discover told us we need to let the store try to fix the problem, which thankfully they have told us they would. However if it's not resolved to our satisfaction Discover also said they would assist us with reimbursement.

I'm hoping you too paid with a major credit card. If you did, I would call the company you purchased from one last time and insist on an exchange, if they refuse, call the credit card company and ask for their assistance in getting a refund. And like the lady told me today, document document document. Good luck and I hope you let us know what happens.
---
| | | |
| --- | --- | --- |
| RE: Problems with new sofa | | |
I think starting with H&M to have them send someone out is where I would start. I would question whether you got a knock off because of the dye coming off & how poorly dyed it looks. I don't know if they normally put blemishes like that on a top cushion- I can't tell if the bottom of the cushion is also leather & if you could flip them over or not.

I can't say I've ever had dye come off with tape & the story the store gave you about it being in a hot truck sounds like a red flag to me.

From the link below * Posted by bellamay (My Page) on
Sun, Jan 27, 08 at 22:21

I have two matching H & M sofas that we about 8K each. They are about 3 years old and the cushions have broken down. They replaced the inserts, but the problem is with the leather cushion covers. I was under the impression that this was excellent quality furniture but have since found out that it is a mid line brand. Hope your pieces have longevity...mine did not. They are listed on Craigslist for a little bit of nothing!!!
Here is a link that might be useful: H&M post
---
| | | |
| --- | --- | --- |
| RE: Problems with new sofa | | |
I would go to this forum and post over there. The Duane referred to in the link to the previous post is the moderator and is an H and M dealer himself. He will help you to get your situation resolved. Post your photos also. This should not happen with H and M furniture
Here is a link that might be useful: Furniture Forum
---
| | | |
| --- | --- | --- |
| RE: Problems with new sofa | | |
The sad truth is today you cannot buy anything with a "name" and "price tag" and get what you think you are paying for. I know, I'm on my third ELectrolux refrigerator and I haven't had it a year. Back in the 40's Electrolux was the one to buy. Today, stay as far away as possible because it's not even made by Electrolux anymore.
---
| | | |
| --- | --- | --- |
| RE: Problems with new sofa | | |
These sofas are absolutely defective. You need to call the store and return them.
---
| | | |
| --- | --- | --- |
| RE: Problems with new sofa | | |
I purchased an H&M leather chair 17 years ago that looks exactly the same
Today as it did the day I bought it. I love that chair.

Fast forward. I purchased a $5000+ H&M sofa 2 years ago. I have not been happy with the quality since day 1. I sent the first couch back. The nailheads were uneven. The leather didn't meet the frame on one side. There were scratches. And, the leather was less than what I expected. I waited months to get the couch returned. The new couch returned and it was better. But, it was not the quality of my other chair. Now,
my H& M couch is showing its wear. It looks older than 2 years and it hasn't kept its shape as well, either.

I have been having allergy problems for 2 years. For some reason, I didn't put it together that it was the couch. Today, I found at that my H&M sofa has leather from China, and God knows what else from China. It explains a lot. Lets just say, I will never purchase from H&M again. Now, I get to figure out what to do with my $5k allergen. (My health has been so bad, we had the house inspected for Chinese drywall. Little did I know, my made in America couch was from China.)
---
| | | |
| --- | --- | --- |
| RE: Problems with new sofa | | |
I am not sure about most of your problems. However, my sister bought an H & M sofa several years ago and used Guardsman to clean and protect it. (Recommended by the furniture store she bought it from) The dye was coming off on the cloths she used on it. Hancock and Moore would not touch it. They said it was a Guardsman problem. My sister went through a lot to get Guardsman to stand behind their product. They did eventually replace her sofa. Honestly, I wonder if it wasn't just the leather itself. She has not used anything on her new sofa (has the same leather because she liked it in the room) because she is paranoid the same thing will happen. Quality just isn't what it used to be which is sad!!
---
Post a Follow-Up
Please Note: Only registered members are able to post messages to this forum.
If you are a member, please log in.
If you aren't yet a member, join now!
---
Return to the Home Decorating Forum
Information about Posting
You must be logged in to post a message. Once you are logged in, a posting window will appear at the bottom of the messages. If you are not a member, please register for an account.
Please review our Rules of Play before posting.
Posting is a two-step process. Once you have composed your message, you will be taken to the preview page. You will then have a chance to review your post, make changes and upload photos.
After posting your message, you may need to refresh the forum page in order to see it.
Before posting copyrighted material, please read about Copyright and Fair Use.
We have a strict no-advertising policy!
If you would like to practice posting or uploading photos, please visit our Test forum.
If you need assistance, please Contact Us and we will be happy to help.

Learn more about in-text links on this page here