Return to the Home Decorating & Design Forum
|
Post a Follow-Up
---
| | | |
| --- | --- | --- |
| Can't decide on the right light | | |
Posted by
zeitgast
(
My Page
) on
Sun, Mar 16, 14 at 0:00
Hi All

Wonder if you can help. I need to figure out the right light to go over a 60" dining table in a costal NE house. Ceilings are 8' so can't be anything too high. Couple of other goals:

- Don't want to obscure the view from the kitchen too much
- Want it to relate to the other fixtures in the kitchen
- Don't want to break the bank
opposite wall
the view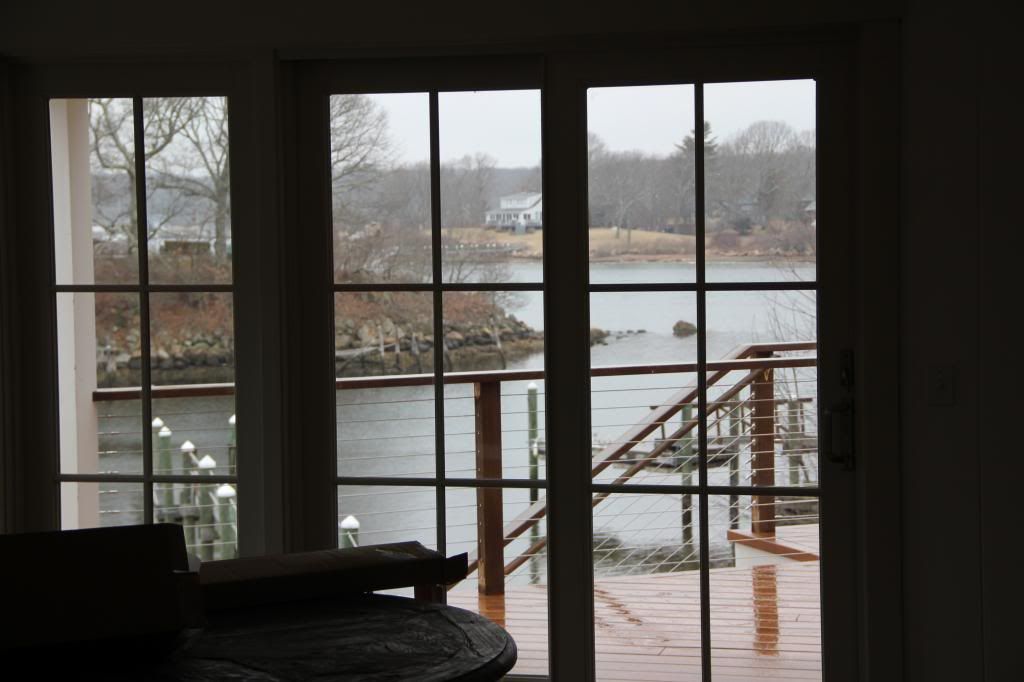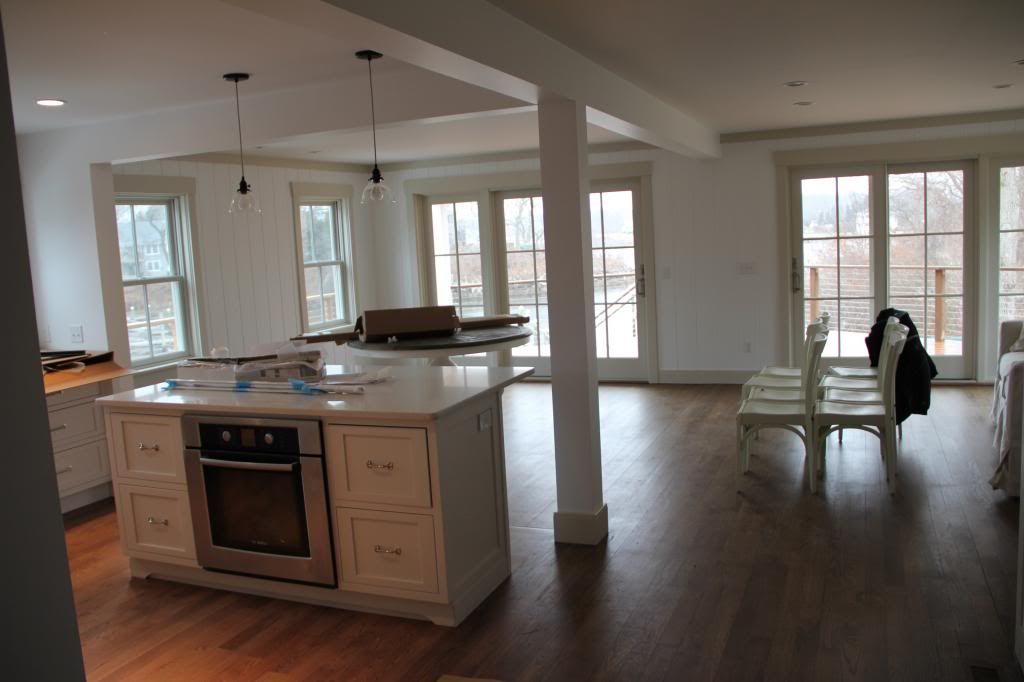 Kitchen pendant close up

A few options we are considering...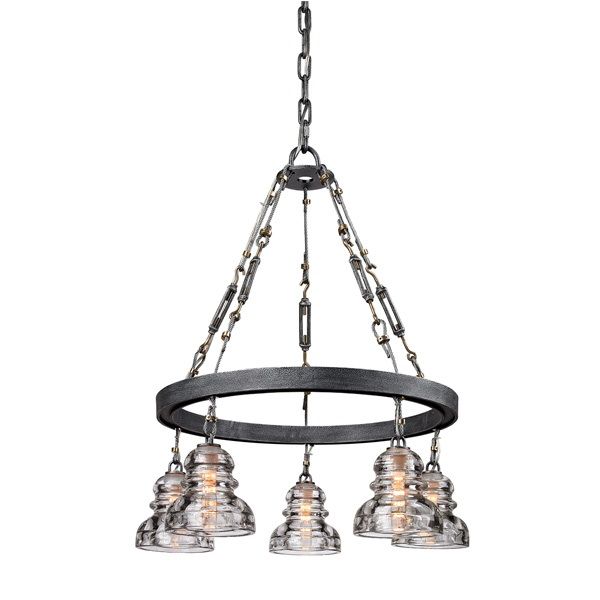 This is 25" diam and 27" high. Kinda industrial/hard which might work with the pendant and cable rail on the deck. Might be too hard-- its a soft room.
This one might be too soft and view obstructing...

Another option

I realize I am all over the place-- hence the plea for help.
thx in advance z
---
Follow-Up Postings:
| | | |
| --- | --- | --- |
| RE: Can't decide on the right light | | |
Have you looked at Hubbardton Forge -
---
| | | |
| --- | --- | --- |
| RE: Can't decide on the right light | | |
No I haven't Lascatx. Thanks! Will check them out too.
---
| | | |
| --- | --- | --- |
| RE: Can't decide on the right light | | |
This fixture is in the breakfast room in a house being built in my neighborhood with pendants similar to yours. I think it is Quorum 6796-6-86
---
| | | |
| --- | --- | --- |
| RE: Can't decide on the right light | | |
Beautiful space. I love the view.
RE the first fixture you posted the Industrial one from Troy lighting, I ordered one to try- same line, menlo if I recall, the linear/island light for my kitchen and it was very hard and very industrial- it went right back. Based on that experience and your own noted concern I think you should rule it out.
I love the second one, is it Capiz shell? I do think it is too soft however, I could see it in a girl's bedroom. If you like capiz shell, this one is nice

it is neiman marcus. I ruled it out because I thought it was too dark when it was not illuminated and when illuminated I didnt think it would produce enough light.
I like the idea of a lantern type light, like bbstx suggested in your space. Have you looked into that style? Do you like it?
For the industrial look, I also like rope, like this one from Ballard

Do also take practical concerns into your considerations--- It is a bright light filled space but there will be stormy gray days when you may want that light on a lot. I dont know where you are in NE, I am in Maine and in December it is full dark at 3:30 PM, compact fluorescent, LEDs are the way to go. I have exposed bulbs over my kitchen island and I did not want more of them in my open to the kitchen DR. This is why I ended up with a shade-
---
| | | |
| --- | --- | --- |
| RE: Can't decide on the right light | | |
i would look into the exposed bulb lights- i like the one bbstx shows and the rope one above-- there are lots of variations of those too!
the upfacing glass globes would get old for me-- even though it is easy to wash glass, they will need to be removed to do so effectively and it's just a task that gets old after awhile! our foyer light has many upturned crystal globes and within a month, the globes are visibly dusty, and that is in a light that is up high--- i only haul out the 10 ft step ladder a couple of times a year and live with the dust the rest of the time- at eye level, i would take it apart much more often! just something to think about before purchase!
---
| | | |
| --- | --- | --- |
| RE: Can't decide on the right light | | |
I think this one would be perfect. It' very good looking in person and you can't beat the price. It's 169.00 at Pottery Barn. Love your house!
---
| | | |
| --- | --- | --- |
| RE: Can't decide on the right light | | |
A friend of mine just installed this light in her breakfast room. It looks fantastic! (I'm writing from my iPad and can't figure out how to download a picture of it. Sorry.) Shades of Light has a section called "chandeliers for 8 foot ceilings." This chandelier was found there. Because you have an 8 foot ceiling, you might want to peruse that section.

Btw, I was half asleep when I posted this morning. You're house is on a wonderful site. I totally understand your not wanting to block that view!
Here is a link that might be useful: Trellis cage
---
| | | |
| --- | --- | --- |
| RE: Can't decide on the right light | | |
Pretty house! And plus on on the light caminnc suggested. That is perfect :)
---
| | | |
| --- | --- | --- |
| RE: Can't decide on the right light | | |
Thank you all for your helpful suggestions (and kind words).

Bbstx I was really thinking I had to go round over a round table but maybe a lantern fixture could work hmmm. The finish of that one would match the pendant well. Thx for the 8' tip- it helps with getting the scale right for sure. I think you are on to something with the cage look.

Localeater thank you so much for suggesting Troy Lighting. The pic I posted was actually from Barnlight Electric (must be an OEM). I purchased my outdoor sconces from them and completely forgot. Lots of good options from Troy! Yes that is a Capiz shell light-- I have three boys though but agree its too soft and better for a girls BR. You make a good point about the practical part if all this-- like the last concept you posted if I can find the right finish.

Busybee3 agree something open makes sense just not liking the candle bulbs. Had those up shades too once- they do catch a lot of dust.

Caminnc I do love the pendant you posted (thx) but I wonder if it is big enough at 14" diameter. I read that I should be looking for 1/2 the diameter if the table (30" d) and ~24" h (see link)

Does 1/2 the table diameter sound right?
Here is a link that might be useful: Chandellier size guide
---
| | | |
| --- | --- | --- |
| RE: Can't decide on the right light | | |
| | | |
| --- | --- | --- |
| RE: Can't decide on the right light | | |
That looks fabulous! You must be so happy!
---
| | | |
| --- | --- | --- |
| RE: Can't decide on the right light | | |
Good choice on the lights!
---
| | | |
| --- | --- | --- |
| RE: Can't decide on the right light | | |
The dining room light looks perfect! Your house is so lovely.
---
| | | |
| --- | --- | --- |
| RE: Can't decide on the right light | | |
Looks wonderful. Also, it has enough light bulbs. I bought a lovely pendant for over the breakfast table, not realizing that one light bulb isn't going to be bright enough. So, now we still need to have the recessed light son to see what we're eating.
---
| | | |
| --- | --- | --- |
| RE: Can't decide on the right light | | |
I missed this post first time around; glad you circled back.

The room is so lovely and the view is terrific!

Best of luck.
---
Post a Follow-Up
Please Note: Only registered members are able to post messages to this forum.
If you are a member, please log in.
If you aren't yet a member, join now!
---
Return to the Home Decorating & Design Forum
Information about Posting
You must be logged in to post a message. Once you are logged in, a posting window will appear at the bottom of the messages. If you are not a member, please register for an account.
Please review our Rules of Play before posting.
Posting is a two-step process. Once you have composed your message, you will be taken to the preview page. You will then have a chance to review your post, make changes and upload photos.
After posting your message, you may need to refresh the forum page in order to see it.
Before posting copyrighted material, please read about Copyright and Fair Use.
We have a strict no-advertising policy!
If you would like to practice posting or uploading photos, please visit our Test forum.
If you need assistance, please Contact Us and we will be happy to help.

Learn more about in-text links on this page here