Return to the Home Decorating Forum
|
Post a Follow-Up
---
| | | |
| --- | --- | --- |
| SPINOFF: China/Dishes - where and do they still 'fit' you | | |
Posted by
binsd
(
My Page
) on
Fri, Feb 10, 12 at 23:32
beaglesdoitbetter's thread about her china and china cabinets got me to thinking about where I'm eventually going to put my china and frankly, WHEN I'm ever going to get around to using it.

I chose our pattern based on our 1929 Spanish Colonial in San Diego. It's not what I'd call formal at all. My then-boss's wife purchased the entire service. I found out when my cousin emailed "could you please add more things to your registry? Everything is gone." That had me perplexed as I had JUST a few hours earlier posted my registry. I then received an email from my then-boss's wife saying she loved it, it reminded her of Italy and "...consider it yours". OMG!

That poor china has moved across the country and has never been properly displayed nor have the pieces seen much use (some none at all!).

I still haven't unpacked it. It still fits our personality and thankfully, I haven't strayed too far from these colors in our house - Gien Toscana:
Our "casual" pattern is Villeroy-Boch Cellini which isn't really casual and yes - it's packed away as well!
I have actually mixed the 2 pieces together to break up all that colorful pattern and I like how they work in that way.
With 2-preschoolers and a DH who has hand dexterity issues, fine china isn't very practical. Right now, we're using a mish-mash of Pier 1 Import pieces I bought 20 yrs ago, a couple of Corelle bowls for DH and a mish-mash of Disney plates and Ikea colorful plastics. And of course, the circa 1960s "cereal" bowls in pink melamine that DH grew up with.
What do you have? Where do you store/display it? Has it influenced your decorating style at all?
---
Follow-Up Postings:
| | | |
| --- | --- | --- |
| RE: SPINOFF: China/Dishes - where and do they still 'fit' you | | |
After I lost all of my china and crystal in an earthquake, I determined that I would never again pack it away. Instead, I use it daily. If some gets broken, then it gets broken. I have several different sets, most purchased through eBay. I also have a set of holiday dishes that I use throughout the month of December. Fine china is surprisingly durable and strong. I don't display any of it. It's in the cupboard ready to use. The only thing my china influences decoratively is the choice of complementary table linens.
---
| | | |
| --- | --- | --- |
| RE: SPINOFF: China/Dishes - where and do they still 'fit' you | | |
I have Mikasa Garden Harvest stoneware and Evesham Gold china, which reminds us of our travels in England. I use one or the other every day, even though I have to wash the EG by hand.
---
| | | |
| --- | --- | --- |
| RE: SPINOFF: China/Dishes - where and do they still 'fit' you | | |
I've got loads of it. The everyday dishes are Aynsley, we got a service for 16 in the 80s and there's still a lot of it intact. The fine china is Raynaud. I have dinner plates in one pattern and smaller ones in another. Our china coffee cups are a Pickard pattern because I liked the shape and they hold a lot more coffee than the french ones do! The good stuff is essentially all white with a 1cm encrusted gold band, so they all coordinate. It lives in the china cabinet where it is easy to set the dining table, along with the Waterford crystal, which we also use on a regular basis. I also have a lot of green depression glass from my mother and grandmother, mostly bowls and ice cream dishes and smaller plates.

Add to that a set of Quimper and a luncheon set of green bunny toile ( birthday gift from my BFF), and holiday dishes ranging from Radko's Christopher's Tree pattern to Lenox Holiday Gathering in various patterns, plus a collection of vintage Father Christmas mugs and two sets of Tracy Porter Santa mugs... Oh, and a no name red and white set of the Twelve Days of Christmas cake plates.. And I know there is something I am forgetting. We do use it all frequently, except the silver coffee and tea service. I never did find flatware that I loved, and will get my mother's eventually, so I bought 12 place settings of silver plate from Pottery Barn, of all places, and it is just great! It was actually less expensive than my stainless :) So we have an eclectic collection as well...I love it all and use it often!

When our children were very small we used a nice set of melamine for daily use. It was actually from a commercial supply house (sort of open stock for really cheap diners, lol) so I was able to replace pieces until our last child was about six. We handwash the good stuff and havent broken anything in years. I haven't had a problem with everyday dishes breaking either, but glasses seem to break often--- mostly in the dishwasher. And of course bowls and spoons disappear on a regular basis, turning up in the backyard, the porches, and under the kids' beds.
---
| | | |
| --- | --- | --- |
| RE: SPINOFF: China/Dishes - where and do they still 'fit' you | | |
I got engaged when I was 17 (over 30 years ago) and my Mom started collecting a set of China from the grocery store. At least back then it was real Bavarian China.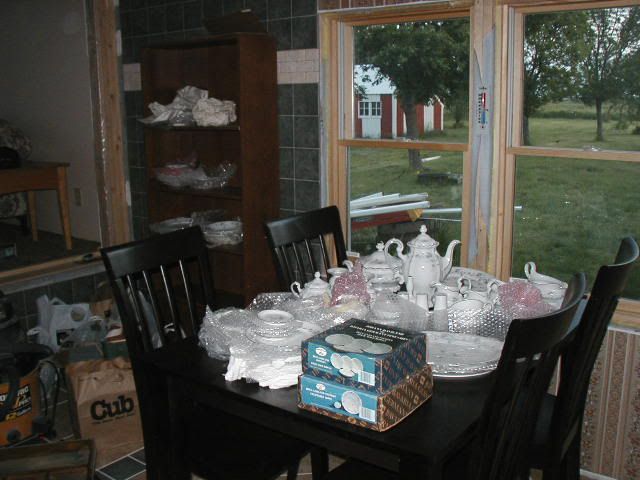 Over the years I've collected a lot of the pieces that went with the original set (love Ebay!)
The problem is white, blue with silver accents is not my style. I don't even own silver toned jewelry.
At least my daughter loves the set and wants it, but at 26, she's showing no interest in settling down - loves to travel and going to be moving from Las Vegas to Atlanta in April. So I will hang on to it for now.
Since I don't really like it, I've never considered using it regularly and for years it's been under my bed. In fact I've been looking at the hutch in my dining room, wondering what I could put in there since I've been using it for a liquor cabinet and the bottles will soon have a new home.
I was looking at beaglesdoitbetter's post and thought - wow, I could put my china in the hutch.
I feel like a dope because that simply didn't dawn on me before LOL!
---
| | | |
| --- | --- | --- |
| RE: SPINOFF: China/Dishes - where and do they still 'fit' you | | |
We use our china everyday. If it gets broken at least it will be from using it and not shuffling it around. Once it's all broken if that ever happens I'll get something else. I love using pretty dishes everyday. It's great how you can mix your patterns together, that's a lot of fun. They are both very pretty. I'd say use them in good health!
---
| | | |
| --- | --- | --- |
| RE: SPINOFF: China/Dishes - where and do they still 'fit' you | | |
I have my grandmother's china, silver, and crystal service for 12, from 1929. The crystal and silver are perfect for me, the china is a beautiful but very busy cream, burgundy and gold. I love using it, even though it all has to be washed by hand.

She was my father's mother and died in 1945, before my parents even met. My mother kept it packed away until I married in 1968. Since then, I have used it every Christmas and Thanksgiving, even when all six kids were home. Makes me feel connected somehow. Now my grandchildren are enjoying the specialness, and we use it a little more often.

I think you should use your china. Your ex-bosses wife would be pleased, and it would make you happy just looking at it. I felt absolutely miserable when I broke a goblet years ago, but I still think stuff was made to be used, not packed away and saved. For what?
---
| | | |
| --- | --- | --- |
| RE: SPINOFF: China/Dishes - where and do they still 'fit' you | | |
We have Vllleroy and B. Petit Fleur and when we had our kitchen redone, we started using it for our everyday. I think our parents were horrified, but we've only broken one piece in 7 years. I've got it mixed with Fiestaware. I still love it.
---
| | | |
| --- | --- | --- |
| RE: SPINOFF: China/Dishes - where and do they still 'fit' you | | |
I would say use and enjoy it. I agree with everyone else who said asked what the point is of having it if you don't use it. The joy of seeing it on your table is worth much more than having an intact set in a box. Also, it seems wasteful to me to spend money on other sets when you have two perfectly good sets ready to be used. Wouldn't you like your children to remember mom's beautiful china rather than finding the box and wondering why the family wasn't good enough for it? It will also teach your children to take care of lovely things. If a piece gets broken, it isn't the end of the world.

My mother never used the gold band dishes handed down through the family. Place settings for 12 and all the extra serving dishes. Now, I sort of understand because it had to be washed by hand due to the wide gold bands, but still, would have been nice to have some memory of the family using it for holidays at the very least. It is valuable, but not for any sentimental reasons. Too bad.
---
| | | |
| --- | --- | --- |
| RE: SPINOFF: China/Dishes - where and do they still 'fit' you | | |
Unfortunately if I married today I'd probably pick out a different style that fit today's modern simpler style (no flowers & gold rim), but I'm so glad I have what I have.
When my Dad was in the Korean war he picked out two full sets of china in two distinctly different patterns. Both were 12 piece place settings plus accessory pieces. He shipped them home in wooden crates. One set was for my Mom and the other set went to my grandmother to be passed on to his oldest daughter- me. Mom chose an Asian bamboo style and I received the set shown below. There are many accessories pieces - that's the smallest of the platters. Still have the crate and newspaper used to cushion the pieces. As a child I would go to my grandmothers and help to wash each piece and hear stories.
We don't use the set very often - the plates are relatively small, but I'd never part with the set due to the memories it carries.

---
| | | |
| --- | --- | --- |
| RE: SPINOFF: China/Dishes - where and do they still 'fit' you | | |
Hilltop, the set I inherited from my grandmother is much like yours - small plates, many, many serving dishes, same shapes and style, but mine has a lot of burgundy. Thanks for posting the pic.

My dishwasher has a gentle cycle, but I have never washed the china or crystal in it. Do any of you, and what detergent do you use if you do? Any ill effects on the gold rims or paint?
---
| | | |
| --- | --- | --- |
| RE: SPINOFF: China/Dishes - where and do they still 'fit' you | | |
Binsd, that's some of the prettiest china I've ever seen. Unpack it now! lol I can't believe that lady bought all of the china for you. Wow.

I don't have formal china simply because that's not our lifestyle. I do have Villeroy & Boch French Garden in the cabs but they sit under our every day plates, which are Corelle.

Now I do change out the Corelle every ten years or so because they come out with the prettiest patterns. They stack in the dishwasher like a charm, unlike V&B.
---
| | | |
| --- | --- | --- |
| RE: SPINOFF: China/Dishes - where and do they still 'fit' you | | |
I'm so glad you posted this because now I can unload some of my guilt. When we were first married, 21 years ago, I picked out yorktown psalfgraff dishes, blue and cream - very country looking. I liked them for several years and people bought me many pieces. My sister bought herself the same set and still loves them. Anyway, I began to grow tired of them 6 or 7 years into marriage. I used them anyway but eventually bought other dishes and put these away. Fast forwar to today. My parents passed away and my mother knew I had always admired her extensive set of currier and ives dishes. Also blue. Well she willed them and her china cabinet to me. I have it all proudly displayed. My yortown has been sitting in a box for years. When I mentioned to my sister that I was tired of them, she said "shame on you. People spent alot of money on you for your wedding because that's what you wanted. You should use them. I love mine!"
I tried to sell them in a yard sale, no takers. Considered a consignment shop. Considered giving them to my sister, but she has a full set herself. I DON'T WANT THEM. Am I ungrateful? What would you do? Sorry if this is a hijack, I didn't mean it that way. Just wanted to contribute my story/dilema.
---
| | | |
| --- | --- | --- |
| RE: SPINOFF: China/Dishes - where and do they still 'fit' you | | |
This discussion reminded me that I have my mother's Hutschenreuther china. It's plain white, very nice, but packed away. I think we should start using it. Also here are some Hammersley Lady Patricia cups & saucers given to my mother as a gift and then given to me because she hated them; Haviland Limoges Imperatrice Eugenie; and Bernardaud Limoges Chateaubriand Blue. None of that is used. Instead, we eat off a mish-mash of Pottery Barn and Williams Sonoma dishes. These are of differing sizes, but at least they're all white, so they match - sort of.
---
| | | |
| --- | --- | --- |
| RE: SPINOFF: China/Dishes - where and do they still 'fit' you | | |
I have four sets with two packed away and two in the cupboard and switch them out as the mood strikes. Right now my every day dishes are the white ironstone-look-a-likes from Walmart.

Also in the cupboard is the set of "Myott" "Royal Mail" Fine Staffordshire Ware Made in England. I bought it years and years ago when the first Odd Lots store came to the nearby city. I can't remember the circumstance exactly, but I recall the helpful clerk who got down on the floor with me and went through the opened and damaged boxes to create a place setting for eight!
This is a platter from a set I call my cottage ware because of the pattern. It's definitely vintage but I have no idea of its age, it was purchased at a barn sale many years ago. It says "Wood Ware" on the back in a very blurred fancy mark. I think it is also a service for 8 with some serving bowls,too.

When I bought my house 34yrs.ago at age 26 after living at home up until then (yes,hard to believe?) I wanted my own things. So one of my first purchases was a set of china, called "Blue Danube" from a department store. I bought a few pieces every pay day. I've broken one cup and one plate so far. :(
---
| | | |
| --- | --- | --- |
| RE: SPINOFF: China/Dishes - where and do they still 'fit' you | | |
When we got married 23 years ago, I almost picked out a Lenox pattern with a floral border, My DH talked me into Lenox Hayworth which is a cream plate with a gold rim. I am always sooo glad we made that choice. It has been the most versatile set of china.

I also have Lenox Holiday, and my Grandmother's set of Shelley Wildflowers which is very flowery and with a lot of pink. I use it for Easter or Mother's Day each year.

All my dishes are stored or displayed in my china cabinet.

Joanie38- No guilt!! If you don't like them, pass them along! You are allowed to get tired of things. Does a set of dishes you chose have to be a lifetime commitment? You could list them on Freecycle or the free section of Craigslist and perhaps give them to someone who would enjoy them. Maybe that would make you feel better if they go to a "good home". :)

Dawn
---
| | | |
| --- | --- | --- |
| RE: SPINOFF: China/Dishes - where and do they still 'fit' you | | |
Lenox Monclair: complete 8 places, including things like cream soup cups and stands, cereal bowls, rimmed soups, tureen and so forth, plus extra dinner plates. I chose this at age 17 and still love the simplicity and the original teacup shape.

Ancienne Manufacture Royale: Marie Antoinette, 4 places of the basics plus assorted odd things like 2 breakfast cups and snack plates and my favorite not-very-useful-but-love-to-look-at rafraichissoir. I love this pattern too, but a large table filled with it would probably be too busy for my taste.

Ancienne Manufacture Royale: A La Reine, partial 2 places, including rimmed soups. I love this for spring and for seafood.

I do have something of a "china problem" along with my "book problem" and "fine linen problem" but I've trimmed way back from all of the other partial sets of dishes. Most of the dishes are in one armoire in the kitchen. Pieces that I especially like to look at like the tureen and the rafraichissoir are in an armoire in the dining room because it has glass in the doors.

I gave up on "every day" dishes over 35 years ago. They weren't as durable as the fine china. I like to coordinate the plate with the food. And when I feed children, they eat off china just as I did as a child. Two pieces have been broken over the years - both by adults.
---
| | | |
| --- | --- | --- |
| RE: SPINOFF: China/Dishes - where and do they still 'fit' you | | |
Joanie - I agree - no guilt! t's one thing to hold onto them for sentimental reasons or not having gotten around to unpacking them but it's another thing to have them stored AND harbor guilt that you don't like them. Who needs more guilt?

And as Dawn pointed out, you can always pass it along free to a good home.

Oakleyok - I couldn't believe it when I called to thank them and she said "I knew you had to have it". My boss said she's addicted to buying china. I really expected to receive maybe a few pieces for our wedding but then figured I would spend the rest of our marriage buying the collection. When those HUGE boxes packed to the brim with peanuts started showing up 3 months before the wedding, it was pretty comical. I remember unpacking a very large box to find a cake slicer all by its lonesome. Hysterically funny at the time. I'm sure there are still packing peanuts in that house from the arrival of the china. LOL

Ok...y'all are right. I need to start using them. And Cyn - just before my children were born, I read about how Europeans traditionally raise their children eating out of porcelain bowls & dishes - not all the plastic Disney and Ikea ware we use. I almost did it.

The problem is that I really don't have anywhere to store them. Well. That's not true. I need to clean out my cabinets. We have 42" cabinets but the top shelves are useless unless I get out the ladder & climb up there. I could use the deeper bottom cabinets for them.

My mother has said that I'm to receive the bulk of her china including their wedding china (white with a double gold band). She hand-carried those on various trips from the Philippines (not sure how she managed that with 2 kids in tow!) back to the States. Her Lenox set - tiny daisies with a silver band - will go to my brother & SIL "since they don't have any nice dishes."

No more china-buying on my end but I do love to see them and it has been enjoyable to read the histories behind everyone's china - from the trips they made during the Korean War to heirloom china dating back 80+ years.

Fascinating. Keep the stories & photos coming.
---
| | | |
| --- | --- | --- |
| RE: SPINOFF: China/Dishes - where and do they still 'fit' you | | |
Your boss must have REALLY liked you Binsd. I considered that Gien pattern but just wouldn't spend that much...

However we did get that exact same V&B Cellini for our every day china, and we love it. It's really so VERY DURABLE that you should have no hesitation using it with your kids and Hubby. We haven't even chipped a single dish yet, and there are plenty of replacement pieces available. It's fridge-microwave-oven safe, and V&B makes a very high quality product.

Why use stuff you don't love when you can make every family meal special, just by using pretty china and silverware?

I use my sterling flatware every day also. I chose the same pattern my mother and grandmother had (Reed & Barton Burgundy), so now I never know which piece came from who... It's really nice to have that sense of continuity.

For fun and special occasions, I also pull out a variety of specialty pieces that I've been collecting - mostly from eBay. I have Wedgwood Christmas dishes, Haviland Limoges dessert plates and Buffet plates, Hutschenreuther cobalt, gold and hand-painted floral chargers for formal place settings, Schumann Dresden pierced luncheon plates, Japanese sushi sets -- all sorts of fun pieces that make the food look and taste better.
---
| | | |
| --- | --- | --- |
| RE: SPINOFF: China/Dishes - where and do they still 'fit' you | | |
Anyway, I began to grow tired of them 6 or 7 years into marriage
Better that then growing tired of your husband.
Give your sister back whatever piece she bought you as your wedding gift and give the rest to a thrift store.
If you want to feel guilty, you can feel guilty for allowing something that should be/could be in use to just sit around taking up space and making you feel unnecessarily guilty.
If you give them away, you free up physical space in your house and psychic space in your brain, the thrift store benefits by the sale, and someone will be happy with new china. A win-win-win, the best kind of win.
---
| | | |
| --- | --- | --- |
| RE: SPINOFF: China/Dishes - where and do they still 'fit' you | | |
Hilltop, I have one dessert plate from the set that you've shown us. My mother in law had it her china cabinet and when she passed on I held on to it. I never could figure out why she held on to that one plate.. memories, I guess, but I'll never know what they were.

I bought a complete set of Pfaltzgraff dinnerware at a yard sale 25 or maybe 30 years ago for $10.00. I've got all the dinnerware and accessories, even candlesticks. I can't remember the name of it, but's its a light gray and has a little white flower on it. I rarely use it though because it's not dishwasher friendly. The pedestal mugs collect water when turned upside down, and the plates have such a high side to them that I have to separate them so far apart in the dishwasher. It's a pain to wash, but I love that set.
---
| | | |
| --- | --- | --- |
| RE: SPINOFF: China/Dishes - where and do they still 'fit' you | | |
OOOhh i love this topic. Dishes and platters and bowls and such are my favorite thing to buy, esp when I travel.

Our everyday China is countryware by Wedgwood, it is all white with a cabbage leaf embossed design. I love the way food looks on it and I never tire of it. I bought in on vacation in England, and my favorite piece is a tiny little serving plate my Mom stole off of our breakfast tray. These are the mugs:
We also use a lot of little Anthropologie bowls which have nice palette and a good, small size for portion control.

Plus a lot of little Pillyvuyt doo-dads, small plates, tiny little scallop or mussel shaped vessels that I like to serve with bread, filled with butter and dusted with herbs. I got these at a restaurant supply store in Paris (that is as much fun as it sounds) and I would like more but I cannot find any online.
My girls love to set the table with a set of Victoriana clear cut glass plates I bought back when Wms Sonoma and Pottery Barn had an outlet in Chelsea. I bought them to serve guests at a friends's upcoming wedding shower I was hosting - they were perfect for that. Who would guess that almost 15 years later, they are still in tact and in use, for $1 a plate?
Our last kitchen had a yellowy scheme and one year, when our home was on the historic home tour, I bought a set of sort of mustardy crockery. They work well with lots of provencale linens and have a more autumnal feel.
My "fine china" was bought for me by my Dad (now passed) when I was 20. He was a romantic sort and he liked to buy my sister and I things that we would have forever and remember him by (china when we each got our first place, a strand of pearls when we turned 16, rocking chairs when we had our first child, etc) . I was getting my first apartment and he told me to pick out a china pattern. I chose Lenox McKinley. I got some soup bowls at Fishs Eddy that came from a now defunct bank and trust corporate dining room that go very well with it (top shelf). I still like McKinley it but would not pick it today. Also, it's a tad unfortunate that, though Dad got me service for 6, the next 6 place settings and all the accoutrements were wedding presents from ... umm.. my first (brief) marriage. That always seems a little off!
And believe it or not, I own four place settings of dishes with red on them! (more fuchsia). They were from a trip to Budapest.

And lastly, I have the "wrought irony" melamine, in a melange of colors, for outdoor use. These are from SCAD so doubly cool.


I keep all of my dishes in my glass fronted cabs in my kitchen. Luckily, the area is very generous. My fine glassware goes in an antique french armoire that the prior owners made into a bar.
---
| | | |
| --- | --- | --- |
| RE: SPINOFF: China/Dishes - where and do they still 'fit' you | | |
binsd, funny. For fun, here is an article on the French way of raising kids. A lot of us here do the same, I think.
Here is a link that might be useful: parents
---
| | | |
| --- | --- | --- |
| RE: SPINOFF: China/Dishes - where and do they still 'fit' you | | |
Binsd, I have pull-out drawers in my lower cabinets with heavy duty slides. My dishes are stacked in those drawers because, like you, I can only reach the lower shelf of my upper cabinets. Having the dishes accessible on the lower shelves also makes it easier for the children to help set the table and empty the dishwasher when they get a bit older.

Joanie, I understand your feelings of guilt. I inherited a set of china from my grandmother that I absolutely loathed, but I kept it around for years out of sentimentality. I finally decided that it was crazy to hold onto a material item as a placeholder of my affection for my grandmother. I gave myself permission to let it go and donated it to a local charity shop.

I remember reading a suggestion from one of those organizing gurus. They suggested taking a picture of a item that has sentimental value and writing a paragraph or two about the memory associated with the item. Keep the picture and written record and get rid of the item. That seems like a perfect solution to me.
---
| | | |
| --- | --- | --- |
| RE: SPINOFF: China/Dishes - where and do they still 'fit' you | | |
Hilltop, I love that your Dad got you dishes, too.

Joanie, Dishes are very much a fashion item. If my Lenox was all from my 1st wedding and not my Dad, I would probably sell it. How many people still love and use every wedding gift they got, years later. I think what you surround yourself with every day is important --- you should enjoy it! I really notice and enjoy the things I use. Small pleasures.

Hhire, LOL, a 7r plate itch
---
| | | |
| --- | --- | --- |
| RE: SPINOFF: China/Dishes - where and do they still 'fit' you | | |
I also love dishes and had to stop buying long ago, but I still pick up the occasional pretty cup/saucers or bowls. My best friend has me in her will to inherit all her dishes! Her mother was a collector like me and put it all into my friend's cabinets and cupboards mainly for show as my friend is definitely a "mug" type of person. No fancy china or cups for her. I purged last summer but still have little room for my own things.
---
| | | |
| --- | --- | --- |
| RE: SPINOFF: China/Dishes - where and do they still 'fit' you | | |
I cannot believe your sister said "shame on you those people spent a lot of money on you", LOL!!! I sold my wedding china to a guy who was newly divorced and needed them. I can't imagine not ever changing over the years. Most of us picked out something we thought was affordable not so much because we were so in love with it. If I had been able to afford (or my guest's afford) Runnymede by Wedgewood and people took out loans to get it for me I would feel bad. But a gift is a gift and so many years later people shouldn't be holding you hostage because of a gift..Sheesh!!! I say congrats for still being married. I can't tell you how many nice wedding gifts I have bought only to have the couple divorced in a few months to a year later. Do as you wish with them and don't tell your sister unless she asks and then just casually say it and move on!! Your life, your business.
---
| | | |
| --- | --- | --- |
| RE: SPINOFF: China/Dishes - where and do they still 'fit' you | | |
many years ago, when we were engaged, i picked the lenox 'eclipse' pattern for our 'good' china... we were living down south where formal dinners and tablesettings were common place...
about 10 or so yrs ago i was really regretting selecting such a fancy/formal pattern since i'm so not a formal person! but, i am appreciating it more again now and am happy we have it...it really does make a very elegant table!
also, i now have my mom's lenox 'eternal' set which is a bit more plain for when i want to dress up our table, but to a lesser extent.
i've had several sets of everyday dishes through the years- i guess as a family we're not too gentle on dishes! anyway, i like having the opportunity to change things up!

i LOVE the set of wrought irony melamine shown above!!!
---
| | | |
| --- | --- | --- |
| RE: SPINOFF: China/Dishes - where and do they still 'fit' you | | |
My everyday dishes are cobalt blue Fiestaware. I've always liked them, and they make my cooking look good. I plan to give them to my nephew as soon as he's out on his own (he's 15 now, so I have a few years)...he's not interested in much of my stuff, but I figure blue dishes are great for a guy and they're nicer than he'd buy for himself.

I don't really have good china, but I have my grandmother's every day dishes -- Plantation Colonial/Mason's Regency that I absolutely love. I'll start using these every day once I give the fiesta away. When I was a little kid, we used to spend summers with her on the jersey shore and they'll always remind me of her. Grandma eventually got tired of them and replaced them with Pfaltsgraff which I never liked (my cousin was excited to get them when my grandmother passed away). I also had my grandmother's lenox "good" dishes, but I recently gave them to my niece.

mtnrdredux, I'm crazy about the dishes from Budapest!
---
| | | |
| --- | --- | --- |
| RE: SPINOFF: China/Dishes - where and do they still 'fit' you | | |
I say congrats for still being married. I can't tell you how many nice wedding gifts I have bought only to have the couple divorced in a few months to a year later.
Starting about 5 yrs ago my cousins decided they did not want a wedding gift from me until after their 1st anniversary. Turns out that he majority of those who had received a gift from me "on time" divorced within 2 years!
cyn - I love that article. I read a take on it a few weeks ago and now plan to buy the book. I'm sure that I can take the good from French parenting and apply it to my American-Filipino parenting. The eating-on-demand speaks to me; it's a constant struggle with mine and our friends' kids who are all on the cusp of turning 4. I think it's as much about parental self-discipline (don't give in!) as it is about educating vs disciplining our kids.
Love the wrought irony melamine, too!
---
| | | |
| --- | --- | --- |
| RE: SPINOFF: China/Dishes - where and do they still 'fit' you | | |
Luckily we didn't select china or crystal when we first married. DH was in grad school and we had no idea where we'd end up living and had no place to store things in our tiny apartment. I'm afraid what I might have chosen when I was 23.

Forward 10 years and we were living in our second home, had 3 kids and were ready to furnish our dining room. We bought a Harden dining room table, breakfront and server and then purchased china, silver and crystal. My silver is Reed and Barton Federal, the crystal is Waterford Ballyshannon, but I just couldn't pick one china pattern.

My DH had always loved Lenox Autumn so I went with his choice. My only regret is that even though Lenox says it's dishwasher safe on a china setting I still wash it by hand. I'm afraid that over the years the detergent will slowly alter the gold rim or the enameled flowers. I have service for 16 - I bought extra sets at the Lenox factory sales near me in Cranbury NJ. We use it regularly - even though the kids complained because they knew they had to help wash.

If I had to do it again I'd take my time and buy different patterns for each place setting and then mix and match. I love so many different designs that way I could enjoy them all.
---
| | | |
| --- | --- | --- |
| RE: SPINOFF: China/Dishes - where and do they still 'fit' you | | |
I am a plate addict. I love pretty china, ironstone, you name it - and love setting a pretty table.

When we married I got beautiful Lennox bone china with a delicate floral (pastel) border. It is also rimmed in silver. Can't remember the maker of my crystal. I also chose some ironstone type dishes for everyday.

Fast forward 30 years (we celebrated our 30th last week!). Yes, we do occasionally use our "wedding" china. It's gorgeous and I don't think I'll ever stop enjoying it. Before we married I had also started a collection of pink depression glass which looks great with the china. Over the years I've added several sets of antique plates (I usually only get plates, sometimes a few serving pieces) in red transferware, blue transferware, Johnson Brothers Friendly Village. I recently bought some ironstone plates with a border in deep jewel tones and ended up using those this past Thanksgiving (we hosted). I also collect old silver and ruby red glass. The rr glass started with pieces my grandmother gave me that had been given to her by her mother. We do entertain quite often and often host family dinners. I love using ALL my dishes!

As for storage, I have two china cabinets that have storage in the bottom. The rest is stored in kitchen cabinets. I have a few pieces in the pantry. My red transferware, ruby red glass, old silver and crystal are displayed in the dining room china cabinet.

tina
---
| | | |
| --- | --- | --- |
| RE: SPINOFF: China/Dishes - where and do they still 'fit' you | | |
Joanie, don't feel guilty. I can relate. Years ago my mom wanted me to take home her china cabinet along with all of her white ironstone which was at least 40 years old. I turned it down simply because it wasn't my taste. I may have hurt her feelings, but what could I do?

Tell your sister that our tastes changes over the years and you're just in the mood for something different.

List them in the newspaper for a low price and I bet some wonderful young woman will show up and be so appreciative!
---
| | | |
| --- | --- | --- |
| RE: SPINOFF: China/Dishes - where and do they still 'fit' you | | |
We did not register for our wedding almost 30 years ago. I thought it was too ridiculous. But what we did with the cash gifts we received was to spend them on Wedgewood, Queen's Plain pattern. I still use and love it. It is a very simple creamware pattern and I can mix it with just about anything. It is still in production. For everyday, I use plain white plates. I am not really into patterned plates but I have at times been very seduced by things at Pier 1. They used to have an outlet by my house. I like mixing the colorful plates with the white ones. When I play with my tablesettings I tend to make it more about the linens and the silver and the flowers and less about the plates. By the way, my MILs pattern is also Queen's Plain as well as Esma and she has tons of a Wedgewood Ivy pattern that I think is called Napoleon Ivy. I really don't like that traditional blue and white Wedgewood with the portraits but I do love the ones I have. Nothing's on display per se, it's all in a cabinet in my family room.
---
| | | |
| --- | --- | --- |
| RE: SPINOFF: China/Dishes - where and do they still 'fit' you | | |
With all this china-talk, I called my Mom to find out what she has. Her Lenox pattern is Brookdale - service for 12. She said she's used it TWICE! I know she's had it at least 30 yrs!
I remember as a 10 yr old thinking it was quite "blah" but 30+ yrs later, I think it is quite lovely!
She also has a service for 12 plus platters and tea set of Johnson Brothers Heritage White Ironstone. I was very surprised to find out that she wants to try to sell it as they are downsizing and moving down south to be closer to us.
I don't even know where to begin to sell china!
---
| | | |
| --- | --- | --- |
| RE: SPINOFF: China/Dishes - where and do they still 'fit' you | | |
What a fun thread. I'm so glad it started. Like everyone else here, I love china and dishes! I have my Lenox Pearl Platinum and Lenox Butterfly meadows, plus currier and ives and some kind of white china w/ a gold band. But the set I like the best is a Lenox Winter Greetings set that was my mom's. It's the formal one and I remember she was so excited when she got it. We use it every holiday season!

I use my nice china every day. I won't buy dishes that aren't nice china. I also put my china in the dishwasher including the lenox pearl platinum. It holds up fine!
---
| | | |
| --- | --- | --- |
| RE: SPINOFF: China/Dishes - where and do they still 'fit' you | | |
I use my mother's "good" (ironstone) dishes every day. Well most days because I also have other dishes that I like to use. The fine china that grandma had and gave to me, but never used to my knowledge, was too fussy for me so I foisted it off onto one of my brothers last year. It was a bit tough to do because grandma wanted me to have it but it just wasn't me and I didn't want it.

I don't display any dishes. I'm not fond of china cabinets so don't have one.
---
| | | |
| --- | --- | --- |
| RE: SPINOFF: China/Dishes - where and do they still 'fit' you | | |
Hello. My name is Lynn and I am a dish-oholic. Or at least a recovering one (LOL!).
Up until last week, I had 16 full or partial sets of dishes. I went cold turkey a year ago Christmas at the request (no begging, actually) of my DH and DD, and haven't bought another dish since then. But, my sweet-but-enabling best friend just gifted me with another partial set for my birthday last week. You should have seen my DH's face when I opened that gift! So now I have 17.

I keep the 2 full sets of Christmas dishes packed away in a storage cab until the day after Thanksgiving. I inherited a beautiful set that's over 100 y/o from my great-grandmother. Johnson Bros "Malaga". Those are displayed in our built-in dining room china hutch.


Down below in the hutch's closed cabs, I store 4 sets of dishes, including my Pink (Red) Transferware,


My Franciscan Apple:


And my W.S. George pine cone dinnerware with the extra leaf salad plates. I love them!

When we had the kitchen redone 4 years ago, I had 12" deep cabs built into the new peninsula on the barstool side. They now hold 4 sets of dinnerware. This is an older pic; I've since moved the cookbooks to another location:

Right now, my Summer dinnerware is stored there, among others (LOL):

We had heavy-duty dish drawers put into the kitchen and each one holds 2 sets of dishes. These are one of the sets I like to use in Winter:

Do I still like my dish sets? For the most part, yes. I love setting nice tables and do use them all. If they were in more inaccessible locations, though, I know that I wouldn't. As for the newest birthday set, I still haven't found a place to store them, so they're sitting on my china hutch's counter until I do.
Lynn

---
| | | |
| --- | --- | --- |
| RE: SPINOFF: China/Dishes - where and do they still 'fit' you | | |
Not so much a comment on the kind of china I have since I would have to go downstairs and look!!! I know I have Lenox Winter Greetings for Christmas and love it. I have a set of white Haviland Limoge I got from my ex-MIL. I have several blue and white Villeroy and Boch patterns that I mix and match. Love those too. Picked them up over the years at TJ's. Everyday dishes are several blue, yellow and white patterns that I also mix and match. I have to restrain myself because I keep wanting to buy others I see that I also love.

My comment mainly has to do with display and storage. I knew this current house (a colonial built in 1780) was meant for me when I saw the following: 2 corner cabinets in the dining room along with a china closet next to the fireplace. Glass door cabs in the butler's pantry too. Tons of storage for my goodies :)
---
| | | |
| --- | --- | --- |
| RE: SPINOFF: China/Dishes - where and do they still 'fit' you | | |
These are my every day dishes... Johnson Bros Historic America, Mikasa Italian Countryside and J Bros Devon Cottage. I don't have any formal ones. But, I love these and mix in the brown or blue with the white.
---
| | | |
| --- | --- | --- |
| RE: SPINOFF: China/Dishes - where and do they still 'fit' you | | |
Binsd, that is the exact ironstone my mom has that I wouldn't take. I did take the tureen though, but I don't have it sitting out. I have some weird thing about solid white dinnerware. lol

Lynn, I think I told you this before, but the Franciscan apple is what my mom had when she first married and gave it to me. Very pretty!
---
| | | |
| --- | --- | --- |
| RE: SPINOFF: China/Dishes - where and do they still 'fit' you | | |
Another thought: I never picked out china for my wedding. I just couldn't pick just one! That one's pretty. Oh wait I like that one. Etc, etc. LOL
---
| | | |
| --- | --- | --- |
| RE: SPINOFF: China/Dishes - where and do they still 'fit' you | | |
I love transfer ware, any color. I have some red and a few pieces of blue. Beautiful photos everyone.
"Hi, my name is Christine, and I'm a dish-oholic too". ;)
---
| | | |
| --- | --- | --- |
| RE: SPINOFF: China/Dishes - where and do they still 'fit' you | | |
I've only been married 5 years, so we have not had china for that long. My sister has our mom's former set since she has a much larger family. I picked a very neutral, moderate set, Mikasa Parchment. It is a nice-looking but neutral collection. I didn't want an expensive set where replacing a piece would cost major bucks. I got the 8-piece set and almost all the completer pieces.

We use it at the holidays, always. We store it in cabinet above the fridge and the completer pieces are in the new vintage hutch.

Our everyday set is Corelle. Would love a fun vintage pattern like Salem Northstar, but that is not a huge priority right now.

Lynn and mtnrd, love all your dishes! Pfmastin, I've also always liked the Mikasa Italian Countryside. It is such a wonderful white classic pattern.
Here is a link that might be useful: Mikasa Parchment
---
| | | |
| --- | --- | --- |
| RE: SPINOFF: China/Dishes - where and do they still 'fit' you | | |
I too am a dish-aholic. It's important to have choices, right?!? I've got quite a collection of complementary vintage dishes (Metlox California Ivy, Santa Anita California Modern, Homer Laughlin Green Wheat are a few) that I like to mix and match. And I love having just the right bowl! Bowls are my true weakness.

My dish collecting is clearly inherited - my mother could probably go a year without washing a dish. While she never pressured me about getting married or having children, when I was younger I was under TREMENDOUS pressure to pick a dish pattern so she could give me place settings. For years I couldn't decide. "But your sister picked a pattern." - she was always the good daughter.

When I finally settled on one I liked (a plain soft golden yellow bone china called "Chambray" from C&B - I wanted something that could be formal or everyday) my mother called me back called me the next day to tell me it was discontinued! Bad daughter!

But in the end, I found them at the C&B outlet for 75% off and bought every piece they had. Ha - there's a lesson in there somewhere! I've since come to find out that they are still made in white by Design House Stockholm under the name Blond -- once I knew the name, I was able to find some dinner plates in yellow on eBay.

As for hanging on to gifts you don't really like because of the person who gave it to you, I'll pass on a bit of advice I read somewhere: Keep the love, leave the rest.
---
| | | |
| --- | --- | --- |
| RE: SPINOFF: China/Dishes - where and do they still 'fit' you | | |
I have Mikasa arabella in my dining room cabinet and use Pfaltzgraff filigree for my everyday dishes. I love it, but it scratches!
---
| | | |
| --- | --- | --- |
| RE: SPINOFF: China/Dishes - where and do they still 'fit' you | | |
I sold my Villeroy and Bosch "Botanica" set on ebay last summer and all I can say is yeah! I had bought a few odd pieces when I was young,single and everything had to have flowers on it, but I didn't ever really want the whole set and got tired of it quickly. After 19 years, I figured we had gotten enough value out of the purchase, and told dh I wanted a change. The fact that I got some money back also reduced the guilt.
I have a fetish for buying china, especially blue and white china, and currently own: Johnson Bros "Indies Blue"- this is in the china cabinet and I use it for big family dinners and any "special occasion"- bought mostly on ebay; a similarly shaped set of all white Johnson Bros I got at a yard sale; dinner plates and bowls from Williams-Sonoma in a beautiful blue and white pattern, called "Ormonde", a set of Spode Christmas Tree for Christmas; odds and ends of Meakin ironstone; and Churchill "Finlandia" for everyday.
The Finlandia is scratched and chipped, so I'm looking for some durable, attractive everyday stuff. I have my eye on Williams Sonoma "Brasserie". Not to hijack the thread, but if anyone has Brasserie, I'd love to hear how it's holding up.
---
| | | |
| --- | --- | --- |
| RE: SPINOFF: China/Dishes - where and do they still 'fit' you | | |
Thank you everyone for responding to me about my guilt over my china from my wedding 21 years ago. Thanks to everyone here I am finally ready to let it go. I will check into my local consignment shops to see if I can sell it. We also have a resale shop that benefits the adult special needs population, ran by volunteers as well as the special people it helps. I try to shop there as much as I can because I think it's a great organization. Maybe I could donate it there and do a tax write off.
Loved looking at everyone's beautiful china!
---
| | | |
| --- | --- | --- |
| RE: SPINOFF: China/Dishes - where and do they still 'fit' you | | |
I love this thread and hearing about everyone's china!

I love blue and white and have: several different brands of Asiatic Pheasant (all English) in different blues, Johnson Brothers Indies, and Masons Fruit Basket Blue (This is what I use for everyday -- these blues)

I have scads of Spode plates as well (in both Blue Room and Blue Italian) and use some as everyday dishes and some as company dishes -- I do have platers and bowls and covered vegetable bowls to go with the Blue Room/Blue Italian as well as blue and white turkey plates by Wedgwood and Myott.

My Christmas dishes are Royal Doulton Tartan and I hand carried them home from England -- 8 plates, cups and saucers for $12 -- what was I thinking -- why I didn't get 16 or 24 at that price I don't know! Over the years I have accumulated 12 plates, cups and saucers. I also bought some Lennox Holiday salad plates which look good with the Tartan and gives me Christmas dessert/salad plates.

I have my grandmother's china -- Noritake marcasite and it's a cream with gold trim -- I really like it and feel like it sets an elegant table.

I also have some Famille Rose patterns which I mix and match -- Spode Famille Rose, Wedgwood Cuckoo and Aynsley Pembroke -- not the new Pembroke but the old one from the turn of the century. I have enough for 8 in those patterns and also have a tea pot, sugar and creamer (in the new Pembroke) so I can use the set for tea.

And then I have Noritake Duluth which is a 1920's pattern which is a really pretty delicate pattern with a blue band and pink roses.

(I use that one the least and have moved it down to the basement -- I can access it but it isn't filling up my china cabinets LOL!)

My "wedding china" was Wedgwood Runnymeade -- which I still adore but my daughter admired it and wanted it and so it was our gift to her for her wedding -- we had 4 place settings and when the three of us went to England we bought 4 more -- and hand carried it home!

I adore china and am always being enticed by a new pattern.

I use my dishes a lot for we like to have company and it's fun to use different dishes to set a table.

I also have my mother's wedding silver-plate, my husband's grandmother's sterling, a set of sterling that we bought for $25 at an auction (everyone saw "stainless" on the knife blade and thought that was what it was!).

My crystal was Waterford Kylemore and I still adore it
---
| | | |
| --- | --- | --- |
| RE: SPINOFF: China/Dishes - where and do they still 'fit' you | | |
Our "good" dishes were bequethed to us by my MIL. They probably aren't worth a great deal, but we enjoy using her china several times a year. The grandkids love remembering her when we set the table for holidays. It's Noritake Ivory China, the pattern is Lexine. It's not a pattern I would probably choose, but I like having it. The granddaughters talk about who will get it next, so I know they would enjoy it, too.

---
| | | |
| --- | --- | --- |
| RE: SPINOFF: China/Dishes - where and do they still 'fit' you | | |
Mntrdredux - I love the story about your dad. He must have been a wonderful man.

I have the set we got as a wedding gift - Minton Bellemeade
and my everyday dishes by Villeroy and Boch - Basket (no longer made).
I also use Johnson Bros. Blue Willow as an every day set. Pick them up at TJ Maxx or Marshalls when I see them.
---
Post a Follow-Up
Please Note: Only registered members are able to post messages to this forum.
If you are a member, please log in.
If you aren't yet a member, join now!
---
Return to the Home Decorating Forum
Information about Posting
You must be logged in to post a message. Once you are logged in, a posting window will appear at the bottom of the messages. If you are not a member, please register for an account.
Please review our Rules of Play before posting.
Posting is a two-step process. Once you have composed your message, you will be taken to the preview page. You will then have a chance to review your post, make changes and upload photos.
After posting your message, you may need to refresh the forum page in order to see it.
Before posting copyrighted material, please read about Copyright and Fair Use.
We have a strict no-advertising policy!
If you would like to practice posting or uploading photos, please visit our Test forum.
If you need assistance, please Contact Us and we will be happy to help.

Learn more about in-text links on this page here