Return to the Home Decorating & Design Forum
|
Post a Follow-Up
---
| | | |
| --- | --- | --- |
| Exterior colors clashing with interior- front door? | | |
Posted by
olivesmom
(
My Page
) on
Fri, Feb 15, 13 at 23:09
I've recently painted the interior of our newer construction home a taupey-greige and we are having new painted white baseboards, window casing and wainscoting installed. Furnishing are neutral and I like to add color via seasonal accessories. I do have a few red accents and we've ordered this large red cabinet for our living room.
I am also thinking of this console table for our entryway.
The problem I'm having is that our front door is an eggplant color. I like the color and it works with the exterior siding and small amount of stone, but it clashes with the red. And it bothers me that the exterior color scheme will not be in harmony with the interior. The front door is being replaced and so I can change it, just not sure what to change it to.
Here is the from of our house, the photo was taken pretty late on an overcast day amd looks quite dark. I'd say it isn't that dark in real life, but perhaps something brighter would be better.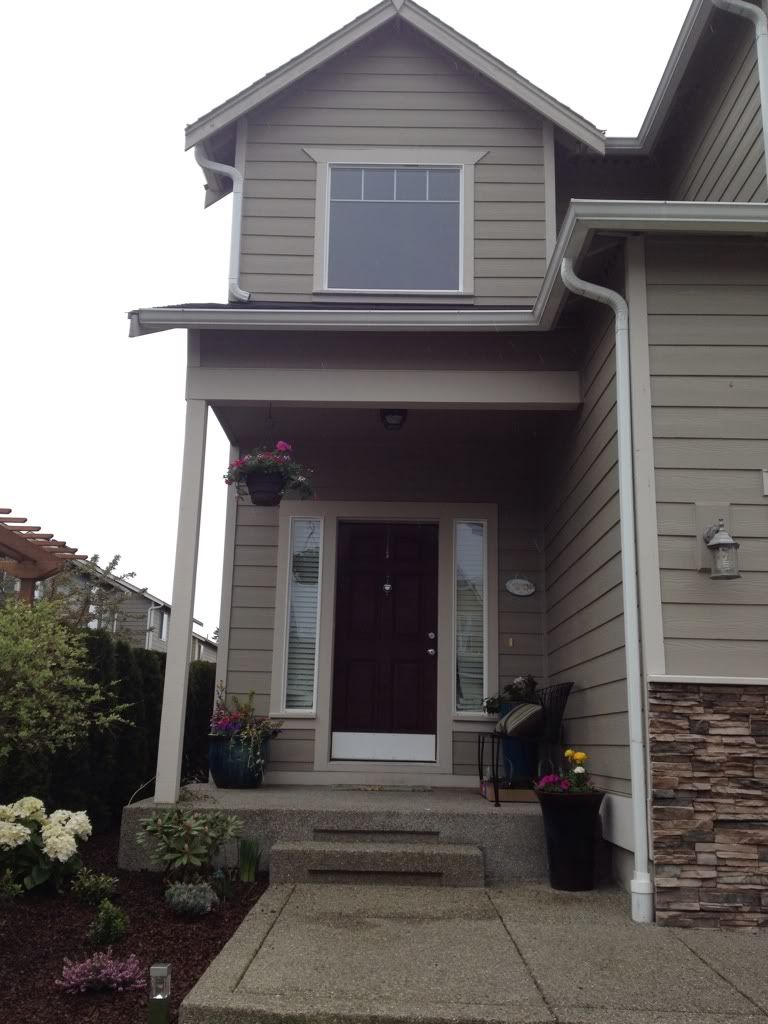 We are going with a more craftsman style door and we could do a wood door with a stain, although it would be more expensive. I think I'd prefer to have a painted door. I like black doors, but it would be too dark and I think I'd like something more colorful.
Any suggestions? Or should I not worry about the exterior door color vs interior color scheme?
---
Follow-Up Postings:
| | | |
| --- | --- | --- |
| RE: Exterior colors clashing with interior- front door? | | |
I think a color pulled from your stacked stone would look nice with the exterior, and go well with the interior.
---
| | | |
| --- | --- | --- |
| RE: Exterior colors clashing with interior- front door? | | |
Paint the inside of the door a color that goes with your foyer. Leave the outside eggplant.
---
| | | |
| --- | --- | --- |
| RE: Exterior colors clashing with interior- front door? | | |
What other colors are you using with the red on the interior? You should be able to pull another color from your interior colors to use on your door. Looks to me like there are a few colors that would look good with your exterior siding. From what I can tell, I think the eggplant color looks fine but Internet pics can fool ya. Maybe you just need to adjust the eggplant color.
---
| | | |
| --- | --- | --- |
| RE: Exterior colors clashing with interior- front door? | | |
Right now there's not much color inside. Walls are a light greige, floors are mostly a rustic pine with a medium, slightly gray tone. There's a large espresso leather sectional and the wooden pieces are a light walnut sort of color. Soon I will be painting the kitchen cabinets a putty color, maybe a sort of gray-green, not sure. I have a few conifer botanical prints up over the sectional. There's no other artwork except for a wedding photograph, which is basically black and white. I will be putting up more b&w photos in the foyer.

The red furniture will be the most colorful pieces in the home. And to me the red clashes with the exterior door color. Does it matter though? It kind of bothers me, but I don't know. I'm not even sure what color to change the front door to anyway.

Here are some more shoots of the front door. As you can see it needs to be repainted, but we are probably going to replace it with a nicer door anyhow.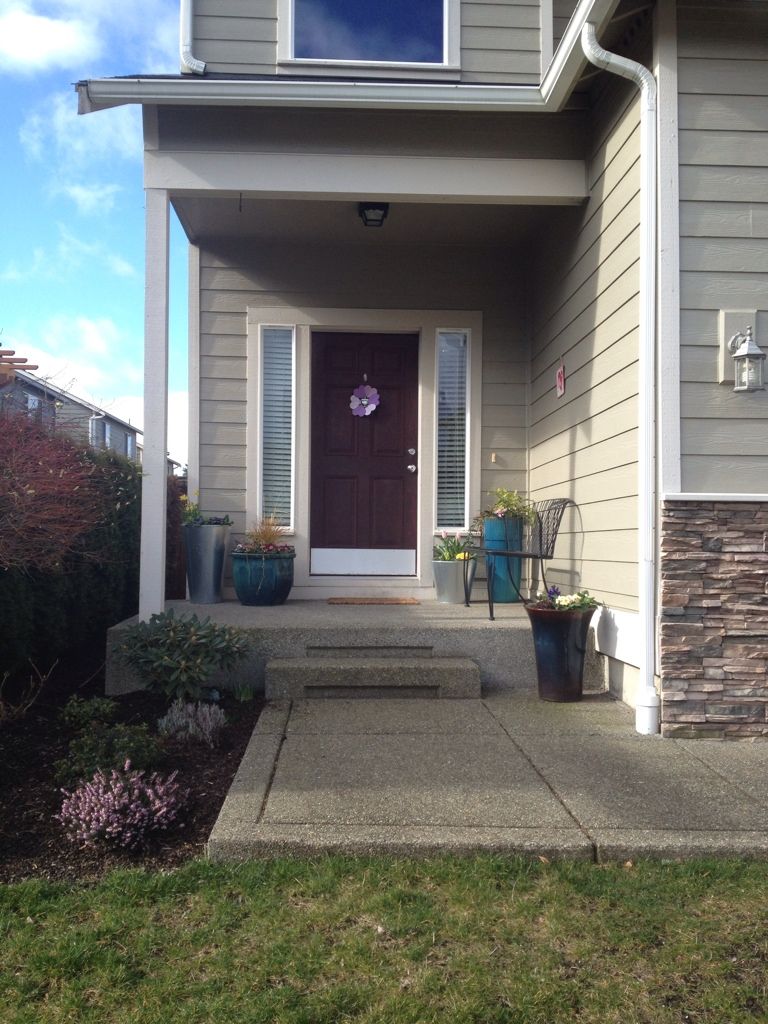 Here's the living room, it's very neutral. The red cabinet is going where the yellow post-it's are. Hopefully we will be redoing the fireplace surround. Carpet is being replaced and the trim will all be replaced with larger, white-painted stuff.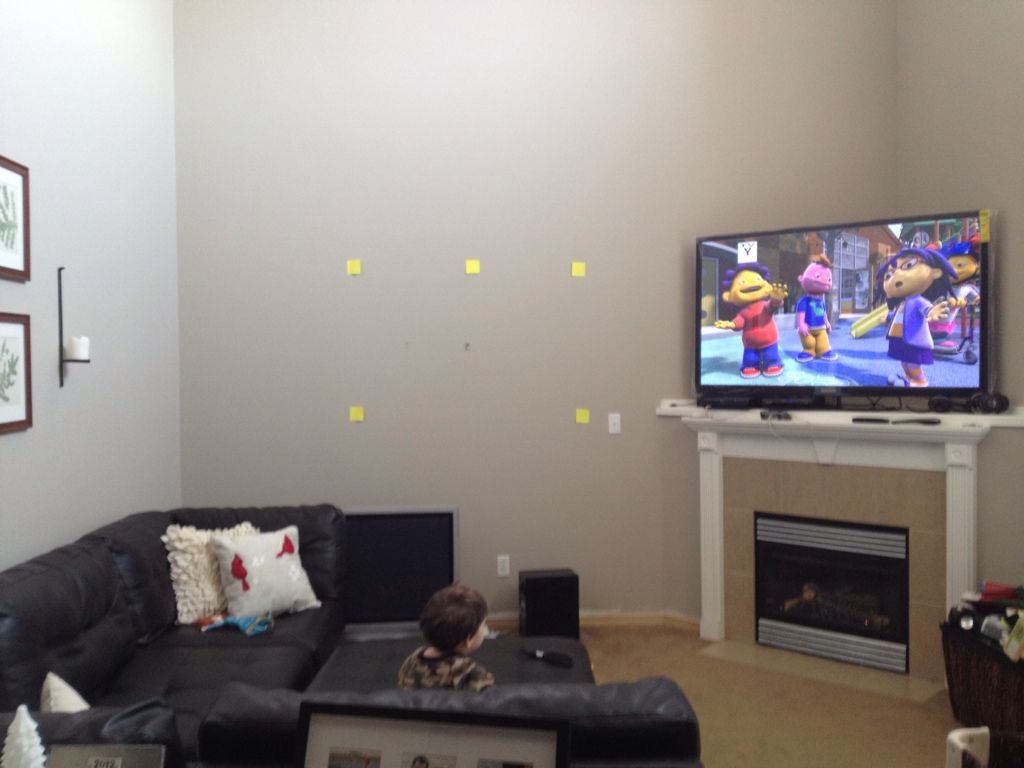 Prints over sofa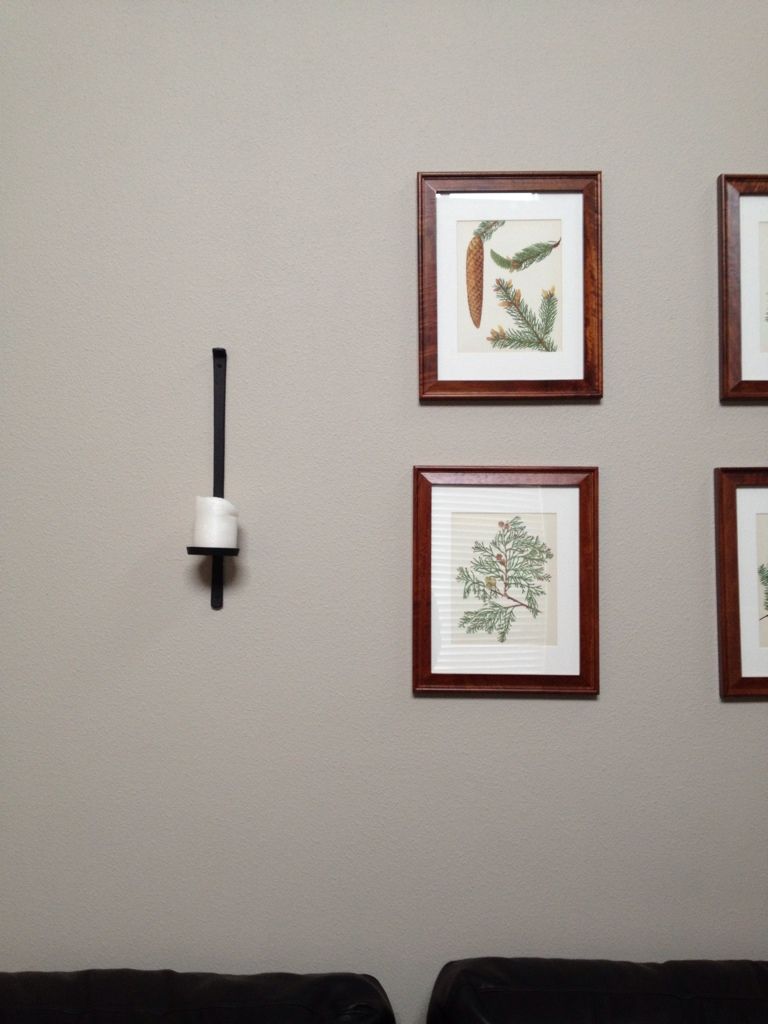 Dining room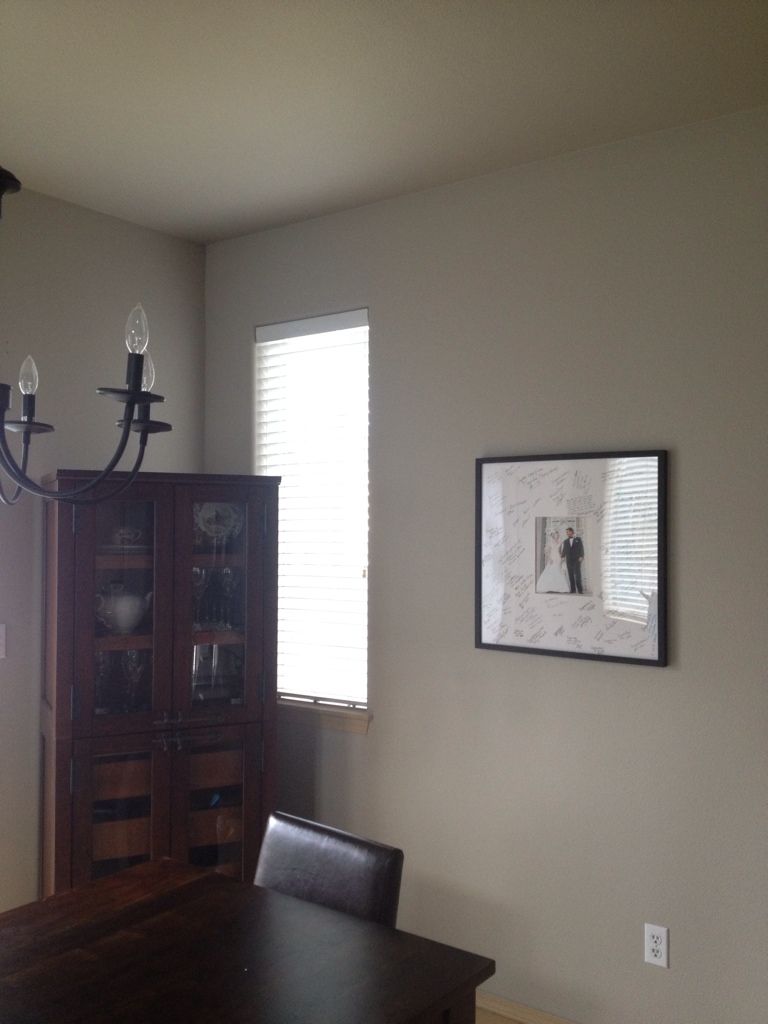 The floor plan downstairs is very open. And as you can see everything is very neutral. But the red cabinet will be bold. I'd like the exterior color scheme to reflect the interior somewhat and since the eggplant clashes with the red I don't think it works.
---
| | | |
| --- | --- | --- |
| RE: Exterior colors clashing with interior- front door? | | |
In that case, I would just paint it the same as the new cabinet and put some rusty red flowers out in the front this spring.
---
| | | |
| --- | --- | --- |
| RE: Exterior colors clashing with interior- front door? | | |
I suggest painting the exterior of the front door black.
---
| | | |
| --- | --- | --- |
| RE: Exterior colors clashing with interior- front door? | | |
Love the cabinet. If you could get paint samples to match, then paint your door an eggplant with same color tint, it might work. If you really love the eggplant. Or a browner eggplant to blend in with your furniture. Oddly the pic frames appear to lean towards eggplant. Is there any other items in your home eggplant?

Also, when you get your new door, you may completely change your thoughts on color.
---
| | | |
| --- | --- | --- |
| RE: Exterior colors clashing with interior- front door? | | |
What color is the interior side of the door, and why are you replacing the door?
I don't think the color of the exterior matters, mainly because I don't see that cabinet as red but as a dark wood tone. If the interior side of the door is eggplant, then yes, I'd paint it another color.....maybe the same color as your trim, or the color of your other interior doors.
---
| | | |
| --- | --- | --- |
| RE: Exterior colors clashing with interior- front door? | | |
I LIKE red and purple together! And since the door is not going to be standing in the room in close proximity to the red, I wouldn't give it a moment's thought:
---
| | | |
| --- | --- | --- |
| RE: Exterior colors clashing with interior- front door? | | |
The front door and the large red cabinet will not be in close proximity. But if I get the console tabLe it will be very close. If I open the front door you will see the eggplant exterior and the red console table at the same time. I'm not sure about the console table as I think it is kind of expensive for a table like that, but I like the storage it offers.

Here is what you would see if I get that console table and open the front door
I think they clash.
The interior of the front door is painted white and the other interior doors are currently an awful faux maple wood tone but are being replaced and will be painted either the white trim color or possibly a soft black. I may paint the interor of the front door the same black color.
---
| | | |
| --- | --- | --- |
| RE: Exterior colors clashing with interior- front door? | | |
Well, if the cabinet color is true online, then you're right, they do. Why don't you wait and see if you get the cabinet and, if so, what the color looks like in your space, then paint or replace the door if it does clash. I think you could find a purple that would work with that red, though. Or for something different, look at that little pop of turquoise on the cabinet shelf :-)
---
Post a Follow-Up
Please Note: Only registered members are able to post messages to this forum.
If you are a member, please log in.
If you aren't yet a member, join now!
---
Return to the Home Decorating & Design Forum
Information about Posting
You must be logged in to post a message. Once you are logged in, a posting window will appear at the bottom of the messages. If you are not a member, please register for an account.
Please review our Rules of Play before posting.
Posting is a two-step process. Once you have composed your message, you will be taken to the preview page. You will then have a chance to review your post, make changes and upload photos.
After posting your message, you may need to refresh the forum page in order to see it.
Before posting copyrighted material, please read about Copyright and Fair Use.
We have a strict no-advertising policy!
If you would like to practice posting or uploading photos, please visit our Test forum.
If you need assistance, please Contact Us and we will be happy to help.

Learn more about in-text links on this page here