Return to the Home Decorating Forum
|
Post a Follow-Up
---
| | | |
| --- | --- | --- |
| Gray walls with oak trim? Can it work? | | |
Posted by
projectsneverend
(
My Page
) on
Sat, Feb 20, 10 at 22:53
Our bedroom is finally going to get an overhaul. It's been very neglected. Of course, my son's room has been painted... twice! Go figure.

Anyway, we have decent golden oak trim thru the house with nice oak doors. Not sure how long we'll stay here and tho I do love white trim, we'll not be painting it.

I also have a large oak amish made dresser that I can't imagine painting.

SO- I want a peaceful, serene room, finally. (like a ttodd knock-off! :) I found a steal-deal coverlette in gray and am trying to figure out if I can make this work. Thinking gray on the bed, lighter gray on the walls, maybe a few splashes of purple (I have a gorgeous lamp I need to work in somewhere) and a few b&w photos on the walls... Floors will be new carpet - color yet tbd. Windows would be sheer white with gray side panels or top.

Long story short - Can a cool color work with the warm trim or am I way off? The rest of the house is pretty warm and I'm used to working with that. I'm a little out of my element here.
Basically I need to figure out if I should take back my coverlette before it's too late to return!

Any thoughts or pics would be so appreciated.
---
Follow-Up Postings:
| | | |
| --- | --- | --- |
| RE: Gray walls with oak trim? Can it work? | | |
Project IMO anything can work if it's pulled together correctly. Personally, I would rather see the oak painted white, but that's not an option here.
I'll look for some pics and post if I find one.
Rather than purple what are your thoughts on splashes of pink? Pink is a new favorite color of mine.
....Jane
---
| | | |
| --- | --- | --- |
| RE: Gray walls with oak trim? Can it work? | | |
Not oak, but I have Honey Maple stained woodwork (here with natural cherry furniture) and gray-blue walls in MBR. This is BM's Horizon.
Sorry for the boxes in corner and lampshades on table - but here you see the window trim and more furniture.
DS has the same color walls with blue carpet, pine furniture. I like the contrast b/t warm and cool, most of my house is green or blue walls.
Bathroom is blue, one strip of gray (Light Pewter) b/t the hamper cubby and the tub, where hooks are. Sorry I don't have a pic of that wall with baseboard though. Here's the light blue (White Satin) wall with window trim.
---
| | | |
| --- | --- | --- |
| RE: Gray walls with oak trim? Can it work? | | |
Well that was flattering - Thanks!

I do think that grey can work w/ golden oak trim but sample, sample, sample! Grey can be cool or it can be warmed up w/ brown undertones like BM Revere Pewter (which is what I have in our LR) It reads very warm but still grey. One wall often looks stone grey.

I have oak trim but it is stained quite dark and I noticed that when I went cool grey the orange in it was quite pronunced. Here's one pic of a dark cool grey. Liked it but it got a bit to 'goth' loking fr me.

To all the grey's I've loved before - who've travelled in and out my door......

So here are some of my pics of greys I've tried (I have other shades and pics but they aren't loaded):

Cool:


Warm:

LR (BM Revere Pewter): Please note that these ARE NoT the finished pics - this was my sample. I love this color and am just tweaking the room as small finishing touches arrive from E-bay. The accent colors are navy blue, cream and tan:

SW Martha Stewart Thunderhead. When the men at work saw this color they LoVED it! How often does a man comment on wall color let alone more than 1?!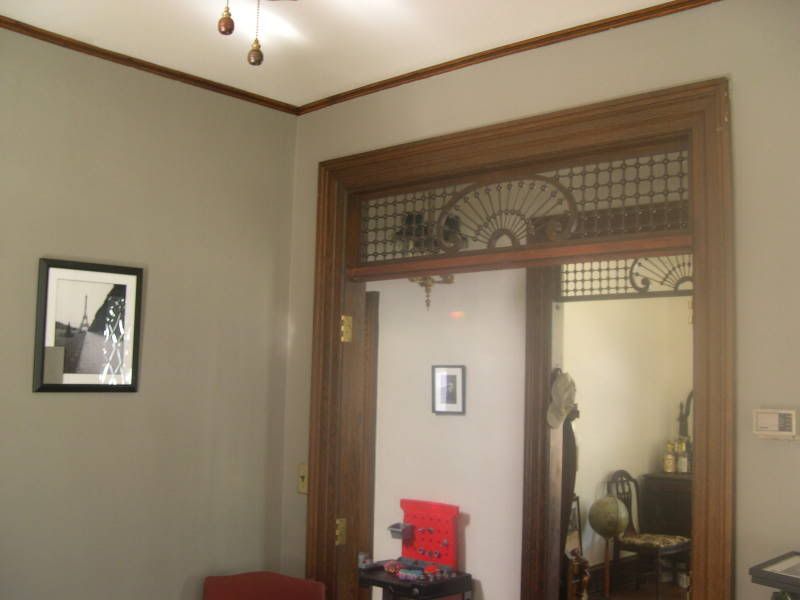 Light warm grey - SW MS Sandpiper w/ Garden Clogs ceiling:
Old pics of my MBR done in SW Requisite Gray. I should have left a good thing alne! This gray seemed to be right on the bridge of cool/warm. The darker colors on the strip def. had brown undertones. Such a great color especially w/ blue or purple accents. Really, really love this color especially w/ dried Nikko Blue hydrangea flowers. Would def. recommend sampling this color! When I went lighter on the same strip I thought it went very pinky (magenta is added to it) and I didn't like it at all:
Not sure if my nightstand is oak or pine but has an orangish tone:
W/ gold accents:
And SW Backdrop in alcove (same strip as RG)ignore the mess of the dresser painting.:
---
| | | |
| --- | --- | --- |
| RE: Gray walls with oak trim? Can it work? | | |
No pictures because I'm still in the planning stage, but I'm planning to use Ellen Kennon's Gustavian Grey in my bedroom. I have 90 year old orange-y yellow pine flooring.

Her paints are full spectrum and the Gustavian Grey is a pale gray to green to blue. There are examples of it in the Gallery.
Here is a link that might be useful: Ellen Kennon paint
---
| | | |
| --- | --- | --- |
| RE: Gray walls with oak trim? Can it work? | | |
Jane - I agree, white would be a nice option here. Not sure dh would go for pink. But who knows!

ajsmamma - I would say our woodwork is close to the trim on your windows. Nice pics. I do like the contrast in your rooms. Very pretty. Pics sure do help!

ttodd - I'm sure the hydrenga pic is one that I have stuck in my inspiration log in my head. I even have a similar headboard. But my trim is definitely much lighter. I use SW paints and have a fandeck - the requisite gray is very pretty. And I love the thunderhead, too. My room is VERY cozy (small!) so I don't want to go too dark....

graywings - That looks like a beautiful color. Good luck with your project and post pics when you're done! :)

hmmm... Thanks for all of the input so far! My mind is racing...
---
| | | |
| --- | --- | --- |
| RE: Gray walls with oak trim? Can it work? | | |
Our MBR is 12x13 w/ a king sized bed. Tons of light - almost blinding.
---
| | | |
| --- | --- | --- |
| RE: Gray walls with oak trim? Can it work? | | |
This morning's Washington Post magazine does an extensive review of a house reno, and a gorgeous gray bedroom with oak trim (not too orangey). The palette was said to be ashes, smog and fog. There were all kinds of gray in the bedding, draperies, rug and wall. Accent was yellow-gold.
---
| | | |
| --- | --- | --- |
| RE: Gray walls with oak trim? Can it work? | | |
I have to make this lamp work in our room.
Was originally planning sage green walls.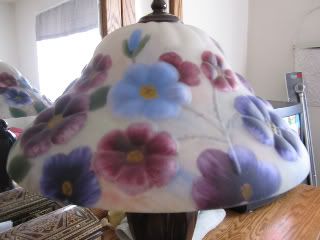 This is our headboard: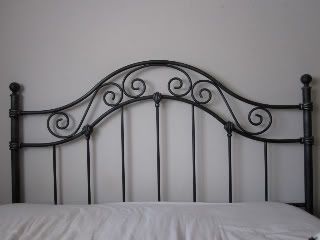 My steal of a deal bedding:

Right now I'm feeling a sage green is safer and easier. My oak is pretty orange.
---
| | | |
| --- | --- | --- |
| Go in a different direction? | | |
I should have added... Any thoughts on what direction to go in would be appreciated! We're hoping to get started in the next few weeks. Will need paint and new carpet.
The lamp must be useable in the room.
---
| | | |
| --- | --- | --- |
| RE: Gray walls with oak trim? Can it work? | | |
I'm not a big fan of gray, but y'all have some gorgeous gray rooms!

Here's a good inspiration pic~Swedish decorating. ;o)
Here is a link that might be useful: gray walls
---
| | | |
| --- | --- | --- |
| RE: Gray walls with oak trim? Can it work? | | |
Anyone think gray is def NOT the way to go? If it's a no, then any suggestions? I can return the bedding.

The lamp, headboard, and all of the oak! must stay. I'd need to buy bedding, artwork, flooring, wt,... it's almost a blank slate.
---
| | | |
| --- | --- | --- |
| RE: Gray walls with oak trim? Can it work? | | |
I think the right green would work with the bedding too. Either green or gray, cool colors can work with oak if you tend to the blue side rather than yellow. I'll try to post pics of DS's room in daylight tomorrow - the light from his baseball ceiling fan is awful LOL. But his pine furniture is a little more the color of your oak than my cherry furniture is, his trim is the same Honey Maple stained pine.
---
| | | |
| --- | --- | --- |
| RE: Gray walls with oak trim? Can it work? | | |
| | | |
| --- | --- | --- |
| As promised - pictures | | |
Some pics of DS's room (pardon the tween boy mess - I managed to avoid taking pics of the unmade bed).

Horizon paint color - I forgot, his trim isn't stained, just beeswax and boiled linseed oil but it's somewhere b/t a "natural" pine and honey.

Bunk beds (ignore the box spring underside) in sunlight
bookcase - maybe darker pine than bed plus a shadow but I did use flash
Desk cubby (dark) and edge of closet trim (beeswax) - I think the flash washed out the side of the closet a little though
And, what you were waiting for - he has an oak dresser! This is next to a window, so the paint is under an east-facing window, no light but flash.
Finally, here's BM Light Pewter with no stain, poly-only baseboard in bathroom. The colors are pretty true in this pic (a little bit of White Satin showing around the corner to the tub).
---
| | | |
| --- | --- | --- |
| RE: Gray walls with oak trim? Can it work? | | |
ajsmama - oh my gosh, thank you for taking the time to post pics again. I appreciate it!

Maybe I should start a new post with a pic of the lamp, oak, and headboard - and see what others come up with!
The lamp was a wedding gift and I've always loved it, but it's been moved around lots of time because it doesn't really match my decor. So I'm trying to make it work here as the main 'colorful' item in the room.
---
Post a Follow-Up
Please Note: Only registered members are able to post messages to this forum.
If you are a member, please log in.
If you aren't yet a member, join now!
---
Return to the Home Decorating Forum
Information about Posting
You must be logged in to post a message. Once you are logged in, a posting window will appear at the bottom of the messages. If you are not a member, please register for an account.
Please review our Rules of Play before posting.
Posting is a two-step process. Once you have composed your message, you will be taken to the preview page. You will then have a chance to review your post, make changes and upload photos.
After posting your message, you may need to refresh the forum page in order to see it.
Before posting copyrighted material, please read about Copyright and Fair Use.
We have a strict no-advertising policy!
If you would like to practice posting or uploading photos, please visit our Test forum.
If you need assistance, please Contact Us and we will be happy to help.

Learn more about in-text links on this page here