Return to the Home Decorating Forum
|
Post a Follow-Up
---
| | | |
| --- | --- | --- |
| Travertine, Porcelain or Slate? | | |
Posted by
prairiedawnpam
(
My Page
) on
Sun, Feb 20, 11 at 22:37
We are choosing tile for the floor in the front foyer and we want a traditional look. Ivory porcelain is $1.09 per square foot, slate is $3, travertine is $3.39. The ivory porcelain or the slate are more in-line with the look I want. The ivory tiles are a steal. With all the talk about travertine, though, I can't help but think that's the way we should go, investment wise. Thoughts?

...Pam
---
Follow-Up Postings:
| | | |
| --- | --- | --- |
| RE: Travertine, Porcelain or Slate? | | |
I've lived with all three. As well as my fair share of ceramic tile. Currently live with slate and travertine.

In my old house I chose porcelain for a master bath remodel. I adored that floor. I loved the way it felt underfoot. Yes, it is a hard surface but in it's own way it has a softness or a silkiness -- I don't know how to describe it exactly. Plus, it was easy to clean and keep clean.

My travertine - maybe it's just the kind I have - is not my favorite. I feel like it *holds* on to dirt. Our house is a ranch style, about 4K sq ft and only the bedrooms have carpet. Living room and family room are hardwoods. The slate is on the back veranda-ish-type porch. I don't know what the d@mn thing is actually called, but it's an outdoor living space.

Every other square inch is travertine. I wish that weren't the case. Again, maybe it's just the kind we have.
---
| | | |
| --- | --- | --- |
| RE: Travertine, Porcelain or Slate? | | |
We have porcelain tile in our kitchen.
I agree exactly with how funcolors described the way it feels
underfoot. Love it!
I don't have experience with travertine or slate.
---
| | | |
| --- | --- | --- |
| RE: Travertine, Porcelain or Slate? | | |
Travertine is pourous and will require sealing, I believe. Not sure it would be the best choice for the foyer? I love travertine but I knew I couldn't deal with the maintenance and would be very upset if it stained, so I went with porcelain in my foyer/kitchen/hall/laundry. It depends on your tolerance for it not being perfect.
---
| | | |
| --- | --- | --- |
| RE: Travertine, Porcelain or Slate? | | |
I have travertine and limestone in my house and would prefer slate and tile for easy maintenance.
---
| | | |
| --- | --- | --- |
| RE: Travertine, Porcelain or Slate? | | |
Several months ago I had a vinyl bathroom floor replaced with porcelain tile that looks like slate! Best of both worlds. My tile installer told me that porcelain is actually more durable than ceramic tile, that porcelain tile is a really great choice for floors. Slate would require sealing, cost more, & be a tad more difficult to install. This tile has fully met my requirements for good looks and easy maintenance (and the price was unbeatable!)
---
| | | |
| --- | --- | --- |
| RE: Travertine, Porcelain or Slate? | | |
Care to share, stinky gardener? Where did you get your tile?
---
| | | |
| --- | --- | --- |
| RE: Travertine, Porcelain or Slate? | | |
Kswl, I found it at a very high-end, upscale boutique-type tile shop called Lowes, LOL! It cost $1.68 per sq. ft. and my tile guy got 10% off of that. This is in my small, upstairs hallway bath. What a difference! I love it.

Down the road, will be gutting and re-doing the entire master bath. Learned from this experience that buying super pricey tile is not necessary to achieve a great look that is easy to care for and has durability.
---
| | | |
| --- | --- | --- |
| RE: Travertine, Porcelain or Slate? | | |
We installed slate in our master bath. It's a little different than the traditional colors often seen but we love it and it's very easy to maintain. The first pic is just after it was installed and the second is after the bath was finished:
---
| | | |
| --- | --- | --- |
| RE: Travertine, Porcelain or Slate? | | |
Lukkirish...

That is some beautiful flooring!
---
| | | |
| --- | --- | --- |
| RE: Travertine, Porcelain or Slate? | | |
Thanks for your comments. You've convinced me to buy the porcelain.

...Pam
---
| | | |
| --- | --- | --- |
| RE: Travertine, Porcelain or Slate? | | |
We have slate in our kitchen and now on our fireplace hearth. If you like a more rustic look with variations in color, it's a great choice. I love this floor - doesn't show dirt at all (wait, is that a good thing?)

It's not a smooth surface but if a little piece chips off, it's fine because it's stone throughout. I haven't sealed mine for such a long time, so it's more of a matte natural look right now.

I used travertine in my laundry and powder room in a versailles pattern. It's lovely but I wish that I had used slate or porcelain tile. Slate would have matched other elements in our house and both would have been easier to maintain.

For my bathroom remodels, I plan on using porcelain tiles. I need to be able to use Lysol without fear of ruining the stone and I want less color variation than I have with the slate.
---
| | | |
| --- | --- | --- |
| RE: Travertine, Porcelain or Slate? | | |
We installed the porcelain tile in the entry and kitchen/utility rooms, and boy is it easy maintenance!

This was kind of pricey because it's from Crossville and can be used indoors or out.

Crossville also sends free samples at your request. When I got my free samples I put mustard, ketchup, coffee..you name it, on the tiles (cream color in the kitchen) and no staining at all.

Oh, and a shout-out to Amy for helping me pick the colors for the entryway! She incorporated the tile with the colors of the room. :)
---
| | | |
| --- | --- | --- |
| RE: Travertine, Porcelain or Slate? | | |
Pretty, pretty floors everyone!

Oakley, that is such a cheerful foyer you have created! I love the colors! Your tile looks so great with that wall color. Good job (Oakely and Amy!)
---
| | | |
| --- | --- | --- |
| RE: Travertine, Porcelain or Slate? | | |
Thanks, stinkyg! I am already starting to think about downsizing--- dream about it and start talking to DH about it---- and want our retirement home to use all these wonderful ideas, substitutions and workarounds that I read here every day. :)
---
| | | |
| --- | --- | --- |
| RE: Travertine, Porcelain or Slate? | | |
Thanks aktillery! I love that it has color variations that are all in the neutrals and a very natural look to it.
---
| | | |
| --- | --- | --- |
| RE: Travertine, Porcelain or Slate? | | |
I love the slate. I have been itching to use it somewhere and we are redoing the bath in our basement in the next 60 days. I have read that it can be difficult to install. Has anyone done it DIY?

I don't like the tile we have in the master bath. Not sure what it is, it is so smooth though I find it dangerous in the bathroom.
---
| | | |
| --- | --- | --- |
| RE: Travertine, Porcelain or Slate? | | |
Boop, depending on the actual slate and tile size Slate can be a little challenging to install DIY. The reason is because of the clefts in the tile, so no two tiles are the exact same thickness all over. The trick is to lay out the tiles to sort of match the thicknesses a bit. Also, when grouting you have to be sure you've gotten ALL of the residue up because it will dry in the cracks and crevasses which is difficult to remove once it's dried.

People talk a lot about sealing natural stone but it's not a difficult task at all. Especially if it's just the floor. Two coats of sealant will last a very long time on a floor and using an enhancing sealer will bring out all the colors.

Depending on the look you want, there are some slates that have been honed and are more even, hence making them easier to install. Honed slate which is usually gray tends to be pricier and more uniform in color.

I absolutely love our slate and would install it again if we ever move.
---
| | | |
| --- | --- | --- |
| RE: Travertine, Porcelain or Slate? | | |
I would give anything to have travertine because I love the way it looks, but y'all are scaring me.

I would definitely go with what you want and not what you think is best for the market.
---
| | | |
| --- | --- | --- |
| RE: Travertine, Porcelain or Slate? | | |
Boop - you probably are already aware but I should add just in case you aren't that when installing the slate, you can also even the tiles out by buttering the undersides with mortar.
---
| | | |
| --- | --- | --- |
| RE: Travertine, Porcelain or Slate? | | |
Oakleyok, I love your floor. I am thinking I may use a second tile colour and checkerboard it like you did. Its a classic look.
---
| | | |
| --- | --- | --- |
| RE: Travertine, Porcelain or Slate? | | |
Are you up for more pics, Prarie? Here's my vinyl floor before:

src="http://i287.photobucket.com/albums/ll157/stinky-gardener/20101020_38.jpg" border="0" alt="Photobucket">


My porcelain tile after: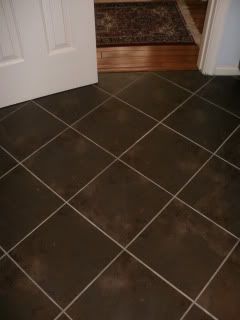 ---
| | | |
| --- | --- | --- |
| RE: Travertine, Porcelain or Slate? | | |
Pam, I posted a message about slate and received a response from "jejvtr" about Daltile Brazilian Slate porcelain tile which looks just like slate. There are pictures and more info in this thread: http://ths.gardenweb.com/forums/load/flooring/msg0215081318328.html?6

Hope that helps!
Christine
Here is a link that might be useful: Slate Tile
---
| | | |
| --- | --- | --- |
| RE: Travertine, Porcelain or Slate? | | |
That's really nice looking tile Chris. It really does look like slate! I like the hopscotch pattern a lot too!

Daltile headquarters is a ten minute drive from my house. Have been over there (looking for another project) a few times recently! Beautiful showroom!
---
| | | |
| --- | --- | --- |
| RE: Travertine, Porcelain or Slate? | | |
No one has mentioned whether any of these materials are more or less slippery than the other choices (and I don't know). But that would be an important factor for me in an entrance.
---
| | | |
| --- | --- | --- |
| RE: Travertine, Porcelain or Slate? | | |
loves, my porcelain isn't slippery at all. It doesn't have a glossy finish.

Pam, I think you'll be pleased with the checkerboard pattern. Most people are afraid to color outside the lines. Not me! You should see my kitchen floor, it's a reddish and cream checkerboard. The University of Oklahoma's Crimson and Creme. lol

Also, if you get tired of the checkerboard, you can lay a rug on tops. I want a braided rug for the kitchen to use in the winter time. Come summer, I love walking on it barefoot!
---
| | | |
| --- | --- | --- |
| RE: Travertine, Porcelain or Slate? | | |
PDP

I selected Porcelain with the help of Bill Vincent our resident tile guru. Chris11895 has posted link above to our mud area Brazilian Slate Porcelain tile from Daltile -
IT's bulletproof, is not slippery, takes a beating - and always looks nice - grout & tile 5yrs in.

I have Porcelain hex tile in our Master bath

Bill was right porcelain is a great choice for tiling

good luck
---
| | | |
| --- | --- | --- |
| RE: Travertine, Porcelain or Slate? | | |
We've had a cream colored porcelain in our kitchen and natural Indian slate in our foyer for 6 years and they still look great. No problems at all. I do love the fact that the slate doesn't show dirt and we selected a dark gray grout which blends well.

We have dark cherry cabinets in the kitchen and didn't want the floor to compete with the dark cherry or the granite so we picked an oatmeal colored tile. We also used epoxy grout and I am so happy we did. It is more expensive to install but it doesn't darken and and you don't have to reseal it. Our kitchen is 28x20 and I just didn't want to deal with keeping a light grout looking good.
---
| | | |
| --- | --- | --- |
| RE: Travertine, Porcelain or Slate? | | |
I'd like to add that my floor is not the least bit slippery. Feel safe and secure even when this floor is wet. Perfect material for the bathroom (or an entryway!)
---
| | | |
| --- | --- | --- |
| RE: Travertine, Porcelain or Slate? | | |
This is our slate gallery. We DIY'd it. It is durable and non slip. It still looks like new after 4 years although this is the way everyone accesses our home.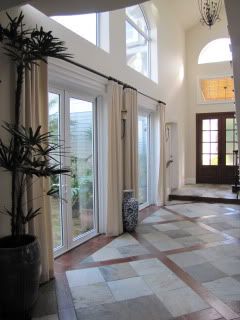 ---
Post a Follow-Up
Please Note: Only registered members are able to post messages to this forum.
If you are a member, please log in.
If you aren't yet a member, join now!
---
Return to the Home Decorating Forum
Information about Posting
You must be logged in to post a message. Once you are logged in, a posting window will appear at the bottom of the messages. If you are not a member, please register for an account.
Please review our Rules of Play before posting.
Posting is a two-step process. Once you have composed your message, you will be taken to the preview page. You will then have a chance to review your post, make changes and upload photos.
After posting your message, you may need to refresh the forum page in order to see it.
Before posting copyrighted material, please read about Copyright and Fair Use.
We have a strict no-advertising policy!
If you would like to practice posting or uploading photos, please visit our Test forum.
If you need assistance, please Contact Us and we will be happy to help.

Learn more about in-text links on this page here