Return to the Home Decorating Forum
|
Post a Follow-Up
---
| | | |
| --- | --- | --- |
| How to display crystal glassware and china? | | |
Posted by
linnea56
(
My Page
) on
Fri, Feb 13, 09 at 22:03
I am finally ready to display my motherís engraved crystal water and wine glasses and china. (It only took me 10 years to find a place for them, but thatís another story...) They are almost 60 years old, so not antique, just getting there.

Up to this point my 2 china cabinets have ended up storing a stack of plates and a row of glasses. Now I want to "display" them rather than "store" them. But what looks good?

There are no plate rails but I found plate holders that hold them upright. Put out a place setting? But that will look like a store display, wonít it? Choose the prettiest, most distinctive pieces and only display those? Set them at various heights? If so, on what? (Is there such a thing as a china pedestal???)

The glasses are the most beautiful, the engraving is amazing. But you donít put a row of 12 glasses lined up, do you? There must be a more creative way.

Thanks!
---
Follow-Up Postings:
| | | |
| --- | --- | --- |
| RE: How to display crystal glassware and china? | | |
I prefer an arrangement that says "We use them all the time and this where we store them" to one that says "These are for display only". So something like stacks of dishes with a platter on edge behind them to show the pattern. Sparkling glasses in straight or staggered lines waiting to be brought out and filled with the beverage of your choice. Perhaps not what you want.

Have you seen any pictures in magazines or in the gallery here that show a display you could adapt for your china and glassware?
---
| | | |
| --- | --- | --- |
| RE: How to display crystal glassware and china? | | |
I'm in love with how eddie ross did his new blue shelves. Scroll down and you can't miss them.
Here is a link that might be useful: eddie ross shelves
---
| | | |
| --- | --- | --- |
| RE: How to display crystal glassware and china? | | |
Above all be careful not to put more weight on the shelves than they can safely support. China and crystal are heavier than you might think. Pieces also look better when they have space around them.

I like to see crystal displayed because it doesn't take up much space visually. A set of interesting plates or cups can be nice, but I don't like to see place settings displayed. If you want to use serving pieces, be sure that the heavy ones are on wooden shelves.
---
| | | |
| --- | --- | --- |
| RE: How to display crystal glassware and china? | | |
linnea, when I had my china on display I played around with arrangements a bit. It didn't take long to see what I liked. If your glasses are different sizes and/or shapes, you might prefer a grouping of various ones together - or you might like the straight line look. I didn't have a plate rail either. I stacked a few plates, with one upright behind them. My china cabinet has closed shelves on the bottom, so I kept a lot of it there, with just the most interesting pieces and the crystal behind the glass doors.

Lots of things you probably have around could be used to elevate something, such as small tealight holders. As long as it's unobtrusive and sturdy.

My china and crystal was my Mom's and MIL's too, btw. It makes it that much more fun to display.
---
| | | |
| --- | --- | --- |
| RE: How to display crystal glassware and china? | | |
This probably won't help much , but here is my glass Butler's Pantry with my crystal water and tea goblets, plus some crystal plates (that you can't see very well) and my good china.

You asked " you donít put a row of 12 glasses lined up, do you?" Mine are staggered a bit, but the answer is basically yes. We use the crystal and china every Christmas or Easter.

When I take things out for use, I have to end up replacing the empty space with something else, so the cabinet will look good for company. It's a pain, but that way, the shelves and china get cleaned at least once a year. :)

I added mirrors in the back of the cabinets, to give the crystal some dimension and sparkle.

Before mirrors

After mirrors

Close-up

---
| | | |
| --- | --- | --- |
| RE: How to display crystal glassware and china? | | |
NHB, (I hope you don't mind the abbreviation), what a great idea to mirror the backs of thay cabinet, it really makes your crystal and china sparkle, and brings so much more reflected light into that area! You've got me wanting to do the same with my own two china cabinets, and here I thought my project list was complete....lol! Where did you get the glass to do the shelves?
---
| | | |
| --- | --- | --- |
| RE: How to display crystal glassware and china? | | |
i think the suggestions you have are wonderful, there are however some other ideas to think about as well. First, glass should go up high and near lights if you have lights so the light can shine through them, If you want a really interesting display and you have the room, consider putting some other things in the cabinet that will remind you of your grandmother..In my cabinet I have things that are antique, such as an old sifter, hand crank mixer, and other things, a few old bowls, a photograph of my husbands mother and grandmother (old sepia), some pretty bottles and jars of food like balsamic vinegar, jellies, olives, tins would also work well, i have a few cookbooks, some antique, and also you could soften it with bits of fabric or lace, even an antique potholder or doily it is a bit less formal and gives the diner some interesting things to look at..here is mine:

---
| | | |
| --- | --- | --- |
| RE: How to display crystal glassware and china? | | |
nanny2a - I don;t have glass shelves, only the solid wood. The mirrors were cut at a glass shop, for very little money. I did the measuring myself. The mirrored backs are actually only held in place by the shelves, and not glued. I didn't want to mess up the back of the cabinet, in case I tired of the mirrors, or a new owner didn't care for them.

Unlike ronbre's beautiful cabinet, I don't have interior lights either. As you can see, the ceiling lights reflect off of the mirrors and give plenty of light.
---
| | | |
| --- | --- | --- |
| RE: How to display crystal glassware and china? | | |
NBH, yes, I knew the shelves were wood, I just phrased my question incorrectly.....meaning "shelves" as the whole unit. Sorry! It's a great idea and I'd like to copy it with mine. BTW, my china cabinets didn't have lighting, either, so I purchased some of those LED mini lights and put three up on the ceiling of each cabinet - they work like a charm!
---
| | | |
| --- | --- | --- |
| RE: How to display crystal glassware and china? | | |
The cabinet unit is KraftMaid.

Did you have to wire the lights, or are they battery operated.
---
| | | |
| --- | --- | --- |
| leds stick up | | |
mine came with lights but nanny's use of led stick up lights is a great idea to avoid wiring, some of them are push on and push off, so you can just quickly give em a push if you want to light it..mine are on a timer so that the led's come on at 8 and go off at 8...so they are a night light..with hubby having a head injury, nightlights in nearly every room are a must.
---
| | | |
| --- | --- | --- |
| RE: How to display crystal glassware and china? | | |
I have some place settings displayed as well as major serving pieces and crystal. The "stacks" of plates, et cet are in the cubbies on either side of the drawers below.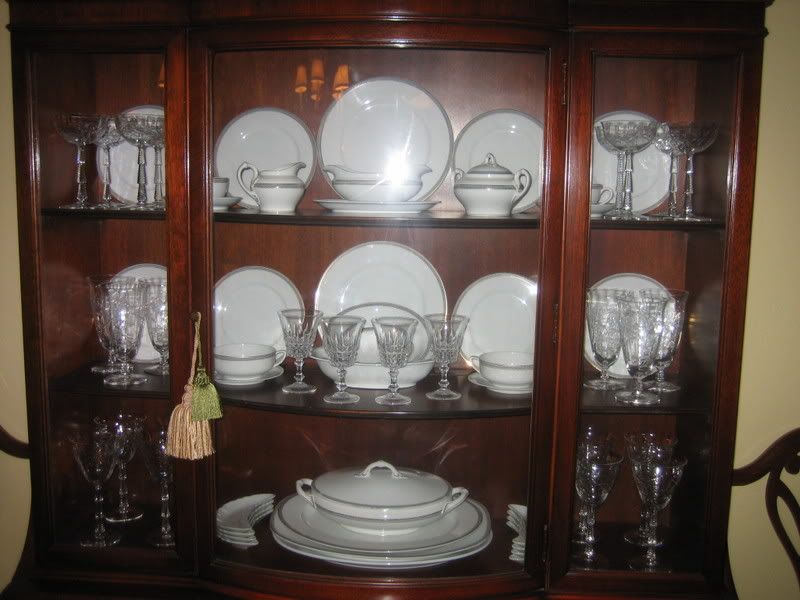 ---
| | | |
| --- | --- | --- |
| RE: How to display crystal glassware and china? | | |
What a wealth of ideas! Thanks so much! I tried several arrangements already before posting and was dissatisfied. I thought, "How pathetic is this?! Canít even arrange my own stuff, for Peteís sake." But now Iím rollingÖ

Mirrors! I had not thought of that. (Sounds of head slappingÖ) The before and after pictures help a LOT. The crystal would show up much better that way. I wonder if I could use mirror tiles? Itís an antique cabinet, so I also should not install anything really permanent. My shelves are adjustable with different heights between Ö newhomebuilder, do you just have your mirrors set on the shelf and resting on the cabinet back?

Tealight holders as pedestalsÖsimple, unobtrusive, and cost effective!

I donít have lights in my china cabinet either: but both the room lighting and daylight are very good in the dining room. I do, however, have another cabinet elsewhere that is both dark wood and more enclosed. Itís hard to see anything on display in that one. Iíll try the mirrors there as well and maybe I should get lights for that one.

Part of the problem is having pieces that are different colors and stylesÖbut all of you make it look very pulled together! ronbre, that is a wonderful idea with the photos. I have pieces from 2 sets of grandparents, a great grandmother and my husbandís grandmother. How wonderful to have their photos in there with their treasures! And I was just looking through some of my grandmotherís crocheted doilies today!

Please tell us more about the LED ones. A timer is a good idea. I actually bought a roll of those lights in a flexible tube, wanting something that would not get hot, but never figured out how to install them without damaging the wood on the underside of the shelves.
---
| | | |
| --- | --- | --- |
| RE: How to display crystal glassware and china? | | |
Cherigw - I'm curious about the dishes on the lower shelf in your china cabinet. The quarter moon shaped ones on either side of the covered serving dish. What are those use for?
---
| | | |
| --- | --- | --- |
| RE: How to display crystal glassware and china? | | |
| | | |
| --- | --- | --- |
| RE: How to display crystal glassware and china? | | |
The lights I used have an adhesive velcro stick up strip that attaches to the cabinet and are battery operated push-on, push-off. I bought them online, but recently saw similar ones at Home Depot in the lighting department.

I don't have many glasses, but do have many cut glass bowls and serving dishes. Love the way everyone has theirs displayed, and love those half moon shapes of Cherigw!

I'm not crazy about the fish platters on the tops of mine, but they are so big I have no where else to put them...lol! Perhaps Goodwill for the pike, but we do use the larger Mexican pottery one a lot during the summer.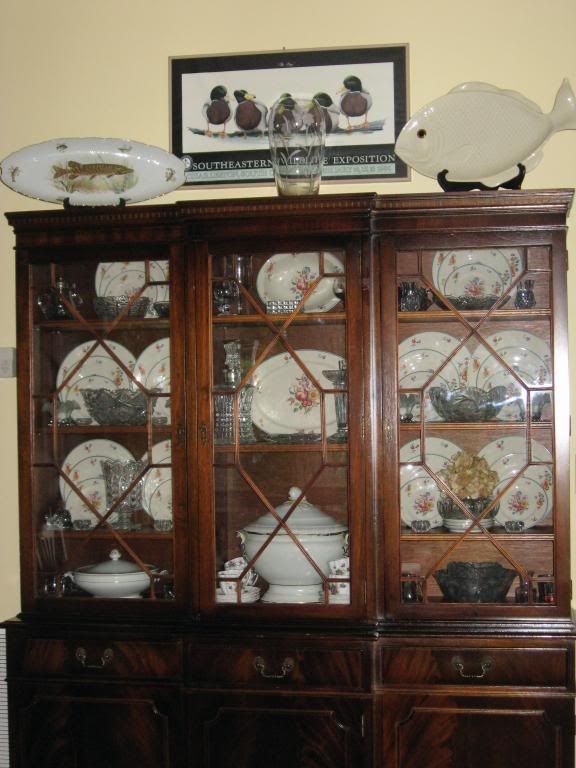 ---
| | | |
| --- | --- | --- |
| RE: How to display crystal glassware and china? | | |
Very pretty china cabinets everyone! :)

The push button type of lights wouldn't work for me. I'd have to get a ladder out everytime I wanted to turn them on and off. lol

My mirrors are one solid sheet per cabinet (3) and they are just resting on the bottom of the cabinet, and held up by each shelf. The mirrors just cleared the tiny space between the shelves and the back of the cabinets. The shelves are adjustable and removable.
---
| | | |
| --- | --- | --- |
| RE: How to display crystal glassware and china? | | |
OH don't get rid of that beautiful Pike plate, i totally love it. I also think that the ideas you have all given are wonderful, I am so thrilled to see so many people sharing so many beautiful ideas and being so helpful.
I personally love them all. the rope idea might work if you were to fasten it in a hidden edge around the cabinet, they are tricky to work with, but you might be able to figure it out..if the lights would be too high, would you be able to find some that might fit on the back side of the stiles of your older cabinet, if they are wide enough, then the light would reflect onto your glassware from a hidden place, but with mirrors it might show..??

also you don't have to have a light, but a lovely little lamp can also be set among your treasures if you have a place for the cord to go, or use a battery operated one, inthe more casual setting like i have i have an oil lamp on some shelves, but a beautiful little battery lamp might be really nice..also consider things like battery operated clocks?? anything to add interest..

One thing that I think is important is balance, put the lighter appearing things on the top shelves, such as see through things like glass..or lighter weight china..etc..and any heavier looking things on the bottom shelves..to not make it feel top heavy looking.
---
| | | |
| --- | --- | --- |
| RE: How to display crystal glassware and china? | | |
Artlover--those are bone plates--useful if you were served chops on the bone or whole trout, etc. I use mine for salad.

Segbrown--I like the display, but often think a paper--wrapping papers are fine--makes a nice background to the china. I think I'd put the stemware on its own shelf, rather than the place setting look. If you have bowls, you could put those in front, with some sort of colorful orbs in them (fake lemons are often used, I think.)
---
| | | |
| --- | --- | --- |
| RE: How to display crystal glassware and china? | | |
Artlover--Ideefixe is correct.. . bone plates. Found this on line:
Bone Dishes

Bone dishes were considered a necessary part of a table setting for the Victorian table. The crescent-shaped dish was kept at the edge of the dinner plate so the bones removed from the fish could be stored away from the uneaten food. Some bone dishes were made in more fanciful shapes and many resemble fish.

My Mom did a lot of china painting in the mid to late 50s. In addition to inheriting most of her painted pieces (including a beautiful soup tureen painted in with orchid blooms and a tea and cake service), I also got all of the "blanks". The blanks make great serving and add-on pieces if your basic china is a pure white.

I think mine are a little small to use as salad plates. . . I have only used them as bone dishes.
---
| | | |
| --- | --- | --- |
| RE: How to display crystal glassware and china? | | |
Oh boy! I have all of my grandmothers hand painted china. I have a punch bowl that I use in the center of my dining table. I have the tea service and cups, individual dessert plates, and many trays. The china really doesn't go with my decor anymore. Hmmmm...I should put some of that in my china cabinet.
---
| | | |
| --- | --- | --- |
| RE: How to display crystal glassware and china? | | |
NHB. . . I'm very lucky to have the china cabinet for my china and crystal as well as another display cabinet that I use for other "antiquities". I usually have the soup tureen on my table, but sometimes on the top of the other cabinet which has silver baby rattles from my boys, selected pieces of my Mom's hand painted china, my Grandmother's button top baby shoe (c 1880) that was made into a pin cushion, a piece of purple depression glass from my Great Grandmother (c 1925).
---
| | | |
| --- | --- | --- |
| RE: How to display crystal glassware and china? | | |
Here is the link to my Butler's Pantry which displays my mother's heirloom china, among other things. It is 8X9 with marble counters and filled with all glass cupboards for display/use.
Here is a link that might be useful: Display Pantry
---
| | | |
| --- | --- | --- |
| RE: How to display crystal glassware and china? | | |
Hi newhomebuilder, I love the way the mirrors look in the cabinet, very nice. I also love your little Riley Lamp,looks just like him.
---
| | | |
| --- | --- | --- |
| RE: How to display crystal glassware and china? | | |
Hi newhomebuilder, I made a mistake in my last post, I said Riley was a him, sorry , Riley is also a girls name too. My cousin has the same type of dog, she sure has alot of energy.
---
| | | |
| --- | --- | --- |
| RE: How to display crystal glassware and china? | | |
Linnea, just wanted to say that at sixty years old, your china/glasses *are* considered antique. It used to be anything 100 years old was considered antique, but the rules have changed and now it's fifty. I think it's because there just aren't that many 100 year old things to be found in today's world.

You've been given some great ideas! No pics from me, but try not to just stack the plates, and separate the glasses. Do a row of 5 in the back, with 4 in front, 2 in front of that, and 1 in the center. You have space enough to work in other small dishes around this arrangement.
---
| | | |
| --- | --- | --- |
| RE: How to display crystal glassware and china? | | |
@pattycakes-- Not to be argumentative, but there's tons of stuff from 1909 around, and no one will ever convince me that anything from 1959 is antique.

No high-end auction house, antique retailer or appraiser is going to claim that some mass-produced item made 50 years ago is an antique. Vintage perhaps.
---
| | | |
| --- | --- | --- |
| RE: How to display crystal glassware and china? | | |
I thought it was the other way around. Use to be that anything over 50 was considered an antique (that's what the saying was when DH and I got married 30 years ago.) Now, the number has gone up to something like 75 years is considered an antique.

willowdecor - I have seen your pantry before and love it! Reminds me of the Butler's Pantry in my grandmothers southern colonial home.

lacombe - My Riley lamp was a find! Got it at a friend's estate sale for about $5. Had to have it, and could not believe that the lamp was still available.

My Riley is actually pretty calm, unless her feathers are riled.
---
| | | |
| --- | --- | --- |
| RE: How to display crystal glassware and china? | | |
Ideefixe, you're right. Items from the fifties *are* called vintage~why that is I haven't a clue. Could be that's when mass production came into vogue, and mass production doesn't qualify as antique.

What I do see from the earlier years are sometimes too primitive for me, but I guess that's because I prefer European antiques to American. Problem is, they're also too expensive for me. ;o)
---
| | | |
| --- | --- | --- |
| RE: How to display crystal glassware and china? | | |
I wonder if the definition (antique vs. vintage) is different for furniture as opposed to other things like the glasses? Not that it mattersÖas Iím not selling any of it!

I was carefully washing Momís crystal last night after everyone went to bed. DH had offered to help me after dinner. But yesterday morning I had gone to check itís value online and found those glasses were pretty pricey at Replacements! Fortunately I remembered the name of both the china and the crystalÖa miracle, really. I figured if I broke one myself I could only be mad at me. I plan to print out what I have found on these and the china and keep it in a folder in the cabinet.

Iím glad Mom had the forethought to give these to me about 2 years before she died in 1996. She and my Dad just showed up at my house one day with boxes, minimally labeled. I had no china cabinet then and toddlers running around. (Two toddlers who threw furniture, I might add in my defense. Not like docile little me at that age.) I cleared off a shelf in the basement and thatís where they stayed for 12 years.

Now I wish I hadnít waited so long to display them. I was keeping them "safe" I guess: then time got away from me. Casualty of being self employed (overwork) and raising kids. Meanwhile my kids have no memory of these lovely things the way I do: Mom and Dad always used their china and crystal whenever they had guests. They both had large families so that was often. I remember washing these same glasses many times for family parties. Now they are all gone. My cousins are all disbursed in many states and few even have children. Gosh, Iím getting maudlin.

Warning to meÖuse it, appreciate it. Enjoy what you have. Donít keep beauty in the basement.
---
| | | |
| --- | --- | --- |
| RE: How to display crystal glassware and china? | | |
I like a combination of platters on edge and stacks of plates as well. And I like glasses in rows...the pretty crystal seems to look even prettier in multiples.
Unless your china cabinet is a valuable antique, you can do what I do...shove a clear push pin into the shelf, or two for an oval or rectangle, an inch or so out from the back, to hold the platters upright.
Mirrors are sparkly and lovely, but they do double everything that is in front of them, so think about whether you want to do that or not.
I like to tack (or duct tape) a piece of cream damask around a piece of foam core cut to fit the back of the cabinet. Gives the cabinet lightness, and adds just a hint more elegance to the arrangement. If you have a lot of glass and white china, you could use pale blue or a sophisticated icy pink to set them off a little more. Both those colors look fantastic with gold-rimmed things and with patterns on a white ground.
---
| | | |
| --- | --- | --- |
| RE: How to display crystal glassware and china? | | |
I wish GW had a better search. I just came across this thread from a google search after spending an hour searching through a GW search.

I am thinking of repurposing an entertainment/computer unit (3 piece) into china cabinets, and I need some information and inspiration.

They are deeper than most china cabinets and have cut outs in the back for the old tube type tv. I'd like to put mirrors on the back and that would cover the cut outs.

The top sections have a height of 16 inches, which is too tall for most dishes and too short to put a shelf in. But the bottom sections where the tv and stereo went are 28 inches which would be enough for 3 shelves if they were normal kitchen cabinet height, but I'd like to have plates standing on their rims like nanny2a's cabinet. With the extra depth I have, I could do that with 3 sizes of plates and still have room for bowls and goblets in front.

What is the height of a typical china cabinet shelf? And are they usually fixed or adjustable? It looks like the middle section of nanny2a's cabinet is adjustable, but it looks like cherigw's shelves are not.

If yours are adjustable, are they a track set into the sides of the cabinet, or those pins that push into holes in the sides?
---
| | | |
| --- | --- | --- |
| RE: How to display crystal glassware and china? | | |
Thanks for bumping it up Marti8a I just found out what my little half moon plates were. Sorry I can't help with china cabinet stuff I only have a curio for my china. Not really displayed just stacked.
---
| | | |
| --- | --- | --- |
| RE: How to display crystal glassware and china? | | |
Marti thank you for finding this post. What an interesting read! I have two antique china cabinets and the shelves are all fixed in them. I am really not at all sure about height between shelves but to stand a 12" plate on it's rim you may need 13 to 14 inches. If I remember I will measure the distance between shelves for you when I get home from work.
---
| | | |
| --- | --- | --- |
| RE: How to display crystal glassware and china? | | |
I realize that the beveled glass in this cabinet makes it hard to see inside. But I took the pretty pieces and arranged them in the center, with the other pieces stacked on the sides.

Sometimes I really miss that dining room furniture. (sigh). But there's no room for it in a glass box, and I can only hope it has found a good home.
---
| | | |
| --- | --- | --- |
| RE: How to display crystal glassware and china? | | |
I just measured my shelves and they are 12 inches bottom to top. HTH.
---
| | | |
| --- | --- | --- |
| RE: How to display crystal glassware and china? | | |
Thank you holly-kay. Wow jakabedy, that is a gorgeous china cabinet!
---
Post a Follow-Up
Please Note: Only registered members are able to post messages to this forum.
If you are a member, please log in.
If you aren't yet a member, join now!
---
Return to the Home Decorating Forum
Information about Posting
You must be logged in to post a message. Once you are logged in, a posting window will appear at the bottom of the messages. If you are not a member, please register for an account.
Please review our Rules of Play before posting.
Posting is a two-step process. Once you have composed your message, you will be taken to the preview page. You will then have a chance to review your post, make changes and upload photos.
After posting your message, you may need to refresh the forum page in order to see it.
Before posting copyrighted material, please read about Copyright and Fair Use.
We have a strict no-advertising policy!
If you would like to practice posting or uploading photos, please visit our Test forum.
If you need assistance, please Contact Us and we will be happy to help.

Learn more about in-text links on this page here