Return to the Home Decorating & Design Forum
|
Post a Follow-Up
---
| | | |
| --- | --- | --- |
| Wet room caution | | |
Posted by
mtnrdredux
(
My Page
) on
Mon, Feb 4, 13 at 21:32
One of the threads below included discussion about wetrooms.
I just want to add my cautionary tale.

As many of you have heard me say, we essentially built a house, gut reno-ing most of what was here and adding on a another 2,000+ sq feet. This involved 7 bathrooms, We reno'd two PR, gut reno'd/moved/enlarged 3 full BA, and added on two more full BA. All within 18 months or so.

On top of that ... Before we sold our old house, we decided to upgrade that MBA (we had a 16x20 dressing room but a tiny bath, and we felt for resale it would be better to combine the two. Our GC on this house saw that project as it was being completed by our local sub, and totally sniffed at us for having a step or a curb into the new shower stall (even a modest one). It was as if that was just soooooo 2000, don't you think? So gauche, so ..... DIY! (insert pinky-in-the-air image here).

Okay, then, for our new house renovation, we would do what the cool kids do! Curbless, doorless, topless, you name it!

Mid construction we knew this was not going to be so easy. Plumbers, architects, contractors, and inspectors all had their own ideas and concerns. Things had to be done and redone. Oh and they still weren't right. I got the distinct suspicion we were everyone's learning curve on this.

And it stinks. Three highlights...

1. DH's bathroom. His BA is about 9x8. It is a wetroom. Rainshower, handheld and traditional showerhead. Pedestal sink and a toilet. The floor is gently sloped and there is a vertical drain parallel to the wall that has the showerheads.

A few notes. One, you may need to use special industrial waterproof light switches that are kind of ugly and grey (although I actually like them, i think many would not).

Two, we have three of the four walls tiled floor to ceiling.

Now, here is the problem. A floor needs to be sloped for the water to run into the drain. But a floor must be flat to seat a toilet properly. If your bathroom is not larger than ours, you may find it very hard to satisfy both. Our GC failed. After DH takes a shower, its like walking in spring puddles when he goes back to brush his teeth. It's a disaster and not easily fixed.
Oh, and if you aren't careful the water can run down into the floor's HVAC register.

2. DS's bathroom. This was not supposed to be a wetroom. He has showerdoors. They are sort of like barn doors on a track. But --- wait for it --- of course we don't want a silly, outre curb! Mais non.

It was that way for months, when we complained of water leaks. So someone marred the lovely bathroom with a little bead of clear silicone. WOW, huh? Hey, it doesn't work. The adjoining guest room has moldy carpet, TYVM.

3. Our pool bathroom. Another wetroom. There is still not agreement about whether the floor has the right slope. Which is swell because it is concrete, with a custom mosaic in it of a vintage swimmer. It will be great fun blasting that out.

Of course, your GC may have a modicum more talent then mine. It's not a high bar I suppose. But this is a well established NYC metro "luxury" contractor.

Unlike other GC misdeeds, this can be a very costly and disruptive fix. Hence my vent and heads up.
---
Follow-Up Postings:
| | | |
| --- | --- | --- |
| RE: Wet room caution | | |
You don't need a step up and over nor do you need to do the plain sloped floor as in a hospital bathroom. You can do as we did in 2 wet rooms. It works perfectly and the water never goes anywhere except where it belongs..down the center drain. We have had the one wet room in our converted attic space for 10 yrs and the one in our master bath for 7 yrs. They were perfect when constructed and remain my favorite bathrooms of any I have seen anywhere.

I saw a pic advertising tile in a magazine and got the idea from there. My GC was different on both projects as was the tile layer. They all had a learning curve but I just showed them the pic and that was that.

I am sorry you had such a disappointing experience. I wish you had seen my baths before you did yours. Hopefully they will assist others in their decision to make a wet room. I have posted them a number of times ...here they are once again. c

attic space -- step down is about 2 1/2 ".
master bath--same design.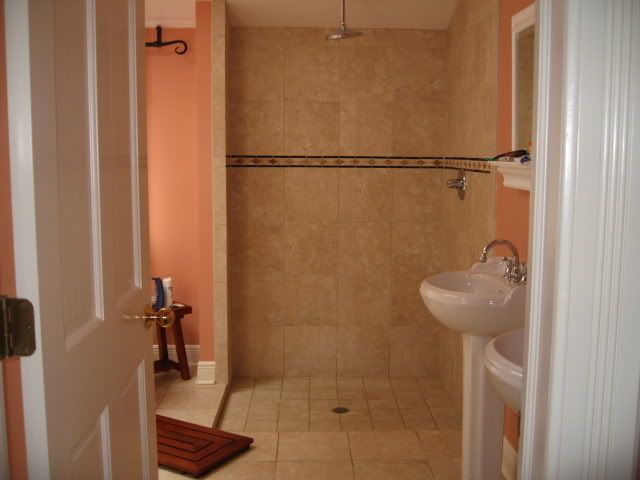 ---
| | | |
| --- | --- | --- |
| RE: Wet room caution | | |
We lived in Tokyo for a few years and they love their wet rooms, but they tend to keep bathing separate from the other bath functions.
---
| | | |
| --- | --- | --- |
| RE: Wet room caution | | |
This post was edited by mtnrdredux on Mon, Feb 4, 13 at 22:36
---
| | | |
| --- | --- | --- |
| RE: Wet room caution | | |
Hi Chispa, A lot of cultures do, not just in Asia but in Europe ... wherever there is a space premium.

Trail,
But we didn't want any grade difference. Ours are seamless.

It can be done, but I am just warning people to be careful, because not all trades have experience with it. Also, if you don't want a wall mount toilet, you need a lot of space to accommodate the competing need for a flat toilet surface and slope to the drain for your shower.

And again, if done wrong, may be a costly fix.
---
| | | |
| --- | --- | --- |
| RE: Wet room caution | | |
Thanks for the warning mtn, and for the pics of your lovely bathrooms trail. Certainly it can be done, but obviously caution and attention is warranted. I discovered with my master bath reno tht I'm not opposed to shower curbs, so I might look into some sort of hybrid.
---
| | | |
| --- | --- | --- |
| RE: Wet room caution | | |
Trailrunner, how do they do the step down? Is there a step up into the bathroom? Or do they notch out joists?
---
| | | |
| --- | --- | --- |
| RE: Wet room caution | | |
To show how little I know about wet rooms, trailrunner: what is the difference between the "step up and over" that you say mtnr didn't need and the "step down" in your two BRs?

Also, mtnr, any chance of seeing a picture of the pedestal sink in the DH MBR relative to some of the other elements? Also, the vertical drain you mentioned and the industrial light switches? While you're at it, those barn-door-type showerdoors?

It's not merely idle curiosity - although of course on this forum there's always some of that ;) - we have a BR to totally redo, and I'm at the phase of gathering ideas. I expect the square footage is far too small to do a wet room, plus I doubt our contractor has ever done one. But it still would be interesting to see a few more examples.
---
| | | |
| --- | --- | --- |
| RE: Wet room caution | | |
My word of caution: Only get a most experienced tile man for that type of work!
This post was edited by snookums2 on Tue, Feb 5, 13 at 11:43
---
| | | |
| --- | --- | --- |
| RE: Wet room caution | | |
mtnrd, I am so sorry to hear what a mess this has been for you. I always enjoy following the progress of your beautiful projects, but no joy in this development!
---
| | | |
| --- | --- | --- |
| RE: Wet room caution | | |
Thank you sochi :)

prickly...in the case of the attic conversion there is a step up into the bathroom..this was due to a learning curve . GC was not paying attn, when tile guy came and I was gone and they did the initial floor in the bathroom with it all the same height...it looks like a hospital or institution..IMHO...and I was aghast. So they had to create the new floor up higher with a step up into the bathroom to allow for the step down into the shower area...sigh. As it turns out we were very lucky that we had the head room and that I love the step up into the bathroom. Downstairs in the master bath the room was getting all new joists so it was easy to allow for the lower portion for the shower.

lynxe..I will link to Houzz as they have a bunch of them. Basically the curb causes a barrier and is very unsafe. You have to step over it and it is an impediment in most people's bathrooms. The completely seamless that mnt. is referring to can be done so that it doesn't look like an institutional setting but I worked too long in the heath care field and I couldn't get past it :) The small step down is wonderful. It isn't an impediment to those who have trouble steping up and over and also if one did need to use a walker or wheelchair for access it is very easy to do with the small step down. Look at the link and then if you have more questions I would be glad to answer .
Here is a link that might be useful: Houzz wet rooms with no curb
---
| | | |
| --- | --- | --- |
| RE: Wet room caution | | |
We are not doing a full wet room but a curbless shower that is wheelchair accessible. This was to make it easy for any issues in the future for my elderly mom (still agile thankfully). I am really nervous about it as similar to what Mtndredux said, all the subs seem to be learning on the job and are winging it. I did ask on the bathroom forum and got feedback that the tile drop needs to be 1in for every foot of floor from the level area. I am doing a frameless shoer panel with a Ugroove on the bottom that can be caulked and sealed. Not sure if this is enough.
---
| | | |
| --- | --- | --- |
| RE: Wet room caution | | |
"all the subs seem to be learning on the job and are winging it. I did ask on the bathroom forum and got feedback that the tile drop needs to be 1in for every foot of floor from the level area. "

Get an experienced pro, not someone who is learning by doing -- on your house! If this is obvious already, you need to move on before you are in up to your eyeballs with problems. You do not wing these things. You are dealing with water. That can be as bad as fire. Contractors who undertake these things without the know how are irresponsible! They are obviously not experienced enough to know better!

P.S. Another thing, a good tile man or contractor is typically not a designer (or a good one). When planning something like this, don't guess. Have the bathroom de-signed with experience, to function correctly and well overall, thought through in its entirety.
This post was edited by snookums2 on Tue, Feb 5, 13 at 14:53
---
| | | |
| --- | --- | --- |
| RE: Wet room caution | | |
Mtn, so sorry you have had so much trouble with your showers. No fun.

I agree that you need an experienced pro. It is not a bad idea to make sure you get someone familiar with universal design (wet room sounds so trendy to me-sorry). There are people who have been designing and installing bathrooms using those techniques for decades. I have a friend from high school whose daughter was injured in a skiing accident when she was a teenager almost twenty years ago. They redid their house to include a roll-in shower area in the enlarged bathroom and it was a beautiful and functional space. We also have neighbors who have a drain in the shower, no door or step-down, and another drain with a teak "mat" in the floor that also as a drain below it. Neither family has had any problems at all.

Those are my only personal exeriences with the open shower concept, but we are certainly going to look into universal design when we remodel our baths.
---
| | | |
| --- | --- | --- |
| RE: Wet room caution | | |
LOL, Lynxe

I promise I will post those. I think I have some of those, but I need to look thru my photos. It will take a few days. What kind of project do you have in mind?
---
| | | |
| --- | --- | --- |
| RE: Wet room caution | | |
I agree with Cyn. In Florida, this type shower/bathroom is becoming more common. Many older people cannot do the step-over. It is definitely becoming more popular.

Jane
---
Post a Follow-Up
Please Note: Only registered members are able to post messages to this forum.
If you are a member, please log in.
If you aren't yet a member, join now!
---
Return to the Home Decorating & Design Forum
Information about Posting
You must be logged in to post a message. Once you are logged in, a posting window will appear at the bottom of the messages. If you are not a member, please register for an account.
Please review our Rules of Play before posting.
Posting is a two-step process. Once you have composed your message, you will be taken to the preview page. You will then have a chance to review your post, make changes and upload photos.
After posting your message, you may need to refresh the forum page in order to see it.
Before posting copyrighted material, please read about Copyright and Fair Use.
We have a strict no-advertising policy!
If you would like to practice posting or uploading photos, please visit our Test forum.
If you need assistance, please Contact Us and we will be happy to help.

Learn more about in-text links on this page here