Return to the Home Decorating & Design Forum
|
Post a Follow-Up
---
| | | |
| --- | --- | --- |
| Cellular or Roman shaded? | | |
Posted by
baileyandbella
(
My Page
) on
Thu, Feb 14, 13 at 21:27
Hi....we currently have 2" wood blinds throughout our house. We need something room darkening for our bedroom.

We want to also hang long curtain panels, more just for looks. I like the look of Roman shades, but it seems like those are usually just left alone and curtains are not added? I am worried that cellular shades might look too "80's".....lol.

Is one better than the other for room darkening? We will be buying ones that specifically say room darkening or blackout.

Thanks
---
Follow-Up Postings:
| | | |
| --- | --- | --- |
| RE: Cellular or Roman shaded? | | |
Have you considered hanging room darkening curtains over the 2" blinds?
---
| | | |
| --- | --- | --- |
| RE: Cellular or Roman shaded? | | |
Yes, we have tried blackout curtains. We want white and they don't block enough light, plus they let out too much light on the sides. Thanks though
---
| | | |
| --- | --- | --- |
| RE: Cellular or Roman shaded? | | |
I think room darkening cellular shades work the best for blocking out light. They're still one of the best selling treatments in the 21st century. Roman shades with a black out liner are a close 2nd. If you use romans I would make them flat romans but have to be careul not to clash fabric with the drapes. here's a pic of an IM cellular. Notice light coming through at the sides. Panels will take care of that. Otherwise if they were OM less light would come through.
Here is a link that might be useful: Inside Mount Room Darkening Cellular Shades
---
| | | |
| --- | --- | --- |
| RE: Cellular or Roman shaded? | | |
How are "pleated" shades different than cellular? I just saw these on blinds.com, and a blackout option can be added...

thanks
---
| | | |
| --- | --- | --- |
| RE: Cellular or Roman shaded? | | |
Pleated are just that......pleats........as though you folded the fabric to make a fan.
Cellular, when viewed from the ends looks like cells, as seen in the pic below.

Bob is correct that light comes thru the ends of IM shades, but it will also come thru OM. Light finds it's way thru any opening!
---
| | | |
| --- | --- | --- |
| RE: Cellular or Roman shaded? | | |
You can use side panels with a roman blind.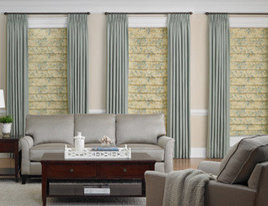 But for room darkening, we go with the room darkening roller shade which can be hidden up and out of the way under a window valance....that's what we do in our bedrooms. They also help keep the rooms warmer at night.
---
| | | |
| --- | --- | --- |
| RE: Cellular or Roman shaded? | | |
Annie, what brand of roller shades do you have? I always think of the junky ones that won't work....haha
---
Post a Follow-Up
Please Note: Only registered members are able to post messages to this forum.
If you are a member, please log in.
If you aren't yet a member, join now!
---
Return to the Home Decorating & Design Forum
Information about Posting
You must be logged in to post a message. Once you are logged in, a posting window will appear at the bottom of the messages. If you are not a member, please register for an account.
Please review our Rules of Play before posting.
Posting is a two-step process. Once you have composed your message, you will be taken to the preview page. You will then have a chance to review your post, make changes and upload photos.
After posting your message, you may need to refresh the forum page in order to see it.
Before posting copyrighted material, please read about Copyright and Fair Use.
We have a strict no-advertising policy!
If you would like to practice posting or uploading photos, please visit our Test forum.
If you need assistance, please Contact Us and we will be happy to help.

Learn more about in-text links on this page here