Return to the Home Decorating & Design Forum
|
Post a Follow-Up
---
| | | |
| --- | --- | --- |
| Stuck in indecision land for exterior paint - pls vote! | | |
Posted by
pipdog
(
My Page
) on
Mon, Feb 4, 13 at 21:24
We're about to paint our exterior and landscape the front yard. We'll be getting rid of all of the rose bushes and the shrubs in front of the house as well as the bush next to the garage. The rails on the front porch will come down to open up the porch, and we're hoping to put smaller plants (ferns, etc) in front of the porch to make the porch more open to the yard.

My inspiration is a warm gray exterior paint. The shutters, trim and garage door will all be painted BM White Dove or something along those lines. We'll paint the brick the color we paint the house.

Here's my inspiration: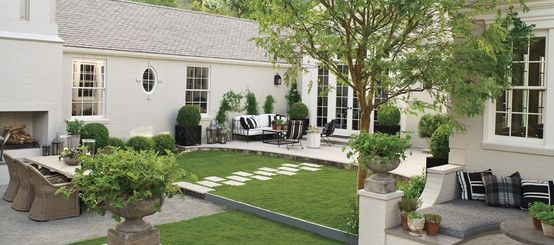 Does anyone have any ideas what color this might be? I saved this off Houzz, but I can't for the life of me find the source of this photo.
So, my questions:
1) What color front door? I was thinking BM Woodlawn Blue, but am totally open to suggestions.
2) Would you paint it a light gray, or keep it white? My partner is lobbying for white, but I'm ready for a change.
---
Follow-Up Postings:
| | | |
| --- | --- | --- |
| RE: Stuck in indecision land for exterior paint - pls vote! | | |
For me,I would suggest you can paint it with the apple green or a light yellow. Great forum thread post with this topic discussion.Keep it up.
Here is a link that might be useful: Homes For Sale In Miami FL
---
| | | |
| --- | --- | --- |
| RE: Stuck in indecision land for exterior paint - pls vote! | | |
I'm with your partner. Love the white on your house. That's a beautiful driveway too.
---
| | | |
| --- | --- | --- |
| RE: Stuck in indecision land for exterior paint - pls vote! | | |
Thanks, hosenemesis. One thing I forgot to mention in my original post is that we intend to paint the red brick in our backyard. Here's our yard now (Pip relaxing in the foreground - he wants to be in every shot!):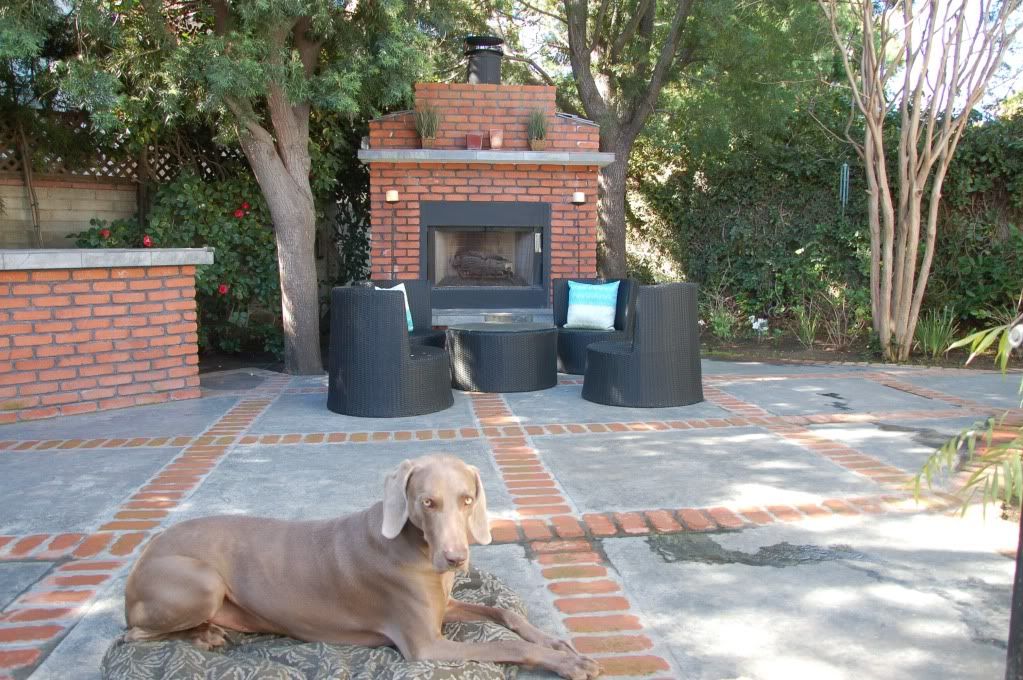 Here's the look we are hoping for in the back yard. If we paint the exterior of the house white, would you also paint the red brick fireplace and red brick on the buffet table white?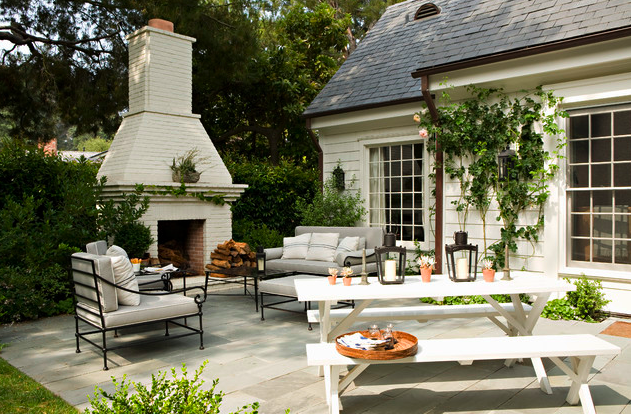 ---
| | | |
| --- | --- | --- |
| RE: Stuck in indecision land for exterior paint - pls vote! | | |
The brick isn't the most attractive, but I'm not sure that painting it white is the right solution. I think it will be a maintenance nightmare. We put in new stucco walls and planters and painted them a tan to match the house. I am regretting that decision because it already looks dirty. It doesn't help that every man/child will just step on the top of the walls/planters with their dirty sneakers and and leave footprints. Maybe some rustic stone would have been more practical.
---
| | | |
| --- | --- | --- |
| RE: Stuck in indecision land for exterior paint - pls vote! | | |
I love your house! I do like it white. I am not sure I would paint the brick either, but, if you did, then I would probably say go with an offwhite for house and brick. For some reason the thought of the white on the brick does not seem appealing to me. Your inspiration picture of the brick looks to be offwhite to me and I like it. :)
---
| | | |
| --- | --- | --- |
| RE: Stuck in indecision land for exterior paint - pls vote! | | |
I LOVE your house. It is heartbreakingly beautiful! Please leave it white or nearly white. It just provokes images of an elegant coziness and so classy. I couldn't imagine it in a "cute" color scheme such as bright something with loud painted front door. Also love your inspiration photos. I really love the off white but that is as off as I would go from what you have now. It's nearly perfect just as it is! Your home is lovely.

Pip is just so beautiful. I can tell he feels right at home in such elegant surroundings, it suits him just fine. He is sitting there saying yeah, this is where "I" live.. can you believe how fortunate they are to have me? lol
---
| | | |
| --- | --- | --- |
| RE: Stuck in indecision land for exterior paint - pls vote! | | |
thanks, gr8day! Pip is a happy boy and loves nothing more than to relax in the sunshine in the yard. In terms of the paint, my thought was to bring in just the slightest hint of color with some light gray. But I'm having a hard time envisioning what it would look like. Maybe someone with some photoshop skills can show how it might look.

boopadaboo, thanks and I agree with you about not being crazy about a painted white brick fireplace. It seems a bit too stark for me.

chispa, I am not a fan of the red brick either. The previous homeowners remodeled the backyard and installed the fireplace, and I'm not crazy about the layout (the huge buffet table is massive and not very practical) or the choices. I share your concern that lighter brick would be a maintenance issue, but am not sure I want to deal with the expense of re-doing all the brick. We had an estimate to rip up the concrete/brick floor and put down flagstone and it was much more than we wanted to spend.
---
| | | |
| --- | --- | --- |
| RE: Stuck in indecision land for exterior paint - pls vote! | | |
I have a good hardscape guy! We recently also redid our patio, hot tub and BBQ/buffet area. We took off cheap saltillo tile and replaced it with limestone.

We should have a get together at the next Rose Bowl flea market! I need to pick your brain for my next project ... bathrooms.
---
| | | |
| --- | --- | --- |
| RE: Stuck in indecision land for exterior paint - pls vote! | | |
I lean toward the gray shade, simply because there are 10 million and one more white houses and why not be different? I think grey would be a bit softer and would look great with the blue door.

As for the fireplace, what about limewashing the brick? It would lighten (and age) it, but not be a stark white. Your house is adorable, I want to visit!
---
| | | |
| --- | --- | --- |
| RE: Stuck in indecision land for exterior paint - pls vote! | | |
chispa, yes definitely Rose Bowl flea market! I'd be happy to chat about bathrooms - I know a tile place in Burbank that sources some really nice tile. Would you mind sharing the name of your hardscape guy? I've been looking for a good one, especially for our challenging front porch which is about three feet wide.

mabeldingeldine, i hadn't thought about limewashing the brick but actually, that is a really good idea. I don't mind the brick in theory, it's just that the red doesn't seem to match the rest of the design of the house.
---
| | | |
| --- | --- | --- |
| RE: Stuck in indecision land for exterior paint - pls vote! | | |
I liked mabeldingeldine's limewash idea too. The brick structures look good, but it would look so much better if you can age the brick and give it more of softer worn/weathered look. It would fit better with the look of the house.

Pip, do you have email set up on your "my page"? I'll try sending you an email with contractor info in a little while. Have to work on dinner first.
---
| | | |
| --- | --- | --- |
| RE: Stuck in indecision land for exterior paint - pls vote! | | |
I also love your home the color it is, and would be cautious about change. Since you have specific landscaping plans, I would carry out those if you are sure about them before making color changes to the exterior. I'm sad to see the roses go, but they fit into my vision, not apparently yours. One thing to consider that could make a major exterior update would be to replace the porch posts with columns - not overly fancy ones - my daughter did this with her posts that looked like yours, and the transformation was amazing. Forgive me if you like them! And oh that driveway is awesome!
This post was edited by peegee on Tue, Feb 5, 13 at 20:23
---
| | | |
| --- | --- | --- |
| RE: Stuck in indecision land for exterior paint - pls vote! | | |
Another fan of the white for the house too, but I do sort of like the idea of the limewash for the brick fireplace and serving bench for your patio. I like the aqua colors you appear to be using as accents there and think there just needs to be more of that no matter which way you go. It looks great with the black furniture.

For the front, are you planning to paint the brick around the foundation? If so, could you go with a soft grey there to bring in the grey you want? And maybe grey shutters.

As with many homes, the builder didn't give you much room for foundation planting, so if you are re-landscaping, have you figured in expanding your beds or just re-planting in the existing beds? I too like the white roses with the white house, so if you keep anything, I'd vote for keeping those and replacing everything else. It appears you are in California, and it sounds like you may already have some specific landscape plans. I'd definitely suggest something slim and columnar next to the garage and replace the shrubs below the garage windows with something lower growing and with more foliage.
---
| | | |
| --- | --- | --- |
| RE: Stuck in indecision land for exterior paint - pls vote! | | |
thanks, peegee. As far as the roses go, the thorny roses have been an issue for our toddlers -- my daughter scratched her face on a rose bush last summer. They have also scratched up the sides of our cars as we are going into the garage. Our general idea is to replace them with lower, more tropical plants in the front of the house. We have a huge bed of roses on the side of the house (with pink, yellow and red), so we'll still have some roses in our yard.

outsideplaying, thanks for the suggestions. We're planning on painting the brick around the foundation. The thought for our landscape plan is to lower the plants in front of the house (where the rail is and under the window on the right) so the front porch is more visible and accessible - the kids like to play in the yard, so we'd like to put some chairs out there so we can sit out there and watch them. I agree with you the shrubs in front of the garage need to go - they have never looked right to me. We also want to replace the "lollipop" bushes that are near the front door with something lower.
---
Post a Follow-Up
Please Note: Only registered members are able to post messages to this forum.
If you are a member, please log in.
If you aren't yet a member, join now!
---
Return to the Home Decorating & Design Forum
Information about Posting
You must be logged in to post a message. Once you are logged in, a posting window will appear at the bottom of the messages. If you are not a member, please register for an account.
Please review our Rules of Play before posting.
Posting is a two-step process. Once you have composed your message, you will be taken to the preview page. You will then have a chance to review your post, make changes and upload photos.
After posting your message, you may need to refresh the forum page in order to see it.
Before posting copyrighted material, please read about Copyright and Fair Use.
We have a strict no-advertising policy!
If you would like to practice posting or uploading photos, please visit our Test forum.
If you need assistance, please Contact Us and we will be happy to help.

Learn more about in-text links on this page here