Return to the Home Decorating Forum
|
Post a Follow-Up
---
| | | |
| --- | --- | --- |
| Show me displays of your Childrens' portraits. | | |
Posted by
ponydoc
(
My Page
) on
Sun, Feb 15, 09 at 21:19
I have finally framed my ( very pricey) portraits of my kids. We worked hard to get our children - I went a little overboard when they were babies and had lots of gorgeous but pricey portaits done. Finally got them (well)framed. They range in size from 18 x 20 to 12 x 6. Five total. I think they would look best in a grouping. The only place that would have enough wallspace would be the upstairs hallway. I am even considering putting up shelves in that area and setting them on the shelves rather than actually hanging.

Where are your childrens' pics? I think I prefer them in the more private areas of the home but not sure why!

Pics appreciated!
---
Follow-Up Postings:
| | | |
| --- | --- | --- |
| RE: Show me displays of your Childrens' portraits. | | |
I enjoy other people's family photos in a home and don't mind them in public areas. Wish my sons felt the same way.

I wanted large 18 x 20 portraits of our sons' senior high school pictures. DS#1 took a handsome photo -- I had it nicely framed and put it in our family room. All three boys hate the picture. They call it the "Son Of The Month" picture, like he's on display for winning something. The remaining 2 sons made sure their senior portraits were sufficiently bad so that I wouldn't order large sizes to put in public. Their senior pictures are stuffed in a drawer somewhere. "Son Of The Month" needs to be moved as there's no sense in having only one big picture of the boys.
---
| | | |
| --- | --- | --- |
| RE: Show me displays of your Childrens' portraits. | | |
There seem to be two schools of thought on family pictures in public areas of the house -- yes and no, and for many reasons. So you have to decide what you like the best. But baby pictures, especially, I would put in a grouping in the hallway as you are thinking of.
---
| | | |
| --- | --- | --- |
| RE: Show me displays of your Childrens' portraits. | | |
I'm thinking about moving my grouping to the hallway.
---
| | | |
| --- | --- | --- |
| RE: Show me displays of your Childrens' portraits. | | |
My aunt had seven kids. She had a baby picture of each one in the front hall. They were all the same size and had the same frame, or at least very similar frames, because for the last two, she couldn't find the exact same frame. But they had the same matting and gave the same general visual feeling. They were arranged in a stair-step pattern on the wall.

As each child graduated from high school, she took their graduation picture, framed it, and hung it below the corresponding baby picture.

Her front hall was very large, and the baby pictures were hung amid some other pictures, a mirror, a bell pull and a few pieces of furniture. So they were not the main focus of the hall. But you did get a sense, as you walked in front door, that the children were an important part of the parents' lives.

The only thing that worried my aunt was that all the baby pictures and the first few graduation pictures were black and white photos. The last three kids had color graduation pictures and she would joke that the color "ruined" the black and white color scheme of the hallway.
---
| | | |
| --- | --- | --- |
| RE: Show me displays of your Childrens' portraits. | | |
My girlfriend has three boys and she has their pictures hung stairstep style going up her stairs. Both baby pictures and graduation pictures. It looks lovely. She is proud of her boys and it shows.
---
| | | |
| --- | --- | --- |
| RE: Show me displays of your Childrens' portraits. | | |
I did the hallway leaning photos. In fact, we were thinking of adding another shelf we like it so much.
Here was another one we saw at a Street of Dreams tour.
---
| | | |
| --- | --- | --- |
| RE: Show me displays of your Childrens' portraits. | | |
I think the displays shown here are so much nicer than the enlarged wedding picture over the fireplace, a few more pictures on the piano and some more on another wall. These are prized objects, to be sure, but really do not enhance the decor of a public space (although I've seen a group of black and white photos in ornate silver frames on a piano that looked very good). Family photos spread everywhere around the house can look tacky and you'll never see them in a well-designed home. They have their place but it has to be thought out carefully in order for them to look like part of the decor. I also sometimes think that homeowners overrate the interest that others will have in family pictures everywhere and the subsequent explanations about each and every one that one sometimes has to listen to.
---
| | | |
| --- | --- | --- |
| RE: Show me displays of your Childrens' portraits. | | |
All family photos and portraits are in the hallway or in our bedroom. If I have a casual visitor or a repairman over to fix my DW, that person doesn't need to see my kids or their wedding photos or even KNOW how many might be in my family. But dinner guests or party guests (my friends!!) are usually delighted and intrigued by finding my photo layout when they turn the corner in the hall on their way to wash their hands.

Red
---
| | | |
| --- | --- | --- |
| RE: Show me displays of your Childrens' portraits. | | |
Lindy - those look great! You guys rock! Ingrid- you put it perfectly! I have a few pics tucked in the books of the bookshelves but also don't feel they should be just tacked to a wall in the public areas of the house.

I think we are going to do the shelves in the hallway...we already have the shelves from out old home. I will post a pic when its accomplished.

Thanks again

---
| | | |
| --- | --- | --- |
| RE: Show me displays of your Childrens' portraits. | | |
I used to worry about family photos looking "tacky" in my home until I visited a very nice home (belonging to a former employer who is a state Supreme Court Justice) and saw his lovely display of family photos throughout the house. They were not tacky nor overbearing. They had a very nice combination of family photos on various surfaces (tables, mantle) that tastefully intermingled with other decorative features. I was especially impressed that a person who frequently hosts other VIP's in his home would so openly display his affection for his family. It was heartwarming and left an impression I won't forget.
---
| | | |
| --- | --- | --- |
| RE: Show me displays of your Childrens' portraits. | | |
I have one granddaughter and her 8x10 is proudly
displayed in my LR where I live. This is my home and
I love looking at her smile all day. When I was younger
I thought it was tacky to have "people pictures" displayed
in public rooms. My my how far I have come.
I like nice things and I think her picture is very nice.
My computer room is full of family pictures but she outclassed everyone and made it into the LR.
I think family pictures should be where you want them to be.
---
| | | |
| --- | --- | --- |
| RE: Show me displays of your Childrens' portraits. | | |
I had a hallway in my former home that had 12 matching frames hung perfectly straight that my intentions were to eventually house all my son's school pictures. When we sold, the buyers put in their contract for us to leave the nails. I don't have a long hallway so I have a stacked design of those frames in a small hallway off the LR.

Oh Well! I've always known I'm in the minority because I love my family photos and my wedding picture over the fireplace. I have a marriage to be proud of. My dh got a promotion about 5 yrs ago and got a new boss. Recently his boss was in our home for the first time. He looked at our wedding picture, giggled, and said "Wow you really was as skinny as they said you were!. We were laughing even after he left. My dh has RA and due to extensive steriod treatment and inability to exercise has gained a great deal of weight and retains alot of fluid.

I know this sounds wrong but I didn't realize I was decorating for everyone else to see but myself. I am not out to impress anyone only to be confident about myself and my home. I look at my few family photos and feel warm and fuzzy inside.

Sorry!
Alicia
---
| | | |
| --- | --- | --- |
| RE: Show me displays of your Childrens' portraits. | | |
Alicia, don't be sorry. Everyone has his own ideas and anyone else's (including mine!) don't matter a bit if you're happy with what you have. I think we all have our own opinons and voice them on this forum but that doesn't mean that someone else's opinion has less worth or that they shouldn't do their own home the way they like. You ARE decorating for yourself, just as I am, and I don't care for family photos in public spaces, but you and several others do and that's what's right for you. I apologize if I offended anyone and think I came on a little too strongly in my reply.
---
| | | |
| --- | --- | --- |
| RE: Show me displays of your Childrens' portraits. | | |
The display of photos is one of those topics that is pretty personal and can become a "get out the pocorn" topic, I think. But, I'm going to chime in with my two cents. I really don't like seeing the portrait-studio 8x10 (or larger) displayed on a living room wall. If someone wants to display a large photo, I'd much rather see a candid photo with the kids laughing on vacation or something. Here's where my photos are: I have a sideboard in the living room with a ton of small framed photos sitting on it. All in similar frames, all in the same metal finish. Along the stairway, I have 5 framed 8x10's. Two are in oval frames, three rectangular, all in the same wood finish. All are shots from vacations, non are professional. I have a few random (small) pics framed in the kitchen on a bookcase, and a few more on a bookcase in the sunroom. I love my family and I love my photos, and I have really had to restrain myself from displaying hundreds of pictures! But I really think "less is more" in this situation. Also, here is a related pet peeve: I cringe when the *only* things hanging or displayed in a room are the framed portraits. Mix 'em up with some paintings or prints.
---
| | | |
| --- | --- | --- |
| RE: Show me displays of your Childrens' portraits. | | |
I agree that the display of family portraits should be a personal decision. Ultimately our decor should bring us happiness and for some that can be very personalized with art, religious images, photos. etc. Some may say that this is what disinguishes a house from a home. I think it is possible to display children/family photos tastefully if some thought is put into it.

For me, I've religated most of the family pictures to the hallway and would like to do a photo wall similar to how lindybarts has displayed. I particularly like the display of old sepia toned prints--that convey a sense of history and family and can also work well in most decors. In my LR I have only one photo out and that is a formal portrait of my grandparent's wedding which I sized down using my scanner/printer on photo paper from an 8x10 to a 5x7 print which was more in scale with the surrounding decor:

We do have the most recent sports team photos of two of our daughters in our family room--because it is an activity that is important to our family:
I also enjoy seeing smaller/candid photos on display interspersed with other nicknacks. cliff_and_joann comes to mind of having a a very tasteful balance of pictures with other decor.
---
| | | |
| --- | --- | --- |
| RE: Show me displays of your Childrens' portraits. | | |
I don't have any children. So, I had tons of pictures of myself displayed in frames on my chest of drawers in my bedroom. Gawd, I looked like Laura Desman from Sunset Blvd., so I got rid of them. lol
---
| | | |
| --- | --- | --- |
| RE: Show me displays of your Childrens' portraits. | | |
I have framed photos and collages going up my stairwell.

The collages are of important events - like 1st Communion. One of my favorite collages is the one that contains the birth announcement photo of each of my boys.
---
| | | |
| --- | --- | --- |
| Baby Wall of Photos | | |
Speaking of 12 perfectly lined up photos! This is in my master bedroom, but it's the baby photos of my 3 boys.

Each row is a photo at 3mos, 6 mos, 12 mos and 2 yrs. I tried to get a photo of each of them in a similar pose knowing I wanted to do this. Funny thing is the first two are two years apart and the third didn't come around until 6 years after the second, so thank goodness Olan Mills was still in business. I wonder if they're still around??

It makes me smile every time I walk into my room.

---
| | | |
| --- | --- | --- |
| RE: Show me displays of your Childrens' portraits. | | |
Firstly, I like what everyone did with their photos.
I have all the big photos in the bedrooms. In my Living room we have two curios and I have a few photos 5x7 and 3x5's tucked in among the other stuff in there.

In my family room, where we spend most of our time, again we have small photos on top of the TV mantle and on the fireplace mantle.
We have 3 kids and 7 grand children and prefer the photos in one room, in one or two areas, or else it would be over whelming to me, anyhow. I also have a photo box filled with photos under my table in the family room.

Here is the Tv mantle


In the same room is the mantle with more small photos...
The photo to the right of the clock is a photo album, that looks like a picture frame.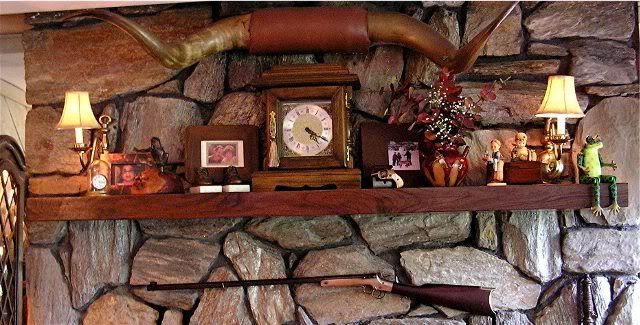 This is one of the Living room curios. The few photos that are tucked in there is just enough.
Joann
---
| | | |
| --- | --- | --- |
| RE: Show me displays of your Childrens' portraits. | | |
awm03 ROFL!!! Son of the Month. That sounds like my kids.
---
| | | |
| --- | --- | --- |
| RE: Show me displays of your Childrens' portraits. | | |
This is so timely as we have been discussing where in the new house we will display portraits if at all. One thing's for certain. I'll keep the one frame in the bedroom like I always have. I only have one daughter and I buy her school picture every year and put it in an 8 x 10 frame in my bedroom on the dresser. The greatest joy I have every year is that I spread out all of the pictures from kindergarten up through the current year (this year she's in 9th grade) on my bed and talk about which pictures and hairstyles are our favorite and dd talks about which teachers were her favorite. Then we stack them all up and put them all back in the frame with the current one on top.

Now the ghastly wedding oil portrait is another thing. First of all it's humongous. Second of all it's in this grossly ornate frame that my mother paid nearly $1000 for. But probably most disturbing to me is Me, complete with permed poodle hair from the 80s! The only thing I do like about it is that I was wearing my mother's beautiful vintage wedding dress and it really was gorgeous. In the old house it hung in the dining room over the sideboard where you couldn't see it unless you walked completely into the room. The new house will have no such place. I told my dh that there was no way I wanted to look at that thing on a daily basis so we truly don't know where we are going to put this monstrosity. Perhaps in the upper recesses of the stairway where it can only be viewed as you are coming down the stairs from upstairs....
---
| | | |
| --- | --- | --- |
| RE: Show me displays of your Childrens' portraits. | | |
I have a portrait of my kids walking hand in hand (at ages 2 & 8) in the evening at low tide on the beach where we have a cottage. It was professionally done, very artsy, printed on canvas. It lives over the fireplace in our living room. Personal for sure but we love it!
---
| | | |
| --- | --- | --- |
| RE: Show me displays of your Childrens' portraits. | | |
We have lots of pics of our kids when they were young, including these displays in the hallway off our LR (on the way to the downstairs bath). Somehow, we don't have as many more recent vintage pics of our "kids".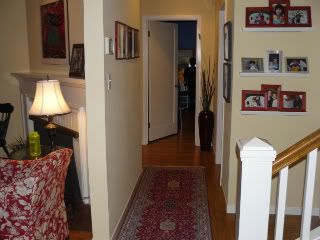 ---
| | | |
| --- | --- | --- |
| RE: Show me displays of your Childrens' portraits. | | |
I don't really consider any part of my home as 'public,' at least to the point of not displaying family photos. My entire home is about and for my family, so will certainly show evidence of them whether it's in a little clutter here and there or fun photos on the wall. I honestly never considered this an issue of 'tackiness' or knew that anyone thought 'well-designed homes' couldn't have family photos! I have always like the description of what is described as a 'barefoot home,' so I wonder if that kind of sensibility makes a difference.

It's interesting that at a dinner party recently 2 different people commented on a former colleague's home, saying they found it cold and like a 'hotel room,' because there were no family photos or other evidence of family on the main floor...the only photos were hidden away in the upstairs hall.

I have been looking for an idea of how to display my family's baby portraits (including those of dh and myself), so am appreciating the suggestions.
---
| | | |
| --- | --- | --- |
| RE: Show me displays of your Childrens' portraits. | | |
My late mother was a decorator. No family photos allowed on the main floor. One small pic in her bedroom.

Fast forward a few years. My MIL has an enormous oil painting of herself, from 50 years ago, over her fireplace.

Feast or famine.
---
| | | |
| --- | --- | --- |
| RE: Show me displays of your Childrens' portraits. | | |
That is so funny Parma but I bet you lean towards your mom, huh?
---
| | | |
| --- | --- | --- |
| RE: Show me displays of your Childrens' portraits. | | |
Newdawn, I swore I would never be like my mother. I displayed my kid's art work on the refrigerator like she would never do. Sad to say, there was always a bit of 'cringe factor' involved, though.

Our 8X10 wedding picture is in our MB.

The acorn doesn't fall far from the tree.
---
| | | |
| --- | --- | --- |
| RE: Show me displays of your Childrens' portraits.3 | | |
| | | |
| --- | --- | --- |
| RE: Show me displays of your Childrens' portraits. | | |
I can't take any pictures as we're undergoing a major renovation and have everything off the walls, but we have 12 children, so I have to be careful that I don't overdo it with photos. My best solution was to purchase 12 black 16x20 frames for a portrait for each child. When we get their pictures taken (usually around their birthdays), I have a B&W 11x14 made and it replaces the older photo. I do have a few others around the house here and there, including on my main floor. I consider my home to be well-designed, and I think it's certainly possible for family photos to fit into that design. :o)

Anyway, back to the OP's question, I've seen some lovely arrangements of family photos in stairways in some of my favorite decorating magazines. I think the key is to coordinate the frames and find a pleasing arrangement, and it sounds like you're handling both of those things.
---
| | | |
| --- | --- | --- |
| RE: Show me displays of your Childrens' portraits. | | |
I love candid family photos....the portrait shots don't do that much for me, personally -
My wedding photo I chose to frame is in a little hallway to my bedroom - it can be seen from the den but the photo is really more of the historic home where we got married. It's b&W with DH & me in front of the house. I have probably too many photos in my bedroom but I enjoy looking at them in there & its MY room:) I have tucked some other photos here & there thru out the house. But my fav pic of DS is a portrait professionally done (and this photographer is a true artist) & I do have it hanging in a prominent space - the entry - again, my house....my decision:)

My mom just about had a knock down fight with her decorator over portraits in her DR!! She has my sis & my wedding portrait & the 3 grandkids portraits(by same photographer - good quality) along with a gorgeous antique tapestry passed down from her family!! But it makes her smile to walk past that room & see it all together & that's what is most important. It makes my sister cringe to see the head dressing she chose whereas I stayed simple & mine doesn't scream 90's. In fact it was hard to find a simple dress in those days - they all had big ole skirts & lots of bad beading & stuff....but I am rambling......

I do have a mismatch of family photos that I plan on hanging in upstairs hallway. I am going to upholster a 4x8 board & hang that on the wall 1st acting like a frame for all the smaller photos.

Smiles:)
---
| | | |
| --- | --- | --- |
| RE: Show me displays of your Childrens' portraits. | | |
Candid family pics all over the house. I'd rather live in a comfy cozy home than a decorated one. Seems odd to me to think of areas of my home as "public," like it's a furniture store display. We have lots of guests and a fancy dinner or two a year, and I don't think our guests are put off by looking at pics. In fact, people say they're cute, or things like that.

But, I'm a pretty casual person. We have a lovely home, but it's not "decorated" in any sense of the word. I'm just not built that way.
---
| | | |
| --- | --- | --- |
| RE: Show me displays of your Childrens' portraits. | | |
I never gave this much thought until I married into DH's family. His mother & father had 8 kids, all married with at least 25 grandchildren before ours and others arrived. Every square inch of their house, walls & end tables had framed portraits. Smaller wallet sized pictures were stuck into the corners of larger portraits. Even extended family sent pictures that were saved and displayed. None were ever taken down. The older portraits have yellowed and oranged. My MIL passed away. I don't even think my FIL "sees" the portraits anymore. They are collecting dust and frankly, are a bit scary.

I got ripped to shreds on another forum when I posted on this subject. I do understand people love their family (who says I don't?) But does taking a portrait down here and there mean that person isn't loved anymore? There has to be some kind of happy medium, and the house I am speaking of is way on one polar side.

I have a minimum amount of family photos in my own house. I'm sure the situation with my in-laws influenced me. BTW, I contributed to their glut by sharing the portraits of my own three kids. Guilty!
---
| | | |
| --- | --- | --- |
| RE: Show me displays of your Childrens' portraits. | | |
I used to hang my kids framed 8x10" portraits down our bedroom hallway, but they hated most of them and complained a lot. I tend to like candids better anyway, so I've replaced all the portraits with many sized candids instead. I'm still not completely happy with how they're hung and want to paint all the frames the same color, but I do like them where they are in the hallway. I'm looking here for inspiration as to which color to paint my frames. Great thread!
Lynn
---
| | | |
| --- | --- | --- |
| RE: Show me displays of your Childrens' portraits. | | |
Before the remodel I had the "good" family pics in the dr, with a mirror in the middle. Most of them were b&w, one side of the wall was dh's family, the other was mine. Three of my grandparents had passed before I was born, so it was really special seeing them everyday. And guests really did enjoy looking at them and see who we look like.

Now that the demo is getting ready to start, I don't know where to put the pictures. I'm thinking of putting a handful in the new sitting room, along with a BIG picture of my grandson taken at 3 months old. He gets the large gilded frame. lol

Pictures make a home...but I agree I don't like the big "school-like" portraits in a living room.

Oh, and my mother had a painting done of herself, and the painter was just awful. Her neck looks like a giraffe, but I never had the heart to tell her. I sure am not hanging it in my home. Who does this anyway? My mom, who thinks she's the best looking woman in America. lol
---
| | | |
| --- | --- | --- |
| RE: Show me displays of your Childrens' portraits. | | |
| | | |
| --- | --- | --- |
| RE: Show me displays of your Childrens' portraits. | | |
This is what I refer to as my family wall. Some of the people on the wall are technically speaking not family, but that doesn't stop me from vacationing with them. My cousin's fiance made it on the wall after less than a year of dating. Her previous bf never made it onto the wall in 6 years. We prefer candid shots over portraits although their are a few pro shots, too. I like salon style over exact regimentation and this is in my very public great room. Each of my boys has a collage frame dedicated to their first year.
The frames are all wonky, because we have off of school this week and I had a zillion kids at the house. The floors are oak and makes a nice surface for scooters, etc. (I know bunches of you are cringing, but I'll get the floors refinished when the 4yo hits high school.) I keep meaning to put museum putty behind the corners of the frames so they won't move, but just haven't done it.
---
| | | |
| --- | --- | --- |
| RE: Show me displays of your Childrens' portraits. | | |
I have pics from the present all the way back to 100 yrs ago on this piece in our morning room. It is a salvaged built in china cabinet and we closed in the sides temporarily till I can figure out how to duplicate the cherry of the original wood. We love it and everyone who comes to the house always wants to know about the photos. I change them out as I have time. We have 100's of school shots and candid shots in storage boxes. No other photos out in the whole house . c
---
| | | |
| --- | --- | --- |
| RE: Show me displays of your Childrens' portraits. | | |
I grew up in a house where all of the pictures portraits, candids etc were stuffed away in drawers. No pictures were ever displayed. And my Mom wasnt a decorator. Although she did hire one when I was 13 maybe she had them until then can't remember. Until grandchildren came along and then if people sent photos to them they would frame them and hang them salon style in their breakfast nook.
It never occurred to me to hang photos or display them until my DH did- on his dresser and the wall above. I always thought it strange that others did so.
Just wasnt on my radar screen. But I am working on it and even have a few in my LR!
---
| | | |
| --- | --- | --- |
| RE: Show me displays of your Childrens' portraits. | | |
Wow...I have never heard of "no personal photos on the first floor." Ever. And I've actually never met a person in the flesh-and-blood that had a "decorator." Heck, most of my friends don't even having cleaning ladies (me either!).

I am an avid amateur photographer and have been for years--since I've had children, the focus has obviously been put on them. I absolutely LOVE my candid B&W shots of my kids...lots of sandy, windswept days at the beach, in our garden, or asleep in bed...wherever or whenever. I proudly display them, in matching, tasteful frames all around the downstairs of our home--kitchen, living room, playroom, etc. I would say the only room that won't probably have pictures of the kids is maybe the dining room...since it is the most "formal" of the rooms in our big, sprawling Victorian.

I love going to other people's houses and seeing the same types of photos--funny, touching, memorable times. Makes life (and people) seem real and worth cataloging. Personally, I'm not a big fan of formal photography (the studio kind, anyway)--most likely because I NEVER like the pictures they take of my kids (or me for that matter!) as much as the ones I've taken!

I do agree that it does take a little money, time, layout, and planning to make them look good. I love matching frames but mismatched sizes. Not a big fan of collage frames. LOVE LOVE LOVE white matting (why can't I convince my mom? Does she feel like she's "wasting space?").

I try to glean ideas from Pottery Barn, Restoration Hardware, and especially Exposures--then I try to recreate in a less-expensive way (pretty much my mantra for decorating, I guess, if I have one!).

Anyway, just didn't want anyone to feel badly about their pictures all over--I love seeing them! Keep 'em coming!

Sarah from Albany, NY
---
| | | |
| --- | --- | --- |
| RE: Show me displays of your Childrens' portraits. | | |
I think it would be weird to live in a house with no pictures or portraits. Granted I think they have to be done the right way. I'd rather have them in the public areas of the house, rather than say, the master bedroom. To me, that area is one for calming down, relaxing, destressing, etc. and that is the place where I would be least likely to have family pictures. I do have a hallway where I've hung sort of a portrait gallery of my children. But in our den I have a huge watercolor of the children over the fireplace, silhouettes and other various framed photos. I've never heard of anyone not wanting photos in their home! My dream is to get a large portrait in oil of my boys to hang somewhere in our main living area.
---
| | | |
| --- | --- | --- |
| RE: Show me displays of your Childrens' portraits. | | |
I just found this place and thought thread was interesting. We adopted our DD late and I could care less what other people think. I laughingly call my living room a shrine! The large one is a Mother/Daughter portrait done at a beautiful studio where we are both dressed in white satin and the background is white. I have it framed with a matching larger frame around it. Flanked on either side are 2 antique platters. I've gotten lots of compliments.
---
| | | |
| --- | --- | --- |
| RE: Show me displays of your Childrens' portraits. | | |
We have a select few scattered around, but I tend to group in certain areas. I have one of each of my 6 when they were younger in our back hall leading to our master along with some old black and whites on a console table there. In our office, my husband's credenza is flanked by a grouping of old and special family photos. Behind my desk is an old oil painting and some antique portraits. In our guest room I have some more old family photos over a loveseat and guests always comment and compliment those. The most unusual place is our powder room which has a very vintage feel. On the shelf I have some items that belonged to my grandmother along with a picture of her dancing with my father at my wedding. I also have a picture of my oldest son hiking with his baby brother on his back-I just adore that one.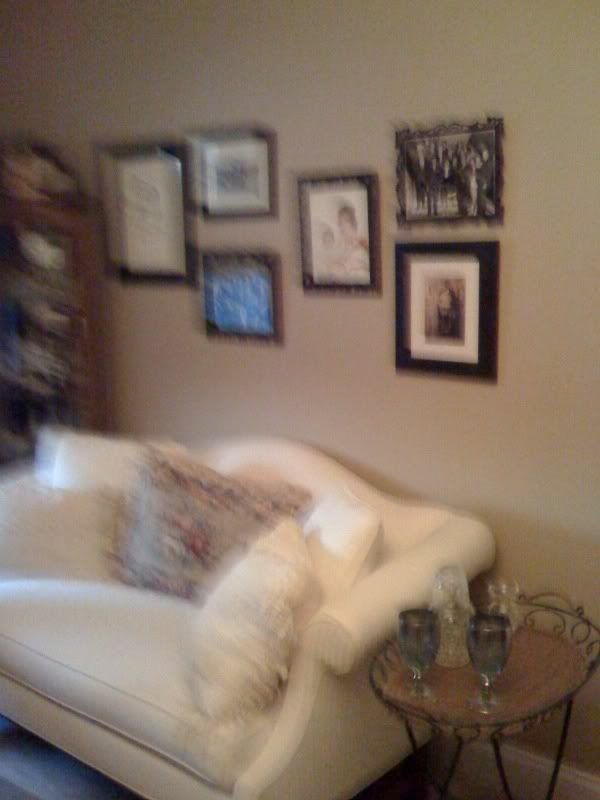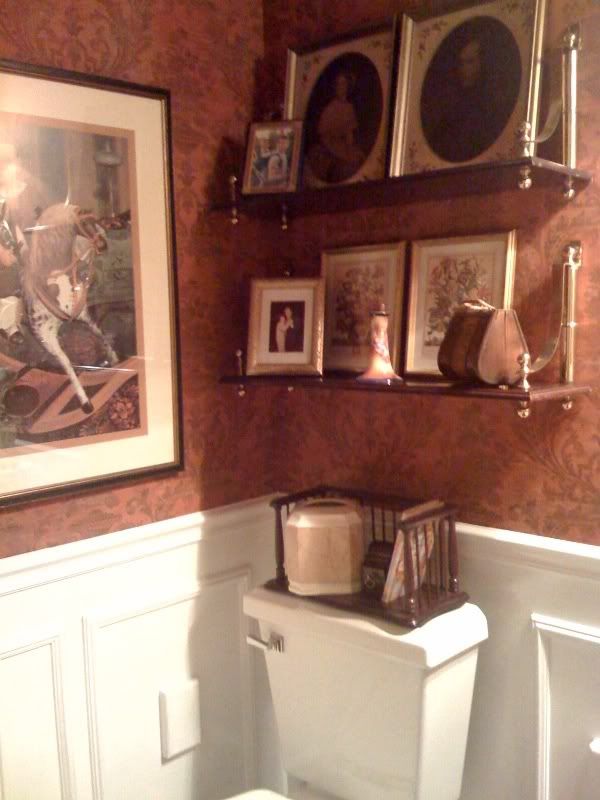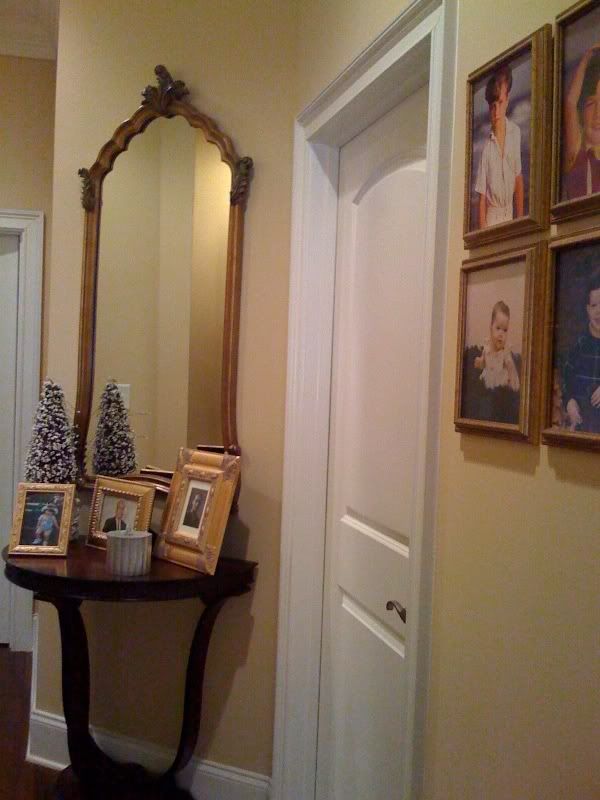 ---
Post a Follow-Up
Please Note: Only registered members are able to post messages to this forum.
If you are a member, please log in.
If you aren't yet a member, join now!
---
Return to the Home Decorating Forum
Information about Posting
You must be logged in to post a message. Once you are logged in, a posting window will appear at the bottom of the messages. If you are not a member, please register for an account.
Please review our Rules of Play before posting.
Posting is a two-step process. Once you have composed your message, you will be taken to the preview page. You will then have a chance to review your post, make changes and upload photos.
After posting your message, you may need to refresh the forum page in order to see it.
Before posting copyrighted material, please read about Copyright and Fair Use.
We have a strict no-advertising policy!
If you would like to practice posting or uploading photos, please visit our Test forum.
If you need assistance, please Contact Us and we will be happy to help.

Learn more about in-text links on this page here