Return to the Home Decorating Forum
|
Post a Follow-Up
---
| | | |
| --- | --- | --- |
| How can I hang curtains in this bay window? | | |
Posted by
tracieb
(
My Page
) on
Sun, Feb 10, 08 at 20:46
Can you guys help me decide how to hang long panels in this bay window? I bought 4 beautiful curtains from someone & want to get these hung as soon as possible. Should I use all 4 panels? I have one tacked up right now and think it makes the area look realy important but I just don't know how to hang them and if I should use all 4 panels. Thanks for your help! If anyone has any pics of long panels in a bay window that would help to!!

---
Follow-Up Postings:
| | | |
| --- | --- | --- |
| RE: How can I hang curtains in this bay window? | | |
What a lovely breakfast area!

I'd be tempted to put black rods a couple inches down from the crown molding and put two panels on the outside and two on either side of the center window.

Maybe even get fabric shades and valances... What color are the curtains?
---
| | | |
| --- | --- | --- |
| RE: How can I hang curtains in this bay window? | | |
This is what we did. My husband just bent the rod. Hope this helps. WE have a very similar setup as yours.
---
| | | |
| --- | --- | --- |
| RE: How can I hang curtains in this bay window? | | |
You can buy an adjustable wood or metal corner rod. The corner piece is two pieces with a swival joint...if that makes sense so it conforms to any bend...its not a fixed angle. This piece is then attached to the straight rod. I know Antique Drapery Rod sells them. Their stuff is sold at Calico Corners. They also have a website.
---
| | | |
| --- | --- | --- |
| RE: How can I hang curtains in this bay window? | | |
JC penney has the corner bracket for bay windows.
Here is a link that might be useful: corner bracket
---
| | | |
| --- | --- | --- |
| RE: How can I hang curtains in this bay window? | | |
aktillery: What kind of rods are you using that you were able to bend like that? That looks like something I might want. I have the SAME window set-up and trying to work out what to do with it for 7 months now.
---
| | | |
| --- | --- | --- |
| RE: How can I hang curtains in this bay window? | | |
Chicory, here is a pic of the curtains as I have one tacked up there now. I am probably going to add trim to the top or along the sides of the cutains to add a little umph! to them. These curtains are really well made and the fabric came from Calico Corners. The girl I am buying them from says that she paid $800 for all 4 and she is wanting $150 for them. I think it's such a bargain and I really want them to work! LOL I've also included pics of the rest of my kitchen........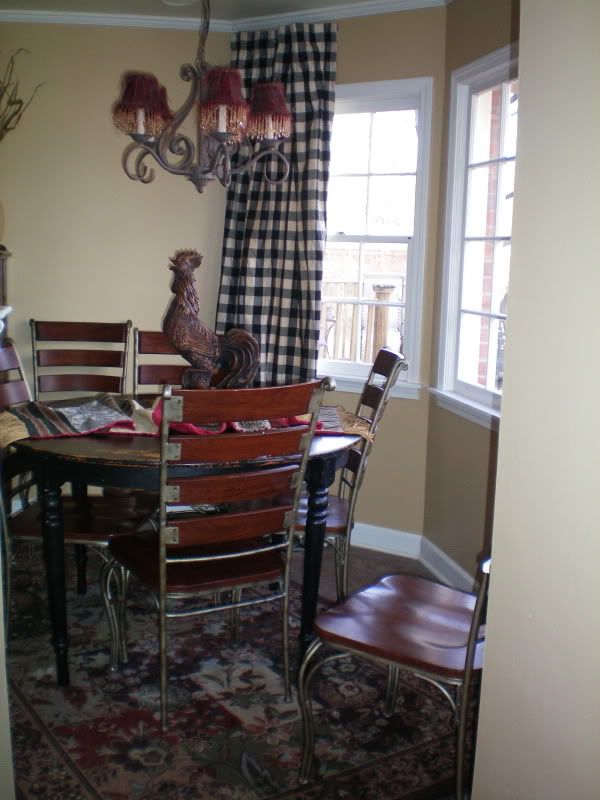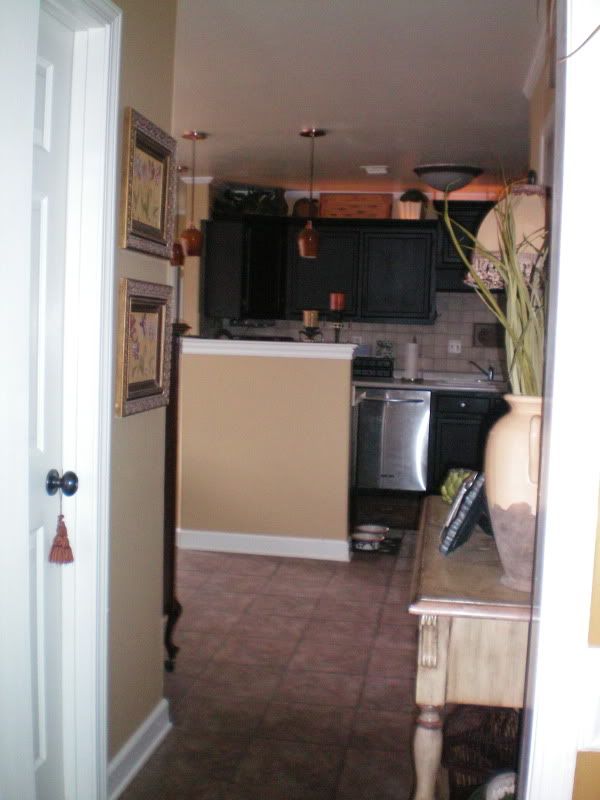 ---
| | | |
| --- | --- | --- |
| RE: How can I hang curtains in this bay window? | | |
They were just the really thin and cheap kind of metal rods... probably from target. They were not that hard to bend and putting them up to the ceiling makes them nearly invisible.

Hope that helps
---
Post a Follow-Up
Please Note: Only registered members are able to post messages to this forum.
If you are a member, please log in.
If you aren't yet a member, join now!
---
Return to the Home Decorating Forum
Information about Posting
You must be logged in to post a message. Once you are logged in, a posting window will appear at the bottom of the messages. If you are not a member, please register for an account.
Please review our Rules of Play before posting.
Posting is a two-step process. Once you have composed your message, you will be taken to the preview page. You will then have a chance to review your post, make changes and upload photos.
After posting your message, you may need to refresh the forum page in order to see it.
Before posting copyrighted material, please read about Copyright and Fair Use.
We have a strict no-advertising policy!
If you would like to practice posting or uploading photos, please visit our Test forum.
If you need assistance, please Contact Us and we will be happy to help.

Learn more about in-text links on this page here