Return to the Home Decorating & Design Forum
|
Post a Follow-Up
---
| | | |
| --- | --- | --- |
| Is beadboard "country"? | | |
Posted by
tinan
(
My Page
) on
Fri, Feb 1, 13 at 20:20
We're gearing up to start our kitchen makeover after tax time, and I'm planning, measuring and drawing up lists of materials.

I have been considering using white beadboard as a kitchen backsplash, as it's a lot less expensive and easier to install than tile and will keep the kitchen bright. The countertop will be cast in place concrete (DIY!) possibly acid stained we will pour it and see how we like it without stain first, and the cabinets are white. Sink is white porcelain and have not chosen a new faucet yet. Floor is chestnut wood vinyl plank.

However I have heard beadboard referred to as cottage but also as country. Our home is a townhouse and decorated in a more traditional-transitional style (never sure where to draw that line) and a little cottage could be OK with me but I don't want to get into country territory.

On a related note, how do you develop/define your style? Our home does not necessarily 100% reflect my style preferences as choices have been influenced by budget and practicality but I'd like to make things more cohesive and intentional over time.
This post was edited by tinan on Fri, Feb 1, 13 at 20:53
---
Follow-Up Postings:
| | | |
| --- | --- | --- |
| RE: Is beadboard "country"? | | |
Hi. I consider beadboard cottage-y, as in bungalow-y, old house charming. (My house was built in 1924, and I have it in my kitchen. My beadboard is natural, but I plan to paint it white.) My bead board covers the lower half of the walls. I do not have it as a back splash. I can understand why you might consider that, though. Good luck with your remodel.
---
| | | |
| --- | --- | --- |
| RE: Is beadboard "country"? | | |
If you take a look at some of the houses on the Houzz site, there are plenty of homes that are more traditional in style with beadboard. I see it used in cottage, country and traditional style homes. I love beadboard!
---
| | | |
| --- | --- | --- |
| RE: Is beadboard "country"? | | |
I think it would work with most of your elements, but I am having a hard time picturing beadboard as a backsplash with a concrete countertop. I would buy a piece and see how you like those two together. I have seen thin panels of stainless steel as backsplashes and that might look smashing if it fits your style.
---
| | | |
| --- | --- | --- |
| RE: Is beadboard "country"? | | |
That's what I thought - I got the idea in the first place from Houzz actually, and I can really picture this in my kitchen! This is a 1980 built townhouse and needs every bit of charm it can get, it didn't really come with a big helping of that.

I started questioning my own (admittedly not established) idea of styles when I read a thread on another forum about someone complaining that they had to rip out all this beadboard in their bathroom because it was too country for their tastes....
---
| | | |
| --- | --- | --- |
| RE: Is beadboard "country"? | | |
I, too, think of bead board as more cottage, but have seen in in homes that are more country. I've also seen it in some homes that are not really cottagy or country.

Sounds great! I love cottage but not really country.

tina
---
| | | |
| --- | --- | --- |
| RE: Is beadboard "country"? | | |
Someone on the Kitchen forum had complaints about their beadboard backsplash- they couldn't keep it clean enough, I think. I love beadboard, but I would use tile with a concrete counter top. I can't see beadboard and concrete together.
I just built a concrete countertop for my bathroom and I love it. I used a slate tile for the backsplash. I would only use glazed tile behind a cooktop, though, because I like to saute and stir-fry and need a scrubbable surface there. Something to consider.

Tinan, are you going to make a built-in drain board on your concrete?
---
| | | |
| --- | --- | --- |
| RE: Is beadboard "country"? | | |
Beadboard doesn't have to be only white, or look cottagey or country.

Talk about sophisticated!
Here is a link that might be useful: Beadboard
---
| | | |
| --- | --- | --- |
| RE: Is beadboard "country"? | | |
Here's a concrete sink top with a built-in drainboard that I got on craigslist. I'm trying to figure out how to use it in my kitchen!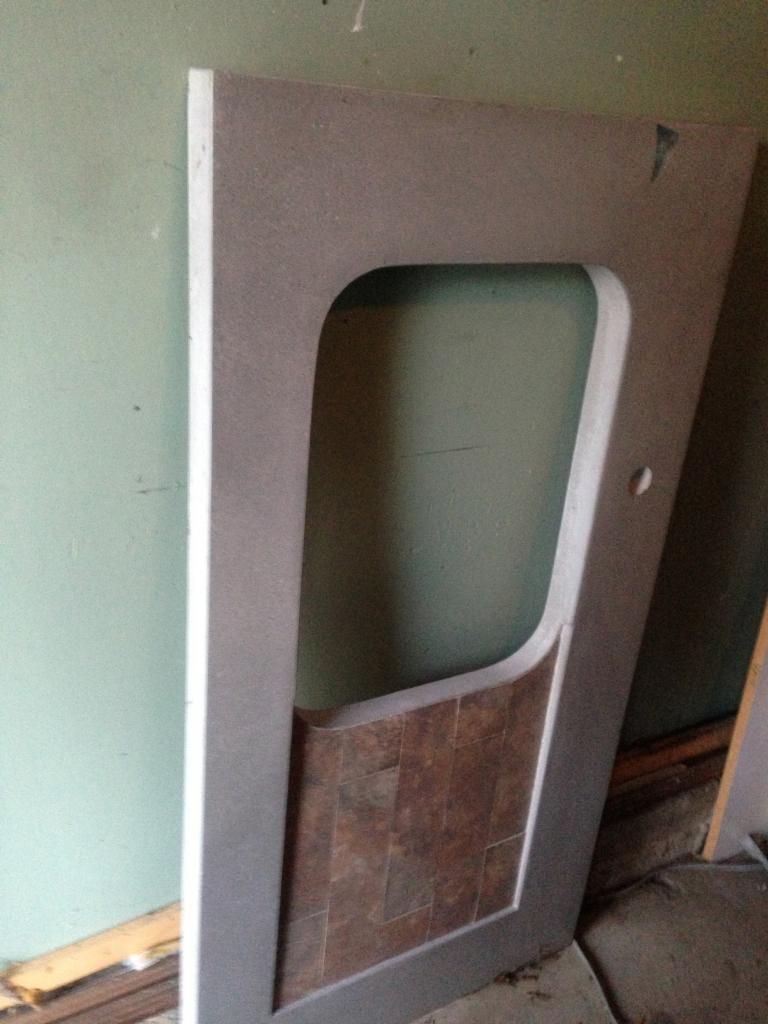 ---
| | | |
| --- | --- | --- |
| RE: Is beadboard "country"? | | |
| | | |
| --- | --- | --- |
| RE: Is beadboard "country"? | | |
I couldn't call it anything with the mix of styles. It would look great if the bath was rustic or old home decor that matches. Apologies if this is your bath.
---
| | | |
| --- | --- | --- |
| RE: Is beadboard "country"? | | |
Are you using beadboard bc it's cheap and easy to install or bc you love it? If it's the former than I would skip it. We have drywall in our kitchen- no backsplashand it function just fine.

Also, tongue and grove horizontal panels might give a more contemporary feel.
---
| | | |
| --- | --- | --- |
| RE: Is beadboard "country"? | | |
A word of warning; don't use the ' fake' beadboard sheets near areas that will get wet. The MDF sucks up the water, swells and discolors quickly. Sealing the cut edges first might buy you some time, but eventually the water will soak in.

If you are using actual beadboard you might be ok.

ML
---
| | | |
| --- | --- | --- |
| RE: Is beadboard "country"? | | |
Maybe I should just trust my vision. I think it will look great! With the darker countertops (eve just sealing the unstained concrete they end up darker) need the light backsplash and I just don't have the budget for tile now. With beadboard I can always easily remove it and do tile later if I want.

I'm not worried about keeping it clean, I will paint it gloss and we're not messy cooks. Honestly I've never had to clean a backsplash before, right now I just have a 4" tile and then paint above that.

Regarding the look of concrete and beadboard together, my idea was to take a bit of the contemporary edge off of the concrete without clashing. Here are some of my inspiration pics, perhaps I should have shown these first! Most of these are picked for the countertop or combo with beadboard, not as an overall feel necessarily.

Here is the blog that inspired me to use concrete - many people have poured in place right over existing tile with excellent results. You can see they have a very nice tile backsplash, but my kitchen has about 65 sq ft of backsplash area if I go up to the cabinets like I'd want to - so the tile I want is too expensive. So I will either have to do a single tile, a concrete lip backsplash, or something cheaper like beadboard.

The concrete inspiration

Here beadboard is on cabinets not backsplash but I think it looks good, I don't like the black appliances, ours are stainless except white dishwasher (blends with cabinets) but the beadboard and concrete I think complement eachother...

and another with beadboard-like cabinets with concrete countertops

Stained concrete

In a bathroom

What do you think?
---
| | | |
| --- | --- | --- |
| RE: Is beadboard "country"? | | |
hosenemesis, no built ins, - I am going to attempt the cast in place over the existing tile, and this will be my first concrete countertop so I am trying to keep it simple. Built-ins are mostly restricted to inverted mold pours or to very advanced concrete artisans, which I am not :)

Also, I almost never wash anything by hand so a drain board is not a used item in our kitchen. I am still debating what to do about the worn porcelain tiles-in sink. When I say tiled in I mean that it can't be removed without chiseling out a bullnose of tile around the entire sink - and it is an odd size, 30x21". I have considered having it reglazed and then keeping it "trapped" in the countertop, but then if the glazing doesn't hold up I will regret it. I'm not sure I can find a replacement sink that will fit the spot and my budget. So I'm still thinking about that part.
---
| | | |
| --- | --- | --- |
| RE: Is beadboard "country"? | | |
This is a really old picture (got rid of the home phone a few years ago!), but here is my beadboard. It's just in the one spot which is our coffee area next to the refrigerator. Our house is not country or cottage.

It has been totally maintenance free, cheap material and easy to install. Go for it!
---
| | | |
| --- | --- | --- |
| RE: Is beadboard "country"? | | |
Combining beadboard and concrete counters IMO will work because they are both casual materials. Beadboard is used with many styles altho seldom with formal or contemporary. White painted beadboard seems to me to be more 'country' altho it's often seen in cottage kitchens/baths as well. Beadboard painted other colors is less cottage or country and as the pic in patty cakes link shows can be sophisticated. The pics posted by chijim are also not country but perhaps BoHo? Anyhow very unique and I'm not sure of the color. Looks sort of a greenish charcoal on my monitor.

I would cut the beadboard to fit then seal both sides and all edges before installing. Even tho you are a careful cook there's always the possibility of water/humidity damage in a kitchen.

I love concrete countertops but they are not mainstream and many people have not seen them IRL and don't really accept them as a choice. They are IMO a feature that sets a house apart as being more unique and interesting.

As you said, if you don't like it you can change it later.

I look forward to seeing pics of your finished kitchen.
---
| | | |
| --- | --- | --- |
| RE: Is beadboard "country"? | | |
Thanks all - that's settled then, beadboard it is. I could perhaps go with a grey color too, might look nice with the concrete if left unstained, and the stainless appliances.
---
| | | |
| --- | --- | --- |
| RE: Is beadboard "country"? | | |
I was going to say the same thing. Beadboard adds a casual element but it doesn't have to be country. I can't picture it with concrete counters though unless they resemble soapstone or something. Would have to see that! You might consider a wider board width with the heavier concrete material.
---
| | | |
| --- | --- | --- |
| RE: Is beadboard "country"? | | |
I just wanted to say that I think it sounds nice, Tinan. I have beadboard in my master bath and love it. Mine has a vintage spa feel to it. I don't think beadboard has to be country, but it certainly can be. It was in my Grandma's house, and she was definitely a country gal. I think the concrete counters will go well with it.
---
| | | |
| --- | --- | --- |
| RE: Is beadboard "country"? | | |
| | | |
| --- | --- | --- |
| RE: Is beadboard "country"? | | |
I have to say, since it's not what you're after, that when I think of concrete with beadboard it does sound rustic country. The concrete counters can be modern looking but I think a beadboard might take it to country.
---
| | | |
| --- | --- | --- |
| RE: Is beadboard "country"? | | |
The following is a quote from "this site."

"Classic Beadboard traces it's ancestry to 19th century Victorian, English Country, Cottage, Folk, and Queen Anne styles. It was associated with less formal homes and spaces, particularly vacation cottages."

English Country is very different from American Country style so I think we can put to rest that beadboard is only an "American country style" look. I recognize that in North America beadboard has been used very often with that rustic American Country style and come to be associated with it but it's used in many other styles. Nothing rustic about Victorian or Queen Anne styles.
---
| | | |
| --- | --- | --- |
| RE: Is beadboard "country"? | | |
It's the combination with a concrete countertop that might feel rustic or country, imo.
---
| | | |
| --- | --- | --- |
| RE: Is beadboard "country"? | | |
I think it will look wonderful as well...can't wait to see it!~
---
| | | |
| --- | --- | --- |
| RE: Is beadboard "country"? | | |
A word of caution: we had a beadboard backsplash in the laundry room that was changed to subway tile within the year. Even real wood doesnt like as much water as it got near our dogwashing sink...it warped.

Kellyeng, I LOVE your coffee bar!
---
| | | |
| --- | --- | --- |
| RE: Is beadboard "country"? | | |
When choosing backsplash materials, don't forget to think about code issues for the cooktop/stove area. You may not be allowed to use wood within a certain distance from the cooktop.
---
| | | |
| --- | --- | --- |
| RE: Is beadboard "country"? | | |
I really like the beadboard and the concrete in the third photo and in the bathroom photo.

I can't wait to see it in your kitchen.

---
| | | |
| --- | --- | --- |
| RE: Is beadboard "country"? | | |
"You may not be allowed to use wood within a certain distance from the cooktop."

Even if it isn't code in your area, codes are developed for safety reasons. I would abide by the caution anyway, whether it's required or not.
---
| | | |
| --- | --- | --- |
| RE: Is beadboard "country"? | | |
I have beadboard in my current kitchen -- not country in the least, not hard to clean. I don't have any current photos of my kitchen which does have some vintage elements but I no country vibe. I love the photos of the concrete countertops and am eager to see how your DIY project goes. I am 1/2 sold on SS for the kitchen in the new house but I'd love to hear someone's first hand experience with concrete.
---
| | | |
| --- | --- | --- |
| RE: Is beadboard "country"? | | |
Quite right, snookums2. You put it better than I did.
---
| | | |
| --- | --- | --- |
| RE: Is beadboard "country"? | | |
Hmm, our current wall behind the range is bare drywall, and was when we bought the house. The range is free standing and not connected with the countertop, so it doesn't really play into my plans.
This post was edited by tinan on Mon, Feb 4, 13 at 21:17
---
| | | |
| --- | --- | --- |
| RE: Is beadboard "country"? | | |
::: fake nose and glasses :::

We were advised that kitchen and bath applications of beadboard should be MDF (not real wood). We had beadboard in part of our old kitchen and here we have it in one PR. I actually conveniently forgot this embarrassing detail until I read what KSWL wrote. I think it comes in many widths (an historian told me most people go to narrow, FWIW) and mine looks so good I don't recall it's provenance anymore.
---
| | | |
| --- | --- | --- |
| RE: Is beadboard "country"? | | |
"We were advised that kitchen and bath applications of beadboard should be MDF (not real wood). "

Well that's interesting. I thought an advantage of wood over MDF was that it didn't fall apart with water. Wood will swell but shrinks back. Warping with something thin as beadboard I guess could be a different issue.
---
| | | |
| --- | --- | --- |
| RE: Is beadboard "country"? | | |
I used bead board wall paper on my cabinets before I painted them not sure if it looks country or not. Fake granite counters. It even fooled my finishing carpenter.
---
| | | |
| --- | --- | --- |
| RE: Is beadboard "country"? | | |
Cl, I recommended that to someone a while back, but don't know if they ever did it. I've also recommended using it instead of the real wood beadboard since it's a quick and very easy 'install'. Would think it would be a great idea for the backspash, which is what I bought mine for but haven't done it yet. It will be black rather than the standard white. So many uses~you can't beat it! ;o)
---
| | | |
| --- | --- | --- |
| RE: Is beadboard "country"? | | |
I think of beadboard as more cottage than country, although all the other elements and accessories would help define the style. We used cheap MDF beadboard sheets in the playroom, and in a bedroom, still in progress. Also used it in the kitchen--not behind the sink, but close to where I drain dishes on the runnels. I don't think I'd use it where water might puddle.

After using the beadboard sheets in the playroom, I thought it would add some charm to use them on the ceiling of the front porch. My late husband vetoed the idea because "it wouldn't hold up to the weather". I gave up, but the following winter I needed something to quickly make a sign for delivery drivers, to warn them that our front steps were icy. I wrote a message on the unpainted side of a beadboard scrap, and laid it on the end of our sidewalk. After the snow and ice melted, I leaned the sign against the house, at the edge of the porch, in case it was needed again. It stayed there all winter, exposed to sun, rain, and snow. I was surprised to find that it didn't deteriorate--maybe being outside, the moisture evaporated quickly. Still don't have a new porch ceiling, but I'd use it with confidence.
---
| | | |
| --- | --- | --- |
| RE: Is beadboard "country"? | | |
I've toured Victorian and Edwardian estate houses that had beadboard in the kitchen, pantry, flower arranging room, sometimes in a back hallway and bathrooms. Mostly stained, not painted tho.
---
Post a Follow-Up
Please Note: Only registered members are able to post messages to this forum.
If you are a member, please log in.
If you aren't yet a member, join now!
---
Return to the Home Decorating & Design Forum
Information about Posting
You must be logged in to post a message. Once you are logged in, a posting window will appear at the bottom of the messages. If you are not a member, please register for an account.
Please review our Rules of Play before posting.
Posting is a two-step process. Once you have composed your message, you will be taken to the preview page. You will then have a chance to review your post, make changes and upload photos.
After posting your message, you may need to refresh the forum page in order to see it.
Before posting copyrighted material, please read about Copyright and Fair Use.
We have a strict no-advertising policy!
If you would like to practice posting or uploading photos, please visit our Test forum.
If you need assistance, please Contact Us and we will be happy to help.

Learn more about in-text links on this page here