Return to the Home Decorating & Design Forum
|
Post a Follow-Up
---
| | | |
| --- | --- | --- |
| FR take 3 | | |
Posted by
kellienoelle
(
My Page
) on
Sun, Feb 16, 14 at 20:07
Well, the good news is that I am plugging along on this so soon you will be rid of this project. Here is where I am - purchased the major furniture items (sofa, loveseat, and chair). Today I ditched the fancy perfectly coordinated pillow look and just went to Pier 1 and got some inexpensive and happy pillows. I had also been shopping for an ottoman, but actually am not hating my existing coffee and side table in here. Yes my tastes have changed sincet their purchase, but they are just so darn durable and the colors look good. It's a project I am going to tackle at another time.

So, here is where I am now:

Floorplan: I was using this floorplan originally (minus the coffee and side tables it is to scale)

But helpful folks made some suggestions so we did a little rearranging today and the photos are below. Seems a little closed off but I have to admit it is growing on me.
Color: I have disliked this color since we moved in but wanted to get the bigger elements in before repainting. I think I am ready. Current color is Behr Raffia Cream. The other main areas in the house are Behr Gobi Dessert (it is the darker color on the color strip). It's an OK color. Easy thing would be to paint it this color but I am open to suggestions.
Drapes: I don't even know if I want to open this can of worms, but suggestions for drapes? I would like panels. We currently have blinds and I like the functionality of them so don't want to switch to shades. I don't want to spend a fortune and fortunately have pretty simple tastes when it comes to WT so hopefully won't have to. If I can find a fabric I like, my MIL can sew them for me. I'll attach a pic of the nice and simple panels that I personally see in here (style, not fabric).
---
Follow-Up Postings:
| | | |
| --- | --- | --- |
| RE: FR take 3 | | |
I think it looks great. I love the large sofa where it is now.

Pull the orange chair forward a bit so it's part of the seating arrangement.

I think drapes are a good idea for that room and would add warmth and even more of a feeling of coziness. Keep the blinds you have for behind any drapes.
---
| | | |
| --- | --- | --- |
| RE: FR take 3 | | |
Kellie, your room looks so pretty and warm. You have done a wonderful job pulling it all together. I have unfinished items in my living room too but I am just burned out with that project and think I am going to tackle my bedroom first and then finish up in the living room.
---
| | | |
| --- | --- | --- |
| RE: FR take 3 | | |
Tibbrix - I think you were one who recommended this seating arrangement. I am sitting here now enjoying the heat from the fire much more than with the sofa pushed back! And I had moved the chair up and like how it feels more a part of the room. As a downside, the sofa isn't exactly centered because there is not enough space. Normally that would make me head want to explode, but so far it isn't bothering me. My husband really really doesn't like this arrangement though so I have requested that we "live with it" until next weekend and if he still hates it we can move it back.

If I keep the current furniture arrangement I will need a sofa table for behind the loveseat and can put some accents on it. I want a floor lamp for that corner to the right of the loveseat (although if we keep as is I have a larger side table there that could accommodate the matching table lamp I already own). And I feel like the corner behind that chair could use .... something. But maybe drapery panels would help.
---
| | | |
| --- | --- | --- |
| RE: FR take 3 | | |
I really like the "happy" pillows. Even the dog is smiling.

I usually tend to go with simple cream linen curtains, maybe a ribbon or trim edge.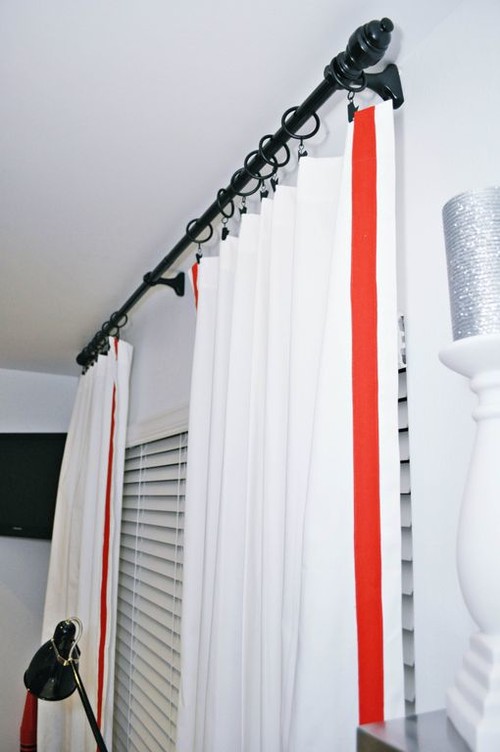 Or these from West Elm, currently on sale

Here is a link that might be useful: embellishing curtains
---
| | | |
| --- | --- | --- |
| RE: FR take 3 | | |
Change is harder for some than others. Agree a sofa table would be a great addition. I think you were smart to suggest living with it for a while to give your husband some time to adjust to the change, which is probably all that is needed. I think it looks so welcoming and warm and very put-together this way. I think it's also great that you're able to enjoy warmth from the fireplace.

Your dogs are awesome.
---
| | | |
| --- | --- | --- |
| RE: FR take 3 | | |
These are kind of interesting. Almost like scarves,, individual pleats, and you can use an off-setting material for the gathering, which adds an interesting design.
Here is a link that might be useful: Curtains
---
| | | |
| --- | --- | --- |
| RE: FR take 3 | | |
I think that glass vase next to the TV would look great in the corner behind the chair.
---
| | | |
| --- | --- | --- |
| RE: FR take 3 | | |
I really, really like this arrangement. I hope your husband agrees to try it longer than a week...hopefully, he'll become so used to it it will feel odd if you decide to move it back. The sofa looked squished on that other wall and I think having the larger piece closer to the tv balances it better. Nice drum table you purchased, too.
---
| | | |
| --- | --- | --- |
| RE: FR take 3 | | |
You got the chair! I like it.

Since your MIL sews, I'd go to Calico Corners and bring home some samples!
---
| | | |
| --- | --- | --- |
| RE: FR take 3 | | |
I think it looks great this way!! Very warm and cozy! I say its a keeper!
---
| | | |
| --- | --- | --- |
| RE: FR take 3 | | |
Tibbrix - those are tab tops with a loop of fabric scrunched over the tab. I've made them before, easy. Smith and Noble used to offer them.
---
| | | |
| --- | --- | --- |
| RE: FR take 3 | | |
clt3, yes, a panel with tabs gathered at the top. I think they're great.
---
| | | |
| --- | --- | --- |
| RE: FR take 3 | | |
Kellienoelle, LOVE the pillows you bought. And the drum table is great with that rug.
---
| | | |
| --- | --- | --- |
| RE: FR take 3 | | |
If you're needing to convince someone to leave the arrangement like that - maybe you could show him some statistics, document how many times people just naturally gravitate toward that spot to engage in conversation or snuggle up to read in front of the fire or something. Looks soooo inviting!
---
| | | |
| --- | --- | --- |
| RE: FR take 3 | | |
You know, you probably could center it if you move the drum table so it is between the orange chair, which could use a side table, and the wall/fireplace.
---
| | | |
| --- | --- | --- |
| RE: FR take 3 | | |
I think your husband may be like mine. His mother lined up all the furniture against the walls like it was soldiers going to do battle and that was how he was accustomed to seeing furniture. I don't think "men" look when they are in others' homes, just what they are familiar with. Now we have a U-shape sitting arrangement with the fireplace as the focal point, which is engaging, warm and conversational as is yours. It is a lovely arrangement and everything looks very nice. You have done a swell job putting it all together.

I think you could take your pillows and leftover fabric from your chair or pictures of your room to Calico Corners and let them help you with draperies/curtains. They have in-house designers (or at least they do at mine). When I was doing checks/plaids/stripes/pindots, etc., I even had one of their designers tell me that one print I needed was not theirs, but I could go to Hancock and get it, and I did. She was a good decorator and wise/honest enough to appreciate I was spending thousands of dollars in the store but to make my look complete, a couple hundred would have to go to Hancock.

Based on what you have now and the window treatment could change all that, I like BM Fox Hedge Tan for your walls. Check and see what you think!
---
| | | |
| --- | --- | --- |
| RE: FR take 3 | | |
Am I right that you will be dressing three windows with panels. If so then that will be six panels so I think I would stick with a creamy ivory linen for panels and leave my pattern for cushions and accessories.
---
| | | |
| --- | --- | --- |
| RE: FR take 3 | | |
Kellie,
Another question.
When you bought your sofas , did the mfg. suggest a brand for cleaning and protecting your leather.
Thanks
---
| | | |
| --- | --- | --- |
| RE: FR take 3 | | |
Thanks for the ideas and reassurance.

Holly - burnout, oh yes, I feel you. I'll be happy to be done! I have a feeling I may paint and then take me time on windows. Too many options!

Nosoccormom - I like the idea of taking ready made curtains and modifying them. I like the banding at the top options since there is nothing good to look at on the top of the room (although maybe that would just accentuate that fact). Maybe a print on the tops with a neutral below (would that be too fussy?). I also like the sheers at the top with a solid below. Or the embelished tab tops like Tibbrix linked. I'll have to work on narrowing it down.

Tibbrix - my dogs are awesome, but definitely requiring decorating around. I think (hope) I made the best doggy proof options I could! We'll see if he comes around. Last night out of the blue he mentioned again "this just isn't working for me". I moved the drum table to the side of the orange chair which adds some space. He doesn't like the cords running to the outlets that are more visible with the furniture pulled out. I tried to tell him that drapery panels would help. But I have bought myself a week at least. Love that curtain idea! How do you think it would look with a more casual, less stiff fabric. I would have to see if my MIL could do something like that. It would be a fun way to add in color to a plain drapery panel.

Mtn - Yes I need to go to Calico Corners. I am afraid of being overwhelmed by the options. I need somebody to narrow it down to a manageable number of choices.

Aktillery - I agree, plus it has grown on me so hopefully he will come around.

Clt - is that it? Shoot, I am helpless at creative things and think I could do that. Find a fun fabric, buy some ready made tab tops and voila, "custom" drapes!

kashka - most of the time it is just him and I, so our stats are pretty much 50% for/50% against! Fortunately my vote is typically more heavily weighted so it will depend on how much I want to push him.

Patricia - read comment to mtn above at being afraid of all the options! Knowing they have designers who will help is great! Although my budget will be much much less. I am trying to remember how his parents have their furniture, and think you may be right. They have a larger room and I think it is all around the perimeter. On my screen Fox Hedge Tan seems a little more taupe and not quite warm enough for the warmer tones in the room. I'll take a look at my paint decks!

lyban - yes, there are three pretty plain windows. I commented about about using plain panels (an ivory linen would be lovely), but using some sort of embellishment at the tops. still too much you think? I researched cleaning on MyFurnitureForum (managed by and old GW member) and his recommendation is warm water for routine cleaning with conditioning with Leather Magic products. So far, I have only gone the warm water and wipe dry route since they are only about a month old. I've been afraid to use anything else on them!
---
| | | |
| --- | --- | --- |
| RE: FR take 3 | | |
I like plain white or ivory panels on the windows. You can still leave your blinds. I have a 96" set of cotton panels from Ikea (Ritva) for $25 for the pair. So easy to install and with a variety of hanging options, very easy to push off to the side when you want maximum light.
---
| | | |
| --- | --- | --- |
| RE: FR take 3 | | |
Linelle - I have a pair of Ikea panels (Merete) in the guest room and they are remarkably thick for the price. Did you hang yours with rings and hooks or just directly on the rod? I would prefer rings. and hooks but am not sure if that makes it more difficult to lay properly. And does it come in ivory? I am only seeing white and am afraid that isn't right for the room.
---
| | | |
| --- | --- | --- |
| RE: FR take 3 | | |
A couple of more pictures in thinking of paint colors....the FR is open to the incredibly brown kitchen (with the incredibly orangy-red of the DR just beyond that you can see a bit of)
And is adjacent to the LR that has the darker color (Gobi Desert). So in this pic, the surround to that door is the Raffia Cream that the FR is painted in, and the wall beyond is the Gobi Desert.

I've pulled out the paint decks and am drawn to the tried and true SW Ivoire that I had in my last home and found to be a nice warm beige, but maybe I would be better off going the Gobi Desert for consistency (it is also the color used in entryway, upstairs hall). Is there is a rule thumb for this?
---
| | | |
| --- | --- | --- |
| RE: FR take 3 | | |
It looks like the only item with a plug is the lamp on the table between the sofas. I think hubby is being a little stubborn and resisted to change!

Just get an extension cord, plug the lamp into it and run it under the rug and small sofa to an outlet that is more hidden.

I really like what others are suggesting, simple ivory panels (but a good fabric!). I love that idea of getting tabbed curtains and tying off each tab with a counter fabric. That would keep the curtains simple but not boring. I think ivory tab curtains with ties that don't contest too much but have a design in them would be beautiful.

Or, you could tie them with an ivory rope tie with a tassel…something like that. That would look really cool, I think.

The room really is lovely. I really think your husband is just reacting to change. Be very, very nice to him, don't make him defensive and impossible for him to change his mind, and he'll come around!
---
Post a Follow-Up
Please Note: Only registered members are able to post messages to this forum.
If you are a member, please log in.
If you aren't yet a member, join now!
---
Return to the Home Decorating & Design Forum
Information about Posting
You must be logged in to post a message. Once you are logged in, a posting window will appear at the bottom of the messages. If you are not a member, please register for an account.
Please review our Rules of Play before posting.
Posting is a two-step process. Once you have composed your message, you will be taken to the preview page. You will then have a chance to review your post, make changes and upload photos.
After posting your message, you may need to refresh the forum page in order to see it.
Before posting copyrighted material, please read about Copyright and Fair Use.
We have a strict no-advertising policy!
If you would like to practice posting or uploading photos, please visit our Test forum.
If you need assistance, please Contact Us and we will be happy to help.

Learn more about in-text links on this page here