Return to the Home Decorating Forum
|
Post a Follow-Up
---
| | | |
| --- | --- | --- |
| Do you have cordless shades? | | |
Posted by
natal
(
My Page
) on
Wed, Feb 3, 10 at 19:33
---
Follow-Up Postings:
| | | |
| --- | --- | --- |
| RE: Do you have cordless shades? | | |
I installed cordless specifically for my mom because she didn't have full use of her arms. I have had the same shades for about 14 years and raise and lower them everyday with no problems.
---
| | | |
| --- | --- | --- |
| RE: Do you have cordless shades? | | |
I have a small honeycomb cell cordless shade for my front door, from Smith + Noble. A few years old. Works great. I'm sure that because what you're looking at are natural fibers, that colors might not be exactly what you're seeing in the catalog or online, so see if you can get samples.
---
| | | |
| --- | --- | --- |
| RE: Do you have cordless shades? | | |
Mustangs, I like the sound of that! Do you remember who made them?

Pammy, I got my samples today. That's why I posted. ;) And great to hear yours is from S+N!
---
| | | |
| --- | --- | --- |
| RE: Do you have cordless shades? | | |
Natal, I get them from JCPenney; I think they were Levolor.
---
| | | |
| --- | --- | --- |
| RE: Do you have cordless shades? | | |
I have two windows in my front room that meet at the corner. Each window is 96" wide so I had to get two cordless blinds for each window. I purchased them from Bali and they were guaranteed for life. One of them broke, so I called them and they sent me out a new set. Subsequently, one of them broke on the other side so they sent me out another set. They told me they had trouble with the mechanism and had redesigned it. No trouble after that. These blinds were the honeycomb type.
---
| | | |
| --- | --- | --- |
| RE: Do you have cordless shades? | | |
I just responded to another thread about these. I have S&N cordless honeycomb shades in my kitchen, on 5 windows that surround a window seat. They are up 90% of the time because we really don't need them for privacy, so we might lower them for glare or when we go away on vacation. They are a huge PITA to put back up after we pull them down! Every time I have to put them up, I'm cursing the whole time. It just takes forever. You have to pull the shade down a bit, then push back up quickly, and it goes up maybe 2-3". Then again. Then again. It takes forever to get one blind up. Then on to the next one. And so on. Maybe the natural woven shades work better, but I would never get the ones I have again. Should have listed this under that "Wish I'd never done..." thread!
---
| | | |
| --- | --- | --- |
| RE: Do you have cordless shades? | | |
I have cordless honeycomb shades from Next Day Blinds. The one thing I don't like is that they can be tricky to get all the way up if they get "out of straight" on the way up. Then you have to jiggle and fool with them to get them up. I still think they beat the heck out of having cords hanging around though.

Totally Confused
---
| | | |
| --- | --- | --- |
| RE: Do you have cordless shades? | | |
I have a cordless Levelor, but it is a white faux wood one. It's in the guest bedroom, so it doesn't get used much. It works really easily, though. There's a button on the bottom wooden piece. You push the button to raise the blind. To lower it, you just pull down on the bottom wooden piece (don't use the button to lower).

I got it at Lowes on clearance for $10! It was one of those Custom Cut Now ones, and I guess it got cut to the wrong width. Fortunately, it was longer than I needed, so they were able to cut it again to the width I needed.
---
| | | |
| --- | --- | --- |
| RE: Do you have cordless shades? | | |
Guess I need to shop locally first and get a feel for how these operate. I appreciate your comments!
---
| | | |
| --- | --- | --- |
| RE: Do you have cordless shades? | | |
I have cordless pleated shades from JC Penny in one room, three windows. Not custom, just pre-made. Two of the shades work wonderfully all the time. The third one--about twice a year it doesn't want to go up when I open it in the morning. Then I have to lower it all the way and slowly raise it. Then it works fine for several months. No idea what the problem is.

My brother has top down/bottom up cordless shades in his house. Not sure of the brand but he bought them at Home Depot. They are working perfectly after 4 years. He mostly uses the top down option, because his house sits very close to the street and he needs the privacy even during the day.

One thing to consider. If you are going to be raising and lowering the shades daily, it's tough to reach them if you have large pieces of furniture in front of the windows. I have corded blinds in my living room, because the couch and a table are in front of the windows and I would not be able to reach high enough over the couch to get the blinds all the way up if they were cordless.
---
| | | |
| --- | --- | --- |
| RE: Do you have cordless shades? | | |
We bought out Levolor cordless woven woods from stardecorating.com.

Their customer service is great, as is the service from Levolor. DH ruined some of them when he took them out of the box. What he thought was packing material was actually part of the cordless feature. Levolor fixed them (free) and even paid for postage.

We've had them for two years and they work great. Karezz bought the same ones and said they were priced $150 less than the price she got from JCPenny.

I did a search and couldn't find the post where we were talking abut these.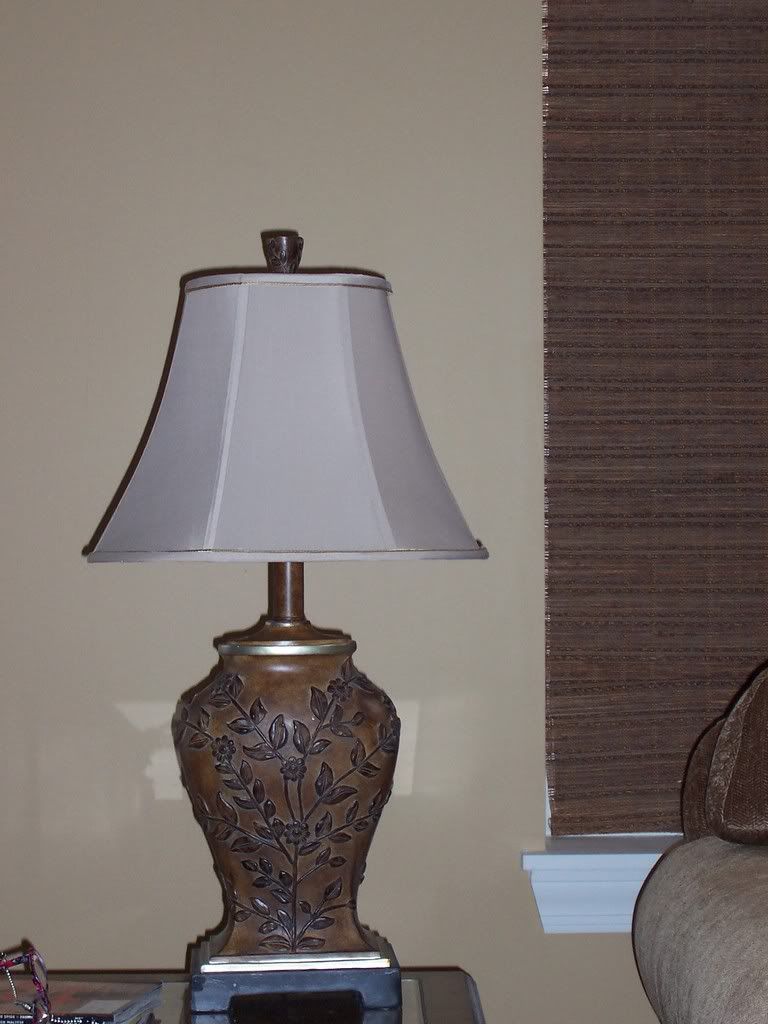 ---
| | | |
| --- | --- | --- |
| RE: Do you have cordless shades? | | |
I purchased three triple-cellular cordless shades by Bali from JC Penney last May. They were all custom-sized to fit our bay window. The two narrower shades are a breeze to operate: just one finger to push it up or pull it down. The huge shade in the middle is not that easy (especially since a sofa is in front of it!): You have to use two hands to push it up, and I always push it up crooked. The caveat about these cordless: buried in the instructions, it says that you should raise them all the way to the top and stretch them closed everyday to keep the inner spring mechanism working. I've noticed if we don't open the big shade all the way to the top each day, it's very hard and time-consuming to push it up...like the spring has no tension. Overall, besides the furniture placement tip and moving it daily, they are nicer to look at than my previous shades with cords.
---
Post a Follow-Up
Please Note: Only registered members are able to post messages to this forum.
If you are a member, please log in.
If you aren't yet a member, join now!
---
Return to the Home Decorating Forum
Information about Posting
You must be logged in to post a message. Once you are logged in, a posting window will appear at the bottom of the messages. If you are not a member, please register for an account.
Please review our Rules of Play before posting.
Posting is a two-step process. Once you have composed your message, you will be taken to the preview page. You will then have a chance to review your post, make changes and upload photos.
After posting your message, you may need to refresh the forum page in order to see it.
Before posting copyrighted material, please read about Copyright and Fair Use.
We have a strict no-advertising policy!
If you would like to practice posting or uploading photos, please visit our Test forum.
If you need assistance, please Contact Us and we will be happy to help.

Learn more about in-text links on this page here