Return to the Home Decorating & Design Forum
|
Post a Follow-Up
---
| | | |
| --- | --- | --- |
| Console table between sofa and wall? | | |
Posted by
valinsv
(
My Page
) on
Mon, Feb 11, 13 at 19:32
Due to the space/flow of my LR, I would like to place my sofa about 18" away from the wall and am thinking of putting a console/sofa table behind it. However, I've only seen sofa tables where the table is floating in a larger room.

Does anyone else have the situation where a room is too large to put all furniture against the walls, but not so large to float it and have walking space behind it? Is there some rule about when and how much to float furniture in a room?

If anyone has any pictures I'd love to see them.

I am envisioning a simple console table since it won't really be seen, but placing some decorative items on top, perhaps a lamp. Here is the wall that I am working on with sofa pulled out. I know the painting is too small, off center; want to decide on the console table before I decide what to do with the wall behind it. As no one plays the piano anymore, we are thinking about selling it on Craigslist.
And rest of the room:
Here is a link that might be useful: Console table on Craigslist
---
Follow-Up Postings:
| | | |
| --- | --- | --- |
| RE: Console table between sofa and wall? | | |
Years ago I had what I called a sofa table behind the sofa, and had it pushed up against the wall as it was only needed as a place for a lamp. and there would be no reason to get behind it. With that in mind, I see no reason not to.

Very pretty room, but feel the sofa wall should also be the soft blue wall color.
---
| | | |
| --- | --- | --- |
| RE: Console table between sofa and wall? | | |
That is a beautiful room and I agree the console table should work well there.
I love your chairs.
---
| | | |
| --- | --- | --- |
| RE: Console table between sofa and wall? | | |
Here is a link that might be useful: Console
---
| | | |
| --- | --- | --- |
| RE: Console table between sofa and wall? | | |
What if you flipped the sofa and chairs/table and put the console between the window and the sofa and floated it just a bit away from the window?

I think doing it on the side with the piano will "submerge" the piano behind it.
---
| | | |
| --- | --- | --- |
| RE: Console table between sofa and wall? | | |
I like pal's idea to flip the sofa and the chairs/table. I think it will make more sense to have a sofa table behind the sofa if it is in front of the window and the blue chairs will look nice in front of the non-blue wall.
---
| | | |
| --- | --- | --- |
| RE: Console table between sofa and wall? | | |
I did that.....I wouldn't have minded finding something longer, but was felt I could only have a certain depth......it is a lovely sofa table, but is rather invisible......depending on what you want to put on it, there are many options available.

here is a larger view of the room so you can see that it holds candles and ceramic pieces.... and a slightly closer pix from Christmas - you can see how high it is to the back of the couch.....
---
| | | |
| --- | --- | --- |
| RE: Console table between sofa and wall? | | |
golden - I have the exact same fabric you have on your sofas, in our family room on our ottoman!
---
| | | |
| --- | --- | --- |
| RE: Console table between sofa and wall? | | |
I had a long (8 foot) console table made to go between our sofa and windows. I wanted it to run the entire length of the sectional. (It's actually reclaimed wood from an 1870's Chicago building) But I also wanted it narrow, since my room is not very wide.

I tried a smaller table (5 foot) and it just got lost.
I have a bench behind the sofa (in the foreground of the photo) and that should probably be longer as well. But for now it will stay that way.
---
| | | |
| --- | --- | --- |
| RE: Console table between sofa and wall? | | |
Thanks everyone for all of the suggestions and pictures! lv_r_golden and Janice742 you both have lovely rooms and examples. I used to have it like pal had suggested minus the console table, but had rearranged it over Christmas to fit in our Christmas tree and felt like I needed a change after the holidays were over. I think what has been the biggest challenge is where to put the piano. Perhaps I should try to sell that first and then work with the remaining space as that would allow more room to accomodate the chairs opposite. That long wall opposite the sofa has always been a challenge for me; esp. if I pull the furniture out.

Here is what it looked like before:
---
| | | |
| --- | --- | --- |
| RE: Console table between sofa and wall? | | |
I've had consoles behind sofas against a wall and (to me) they looked fine and functioned well.

Janice, your console is fabulous.
---
| | | |
| --- | --- | --- |
| RE: Console table between sofa and wall? | | |
The more I look at these pictures, I think it worked better the way it was before; esp. with the wall and sofa color. I think I will switch it back; in which case, should I still put a sofa table behind the sofa? Still need to work on the opposite side. I like the chairs better when they are opposite the sofa and not to the side as in picture above. If I were to get rid of the piano, I feel like I would need another piece of furniture there behind the chairs.
---
| | | |
| --- | --- | --- |
| RE: Console table between sofa and wall? | | |
I agree with you - it does look better the other way.

Why not just pull the sofa out from the wall -- at least that way you can visually see what it would look like as far as the sofa placement. The coffee table (which I love, by the way) will move as well.

As far as a piece next to replace the piano: I think you can go with some art - maybe four botanicals (I couldn't find a good example...)
Or a secretary desk: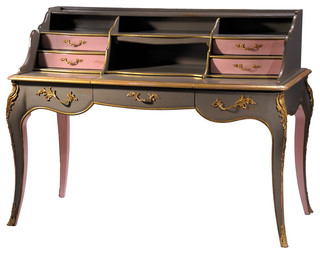 Here is a nice room - while not exactly the same layout as yours, it shows a console behind two chairs, a secretary in the room and a pair of solid chairs:

Where do you have that curio cabinet now? (the one in your second photo) Is it an actual corner piece?
---
| | | |
| --- | --- | --- |
| RE: Console table between sofa and wall? | | |
I like your "before" with the couch in front of the windows.

re: the piano, I don't think you need to fill in the space with more furniture. I think you should move the chairs down so that they are directly across from the couch instead of angled with the fireplace. Keep the table between them, but that will move down as well because right now, it's blocking the view of the wallclock and looking a little cluttered in that corner.
---
| | | |
| --- | --- | --- |
| RE: Console table between sofa and wall? | | |
Your room is a really nice space. I love the colors - and quite frankly, the more that I look at it, the more I think you may not need a console at all.

Do you only want it because you want to move the couch out from the wall? Your couch will look fine out from the wall without the console table.

I'm not sure if choclot's recommendation makes sense, because it appears that the chairs are already placed across from the couch (based on the edge lines of the rug)

Crazy thought, but what if you moved the couch in about 3 feet - so the edge of the sofa was in line with the right edge of your mantle. The coffee table would then be centered in the room. Then, move the piano directly behind the couch, against the wall, centered off the couch. A large mirror placed above the piano would reflect the light from your window. You might need to move the chairs back a smidge. Worth a try....

But to tell you the truth, if you decide not to sell the piano, it works right where it is - even by moving the couch forward and NOT adding a sofa table.

It's amazing what moving furniture around can do to a room.

Not the best example, but accessorizing the piano differently, (maybe two lamps as shown below) could also work.

---
| | | |
| --- | --- | --- |
| RE: Console table between sofa and wall? | | |
I agree that the coffee table should be centered in the room, but to make the room more symmetrical, why not have the sofa facing the fireplace (with plenty of room for a sofa table behind it then) and then it can be flanked by the two lounge chairs/fauteuils. Since the room appears formal (especially with the rug), it begs to be more symmetrical. This would force you to do something more with the wall opposite the windows, but perhaps you have some art you can hang there. Or you could put the console table on that wall with a mirror above it, unless that would create too much glare from the window.

Lars
This post was edited by publickman on Tue, Feb 12, 13 at 13:29
---
| | | |
| --- | --- | --- |
| RE: Console table between sofa and wall? | | |
Janice: Yes, I was thinking that I needed something behind the couch if I pull it out about 18" from the wall; but when it's on the window side, I never felt the need for it since the window goes down quite low. I'd rather not add any more furniture here unless it serves some purpose as my house is not that big, and come Christmas time, I need to accomodate the Christmas tree in the room; as well as guests, etc.

Lars: I've arranged it that way before and, if fact that is how I did it over Christmas with the tree centered in front of the window and couch opposite the FP. While it does look nice and symmetrical when you are in the room, the couch sort of blocks the entrance and so I find the room gets seldom used so the rest of the year I prefer to flank the furniture around the FP, but leave the entrance open to invite people to enter and sit.

I will swap the couch and chairs this evening and then take some pics and perhaps get some ideas how to accessorize the wall opposite the window. I live in a suburban area and the front window faces the street, hence I am not too keen about putting a large mirror there as there is nothing that pretty to see reflected.
---
| | | |
| --- | --- | --- |
| RE: Console table between sofa and wall? | | |
I don't know about you, but it's hard to move heavy furniture around :) You're smart to try to think it through, and throw ideas out. I like the blue chairs on the golden wall, and I'd put them in front of the sofa, not angled. Then maybe the piano left where it is now, will fill that empty spot you were talking about. Also, I think a tall secretary would look nice in that back corner. I love your blue on the wall, what's it called?
---
| | | |
| --- | --- | --- |
| RE: Console table between sofa and wall? | | |
We purchased a few sets of those "furniture movers" -- different sizes for different pieces. You should see what I can move. There have been days when my husband returns home from work and the entire home is re-arragned. I think he is happier about those little things than I am.
;-)
Here is a link that might be useful: furniture movers/sliders
---
| | | |
| --- | --- | --- |
| RE: Console table between sofa and wall? | | |
Janice - tell me more! Will they scratch wood floors if used under sofaa or armoires? Thanks!
---
| | | |
| --- | --- | --- |
| RE: Console table between sofa and wall? | | |
Janice: I've seen those before at BB&B. So do you just put them on to move the piece and then take them off? Hmm..... my sofa is super heavy. I already have some pads on the piano so that's not so bad to slide.

Lake_Girl: I think that's what I plan to do. I already have that corner cabinet there so will probably leave it that way until we decide to sell the piano,
---
| | | |
| --- | --- | --- |
| RE: Console table between sofa and wall? | | |
We have hardwood flooring throughout out home. I used the movers to move a HUGE hutch from our office to our living room. For that particular piece, I did notice a little light "scuffing" in one area - which only I can see, when I tilt my head at just the right angle. While I'm not happy about this - I'm the only one who notices.

They have different sizes of movers - ranging from 3 to 6 inch diameter. We have 3 different sizes.

Been using these for years - on both rug and hardwood surfaces.

We swear by them.
---
| | | |
| --- | --- | --- |
| RE: Console table between sofa and wall? | | |
I finally got around to moving the furniture back, edited/rearranged some of the decor and here's what I have so far:
I still think this wall needs some work so I've not moved the wall hook for the painting until I decide which painting to hang and where:
I'm trying to find a spot in my house to hang my grandma's plates. Does anyone think they could work in this room in some sort of arrangement, either grouped together or in combination with another piece. My gut feel is this is too busy, but am open to suggestions.
I think I should have a lighter background in the corner cabinet. I could paint or do contact/wallpaper on some cardboard cutout as would not like to alter the original piece. What do you think?
---
| | | |
| --- | --- | --- |
| RE: Console table between sofa and wall? | | |
Love, love the blue color. Do you know the name? Would you consider painting the whole room the blue color, just a thought.
---
Post a Follow-Up
Please Note: Only registered members are able to post messages to this forum.
If you are a member, please log in.
If you aren't yet a member, join now!
---
Return to the Home Decorating & Design Forum
Information about Posting
You must be logged in to post a message. Once you are logged in, a posting window will appear at the bottom of the messages. If you are not a member, please register for an account.
Please review our Rules of Play before posting.
Posting is a two-step process. Once you have composed your message, you will be taken to the preview page. You will then have a chance to review your post, make changes and upload photos.
After posting your message, you may need to refresh the forum page in order to see it.
Before posting copyrighted material, please read about Copyright and Fair Use.
We have a strict no-advertising policy!
If you would like to practice posting or uploading photos, please visit our Test forum.
If you need assistance, please Contact Us and we will be happy to help.

Learn more about in-text links on this page here