Return to the Home Decorating & Design Forum
|
Post a Follow-Up
---
| | | |
| --- | --- | --- |
| help me lay out all these elements! | | |
Posted by
maggiepie11
(
My Page
) on
Wed, Feb 19, 14 at 19:29
hi everyone,

some of you may know we're building a house and i'm planning to have several rooms completely designed/decorated as we move in. i've been refinishing furniture and doing various projects for the past year in preparation. one of the rooms i'd like to complete upon move-in is my son's bedroom. he'll be close to turning 4 by the time we move in. *sigh* 4 sounds SOOO much older than 3. :(

he's a very serious, contemplative and sensitive little boy. he's also tidy and likes things orderly. his bedroom is pretty large for a kids room. it's just under 14x16, but there's one wall that's completely useless in terms of furniture placement due to a big double door closet opening, and his private bath entrance. there's another half wall taken up by a 6' wide window.

i've got lots of elements complete, and am thinking about art for his walls but need to figure out which walls i'm working with depending on where i put the bed etc.

i've also been experimenting with ideas for art, and while i think i found the perfect fit - in terms of subject matter, color, relevance to the rest of the room - but for whatever reason i'm not loving it.

ok, so here's what we're working with.

floor plan:

and here's what i'm thinking of doing with the furniture layout both in plan form and 3D (they're sort of the opposite view of the floor plan - sorry!):

that's a trunk for toy storage at the foot of the bed.
the walls are going to be SW Naval, all the trim is white. Carpet is greige.
His bedding is navy and white rugby stripe, very tall white headboard, black dresser (leftover from what he has now), and MCM style nightstands done in a white frame a dark walnut stained drawers. i reupholstered his chair already and the full length drapes are also already made in the kelly green pattern shown below.
this is similar to the final look with the nightstands except the ones i'm working on have all drawers and no open shelves.
and here is a pic of the actual room with walls and trim - no carpet or paint yet. this is from the entry to the room looking at the corner completely taken up by windows/doors. it only looks dark because there are 2 layers of blue plastic on the windows for protection from all the trades working in the house.
and i was thinking for art, i would try out a photo transfer project i'd pinned on pinterest eons ago. i'm thinking 4 large squares, each painted a different accent color from the room (yellow, green, white, gray). on each one i'd do a black and white stylized photo transfer of subjects he likes - a fire engine, a train, a bulldozer, and a police car. it's bold and fun but for whatever reason i'm bored with it already. maybe because the idea came together too easily?
they would look something like this and i was thinking 2'x2' for each square so it'd be just over 4' wide and tall. he has 10' ceilings.

so here are my questions...
1) what do you think of the furniture layout?
2) if i go with this furniture layout, where would you put a large art grouping? over the dresser seems like an obvious place, but i like the idea of having the art visible in the same sight line as the chair from outside his room. not a deal breaker, but wanted to get some others' thoughts. i also thought about splitting it on the corner - two above the chair and two on the adjacent wall by the chair.
3) what do you think of the art?
4) other ideas for art?
5) i was also thinking of running a penant/bunting across his headboard with something sweet, or maybe the first line of his bedtime prayer... to bring a little color to his all blue/white wall.
please share your wisdom and get me back on track - i was doing so well on his room and feel like i've hit a creative block! feel free to comment on any or all of my "issues" :)
thanks for your help as always!
---
Follow-Up Postings:
| | | |
| --- | --- | --- |
| RE: help me lay out all these elements! | | |
I love everything you've chosen for the room. Really fun, but different from what one might think of for a four-year-old's room.

For furniture arrangement, though, I'd put the bed to the left of the window with only one bedside table. Leave the center of the room open so he has room to play.

I'd put the artwork - which is GREAT, btw - in one straight, vertical line on the wall between the bathroom door and the closet door. The reason I'd do that is because it'd be very noticeable there from most angles of the room, and you can't put a piece of furniture up against that wall because it makes moving from the bathroom to closet awkward.

Bureau on the wall where the bed is now, and the chair pulled out a bit from the wall at an angle, back to the corner of that wall and the closet door wall. Put the second bedside table next to the chair.

Those bedside tables are fantastic. Are they something you redid?
---
| | | |
| --- | --- | --- |
| RE: help me lay out all these elements! | | |
How exciting!

I would place the bed with the head on the wall next to the window. Or with the head on the other wall, with the bed foot ending at the window. Where it is currently, the person in the bed can't see the door, which I always find a bit unsettling. And the sun would be right in your face which I also don't tend to like.

When I read your post about the wall art, I immediately thought no. Why? Because you can specify doorways and furnace capacity and ceiling heights. But art? It has to have that emotional zing. And from your post it seems like you tried to specify it. "It should be in the bold colors to tie the existing elements together, have a not baby but not too old of a theme, and be something one would find in a boy's room." That makes it ~fine~, but not art. And since art is one of those things that make a space memorable, I think it is something not to rush. Honestly I would prefer a cork board and your son's art and craft projects over "filler" art.

Don't stress about the size of the room to think you need really large art on the walls. The secret to a space having pleasing proportions can be most simply done by placing wall art at the eye level of the viewer, regardless of the actual ceiling height. Think of art museums. Often they have 20 foot ceilings, but the art is at the eye level of the viewer, not 10 feet up.
---
| | | |
| --- | --- | --- |
| RE: help me lay out all these elements! | | |
all great feedback tibbrix, thank you so much! he's a very special little boy and i want him to have a special room! :)

i'm glad you like the art.

and julie, that's a really good point about the size of the art and a more organic approach. the thing that's bothering me is 2.5 LARGE walls of nothing but navy blue. same thing with tibbrix's suggested layout.

as for "specifying" the art - the specifying is me just trying to talk myself into it maybe. i think the art itself was a fairly organic idea, and after i fine tuned it i had a finished product that should be perfect. like if i walked into home goods and saw those 4 pieces sitting there waiting for me i'd probably get whiplash from racing to put them in my cart and growl at anyone who even considered coming down the same aisle until i had them safely in my possession. haha but because it was my idea i'm second guessing.

the nightstands are a work in progress. they were in disastrous shape, but i got the pair for $75. everything else that's MCM is $500 and up around here on CL, so i had to snag them. they're nearly done - just another coat or two of white lacquer and some poly on the drawers.

so tibbrix i think this is the layout you were suggesting? i put the trunk under the art since you suggested keeping the middle of the room more open and the trunk would prevent that. also, it's a little tight for one of the nightstands by the chair and dresser to still allow the closet door to fully open so i left both with the bed.

i'm not majorly into feng shui but having the foot of the bed pointing out the door is a big no no in feng shui and that one kind of stuck with me. the sunlight will always be indirect - i should have mentioned that!
---
| | | |
| --- | --- | --- |
| RE: help me lay out all these elements! | | |
I see your border collie (looks like or Sheltie). Does he like animals? art.com has some great animal prints and gorgeous collie and sheltie prints.
Does he like Lego's? Our 5-year-old grandson has far surpassed his age group (and my disposable cash). I only tell you this so you don't get trapped into toddler art which he will outgrow very soon. Google Lego art.

Does he like those little puzzles like we used to put together of the USA? If so, what about maps? Oopsy Daisy has lots of Kids Room Decor with maps and puzzles, etc.

Try not to trap yourself at the age of a 3-4 year-old toddler as he will outgrow that so quickly. Get something a child can still like in 2-3 years.

I don't think Legos or animals either is age-specific. As previously stated, our 5YO grandson has outgrown the Legos for his age. He is now doing Legos for 16-18 YOs. Get things he can grow with.

One of my grandsons likes Thomas the Tank Engine, so we did a track around his room and purchased trains from the 50s to go around the perimeter of the room.

Find out what he likes and try to make it something that will work through time.
---
| | | |
| --- | --- | --- |
| RE: help me lay out all these elements! | | |
Yes, that's the layout. I had forgotten about the toy box! I agree with you about beds being right in front of an open door, and I think they should be on the opposite wall or far wall, but unfortunately, in your son's room, those two walls are taken up with the window and the doors!

I also think the twin bed should have only one side table. Two is awkward, since a twin bed is for one person and that extra table just takes up room.

Maybe try turning the bed so the head is against the wall to the left of the entrance door ad the foot is in front of the window. Juliekcmo also suggested this. She and I seem to have the same idea of the bed being in that corner, somehow. If you turn the bed that way, the toy box can go at the foot of the bed. I think where it is in the diagram is awkward. How about under the window, or is that a safety issue? Don't want him climbing up and falling out the window. Or with the bed turned, put the toy box along the wall the headboard would be on, next to the side table.

Is the floor lamp something you bought specifically for that room? Can you move that out so the side table can fit next to that chair with a lamp on it?
---
| | | |
| --- | --- | --- |
| RE: help me lay out all these elements! | | |
Btw, don't worry too much about artwork. For one thing, keep perspective: he's four! And allow yourself some leeway to stumble upon things you love as time goes on and want to add to his room, including his own artwork! Why not hang a big chalkboard somewhere, or even paint chalkboard in a section of wall, where he can draw pictures?
---
| | | |
| --- | --- | --- |
| RE: help me lay out all these elements! | | |
I would use just a single side table and put the long side of the bed against a wall, ideally with some part of it (I guess it would be just the foot of it) with a view out the window. I say this not as a design observation but more as a functionality/4-year old preference kind of thing. My son, who is now 6, has tons of stuffed animals and the bed needs to have a side against a wall, or they'd all fall off. He also loved being able to open his own shades in the morning and look outside (he is over the novelty of that now, but did enjoy it for awhile). It sounds like you have a very special little boy for whom you are working to make a very special room, and part of that can be how he will use it, not just how it will look. (On that point, also agree re play space in the middle of the floor.)

For art, I would not make any significant investment of money or time -- his tastes will change so substantially over the next couple of years as he learns the word "cool" and morphs from toddler into kid. I went with sports ball decals from ages 3-5 for that reason. Now we have a large map decal and one framed Beatles poster, which he chose and I can always hang elsewhere in the house if he turns into a Rolling Stones guy instead as he gets older :-)

Good luck -- it will be a terrific space!
---
| | | |
| --- | --- | --- |
| RE: help me lay out all these elements! | | |
patricia, that's our australian shepherd, and sadly my son just barely tolerates him. he isn't an animal lover, yet, though i'm still holding out hope. :)

i know what you mean about not getting trapped by toddler art, but i think anything that he'll like now, he probably won't like in 5-10 years, and that's ok because if i make it myself, the project i posted above would cost me about $25 for all 4 pieces, so when he's outgrown it, there's no harm done.

i actually love the idea of a chalkboard wall, but my other little one won't know the difference between a dark chalkboard paint and the rest of the navy walls, or any walls in our house for that matter. :) maybe that's something we can graduate to when little sis is a little bit older? maybe i'll reserve the small patch of wall between the closet and the bathroom for that!

ok, so here's the other layout.

and i didn't purchase the floor lamp for his room, but it's a perfect fit - it's chrome balls, and it matches his chandelier which i forgot to mention.

here's a similar floor lamp except with a white shade:

and here's his chandelier: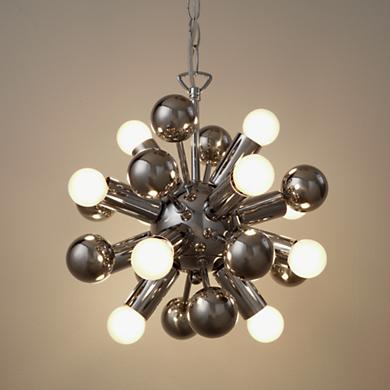 so let's just pretend i'll have some sort of big artwork, whether that's what i've shown above or something else inspires me. :) do you like it on the window wall? or above the dresser? i've shown it on the window wall here. and it's all just placeholder stuff obviously - that placeholder art is a bit busy but hopefully we get the idea.
ooh, just saw another response come in about pushing the bed against the wall. that's a good point - he does love his stuffies. but i've got this matching pair of tables. argh, what to do! they won't go anywhere else in the house - this room is a bit of a departure from the rest of the house. haha
oh, and can't put the chest in front of the window as it would sort of block the bathroom access, but i'm loving all these ideas! exactly what i need to get the juices flowing again. lol
---
| | | |
| --- | --- | --- |
| RE: help me lay out all these elements! | | |
I like that last arrangement a lot!
---
| | | |
| --- | --- | --- |
| RE: help me lay out all these elements! | | |
I didn't read everything, but the beauty of a child's room is that you can place a bed against the wall and have only one night stand. The middle of the room should be for play, not for the bed as it would be in adults' rooms.
---
| | | |
| --- | --- | --- |
| RE: help me lay out all these elements! | | |
I like this last layout the best. What a great room for your son.
---
| | | |
| --- | --- | --- |
| RE: help me lay out all these elements! | | |
That's a nice layout. I really would, though, push the bed up against the wall and have only one bedside table.

I'd also be a little nervous about a floor lamp in a very young child's room, i.e.: pulling it over on himself (or little sis). I would hold off on that until he's a little older. I really would put the second bedside table next to the chair and put a lamp on it (and use museum wax to adhere the lamp to the table so it too can't be pulled off and on top of a kid).

Good idea, making that wall between the bathroom and closet doors into a chalkboard. They'd be using chalk, so it'd come off anything even if it did get on a wall!
---
| | | |
| --- | --- | --- |
| RE: help me lay out all these elements! | | |
| | | |
| --- | --- | --- |
| RE: help me lay out all these elements! | | |
ok i get it, i get it. 1 nightstand. gosh, i thought it might be nice to have a place to set my martini down while i read a bedtime story, but nooooooooooooooo!

kidding - i don't even drink. total. wet. blanket.

anyway, i checked the dimensions on the chair and it really doesn't fit in the corner if we want him to use his closet, which we do. :) so i moved it towards the door on the same wall.

i'm liking how open the middle of the room feels and the nice easy path to the bathroom, and it makes sense to have the dresser next to the closet.

great job everyone. i happened to be perusing joss & main for my daily dose today and my little guy walked in as i was scrolling through and he said "mama, those are pretty bubbles!"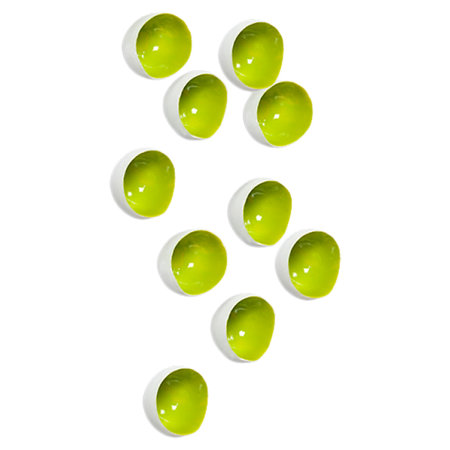 perhaps i don't need to stick to toddler art. :)
---
| | | |
| --- | --- | --- |
| RE: help me lay out all these elements! | | |
The kid holds the martini while you're getting ready to read him the book!

Sheesh! You don't know that?
---
| | | |
| --- | --- | --- |
| RE: help me lay out all these elements! | | |
oops, and i was too busy being silly that i forgot to upload the new plan you all collectively assembled. :)

another angle because i put art above the dresser and it was very distracting to try to view through it.
---
| | | |
| --- | --- | --- |
| RE: help me lay out all these elements! | | |
When my kids were young, they each got a large corkboard to decorate as they wanted. Now I would use a magnetized white board. You need to leave plenty of room for your son's imagination.
---
| | | |
| --- | --- | --- |
| RE: help me lay out all these elements! | | |
It is wonderful, and a perfect set up for a little boy.
---
| | | |
| --- | --- | --- |
| RE: help me lay out all these elements! | | |
And now for your ceiling art…how about Ernest the Bear, riding from one end of the room to the other? My parents have Ernest in their living room, which is in an authentic Brownstone with authentic oriental rugs…lol…and there's Ernest, hovering above. Very popular. You can add a string at one end for your son to pull to make Ernest ride his bike across the room. When he lets go, Ernest will ride backward to the other bend. Just set it up right.
---
| | | |
| --- | --- | --- |
| RE: help me lay out all these elements! | | |
If he like being orderly ... give him ways to stay in the habit of being orderly. I would use the closet wall for bookcases or shelves for his toys.

I like the bed placed on the inner wall so he can see out the window and say "Goodnight moon".

He's old enough to tell you what he wants - at 3 my oldest nephew told us he wanted a "toy store" in his room. What he meant was low shelves so he could set his toys up like a store. So we lined one wall with bookcases and he was not only happy, but a lot tidier.
---
| | | |
| --- | --- | --- |
| RE: help me lay out all these elements! | | |
Another suggestion/idea: My son is 6 and we have now only just begun to use his closet for actual clothes storage. And even now we only have shirts hanging on the closet rod bar. Everything below that is toy storage. Shelves and bins and boxes oh my! It's great.

I would also make a spot on one of the walls for book storage. Something as simple as these:


Double curtain rod with fabric book holder

spice rack bookcase
---
| | | |
| --- | --- | --- |
| RE: help me lay out all these elements! | | |
Also, we had floor lamps in our old house (had to as there were no overhead lights - old home) and we used very small chain wrapped around the lamp near the top and hooked into the wall with a screw hook. Very unobtrusive and no chance he could pull the lamp down. Also easy to unhook and move for cleaning.
Strong fishing wire would also work and be less visible.
---
| | | |
| --- | --- | --- |
| RE: help me lay out all these elements! | | |
Geokid, LOVE the spice rack bookshelves. What a great idea. They would be great on that wall between the closet and bathroom in this room.
---
| | | |
| --- | --- | --- |
| RE: help me lay out all these elements! | | |
really cute stuff! so i originally thought it would be nice to be positioned to look out the window at night and in the morning too, but then everyone was adament about pushing the bed against the wall.

i think lazygardens is right - i'll just let him decide. thing is, he can't conceptualize so i'll have to wait until we move in which isn't the end of the world.

also, quick update... i finished the nightstands last night!! little mini reveal??

BEFORE:

and VOILA!
i'm not claiming to be original here so no need to pick apart my work for those of you bored to tears by the lack of originality on this forum and on houzz. :)
---
| | | |
| --- | --- | --- |
| RE: help me lay out all these elements! | | |
I LOVE those nightstands!
---
| | | |
| --- | --- | --- |
| RE: help me lay out all these elements! | | |
There is no reason he can't sleep with the bed against the wall and his head at the window end of the bed.
---
| | | |
| --- | --- | --- |
| RE: help me lay out all these elements! | | |
Love the side tables. Great job!

As for lying in bed and looking out the window.....that's not going to happen for years. Young kids don't stay in bed of their own accord. At least mine don't anyway!
When he's older and will read in bed and spend more time in his room on his bed, you will probably have the room arranged with the side tables on either side of the bed. When he's older he won't need as much floor space for play so he can have a more grown-up layout.
---
| | | |
| --- | --- | --- |
| RE: help me lay out all these elements! | | |
Just wanted to suggest that it might not be the best idea to put the bed against the wall. He might want to jump out on that side for a quick trip to his bathroom. Also, it is really hard to make the bed & change the sheets if the bed is against the wall. The room is plenty big enough for lots of play space. I really liked that next-to-last floor plan you posted.
This post was edited by heather480 on Fri, Feb 21, 14 at 21:21
---
| | | |
| --- | --- | --- |
| RE: help me lay out all these elements! | | |
Those night stands turned out great!!

I love your photo transfer art idea.
One possibility would be to wrap each picture around an artist's stretched canvas. They are very lightweight & inexpensive.
Then you could mount them to the wall using command strips (velcro type).
As he grows older, you could easily replace (re-wrap) with any other subject or design.
Here is a link that might be useful: Lightweight Art Canvas
---
Post a Follow-Up
Please Note: Only registered members are able to post messages to this forum.
If you are a member, please log in.
If you aren't yet a member, join now!
---
Return to the Home Decorating & Design Forum
Information about Posting
You must be logged in to post a message. Once you are logged in, a posting window will appear at the bottom of the messages. If you are not a member, please register for an account.
Please review our Rules of Play before posting.
Posting is a two-step process. Once you have composed your message, you will be taken to the preview page. You will then have a chance to review your post, make changes and upload photos.
After posting your message, you may need to refresh the forum page in order to see it.
Before posting copyrighted material, please read about Copyright and Fair Use.
We have a strict no-advertising policy!
If you would like to practice posting or uploading photos, please visit our Test forum.
If you need assistance, please Contact Us and we will be happy to help.

Learn more about in-text links on this page here