Return to the Home Decorating & Design Forum
|
Post a Follow-Up
---
| | | |
| --- | --- | --- |
| Need paint advice around built in | | |
Posted by
ncdel
(
My Page
) on
Thu, Feb 14, 13 at 19:24
This is in our basement. I was not really told that the bulkhead would result in the shelving unit ending so far from the corner of the wall & I'm not too thrilled about. I have put a link to my inspiration photo for the shelving area, and in looking at it, they painted the whole corner white instead of the yellow wall color. However, now that it is done I think it looks odd. As well, they painted the perpendicular wall on the other side white, which they will paint over if I ask them to, but I'm sort of undecided on the whole thing. UGH!
(These pictures make me cringe at the textured ceiling too... I have lived in 6 states & this one is hte first one where these textured ceilings appear to be the norm in houses, I don't understand it! When I asked multiple ppl about it they always say it has to do with skilled labor. Why was there skilled labor in every other state I've lived? Anyway. Vent over.)

Thoughts on what to do about the paint?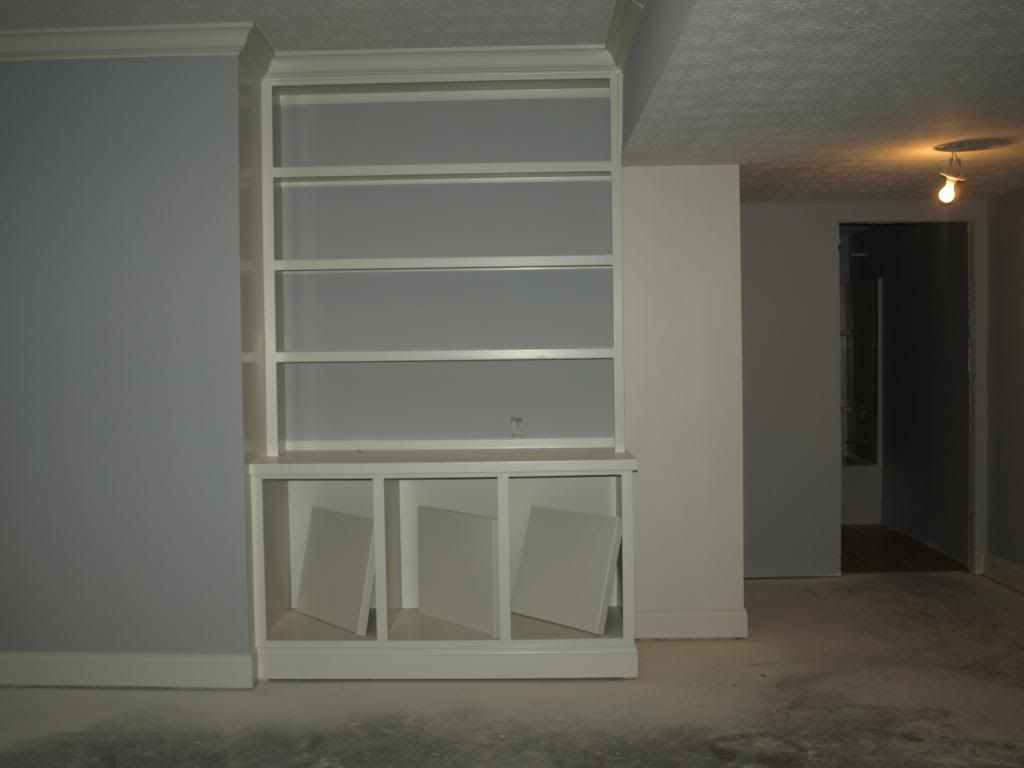 Here is a link that might be useful: houzz playroom
---
Follow-Up Postings:
| | | |
| --- | --- | --- |
| RE: Need paint advice around built in | | |
My first impulse is to paint the rectangle of wall adjacent to the doorway with the blue wall paint but leave everything else as is. It seems a little odd to leave the left bit of wall white, but in a way it makes the whole thing seem like a unit (since it provides a white "edge" and the outer edge of the shelving unit provides a white "edge" on the other side). I am obviously not a professional, though, and will likely change my mind when someone with credentials chimes in!
---
| | | |
| --- | --- | --- |
| RE: Need paint advice around built in | | |
I would do blue. It needs to blend with the wall, not stick out with the built in.
---
| | | |
| --- | --- | --- |
| RE: Need paint advice around built in | | |
Given the spacing on the shelves, can't you just have them continue the built in under the bulkhead to the corner, and it will have only two shelves in that area plus the counter?
---
| | | |
| --- | --- | --- |
| RE: Need paint advice around built in | | |
I asked about extending it and was told that they did not think it would look right around the bulkhead. Not to mention the additional charge for labor and new supplies on top of my already hefty bill ( this is part of a full basement finishing project), I can only imagine what I would get charged.
---
| | | |
| --- | --- | --- |
| RE: Need paint advice around built in | | |
This is a 2 parter: yes to painting the wall to the left of the built-in and yes to Kevin's suggestion to have an angled corner unit built in at least along the bottom. I could go either way with display shelves, although I might use glass in the upper corner. Alternatively, just a base cabinet will allow you to put flat, kinetic or sculptural art on top of or over the base. The base could have two doors to hide the variance in shelving widths.

I feel your frustration as I'm temporarily in a textured state again. When we built in this same area before moving out of state for a few years, we had no problems with specifying smooth ceilings throughout the house, but here for the most part texture is builders' preference so the drywallers don't have to be as careful. I've also seen this in a couple of other states with new builds and McMansions. Ughh!
---
| | | |
| --- | --- | --- |
| RE: Need paint advice around built in | | |
Yes, paint the left wall blue. As for the bookcases themselves, live with it for awhile. If you really don't like it after you've used the space, then have it fixed. But I'm guessing that you won't have a problem finding an odd-sized toy that won't fit in your built-ins and that spot would be a perfect place for it. You could even paint that small section a completely different color and make a gallery of framed kids' artwork.
---
| | | |
| --- | --- | --- |
| RE: Need paint advice around built in | | |
Is the entire room blue? If so, I agree about painting both the left and right wall blue. Am leaning a bit towards painting the built in back wall the same color as the rest of it too. It is a really nice unit.
---
| | | |
| --- | --- | --- |
| RE: Need paint advice around built in | | |
I would say that everything that is wall (including the back of the bookcase) should be blue, and everything that is trim and cabinetry should be white.

The only disadvantage to that is that the change will call attention to the part of the ceiling that is lowered around the bulkhead. And I know how frustrating the texture is for you!

So I would seriously consider painting the ceiling blue, too.

I know it's a pain to paint a textured ceiling, but the advantage of wrapping the whole room in one color is that you minimize the plane changes.

A darker color on the textured surface can also minimize the texture, since there is less contrast in the shadows and highlights created by the bumps and bits. That pretty soft gray-blue should recede a bit, and lift the ceiling visually.
---
| | | |
| --- | --- | --- |
| RE: Need paint advice around built in | | |
Thanks all... extending the unit is not an option, MH will not go for sinking any more $ into this basement project & that will require a total redo. I think I'll do the left wall in blue and keep the corner white- I kind of like the idea of showcasing some kids' art on that corner wall vertically!!!!
Painting the ceiling blue... an interesting idea but I'm not going there :). Glad I'm not alone in the textured ceiling confusion though.
And FWIW that color is called "gray screen" from SW... but it appears really blue in light/flash but when the sun goes down, definitely gray. Funny.
---
| | | |
| --- | --- | --- |
| RE: Need paint advice around built in | | |
Since it's only paint and something you can do yourself, I would just give it a try and paint that right section gray too. Just do one coat to get an idea. If you don't like it, paint it the trim color again. In the first picture when you look at the area head on, you can see how painting that section gray would tie in better with the wall in the background by the doorway.
---
| | | |
| --- | --- | --- |
| RE: Need paint advice around built in | | |
I agree with the consensus here - paint the walls blue - trim white. Your bookcase will really pop when this is done.

Leave the ceiling as is. It's really not that bad. When a room is empty, we are drawn to all the little things that bother us. Enter furniture, carpet, toys etc - you won't even notice it.

And I love the suggestion for the kids artwork. Target has some great frames that you can switch out artwork easily
Here is a link that might be useful: kids art display frame
---
Post a Follow-Up
Please Note: Only registered members are able to post messages to this forum.
If you are a member, please log in.
If you aren't yet a member, join now!
---
Return to the Home Decorating & Design Forum
Information about Posting
You must be logged in to post a message. Once you are logged in, a posting window will appear at the bottom of the messages. If you are not a member, please register for an account.
Please review our Rules of Play before posting.
Posting is a two-step process. Once you have composed your message, you will be taken to the preview page. You will then have a chance to review your post, make changes and upload photos.
After posting your message, you may need to refresh the forum page in order to see it.
Before posting copyrighted material, please read about Copyright and Fair Use.
We have a strict no-advertising policy!
If you would like to practice posting or uploading photos, please visit our Test forum.
If you need assistance, please Contact Us and we will be happy to help.

Learn more about in-text links on this page here