Return to the Home Decorating Forum
|
Post a Follow-Up
---
| | | |
| --- | --- | --- |
| Painting Over (fake wood) Paneling | | |
Posted by
catkin
(
My Page
) on
Sat, Feb 14, 09 at 18:51
Has anyone done this successfully? It's a smooth surface, no fake wood grain. It's a non smoking residence.

It's my hope to lighten and brighten the dark space.

I'm looking for the EASIEST way to do this!
Can I just use a *deglossing* liquid and then prime and paint with acrylic paint?

Obviously, I don't want the paint to peel down the line.

Some have told me I have to wash the entire surface with TSP.

Others have said I need to sand the entire surface.

I'd like to hear from those that have actually done this with great results!

Thanks for replying!
---
Follow-Up Postings:
| | | |
| --- | --- | --- |
| RE: Painting Over (fake wood) Paneling | | |
We did this in our guest room.
No cleaning of the walls, just a coat of a high adhesion primer (Fresh Start) and then a coat of apple green.
Here are the before and after photos, the walls look quite yellow in the after photo, but they are green.

Before (previous owners stuff):
After (pardon the mess, the rad is gone now):
---
| | | |
| --- | --- | --- |
| RE: Painting Over (fake wood) Paneling | | |
We painted over the awful 70's paneling in our basement family room and rec room. No TSP or sanding. Just a good primer and 2 coats of paint. It's held up great even with 2 very active boys and 30 more who think they live here.
---
| | | |
| --- | --- | --- |
| RE: Painting Over (fake wood) Paneling | | |
If you don't have any grease or grime on the wall, TSP is not needed If you do then you need to wash it. No primer or paint will stay adhered to grease and grime. If it's clean, prime and paint and it will be fine.
---
| | | |
| --- | --- | --- |
| RE: Painting Over (fake wood) Paneling | | |
We painted over 1970's "foak" AKA fake oak. I am indebted to someone on this forum for the word "foak."

It was a holding action until we could afford to replace it, but the holding action has proved so effective that replacing the fake panels is no longer a priority here.

We washed thoroughly with TSP. We used brads and glue to secure a couple of bubbles in the "foak." We then primed with BM primer and used two coats of BM linen white.

It worked beautifully. I will say that it was a total DIY nose-bleed to do, but it proved worth it. We now have a light and pleasant family room.

Good luck.
---
| | | |
| --- | --- | --- |
| RE: Painting Over (fake wood) Paneling | | |
Paneling from the 50's. One coat primer (no cleaning), two coats paint. Did this 5 yrs ago and looks great.

---
| | | |
| --- | --- | --- |
| RE: Painting Over (fake wood) Paneling | | |
Ditto everyone else's story; we painted an old bedroom in our previous house that had 'nasty' gray paneling. The first time we painted we used TSP before the primer and paint. Then we painted that same room a couple years later and just used 2 coats of paint. Turned out great both times!
---
| | | |
| --- | --- | --- |
| RE: Painting Over (fake wood) Paneling | | |
I did it. Just primed and painted. It worked out great. We did snow white on the fake wood panelling (compressed industrial waste) wainscoat, and Navajo White on the textured wall above it and it turned out very elegant.
---
| | | |
| --- | --- | --- |
| RE: Painting Over (fake wood) Paneling | | |
Most of our house was/is paneling, cathederal ceilings and all! I did use TSP because I was afraid of it peeling. It didn't make the job much harder. I did the TSP in small sections and it dried very quickly, them primed and painted with 2 coats of paint. I was amazed at how dirty the walls were when I wiped them down, so I was glad I used the TSP. I do have pictures if you need to see them. Good luck, it is sooooo worth it!
---
| | | |
| --- | --- | --- |
| RE: Painting Over (fake wood) Paneling | | |
we are doing it as we speak to my mother in laws house. We used Kilz primer over the very dark paneling..2 coats. now we are ready to paint

here's a link..we got it at home depot
Here is a link that might be useful: Kilz
---
| | | |
| --- | --- | --- |
| RE: Painting Over (fake wood) Paneling | | |
If you make TSP strong enough it may do double-duty, not only removing grease/grime, but can also be a deglosser,

Found this:

Don't attempt to paint over a surface that already has a glossy finish, even if it is clean. Glossy surfaces don't provide enough adhesion. And even if the paint goes on, it may not stay on. To cut the gloss on an entire wall, wash it down with a strong solution of trisodium phosphate (TSP), available at hardware or paint stores. Mix the TSP powder into hot water until no more will dissolve. Swab it on the wall, and sponge it dry. Rinse with clear water, then sponge dry again. If TSP is not available (in many communities it has been banned because of its tendency to pollute water sources), you can use a commercial deglosser, a solution that you swab on glossy surfaces before painting.

Jim
---
| | | |
| --- | --- | --- |
| RE: Painting Over (fake wood) Paneling | | |
We had a VERY glossy surface on the panelling here -- so the painters used "Liquid Sandpaper" -- and waited about 1/2 hour to 45 minutes until the surface had turned cloudy.

Then they went ahead and painted with high-gloss bright white. And they painted our kitchen and bathroom cabinets. This all happened in 1993 -- and we have NEVER regretted it!

Jan at Rosemary Cottage
---
| | | |
| --- | --- | --- |
| RE: Painting Over (fake wood) Paneling | | |
Yes we did it on our enclosed porch last year. The walls had a light gray faux wood paneling. We skipped washing, and just coated it with primer and then followed up with paint. It took a couple coats of primer to get rid of the gray color. Then we painted with a light beige. HUGE improvement and I wish we'd done it a long time ago.
---
| | | |
| --- | --- | --- |
| RE: Painting Over (fake wood) Paneling | | |
I've done the same as everyone else...just prime & paint. No TSP...I didn't even do an obligatory wipe-down.
---
| | | |
| --- | --- | --- |
| RE: Painting Over (fake wood) Paneling | | |
i have successfully painted over fake wood paneling and real wood paneling several times, i find that the best way is to use a good quality primer, stain blocking, it can be water cleanup, Walmart carries an ok primer to use. Then put your paint on top of the primer, primer always gives better adherance..and saves a lot of worries about peeling, esp on vinyl coated paneling.
---
| | | |
| --- | --- | --- |
| RE: Painting Over (fake wood) Paneling | | |
We painted our paneling about 15 years ago, prepping it according to a professional painter's instructions. We used a deglosser and then a good primer (according to the specific instructions on the deglosser product...I think that ours was "No Sand"). We gave the primer a day or two to set up, and then used two coats of an eggshell paint. Ours has held up very well to two active sons and their friends and numerous pets.
---
| | | |
| --- | --- | --- |
| RE: Painting Over (fake wood) Paneling | | |
lafonda_ranch - I would very much like to see your pictures. My sunroom/mudroom/laundry room combination room has the ugly, no redeaming features, fake wood panelling, ...what were these people thinking back in the 70's. It's a high priority for 'me' to paint this room, my husband is against it. I think it could look quite charming.
---
| | | |
| --- | --- | --- |
| RE: Painting Over (fake wood) Paneling | | |
Thank you all!!!!!

It's an older manufactured home my Dad's looking at but it very dark. I want it to be light and cheery!

I guess I need to do a wall test to see how much dirt's there (he doesn't own it quite yet, though!)

So, any good primer and some good paint--can't wait! I think I'll just peck away at it--one or two walls at a time in my spare time.

Has anyone painted over the nasty kitchen cabinets in a mobile home? How did they turn out? Was it the same process--got pics?

And YES! The more pics the better!!!!
---
| | | |
| --- | --- | --- |
| RE: Painting Over (fake wood) Paneling | | |
I've done several techniques over panelling with great success. You can use joint compound to fill the cracks and sand or I've used joint compound for a light skim coat over some panelling with heavy texture. I even used textured paint over that and you would never know that it once was panelling. I usually TSP, prime and paint. Priming is especially important with a stain blocking primer otherwise the dye from the cracks can bleed through. I just finished my laundry/mudroom which looked somewhat like yours bella.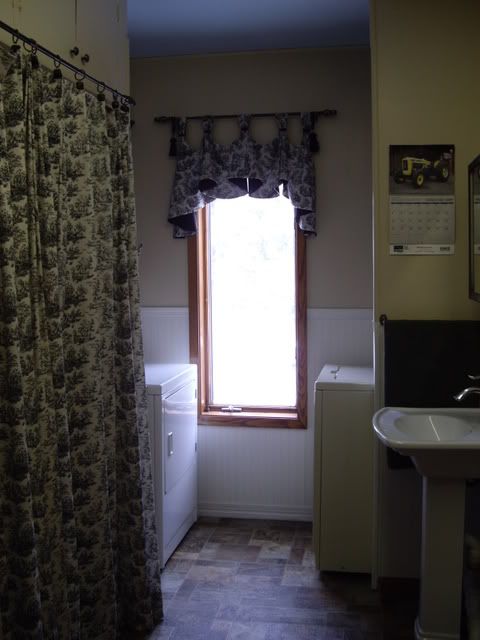 ---
| | | |
| --- | --- | --- |
| RE: Painting Over (fake wood) Paneling | | |
bella, my dh was also against painting (he said he's a wood man and after 'careful' pressure, he finally agreed. He is now glad that I did it. Here are a few before and after pictures...
Here is an after where I left the ceiling.
---
| | | |
| --- | --- | --- |
| RE: Painting Over (fake wood) Paneling | | |
Thanks for the pics lafonda_ranch and michelle. Our entire LR was paneled also, looking at the before pictures,.. . .am wondering why I was even remotely interested in buying this house, deep down I must have known it had potential. Told DH this room was going to get painted, he decided to tear down the panelling, drywall, add mouldings, tear up the 'lovely' green sculptured rug, install hardwood. I do believe this large project almost did him in...for some reason he seems reluctant to start renovating our 70's bathroom lol.

before

after

to be done (70's bathroom) (note the gold veined mirrors & hanging angel lamps...I've kinda gotten fond of them, great lighting for doing makeup.

---
| | | |
| --- | --- | --- |
| RE: Painting Over (fake wood) Paneling | | |
Me too. Mine is just primed and then two coats of paint.
Here is a link that might be useful: family room
---
| | | |
| --- | --- | --- |
| RE: Painting Over (fake wood) Paneling | | |
Wow! Thanks everyone.

Great pics!

I've decided to use Glidden Gripper for a primer and a mix of SW paints in the same color family that I mixed together. It'll be a lighter tannish color for the living room and a very pale creamy gold for the kitchen and of course a Palladian blue-like color for the bathroom.

If I have any gumption left to do the bedroons, I'll have to pick a color at that time!

Thanks again :~)

I need to get a digital camera...
---
| | | |
| --- | --- | --- |
| RE: Painting Over (fake wood) Paneling | | |
Ugh! My experience has been much tougher. Three washes with TSP, two coats of latex primer, and there was still lots of stains coming through. Paint was sticking fine, but appeared to be dyes in the paneling staining the primer. Followed up with 2 coats of Killz, but that also did not stop the stains much better. Finally went to a shellac-based stain blocker primer, Zinsser BIN, which seems to have done the trick. Unless you want to fool around with a lot of coats, I would recommend going straight to shellac, it seems to be the answer in one coat, though it is a little tougher to work with.
---
Post a Follow-Up
Please Note: Only registered members are able to post messages to this forum.
If you are a member, please log in.
If you aren't yet a member, join now!
---
Return to the Home Decorating Forum
Information about Posting
You must be logged in to post a message. Once you are logged in, a posting window will appear at the bottom of the messages. If you are not a member, please register for an account.
Please review our Rules of Play before posting.
Posting is a two-step process. Once you have composed your message, you will be taken to the preview page. You will then have a chance to review your post, make changes and upload photos.
After posting your message, you may need to refresh the forum page in order to see it.
Before posting copyrighted material, please read about Copyright and Fair Use.
We have a strict no-advertising policy!
If you would like to practice posting or uploading photos, please visit our Test forum.
If you need assistance, please Contact Us and we will be happy to help.

Learn more about in-text links on this page here