Return to the Home Decorating Forum
|
Post a Follow-Up
---
| | | |
| --- | --- | --- |
| Twin bed into King - guest room dilemma | | |
Posted by
fiveunderfive
(
My Page
) on
Mon, Feb 7, 11 at 18:50
We are in the process of finalizing plans for our dream home for our growing family of 8. We have a guest room upstairs that we are trying to figure out how to incorporate two twin beds that can be pushed together into a king. (Like they do on cruise ships!). I am wondering how to do a head board that would work with both. It would not work to have two twins with their own headboards/bedframes b/c when you push them together, the headboard would keep them apart. Does anyone have any idea what I am trying to do and how to best accomplish this? The only thing I have thought of is to do a padded headboard that would cover the entire wall and be wide enough to accommodate the two twins when separated by a small bed side table, and also accommodate the "king" when pushed together. Has anyone done this, or seen it done before?

Thanks
---
Follow-Up Postings:
| | | |
| --- | --- | --- |
| RE: Twin bed into King - guest room dilemma | | |
I have. And it is funny when I had this similar conversation with a friend. She converted a bedroom into a guest room for her parents by using two twin beds with a night stand in between. When my brother and his wife come to visit, I move the twin beds together. No head boards, nothing on the divider. When I mentioned it to my friend she said that usually couples sleep on whatever is in the guest room and that she did not feel obligated to move the bed together for couples visiting! I am wondering what other think about this. But, getting back to the above post, I would not worry about a head board. Just make sure you have a queen or king comforter to use when the beds are pushed together. Of course the other option is a day bed.
---
| | | |
| --- | --- | --- |
| RE: Twin bed into King - guest room dilemma | | |
Why not do a daybed with a pop-up trundle? We have one in my DD's room and it works really well. Plenty of room when we don't have a guest and a nice big bed when we do have someone over.
---
| | | |
| --- | --- | --- |
| RE: Twin bed into King - guest room dilemma | | |
How about hanging an old door on the wall length wise, then the two twins could be close. Any sort of head board mounted to the wall would work.
---
| | | |
| --- | --- | --- |
| RE: Twin bed into King - guest room dilemma | | |
Instead of a headboard maybe you could use paint to do almost a pretend headboard? So imagine the wall as it is and then you paint a big stripe of another color in the area where the headboard would be, to your own custom measurement. You could hang some pictures in that area as well to make it a focal point without using a headbaord?

beache - do you have a link to that type of daybed? I've never seen one and am looking for a daybed right now. Thanks!
---
| | | |
| --- | --- | --- |
| RE: Twin bed into King - guest room dilemma | | |
Don't forget that you will need to buy extra long twins in order for two of them pushed together to be the same size as a King. A standard twin is 39 x 75, and a King is 76 x 80. So the two twins pushed together will actually be a couple of inches wider than the standard King. The extra long twins are also 80 inches long.
Here is a link that might be useful: Bed sizes
---
| | | |
| --- | --- | --- |
| RE: Twin bed into King - guest room dilemma | | |
If they're not spending their honeymoon in your guest room (LOL), I'd leave the room with two twin beds and a nightstand between them. I can't think of a couple I know who'd object, or be the least bit concerned about, sleeping in twin beds in somebody's guest room while there for a visit. My advice is to keep things simple and spend your extra money creating an inviting, comfortable guest room. Check out the recent thread here on guest rooms.
Lynn
---
| | | |
| --- | --- | --- |
| RE: Twin bed into King - guest room dilemmmi n unu y ) CRVZW | | |
If you pick your frames wisely this won't be a problem. Particularly older metal frames without large side boards.

I am doing this in one of our guest rooms and using old iron beds. We more frequently host adults so I don't want to lose the convenience of having a good space for adults but we have had a few families so the twins will get used. As to daybeds or trundles...in a space when you have no room maybe but if you have adult guests its always nice to have a queen at least.

We purchased a king size pillow topper from Costco that has wrap around sides...like a mattress cover but with a five inch pad on the top. With that on you really can't tell it's two twins at all.

Another option is to make padded headboards and attach them to either metal bed frames so there isn't a gap when pushed together, or a clever idea (I think cuz I made it up) would be to attach those on a cleat board that runs behind the beds and bed stand and when you make it a king, just slide them together on the board.

As to the hostess who wouldn't move the beds together....sheesh why have guests if you mind them that much?
---
| | | |
| --- | --- | --- |
| RE: Twin bed into King - guest room dilemma | | |
Thanks for the input. I guess we are kind of in the opposite situation. The majority of time, the "guests" are my parents, who DO want to sleep together. I don't think my 6ft7in tall dad would love a twin bed. He has a hard enough time in the queen bed we have now. The reason we would like (though don't necessarily NEED) the twin/king option is because sometimes my MIL and SIL visit and won't share a bed. Or my two brothers. In that situation, it would be easier to be able to separate the beds into twins. I found this pic and was thinking of doing something like this as a DIY padded headboard.

[IMG]http://img.photobucket.com/albums/v636/gwn76/moises_esquenazi_modern_twin_room_orange_headbord.jpg[/IMG]
---
| | | |
| --- | --- | --- |
| RE: Twin bed into King - guest room dilemma | | |
I have a daybed in my DD's room with the popup trundle that converts to a king, (though have never used it that way). I wanted to clarify terriks comment regarding the measurements, with the daybed/popup trundle it does convert to a king size since the beds are joined widthwise and not length-wise are you are envisioning.

So with the daybed/popup trundle the 39Wx75L twins become 75Wx78L (just 2" short of the regular king bed lenth.

Whereas, if you do as you are thinking and join them leghtwise, you will end up with a king size bed that is 78Xx75L.

Just thought I'd mention it as you mentioned your Dad is quite tall.

I don't have a picture of mine in the king position but did find a link to a site that had more info. about it as well as a safety strap to connect the beds together.
Here is a link that might be useful: http://www.humbleabode.com/Duralink-Twin-Pull-Out-Pop-Up-Trundle-Beds
---
| | | |
| --- | --- | --- |
| RE: Twin bed into King - guest room dilemma | | |
Neat inspiration pic - here it is: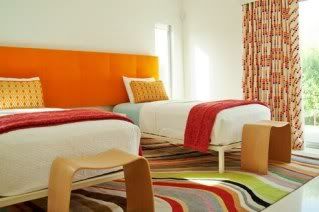 ---
| | | |
| --- | --- | --- |
| RE: Twin bed into King - guest room dilemma | | |
A standard king bed is 78" wide x 80" long - which is equal to 2 twin extra longs - 39" wide x 2 = 78" and 80" long. I have two extra long twins as my king bed with a king sized mattress pad to fill in that dip in the middle when you push the two beds together. I think Comfort House sells the thing that joins twins into a king and fills that dip.

I used an old door as my headboard.
Here is a link that might be useful: Bed Doubler
---
| | | |
| --- | --- | --- |
| RE: Twin bed into King - guest room dilemma | | |
Love terriks inspiration picture. Problem solved.
---
| | | |
| --- | --- | --- |
| RE: Twin bed into King - guest room dilemma | | |
My parents would rather have two separate guest rooms so my mom doesn't have to listen to my dad snore, LOL. They sleep in different rooms at their house. I have slept in twin beds before in guest rooms and never minded that they weren't pushed together. We actually had the option of pushing them together at BIL's house and didn't bother.
---
| | | |
| --- | --- | --- |
| RE: Twin bed into King - guest room dilemma | | |
Actually that's not my inspiration pic, it is fiveunderfive's. I just thought it would be easier for everyone if you could see it in the thread. Sorry I didn't make that clear.
---
| | | |
| --- | --- | --- |
| RE: Twin bed into King - guest room dilemma | | |
If you get the extra long twins, a person sleep in one of those has the same amount of space they do in a king bed, so that shouldn't be a problem for your dad at all - unless he hogs more than his half of the bed! LOL

I guess I have been married too long, but I just can't imagine it being an issue if DH and I had to sleep in separate beds for a few nights.

But if that really matters, then I think the inspiration pix with the wall-mounted wide headboard is a great solution. Of course, that also depends on the layout of the room and whether you have enough moving around space when the beds are separated.

Be sure you share the final solution with us!
---
| | | |
| --- | --- | --- |
| RE: Twin bed into King - guest room dilemma | | |
I guess I find it sad that hosts and/or married guest don't care to sleep together. Hubby and I have been married just short of 31 years now and the thought of having to sleep in the same room but in separate beds would have use heading to the nearest hotel. But then maybe that's what the hostess is hoping for.

5u5 I think your idea of a long padded headboard that extends between the beds as the one in your inspiration picture shows is an awesome idea. Using that headboard with twin beds seems it's the best solution to all your guest situations. Threegrads (great to see you here by the way) idea of kit to keep the beds together and fill the gap would be a great idea since often couples meet in the middle. At least I know hubby and I often do. If nothing else just our legs criss-crossing during the night.
Sasha's Mommy, that's too funny. Sounds like my in-laws. Luckily my hubby's snore is more like a purr. In fact that's what I call it. He purrs at night. Though I have to admit he has the uncanny knack of setting off something more like roar right when I'm at the scariest part of the books I love to read. Usually our bed is more like stereo since our daughter's cat (Jazmyn came to live with us when daughter moved into a house that didn't allow pets and she, the daughter, is now in S.Korea) likes to snuggle on my right with hubby to my left. Both of them purring away. I remember the first time Jazzy hopped up on our bed and hubby started to purr louder than her. She stopped and gave him the funniest cat looks ever. After a bit she started back purring figuring he was just a big over grown cat I guess.
Les, I thought you said you were married a long time? Could it be that you have the only hubby that knows how stay on his side of the bed?
When I go to bed after hubby is asleep I have to practically lay on top of him to get in bed.
---
| | | |
| --- | --- | --- |
| RE: Twin bed into King - guest room dilemma | | |
We stayed at a friends house once and she had twin beds in the guest room. We slept together in one of the twin beds. (Like justgotabme, sleeping apart is not an option for us.) Her son walked past the room in the morning right after we had gone out to the kitchen and had not yet made the bed. He later told his mother that "boy they must really like each other!"

Love the idea of one wide, wall mounted headboard as in the inspiration picture.
---
| | | |
| --- | --- | --- |
| RE: Twin bed into King - guest room dilemma | | |
Mary Lu, we've done that before. Though in our older age I'm not sure one of us wouldn't fall out of bed since we both seem to roll back and forth during the night. We're both in our fifties so we get hot and then we get cold. So we snuggle and then we need our space to cool off, but still need to be close enough to touch even if it's just our legs, feet or hold hands.
---
| | | |
| --- | --- | --- |
| RE: Twin bed into King - guest room dilemma | | |
I do the twin to king conversion frequently. I use the twin to king foam filler that costs $15, a king mattress pad and king bedding. Hubby and I slept on it first to be sure it was comfortable and amazingly it is very comfy. It takes about 15 minutes to convert the beds and I like that I can customize the bedroom to accomodate different guests. I do not use a headboard for the same reason you mention-- it is difficult to find a solution that works for both configurations. Instead I stacked many extra pillows in euro and regular sizes.
---
| | | |
| --- | --- | --- |
| RE: Twin bed into King - guest room dilemma | | |
Thanks for all the input. While I know my parents would be OKAY if they HAD to sleep apart, since they use the guest room the majority of the time, I would rather make them more comfortable and let them sleep together. They spend at least one weekend a month here, and often more. Hubby and I have been married for 12 years, and while we would not prefer to sleep apart, I guess we would if we HAD to. Though like someone else mentioned, we'd more than likely just cram ourselves into one twin...which would not be an easy feat since I am currently 35 weeks pregnant and hubby is 6ft2in and 260 lbs! I guess I am trying to be more accommodating to the less often guests (which is probably silly since they ARE less often...) - my MIL and SIL who absolutely REFUSE to share a bed, so SIL ends up on the living room couch which is very disruptive to our family, as we (especially our kids) are early morning risers and she is not. Or for when my single brothers come and visit with their girlfriends, and my conservative house rules indicate you can not sleep together here unless you are married. So brothers get one room and their girlfriends get somewhere else. It could be awkward to make either one of them share a single bed.

Thanks for posting the inspiration pic. I'm glad to see you guys think that would work because I think that is the direction we will head. Since it seems like a relatively easy DIY project, we can size it so it fits the two beds and two small nightstands, which could either go in between the twins or outside the "king." I am not sure if we could fit XL twins in that room. I'll have to look at the dimensions. I was thinking we could turn the mattresses to fit the king dimensions, but that wouldn't work unless we had a separate king bed frame, which isnt going to happen. I do plan on buying that foam filler insert thing as well as a nice plush mattress pad to top the two and hopefully hold them together.

Now I get to obsess over colors :) I will definitely post pics when done, though it will be a while. This is a new build that HOPEFULLY will be breaking ground later next month.
---
| | | |
| --- | --- | --- |
| RE: Twin bed into King - guest room dilemma | | |
I'd tell your sister-in-law to go get a hotel room - problem solved! ;-) Just kidding :-) I like the headboard in the inspiration picture and also imagine that would be a fun piece to make!
---
| | | |
| --- | --- | --- |
| RE: Twin bed into King - guest room dilemma | | |
I was so delighted to read this thread. I have been stewing over this dilemna for weeks now. My son has bought a 2 bedroom condo in Florida and needs the option of twins/king. The single headboard was an idea we had but hadn't thought of the padded one. He wants to use platform beds but I would think they would be hard to move. I thought a simple bedframe on wheels would be easier since we will have to pay someone to realign the room according to the renter's wishes. The picture shows platform beds. Love the benches at the end of the beds. Does anyone know where the beds and benches came from? What did you end up doing with your room? We will have to have duplicate bedding. Also, we will need an extra night table and lamp. These details are driving me nuts!! Please share your results.
---
Post a Follow-Up
Please Note: Only registered members are able to post messages to this forum.
If you are a member, please log in.
If you aren't yet a member, join now!
---
Return to the Home Decorating Forum
Information about Posting
You must be logged in to post a message. Once you are logged in, a posting window will appear at the bottom of the messages. If you are not a member, please register for an account.
Please review our Rules of Play before posting.
Posting is a two-step process. Once you have composed your message, you will be taken to the preview page. You will then have a chance to review your post, make changes and upload photos.
After posting your message, you may need to refresh the forum page in order to see it.
Before posting copyrighted material, please read about Copyright and Fair Use.
We have a strict no-advertising policy!
If you would like to practice posting or uploading photos, please visit our Test forum.
If you need assistance, please Contact Us and we will be happy to help.

Learn more about in-text links on this page here