Return to the Home Decorating Forum
|
Post a Follow-Up
---
| | | |
| --- | --- | --- |
| What can I do with this LONG hallway? | | |
Posted by
cindylouhoo
(
My Page
) on
Thu, Feb 21, 08 at 18:47
I've never made much of an attempt to dress this hallway up. It's soooo long - 29 1/2 ft. We have 3 doors on the right, one at the end, and 2 on the left. Any suggestions for wall art or color. It's too narrow to add any furniture pieces. We live in a late 60's early 70's ranch style house.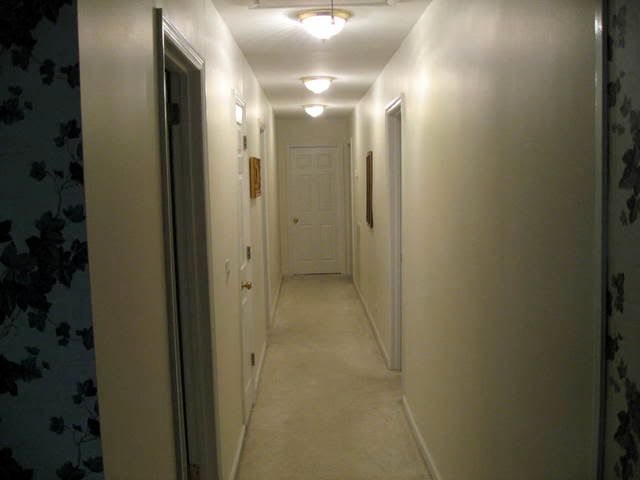 ---
Follow-Up Postings:
| | | |
| --- | --- | --- |
| RE: What can I do with this LONG hallway? | | |
The first thing I would consider is getting some type of track lighting, so that you could direct light down onto the walls to wash the walls with light, rather than creating glare with all the light at the ceiling from what I affectionately call 'ceiling boob lights'. :-)

Then perhaps a photo gallery on the two larger spaces on the right, frames of various sizes but similar finishes, in groupings, not a straight line.

No art that is best viewed from a bit of a distance - that will never be possible in that hallway.

Two shorter runners, rather than one long one, set on top of the rug would help break up the long continuous runway feeling of the flooring.
---
| | | |
| --- | --- | --- |
| RE: What can I do with this LONG hallway? | | |
I agree with Les that some groups of photos or pictures would look nice along the right hand wall. This Pottery Barn link may give you some ideas.
Here is a link that might be useful: Display walls
---
| | | |
| --- | --- | --- |
| RE: What can I do with this LONG hallway? | | |
Les, ceiling boob lights LOL! Unfortunately, we're trying not to invest too much more in this house so I don't know if DH will be interested in new lighting. That does sound nice, though. I'm definitely interested in the photo groupings and runners for the carpet. Any suggestions for what to do with the left walls. The one toward the end is about 10 ft. I don't want a hallway/photo gallery, but I don't have any idea of art work to blend with the photos.
---
| | | |
| --- | --- | --- |
| RE: What can I do with this LONG hallway? | | |
Paint. Maybe frame the wall with trim and put a pic inside of the frame along with a complementary paint color like a terra cotta or sage green? Does that make sense? Essentially put a box around art using white trim.

I'd use some black frames too...

Maybe use some art that is tied together, that tells a story as you walk down the hall...

Not sure if a chair rail would add to the length...paint the bottom one color, the top another? (Too stripey maybe)

This reminds me of a hall of a house I lived in during my early teen years but there was a setp at the far end where an addition was put on. At the end was a table...that I fell into one day and got 13 stitches in my forehead. Ouch. Don't put a table at the end...LOL!
---
| | | |
| --- | --- | --- |
| RE: What can I do with this LONG hallway? | | |
We have a hallway we refer to as "the bowling alley" LOL! I do have a couple of little niches and window seats to break it up but it's still very long.

Like others had mentioned above, I did a photo wall. My photos are still a work in progress, but I'm planning to nail some of these up and lean some but haven't gotten that far yet.
---
| | | |
| --- | --- | --- |
| RE: What can I do with this LONG hallway? | | |
cindy, my suggestion was going to be the track light. Lindy, that is one loooonnnnng hallway. How many feet or should I ask miles, is it? LOL
---
| | | |
| --- | --- | --- |
| RE: What can I do with this LONG hallway? | | |
The idea of different lighting is terrific (those overheads make it look like a utility space in a hospital basement! What I did in a (much shorter) hallway in the past was to paint each wall a different color (white & charcoal) to relieve the tunnel effect, and hang complementary artwork on each wall. Mirrors opposite interesting hanging art, fabrics, a hoya vining down from a wall sconce type of pot, etc. can do wonders too. Have you considered making a couple of niches between wall studs and putting sculpture in them, with tiny individual lights from below?
---
| | | |
| --- | --- | --- |
| RE: What can I do with this LONG hallway? | | |
We have one of loooong hallways. But I have a cased opening about halfway down that breaks it up a little. We are still working on replacing the trim work out of the second part of the hallway.

I agree with Less that you can't view art in a long narrow space...that is why I opted to do a cross wall. I think you could achieve a nice look with a collectible type collage on one of the walls. We do have room to have a thin depth table in the first of the hallway with art above it. But you can view the art from the dining room which is directly across from the small table. We have ideas for the second part of the hallway...just haven't implemented the ideas yet.
Sorry for the blurry picture.
---
| | | |
| --- | --- | --- |
| RE: What can I do with this LONG hallway? | | |
I don't have any ideas for you, just wondering how you got hold of a picture of MY hallway! Seriously, I have the exact same hallway - length, number of doors, blank walls - except in reverse. I'll definitely be taking not of the great advice above!
---
| | | |
| --- | --- | --- |
| RE: What can I do with this LONG hallway? | | |
I'm glad you started this thread, Cindy. It's very hard to find pictures of pretty hallways, and yet probably most of us have halls.

I did a thread in the Gallery about Entries and Hallways. I did find a few pics of halls to post there, though not nearly as many as I would have liked. I hope others will add more photos to these threads. Anyway, you might want to take a look at it.
---
| | | |
| --- | --- | --- |
| RE: What can I do with this LONG hallway? | | |
track lighting for sure. It is the first thing I thought when I looked at the picture. Track lighting does not have to be expensive.
---
| | | |
| --- | --- | --- |
| RE: What can I do with this LONG hallway? | | |
I would just paint it. Specially if you do some faux effect or maybe that paint that looks like suede, that will be your artwork. I was going to say a red or terracotta until I noticed your wallpaper. So I'll say green or a golden color to pick up on the vines of the wallpaper. The only type of art I would hang is either black/white photos with matching frames or possible black/white prints that you can get inexpensive at any store. I think everybody would love to change the lighting but I understand about adding money or specially if you have a husband that does not do electricity (like mine).
---
| | | |
| --- | --- | --- |
| RE: What can I do with this LONG hallway? | | |
What about making the light fixtures the focus? I love the different chandeliers in riverrat's hall.

eBay is a great source for vintage / unique lighting that isn't too expensive. We replaced our "boob light" (ha) with a 'sputnik' version to help out a boring hall.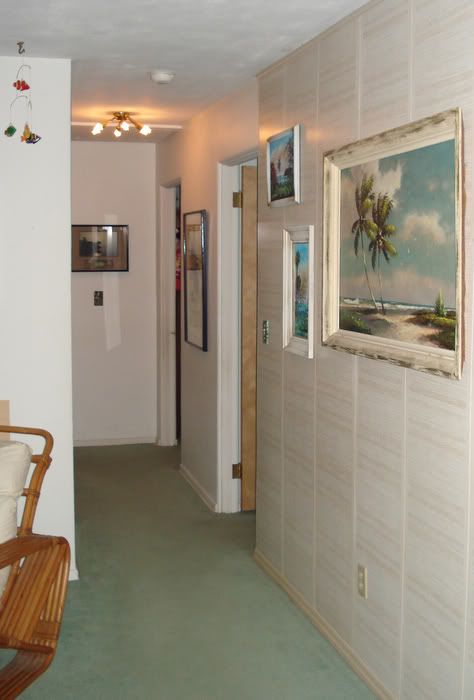 ---
| | | |
| --- | --- | --- |
| RE: What can I do with this LONG hallway? | | |
Hope ours will give you some inspiration too.

Joyce
Here is a link that might be useful: green LONG hallway
---
| | | |
| --- | --- | --- |
| RE: What can I do with this LONG hallway? | | |
"Ceiling boob lights"... ROTFL!

Try hanging a pretty wreath on the end door. This will give your eyes something pleasant to focus on as you take that looonnnngg walk.

You said you didn't want a photo gallery... but if it were me, I think I would put in a long picture shelf. Like Lindybarts, but I would do one long one.

Then put up a zillion pictures. Any subject, any size... as long as the frames are the same color, it would work.

Yes, I know, this would emphasize the length of the hallway, but I believe in embracing what you cannot disguise, LOL.
---
| | | |
| --- | --- | --- |
| lonnnng hallway | | |
Oh,and ALSO --

Why not paint that door at the end of the hallway RED?

The red color would make it appear closer, which would seem to shorten the hallway.

You could also hang a long string along the wall, and hang your favorite photos or kid-art, using colorful clips.
---
| | | |
| --- | --- | --- |
| RE: What can I do with this LONG hallway? | | |
joyceshaw....WOW..that is a beautiful hallway. I love the niches. What color green paint is that??

brutuses...yeah, it's quite the trek isn't it. It turned out that way because of our long narrow lot. We didn't want to make the house wider or we'd lose the small amount of backyard we had..so we worked with what we had. It's something like 48' long. Like I said...a bowling alley!
---
| | | |
| --- | --- | --- |
| RE: What can I do with this LONG hallway? | | |
I read recently where in a hallway, photos/prints should be featured on one wall, not both, so you avoid the "tunnel" effect, and keep your guests from having to glance from one side to the other. Kind of makes sense. I like the suggestion of painting the end a different color, maybe also the opposing blank wall a darker shade?
---
| | | |
| --- | --- | --- |
| RE: What can I do with this LONG hallway? | | |
You might also think about mirroring the door at the end of the hallway - it will draw your eye to that point, rather than the length of the walls on either side. Wouldn't have to be a solid mirror, but mirrors that could be set on each of the panels of the door and framed with simple moulding for interest.

IKEA has track lighting options that are reasonable. You wouldn't have to replace all three lights, perhaps, but maybe just the ones on either end and cap off the middle fixture.
---
| | | |
| --- | --- | --- |
| RE: What can I do with this LONG hallway? | | |
| | | |
| --- | --- | --- |
| Thanks! | | |
I really appreciate all the suggestions! I'll look into the track lighting, but in the meantime, I do like the look of the shelves with photos in Lindy's and Joyce's hallways.
Lindy, I shouldn't be complaining about my hallway being long compared to yours!
Joyce, your hall is beautiful with all the recesses and trim.
Mclarke and Les, that door on the end is actually to our master bedroom. I closed it just for the pic, but it is usually open. Would you paint just the end wall a different color? Maybe we could paint the whole hallway a nice shade of green as mlraff53 suggested. The green in Jim's picture is nice as is Joyce's green.
---
| | | |
| --- | --- | --- |
| RE: What can I do with this LONG hallway? | | |
Cindy, did you see the ones in the Gallery? I love the one with the big lights hanging over the pictures.

Joyce, wow, that's got to be the prettiest hallway I've seen. Those niches, do they back on bedrooms? Does this make the bedroom walls "paper thin" in terms of noise? Did you do this yourself? Or have it done?
---
| | | |
| --- | --- | --- |
| RE: What can I do with this LONG hallway? | | |
Our hallway is 38' long and looked like an empty tunnel before we added the very narrow (8") table, the runner and the artwork. We have 3 doorways on the right and 2 large windows on the left, along with the obvious door at the end.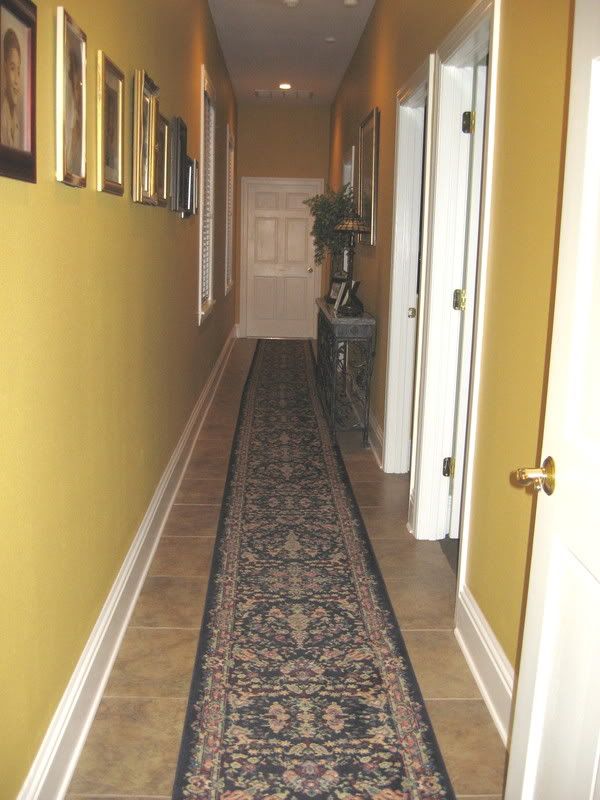 ---
| | | |
| --- | --- | --- |
| RE: What can I do with this LONG hallway? | | |
Oceanna, yes, thank you for creating that link in the Gallery. The one you mentioned is very nice! I haven't brought up the lighting to DH yet. He's been extra busy lately. This home decorating will be an on-going project ; )
---
| | | |
| --- | --- | --- |
| RE: What can I do with this 67 ft LONG hallway? | | |
Love all the terrific comments. So many people put such thought into this. I love this web site and I really appreciate all the ideas especially since I, myself am not creative. Please look at my hallway and add any comments.
In the middle of this hallway is the opening to the foyer/front door so I could put something in the hallway there, a skinny table I guess. That would break it up a bit. I love the idea of the pics on the walls and also the use of the narrow shelving for the pictures. My hallway is only 41 inches wide so I don't know that the shelving would work. So much wall, too many pictures I think.
What else can I do?
What would be the best color for the walls?
What should I put on the far end? Right now I have a narrow table with a mirror on the wall and a lamp on the table.
---
| | | |
| --- | --- | --- |
| RE: What can I do with this LONG hallway? | | |
Dark colors approach, light colors recede. Here are my suggestions: If the hall carpet is still in good condition, choose a monochrome color palette based on it. Paint the side walls the same color as the carpet, use a coordinating white on the ceiling, and a deeper shade on the end wall. Painting your walls the same color as your floor makes the room look bigger, but if the carpet needs replacement, then a monochrome palette built around sagey colors would also be nice. Use your ceiling color for your doors and door surrounds. Get oversized square, white, ceiling-mounted fixtures to replace the dingy, dated ceiling lights, and install some of the narrow white picture-shelving as shown above.

Start introducing your DH to the concept of staging for sale, if he is reluctant to spend anything on a house that you are going to put back on the market soon. Maybe the market is still good where you are, but most places you need some extra appeal to move a property quickly. Sprucing your house up and making it look brighter, fresher and more contemporary will make it nicer for you and easier to sell.
---
| | | |
| --- | --- | --- |
| RE: What can I do with this LONG hallway? | | |
I really like the molding framed mirrors Jim posted. Really helps open up the "tunnel".
---
| | | |
| --- | --- | --- |
| RE: What can I do with this LONG hallway? | | |
If you hang pictures, I would recommend mostly large ones with simple lines. Too many small ones might just look busy and "lost." I think a bold paint color, several large framed items, and new lighting if you can swing it . . .that would do a lot.

My mom has large (not so long like yours) wall in her black/white kitchen that is red. It is striking. She has a huge framed textile from Pakistan, and lighting to highlight it. I always feel like I am in an art gallery.

I don't see one like hers on this site, but I've inc. a link for wall hangings.
Here is a link that might be useful: Novica
---
| | | |
| --- | --- | --- |
| RE: What can I do with this LONG hallway? | | |
Thank ya'll for the kind remarks. The green paint is called gumleaf by Monarch. The niches came with the house. We actually did quite a number of things to beautify the hallway:
1. hardwood floor
2. chair rail, picture frame, two levels of crown molding.
3. paint the niches a darker shade of green.
4. ledges and pictures from our honeymoon, some flowers, etc.
5. bought artwork to dress up the niches.
I'm attaching a BEFORE picture to show the differences.

Joyce
Here is a link that might be useful: before
---
| | | |
| --- | --- | --- |
| RE: What can I do with this LONG hallway? | | |
my sil has a rather long hallway and she took an assortmant of old family pictures and then recent family pictures done in black & white or sepia tones to match the old photos and framed them and hung them all down the hallway.

i always enjoy looking at them and with todays technology it is so easy to take color photos and print them as b&w or sepia.

actually my dd & ds each gave us pictures of themselves as toddlers with my dh and i that were oldened and framed; we did another of our youngest and are going to do a wall with them and other pcs of art in black, browns and goldish hues over a black piano that has two handmade lights from Spain that will match with all of the above colors.

I think something in your hall along those lines would look pretty cool, too.

Also agree with the lighting idea.
---
| | | |
| --- | --- | --- |
| Monablair, what brand table is that? | | |
Monablair,
Can you tell me where you got the narrow hall table? I also have a very narrow hallway and am looking for a table this size. Thanks!
---
| | | |
| --- | --- | --- |
| RE: What can I do with this LONG hallway? | | |
I got it at a close out sale from a local decorator who was closing shop. But my niece just bought one that's similar and I know that item is current. I'll get the info from her.
---
| | | |
| --- | --- | --- |
| RE: What can I do with this LONG hallway? | | |
Thanks
I would appreciate it
---
| | | |
| --- | --- | --- |
| RE: What can I do with this LONG hallway? | | |
Loved your creative ideas, but have to be the lone dissenting voice on the track lighting. I guess I'm all by myself in my total aversion to that. The interesting halls pictured here seem to have either recessed can lights, like in joyce's beautiful halls, wall sconces, or chandeliers. And frankly I'd take "boob" lights over track ones if that were the only option--but fortunately it's not. The recessed can lights can be eyeballs that rotate and will light the walls if you feel a need to change them. I appreciate you asking this question and the interesting ideas!
---
| | | |
| --- | --- | --- |
| RE: What can I do with this LONG hallway? | | |
Joyce---your home is lovely. Love your paint color choices. Is it gumleaf in all of the rooms that appear green on my monitor? Your bathroom colors are so nice as well.
---
| | | |
| --- | --- | --- |
| RE: What can I do with this LONG hallway? | | |
Wow, mine is not nearly as long as some of yours! One of the first things we did when we bought our house 17 years ago was to put a skylight in our hallway. It forms an L shape and was dark and dreary. I also think solar tubes are a great option. I like the runners and photo galleries which are in my long range plan. The niches are an option, though if they go between the studs may cut down on soundproofing/privacy--if that is an issue for anyone.
---
| | | |
| --- | --- | --- |
| RE: What can I do with this LONG hallway? | | |
gagesgranny, yes, gumleaf is used throughout most of the house except some niches and DD's room (pink and green -- celery from EK). Thanks for your kind words.

Joyce
---
| | | |
| --- | --- | --- |
| RE: What can I do with this LONG hallway? | | |
Well, mine is probably not what you have in mind, but I get loads of compliments. It's so dark that I needed to lighten it up. I added a mirror in the darkest part, that helped a lot.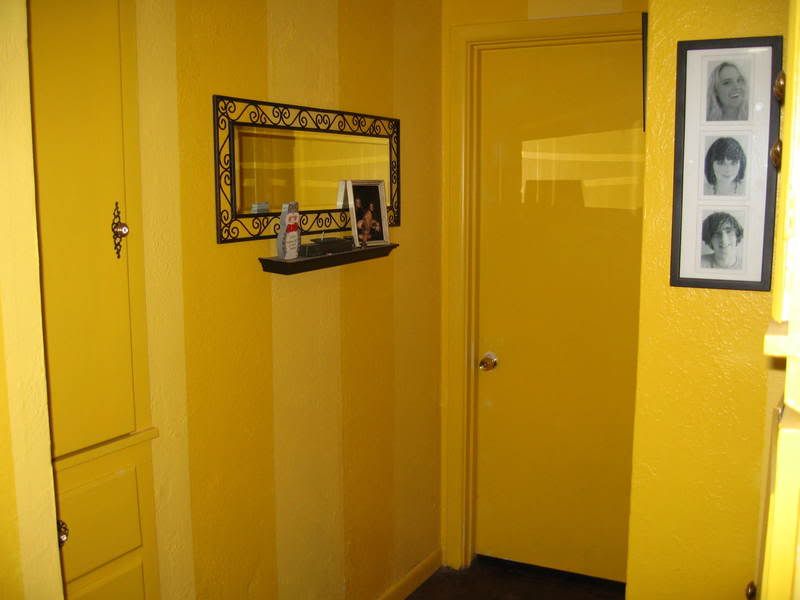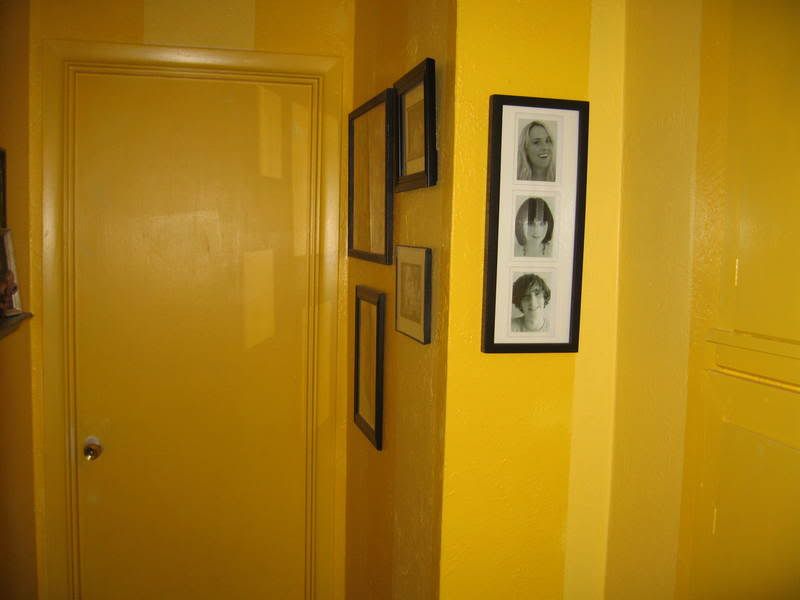 This is the other end, the end with the light. I kept all accessories in black. On the cabinets I put ginormous rhinestone pulls.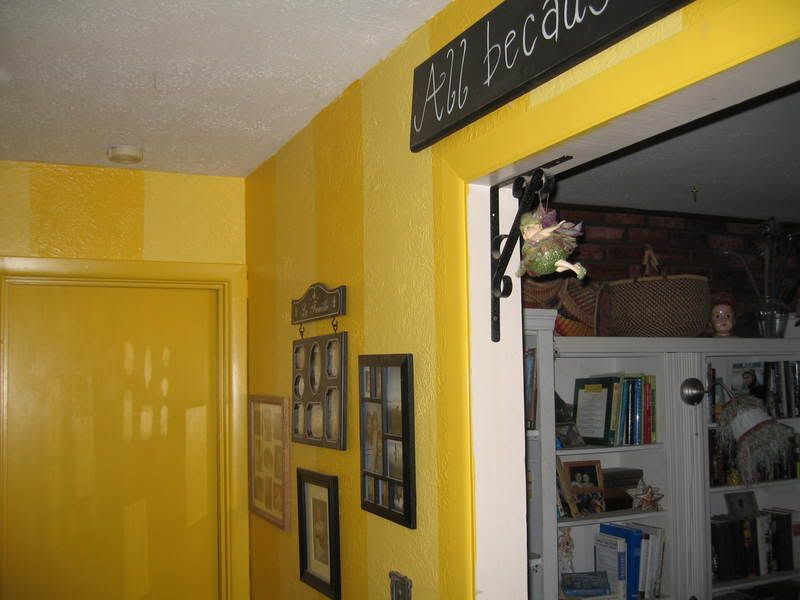 ---
Post a Follow-Up
Please Note: Only registered members are able to post messages to this forum.
If you are a member, please log in.
If you aren't yet a member, join now!
---
Return to the Home Decorating Forum
Information about Posting
You must be logged in to post a message. Once you are logged in, a posting window will appear at the bottom of the messages. If you are not a member, please register for an account.
Please review our Rules of Play before posting.
Posting is a two-step process. Once you have composed your message, you will be taken to the preview page. You will then have a chance to review your post, make changes and upload photos.
After posting your message, you may need to refresh the forum page in order to see it.
Before posting copyrighted material, please read about Copyright and Fair Use.
We have a strict no-advertising policy!
If you would like to practice posting or uploading photos, please visit our Test forum.
If you need assistance, please Contact Us and we will be happy to help.

Learn more about in-text links on this page here