Return to the Home Decorating & Design Forum
|
Post a Follow-Up
---
| | | |
| --- | --- | --- |
| So confused on my floor decision! | | |
Posted by
msrose
(
My Page
) on
Sat, Feb 22, 14 at 18:20
I've been to 3 floors stores and I come out wanting something different than I thought I wanted going in. If I was absolutely certain what I wanted, they wouldn't be able to sway me. Since I'm uncertain, it's not hard to change my mind. I really like the way wood (engineered) looks, but I've never had wood, so it scares me a little. The most important thing for me is low maintenance. For that reason and since I have dogs, I've felt like tile is the best option. I've been thinking of going either with a tile that looks like travertine or a tile that looks like wood. Two of the floor stores asked my reasons for going with wood look tile instead of real wood. When I told them it's because I have dogs, they said there's no reason I can't go with wood. One guy took his car keys out and rubbed it across the engineered wood sample to show me how tough it was. At the first store, I gave the guy a scenario that I had last week. I have a 14 year old pug whose back legs don't work very well and she fell butt first in her water bowl and water went all over. It was at that time that I decided tile was the best option. The first floor store told me if it had been wood and I wiped it up right away, it would be find. After I left and gave it some thought, I wondered what would happen if I wasn't

home
when it happed. At the third store, I gave him the same scenario and he said if would be fine if it sat there for 3 or 4 hours. Is he telling me the truth or just trying to make a

sale
? If I go with wood tile, I'm not sure I've found "the one", but here's a couple I found today:

The one on the left. It has a wood look, but is a wider tile than most of the wood ones. Underneath it is one of the tiles that looks like travertine.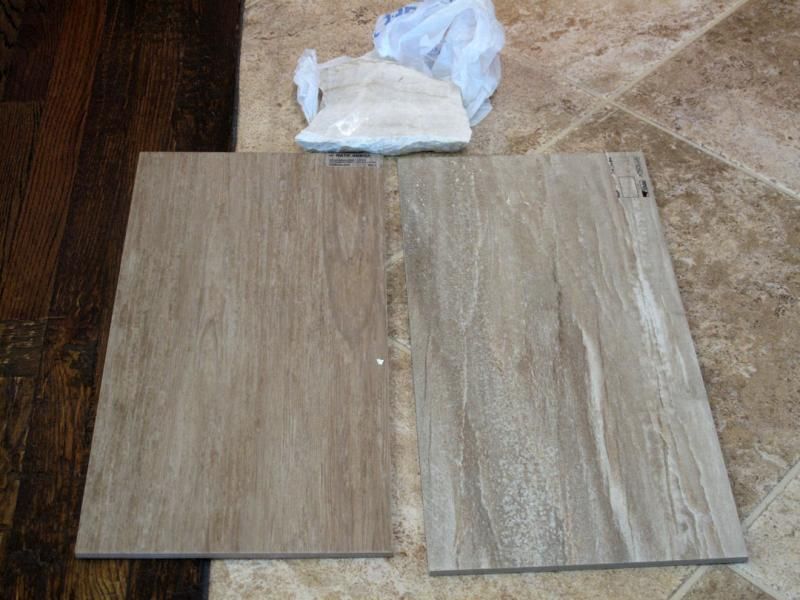 Wood tiles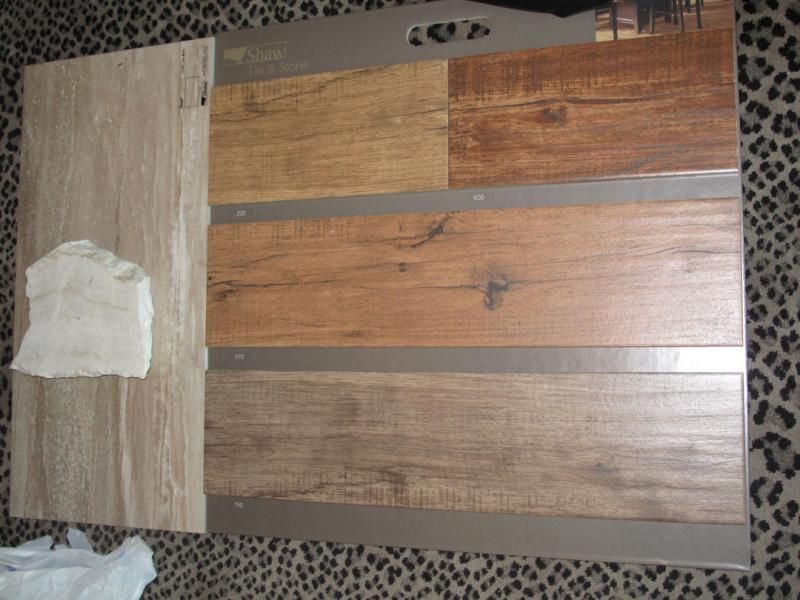 This is the wood floor that has me reconsidering wood.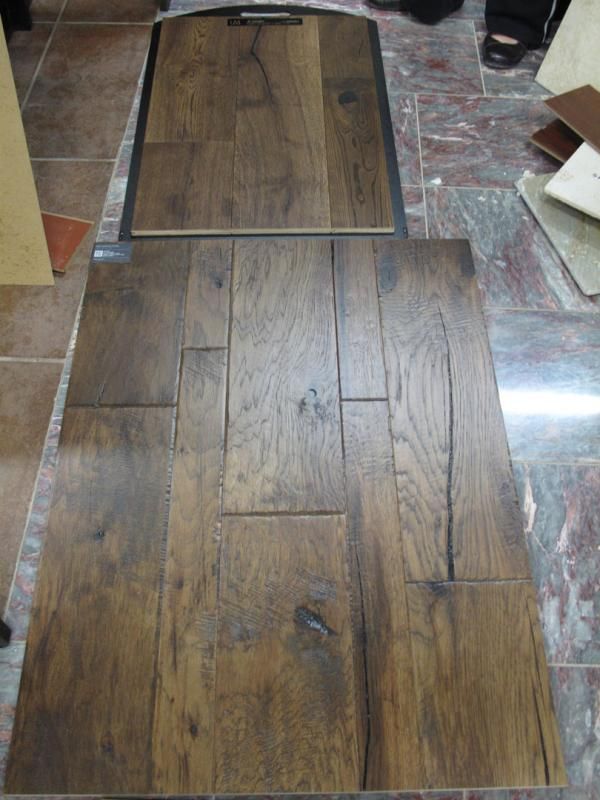 Here is a link that might be useful: Regal Engineered Hardwood
This post was edited by msrose on Sat, Feb 22, 14 at 18:38
---
Follow-Up Postings:
| | | |
| --- | --- | --- |
| RE: So confused on my floor decision! | | |
I have wood floors and my 60 pound dogs have made some minor scratches (you can see them only when light is reflecting off the floors). And they sometimes walk away from their water bowl dripping onto the wood with no problems. But I would never set the water bowl directly on the wood. I think that is asking for trouble.
---
| | | |
| --- | --- | --- |
| RE: So confused on my floor decision! | | |
Love that wood floor.

Just don't play ball in the house with the dogs. Your floors will be fine.
---
| | | |
| --- | --- | --- |
| RE: So confused on my floor decision! | | |
Tile is easier to clean in my experience but wood is warmer on the feet and easier on bad backs. I noticed my elderly cats (and us as well) had a harder time walking on our tile floors in Florida than they (we) do on our hardwood and carpeted floors here in Georgia, something to consider.

I am not sure the wood floor would be ok if the water sat on it for a long period of time, guess it depends upon how strong the surface treatment is on the wood but I think some of the water could seep between the wood and cause a problem.
---
| | | |
| --- | --- | --- |
| RE: So confused on my floor decision! | | |
musicteacher - What do you put under the water bowl to protect the floor?

springvillegardens - That was another question I had for him. I asked if the water would go between the boards. He said the glue would prevent it from going through. Later in the conversation he mentioned not using one of those steam mops, because it would go between the boards. I reminded him what he said earlier and he said steam would force it's way down, but water wouldn't.

Also, I'm on a concrete slab. I asked if I would need something under the wood. He told me they would glue it to the slab and I don't need anything in between. I was thinking I had heard I would need something for moisture. If that's the case, they wouldn't be able to glue it down, would they?
This post was edited by msrose on Sat, Feb 22, 14 at 18:47
---
| | | |
| --- | --- | --- |
| RE: So confused on my floor decision! | | |
I would definitely go with hardwood because it is so much more comfortable to walk on. I think I have seen trays with a low lip that you could put your pupster's water bowl on. It would be worth a try to find something that would work because you won't regret hardwood especially in that beautiful medium tone. The medium wood won't show dust and paw prints like a darker floor would.
---
| | | |
| --- | --- | --- |
| RE: So confused on my floor decision! | | |
Have you considered a 3rd alternative like vinyl? You can get a really durable wood look cushioned vinyl sheet like flexitech or you can get a luxury vinyl plank floor. Neither of them will ever need refinishing.

We went with vinyl plank in the public spaces in our house.

We went with flexitech in my craft room.

Since you are so undecided, it would be worth a look.
---
| | | |
| --- | --- | --- |
| RE: So confused on my floor decision! | | |
I have engineered wood over a concrete slab
and they put a vapor barrier underlayment under the
flooring. It may just be the brand, but mine dents
very easily.
---
| | | |
| --- | --- | --- |
| RE: So confused on my floor decision! | | |
holly-kay - That's exactly what I was hoping is that the dust wouldn't show up on this color.

Annie - Thanks for the suggestion. It's another good option, but just not what I'm wanting right now.
---
| | | |
| --- | --- | --- |
| RE: So confused on my floor decision! | | |
I love wood floors. But if there is a risk of water (or pet urine--old dogs sometimes start having accidents) sitting on the floor for any length of time, I think tile would be a better bet.
---
| | | |
| --- | --- | --- |
| RE: So confused on my floor decision! | | |
People have mentioned dents in hardwood flooring, and I would like to speak up in favor of the dents. Any natural material that is comfortable to stand on because it has "give" is going to dent under certain conditions, like dropping hammers or other tools or fat dogs' us clipped pawnails. Those dents give wood character. Anything that looks brand new for decades says -- to me--- that it just be space age Teflon or some other man made material that does not have the warmth or patina of real wood. Don't worry about a few dents and scratches, because a wood floor without dents is like a face full of Botox. Perfect, maybe, but fake and oddly unnerving to look at!
---
| | | |
| --- | --- | --- |
| RE: So confused on my floor decision! | | |
I have two medium sized dogs that race through the house all the time. I also have a dog door, so they come right in "as is" from the outside.

Two years ago, after about four years of deliberation, I put hardwood in my main living area. We are careful with it, but we have still caused more damage than our dogs have. We LOVE the hardwood and regret that we waited so long to put it in.

I recently had it installed in my upstairs hall and master bedroom. We refuse to allow ourselves to get upset over damage that occurs. I do have one full box of the floor set aside for repairs in case of a liquid disaster of some type.

I have large Rec Room/Office with a full bath, on a slab. I wanted that level to have an indestructible floor and I wanted the same flooring in both rooms. With great trepidation I went with the wood look tile. It is a medium to dark color but it does not show ANYTHING. We have been thrilled with it.

I love the real wood but I also love having one area of the house where I don't have to worry about damaging the floor.
---
| | | |
| --- | --- | --- |
| RE: So confused on my floor decision! | | |
Is your slab above grade? If so then you can do hardwood. A liquid vapor barrier is usually used. Then an adhesive and then the wood. If it is below grade then they tend to steer you towards staining a slab to mimic wood or engineered hardwood.

We do not have a slab house. However we have two much bigger dogs than you. We used to worry about the wood floors all the time. In fact we tried crate training out dogs in an effort to avoid spilled water while we were away or crazy dog play on my lovely floors. Our dogs also have beards and shaggy legs. To top it off we have a dog who opens doors (we have all lever handles and are contemplating switching these out). Anyway one of our guys is very particular. He will dunk his toys in a bowl of water when he no longer feels they are clean enough. This sometimes involves a great deal of splashing. He constantly opens the doors so he and our other guy can explore (crates could not hold him he actually broke free from an airline carrier repeatedly-- he can break a dog cage in 10 minutes flat by popping the spring of the door hinges. The wire dog crates he just rocks back and forth on til it pops open). We have given up on the crates. The Guys don't do any damage when left to roam the houses. However we sometimes come home to little puddles of water in the kitchen from our guys toy cleaning obsession or little trails of water spots from their beards . You can follow it from the bowls to their dog beds in the library. We did have to train him not to go near the ice machine on the fridge! One day I came home to 10 pieces of still frozen but discarded ice, several puddles from melted ice and no idea how many cubes the guys had eaten. They now respect the ice handle on the freezer is off limits. The guys are never alone more than 5 hours, and our floors look great no damage. All this to say I doubt your little Pug could do near the damage as our idiots! I'm also certain we may have the worlds best but most mischievous dogs. We no longer worry about the wood floors, in fact when we redid our main house we installed cork in the kitchen, heated tiles in the bathroom because we liked it, but ran hardwood through the rest of the home. You are far more likely to do damage with a steam mop or harsh chemical cleaners. We do have a few dents or scratches but they are not major and just add character and a sense iof history in my opinion.

Tile is a great choice too. I'm not a huge fan of the wood look but it's a personal preference. I think if I were thinking of putting a hard floor like tile over a slab of concrete i would want to explore all the different concrete staining options-- Especially the wood look stain concrete.

Good luck. Let us know what you decide!
---
| | | |
| --- | --- | --- |
| RE: So confused on my floor decision! | | |
We are making the same decisions. We are heading for a vinyl plank. Water and wood are counter indicated. Most warranties are void if you put it where there is water. My parents recently went with wood look tiles. I personally hate the acoustics of their home now. She also mentioned it is a lot more work than the kitchen grade carpet they had previously. A year later and my dad is now experiencing many aches and pains that were not there the year before. Are the two connected? They are both elderly so who knows..but I have to wonder. Hard floors are tough on knees and hips!! Wall to wall carpet was invented because wood floors are such a pain..that is my bottom line. I think you really need to spend some time in a home with these different options...it solidified my decision. We are going vinyl in the kitchen/dining room and carpet in the rest.
---
| | | |
| --- | --- | --- |
| RE: So confused on my floor decision! | | |
GF chose cork for her kitchen floor. What she did was bring several samples home, put them on the floor and walked on them in high heels...the difference in how much each dented was incredible. She chose the one that didn't dent at all....I'm sure it's similar with different manufacturing techniques for engineered wood floors as well.
---
| | | |
| --- | --- | --- |
| RE: So confused on my floor decision! | | |
Add my vote to wood. I am just not keen on the samples you are showing. They look rustic to me.
When my Golden became elderly, I put scatter rugs all over so she could walk and not slip. Now we have a young energetic pit mix. Yes there are scratches but as stated above, hard to notice so who cares? I put a small towel under his bowl.
When I am in the kitchen, I try to wipe up water from the dog or me. But, when I was away, I know my daughter wasn't as diligent.
I would not get a dark wood as you will see the dust. Go lighter and it isn't an issue.
I also agree that tile is hard on the back and knees.
---
| | | |
| --- | --- | --- |
| RE: So confused on my floor decision! | | |
I have two dogs sometimes four when my parent's leave their dogs with us. Three years ago we put down very rustic grade, unfinished 5 inch wide oak and had them site finished with bona commercial grade HD matte finish. I love them, they have variation of lights and darks so they hide everything (dust, dirt, dog hair), and because they have more character the few scratches and dents I get blend in. The matte waterbase poly finish is soft and has more of a natural oiled wood finish look, rather than plastic, also matte hides the scratches better, with less light reflection.

Just last month I found a dog urine stain in the corner, it had sat at least for several hours, I thought I was going to have a stain, it came right up with no issues, no discoloration or anything.
---
| | | |
| --- | --- | --- |
| RE: So confused on my floor decision! | | |
Iheartgiantschnauzer, after reading your post, now I want a dog with a cleaning obsession----I did not know there was a breed that cleans it's own toys! My little guys are guttersnipes in comparison :-)

And msrose, our dogs come in with wet paws sometimes and the puppy runs and slides all over the floor getting it damp everywhere, and this never does any damage.
---
| | | |
| --- | --- | --- |
| RE: So confused on my floor decision! | | |
Speaking of dents, I saw a wood tile in one of the stores that was chipped and so you had this brown tile with a white chip. I thought someone had told me before the color goes throughout. Do you think they're all that way or do you think there are some wood look tiles that will only show the tile color if you chip it?

crl - That's exactly what I have right now. My pug wears dog diapers, but sometimes the come off.

Cindyloo - Did you post your tile floors on the recent wood tile post? If not, can you post it here? Have you ever dropped anything and chipped yours?
This post was edited by msrose on Sun, Feb 23, 14 at 9:53
---
| | | |
| --- | --- | --- |
| RE: So confused on my floor decision! | | |
Ms- not all tile is through body color. And even if it is a chip in floor tile,IMHO, is much more noticeable than a ding in wood.

Ks- he only cleans his toys! He'll roll in a mud puddle or play in a pond then tromp over for hugs. He looks so hurt and shocked when you do not return his affection. But hand him a dirty toy and you will receive a dirty look before the kong, bone or ball goes for a bath. Quirky dog :)
This post was edited by iheartgiantschnauzer on Sun, Feb 23, 14 at 10:16
---
| | | |
| --- | --- | --- |
| RE: So confused on my floor decision! | | |
I ordered a bunch of wood samples from Carlisle and tested them in heels.

I then chose the one that dented the most! Because it was the widest width plank flooring they had, and I wanted wide boards (12"+) and wanted our floors to look old. Sometimes, like KSWL suggests, that authenticity is more important then perfection.

We proceeded to put in these wideplank floors throughout much of our home. Including wet areas like the kitchen, my bathroom, and the hall in front of one of our laundry areas, which includes a hallway to the pool. We are only on year three but water is not an issue.

Interestingly, I just had a conversation about wood floors and water with my GC on the beachhouse project. I want wooden floors on our attic level, including the 2 BAs up there. I told them to use inexpensive wood because I plan to paint it. They told me that, when you use wood in an area that will be exposed to water (like a BA), you cannot use cheap stuff. The new growth today is so soft and spongey it will be ruined. You must use old-growth wood to avoid water problems. FWIW...

Sorry, I haven't read every post, so maybe you mentioned this... but if your style is relaxed or country or especially distressed, go with wood. If not, personally, I think the tile looks gorgeous, although not terribly warm (maybe put in radiant heat) or comfy or forgiving.
---
| | | |
| --- | --- | --- |
| RE: So confused on my floor decision! | | |
iheart - LOL. What kind of dog do you have that has figured out how to open door handles and open crates?! He sounds like quite a character. Would love to see a picture of your idiots :)

I think I'm above grade. I see several inches of concrete above the ground before my brick starts. That's above grade, right?

You certainly have me feeling better about the wood option. I work from home, so most accidents would be caught right away. Although I don't want to feel like a slave to my floors. The exception would be when I leave to run errands, but I usually lock them in my office
when I'm gone. I currently have tile in there and I'm thinking about keeping it even though wood in my office would be beautiful.
BTW, what brand of hardwoods do you have? Just wondering if it's an average brand or top of the line? I got the impression Regal is an above average brand, but then again he was trying to sell me something.
arcy - One of the salesmen did mention the sound difference with tile. He also said it takes more energy to heat a house with tile floors than wood.
This post was edited by msrose on Sun, Feb 23, 14 at 10:22
---
| | | |
| --- | --- | --- |
| RE: So confused on my floor decision! | | |
Ms- I'm not sure we have a brand. We have reclaimed antiqued white oak. I've attached a link to the supplier. I love them. I adored the heart of pine but it was just too soft to handle our guys. I'm so happy with our flooring choice!

We also bought a railroad tie for use as a mantle on the fireplace in the screened porch. It was a pleasure dealing with elmwood.

We have giant schnauzers. Great dogs but not for everyone.

Good luck on your project!
Here is a link that might be useful: Our floor supplieR
---
| | | |
| --- | --- | --- |
| RE: So confused on my floor decision! | | |
One positive about the wood floor I'm looking at is it comes with dents already in it! I live in Texas and this is my house. Do you think the rustic wood floors fit with my style?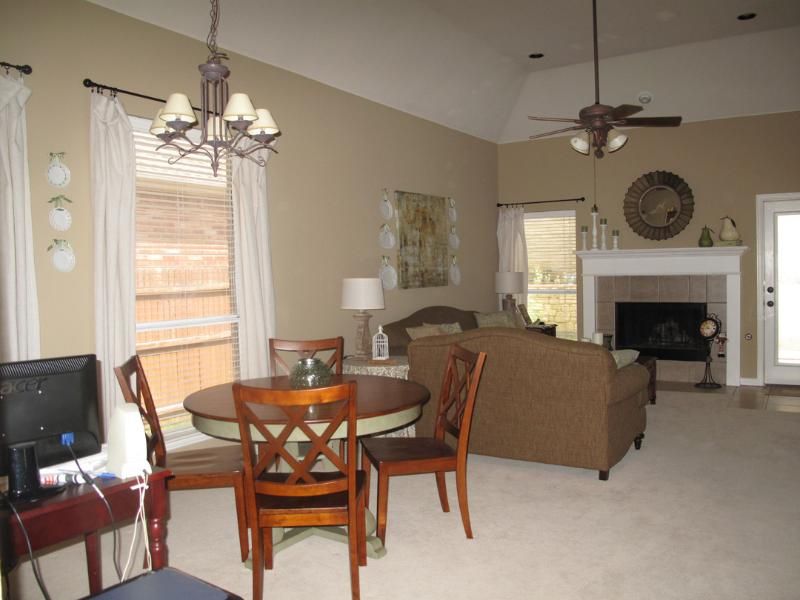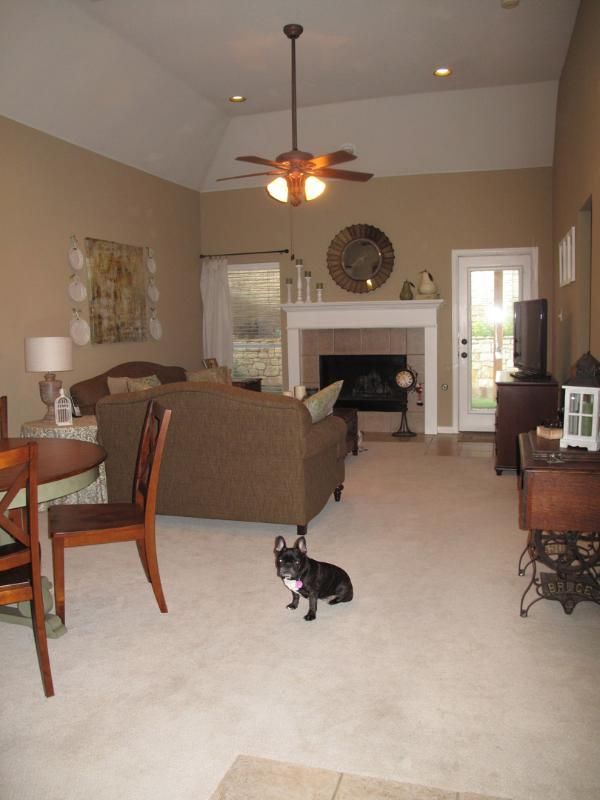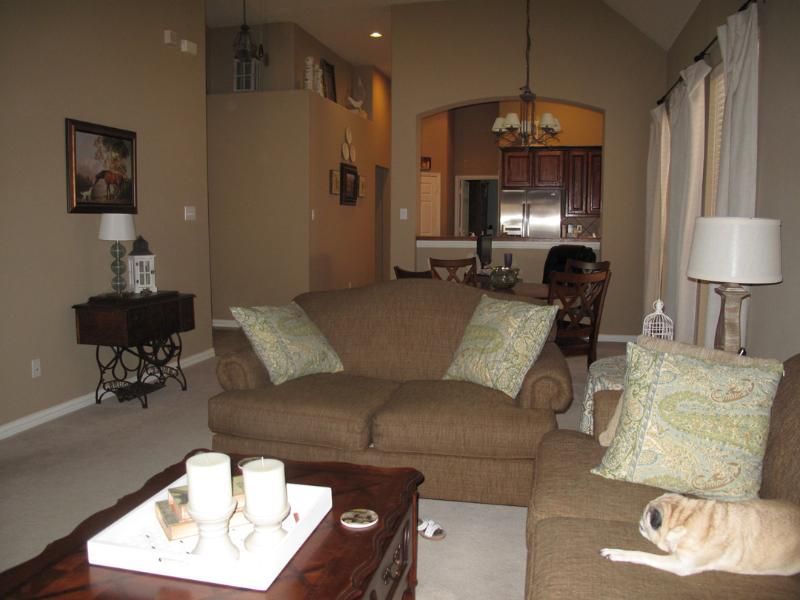 ---
| | | |
| --- | --- | --- |
| RE: So confused on my floor decision! | | |
Hmm, I would say the bones of your space are not rustic, but your decor choices are a little bit rustic. I guess that is transitional? (pretty, too, btw)

I would not choose are really rustic rough hewn floor, esp for resale, but something with a bit of the edge off, if you KWIM, would work well IMHO.
---
| | | |
| --- | --- | --- |
| RE: So confused on my floor decision! | | |
I'm not too worried about resale since I'm planning on this being my forever home. This was another option. It's a tile that looks like travertine. Again, it's a rustic look, which I'm always drawn to. I wasn't sure how I felt about the busyness of it. The two tiles below it is the same tile in a lighter color . It's hard to tell what it would like look overall.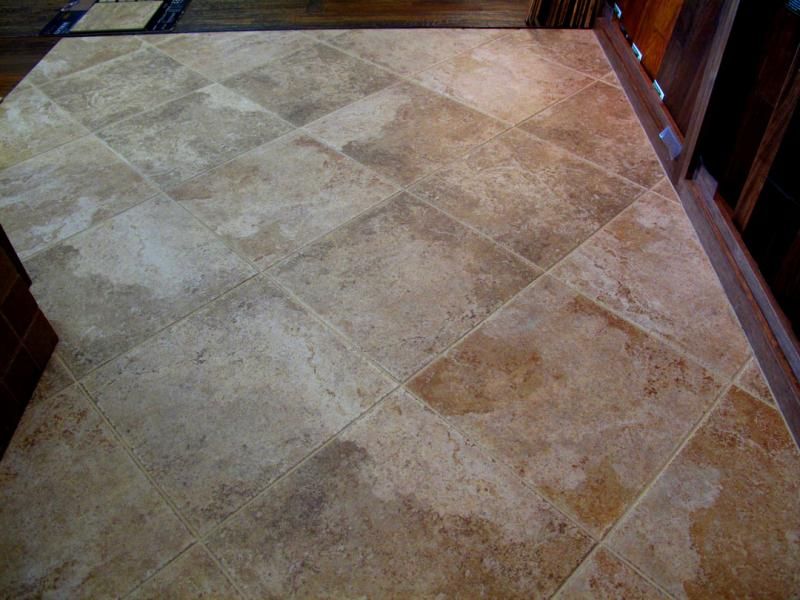 ---
| | | |
| --- | --- | --- |
| RE: So confused on my floor decision! | | |
Cute pups. I agree with mtn. I wouldn't go too rustic, but a floor with character, an ode or wink to rustic would be fine. I think the floor you like would be ok. But have you considered a lighter floor? With the dogs lighter may be better
This post was edited by iheartgiantschnauzer on Sun, Feb 23, 14 at 11:54
---
| | | |
| --- | --- | --- |
| RE: So confused on my floor decision! | | |
iheartgiantschnauzer, I was reading this and got the link for your floor supplier. They have heart pine at the most incredible price! thank you!
---
| | | |
| --- | --- | --- |
| RE: So confused on my floor decision! | | |
Ok, speaking from MUCH experience here :D. I have 11 dogs, 8 of which live in the house, 6 of those spend a great deal of time on my main floor. 5 of the 6 are German Shepherds. We train professionally and compete on a regular basis so the welfare of the dogs was utmost in our decision. When we were building the house the builder was convinced we should go with tile due to the dogs. We were and are adamantly opposed to tile with our dogs since wet tile becomes like a skating rink and leads to slipped stifles and torn cruciate ligaments. The hardwood floors are now 16 years old and still look great. We are just getting to the point of looking into refinishing. They are the easiest to clean and maintain with a houseful of dogs hands down. The tile floors in the bathrooms are a mess when the dogs have been in there, plus the grout holds stains. I do not play fetch with the dogs inside or let them really roughhouse. The floors you show have a roughed up kind of finish to begin with so will probably be even better than what we have (plain old oak with a nut brown color and satin finish). Just don't do anything too dark or too shiny and you should be golden.
This pic is the only one I have that shows any of my floors. The color was a mix of walnut and pecan of some sort. Sorry about the bad pic.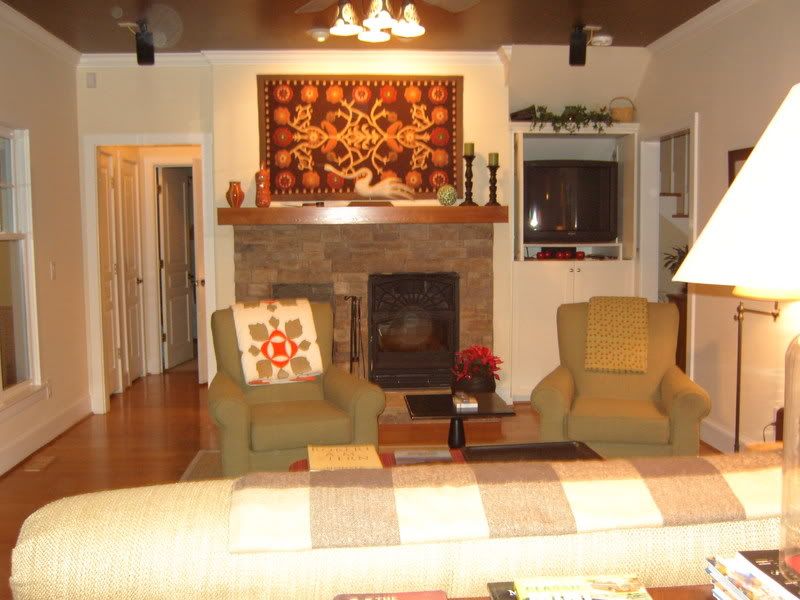 ---
| | | |
| --- | --- | --- |
| RE: So confused on my floor decision! | | |
I know this has been said but I think it is worth repeating.

I spent close to 20 years delighted with the tile floors we had throughout much of our house - so much easier with our dogs than the wall to wall carpet we had before the ceramic tile. Now I have spent 10 years regretting it as I live with the resulting foot problems. I cringe every time I see folks thinking about putting stone-like surfaces on floors, especially in kitchens where they are likely to stand for long periods of time.

Another thing to think about is sound quality. I managed that by hanging heavy drapes but tile will bounce sound. I still like the look - and the lack of worry about pet damage - but will never have stone-like tile, except in small areas like entry ways, again.
---
| | | |
| --- | --- | --- |
| RE: So confused on my floor decision! | | |
Although you may not be still be considering the rustic wood floor, and I apologize if I miss it being brought up in a previous post, but the repeat pattern could be something else to consider. The floor looks wonderful, with the big crack and distinctive knots. They can be rotated and mixed up throughout the room, but I will be visually be picking out all of the long crack tiles, then all of the distinctive oval knot patterned tiles. etc. When many customers look at the sample board containing one of each available, they visualize the entire room with each tile or board being unique. Then, when installed, those fifteen identical cracks don't match what they envisioned.

And thanks for the reminder, orcasgramma. My husband and I were planning to put in tile throughout much of our house, including the kitchen. The budget hasn't allowed for it yet, and I am nervous. He has bad knees. I have bad feet and ankles & hips. We have never had a lot of tile in our homes, so he always downplays my concerns when I bring it up. I doubt if I could get him to go with carpet again. Argh. I don't know what to do. I hate linoleum, and slightly more forgiving hardwoods are problematic in dry California.
---
| | | |
| --- | --- | --- |
| RE: So confused on my floor decision! | | |
bocron - Wow! You and iheart are definitely the poster children for having dogs and hardwood floors.

If I go with hardwood, I'm thinking about still using tile in the kitchen. I don't think the floors I like would look good in my kitchen since they're too close to the same color. I don't cook much, so I don't have to worry about standing on the tile for long periods of time. What do you think about the travertine look tile I posted? Too busy?

If I decide to go with hardwoods, I would like to put them in now and do the tile later. Would it be a problem removing the trim pieces between the wood and my current tile when I have the new tile installed?
---
| | | |
| --- | --- | --- |
| RE: So confused on my floor decision! | | |
I found a less busy floor that I think is gorgeous. It's on someone's blog from 2012, so I don't know if they even still make it, but I asked if she could tell me the name. Her blog has a link to Stone Peak Tile, but I'm not sure which one it is.

How would this look next to the wood I like?
This post was edited by msrose on Sun, Feb 23, 14 at 21:06
---
| | | |
| --- | --- | --- |
| RE: So confused on my floor decision! | | |
That floor would look great in your kitchen! It would look fine next to wood.
---
| | | |
| --- | --- | --- |
| RE: So confused on my floor decision! | | |
I know this is a terrible picture but I can't figure out how to lighten it! I'll take some more pictures tomorrow.

In real life the grout lines are brown but for some reason they look grey in the photo. No one is going to mistake this for real wood, lol.

My selection priorities were:
Porcelain because it is harder than ceramic and the color runs all the way through it.
No tiles longer than 3', because I heard the longer planks can be problematic.
I wanted at least a satin finish, if not high gloss like my wood floors.
I did not want the tiles to be perfectly flat on top.
I was not willing to pay more than $5 per foot...unless of course I fell in love with something, in which case price would have been no object.

I looked at what every "wood look tile" manufacturer had to offer. I didn't see anything I LOVED for any price. The only ones I liked at all were about $10 a foot.
I was on the verge of giving up when I walked into Lowes and saw one that came closer to my criteria than anything else I had seen (Home Depot carries the same tile). It was disturbingly cheap at $.80 a foot. I was told it was porcelain and even though it only came in 2' lengths, I was tired of looking and decided to take it. I thought it met all of my criteria except for multiple length planks. I'm going to cover most of it with area rugs anyway so I thought I could live with that lone disadvantage.

I later discovered that it is neither porcelain nor standard ceramic. It's some new stuff that is supposed to be much harder than ceramic. The color does not run through the tiles. It was too late to make a change when I discovered these facts.

During installation someone chipped a tiny spot on an edge. The white shows there. I'm sure a drop of stain will soak right in and solve the problem. It's so tiny I haven't bothered to do it yet.

I may live to regret using such cheap tile. I have NEVER used such low grade materials before. I bought a lot of extra tiles in case I have to replace any of my "indestructible" flooring. Only time will tell but so far, I could not be happier with it.
---
| | | |
| --- | --- | --- |
| RE: So confused on my floor decision! | | |
I noticed someone mentioned polishing the concrete. I was all set to do that at one point, but the various concrete polishers talked me out of it, lol.

I'm not crazy about the look, but I loved the idea of a high gloss finish. I found out it would have cost five times what a tile floor would cost and that the high gloss requires constant maintenance.

I will be putting in a new kitchen floor soon. I've noticed people talking about how standing on tile can become a problem. I am using tile throughout the kitchen/breakfast room, but I am having cork inserted across the work areas. There is nothing like standing on cork, but I don't want the whole floor done with it. The cork inserts will look like area rugs.
---
| | | |
| --- | --- | --- |
| RE: So confused on my floor decision! | | |
MS Rose: have you checked into the cork that Annie mentioned above?? I have read good things about it.

I think there are pros and cons to everything. You have read about all of the pros and cons and might just have to go with your gut and the look you like the most.

In my previous house we had oak hardwood floors. We didn't have any problems at all. In our current house we have birch and no problems. I worry more about the birch because it is a little softer wood. We didn't put it in but when we had the refinished the installer mentioned that I should have people take their shoes off, especially heels, because it could dent it. He has birch in his house and said he asks people to take their shoes off. That is embarrassing!!

My lawyer has a engineered floor that he can drop a bowling ball on and not dent it. That sounds fantastic! Whatever you do, search google for the wood and get the stronger wood so you don't have to worry about too many dents. Some dents are fine--even good---but not a lot of dents.

I haven't found scratches from a dog to be a problem. It is really inexpensive to have someone sand the finish and put down another coat if you find too many scratches.

I have seen the wood look in a light great at a house in Arizona. It was beautiful.

But, IMO, anything that drops and dents a hardwood could also shatter or chip a tile.
---
| | | |
| --- | --- | --- |
| RE: So confused on my floor decision! | | |
Rather than engineered wood, which is usually a very thin layer that can be refinished once at best, how about regular 3/4" pre-finished wood? It can be refinished many times if necessary.

I'm personally anti-tile. cold. hard. grout. blech. things break.

When I did a kitchen facelift in my last home, I went with a very high-end vinyl (fiberglass actually I think) that looked so like tile. I loved it. This particular one was so comfy on the feet, I didn't even need my foam support rug in front of the sink anymore like my prior vinyl. When I sold, this vinyl actually fooled realtors who thought it was tile. Vinyl is the absolute best for dogs and cleaning and comfort. Also as a gardener, I was always tracking in crud.

I now am in a house with hardwood throughout the main floor and my feet HATE it. It's not dark, but it shows spots all the time. I have a lot of natural light reflecting off it. I got a steam cleaner, which helps, but is not ideal.

Cork with dogs and a kitchen doesn't strike me as a good idea even though I know it's done a lot.

Even though I am anti-tile from a functional viewpoint, I do like that last picture of the tile you posted. Fresh and modern look.
---
| | | |
| --- | --- | --- |
| RE: So confused on my floor decision! | | |
Thanks, Cindyloo! Lowes is actually one place I haven't looked. I liked the one at HD, but I guess I didn't "love" it and I kept waiting to find something I love.

I haven't thought about cork lately. I remember someone posted a cork floor a couple of years ago and it looked just like wood. I thought it was so pretty and then I checked the price! Hopefully, they're not all that expensive.

I'm leaning towards wood in the living areas/bedrooms and tile in the kitchen now.
---
| | | |
| --- | --- | --- |
| RE: So confused on my floor decision! | | |
Cindyloo, do you have an inspiration photo of this? -->I am using tile throughout the kitchen/breakfast room, but I am having cork inserted across the work areas. ..The cork inserts will look like area rugs.<---

When you have yours installed, I hope you will share photos. I am not ready for the kitchen remodel yet, since other rooms are being done first. But my basic plan needs to be in place so the finished rooms will all look nice together. I have talked to my husband again, and we have decided to tile the bathrooms, hall, office, and maybe the dining area, while leaving the den carpeted.
---
| | | |
| --- | --- | --- |
| RE: So confused on my floor decision! | | |
Here's a pic of GF's kitchen with cork flooring.

Here's a pic of my kitchen flooring. We went from wood to stone look vinyl in the kitchen. The nice thing about using all one material is no transitions...otherwise, because the tile is a different thickness than the wood floor, either your subfloor has to accommodate it or you need to have transitions between the rooms.

---
| | | |
| --- | --- | --- |
| RE: So confused on my floor decision! | | |
Gyr, I don't have any inspiration photos. I have been agonizing for years over what material to use for a new kitchen floor. I'm not crazy about the look of cork, GOOD cork is very expensive, and I didn't feel like worrying about people with heels walking around in my kitchen. I wanted tile, but was afraid of standing on such a hard surface for long periods.

I was touring the 1910 Nemours Mansion in DE when I saw the solution. The finished basement is at least 5,000' and the same high gloss terra cotta tile is used throughout. But in the billiards room, there is path of cork flooring that runs between and around the 6-8 billiard tables. There is a world of difference between standing on the tile and standing on that cork!

I've linked to the only photo I found that shows the floor at all. It's hard to see, but the 3-4' wide darker flooring that runs closer to the tables is the cork.

The cork comes in many shades and colors now, so the insert for my kitchen can be in any pattern I want.
Here is a link that might be useful: Nemours Floor
---
| | | |
| --- | --- | --- |
| RE: So confused on my floor decision! | | |
My parents put Duro design glued down cork tiles (not floating floor) in the kitchen of their last house, with an 80lb lab and a 25lb pug mix, the floor was destroyed within two years. The scratches were so deep they didn't reseal properly and water and dirt got down into the cork, leaving deep stains that were not repairable with sanding. The floor was like 6-7 dollars a sqft, they had bought all the proper sealants from the company and had it professionally installed.
---
| | | |
| --- | --- | --- |
| RE: So confused on my floor decision! | | |
Thank you for sharing some photos AnnieDeighnaugh and Cindyloo. I tend to be a visual designer, and not very creative about coming up with ideas that are not adaptions from something already seen, so photos help a lot. Nice to have more options to think about, even if no perfect solutions seem to be available yet!

edit add: I do like your vinyl floor's look. And it is a sensible choice for long standing and easy care. There is just a long-earned aversion to vinyl from years of rentals with ugly flooring to overcome. I need to go see some of the newer stuff perhaps.
This post was edited by Gyr_Falcon on Wed, Feb 26, 14 at 16:55
---
| | | |
| --- | --- | --- |
| RE: So confused on my floor decision! | | |
Roobear thanks for that information. That is the first "fail" I've heard about with cork, but of course I know very few people that have tried it.

My niece is in the process of having cork installed on the entire main level of her house. She has two great danes. I know she is using the best quality cork she could find and I can't wait to hear her reports about how it holds up.
---
| | | |
| --- | --- | --- |
| RE: So confused on my floor decision! | | |
I called the floor guy today. He's going to come measure tomorrow and bring the wood floor sample. I just hope I like it as much in my house as I did in the store.
---
| | | |
| --- | --- | --- |
| RE: So confused on my floor decision! | | |
Gyr if what I saw at Nemours is not the perfect solution I don't know what could be, lol.

Before I discovered the tile/cork combo I contemplated using all tile and buying custom area rugs to cover the entire work/standing area. I was going to put memory foam or something similar under the rugs.

You could also put a vinyl insert in the work area. I think if you want tile like I do, there are numerous options to make the work area better for standing.
---
| | | |
| --- | --- | --- |
| RE: So confused on my floor decision! | | |
msrose, which do you think you're going with?
---
| | | |
| --- | --- | --- |
| RE: So confused on my floor decision! | | |
It would be Cindyloo, if only I had a Nemours-sized kitchen! lol The work-portion of my kitchen is "U" shaped, with about 7' x 6' of floor, so there would not be a lot of tile for the middle. I am considering modifying the softer flooring shape to an "L" for where I would be standing the most; the new sink and prep area. The stove area would be tile still, but I usually stand to the right of the stove for prep and cooking since the only decently-powered burner is the front right.
---
| | | |
| --- | --- | --- |
| RE: So confused on my floor decision! | | |
I'm thinking about putting wood in my family room, dining room and two bedrooms. I already have tile in the rest of the house, but I would like to replace it eventually. If I get the wood now, will they mess up the transition pieces when I replace the tile later or is it easy to take it up and put it back?
---
| | | |
| --- | --- | --- |
| RE: So confused on my floor decision! | | |
That is a good question. We have tile in our laundry room. When we had hardwood laid in the adjoining hallway, the transition piece was a piece of the hardwood laid across the doorway (perpendicular to the hardwood floor.) So if you replace the tile with tile it shouldn't be a problem. If you replace it with hardwood I am not sure of the answer. I would be sure to discuss all transitions with your installer to make sure he knows what you want and your future plan for adjoining spaces.
---
| | | |
| --- | --- | --- |
| RE: So confused on my floor decision! | | |
corgimum - Did you ever get your backsplash done?
---
| | | |
| --- | --- | --- |
| RE: So confused on my floor decision! | | |
Yes-we installed it ourselves. I hope to post my kitchen soon. My cabinetmaker was here this week for some final touches so I need to take some photos.
---
| | | |
| --- | --- | --- |
| RE: So confused on my floor decision! | | |
Msrose, I have been following this thread so I am looking forward to finding out what you ended up doing in your kitchen and other rooms of the house.
---
| | | |
| --- | --- | --- |
| RE: So confused on my floor decision! | | |
I got my estimate on the hardwood and it's more than I originally planned on paying, so we pulled out some cheaper ones and nothing even compared. If I can get a good deal on tile, I'll do that now also. I may have to wait for it though. The guy said there's a chance they could break the wood transition pieces if I do the tile later, so I looked for something at three tile stores today and it's just so hard looking at one tile and trying to figure out what it will look like in a whole room. I started out thinking I wanted a light colored floor, but now I'm thinking something darker would look better with the wood, but I don't want anything too dark or too busy. I'm going to a few more places tomorrow.

One thing the guy said is I can take the wood right up to my fireplace. I know someone mentioned you can't have wood there, so I wonder if different states have different rules? I never burn my fireplace, so I'm not worried about any safety issues, but I just want to make sure there aren't any regulations saying I can't do it.

If anyone has a picture of their kitchen tile next to the hardwood, I'd love to see it.
---
| | | |
| --- | --- | --- |
| RE: So confused on my floor decision! | | |
I really like this tile, but I have two concerns. My countertop takes on a cool tone at times, so I'm not sure how it looks with the tile. As you can see, the rest of my house has lots of warm tones, although I would like to eventually change the paint color to something lighter. My second concern is the color of the tile may drive my paint color choice since it is more of solid color than a blend. That's what happened when I painted my house the last time. I had to go with a paint color that looked good with my tile rather than one I loved. My current tile has a slight pinky orangey undertone and this tile is more of a true warm color. I held Manchester Tan up to it and I think it would look good, but I'm not sure that would be my choice if I could go with anything I like.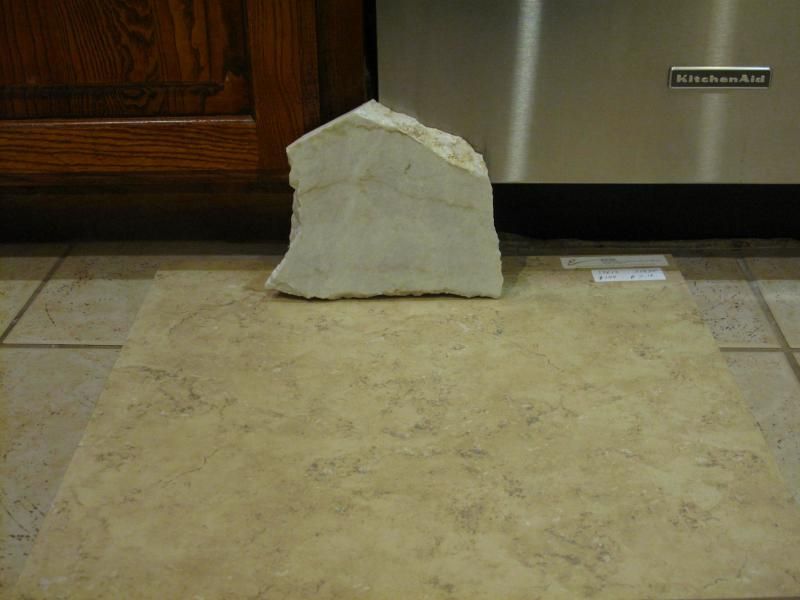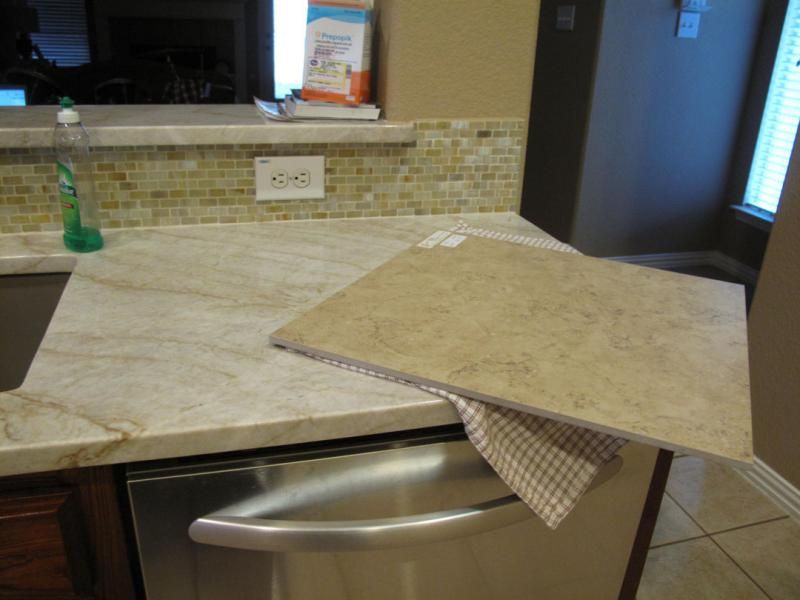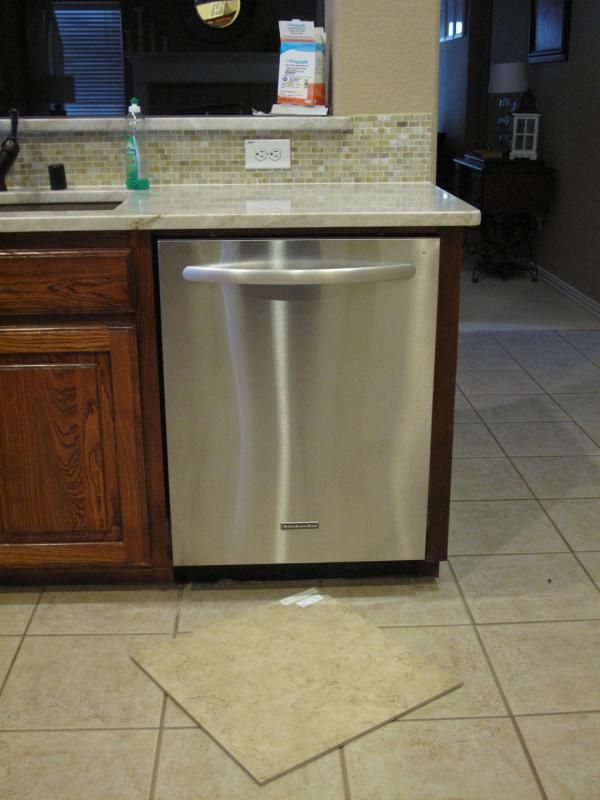 Would I be better going with something like the light tile on the bottom, so I might be open to more possibilities on paint colors. He didn't have this tile for me to bring home, but he said he could order one for me.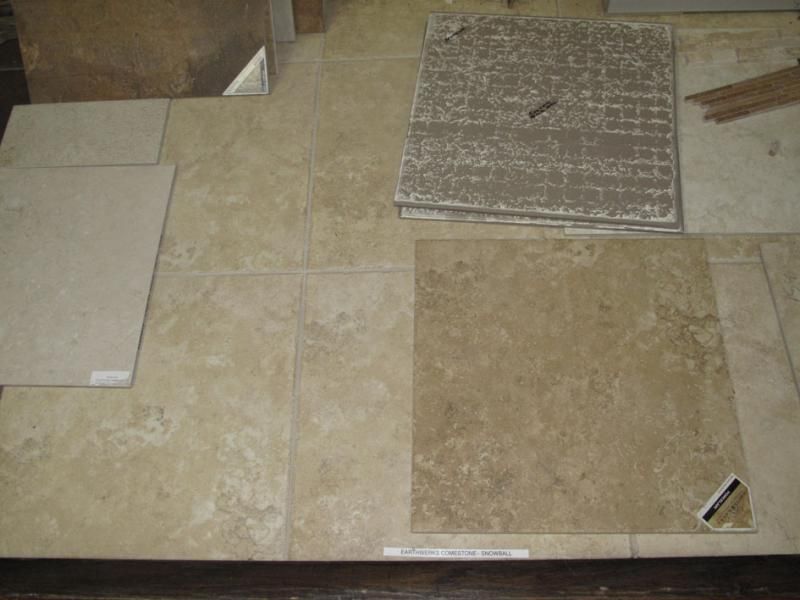 This post was edited by msrose on Sat, Mar 1, 14 at 9:16
---
| | | |
| --- | --- | --- |
| RE: So confused on my floor decision! | | |
I have had laminate flooring in my kitchen/dining room and laundry room for about 8 years and love it....so easy to clean. I have ceramic tile in the bathroom with white grout and I have had a horrible time keeping the grout white.....I would put someting "groutless" in the bathroom if I had it to do over again. I cannot imagine cleaning a whole kitchen with grout. We do not have pets. I don't think you can go wrong with hardwood floors....they look so pretty.
---
| | | |
| --- | --- | --- |
| RE: So confused on my floor decision! | | |
I used Spectraloc grout in my front foyer in a light mushroom color and it stays nice and clean. The guy who installed it should have used one batch for each foyer as the middle foyer where I keep the puppy pads was not done right and had dried out and that is getting stained from pee. But if the grout is sealed and is a neutral color, it should be fine. I am using tile in my kitchen also but may use a Permagrout with a sealer. I always like the grout to blend with the tile.

I like the tile on the counter as it goes well with the backsplash and the design inside the counters. What is the name of your granite counters as I like them?
---
| | | |
| --- | --- | --- |
| RE: So confused on my floor decision! | | |
Why are you changing the kitchen tile? The colors you are selecting look quite similar to what is there except for size. As far as a hardwood transition piece getting broken goes, it should be an easy replacement as long as you have some extra boards.
---
| | | |
| --- | --- | --- |
| RE: So confused on my floor decision! | | |
We have Bruce hardwood floors, solid wood. The strips originally had bevels but when we had them refinished, they sanded away the bevels (yay!). The wood is white oak, stained with Bona cherry stain, then 2 coats of Bona Traffic.
We have 2 Golden Retrievers who are not rambunctious but neither are they house plants. This is a close up of the kind of "scratches" on the floor from their nails. Actually, the wood refinishers explained they are not scratches but pressure indentations. (I do their nails on a pretty regular basis.)

I am posting to show what has happened over time to our floors. Unless the light is coming in at an angle to show the marks, they are not noticeable. But there a bazillion of them after 5 years.
---
| | | |
| --- | --- | --- |
| RE: So confused on my floor decision! | | |
lynn - My granite is Taj Mahal. Does Spectraloc grout resist stains more than a normal grout?

corgimum - That's a very good question! I'm only going to replace the tile if I can find something I really like. I like the idea of having a bigger tile and I'm hoping to have smaller grout lines this time, but I think that depends on the tile I pick. I certainly don't hate my current tile, but it has a slight pink undertone I don't like. The sample I had was similar minus the pink tone. In person, its a much prettier tile than the one I have. I know the decision is ultimately mine, but both the tile guy and my mother didn't like the color, so that worries me. I found another one I like, but I couldn't tell enough about the color from the tiny samples, so he's going to get a full size tile for me to look at.

nanj - Thanks for posting your picture, so I can be prepared for what might happen. The guy took his car keys and rubbed them across the wood floor I'm looking at to show me they shouldn't scratch, because of the protective coating. Is that a good test? Is it a gimmick to make me think they're more bullet proof than they really are?
---
| | | |
| --- | --- | --- |
| RE: So confused on my floor decision! | | |
Spectralock grout never has to be sealed. Now I am thinking of using this again as my front foyer is still clean. The middle foyer where the puppy pads are was not done right and almost any grout would have problems from pee. I think this grout would hold up great in a kitchen. They have a link for free samples. I like both the Mushroom grout and the Antique White grout. I have Mushroom grout now and it is so neutral and does not look dirty. It is just that not all installers know how to use this grout.

My Porcelain tiles are wonderful in my foyer areas as they always look clean and are sturdy and do not stain. My tiles are also not slippery when they are wet.

My new tiles for my kitchen are 17.5" X 17.5" rectified and I love the bigger size.
Here is a link that might be useful: Spectralock grout never has to be sealed
---
| | | |
| --- | --- | --- |
| RE: So confused on my floor decision! | | |
Msrose, I love your Taj Mahal granite counters!
---
| | | |
| --- | --- | --- |
| RE: So confused on my floor decision! | | |
lynn - Can you post a picture of the larger tile in your foyer?
---
| | | |
| --- | --- | --- |
| RE: So confused on my floor decision! | | |
MsRose, I did not listen to this forum and used the 12.4" X 12.4" Adoyal Bone tiles in my two small foyers which I LOVE but wish now I went bigger like I am going to do in my kitchen as the less grout the better. But my front foyer that gets so much traffic from clients and friends and delivery people in and out of my home seems to stay clean and is next to the wood. My tiles in the kitchen have not been installed as I want new cabinets so I want to decide on my new cabinets first as I hate the blind cabinet and the lack of drawers. If you want a picture of the 12.4 X 12.4 tile next to the wood. I will see if I have any saved and try to remember how to post a picture as I used to use links. I am in the middle of tax season and have so much to do today but maybe it will not be difficult to do.
---
| | | |
| --- | --- | --- |
| RE: So confused on my floor decision! | | |
I found pictures on my hard drive that I emailed to myself as they were in a folder saying Pics From Former Computer as I got a new computer in September 2013. Now I have to figure out how to post them here without setting up a link like I used to do.
---
| | | |
| --- | --- | --- |
| RE: So confused on my floor decision! | | |
I've started a different thread to post some info about tile grout.
---
| | | |
| --- | --- | --- |
| RE: So confused on my floor decision! | | |
MsRose - Car keys do seem to be a good test for scratches but large dogs' nails put impressions in the wood, they don't scratch the finish. From what other dog owners have said in this thread, there must be woods that are not as easily damaged by dogs' nails as mine are. Wood hardness is not only a characteristic of the species of the tree but also the age of the tree itself. Old trees' wood is denser than new trees.....old growth timber is valuable for a reason.

Sorry I can't help with your decision! I love the look of wood floors but after my experience I have promised myself I will never do wood again. (We will always have big dogs in our family.)

But then an earlier poster, Bocron, with the German Shepherds certainly makes it tempting to think I could maybe find that one type that wouldn't be damaged by my big dogs.....
---
| | | |
| --- | --- | --- |
| RE: So confused on my floor decision! | | |
OK, I posted several pictures for you msrose on the other thread to show me you tile floors. I hope it helps.
---
Post a Follow-Up
Please Note: Only registered members are able to post messages to this forum.
If you are a member, please log in.
If you aren't yet a member, join now!
---
Return to the Home Decorating & Design Forum
Information about Posting
You must be logged in to post a message. Once you are logged in, a posting window will appear at the bottom of the messages. If you are not a member, please register for an account.
Please review our Rules of Play before posting.
Posting is a two-step process. Once you have composed your message, you will be taken to the preview page. You will then have a chance to review your post, make changes and upload photos.
After posting your message, you may need to refresh the forum page in order to see it.
Before posting copyrighted material, please read about Copyright and Fair Use.
We have a strict no-advertising policy!
If you would like to practice posting or uploading photos, please visit our Test forum.
If you need assistance, please Contact Us and we will be happy to help.

Learn more about in-text links on this page here