Return to the Home Decorating & Design Forum
|
Post a Follow-Up
---
| | | |
| --- | --- | --- |
| I could really use some help with my ceiling... | | |
Posted by
aggierose
(
My Page
) on
Fri, Feb 15, 13 at 18:07
I'm repainting my entire house. I've chosen Benjamin Moore Shale to be used on most of the house and so far I'm really loving how it looks. I have a ceiling that starts at 8 feet, but they is vaulted up to the second story. Here's a pic: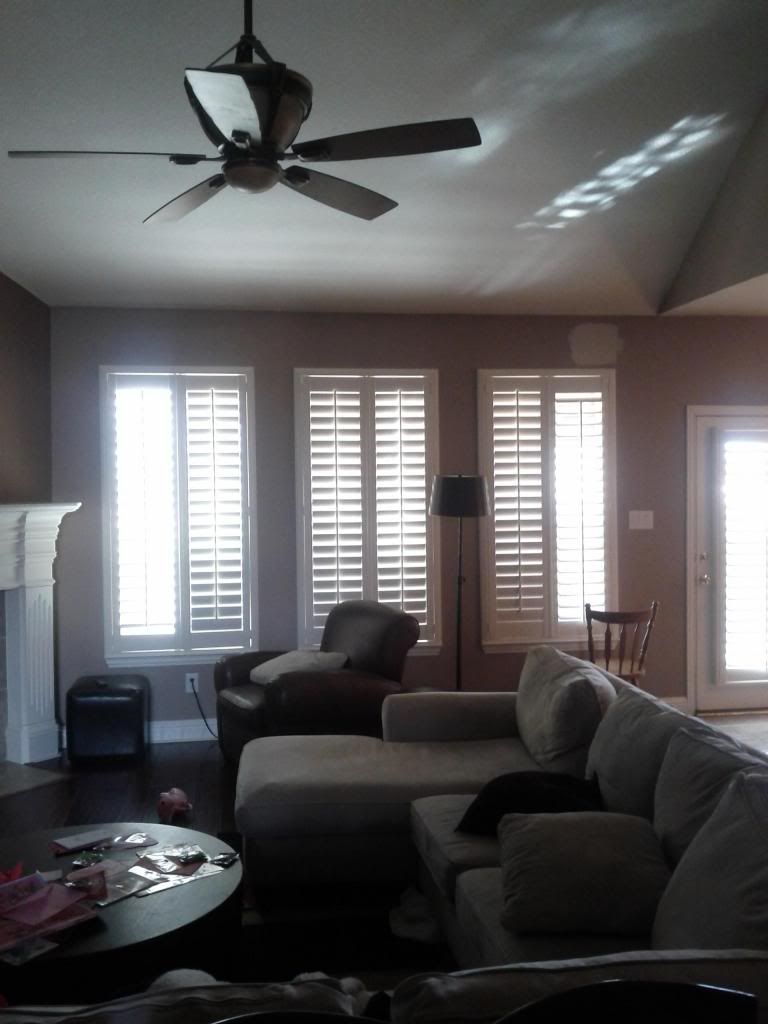 The current color on the wall is Sherwin Williams Trust Tan. (I haven't painted this room Shale yet) The ceiling is whatever white the builder used. The break in colors seems to really chop the room in half to me and I think having the same color on the wall and ceiling would make the room look a lot bigger. My problem is that the ceiling continues throughout the second story and I think Shale will be too dark to use upstairs. I tried Shale mixed at 50% but when I put it on the ceiling it still looked just as dark as the regular version. Should I just keep the ceiling white? Are there any other colors that would look great with Shale yet wouldn't be too dark? Here's another picture of the ceiling, this time I'm standing at the windows looking up towards the second story. Please ignore the terrible picture and the very messy house!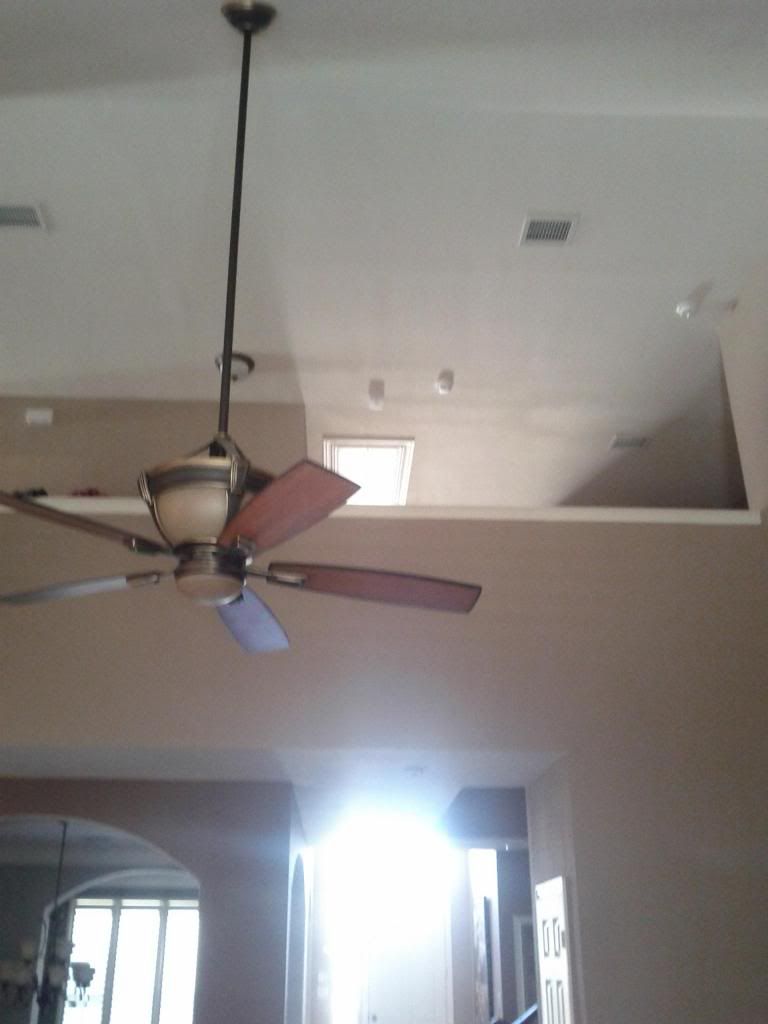 ---
Follow-Up Postings:
| | | |
| --- | --- | --- |
| RE: I could really use some help with my ceiling... | | |
I don't have any experience with Shale, but I just googled it and it looks like a fairly light color. You could try it at 25%, maybe? I am all for non-white ceilings; however, my honest opinion is that I see a lot of little white "things" up there on that ceiling (can't tell what they all are -- some are vents, others might be smoke detectors or something?) that might look like random white polka dots on a non-white ceiling. Do you know what I mean? I'm talking about the pic of the second story ceiling. So I guess what I'm saying is if you go with a color other than white, I'd suggest keeping it as light as possible so those little items aren't too conspicuous. Unless they can all be painted, too?
---
| | | |
| --- | --- | --- |
| RE: I could really use some help with my ceiling... | | |
Thank you sueb. I will definitely be painting all vents the same color as the wall or ceiling that they are on. Benjamin Moore will put any color you want into a spray can which makes painting them very easy. One of the other white things is a very old light that will soon be replaced with a recessed light, the bronze colored light will also soon be a recessed light. The other white things are smoke detectors. I don't know any way of painting or hiding those.
---
| | | |
| --- | --- | --- |
| RE: I could really use some help with my ceiling... | | |
I repainted my house which also has a two story foyer and living room and I painted the ceiling the same color and I am really happy with how it looks. Our situtation was a bit more complicated as we have rounded corners and couldnt really stop anyway. Regardless though, I think having the ceiling the same color looks more sophisticated and less choppy (and less of that builder grade look).

I'm not sure how dark shale is, the color we used was SW taupe tone at 40% and I'd say it's pretty light.
---
| | | |
| --- | --- | --- |
| RE: I could really use some help with my ceiling... | | |
After looking up the color shale by bm, i think it is light enough that you could do all walls and ceiling with it.
---
| | | |
| --- | --- | --- |
| RE: I could really use some help with my ceiling... | | |
Lyban, I think I'm going to go ahead and try it on the ceilings as well. It took me so long to find a gray/taupe that I like and the thought of finding another one that's lighter sounds awful. I just don't want to have to repaint it because I'm having to hire painters to do the ceilings.
---
| | | |
| --- | --- | --- |
| RE: I could really use some help with my ceiling... | | |
Light colors can look much darker on ceilings because of the light angles, the different texture, etc. I recently went through a lot of trials to find the right color for a tray ceiling because the horizontal and vertical surfaces were so different. If 50% looked as dark on the ceiling as the 100% on the wall, I think you'd better test the straight color on your ceiling before you have the painters do the whole thing. You may want to go try 25% or even less, and in my case, I had to adjust color balance too.
---
Post a Follow-Up
Please Note: Only registered members are able to post messages to this forum.
If you are a member, please log in.
If you aren't yet a member, join now!
---
Return to the Home Decorating & Design Forum
Information about Posting
You must be logged in to post a message. Once you are logged in, a posting window will appear at the bottom of the messages. If you are not a member, please register for an account.
Please review our Rules of Play before posting.
Posting is a two-step process. Once you have composed your message, you will be taken to the preview page. You will then have a chance to review your post, make changes and upload photos.
After posting your message, you may need to refresh the forum page in order to see it.
Before posting copyrighted material, please read about Copyright and Fair Use.
We have a strict no-advertising policy!
If you would like to practice posting or uploading photos, please visit our Test forum.
If you need assistance, please Contact Us and we will be happy to help.

Learn more about in-text links on this page here