Return to the Home Decorating Forum
|
Post a Follow-Up
---
| | | |
| --- | --- | --- |
| Using space from garage to build mudroom...what do you think? | | |
Posted by
patches123
(
My Page
) on
Thu, Feb 14, 08 at 17:53
I am seriosuly considering taking some space from the garage and building a mudroom. My garage is approx 18 wide by 21 feet long. The mudroom would have to go across the width at the back of the garage. Our vehicles are 16 feet long and 14 feet long. I wcouldn't go all the way accross the 18 feet with the mudroom as I have to leave some space for the longer vehicle. Its 5.7 feet wide, so thinking the mudroom could be 10 feet long by 5 feet wide?

Right now, the garage opens into a tiny hall that is right off the kitchen. The hall has three doors and then the opening to the kitchen so there is no room for a bench and just a bit of room to hang coats. Since it opens into the kitchen, in an open floor plan, it always looks bad since shoes are piled up as are coats and bags.

So, how much space do I need for this? Is five feet wide by 10 feet long enough?

There are two adults. We like to each store 7-10 pairs of shoes as our bedroom is upstairs and we remove shoes when coming in. I want the shoe storage here. We each have two to three coats and then 1-2 bags. The there are the dog leashes and collars. I want to include a bench too.It would be nice to have some shelf space to store those big kitchen items that are used just a few times a year.

My garage is the standard 2 car new construction size so space is tight, but I am willing to carve some space out for this.

Has anyone done this or seen this?

I found something similar online.

What do you think?

Here is a link that might be useful: Mudroom online
---
Follow-Up Postings:
| | | |
| --- | --- | --- |
| RE: Using space from garage to build mudroom...what do you think? | | |
When I built my first house in 1994 we stole some garage space to enlarge the laundry room. Had we not, you would have walked into a hall with the w/d on the left and a wall on your right, the door to kitchen was about 4' from door to garage.

We pushed the mudroom to the left so w/d was at the end of what was now about a 10' long room. (room is as wide as w/d - I am guessing 4 or 5'?)

We also put a utility sink in the room. You can see this in the huge pic below: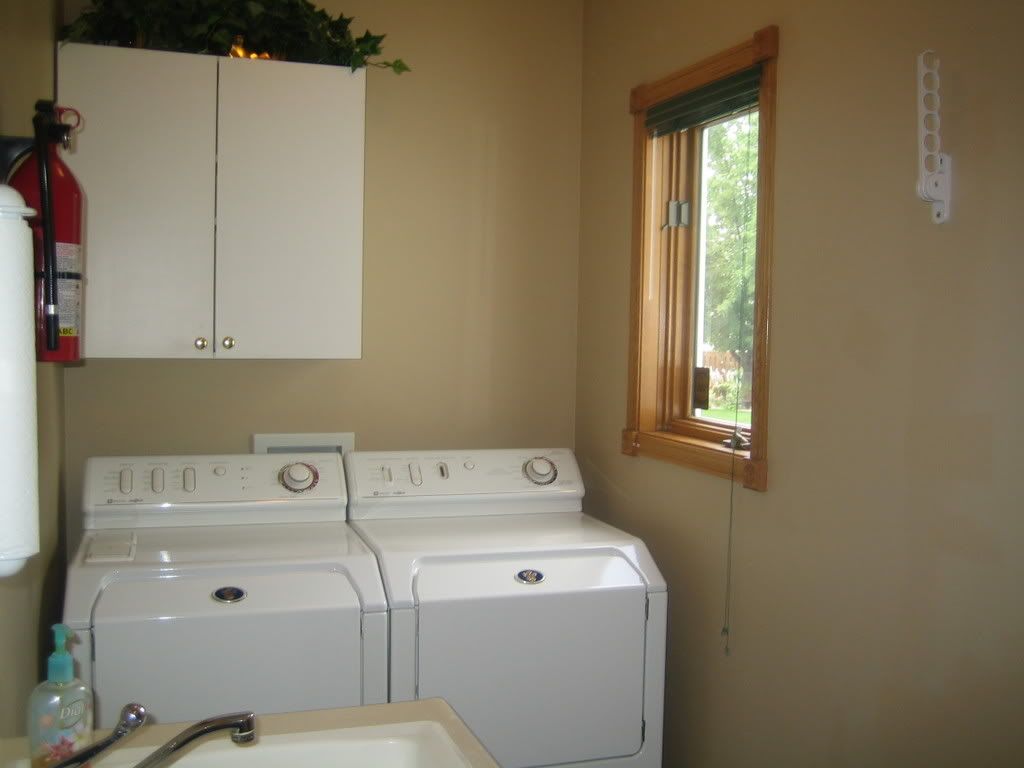 So...the million dollar question - did I miss the garage space? Well, if I had it and had to give it up I think I would have missed it. Since I never had it (new build) I did not miss it. However, if I had to do it all over again I would find another way.
Garage space is like the best space in the house. It is sad, isn't it? And, we had a 3 car garage but DH used 3rd garage as a workshop so space was tight in the 2 car. We parked bikes (as our kids grew) between the 2 cars which meant car doors getting hit and bikes being knocked over.
If you can be very organized about your space - using ceilings and walls to hang things, I think you will not regret creating the mudroom. Perhaps some things from the garage could even move in, reducing the cramped feeling of the garage.
P.S. More than one time I closed the garage door down close enough to my car to scrape the bumper (didn't trigger the laser thing but the things that stuck out of the back of the door scraped the paint :-(...it takes some getting used to having just enough space!
Good luck!
---
| | | |
| --- | --- | --- |
| RE: Using space from garage to build mudroom...what do you think? | | |
This probably varies from place to place but when I did something similar at our last house, code said the garage needed to be 20 ft. deep. If you do this and need to sell, you may have to remove it. Just something to keep in mind.
---
| | | |
| --- | --- | --- |
| RE: Using space from garage to build mudroom...what do you think? | | |
Thanks for the pics whenicit - helps to see what the space can look like.

I'm OK with having to tear it down when/if we sell. I will have to check though as I haven't heard that in my area, but good to know.

We can definitly move stuff out of the garage as we have a unifinshed walk out basement. And have thought of getting a small shed for the lawnmower, weed eater, etc.
---
| | | |
| --- | --- | --- |
| RE: Using space from garage to build mudroom...what do you think? | | |
Just be careful if you are in a cold climate. We are and our kids shoes and boats are kept in the garage. It is not ideal to say the least because it is icy cold out there so they end up opening the door to go in and out to get their stuff several times. I lose so much heat this way!

Maybe yours would be heated!
---
| | | |
| --- | --- | --- |
| RE: Using space from garage to build mudroom...what do you think? | | |
We are in a somewhat cold climate. Dec - Feb is pretty cold, with lows of 20 on average, with some lower than that.

I would plan to insulate the mudroom well. The garage is not heated and it would be difficult to get heat into the room, unless I did radiant heat under the flooring, something to think about though.

Hopefully, having a second room, insulated, inside the garage would keep it warmer than just the garage.

Here is the floorplan. The garage and mudroom are drawn to scale. The rest of the house is not.
---
| | | |
| --- | --- | --- |
| RE: Using space from garage to build mudroom...what do you think? | | |
Wow, that woudl be one tight garage!!!!

Here is what I would consider doing instead: Keep the garage the same as the original but add closed cabinets where you are showing your coats/shoes. Lose the single door into the office-- it has the double doors into the goyer anyway. Then make that little hallways space into a smaller mudroom, since you do not need floorspace in the mudroom as much as you need wallspace, and the mudroom in your plan has a lot of wasted doorway/stair space. You could certainly annex some space by making that bathroom smaller and more efficient. You might be able to use some of that office area as well. But honestly, as drawn the mudroom does not seem especially efficient or useful and makes the garage space almost ridiculous if used for cars. That little hallway created by the office is completely useless space right now. You could also add some of that functionality to that are next to the front door-- another closet perhaps? But I keep coming back to the idea of turning that hallway into a real mudroom. How about if you relocated the vanity to across from the toilet? You could put in a pocket door (we have several and love them) and the bathroom would be half its current size, which would be fine since it is just a powder room anyway/ You can get lower profile vanities to save space. Ditch that office door and suddenly you have created a mudroom as large as the one you are considering without ruining the garage. I am picturing the bench area right where that office door is now. Then lots and lots of storage, floor to ceiling. One thing I am big fan of in mudrooms is to have sheves that are very close togetehr to hold many many pairs of shoes. One friend added two more shelves to each of her mudroom cabinets (since shoes are not very high) and then added hooks for jackets and leashes to the outsides of the cabinet doors-- talk about functional! It is very easy to swing open the cabinet doors with all their jackets and grab a pair of shoes. I am afraid that having the garage sp tight would really bother me--- you'd also have to be an incredibly accurate parker!!! But I am wondering if you think repurposing and remodeling the hallway might work.....
---
| | | |
| --- | --- | --- |
| RE: Using space from garage to build mudroom...what do you think? | | |
I heartily second skatiero's suggestions! While I can see how valuable a mudroom is—fantastic, in fact—I think perhaps you're being unrealistic in what you'll be able to fit into that space. You really can't comfortably walk with groceries, kids, etc through a walkway less than 2' wide which is what you'll have with the shelves in place it looks like from your drawing. Also for fire code, the door into the garage should be a fire door rather than a pocket door. You don't really want to start ripping out walls when/if you sell, and even for your own occupancy, I'm not sure your insurance will allow that. Maybe since the other door from the garage into the house remains?, but not sure about that. I'm also assuming the coat/shoe space will be using hooks and perhaps cubbies, rather than a rod since a rod usually requires about 2' of depth to allow the coat hangar with a coat to fit. Since it's such a tight fit, be sure to allow enough for wall space, which with sheetrock ends up eating up 4"-6". I think it would be so tight as to be miserable.

When we were re-doing our kitchen, I was trying to put a pantry into a space the cabinetmaker just kept insisting wasn't big enough to walk into. I was sure he was wrong, but when I actually stood in the space and put cardboard up to visualize the walls, he was right. Arghh! …don't you just hate that?? But we were still able to make one using another spot. Hopefully you'll make this work, too, but I think the other idea will have a better outcome for you. As garages go, yours is pretty small already. Oh, I just noticed that the driver of the longer car, wouldn't be able to exit the driver's door when parked---that could get annoying!
---
| | | |
| --- | --- | --- |
| RE: Using space from garage to build mudroom...what do you think? | | |
Lol...I actually wanted to turn that hallway into the mudroom by moving the bathroom door to the other wall. Putting in a smaller vanity and closing off the door to the office. But DH said no way no how aint going to happen. He will build the room in the garage though. Which to me is funny as most guys like their garage space.

(Actually when we converted the dining room to office I wanted that to be the mudroom and pantry, but I lost that battle)

Honestly, we do not park both vehicles in the garage.

Only the smaller one. When we do, DH has to back the truck in anyway in order to get out the door as the garage is not wide enough as you noted.

Ideally, we would park both vehicles in, but in 8 years it has happened maybe three times. Right now, the stairs and doors are there as shown. We have shelving and a tool cabinet, so with all that and the other stuff its already 3' out. My hallway shown in the pic is only 4' wide.

I would use cubbies and hooks for the shoes and coats, I just didn't have that shape in Visio to draw it. Maybe I need to get some cardboard and mock it up and see how tight it would be. My walk in MBR closet is 5.2' wide with shelving on both side and seems plenty wide, but you guys might be right.

I do need to put a call into the codes official to make sure a pocket door would be code since we would be keeping the fire door between the garage and house.
---
| | | |
| --- | --- | --- |
| RE: Using space from garage to build mudroom...what do you think? | | |
Code here does not allow pocket doors there, either.

Are you sure you really want to do this? It seems as though it could seriously affect your property value in a negative way. And seem poorly designed. I do not want to be offensive, just my opinion only. If your husband is being unreasonable, perhaps you could show him the responses here.
---
| | | |
| --- | --- | --- |
| RE: Using space from garage to build mudroom...what do you think? | | |
I appreciate your opinion....not offensive at all. Would I rather have the mudroom area in that wasted hall space? Absolutely. But, my only choices are nothing or this. I tried putting wardrobe type cabinet, but found that it didn't work as well as expected.

Maybe its just where I live, but people routinely convert the entire garage into rec rooms.

I am going to get some carboard and mock it up. I am just sooo sick of seeing shoes and coats and bags basically in the kitchen.

Why do they design houses like this?
---
| | | |
| --- | --- | --- |
| RE: Using space from garage to build mudroom...what do you think? | | |
my neighbor did this. Not sure if they can still fit a car in that bay, they do put the other car in. They have 3 kids and it is fabulous for them. I considered doing a similar thing, but didn't want to lose the garage space--so we had tall cabinets installed in our family room right inside the garage door that match our kichen that we use as a closet.

What is in your office?? Can you put any kind of storage on that wall that backs up to the bathroom?? I would think that might be close enough to the back door to be easy to get to, but out of sight?
---
| | | |
| --- | --- | --- |
| RE: Using space from garage to build mudroom...what do you think? | | |
Good idea, Namabafo.

Or how about closable deep cabinets (maybe even a wardrobe system like PAX from Ikea) all along the wall in the garage, and ditching the walled-in aspect of it?
---
| | | |
| --- | --- | --- |
| RE: Using space from garage to build mudroom...what do you think? | | |
Well a bit of good news. I was out in the garage and thought something didn't seem right. My garage is actually 22' long not 20'. I couldn't get visio to do a 22', so its shown under by a few inches. So that helps some. I'm getting some cardboard later today to do a full mock up.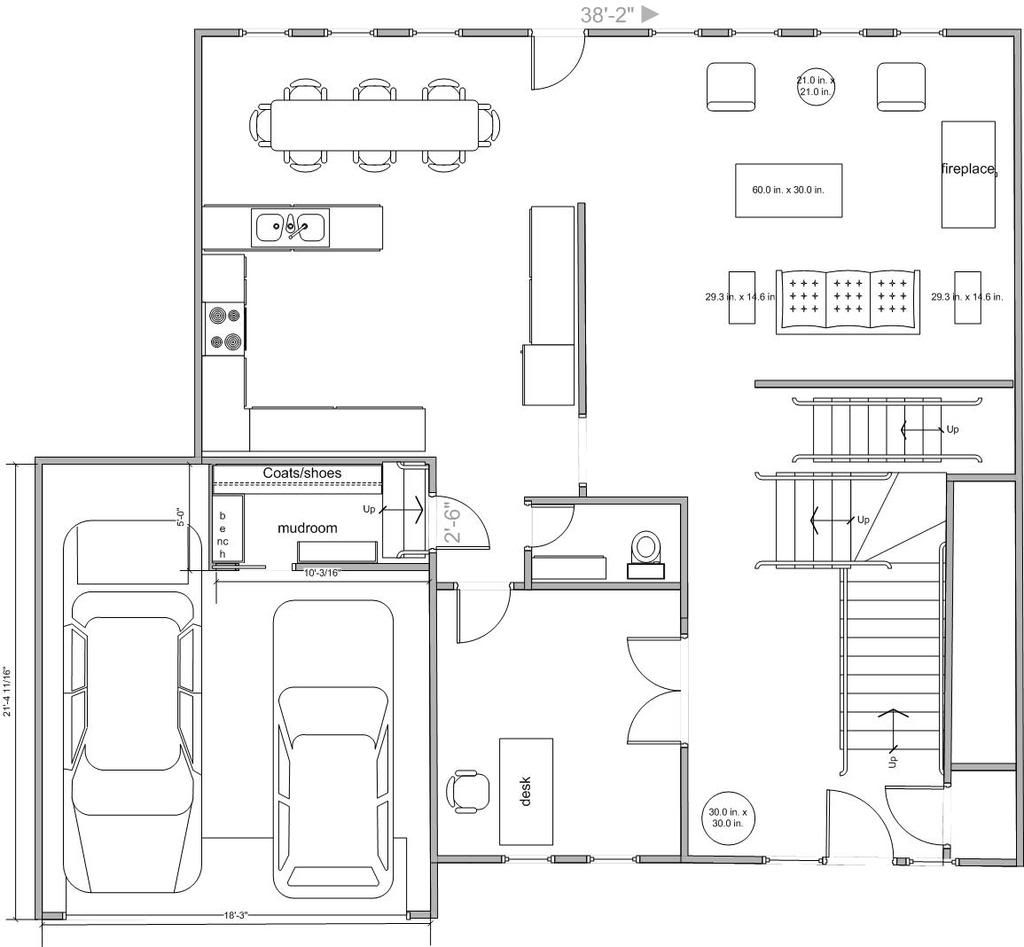 ---
| | | |
| --- | --- | --- |
| RE: Using space from garage to build mudroom...what do you think? | | |
I had another thought about this. it is great that the garage is a little longer than you thought. How about going a different way and insulating and heating the garage? Then you could add the storage and mudroom function you want wthout building the walls that make the garage itself so claustrophic-- you could build them all the way along the far wall of the garage, maybe even a built in bench all the way across with shoes storage under it and coat and leash pegs and shelving above. My friend has a heated/cooled garage and it is wonderful. You could actually add property value instead of subtracting it and still egt that function you are craving.
---
Post a Follow-Up
Please Note: Only registered members are able to post messages to this forum.
If you are a member, please log in.
If you aren't yet a member, join now!
---
Return to the Home Decorating Forum
Information about Posting
You must be logged in to post a message. Once you are logged in, a posting window will appear at the bottom of the messages. If you are not a member, please register for an account.
Please review our Rules of Play before posting.
Posting is a two-step process. Once you have composed your message, you will be taken to the preview page. You will then have a chance to review your post, make changes and upload photos.
After posting your message, you may need to refresh the forum page in order to see it.
Before posting copyrighted material, please read about Copyright and Fair Use.
We have a strict no-advertising policy!
If you would like to practice posting or uploading photos, please visit our Test forum.
If you need assistance, please Contact Us and we will be happy to help.

Learn more about in-text links on this page here