Return to the Home Decorating Forum
|
Post a Follow-Up
---
| | | |
| --- | --- | --- |
| Anyone have pics of ceiling darker than walls? | | |
Posted by
crashboombang
(
My Page
) on
Sat, Feb 7, 09 at 17:43
I'm wondering if anyone has done this, and how it looks. Not sure if I would ever actually get around to painting it, but I have a very tall ceiling and I thought perhaps doing this would make it appear not quite so high and give the room a more 'cozy' feel?? Or maybe it would just look completely ridiculous - I'm pretty much clueless about these things. Any thoughts, opinions and especially pictures would be appreciated. Thanks in advance.
---
Follow-Up Postings:
| | | |
| --- | --- | --- |
| RE: Anyone have pics of ceiling darker than walls? | | |
Crashboombang,

Dark ceilings with light walls would not look funny. Actually, it works fine.

Here is a visual:
---
| | | |
| --- | --- | --- |
| RE: Anyone have pics of ceiling darker than walls? | | |
I think with a really high ceiling it would be good...it looks fine in the pic posted as well. I would never have thought that.
---
| | | |
| --- | --- | --- |
| RE: Anyone have pics of ceiling darker than walls? | | |
I had a decorator come into my house and help with paint colors. She chose a color for my bedroom walls and one shade deeper from the same paint strip for the top of the tray ceiling. It's a nice effect. Sorry I don't have a pic.
---
| | | |
| --- | --- | --- |
| RE: Anyone have pics of ceiling darker than walls? | | |
Personally love the ceiling the same or darker than the walls unless something unique about the ceiling to look at, I perfer a wall as the focal point. Dark ceilings are wonderful and provide and instant finished look. Some people truely love white ceilings and white in general and of course that's beautiful too. Some of us prefer color. Picture or crown moulding create different color options, but without finish trim I think dark or matching ceilings are fabulous. Matching one wall is nice too.
Ps. My eyes are very sensitive to light and hurt easily so I'm sure that is how I grew to love softened lighting. Some eyes enjoy bright light without suffering. Just want to mention this for those with children, some reading problems are because of indivisual response to lighting and reflections.
---
| | | |
| --- | --- | --- |
| RE: Anyone have pics of ceiling darker than walls? | | |






This has always been on of my favorite pics.

It belongs to Vorona and it's from the gallery's favorite golds thread.
---
| | | |
| --- | --- | --- |
| RE: Anyone have pics of ceiling darker than walls? | | |
Can't get more extreme than Jet Black with Stark White and I think its fabulous! Found google darker ceiling.

---
| | | |
| --- | --- | --- |
| RE: Here's my ceiling | | |
Thanks for the responses. I also like the picture above because it shows 2 different colors, which I forgot to mention in the original post is what I'm thinking of doing. I photoshopped (I'll apologize in advance for my skills in this area - LOL) a couple of examples of what I'm thinking of. Let me know what you think. The color is a general representation of something in the tan/beige realm. Also, we may someday add crown molding, so let me know if that would make the painting a better or worse idea. This is not an urgent matter by any means, because if I decide to do this, it will probably be quite awhile before I ever get to it. Convincing hubby that ANYTHING in a new house needs painted is a tough sell to start with - LOL, never mind the fact that it's a tall ceiling making it a semi-major project to get to it to paint it. Then there's covering the floor & furniture and corralling the 3 & 1 year olds.....but I can dream I guess. Anyway, let me know what you think of the mock-ups. Please ignore everything else in the picture, definitely a work in progress...

How it looks now...

..painted version..

Closer up now version...

and "painted".....
---
| | | |
| --- | --- | --- |
| RE: Anyone have pics of ceiling darker than walls? | | |
I like the last picture. Out of curiousity, I wonder what it would look like if you photoshopped a darker green? I think the crow molding would look great.
I found this pic in the favorite BM colors thread and loved it. Not darker than the wall, but still dark. It belongs to brutuses:


Also in the same thread and belonging to brutuses. I'm posting it just because it looks so similar to your wall color:

---
| | | |
| --- | --- | --- |
| RE: Anyone have pics of ceiling darker than walls? | | |
Love the last pic color with the brick!
---
| | | |
| --- | --- | --- |
| RE: Some greens | | |
Here are some pics with green on the ceiling, one approximated to wall color, and one darker. Again, my photoshoping skills definitely leave something to be desired, so the colors are approximate:

I don't think I like the green quite as much, especially the dark. The light one would be OK, but I originally thought of a brown/tan/beige color partly because I thought if we painted the ceiling and then ever tired of green walls, we could repaint them without necessarily having to do the ceiling. Let me know what you think.
---
| | | |
| --- | --- | --- |
| RE: Anyone have pics of ceiling darker than walls? | | |
Looks like lots of wall space so I like the ceiling with the brick tones best for balance.
---
| | | |
| --- | --- | --- |
| RE: Anyone have pics of ceiling darker than walls? | | |
I really like the way the darker green works. It does make the space cozier, and seems more cohesive than the tan.
(Though the thought "storm clouds" did cross my mind... but that could be because it's about to storm here and I just glanced out the window...)

Ellen Kennon recommends her Gustavian Gray for ceilings -- a very neutral grey/green/blue color that picks up on everything around it. It's not dark, but not light either. And virtually everyone who tries that color goes nuts over it! (Hubby and me included.)
---
| | | |
| --- | --- | --- |
| RE: Anyone have pics of ceiling darker than walls? | | |
WOW, just had to say how beautiful all these darker ceilings are! I had no idea this could work so nicely. I love them all.
---
| | | |
| --- | --- | --- |
| RE: Anyone have pics of ceiling darker than walls? | | |
Really wonderful -- I think it works best in a relatively high-ceilinged area. Same-color ceiling even works in our 8' high bedroom, though...but I'm thinking I may go darker in our cathedral ceiling front area, thanks to this thread. (I do understand the reticence to get up on a ladder that far, though) Those photoshopped pics are wonderful, crash. Have you shown them to your DH? Maybe show this entire thread to him...
---
| | | |
| --- | --- | --- |
| RE: Anyone have pics of ceiling darker than walls? | | |
The ceiling in the picture I posted is 8'. It definitely works with lower ceilings. Boy, did I get a great art deco bureau for that room. We'll be picking it up next weekend.
---
| | | |
| --- | --- | --- |
| RE: Anyone have pics of ceiling darker than walls? | | |
We just finished stripping floral wallpaper from our sunroom and painting the walls and ceiling two different shades of green...darker on the ceiling. The sunroom is 5 sided with window walls and an interesting 5 sided ceiling. We kept the window and door trim painted white, plus we have a white tile floor. Its definitely a big change from our old floral paper, but I like the contrast of the darker ceiling to the walls.

This was our sunroom before wallpaper removal (yes I know, that horrible 80's wallpaper)

And this is after painting. Still have to decorate and furnish but I am very glad we did not paint the ceiling white. I think the darker green is much more interesting.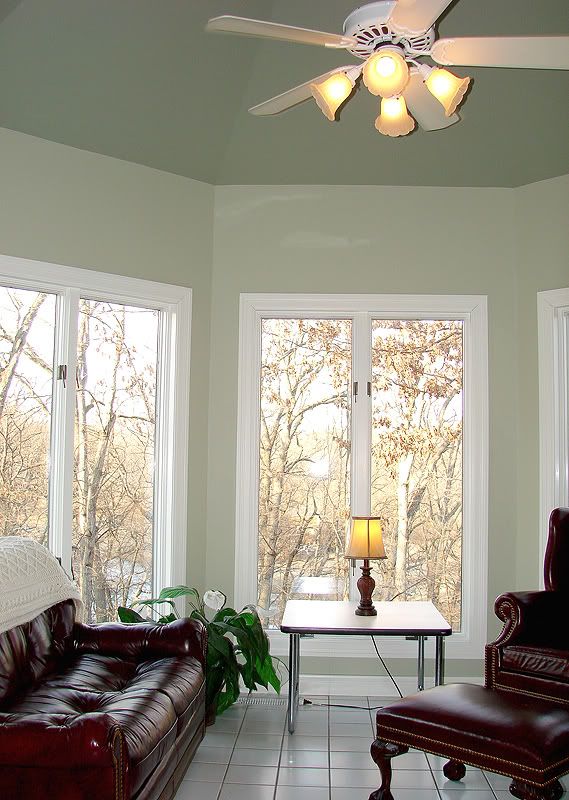 ---
| | | |
| --- | --- | --- |
| RE: Anyone have pics of ceiling darker than walls? | | |
Thank you for posting this question. We've always painted the ceiling the same color as the walls and I never would have thought to go darker. It looks really, really nice. I can't wait to try it.
---
| | | |
| --- | --- | --- |
| RE: Anyone have pics of ceiling darker than walls? | | |
oh my gosh, lmalm...congratulations on rescuing that room!

And jerseygirl, I didn't mean to denigrate your room...you know I love that one :) (or did I just think that when you posted it somewhere else and not write it?) One reason it may work is that you have the closet doors painted in that color too...and what color is the trim in the room, btw? Is it dark as well? How did you come to think to do the doors/ceiling darker?
---
| | | |
| --- | --- | --- |
| RE: Anyone have pics of ceiling darker than walls? | | |
Wow lmalm! I really love your sunroom. crash, I wanted to tell you that I really love your FP. My vote is also for the darker green (or same green) on the ceiling as on the walls, that looks really good.

It is certainly neutral enough to go with almost any other color you may decide to paint the walls later, and more "nature inspired" than the tan or beige would be. After all, skies may green or gray up, but they don't usually look tan. Maybe in CA with all the smog, hee hee.
---
| | | |
| --- | --- | --- |
| RE: Anyone have pics of ceiling darker than walls? | | |
Lmalm53, I like the greens you choose, can you share the colors?
---
| | | |
| --- | --- | --- |
| RE: Anyone have pics of ceiling darker than walls? | | |
I like the green, especially if you may add crown molding one day. I meant to tell you before that I love your light fixture! I wish I had a space for something like that!

lmalm-I would love to have your sunroom!
---
| | | |
| --- | --- | --- |
| RE: Anyone have pics of ceiling darker than walls? | | |
I did not first notice the wood banister but with the brown ceiling it looks wonderful. Excellent point you made, with the brown to compliment the brick, you can easily change the wall color later. Another trick, less expensive than Crown is picture rail, and nailed a hair off the wall makes painting a breeze, no cutting ceiling color into wall color.

---
| | | |
| --- | --- | --- |
| RE: Anyone have pics of ceiling darker than walls? | | |
Hi Happyladi,

We used Behr's WHISPERING PINE on the walls of the sunroom and we did a color match of Restoration Hardware's BAY LAUREL for the darker green on the ceiling. We almost went with SPANISH MOSS also by Restoration Hardware which is an even darker green. Either one would have worked. The look of the paint changes dramatically between natural light coming thru the windows during the day and evening incandescent lighting but I like the variety of effects.
---
| | | |
| --- | --- | --- |
| RE:ceiling darker than walls? | | |
Thanks for all of the responses! It sounds like the majority here like the green, with a few votes for the brown.

flyleft - yeah, I showed the pics to hubby. It's not that he dislikes the idea of a colored ceiling, it's just taking on the project. He actually has a point about getting involved in a project like that at this point. We've been moved in for a few months and we still have a LOT of 'settling-in' to do, to put it mildly. Once spring comes we'll also have lots of landscaping projects. Also, this ceiling is so high, and the room is large enough that it probably isn't as easy as getting a large stepladder and would require scaffolding. Also, it is continuous with the area over the stairs, so it would be somewhat of an undertaking. Funny thing is, when the painting was being done originally, I wanted to paint the ceilings something other than white, but came by one day and it was already painted (the contractors worked very fast, which was a blessing and a curse.) I just didn't want to get into asking them to re-do it, and I let it go...well, sort of, obviously. :-)

lmalm - that's a wonderful transformation! Must be a lot easier to relax in there now - LOL. Thanks for posting the pictures, your color looks very similar to mine.

prairiegirl - thanks for the compliment on the fireplace. It's a full masonry natural stone woodburner. There's a smaller version in the basement. So far we love them. Love the real wood fire. Someday, when we're more settled I plan to post lots of pictures around the various forums, since we got so much info here. That is IF I ever get settled enough to take post-worthy pictures.

maxsam - thanks for the pics, and the light fixture compliment. I almost got a different one, but I'm glad I didn't! I REALLY liked some of the lights at the site below, but then I called for prices.... If I remember right, one of their smaller chandeliers (like for over a dining table) was in the thousands, and then they went up from there. I called hoping the lights would fit my budget, and I'd be done looking, but when the first question they asked was "are you working with a designer?", I just thought, "Oh crap, guess I'll have to keep looking."
Here is a link that might be useful: Pretty & pricey lighting
---
| | | |
| --- | --- | --- |
| RE: Anyone have pics of ceiling darker than walls? | | |
Here is my blue ceiling, which I LOVE and has been the one painted feature that has remained the same for many yrs. On more than one occassion I have fantazied about painting it matt black and swapping out the black shades for blue ones.
---
| | | |
| --- | --- | --- |
| RE: Anyone have pics of ceiling darker than walls? | | |
This weekend I visited a new home that my friend is closing on this week. Her master bedroom is a medium mocha color and the ceiling is a much darker bronzy brown. She has bought bronze colored silk drapes for the room. Ceilings are 10 ft. I think it looks VERY good! I'm a white ceiling person but I did love hers.
---
| | | |
| --- | --- | --- |
| RE: Anyone have pics of ceiling darker than walls? | | |
crash-that website has some beautiful chandeliers. You know its going to be crazy expensive if they don't list their prices online!
---
| | | |
| --- | --- | --- |
| RE: Anyone have pics of ceiling darker than walls? | | |
So many beautiful ceilings on here. Wow! Brutuses, I LOVE your color choices.

Ttodd~ I am officially jealous. Your house is so charming and full of character. And that blue ceiling is amazing. I have one ceiling blue in our house, and it just doesn't pack the same punch. I LOVE yours!! :o)
---
| | | |
| --- | --- | --- |
| RE: Anyone have pics of ceiling darker than walls? | | |
Ttodd, I too would love to see more of your wonderful home! The nook by the stairs, have you thought of picture rail from the stair corbel across and forward to the other doorway, then you can picture without holes in your walls and move around any time you wish and paint which ever ceiling color down to the picture molding? I love all the character in you photos, what year built is your home?
---
| | | |
| --- | --- | --- |
| RE: Anyone have pics of ceiling darker than walls? | | |
ttodd, have you ever considered painting your foyer a bright canary yellow? I love color. In that case i think i would follow with the same yellow on the cieling or an off white. That blue might work with the strong yellow but it might not work with the heavy woodwork.
I would opt out the small pics on the wall for one large silver frame mirror if you keep the walls white or one large gold frame mirrow that would be gorgeous with the yellow. If you do go with a chandelier you might go for a simple metal and then hang the strands of glass crystals on it that you might find in a craft shop. It would be easier on the budget. I am a wild about color old Texas woman.
---
| | | |
| --- | --- | --- |
| RE: Anyone have pics of ceiling darker than walls? | | |
ps. Ttodd-love the dog; have a houseful of critters. I would also put a chair there to write a letter or pay bills; clear off the table; make sure the chandelier is big enough as in big and secured well at the cieling studs which is why i suggested a lighter weight with the crystal stands instead of a heavy huge crystal chandelier. It would have the same effect.
---
Post a Follow-Up
Please Note: Only registered members are able to post messages to this forum.
If you are a member, please log in.
If you aren't yet a member, join now!
---
Return to the Home Decorating Forum
Information about Posting
You must be logged in to post a message. Once you are logged in, a posting window will appear at the bottom of the messages. If you are not a member, please register for an account.
Please review our Rules of Play before posting.
Posting is a two-step process. Once you have composed your message, you will be taken to the preview page. You will then have a chance to review your post, make changes and upload photos.
After posting your message, you may need to refresh the forum page in order to see it.
Before posting copyrighted material, please read about Copyright and Fair Use.
We have a strict no-advertising policy!
If you would like to practice posting or uploading photos, please visit our Test forum.
If you need assistance, please Contact Us and we will be happy to help.

Learn more about in-text links on this page here