Return to the Home Decorating Forum
|
Post a Follow-Up
---
| | | |
| --- | --- | --- |
| Please help with color for new roof! | | |
Posted by
n2bach1
(
My Page
) on
Sat, Feb 9, 08 at 17:41
Here is the exterior of our home. Do any of you know anything about a roof, Sheffield Black, from GAF roofs?
My husband likes it, it has a touch of reddish in the shingles. Below is a link to the GAF site where you can see the Sheffield Black (style is Camelot).

Does anyone have any other suggestions?
I tend to go for more a blended black/grayish..

If anyone has any advice, we would appreciate it! We've looked at homes in our town, but can't seem to come up with one.

Thanks for helping.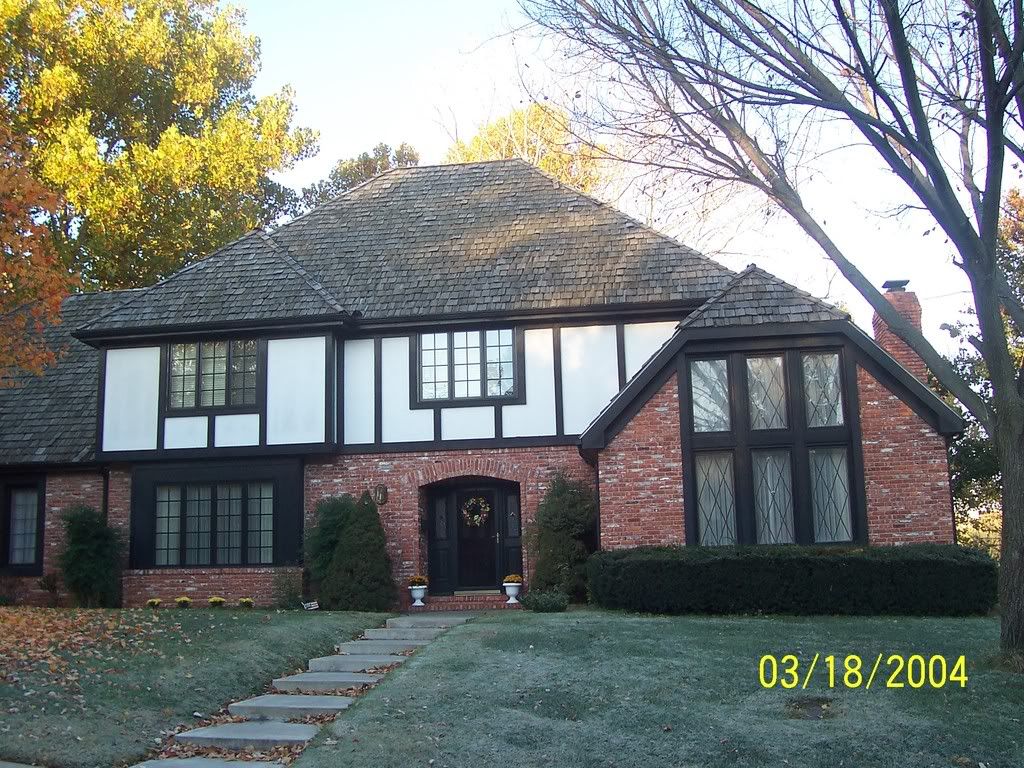 Here is a link that might be useful: Link to Sheffield Black
---
Follow-Up Postings:
| | | |
| --- | --- | --- |
| RE: Please help with color for new roof! | | |
The roof style you have looks gorgeous and perfect. I'd be really careful replacing it :)
---
| | | |
| --- | --- | --- |
| RE: Please help with color for new roof! | | |
squirrelheaven,
Thanks for taking a look. We have to replace the roof with something....it's really in bad shape and probably the picture looks better than it is. Presently it's a shake roof and we really don't want that one again. So we have to get something and it will have to be different. I guess that's why we are a little nervous about it

n2bach
---
| | | |
| --- | --- | --- |
| RE: Please help with color for new roof! | | |
Hmmm... I think that a dimensional shingle... such as the timberline... would be a better replica of what you currently have. JMHO.

Lovely home!
---
| | | |
| --- | --- | --- |
| RE: Please help with color for new roof! | | |
You can get fibreglass shingles that look really close to what you have now. If you have hot summers, you may want to go to a light color. However, I know the traditional tudor has a dark roof. I'd go light as possible, ask a couple of roofers.
You have a beautiful home, you are very lucky.
---
| | | |
| --- | --- | --- |
| RE: Please help with color for new roof! | | |
A lot of the heat resistance comes from things other than color these days.

Honestly, for the investment, and unique quality and character of your house, I think I'd actually get a quick consult and recommendation from an architect. Truly, people mess up their roofing so often and it just wrecks the house.
---
| | | |
| --- | --- | --- |
| RE: Please help with color for new roof! | | |
We just replaced our cedar roof with GAF Camelot - we went with Olde Pewter. I really like it - it gives a nice slate-like look. I'll link a picture below.

Here's what you do - call your local roofing supply places that sell GAF and ask where they've delivered the Camelots in the color you want. If they don't know of any, ask for the number of the local GAF sales rep (or ask them to ask him for you). In my case, the GAF sales rep called me and actually dropped off sample boards to my house - I was trying to track down a rare color and none of the roofing supply places had delivered it. I had to make a bunch of calls and do a LOT of driving, but I was able to see all the colors I was interested in. It was a good thing, too, because I was leaning toward Williamsburg Slate (the "rare" color mentioned above), but when I finally saw it on a roof, it read pink - yikes! No wonder no one is installing it!

You might also see if you can borrow the sample boards for the ones you are interested in from the roofing place or order them from GAF (they will send them to you if you ask). Lean them out a window or prop them on the roof. I actually took several shots like this and then helpful photoshoppers here took each sample board and painted it across the whole roof. It was very helpful in picturing how the colors would work with the other elements on my house.

I believe I've seen the Sheffield black and thought that it wasn't as pretty as the Old Pewter - the shadows and slate-like texture seemed to get lost with the dark color, plus I was concerned about the heat factor (though the Old Pewter is also pretty dark). Anyway, here's the Old Pewter. Good luck - picking shingles is such a PITA.

Good luck!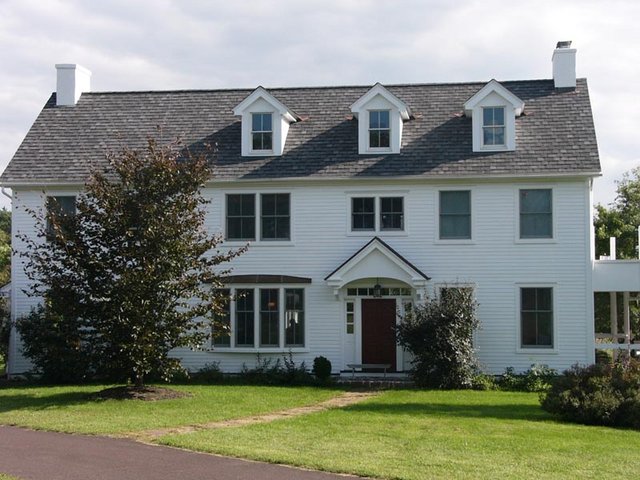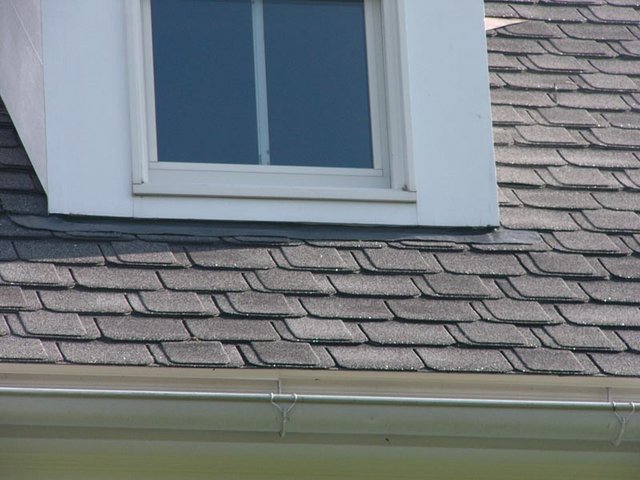 ---
| | | |
| --- | --- | --- |
| RE: Please help with color for new roof! | | |
n2bach1, I'm working on something for you. Whether or not it's going to be successful is a whole nuther matter.

Back in a bit...
---
| | | |
| --- | --- | --- |
| RE: Please help with color for new roof! | | |
n2 - I totally agree w/the above re: the roof that is on your home - I doubt there is another roof that will surpass that one esthetically or longevity.

What is wrong w/current roof? Is it failing? can it be repaired?

If you are replacing - are they ripping the entire roof to replace?

GL
---
| | | |
| --- | --- | --- |
| RE: Please help with color for new roof! | | |
We replaced our shake roof with aluminum shake-look roofing from Classic Roofing, in black.

It's not cheap, though. Our roof (in 1999) cost over $20,000.
Here is a link that might be useful: rustic shingles
---
| | | |
| --- | --- | --- |
| Ok, here are some samples... | | |
I've done some virtuals.

When we were looking at siding 5 yrs ago my contractor gave me a CD from Certainteed. (He told me contractors get them free from manufacturers to help clients with choices.) It allowed me to import photos of my own home and apply Certainteed products such as roofing, siding, windows, etc.

I was going to suggest your talk to your GAF roofing contractor and snag some software, but when I checked GAFs site, lo and behold you can download it for free and import your own photos. (You can also pay them to do the 'virtuals', which costs a bundle. Software isn't that hard.) See "Virtual Home Remodeler" in menu on left side of their page if you want to try it. I downloaded to try it since we'll be shopping for a new roof this spring, too.

For our home, once I had siding styles and colors narrowed down to a handful via software and large real life samples (a must to obtain), I asked the contractor for job sites I could drive by that contained those siding styles, as lkplatow mentions. That was a tremendous help, I ruled out my favorite immediately because it rendered way too green in real life. I didn't hesitate to knock on doors, tell owner what I was doing, and ask questions. (I mentioned contractor's name right up front and that I was shopping, so they wouldn't think I was just someone who had randomly stopped by.) No one was rude. They were flattered and more than willing to share their experience.

Now the Virtuals:
Certaineed software sometimes gets glitchy, suspect it's made more for Win98 than WinXP. Did the best I could with it.

I created a Primary album for you here. If you look over on the left you'll see I created two sub albums, Certainteed and GAF.
I PURPOSELY included bad colors and ho-hum styles in the album just to show you how a roof can completely alter the look of a house, as SQH was getting at above. Your home is lovely and your roof has character, and no doubt it's going to cost a bundle, so a well thought out choice is good ;D

The GAF software is a bit more complex, but it didn't take long to get the hang of it if you want to try it. The problem I ran into is you have to put in height and width of each section ("region") of roofing, and since I didn't have those dimensions I guessed. Large areas came out just OK, small ones are not remotely scaled to size because of incorrect dimensions. I might fiddle with that some more, to see if I can tweak it.

Just like virtual paint, it's best to use it as a tool out what does NOT work (too dark, too bland, etc.)

Here are a couple samples:
Your Camelot Sheffield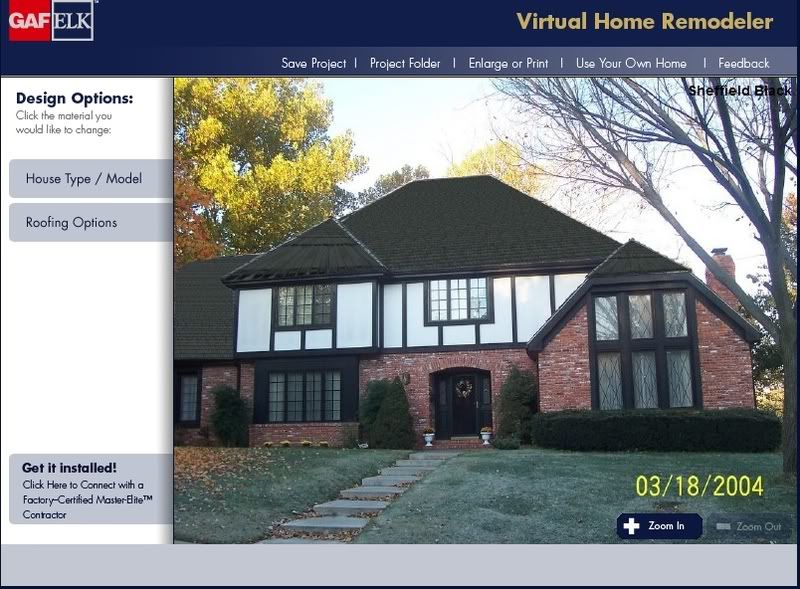 Camelot Williamsburg Slate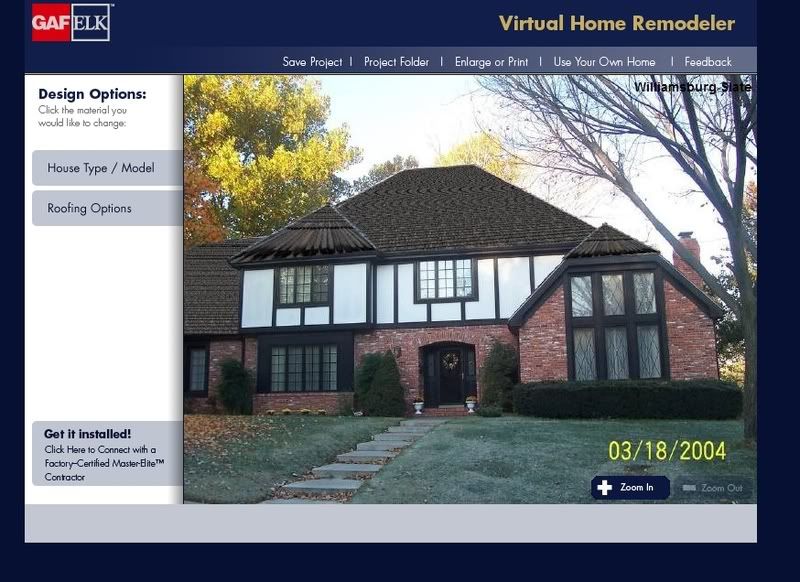 Certainteed Ambassador Shake, "Shenandoah"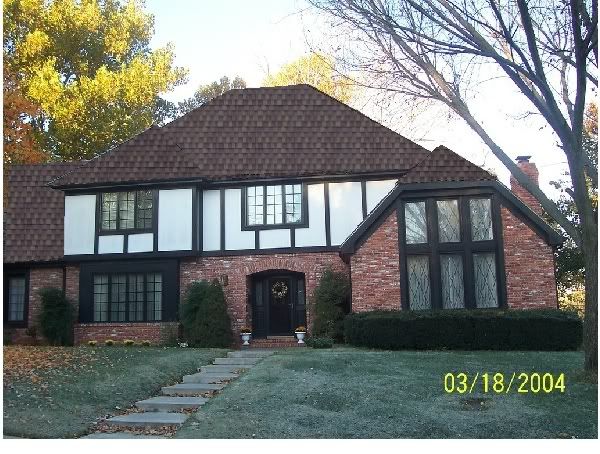 Certaineed Shangle "Colonial"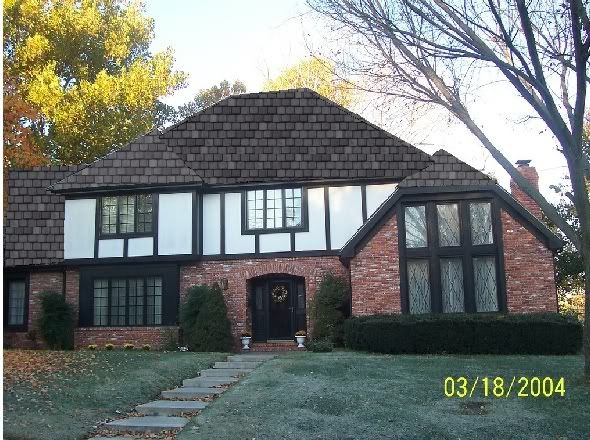 More at your album, see link below...
Here is a link that might be useful: n2bach1 Primary Album. See Sub Albums link on left
---
| | | |
| --- | --- | --- |
| RE: Please help with color for new roof! | | |
i was recently shooting a green building documentary and i interviewed a man about his home, where he used cement shingles that looked so much like slate, i was amazed. i googled cement roof shingles and found this link through building green. the link is to a custom blend color that seems really close to what you have now (which is gorgeous!). I haven't researched these shingles or used them myself, but i was going to look into them for my own home. just food for thought, though i like the shingles you've chosen to look at a lot and depending on where you live, would second the lighter color gray for a number of reasons.
Here is a link that might be useful: cement roof shingles
---
| | | |
| --- | --- | --- |
| RE: Please help with color for new roof! | | |
decorpas' post reminds me that we also considered the Lamarite shingles from Tamko. They're plastic or some kind of composite, but they look exactly like slate or cedar shake. If you wanted to keep the cedar look without the hassle and upkeep, this is what you want. Unfortunately, they were way out of our budget. But if you can swing it, I've seen them on a roof and they're beautiful!
Here is a link that might be useful: Lamarite
---
| | | |
| --- | --- | --- |
| RE: Please help with color for new roof! | | |
We (my husband and I) are shocked at how many people responded to the post about the roof. Thank you, all, you've given us some wonderful ideas and many alternatives. We are just having a difficult time with this one. Unfortunately, both of us stress quite a bit over major decisions and believe me, we've made some doozies in the past!

If you all think of any more options, we're open to them. And believe me, between the roof, the yellow rug (for those of you that remember that one!), and several other little things, this board has been a God-send to me. So many caring and interested folks out there that take the time to share their ideas.....

Thanks so much.

n2bach
---
| | | |
| --- | --- | --- |
| RE: Please help with color for new roof! | | |
Hey, n2, I came back and fiddled with that GAF program and got it tweaked a bit better. Not perfect, but at least the shingles aren't all distorted now ;-) Think I even found a roof for our house! They say at the site it won't render "true", just like anything done on software, but may be a useful guide. IMHO darker colors look 'richer', but lighter make it look bigger.

I'll post a couple here and added some to your album.

So if there's anything specific you want to see from GAF, just let me know, it's only a couple clicks away now. ;)

Sheffield Black (can't see all the colors in it, tho)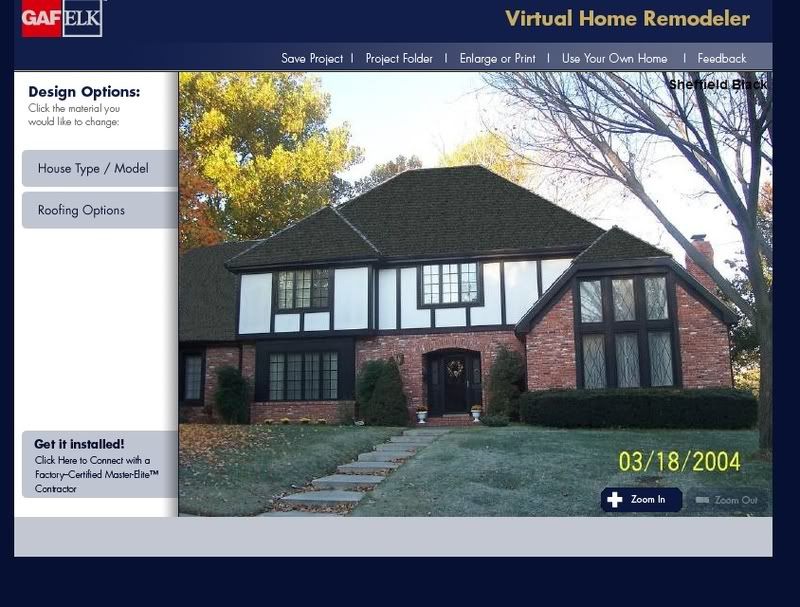 Sheffield Blend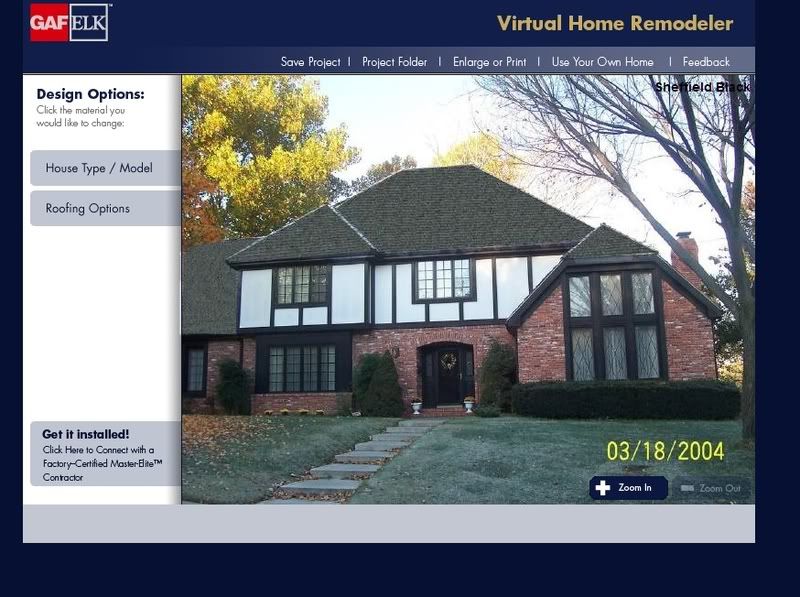 Slateline Wiliamsburg

---
| | | |
| --- | --- | --- |
| RE: Please help with color for new roof! | | |
I think the darkest black look the best with the Tudor style of the house. You are wise to spend time at this. There is a house I drive by several times a week where they combined a hunter green standing seam roof with golden beige exterior paint. Makes me shudder...
---
| | | |
| --- | --- | --- |
| RE: Please help with color for new roof! | | |
I am also someone who labors over a decision endlessly. When we had to redo our roof, it took me quite awhile to decide! We went with the Timberline in weathered wood, and it looks very nice - much better than the basic flat shingles.

My house before had a very blue gray roof, and I had alot of problems trying to change paint colors etc. on my trim, so I'm very wary of a blue toned roof!

I like the sheffield black because I think a dark roof would look nice with your trim and I like the red to tie into your brick.

I also like the Williamsburg slate. It's got a little tad of the red and looks to be the closest match to your existing roof. The antique slate is too light and the welsh slate is too blue in my opinion!
---
| | | |
| --- | --- | --- |
| RE: Please help with color for new roof! | | |
n2bach1 what happened with your roof?


How about showing us a photo?


Here is a photo of my GAF Camelot Williamsburg Salte roof:






Check out my web site: www.MarkFlynn.biz


Once there to to "About Me"> "Equestrian Movie Set"
Here is a link that might be useful: GAF Camelot Williamsburg Slate shingle photos
---
Post a Follow-Up
Please Note: Only registered members are able to post messages to this forum.
If you are a member, please log in.
If you aren't yet a member, join now!
---
Return to the Home Decorating Forum
Information about Posting
You must be logged in to post a message. Once you are logged in, a posting window will appear at the bottom of the messages. If you are not a member, please register for an account.
Please review our Rules of Play before posting.
Posting is a two-step process. Once you have composed your message, you will be taken to the preview page. You will then have a chance to review your post, make changes and upload photos.
After posting your message, you may need to refresh the forum page in order to see it.
Before posting copyrighted material, please read about Copyright and Fair Use.
We have a strict no-advertising policy!
If you would like to practice posting or uploading photos, please visit our Test forum.
If you need assistance, please Contact Us and we will be happy to help.

Learn more about in-text links on this page here