Return to the Home Decorating Forum
|
Post a Follow-Up
---
| | | |
| --- | --- | --- |
| Does anyone have stained trim anymore? | | |
Posted by
kimkss
(
My Page
) on
Thu, Feb 14, 08 at 17:11
Hi everyone! We are going to be building a house soon and I was originally interested in white painted trim around windows, doors, baseboards, etc. However, I have heard numerous time how terrible they are when you have young kids. Therefore, I have been looking for pictures or ideas for houses with wood stained trim and they are very hard to find lately. So, if you have any pictures or ideas at all please share them with me. I am especially interested to see what it looks like to have white vinyl windows with stained wood trim. Looking for different wood species too. Please help!!!!!
---
Follow-Up Postings:
| | | |
| --- | --- | --- |
| RE: Does anyone have stained trim anymore? | | |
I have stained trim - our house is about 8 years old and we built it right when houses in our area were starting to transition to white trim. It was the point when higher priced houses still had stain, and lower were getting white. Which is all kinds of backwards now!

However, we don't have white vinyl windows. This is a pain point for me. I really, really want to replace the lame builder's grade wood-framed windows (Hello? Can you say poor quality - cracking/splitting finish) we have with some nice vinyl windows, but I'm not so sure the half & half look would work. I've photoshopped it to see and it looked like an eyesore. I could always paint the trim around the windows white, but I do like the woodgrain, and I've seen pics (many in the kitchens area) of rooms with, say, painted trim and stained crown moulding & baseboards and it just looks really piecemealed to me. I'm very curious to see what types of responses you get to this.

In the meantime, if there ar any particular rooms/areas where you'd like to see (our ugly) stained trim, let me know and I can try to grab some pics for you. :)
---
| | | |
| --- | --- | --- |
| RE: Does anyone have stained trim anymore? | | |
Sorry - no pictures. I just wanted to tell you that one of the favorite houses we ever lived in had stained doors and trim. While living there, we replaced the wooden windows with white vinyl ones, however the trim and ledge around the windows was still wood. It really looked fine. It brightened up the area, and by the time your window is dressed with fabric and your room is full of furnishings, no one notices. I live with white doors and trim now, in a much newer home. If I were building, I would choose stained doors and trim. I don't care if my doors and trim are dirty, I just don't want to look at it! Life is too short to spend so much time cleaning and repainting when things looked scuffed.
---
| | | |
| --- | --- | --- |
| RE: Does anyone have stained trim anymore? | | |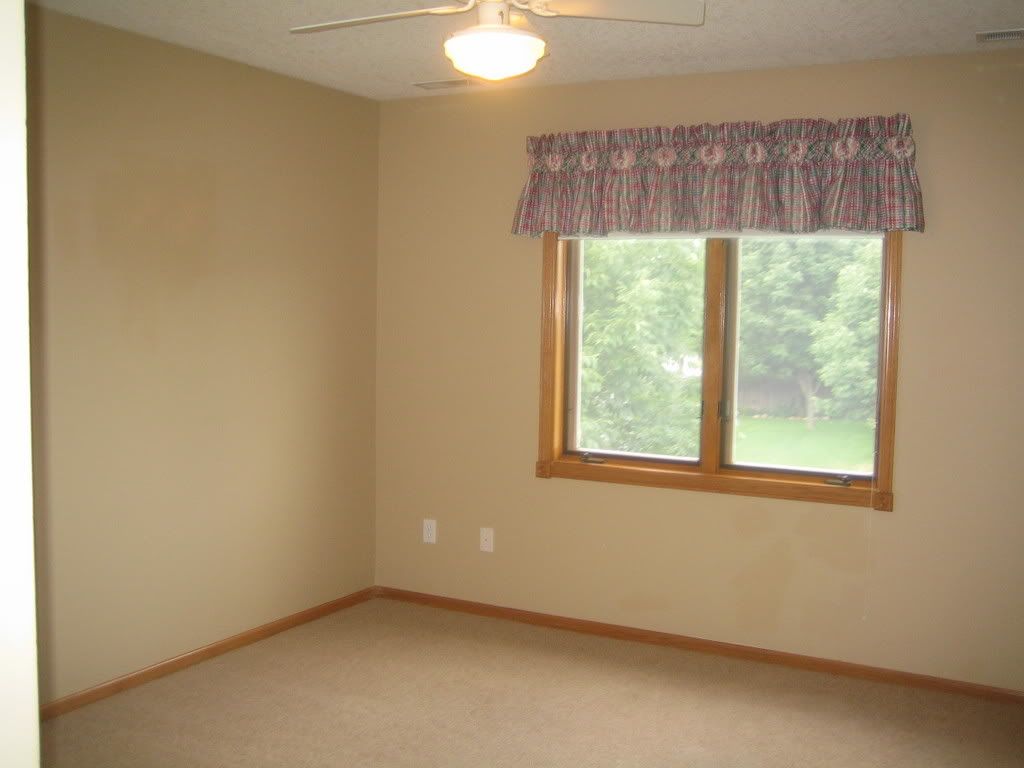 We had vinyl windows but only clad on the outside, inside appears to be wood, thus stained.
I have white in my new house and love it. Was never a fan of the wood.
---
| | | |
| --- | --- | --- |
| RE: Does anyone have stained trim anymore? | | |
We have stained doors, trim and windows. Our windows are extruded aluminum exterior and clear pine inside (stained).

You might want to search the Building forum for photos, if you haven't already.
Here is a link that might be useful: BAH
---
| | | |
| --- | --- | --- |
| RE: Does anyone have stained trim anymore? | | |
I have all stained trim and sills. I love it. I also have white windows. My house was built in 1989, but even if I built new, I would still stain the trim.
---
| | | |
| --- | --- | --- |
| RE: Does anyone have stained trim anymore? | | |
We have pine windows, stained in a cherry color, with cherry trim. They are painted on the outside. These are bad photos, but if you go to my blog, you can scroll back and see some better ones.
Here is a link that might be useful: My Blog
---
| | | |
| --- | --- | --- |
| RE: Does anyone have stained trim anymore? | | |
| | | |
| --- | --- | --- |
| RE: Does anyone have stained trim anymore? | | |
I'll approach your question from a different angle.

I have two young children (boys!) and have never had any problem with white trim. I should add that I'm also a little fanatical about keeping a clean house. We're ready to put a coat of touch-up paint on the doorframes and windowsills in this house, but that is only b/c they probably haven't been maintained in 10+ years (not even when the shag carpet was replaced with much lower berber carpet leaving an unsightly line on the baseboards). Yes, you may get a fingerprint (usually a peanut-butter fingerprint) here or there, but they wipe off easily with a warm, damp washcloth. The new Magic Erasers are great, but I only use those for scuffs that can't be removed with warm water. Stained trim may not show wear as quickly, but it also won't hide peanut-butter. I say go with what YOU love.

To answer your original question, my home has white trim in every room except the den. My house was built in the late 1970's. The den was your typical 1970's den complete with fake paneling and heavy wood trim. The paneling was painted long ago. We'd like to eventually replace it with sheetrock, BUT we want to be very careful as not to disturb the gorgeous stained dental crown molding. I like a light and airy look so I wouldn't want stained trim in every room, but in the right setting it is beautiful.

Nin
---
| | | |
| --- | --- | --- |
| RE: Does anyone have stained trim anymore? | | |
Looks like CindyLou2006 put out a pic you can use to visualize the white windows with stained trim. I think it looks great, especially with that tub :-)
---
| | | |
| --- | --- | --- |
| RE: Does anyone have stained trim anymore? | | |
CindyLou2006 - what species of wood is your trim? I think it looks very nice. I looked at your other pictures also. What kind of wood is your kitchen cabinets, dining table, etc. That looks pretty nice too. My DH likes oak but I think it would be too formal with the white vinyl on the windows.

If anyone else has any pictures to share that would be great. I love to visualize. :-) I tried the home building forum but it is very hard to find pictures that don't have white trim. I would especially like to see how the stained trim looks with various wall colors. Seems like the wall colors have to stay fairly light in color for the trim to look nice.

Any opinions welcome!
---
| | | |
| --- | --- | --- |
| RE: Does anyone have stained trim anymore? | | |
Well my house was built in the late 60's and it still has stained trim. It is darker than what's in CindyLou's pics probably just because of the aging process of the wood and we now have white vinyl windows throughout the house. They look great with the wood trim just as Cindy's do.

I like both looks, white trim and stained, but I like the warmth that the stained wood gives a room. Guess I'm a naturalist at heart.
In most cases lighter wall colors do look better with stained trim. But never rule out a color that you like without trying it first.
---
| | | |
| --- | --- | --- |
| RE: Does anyone have stained trim anymore? | | |
We built our home in 1995. We have stained trim in some rooms (den, great room for example) and painted in others (kitchen, sunroom). I think the mix looks fine. My DH is a stained fan, I like painted wood so we compromised. :)
---
| | | |
| --- | --- | --- |
| RE: Does anyone have stained trim anymore? | | |

This was the foyer in our previous home. All of the woodwork was stained.
We have white painted trim in our current home and I find that it's harder to keep clean. The stained trim just doesn't show dirt and dust as much.
---
| | | |
| --- | --- | --- |
| RE: Does anyone have stained trim anymore? | | |
Cindylou -- great pics and I love your bathroom.

Monablair -- ooolala! I could just drool over that foyer! I'd love to see more pics of that house. Got more? And of the house where you are now if your decor is at all similar.
---
| | | |
| --- | --- | --- |
| RE: Does anyone have stained trim anymore? | | |
I have a few that I found of the old home.

New home photos are in the Gallery under "Yourself and your home". The decorating is different but still with most of the old furniture. The biggest differences are the woodwork and the wall colors.
Here is a link that might be useful: album
---
| | | |
| --- | --- | --- |
| RE: Does anyone have stained trim anymore? | | |
This is of particular interest to me since I am now installing all wood trim. The trim carpenters started work today and I am in LOVE. I had wood trim in my house before, but it was pine, stained a lighter color. In my remodel, I am doing mahogany stained a darker color, the baseboards are 5 & 1/2 inches high and the casings are 3 & 1/2" wide and it looks fabulous.
My windows are like Cindylou's only black instead of white. They are actually called bronze but they look black.
I have a lot of trim, so I was a little worried but after seeing monablair's pic, I'm even more excited.
I will try to get some pics in the next day or so because I have it with several different paint colors.
And FWIW, I don't think oak will look too formal with the white at all.
---
| | | |
| --- | --- | --- |
| RE: Does anyone have stained trim anymore? | | |
Mona, thanks for the link. I really enjoyed the eye candy. You have so many beautiful pieces and your home is lovely!
---
| | | |
| --- | --- | --- |
| RE: Does anyone have stained trim anymore? | | |
Here is a sample of our trim. I have enjoyed the look and low maintenance of wood trim for the past 20 years. I'm embarassed to admit, I've only thoroughly washed it a few times, if that, over the past 20 years. My routine has been to vacuum it when dusty looking, and for the most part it has always looked fine.

I love the look of painted trim also! We are in the process of putting on a 940 sq ft addition and we plan on painting most of the new woodwork. Wood trim original house and painted in new add on . . . what do you think? Make sense? The addition includes expanding and updating the kitchen. I'm planning on going white trim, hardwood floors, and a combination of wood and painted cabinets. The same for the mudroom/butler's pantry area right off of the kitchen. Lots of beadboard, white subway tiles . . . you probably know the look all too well.

Good luck with your decision and post lots of photos.
Here is a link that might be useful: Wood Trim
---
Post a Follow-Up
Please Note: Only registered members are able to post messages to this forum.
If you are a member, please log in.
If you aren't yet a member, join now!
---
Return to the Home Decorating Forum
Information about Posting
You must be logged in to post a message. Once you are logged in, a posting window will appear at the bottom of the messages. If you are not a member, please register for an account.
Please review our Rules of Play before posting.
Posting is a two-step process. Once you have composed your message, you will be taken to the preview page. You will then have a chance to review your post, make changes and upload photos.
After posting your message, you may need to refresh the forum page in order to see it.
Before posting copyrighted material, please read about Copyright and Fair Use.
We have a strict no-advertising policy!
If you would like to practice posting or uploading photos, please visit our Test forum.
If you need assistance, please Contact Us and we will be happy to help.

Learn more about in-text links on this page here