Return to the Home Decorating Forum
|
Post a Follow-Up
---
| | | |
| --- | --- | --- |
| I hate my stainless steel appliances!!! | | |
Posted by
msrose
(
My Page
) on
Sat, Feb 4, 12 at 16:37
When I bought my house a little over a year ago, it had black appliances. I had to buy a refridgerator, so I went with stainless steel since I loved the way it looked in so many kitchens that I've seen on here. I have not been very happy with it, but I recently got a new dishwasher and went with SS again, because I felt like I had to since I wanted my appliances to match and my original plan was to replace everything with SS. I'm hating SS even more now that I have two appliances with it, so what will it be like when I have all four? I have to do acrobatics to close my dishwasher without getting fingerprints on it. I use my foot to lift it up high enough that I can close it with my hip! I can't expect my teenage son to do that, so it has fingerprints on it from when he touches it. I'm always lecturing him about not putting his dishes in the dishwasher and now I almost wish he wouldn't. I've been using Weiman SS Cleaner & Polish and Stainless Steel Magic and I thought it worked pretty good at first, but all of a sudden I have some fingerprints underneath the handle area of the fridge and what looks like water streaks at the bottom and I can't get the off. I put so much polish on it trying to get it off that it was smeary looking from that. I read an old post that mentioned a mixture of alcohol & water, so I tried that. I got the polish off, but the fingerprints/drips are still there.

I have a couple of questions. First, would it look bad to have a SS fridge and black appliances everywhere else? The dishwasher was actually a late Christmas gift from my mother and she paid to have it installed, so I would feel really bad if I exchanged it for another one and she was out that money. She's very frugal and will often try to install things herself or pick things up to avoid paying a delivery charge. I will probably end up keeping the DW for that reason, but if I get up the courage to exchange it, what do you think about the mixed appliances? I am having a problem with the rinse aid dispenser leaking, so I contacted the mfg and they're sending a new cap to see if that fixes the problem. I thought if it happens to not fix it, maybe I could tell Sears I want to return it and then get a black one and have it reinstalled at their cost since there was a problem. Of course, they might think I'm making up the rinse dispenser problem just to get a different color. Here's pictures of my kitchen, so you can see what you think: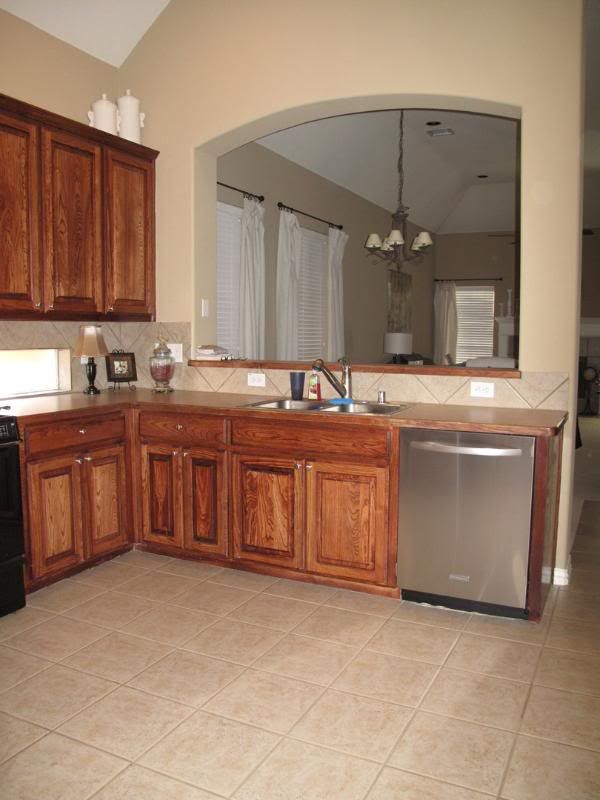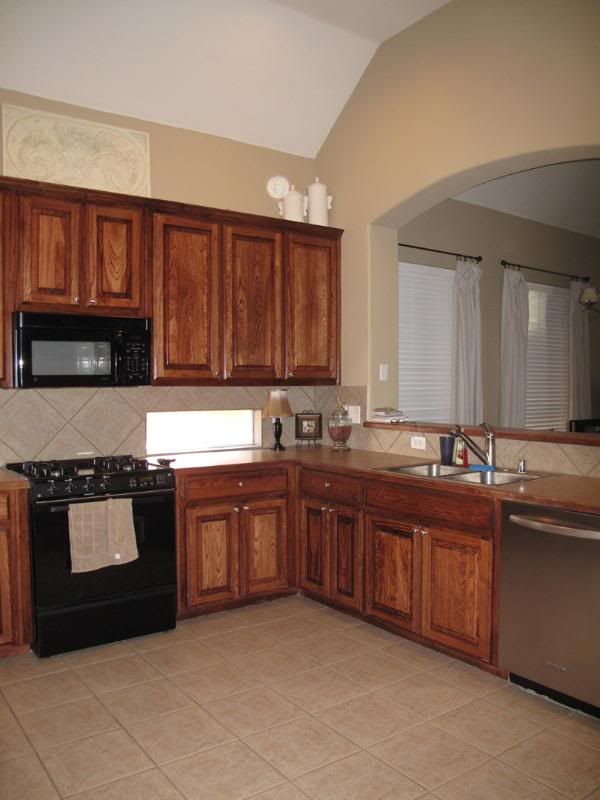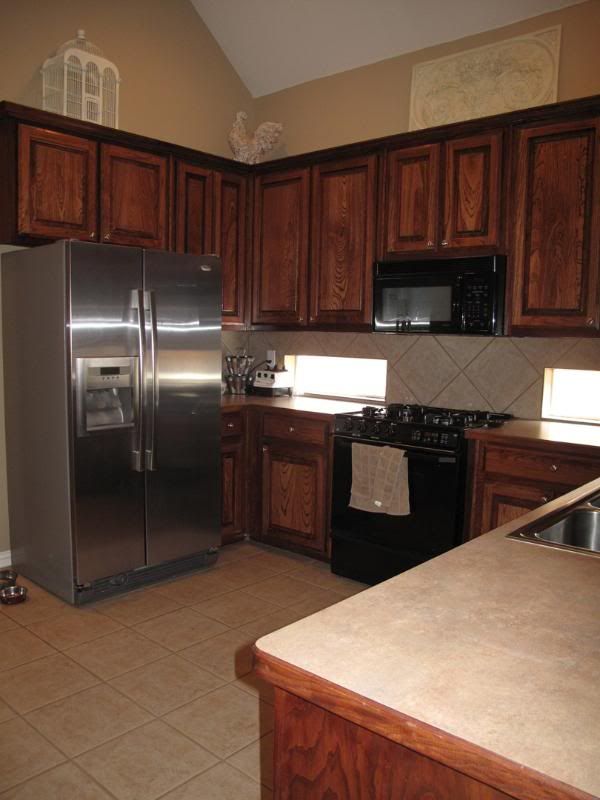 Here's some picture from the previous owner with all black: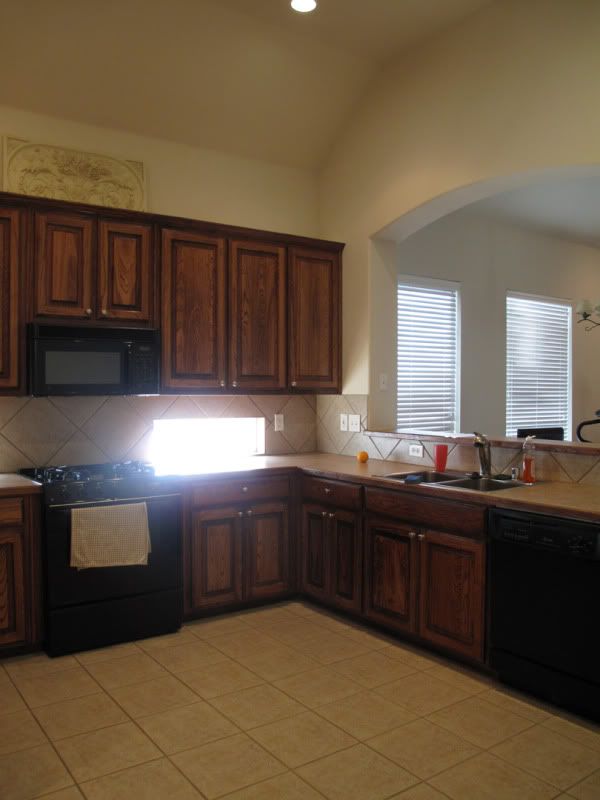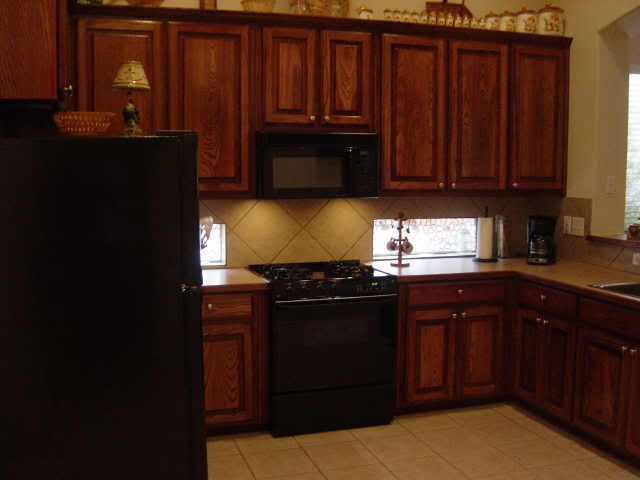 1. Do you like the SS or black better in my kitchen?
2. Would it look okay to you if the fridge was the
only SS appliance.
3. If I stick with my plan to go all SS,do you have any suggestions for cleaning it? I even tried to gently rub it with my scrubber pad and it still looks the same. I'm wondering if it's permanently discolored or something.
I know metals don't have to match, but I just replace all my doorknobs with ORB and I'd love to have an ORB faucet with a Siligranite sink one day, so I'm thinking now that I should have just stuck with black. One reason to stick with SS though is if I ever decided to paint my cabinets white, it would look better. I have no plans to do that anytime soon, but if my cabinets started to look worn somewhere down the line, I might then.
---
Follow-Up Postings:
| | | |
| --- | --- | --- |
| RE: I hate my stainless steel appliances!!! | | |
I have all SSL appliances and had regrets it until I discovered that plain old lemon scent pledge makes them easy to clean and helps resist finger prints and marks. Now I don't have to clean the fronts near as much as I used to or as much as I have to clean the black parts of my stove which show dust and always looks dirty to me.

Just spray it on and wipe it off. The only thing is is if you have wood floors it would be wise to lay a towel or rug down to cover the flooring (just until after you're finished) because the over spray makes them very slippery. Our floors were so bad we almost landed on our butts a couple of times.
---
| | | |
| --- | --- | --- |
| RE: I hate my stainless steel appliances!!! | | |
lukkiirish beat me to it. Pledge in the brown can is the only thing we use to clean stainless with. It creates a barrier between your oily fingers and the stainless. All you need to do is use it to clean them thoroughly once a week, and then in between wipe it off every now and then with a microfiber cloth.
---
| | | |
| --- | --- | --- |
| RE: I hate my stainless steel appliances!!! | | |
I use Stainless Steel Magic, but not very often. When I want to clean an appliance good I use a baking soda & water mix followed by a water wipe then dry with a microfiber cloth. Sometimes I can wipe away prints with just a water dampened microfiber cloth.
---
| | | |
| --- | --- | --- |
| RE: I hate my stainless steel appliances!!! | | |
I am so sorry you are not happy with your appliances, but will have to admit that black just LOOKS better with the rich, warm wood tones you have. Is there anyway at all that you can convince Sears to change out the DW (poor performance, quality, or any complaint. If you just got it for Christmas, do they have any type of 60 or 90 day store return (even if you have to pay for the installation). Stop by a store and try to find a "sympathetic" customer service person. Heck, blame it on your Mom! Sample conversation: "Bless her heart, she thought I wanted SS when I needed Black". Won't hurt to try.

Hope things work out for you.

Tuesday
---
| | | |
| --- | --- | --- |
| RE: I hate my stainless steel appliances!!! | | |
I'm glad to know about the Pledge.

I've also had good luck with baby oil, as suggested by the salesperson selling us our stainless steel fridge. She said the stainless is always thirsty, and will pull skin oil off your fingertips, so the trick is to keep some sort of oil on the surface (LWO's barrier description.)

I tried Stainless Steel Magic but prefer the baby oil. About once a week I clean the fridge with (whatever) spray product, then reapply baby oil with a soft rag (going horizontally with the grain.) I've been pleasantly surprised about how easy it is.
---
| | | |
| --- | --- | --- |
| RE: I hate my stainless steel appliances!!! | | |
It seems like Pledge would be similar to the SS polish, but I'm certainly willing to try it and the baby oil.

The DW was only installed about two weeks ago, so I'm thinking I could still exchange it if I wanted.
---
| | | |
| --- | --- | --- |
| RE: I hate my stainless steel appliances!!! | | |
I too HATED my SS range and DW until I read right here at this oh-so-wise site to use water to clean them and dry with microfiber cloths. I am a sloppy cook and lazy cleaner but this is such a quick and easy routine for me. Turns out what I should have directed my hate to were the SS cleaners. Weimans was bad but those SS wipes were the worst. They actually encouraged fingerprints and drip marks. Good hot water and microfiber --- who knew?
---
| | | |
| --- | --- | --- |
| RE: I hate my stainless steel appliances!!! | | |
With your current cabinets, I prefer the black. There is (to me) too much contrast in style w/the SS and current cabinets.

You mentioned painting-- which would come first? Would it be within the next 2 yrs or 10 yrs? 2 yrs and I'd say get SS, but 10 I'd say black.

That being said, I have black and I am pleased with them. Most people I think have smudges on appliances no matter what!
---
| | | |
| --- | --- | --- |
| RE: I hate my stainless steel appliances!!! | | |
Join the "I hate SS Club". We renovated our kitchen 11 years ago and of course I had to have SS. Hated it from day one. Slowly but surely the appliances have had to be replaced over the 11 years and I am happily replacing with black and love them! All I have left in SS are those darn KA double ovens which are still working perfectly! Like your kitchen, the black just looks so much better and richer in mine, too, and I don't have to constantly be cleaning them like with SS.
---
| | | |
| --- | --- | --- |
| RE: I hate my stainless steel appliances!!! | | |
I see from the photos that you have pet bowls - a dog?

If you have pets, then you know they bring disorder and a certain amount of uncleanliness with them. If you can deal with that, maybe you can bring yourself to accept that your SS appliances will have smudges on them. Live life and enjoy the imperfectness of it. Not that the Pledge is not a good idea, but don't fixate on perfectly clean SS.

I wait patiently for the design community to come around to my belief that matchy-matchy appliances are as outdated as matchy-matchy furniture suites. Mix and match appliances are the wave of the future. Note the date - you heard it here first. ;)
---
| | | |
| --- | --- | --- |
| RE: I hate my stainless steel appliances!!! | | |
We just got a SS frig--or at least it has that look, BUT there are many SS appliances on the market now that are fingerprint resistant--which is what ours is. I can't tell at all when I touch it, and it's so easy to clean. I'm so sorry you have one that's a hassle and hope the others' suggestions help!

IMHO your black appliances looked ok, but if your home were for sale I know I'd prefer the look of the SS simply because I've found them to be more work to keep clean looking, and I don't care for the dark look. My niece had black, and her flat cooktop was a continual fingerprint nightmare--but I suppose there are variations in that by manufacturer as well as the SS. I think the location of your frig makes the SS one look less like a huge hulk than the black one did, and in your case I wouldn't think you'd want to mix SS and black. At least I'd just stick with the SS finish and make sure for any remaining appliances I got a SS that resists fingerprints.
---
| | | |
| --- | --- | --- |
| RE: I hate my stainless steel appliances!!! | | |
I would say the only black appliance that sometimes bothers me esthetically is refrigerators just because they are so large.

I did a kitchen with black range, DW and microwave and a white fridge for a client (her white fridge was also new) and it looks okay in her kitchen because of placement.

So if you were to change the DW, I think you could go with black and a black range with no particular problems, but if you keep the SS dishwasher I would go with SS for the range and microwave as well.
---
| | | |
| --- | --- | --- |
| RE: I hate my stainless steel appliances!!! | | |
I guess I'm in the minority, but I like the SS better in your kitchen.

When I get water marks on mine, I've used Bon Ami. Works well to get them clean. Test on a small area first to make sure it won't scratch. It's never scratched any of mine, but you should probably test first.

Pledge, huh? Interesting. I never heard that before. Going to look to see if I have any...
---
| | | |
| --- | --- | --- |
| Glossy | | |
palimpest, that was my concern about the refrigerator being black-- I thought it would look like a big black hole. SS would have been screaming to us, even from the LR. So, we got a glossy black . . .sort of a compromise between shiny SS and dull black. I love it. Now if only I could do something about my orange oak cabinets and horrible teacup wallpaper.
---
| | | |
| --- | --- | --- |
| RE: I hate my stainless steel appliances!!! | | |
javachik - I think there must be different types of SS, because I tried the water and microfiber cloth and it worked okay on my DW, but not my fridge.

anele - It would definitely be closer to 10 years before I painted.

graywings - That's the funny thing...I'm not an overly neat person. I don't keep things as neat or as clean as I should and it doesn't bother me, but this is driving me crazy for some reason. I wish it didn't, but it does. Thank you for giving me permission to not match :)

Sujafr - How do you know which ones are fingerprint resistant? I looked at appliances all over and no one mentioned that and I didn't see it on any of the tags. Of course, I wasn't looking for it, so maybe I missed it. Are the fingerprint resistant ones real SS or one of the SS look alikes?

jillinnj - Thanks! I'll be buying some Bon Ami when I buy my Pledge. I'm thinking I really need to get the fingerprints off before I put the Pledge on and maybe that will do the trick.
---
| | | |
| --- | --- | --- |
| RE: I hate my stainless steel appliances!!! | | |
You can also try the Magic Erasers. I have found they also work wonders oin getting the fingerprints and water splashes off the front of the appliances.
---
| | | |
| --- | --- | --- |
| RE: I hate my stainless steel appliances!!! | | |
Believe it or not, baking soda is the easiest thing to use on the more stubborn marks. Just dampen some on a cloth and use it like you would Bon Ami or any other cleaning product. I used to use the Bon Ami on our Silgranit sink and it did a good job but it's hard to find in our area and the baking soda does as good of a job if not a little better. It also washes off a little easier because it doesn't leave a residue.

I believe you made a great choice going with the stainless and they are the best choice for your cabinets. It's just my opinion but to me, black appliances tend to visually eat up space (especially in a smaller kitchen) as well as suck up the lighting. After having both, I feel they also easily show dust as well as finger prints and offer no additional benefits when compared to the stainless. I hate the black top of our stove for that reason. Stainless Steel does vary from manufacturer to manufacturer so keep in mind that what may work great for one brand may not be the best choice for another. The SSL on our new Samsung fridge is very finicky when compared to our Maytag & GE appliances. Luckily the polish and baking soda works great on all three.

I believe that once you figure out which products work the best for the appliances you have, you will find them to be quite nice. I love the way ours shine and sparkle in the lightening and don't find that it's any more work to keep the fronts clean than any other appliance I've had. Good luck!
---
| | | |
| --- | --- | --- |
| RE: I hate my stainless steel appliances!!! | | |
Also keep in mind that often the spots are either grease or dried specs of food that only soap and water will dissolve and remove. I often go over my SS first with a soapy micro cloth or non-abrasive scrubber, then I use a product for SS.
---
| | | |
| --- | --- | --- |
| RE: I hate my stainless steel appliances!!! | | |
I found that the worst thing for stainless steel is looking for the perfect cleaner. A little of this residue with a little of that cleaner a few times over and you can have the worst mess ever. I used Signature polish and it looked good -- didn't have to clean my fridge that often, but when I did, I had to do the whole thing. A friend gave me a microfiber cloth to try as a suggestion for a fundraiser, so I tried it on everything. What I discovered was that the microfiber and water was the only thing that allowed me to wipe a spot of drip without cleaning ever inch of the fridge or any other appliance each time.
---
| | | |
| --- | --- | --- |
| RE: I hate my stainless steel appliances!!! | | |
I personally like the look of the black appliances with your oak cabinets. To my eyes the color on the walls fights with the stainless steel. If you don't like the stainless steel of hte dishwasher, but like the dishwasher itself you could consider colored adhesives for your ss dishwasher. I haven't used them myself but I've seen posts from others and they say that the adhesives work well.
---
| | | |
| --- | --- | --- |
| RE: I hate my stainless steel appliances!!! | | |
I personally like the cabinet paneled look. Is there a way you could put a cabinet panel on the dishwasher at least? It looks like your controls are integrated, so it should be possible.
---
| | | |
| --- | --- | --- |
| RE: I hate my stainless steel appliances!!! | | |
I think the SS looks washed out in your kitchen. What a difference when you look at the black stove. To my eye your cabinets are screaming for the contrast the black appl bring. Maybe Pledge, oil, wipes, water, vinegar etc helps after you find the right combo but if an appl requires that much time and work such as the SS....go with your heart and
what you like not what you know you dislike.
---
| | | |
| --- | --- | --- |
| RE: I hate my stainless steel appliances!!! | | |
I love the stainless on my GE Caf� Range that is always clean, the stainless on my Range hood that is always clean since it too is more of a brush-less stainless steel. I also love the stainless on my LG refrigerator. They are all so easy to clean. I LOVE my KitchenAid dishwasher but I would have not bought it if I knew it would be so difficult to keep clean. I think it is the style you have and the stainless steel is pretty when clean but a whiter type of stainless steel that is shiny and it rarely looks clean. Sorry, you are also having problems. Remember not all stainless steel is the same.
---
| | | |
| --- | --- | --- |
| should say cafe - re: i hate my stainless steel appliances!!! | | |
I typed Cafe and the spell checker added the symbol above the e to make it French looking and now it looks weird. I forgot that Gardenweb does not like any quotation marks or symbols. Sorry....
---
| | | |
| --- | --- | --- |
| RE: I hate my stainless steel appliances!!! | | |
Have to say I love my SS appliances. I use the E-cloths. They have them at TJ Maxx and Marshalls. You actually get one that you use wet it has some texture to it and then there is a soft one that you use to polish with. They work GREAT !!!
---
| | | |
| --- | --- | --- |
| RE: I hate my stainless steel appliances!!! | | |
You asked how to tell if they're fingerprint resistant. Ours is a Whirlpool Gold and said something about the finish being resistant to prints on the tags with it. Plus at the stores, I just put my hand prints on the ones that I was interested in to test them out. Then once you see a few of them, you can just spot the difference. As someone else said, the fingerprint resistant ones have a brushed look. I just clean the handle routinely with a damp cloth with a bit of detergent. The door I've only had to use a damp cloth on.
---
| | | |
| --- | --- | --- |
| RE: I hate my stainless steel appliances!!! | | |
I'm right there with you. I really dislike my ss appliances. They are impossible to keep clean with my three young boys. I should not have to clean my appliances daily. And they don't clean easily...I have to really scrub hard with BKF to get them clean and even then sometimes they still have marks/prints/etc.

That said, my range and otr microwave get the least dirty. I barely have to clean them. I guess it's because there is a glass taking up a big chuck of the front of the range and the micro is up too high for the kids to reach (and also has glass on the front). I think you will be fine to replace those with SS. It's only my fridge and dishwasher that I despise being SS.
---
| | | |
| --- | --- | --- |
| RE: I hate my stainless steel appliances!!! | | |
With your cabinets, I much prefer the black.

However, as non-matching is ok, it looks somewhat balanced - black microwave & range together in the centre, and SS appliances across from each other (so if you had to live with it, it's not that bad).

What is in/behind the wall behind your fridge? Would it be feasible (& safe) to cut out the drywall and push the fridge back a little bit?
---
| | | |
| --- | --- | --- |
| whoops | | |
Forgot to say & then add an end panel.

"push the fridge back a little bit & add an end panel" (to minimize the look of the fridge)
---
| | | |
| --- | --- | --- |
| RE: I hate my stainless steel appliances!!! | | |
Well, I tried the baking soda this morning and it actually got rid of most of the fingerprints and water streaks. I felt like I cleaned all of the BS off, but I still have a little bit of a smeary look, so I need to work at it some more.

citywoman - My heart says to go with the black, but I wish I had listened to my heart befoe I got the DW.

Lynn - My DW is also a Kitchen Aid :(

jeannie - Thanks, I'll look for the ecloths.

sujafr - Thanks. I don't know if they make ranges and microwaves, but I will definitely keep that in mind if I decide to stick with my SS appliances.

regina - That's what I was thinking on the range/microwave. I may get the ones with the biggest area of glass.

decordummy - My very small laundry room is behind the fridge,so I can't push the fridge back any further.

If I do stick with my SS appliances, can I have an ORB faucet? My doorknobs are ORB, my curtain rods are black, and I will eventually have black/ORB light fixtures.
---
| | | |
| --- | --- | --- |
| RE: I hate my stainless steel appliances!!! | | |
Okay, what is wrong with me? I love my SS appliances and find them easy to care for. I've had them nine years and they look totally new. My old appliances from before my remodel eventually got very dirty where they were touched frequently. All the cleaning of those fingerprints eventually created areas that were "rough" and almost impossible to clean. I can easily clean the SS with almost any SS cleaner. Another trick is to wipe them with olive oil, which works very well.

I do have a black range and I hate that. It shows every little spatter and smear. However mixing the black and SS works, mostly because all my SS appliances also have some black on them.

I think the black in your kitchen is way too dark and sucks the light out of the room. That said, I firmly believe that you should do what makes you happy. It's your kitchen.
---
| | | |
| --- | --- | --- |
| RE: I hate my stainless steel appliances!!! | | |
dedtired - That's what is so frustrating to me. Some people seem to have this carefree type of SS, while others have the most high maintenance type. Just curious, what brand do you have?

jeannie - I might go by Marshalls later today. What area are the ecloths in?
---
| | | |
| --- | --- | --- |
| RE: I hate my stainless steel appliances!!! | | |
IMO, faucet, cabinet, and door hardware finishes have nothing to do with appliance choice. In my kitchen cabinet hardware is a mix of ORB and antique brass (on the hutch). Door knobs/hinges are ORB. Faucet is stainless.
---
| | | |
| --- | --- | --- |
| RE: I hate my stainless steel appliances!!! | | |
Forget the water, just try pure rubbing achohol, I use it on everythinbg chrome faucets. stainless sink and mirrors,and windows, dh luvs it for our car windows,even my marble tops on vanities, took me 45 yrs. as a home maint eng...to discover how amazing this is..$1.00 for a big bottle at dollar store put a sprayer on it.. and be Amazed!!!!
---
| | | |
| --- | --- | --- |
| RE: I hate my stainless steel appliances!!! | | |
i prefer SS over black...

we used to have a black cooktop(gas) that drove me crazy because it hardly ever looked clean---and i'm so NOT a clean fanatic. it would show dust 1/2 hr after it was cleaned it seemed! i finally changed that out(even tho it worked fine) to a slightly larger cooktop and stainless-huge improvement!
our frig is paneled and our dishwasher was black with panels and we recently were having problems with our dishwasher and changed it out--got stainless and i am enjoying the lighter look without the panels-brightens the kitchen abit. it gets finger prints, but they don't bother me much and i haven't had trouble wiping them off...yet at least! i do think it's like granite and looks best when dried and polished with a microfiber cloth.
---
| | | |
| --- | --- | --- |
| RE: I hate my stainless steel appliances!!! | | |
Another minority vote for the look/lighter SS with your cupboards..but still not a vote for SS. I am amazed at how many got sucked into the work of SS and the requirement of additional products for their upkeep. I once heard to be ware of your stuff owning you and am so glad I did. I like the lightness the SS brings to your kitchen, but I will never be a fan of the industrial look of it, in any "home" kitchen. I think cream would be lovely in your space but that is not really an option anymore from what I have found while looking to replace a 'fridge and stove. Bottom line is you dislike it, why add to your misery? Do what works for YOU!
---
| | | |
| --- | --- | --- |
| RE: I hate my stainless steel appliances!!! | | |
For real SS, first you have to remove any and all residue from other SS cleaners, esp oily residue. All residue. For my appliances, specifically, a Wolf range, and my beast, my KA built-in fridge, that meant scrubbing with a blue scrub sponge and BKF. I went over the fridge at least a few times before all the residue was removed (it hides in the pores for a while apparently). After scrubbing, I had to "rinse" off the BKF with wet paper towels or cloths. Yes, this is a PITA job, but well worth it in the end and for the long run.

Once all residue from our SS cleaner was removed I was able to clean AND spot clean (!) our appliances using my alcohol-water-lavender oil spray and a microfiber cloth. Every time, any time, no smears, no streaks. I even did this for my two bf's. I scrubbed their fridges (two diff brands) and one or both DW's. Once I got them down to the "bare" finish so to speak, I followed up with the alc-water. My friends were very happy. One had thought her fridge's finish had been ruined. Couldn't get over the results. The other friend is ecstatic that she doesn't have to freak out when her two sons slop up the kitchen, thinking she has a big cleaning job in front of her. She just sprays and wipes and it's all clean, as easy as that.

Again, the key is to get your SS back to it's beginnings. That means getting rid of all of the other cleaning product residue, even if you think you got it all. If you're still not able to clean them nicely with the alc-water spray, you might not have removed every trace of other products used prior.

I can't tell you how difficult it was to clean our KA built-in using SS cleaning products. Could not clean it in one fell swoop or swipe of the cloth, so there were always streaks somewhere on the doors. Smudges and water drips could not be spot cleaned. It was the bane of my existence cleaning-wise. Now it always looks great and is easy to keep that way.

I don't know how well this works on SS look vs. real SS, but I wholeheartedly rec it for the real thing.

Good luck!
---
| | | |
| --- | --- | --- |
| RE: I hate my stainless steel appliances!!! | | |
I tend to agree that the SS & Pledge type polishes are more of a headache in the long run with the buildup they create. I've used BKF and baking soda to clean appliances. Have never used alcohol, but I'm guessing it works the same as plain water along with a microfiber cloth to easily clean smudges.
---
| | | |
| --- | --- | --- |
| RE: I hate my stainless steel appliances!!! | | |
I like the ss with your kitchen, it brightens it up.

I have been using Sheila's Shine since day 1. A little goes a verrrry very long way. I just keep the can with a microfiber clothe in a ziploc bag. I pull it out put a little on the rag and wipe it down. It actually helps prevent fingerprints.

It might seem expensive but, I think you need to only buy it once--seriously.
---
| | | |
| --- | --- | --- |
| RE: I hate my stainless steel appliances!!! | | |
| | | |
| --- | --- | --- |
| RE: I hate my stainless steel appliances!!! | | |
When y'all talk about BKF, are you talking about the powder or the SS liquid cleaner?

I've cleaned my fridge more in the last two days than I've done in the last year :) The straight and mixed alcohol removes fingerprints from my DW, but doesn't do a thing for the fridge. So far, the baking soda is the only thing that has worked on it. I consider it the SS from hell! It still has a slight smeary look. I feel like I should have all the oily residue off by now, but maybe I don't. I still want to try the Pledge, but if it doesn't work, I'll have to start all over with removing the residue. I'm afraid if I don't have some type of barrier on my fridge, I'll get the fingerprints again.

Cat_mom - Do you mix the water/alchol/lavendar yourself? If so, what ratio do you use and does the lavendar help with cleaning or is it just for fragrance?

I'm confused about buying a range now. I was going to get a SS one that had a black top and black knobs, but it sounds like some of you don't like the black. My current one is hard to clean, but I'm thinking it's still easier than SS.

I'm also curious how most of you wash your microfiber cloths? It seems like I heard you're not supposed to use fabric softener on them, but I never have a large enough load of microfiber cloths to wash, so it seems like the end up never getting washed. I actually hand washed one the other day by putting a little Tide in the sink and swishing it around and then rinsing it real good.
---
| | | |
| --- | --- | --- |
| RE: I hate my stainless steel appliances!!! | | |
Bar Keepers Friend. I use the powdered version in the can. You can get it in the supermkt or @B,B,&B w a coupon!
---
| | | |
| --- | --- | --- |
| RE: I hate my stainless steel appliances!!! | | |
I prefer the black appliances in your kitchen. The colors you have are warm, the ss color looks too cool mixed with the warm colors, imo.
---
| | | |
| --- | --- | --- |
| RE: I hate my stainless steel appliances!!! | | |
I have oak cabinets, black DW, black-front stove w/white top and range hood (old), still works, sort of :P! and a SS fridge with black side panels that fits mostly in a recessed area. The sink is white porcelain with a white faucet. The counter-top is white tile with an oak beveled edge. Sounds horrible BUT Everybody loves my kitchen, they just plop down in a chair, I feed them and they never want to leave.
---
| | | |
| --- | --- | --- |
| RE: I hate my stainless steel appliances!!! | | |
MsRose, I have a Kitchen Aid fridge, a GE Profile Microwave and a Bosch dishwasher. The black range is a GE Profile, too.

My favorite cleaner is Stainless Steel Magic and the worst was the cleaner that came with the fridge.

My fridge has ice-through-the-door, a feature I would never get again. I do get drip marks from that, but the olive oil gets rid of them. What I never thought of is that when the power goes off, the ice melts and runs down the front of the fridge. Doesn't happen often but it's a real mess when it does. I have to remember to take the ice bucket out and put it in another part of the freezer if there is room.

Good luck with your choices. Don't overthink it. I hate to tell you, but no matter what you choose you'll be wondering if you should have gotten the other!
---
| | | |
| --- | --- | --- |
| RE: I hate my stainless steel appliances!!! | | |
I use the powdered BKF too. I wash all microfiber cloths in their own very small load. I use the cloths for dusting too, so there are always at least 6 or 7 to wash.
---
| | | |
| --- | --- | --- |
| RE: I hate my stainless steel appliances!!! | | |
We have the GE Profile stove and while I love the way it cooks, that black top really is a big PIA to keep clean, especially because we have animals. This is a little off topic but what I also am really unhappy with are the raised grids. This particular model has 2 in one and they're super heavy and hard to clean. I've also not had any residue problems with our Samsung fridge, but maybe it's the type of stainless they use which again is reported to be pretty fussy. It responds to the polish and baking soda better than any of the other cleaners I used and there were several. To remove tough marks I make a paste and let it sit on it for a few minutes.
---
| | | |
| --- | --- | --- |
| RE: I hate my stainless steel appliances!!! | | |
I have a stainless stove with a gas black cook top. So called "bleach" wipes are a miracle on cutting thru the grease. And about once a month I soak the grills in the sink and wash them.
That said, I really wish that colored appliances would come back. I have my eye on the yellow big chill fridge, but they are so expensive. (Currently have an ivory fridge). Big black or stainless box would overwhelm my tiny kitchen. I like the industrial look of the stove, but for some reason I don't want an industrial looking fridge.

I liked both the black and the stainless in your kitchen. I guess I would prefer a stainelss to a black fridge too.

Good luck

Kathy
---
| | | |
| --- | --- | --- |
| RE: I hate my stainless steel appliances!!! | | |
If you do a search on home dec, kitchen, or appliance forums, you'll find a bunch of threads/posts detailing my "recipe" for the spray. ~50-50 alc to water, maybe less alc to water. Let your nose be your guide and evaporation rate. Too much alc, you choke a little, too little, and the spray sits there, smears a little more readily. Essential lavender oil for scent and anti bact properties. I add enough for a discernible scent of lavender.

I had to clean the fridge a number of times before every drop of the SS cleaner was gone. Eventually you will get it all off. It may seem you got it all already but that might not be the case so don't worry.
---
| | | |
| --- | --- | --- |
| RE: I hate my stainless steel appliances!!! | | |
Those of you suggesting things like Bar Keeper's Friend (which I love for my stainless cookware) and baking soda - you don't have a problem with scratching? BKF is abrasive enough that it turned my shiny cooktop burner collars to matte.

msrose - I really like the look of the SS in your kitchen. Your kitchen seems fairly dark, and the SS really brightens it compared to the original owner's black appliances. (I'm not anti-black appliances, and I had them in my last house, I just think the SS gives you a brightening quality much like a mirror might).

We have a 3 y/o and get fingerprints everywhere. If I wipe them up immediately, just about anything will work. If they sit there for a week or so, they can be very hard to remove. So far I've had the best luck by cleaning with Simple Green on a microfiber cloth. That got off things that nothing else did, even special SS cleansers. But it streaks fiercly AND leaves a haze. The pre-moistened SS wipes used after the Simple Green cleansing do a decent job of brining back the finish, but I still have to do a lot of "buffing" with a clean microfiber cloth.

I'd not heard of Pledge. I may have to try that. I did read about olive oil and tried that, and all it did was make my fridge oily. :)

FWIW I have "SS look" appliances, as I suspect most people do -- not true SS.
---
| | | |
| --- | --- | --- |
| RE: I hate my stainless steel appliances!!! | | |
I don't think I would use BKF on the SS-look stuff (nor on Satin Nickel--I've read and heard that it will tarnish SN). The alcohol-water spray should be okay though. As always, test a small, hidden if possible spot first.

Are your burner collars SS or aluminum? I don't think it's great on aluminum--don't like it for my baking/sheet pans-- but I don't know if it's really a true no-no.
---
| | | |
| --- | --- | --- |
| RE: I hate my stainless steel appliances!!! | | |
"Those of you suggesting things like Bar Keeper's Friend (which I love for my stainless cookware) and baking soda - you don't have a problem with scratching? BKF is abrasive enough that it turned my shiny cooktop burner collars to matte."

Nope, no problems, it works on the Samsung SSL beautifully. I make a soupy type paste with it and it is not abrasive at all. It was recommended to me in the cleaning forum and works like a charm.

I love using the Pledge, I haven't had any problems with residue build up or anything. I tried mineral oil and could not stand the mess it made or how the residue that left.
---
| | | |
| --- | --- | --- |
| RE: I hate my stainless steel appliances!!! | | |
Forget all the above been there, tried it all, still use BKF for stubborn things in kit. sink...( but you got to rinse and rinse) but for appliances and no rinsing, no wax.. just sparkle and shine!! just spray pure alcohol, wipe with a paper towel and be Amazed!!! then try it on your mirror, windows and just about everything!!! be blown away, like I was! 50 yrs. of housekeeping, and now I discover this!!!
---
| | | |
| --- | --- | --- |
| RE: I hate my stainless steel appliances!!! | | |
There's also a product called "Invisible Glass". It has to be largely alcholol (can tell from the smell). Works great, I've been using it on my mirrors and windows for years but never thought to use it on appliances. It's actually for auto detailing, you can find it in the automotive departments.
---
| | | |
| --- | --- | --- |
| RE: I hate my stainless steel appliances!!! | | |
I had originally mixed up the alc-water spray to use on my granite countertops (over in the kitchen forum people were touting it constantly 4-5 years ago, I just hadn't tried it 'til last year or so). Love it on that, too. I tried it on our SS appliances pretty much out of desperation. Like I wrote in an earlier post, that KA built-in fridge was a beast to clean without the looking all streaky.

The SS sheen/color looks different with/without the oil-based cleaner, but I can't say either way looks appreciably better or worse than the other.

I sometimes use my spray on glass and mirrors, sometimes I use Perfect Glass (from B,B&B). Don't know why. Sometimes I just like the way one cleans, sometimes it's just what I have in my hand at the moment. :-)
---
| | | |
| --- | --- | --- |
| RE: I hate my stainless steel appliances!!! | | |
My DH has been an appliance specialist at the blue big box for 20 years. When we built our house 7 years ago we put in white appliances b/c we agreed we both hated SS! Exactly 1 year ago we replaced & upgraded every single appliance with SS and WOW, we love it. Even though we were late to the party we have no regrets.


SS, its properties and products to clean it with have definitely evolved in the past 10 years. The appliance departments have to (seriously) wipe down the SS every couple of hours. You can imagine the myriad of hands that touch-test the fingerprintness and the dust flying as it sticks to the hand oil all over the fridges. They get customer comments, complaints and recommendations as well as the vendors who tout their latest cleaning products and these guys in this high-volume store have TRIED THEM ALL. B/c just like all of you said, SS is not created equal and what works on a LG won't work as well on the Samsung.

Bottom line, they have universally used - and recommend the Orange Pledge for the cleaning properties and streak-free finish. No build-up. Further, those spots and drips that just won't go away? (I had them on my appliances at home!) When SS gets wet--a drop or a drip-- and doesn't get hand dried, that evaporating water from the drop sucks the oil out of the stainless. I'm not kidding. If you have those kind of marks, use your finger(S), rub on that spot kinda hard and watch it disappear. The oil in your fingers oils the drip away. That's what the professionals do but you didn't hear it from me. ha

BTW I love the SS in msrose's kitchen. I like the lighter look and the appliances are lovely. But I've never been a fan of the black appliances either. That's just my opinion. :)
---
| | | |
| --- | --- | --- |
| RE: I hate my stainless steel appliances!!! | | |
I read that the pledge in the yellow can cleans the SS appliances nicely. I just did all my appliances and I'm SO HAPPY with the result. Thank you!
---
| | | |
| --- | --- | --- |
| RE: I hate my stainless steel appliances!!! | | |
I also like the stainless appliances in the kitchen pictured above. The black appliances make it appear almost cave like.
---
| | | |
| --- | --- | --- |
| RE: I hate my stainless steel appliances!!! | | |
I also like the SS appliances.
---
| | | |
| --- | --- | --- |
| RE: I hate my stainless steel appliances!!! | | |
OK here's another tip for those of you who have stainless fridges and water spots from the dispenser. Rain-X. It's designed for car windshields to keep rain rolling right off so you won't need your wipers for small showers. It works on glass shower doors and mirrors too, and sinks and faucets, and tub and shower walls. Just don't use it on a tub or shower floor! The surface has to be absolutely clean, as is use Dawn and a microfiber to suds off any old grease or greasy cleaner. Then apply the Rain-X and buff. If the water dispenser drips over, it'll now roll right off of the fridge with no water marks. You might need to do a damp microfiber wipe down every so often, but the Rain-X will last for months and months.
---
| | | |
| --- | --- | --- |
| RE: I hate my stainless steel appliances!!! | | |
msrose - I'm a little late to the dance, but I thought I'd add my two cents. I know exactly how you feel! After years of living with a seriously outdated kitchen, we finally did a facelift last fall which included replacing my mismatched appliances (white fridge, black dishwasher/oven/cooktop) with stainless. I considered white, as we had painted all the cabinetry white, but since we will probably sell in the next few years, I knew that most buyers in our area would want stainless appliances. I knew I would probably not be happy with the stainless, and I was right. I hated it. Like you, I have a KA dishwasher, and also a KA fridge. They both smudge if you look at them and show every drip. My daughter also has KA stainless appliances and has the same issues. I don't know what makes the stainless different between the various appliance makers, but KA appears to be among the worst. I have a stainless Electrolux wall oven which doesn't seem to smudge quite as much, but it doesn't get the same use as the fridge and dishwasher, so that might be the reason.
Anyway, after trying various cleaners, including Weimans, Pledge, baby oil, etc., I finally decided that for me, the oily cleaners just made things worse rather than better. This has been my solution. First, I removed all of the old residue and fingerprints. Since 'like dissolves like', I used a soft cloth with some De-Solv-It (citrus oil cleaner) and wiped down the entire surface, going with the grain and rubbing gently any stubborn smudges. Then I wiped off the De-Solve-It as much as possible. Then I sprayed on a de-greaser cleaner to remove the rest of the residue (I use Red Juice from The Clean Team, but you could probably use 409, etc.)and wiped off with a cloth. Then to be sure it was completely gone, I used hot, soapy water, then rinsed. And finally, I dried with a microfiber cloth, going with the grain. (I bought a bundle of microfiber cloths from SAM's Club, and they are great.)
I know it sounds like a lot of work, but it really didn't take long at all. And once my stainless was clean and free of all the oily residue from other cleaners, it has been much, much easier to maintain. I just wipe it down with a dishrag and dry with a microfiber cloth, and it looks good. Granted - I have to wipe it down daily, which I never did with my old appliances. But the smudges, drips, and fingerprints are much easier to remove than when I was using all the special stainless cleaners.
Hope this helps.
---
| | | |
| --- | --- | --- |
| RE: I hate my stainless steel appliances!!! | | |
I used to hate mine too because I had water streaks and finger prints and no matter what I did it wouldn't come off. I then gave it a good clean down with a Baking Soda and Vinegar mixture. I put it on, let it sit for 10-20 minutes then wiped it off and cleaned it with water. I also found that you have to make sure you go against the grain in order for it to look good. After this the streaks that were there for months were finally gone!! Now on a weekly basis I use pledge and it looks fine.

Now, however, that I am building a house I bought all new appliances and went with the Fridgidaire Gallery Series that does not show finger prints at all!! When I was in the store I was putting my hands all over them and nothing! it was amazing. So...hopefully at the new house i will never really have to worry about it again!
---
| | | |
| --- | --- | --- |
| RE: I hate my stainless steel appliances!!! | | |
I clean any grease or gunk off with hot soapy water, then I wipe them down with WD-40 it's the best thing I have ever found, and a little goes a long way so it's cheaper than most cleaners/polishes specifically made for stainless
---
| | | |
| --- | --- | --- |
| RE: I hate my stainless steel appliances!!! | | |
Oh my, you have gotten so many different views....so I'll add my girlfriend's idea. She built a new home...beautiful...and put in bisque and it looks lovely.
She said that everyone said she was "dating" it, but she said she didn't care...it was her house...she had to clean it and was not going to be a slave to appliances.

You can still get them....but they might have to be ordered...but white is so stark with the wood, but the softness of the bisque was her answer to her problem of not wanting do what it takes to maintain SS or black.

Good luck~~
---
| | | |
| --- | --- | --- |
| RE: I hate my stainless steel appliances!!! | | |
I will bump this old thread because I feel its pretty useful. I wish more appliance compaies like LG and Whirlpool would seriously look into offering different choices than white, black, and stainless. Why not porcelain, wood, etc. Personally, I would love a unfinished wood framed fridge, I know a lot of people would as well. That way, with all the matching, you'd just have to find a decent stain cabinet match and have auto built in's at a fraction of the cost.

I also think a stainless with some sort of table top epoxy type coating would be awesome.
---
| | | |
| --- | --- | --- |
| RE: I hate my stainless steel appliances!!! | | |
This is our kitchen with mixed SS and black appliances. I wouldn't want an all black fridge because of the huge black hole effect, but wouldn't want all SS either because it just didn't feel right for our kitchen. You can't see all the appliances in this pic, but the DW, fridge and range hood are SS and the range and microwave are black. I'm very happy with the mix!
This post was edited by hoosiergirl on Tue, Mar 12, 13 at 13:03
---
| | | |
| --- | --- | --- |
| RE: I hate my stainless steel appliances!!! | | |
Having bought a Brown Refrigerator in the 70's and being stuck with it until the late 80's (the darn thing just wouldn't die!) I determined never to go 'faddish' again. In my humble opinion that is how I feel about SS. Any time I go into a home with SS the first thing I notice is smudges, fingerprints, etc. The cool of SS just doesn't work for me with warm natural wood cabinets. When I recently bought new appliances (decided to replace everything when we converted to a gas range) I bought white. We have a cottage style home with natural cherry cabinetry and I wanted my kitchen to appear timeless. I know some disagree, but white IS timeless, is coming back into vogue and looks good with my cabinetry. Don't even get me started about granite!
---
| | | |
| --- | --- | --- |
| RE: I hate my stainless steel appliances!!! | | |
My neighbor who has one of the most beautifully decorated homes I have ever been in (I did not say biggest or most elaborate or elegant) but most tastefully decorated, has gradually gone back to black. It looked fine as she did it. She went to all stainless except her fridge which was on order. She decided she hated the stainless steel, called the store and paid the restock fee and changed to black and has gotten her stove and microwave changed out in the past 2 months because her microwave which was a GE and matched her GE stove went out and she just went all black there. She is going to finish them one at a time because she likes a spic and span kitchen and she could never keep the stainless to what she felt was spic and span. Every little print showed. She entertains a lot and that makes for a lot of cleaning.
---
| | | |
| --- | --- | --- |
| RE: I hate my stainless steel appliances!!! | | |
Msrose- I think your stainles steel appliances look great! Shiny and bounce light around the space. I think a new backsplash (if you ever decide to do one) maybe in glass tile would also bounce light around and tie everything together! Just an idea :)
---
| | | |
| --- | --- | --- |
| RE: I hate my stainless steel appliances!!! | | |
Y'all can clean and compare. My vote would be White.
---
| | | |
| --- | --- | --- |
| RE: I hate my stainless steel appliances!!! | | |
I believe the new SS finishes... or the new SS cleaning wipes... repel fingerprints and smudges so effectively that this is no longer a problem. We recently remodeled and have all new SS appliances. I thought I would go crazy the first few weeks with all the fingerprints. But I used the cleaning wipes a few times, and this must have built up a buffer of sorts? Fingerprints are no longer a problem. In fact, the top edges of my dishwasher and refrigerator handles get dusty because I no longer have to clean them for fingerprints.

I think the fingerprint maintenance issue of SS is a thing of the past. Don't let this deter you if you like the look.
---
| | | |
| --- | --- | --- |
| RE: I hate my stainless steel appliances!!! | | |
I'm surprised to see this post come up after all this time, but thought I would do an update. I did end up replacing all my appliances with SS. I still kind of wish I had stayed with the black, but I've learned to overlook the smudges and fingerprints.

Peony4 - What brand of wipes do you use? I don't think I ever tried the wipes, but I did try several SS cleaners and just didn't have a lot of luck. The main thing that removes all the fingerprints is when I clean it with Bar Keepers Friend. It a little messy and more time consuming that I like, so I don't use it as often as I should. The SS on my microwave and stove were advertised as being smudge proof and it's so much better than my dishwasher or fridge. I wish I had bought them first, so I could have shopped for the same type of SS for the others.

lavender lass - I have since replaced the backsplash with glass tiles :)
---
| | | |
| --- | --- | --- |
| RE: I hate my stainless steel appliances!!! | | |
but I've learned to overlook the smudges and fingerprints.

I could not learn to overlook them, which is why I paneled my fridge and DW in the current remodel.

Peony, do you think this is something new I. The last 7 years? We remodeled a kitchen 7 years ago using stainless appliances and I hated the fingerprints, smudges and water spots!
---
| | | |
| --- | --- | --- |
| RE: I hate my stainless steel appliances!!! | | |
If you keep the stainless steel, invest in Pledge (the company) so they can send you cases of the product (free perhaps) to keep the SS clean. With regrets, I, too, am the owner of a whole kitchen of smudges, Pledges, Windex and Barkeepers friend.
---
| | | |
| --- | --- | --- |
| RE: I hate my stainless steel appliances!!! | | |
My very first thought was to have them paneled in whatever cabinetry you have in your kitchen. I have SS and can relate, but still haven't gotten in touch with the cabinet manufacturer(local)to get it done. It's on my winter to do list and I'm just getting started on that!
---
| | | |
| --- | --- | --- |
| RE: I hate my stainless steel appliances!!! | | |
Sjhockeyfan, when we were shopping appliances, we were told by a sales person that newer SS finishes were more resistant to fingerprints. I dismissed it at the time as a sales pitch. In my experience, though, my newer SS appliances stay cleaner than my old ones. My oldest is a 6-year-old lower-end model Whirlpool DW in a basement kitchenette that gets used only once a week, but it always looks like a mess.

Msrose, when I initially had my new SS appliances installed in my main kitchen last Aug, my neighbor gave me some of her Weinman brand wipes. I used them the first month or two until they ran out. I then bought Zep brand cleaner from Home Depot. I used it a few times around the holidays, and it works fine. I used an old (clean) sock on my hand to apply it, and I just store the sock over the top of the can. (Come to think of it, the sock is not cotton--it's one of those acrylic type of socks you'd wear with boots in the winter.)

I think the Weinmans created a barrier, if that makes sense, but I didn't care for using wipes. At this point, I'm sticking with the Zep and sock method. I just looked at my appliances--the fridge and the range are fine. The DW and MW could use a touch-up. But the last time I cleaned them was mid-December.

Editing to add that I think the acrylic sock means that the cleaner stays more on the appliance, rather than being soaked into the fabric. This must be why others have claimed microfiber cloths work so well.
This post was edited by peony4 on Sun, Jan 12, 14 at 18:42
---
| | | |
| --- | --- | --- |
| RE: I hate my stainless steel appliances!!! | | |
Bumping this because in all of the posts, I haven't seen what we have found to be perfect...... After lots of wasted time and money.

Vinegar mixed with alcohol and water and a splash of hydrogen peroxide. Google this and you will find people who did tests on what works best for window cleaning. There is a recommended ratio, but I don't bother.

This would not be good if you have polished marble, as the vinegar is an acid. However, in my kitchen - this single mix fulfills almost every function, including managing my SS appliances.

I add a little essential oil so it smells good. The vinegar smell goes away as soon as the moisture has evaporated.

In the past, we tried all of the oil based recommendations, and they turned I to a mess. This solution gets everything clean and residue free.
---
| | | |
| --- | --- | --- |
| RE: I hate my stainless steel appliances!!! | | |
When it was time to replace our 30 year old refrigerator, I naturally went with stainless steel because my stove was also stainless. I was thrilled when I picked it out in the store, but when the delivery men came in and put it in place, I was horrified. It looked like a humongous, obtrusive, flying saucer like contraption in my kitchen..

I couldn't understand why it looked so awful while my stove looked so pretty. I realized that with my stove, there is a glass front door, and a black cooktop and a black border around it to break up the look of the stainless steel.

Straight, uninterrupted stainless steel can be very overwhelming and really dominate a kitchen. So, within 24 hours, I had the refrigerator picked up and I purchased a white one that I'm now happy with.. Anyway, that's my story and I hope I haven't bored anyone:)
---
| | | |
| --- | --- | --- |
| RE: I hate my stainless steel appliances!!! | | |
kailuamom - I've tried an alcohol and water mixture, but not the others. I'll definitely give it a try! Thanks.

Maude80 - Not boring at all :)
---
| | | |
| --- | --- | --- |
| RE: I hate my stainless steel appliances!!! | | |
I really disliked my SS until I found the right cleaning combo. Target anti-bacterial wipes (works better than Lysol brand), the cleaning kind, not the type meant for wiping hands, and then follow up with alcohol.
---
Post a Follow-Up
Please Note: Only registered members are able to post messages to this forum.
If you are a member, please log in.
If you aren't yet a member, join now!
---
Return to the Home Decorating Forum
Information about Posting
You must be logged in to post a message. Once you are logged in, a posting window will appear at the bottom of the messages. If you are not a member, please register for an account.
Please review our Rules of Play before posting.
Posting is a two-step process. Once you have composed your message, you will be taken to the preview page. You will then have a chance to review your post, make changes and upload photos.
After posting your message, you may need to refresh the forum page in order to see it.
Before posting copyrighted material, please read about Copyright and Fair Use.
We have a strict no-advertising policy!
If you would like to practice posting or uploading photos, please visit our Test forum.
If you need assistance, please Contact Us and we will be happy to help.

Learn more about in-text links on this page here