Return to the Home Decorating Forum
|
Post a Follow-Up
---
| | | |
| --- | --- | --- |
| Whats on top of your dresser? | | |
Posted by
kyjo
(
My Page
) on
Tue, Feb 16, 10 at 16:03
Lately I am obsessing about the top of my dresser in my bedroom. It is an antique so should I put antiques on it? Most everything I have seen lately is a minimal look with no clutter. When I was growing up my parents had a jewelry box on top but does anyone still do that? I am wondering how everyone decorates the top of your dresser? I am talking about a low dresser with a mirror attached not a high boy.So to clutter or not to clutter?
So sorry if this has already been asked. I could'nt find any old posts.
Any ideas? Please post pics.
---
Follow-Up Postings:
| | | |
| --- | --- | --- |
| RE: Whats on top of your dresser? | | |
I don't like cluttered, but I don't think you should leave it bare LOL.

We also have an antique dresser in our bedroom. I have a good size apothecary jar with a bird's nest and a bit of tulle in it to one side. A small gold (non-working) old alarm clock sits next to that. Towards the other end of the dresser I have an old mirrored tray that holds all vintage items, some bought, some from family. Items such as a very old photo in frame (small), old compact, old hand mirror, a small, flat perfume *flask*, etc. A pair of old lace gloves that belonged to my great grandmother line part of the tray. I guess the dresser has more feminine items, but in the adjoining bath, my hubby has an old brass shaving mirror - one of those kind that holds an old razor and shaving brush. The mirror we bought, but the razor and brush are family items.

Yes, we like old (and handed down) items at our house LOL.

tina
---
| | | |
| --- | --- | --- |
| RE: Whats on top of your dresser? | | |
In my master in alaska I have a jewelry box on top as well as a hand sculpture and a baileen basket with an ivory top. Typically there's also a sundry mess of money, golf tees, buttons and at least one train.

Here I have an antique wash bowl with pitcher and the little pitcher and shaving mug that go with them. Sounds elegant but I really use the pitcher to hide the sundries that are out in the open in alaska :) It's full of screws, tees, money, keys, ets. And currently there is a bag of cheeeto's on top of it ::eyes rolling:: elegant just isn't my thing I guess LOL
---
| | | |
| --- | --- | --- |
| RE: Whats on top of your dresser? | | |
Right now I have a vase I love and a jewelry box I don't. It's still a work in progress.

Totally Confused
---
| | | |
| --- | --- | --- |
| RE: Whats on top of your dresser? | | |
You have made me realize that while everything on the dresser is static (doesn't change with daily emptying of pockets) it does look cluttered especially when the opposite wall is reflected in the mirror.

If you double click and look closely, you see that I have:


2 candle sticks

2 smaller framed mirrors (I saw that in a model home)

1 bleached floral arrangement

1 Asian butterfly gong.
---
| | | |
| --- | --- | --- |
| RE: Whats on top of your dresser? | | |
Here's my crowded dresser -- the letter box and the vintage silverplate items (from Goodwill) all hold bits and pieces of costume jewelery and helps keep it in sight -- and in mind! LOL!:)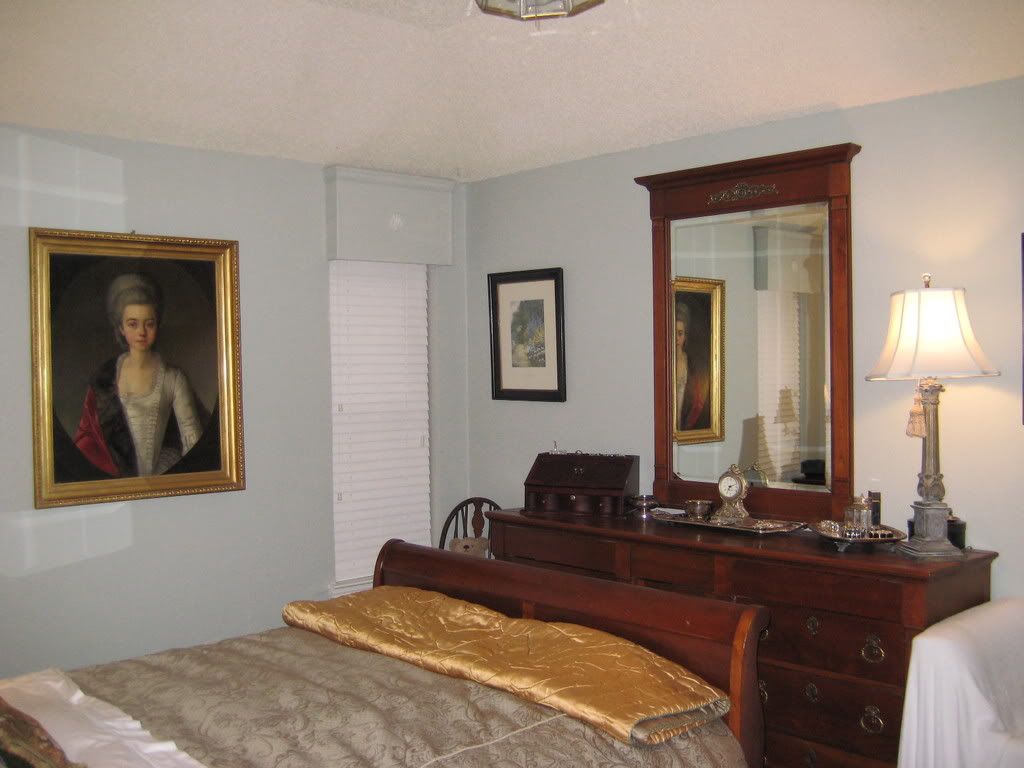 Jan at Rosemary Cottage
---
| | | |
| --- | --- | --- |
| RE: Whats on top of your dresser? | | |
Thanks for all the responses. Such good ideas.
I love the use of vintage items as tinam61 mentioned. The dresser might be the perfect place to put the old family relics. Or newly bought old ones.
But I do love the thought of mixing alittle new too. Mustangs I really love that two mirrored layered effect that came from a model home. I dont think of your dresser as being cluttered. I like it.
Jan that silver looks amazing with your wall color. Such a french looking room. Ooh La La.
Thanks again to all of you. Hope to see more......................
---
| | | |
| --- | --- | --- |
| RE: Whats on top of your dresser? | | |
My older tiger maple dresser has two frames with my kids' pictures, two different slender lamps(there's no ceiling fixture),two rusty finials with jewelry draped on them,a funky porcelain vase with animal heads, and a pottery dish with coins. A painting I did of my cat forms the backdrop for all of this.It sounds crazy, but I love how the different colors and textures look together.
---
| | | |
| --- | --- | --- |
| RE: Whats on top of your dresser? | | |
I have a table runner on my dresser which I love.

I also have a jewelry box that I'd love to replace but it was a gift.

My problem is my husband's clutter. That's where he empties his pockets, lays important papers down, keeps papers he needs to look at every now and then, just JUNK. I honestly don't know what to do about that little problem. Other than that my dresser would look nice.

Ah, I need to get him a wicker basket tray. And darn, I used to have the perfect size and I threw it away years ago!
---
| | | |
| --- | --- | --- |
| RE: Whats on top of your dresser? | | |
The only dresser in our room is a tall one (we have a huge closet so not much need for dressers and bureaus) so it doesn't have a mirror over it. The top has a layered look, I guess. It has a large collage frame w/ kids' pics propped up, leaning against the wall, slightly off center to the left. In front of that is a smaller framed pic of DH and me on the left side, and a jewelry box that I don't use much on the right side. In front of all this is a small antique dish for a bit of jewelry or spare change.

We also have a small drop-front desk in our room and sitting on top of that is a small cake stand (strange?) with some pretty rocks we've found on vacations sitting on top of it.
---
Post a Follow-Up
Please Note: Only registered members are able to post messages to this forum.
If you are a member, please log in.
If you aren't yet a member, join now!
---
Return to the Home Decorating Forum
Information about Posting
You must be logged in to post a message. Once you are logged in, a posting window will appear at the bottom of the messages. If you are not a member, please register for an account.
Please review our Rules of Play before posting.
Posting is a two-step process. Once you have composed your message, you will be taken to the preview page. You will then have a chance to review your post, make changes and upload photos.
After posting your message, you may need to refresh the forum page in order to see it.
Before posting copyrighted material, please read about Copyright and Fair Use.
We have a strict no-advertising policy!
If you would like to practice posting or uploading photos, please visit our Test forum.
If you need assistance, please Contact Us and we will be happy to help.

Learn more about in-text links on this page here