Return to the Home Decorating & Design Forum
|
Post a Follow-Up
---
| | | |
| --- | --- | --- |
| New stair runner project | | |
Posted by
sueb20
(
My Page
) on
Sat, Feb 22, 14 at 14:54
We have had the same runner on our front stairs for 18 years. While everything around it has changed, it has stayed the same. It's okay, but its showing some age and I am really ready for a change. I have spent no time yet looking around, but I thought I'd throw out the search to you all and see what you'd suggest. My house is a 1920s Colonial and my style is eclectic. Our furnishings are a mix of antiques, Stickley mission oak furniture, Pottery Barn, Crate and Barrel, Room and Board, and a few trendy "industrial" pieces. Maybe I should have said schizophrenic instead of eclectic.

A few pics follow. Thanks! I'll be perusing pics on Houzz later today.

Here's the current runner.
---
Follow-Up Postings:
| | | |
| --- | --- | --- |
| RE: New stair runner project | | |
This is the front entry floor. Rusty/terracotta with dark green inserts. All other flooring is the oak that you can see in the adjacent room.
---
| | | |
| --- | --- | --- |
| RE: New stair runner project | | |
This is the dining room rug, to the right of the foyer. (Both the dining room and living room rugs are close to/visible from the front door, which is directly across from the stairs.)
---
| | | |
| --- | --- | --- |
| RE: New stair runner project | | |
And finally, this is the living room rug, to the left of the foyer.

Since I have a lot of pattern in these two rugs, I want less pattern on the stairs, but not a solid. Maybe a narrow stripe?
---
| | | |
| --- | --- | --- |
| RE: New stair runner project | | |
I just went through this for my 1920 center hall colonial and got lots of great ideas and suggestions here during my hunt. Do you have a direction that you are leaning? Did you want to stick with traditional? Do something patterned? Something neutral? Something textured?
---
| | | |
| --- | --- | --- |
| RE: New stair runner project | | |
I should have mentioned it should be something that blends in with my dogs' fur, which ranges from white to ginger colored. One in particular likes to lay across the middle step, which is really convenient for us humans.

I am thinking very subtle pattern and colors in that rust/beige range that will make sense w/ the colors of the wood floor and the tile floor. Colors throughout the first floor are rusty reds, greens, and golds, primarily.

DH says "we can do something fun!" but he doesn't know what he's talking about. We plan to be in this house for maybe 7 more years so I'm not going the animal-print route...
---
| | | |
| --- | --- | --- |
| RE: New stair runner project | | |
Sue, sounds like you have very similar requirements to mine. I also needed something that would wear well with dogs, had a dog that likes to lay on the stairs, and also was considering something with subtle pattern, I have a tile entry and oak floors (although colors are slightly different and your balusters look much more interesting than mind). I'll link the thread from my search because I got a lot of helpful suggestions. Maybe you could look through and see if you can find anything that you like to help to narrow things down. I know for me, I went to a large carpet store and felt completely overwhelmed by ALL THE CHOICES so don't know that I would recommend that ...haha.

Here is what we ended up with. We had it cut from broadloom and bound. My stairs are a bit wider so a standard "runner" size wouldn't fit. It was only installed a few months ago, so it is hard for me to know how it will wear over the long term, but so far have been pleased. My main concerns were the dogs nails getting hooked in the loops and it attracting the hair. Neither has been a problem yet.
Here is a link that might be useful: Link to runner thread
This post was edited by kellienoelle on Sat, Feb 22, 14 at 19:06
---
| | | |
| --- | --- | --- |
| RE: New stair runner project | | |
I do remember your runner search now! It came out great. I'll look through that thread now... Thanks.
---
| | | |
| --- | --- | --- |
| RE: New stair runner project | | |
Love that flat weave rug! I don't know if this is "too" striped, but it's updated and fun and probably incorporates every color of dog fur.

I googled striped runner stair and quite a few came up. This is my favorite.
---
| | | |
| --- | --- | --- |
| RE: New stair runner project | | |
After browsing through some pics online, I'm starting to think I need something less striped or geometric, because my stair rail design is very geometric, then we have the squares of the tiles...

Thinking maybe something like this.
---
| | | |
| --- | --- | --- |
| RE: New stair runner project | | |
| | | |
| --- | --- | --- |
| RE: New stair runner project | | |
| | | |
| --- | --- | --- |
| RE: New stair runner project | | |
When we lived in St. Louis a neighbor had leopard patterned wall to wall carpet throughout their main living areas. They had four rambunctious kids and the carpet was very forgiving, so it might not be a bad choice.
---
| | | |
| --- | --- | --- |
| RE: New stair runner project | | |
While I really love the stripe that kwsl posted, I understand it may not fit with your decor. Personally, I also love the animal print, you mentioned that you can't, but didn't indicate why. Too much? I think it fits your husband's definition of fun. Here are some examples (I tried to pick less "grand" stairs).

Antelope:

Keep in mind though, that I rarely meet an animal print that I don't love. I think it can look elegant and be at home in traditional, modern, and eclectic decors if done correctly.If I can't have my animal print stair runner vicariously through you, then I like your choices too!
---
| | | |
| --- | --- | --- |
| RE: New stair runner project | | |
I can't believe I'm saying this. Mainly anything animal print usually makes me uneasy. But I am kind of digging the antelope as a runner!

Of your choices sue, I like the first blossom or willow like option.
---
| | | |
| --- | --- | --- |
| RE: New stair runner project | | |
I agree IHGS, the antelope print is my absolute favorite. It i the most "restful" of the animal prints.

(as an aside - good to "see" you back :) )
---
| | | |
| --- | --- | --- |
| RE: New stair runner project | | |
sueb,

We replaced the runner on our stairs with one from Nourison. The quality has been wonderful!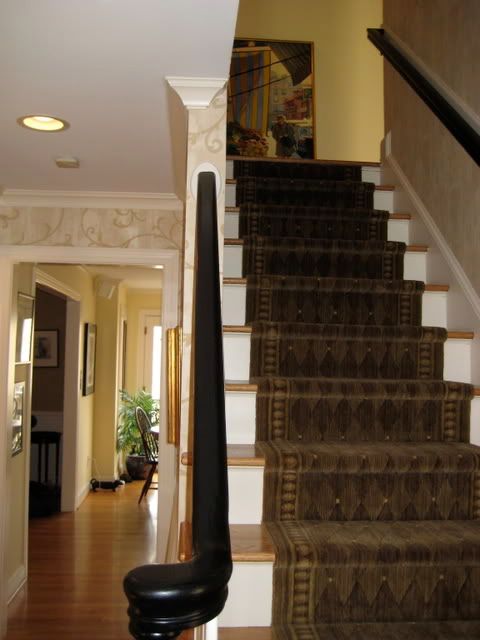 The one we chose is no longer on their website but there are others that are similar. The link is to a page that has all runners; click on a photo which represents a collection, and there will be lots of to choose from.
Here is a link that might be useful: nourison runners
---
| | | |
| --- | --- | --- |
| RE: New stair runner project | | |
I also think the animal print could work! Maybe someone can do a mock-up with one of your pix.

tina
---
| | | |
| --- | --- | --- |
| RE: New stair runner project | | |
I keep thinking about the animal print...could I really be so daring?? I am also drawn to the antelope one, though I also really like the 4th one that Kellie posted (with the green walls). I'm going to bring home a sample and see how it looks. I have two carpet stores in mind that I'll visit later this week. I'm a little concerned about how the brown animal prints will look with the tile floor.

I also kinda like this Nourison one since I have a thing for polka dots.

One of my dogs is white and she's the worst shedder, so I can't go too dark because the fur will show like crazy. On the other hand, I don't want to go too light (even though we are mostly a no-shoes-in-the-house family!).

I just need to get out there and bring some samples home. I'm so excited to do this -- I have been so tired of this rug for so long!
Here is a link that might be useful: Nourison runner
---
| | | |
| --- | --- | --- |
| RE: New stair runner project | | |
| | | |
| --- | --- | --- |
| RE: New stair runner project | | |
Sue, 7 years is a long time to live without something you wish you had. I love this latest one you posted.
---
Post a Follow-Up
Please Note: Only registered members are able to post messages to this forum.
If you are a member, please log in.
If you aren't yet a member, join now!
---
Return to the Home Decorating & Design Forum
Information about Posting
You must be logged in to post a message. Once you are logged in, a posting window will appear at the bottom of the messages. If you are not a member, please register for an account.
Please review our Rules of Play before posting.
Posting is a two-step process. Once you have composed your message, you will be taken to the preview page. You will then have a chance to review your post, make changes and upload photos.
After posting your message, you may need to refresh the forum page in order to see it.
Before posting copyrighted material, please read about Copyright and Fair Use.
We have a strict no-advertising policy!
If you would like to practice posting or uploading photos, please visit our Test forum.
If you need assistance, please Contact Us and we will be happy to help.

Learn more about in-text links on this page here