Return to the Home Decorating & Design Forum
|
Post a Follow-Up
---
| | | |
| --- | --- | --- |
| looking for great ideas for using spaces in basement/playroom.. | | |
Posted by
ncdel
(
My Page
) on
Sat, Feb 9, 13 at 14:50
I am not sure of the appropriate forum, the basement one gets very little use and this is home decorating/design related I think...we just finished the basement and we have several little nooks so to speak that I'd like to use in the best way. They are places where there is a corner area or a set back wall area b/c of something (eg wet bar) that sticks out further on the other side....other than just filling it w/ a bookshelf or some kids' toy thing, I am trying to think of creative & useful ways to utilize space (not adding built ins though, unfortunately...). There are 3 of these- 1 is a corner area and the other 2 are about 8-10 ft walls.

I have 2 small children & there is already a separate TV area on the other side of the basement.

Anyone have things they did in a basement or playroom space that you love? (I have looked on houzz, etc and see tons of great ideas but many are beyond my skills/budget).

Thanks!
---
Follow-Up Postings:
| | | |
| --- | --- | --- |
| RE: looking for great ideas for using spaces in basement/playroom | | |
Could you post some photos of the spaces, and where they land in the scheme of things?
---
| | | |
| --- | --- | --- |
| RE: looking for great ideas for using spaces in basement/playroom | | |
| | | |
| --- | --- | --- |
| RE: looking for great ideas for using spaces in basement/playroom | | |
How deep is the recess for the wall that is 8-10 feet in length? You could do a storage closet for toys depending on depth -- not an expensive built in just a closet. Also, I have seen ledges (counters attached to the wall) installed with bar stools in front, that would not be too pricey and would fit into the long recessed area. However, you said you had a wet bar, so you may already have snacking areas and areas for kids to do art at table areas.

As per the corner, without dimensions I don't think you will get too many ideas here. What are the functions you hope to use the basement for? Any chance you would want a piece of exercise equipment in this space, or a walk in closet for storage?

Good luck,

Carol
---
| | | |
| --- | --- | --- |
| RE: looking for great ideas for using spaces in basement/playroom | | |
Here's a link to a thread that gives instructions on how to upload photos using photo bucket.

What to do with the corners is a function of what other function you'd like in the space....a sitting area? an office area? a games table? a reading corner? a crafts corner?
Here is a link that might be useful: Upload photos
---
| | | |
| --- | --- | --- |
| RE: looking for great ideas for using spaces in basement/playroom | | |
OK here goes... (if anyone can tell me how to edit my original subject to read 'updated/photos included' that would be great :) )

Area 1: this wall has a column in front of it, door on the left is to an unfinished storage room, I'm taking the 1st photo from the area of the stairs.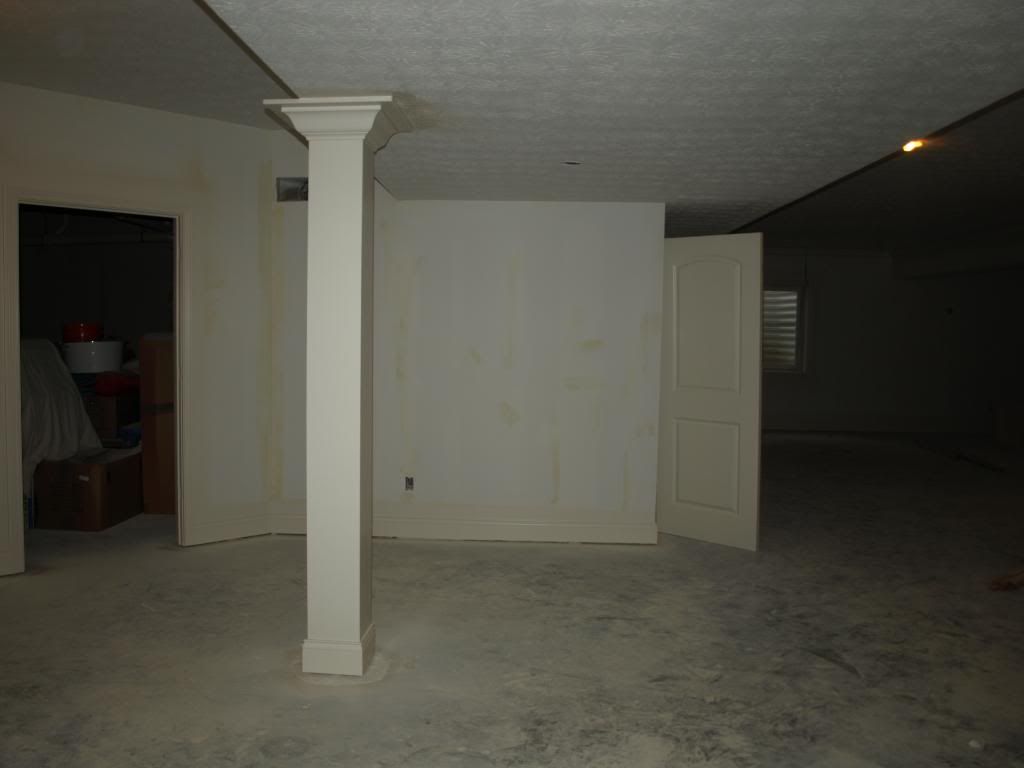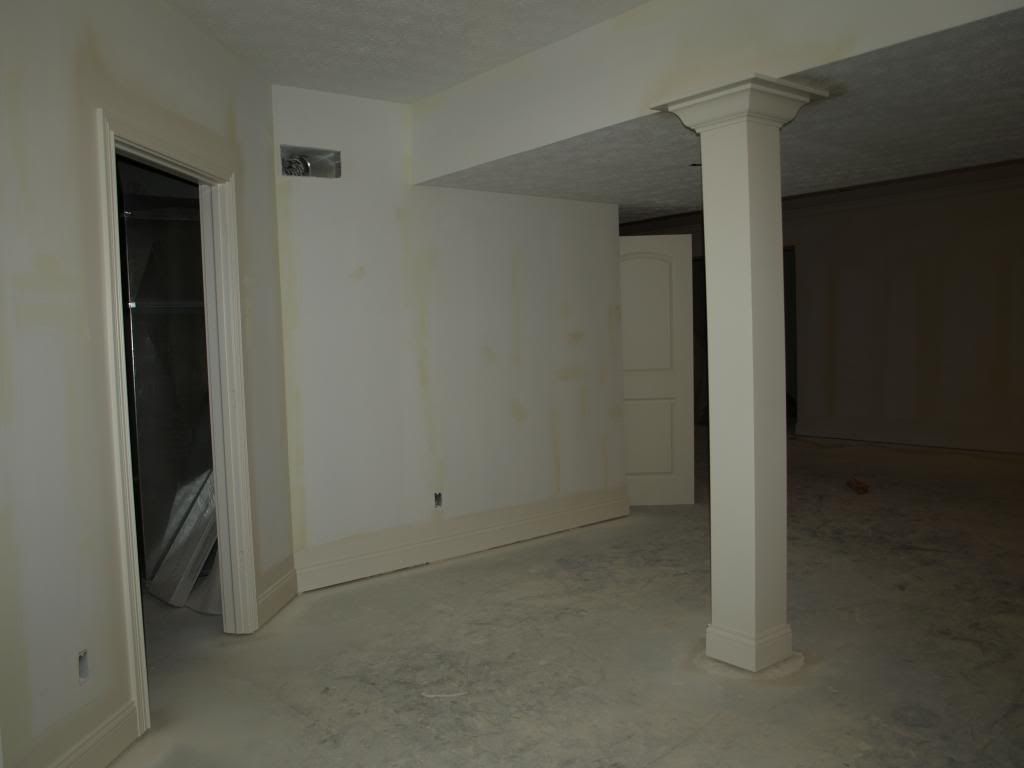 Area 2: This wall makes a corner with area 1. The doors are just standing there to dry right now. You can see the wet bar area next to it (those cabinets were supposed to be flush with the ceiling & now I have no clue what to do w/ that small space between...grrrr...) . I had a weird dream last night in which we put an L shaped desk/drawing area around that corner...!

Area 3: This is probably the easiest one, it would make a nice corner area for my kids to have a tent or a table & chairs for crafts or whatever. The bottom shelving will have bins to hold toys, books & things for the kids, the top shelves will likely just be display for photos & what have you. I thought maybe I could find a neat corner bench or something that a table could be pulled up to for arts/crafts, but I'm not sure... (again, was not told that the bulkhead would get in the way of that shelving being flush with the corner, it looked like it would not be like this in the drawing, I'm not too thrilled about that either. This wall backs up to a bedroom and the left side of the wall= the closet in the bedroom. we are going to paint the corner under the bulkhead white instead of the color of the wall so it will hopefully blend a little more, any ideas of something to do w/ that awkward space would be good as well.)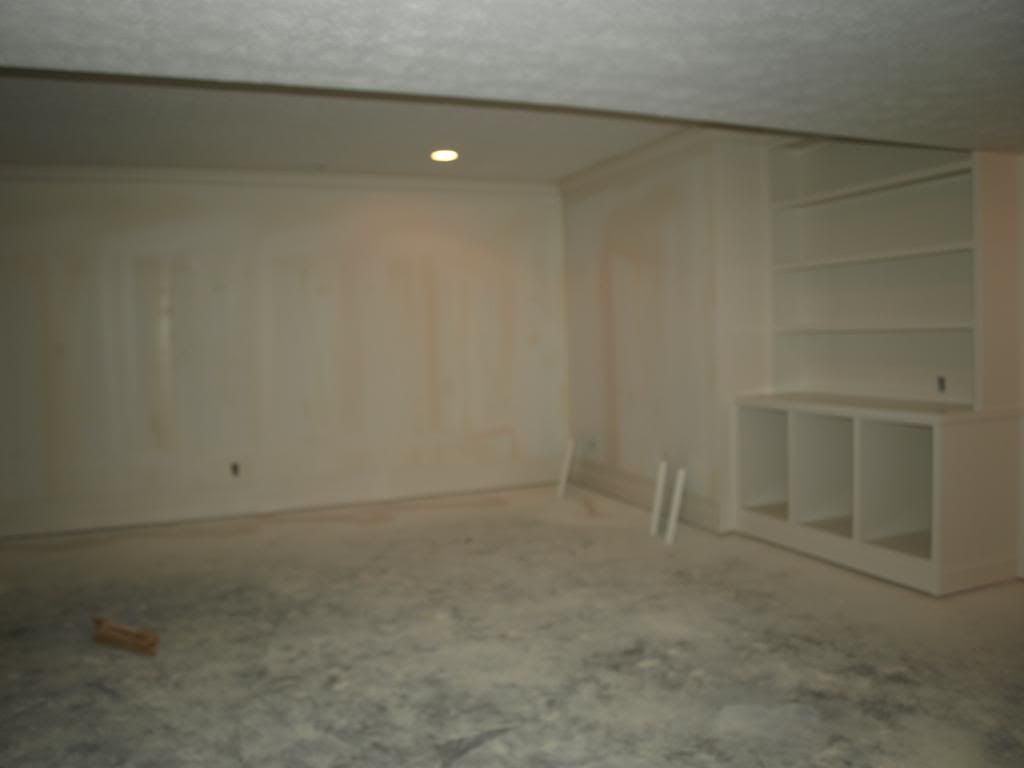 Re the other suggestions, thanks! We don't want to build or do anything permanent in these spaces. We actually have a large closet w/ shelves in this area already for additional games & toys and we don't want a bar area b/c we just don't think we'll use it. We suspect we'll be moving in the next couple of years and therefore don't want to sink a lot into custom things that can't come with us or that a future buyer wouldn't want.
---
| | | |
| --- | --- | --- |
| RE: looking for great ideas for using spaces in basement/playroom | | |
I don't see much in the way of ceiling lighting...will you be adding some? Or will you be relying on table lamps....in which case you'll need tables.
---
| | | |
| --- | --- | --- |
| RE: looking for great ideas for using spaces in basement/playroom | | |
Looks like a great basement. My 10 yr old twins have a playroom in the basement that they don't use much anymore. But when they were small it was a lifesaver. I didnt want anything permanent either. I had several of these for small toy storage.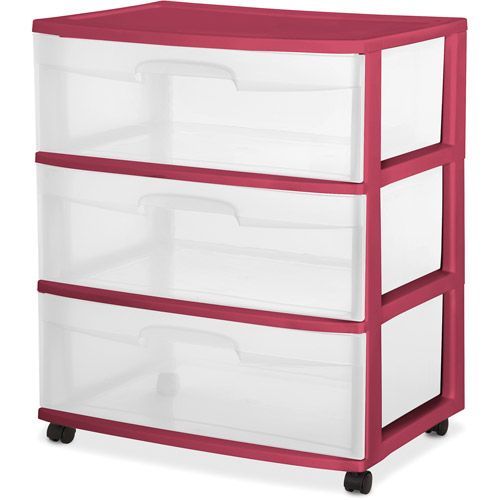 When they outgrow the toys, donate the drawers. The brand is Sterilite. . Cheap.
---
| | | |
| --- | --- | --- |
| RE: looking for great ideas for using spaces in basement/playroom | | |
Yes- the lighting hasn't been installed yet...At the bottom of the stairs there will be a flush mount. In the stair/column area there will be an additional 4 cans, the main area there are I think 4 cans, and 2 in the TV area (as well as 4 sconces on the wall) that is not pictured here. Also a pendant over the sink.
---
| | | |
| --- | --- | --- |
| RE: looking for great ideas for using spaces in basement/playroom | | |
playhouse built under stairs in the closet. Easy, fun and inexpensive.

INSPIRATION PICTURE

The inspiration for my playhouse is pictured. Built by Linda McDonald of "Restyled Home blog" for her daughter"
---
| | | |
| --- | --- | --- |
| RE: looking for great ideas for using spaces in basement/playroom | | |
Instead of looking at the space and trying to come up with ideas, could you try looking at what your kids do, and using those spaces to support your kids' activities?

For instance, if they like to draw, could you use part of a wall for a chalkboard that you make with chalkboard paint? Easy enough to paint over when you move. They also make magnetic paint, so you could get all the alphabet magnets off the fridge and onto the basement wall.

Other ideas might be to mount a Nerf basketball hoop on the wall, or a dartboard, or add an inflatable ball pit, for a little active play on those rainy days.

If they are really into dress up, then add a mirror and a rack for the clothes and shelves for the accessories.

If they are really into Lego, then a special table where they can set up projects and work on them without having to move them, with lots of organized storage right close by.

Check out Apartment Therapy (it's not just for apartments any more) and their "Family" channel. They have lots of good DIY ideas for kids' rooms and play rooms.
Here is a link that might be useful: apartment therapy
---
| | | |
| --- | --- | --- |
| RE: looking for great ideas for using spaces in basement/playroom | | |
Thanks! Great idea to just kind of see how they use the space & go with that...I need to look at apartment therapy, it is probably much more reality based than houzz haha.

I love the playroom painted on the wall, SO adorable!!!!...I actually plan to make the little closet under the stairs into my daughter's dress up closet w/ a low tension mount rod to hand her clothes & some boxes/trucks for the accessories & other stuff. Would love to paint the outside all cute but again, with likely moving in not too distant future I don't want to go too crazy & also there is very little wall around the doorway...
---
| | | |
| --- | --- | --- |
| RE: looking for great ideas for using spaces in basement/playroom | | |
Ncdel--why not go ahead and paint around the closet? You might be in this house for more than two years--you never know. Or you could paint the inside all pink and purple, or whatever your daughter's favorite colors are.

Another consideration is that this is a playroom. I suspect, when you start getting this house ready to sell, you are going to have to paint the playroom anyway--kids do tend to make marks on the walls, even when they are trying not to. Balls get bounced, toy trucks are let loose, stuff happens.

And by the time you move, your daughter may have outgrown the dress-up stage.

So if you really want to give her a special little girly space, I'd say go ahead and do it. If you knew for certain sure that you would be moving in a year, I'd say don't do it. But a "maybe" move in a couple of years? You don't want to spend the next couple of years feeling as if you can't do anything you really want to do in the house because you are moving soon. Two years is a long time to live in a place without changing it to suit you and your family.

I know. My dad was in the military and we moved every year or two. The longest we stayed in any one house was two and a half years. My parents were adamantly opposed to doing anything to any house we lived in--or maybe it was that they didn't want to spend a single cent on something that would be left behind when we moved (they were very frugal). We coped with furniture that didn't fit, curtains that didn't cover windows, inadequate storage in many houses, weird wall colors that clashed with our furniture, you name it. And even my parents would complain about the poor lighting in a room, or the lack of storage space in the kitchen, or how echo-y a certain room was--all of which could have been solved with less than $100 spent on lamps, or a microwave cart or some curtains or a small area rug. I think this is why I am so concerned with how my surroundings look today.

I'm not saying go hog wild and spend tons of money and time and effort to make the house totally "you." If you are moving in a few years, that would be a lot of investment that you wouldn't get back. But a few little projects, the ones that speak to you the most and that would make you feel more at home in your own home--things that you can do in a day or that cost less than $200--go ahead and do a few of them. There's a happy medium between doing nothing to personalize the space and personalizing every square inch of the house.

And if you don't want to paint, do check out the wall decals that are so popular right now--you could decal the closet door and just peel them off when you move.
---
Post a Follow-Up
Please Note: Only registered members are able to post messages to this forum.
If you are a member, please log in.
If you aren't yet a member, join now!
---
Return to the Home Decorating & Design Forum
Information about Posting
You must be logged in to post a message. Once you are logged in, a posting window will appear at the bottom of the messages. If you are not a member, please register for an account.
Please review our Rules of Play before posting.
Posting is a two-step process. Once you have composed your message, you will be taken to the preview page. You will then have a chance to review your post, make changes and upload photos.
After posting your message, you may need to refresh the forum page in order to see it.
Before posting copyrighted material, please read about Copyright and Fair Use.
We have a strict no-advertising policy!
If you would like to practice posting or uploading photos, please visit our Test forum.
If you need assistance, please Contact Us and we will be happy to help.

Learn more about in-text links on this page here