Return to the Home Decorating Forum
|
Post a Follow-Up
---
| | | |
| --- | --- | --- |
| Best Kitchen Decision you made | | |
Posted by
angel9603
(
My Page
) on
Mon, Feb 20, 12 at 14:12
I really enjoyed reading through the best bathroom decision thread. We are in the process of remodeling our bathroom and will be heading into the kitchen hopefully by the end of the year. Never too early to start planning.. so, what was your best kitchen decision you made during your remodel and what do you regret doing or not doing. Looking forward to hearing everyone's responses!
---
Follow-Up Postings:
| | | |
| --- | --- | --- |
| RE: Best Kitchen Decision you made | | |
The best for us was accidentally getting the best carpenter there is in the large city next to us. He didn't charge more than anyone else, but he does a lot of the carpentry on mansions.

He was so good and so experienced, he did stuff without asking me and boy was I happy with the little surprises! There's so much new stuff for kitchens that I wasn't even aware existed.

One of the most important things I did, which was kind of funny, was tell him I wanted a cabinet tall enough on the inside to hold THE largest box of cereal there is. LOL

One treat he did without my knowledge was take a dead space of cabinet under the counter next to the sink...it's about a foot and a half wide, and made it where I can store my cookie sheets and cutting boards.

I also had shelves made on each side of the kitchen sink (and elsewhere) on the side of the cabs for my decorative junk. :)

One thing you need to be very clear about is for them to sand sand sand on every shelf there is. A couple of my shelves inside my hutch weren't sanded very well and it makes it hard to dust.
---
| | | |
| --- | --- | --- |
| RE: Best Kitchen Decision you made | | |
To imagine outside the box.

When we purchased our current house, we thought we had forever given up the idea of having a dream kitchen again. We were going to tweak a few things but generally keep most everything the same. It was only when we said, lets think BIG and think outside the box. As we mulled things over, it was only then that we saw that we could not only have another dream kitchen, this one could be that much more!

After that awaking, the next best decision was go look on the internet. That's when I came across the Kitchen forum on GW. There are some awesome designers that can maximize your kitchen's potential. People come on there with designs that architects and other designers have drawn up for them only to find flaws (some major) and help the individual before it's too late.
---
| | | |
| --- | --- | --- |
| RE: Best Kitchen Decision you made | | |
Drawers, drawers, drawers. I also made sure that I had saved enough money to do it the way I wanted. My cabinets were falling apart, the sink was broken, the tap was leaking but I didn't rush the saving or planning process.
---
| | | |
| --- | --- | --- |
| RE: Best Kitchen Decision you made | | |
My top highlights are:

* drawers almost everywhere
* a large island with seating
* a large pantry
* a deep cabinet to the counter, next to the DW, that houses all my dishes and glasses (w/ the drawers below housing silverware, knives, etc.)

My regret:

* The hood vent is very weak, but it isn't something I cared about during the build. Mistake... I care now!
---
| | | |
| --- | --- | --- |
| RE: Best Kitchen Decision you made | | |
Although they are de rigueur nowadays, I'd never had a trash pull-out before, and I LOVE it. We'd always kept a large, covered trash can just outside the kitchen door, in the mudroom, so having a trash pull-out conveniently under my prep area is wonderful.

Now have a vented hood, rather than recirculating hood, and LOVE it, too.

My regret is not removing all soffits, even though it would have taken longer, and made a much bigger mess.
---
| | | |
| --- | --- | --- |
| RE: Best Kitchen Decision you made | | |
1. Cork floors.

2. Al drawers in the lower cabs.

Nicole
---
| | | |
| --- | --- | --- |
| RE: Best Kitchen Decision you made | | |
I lived here in this house with a very ill-planned kitchen for almost 13 years. I had years and years to think about, research and plan how to make it more efficient and I'm so happy with the results. So much so that it's hard to come up with a favorite. I'm adding pics of them, so that you can better understand what I'm talking about.

#1. A well thought out prep area with pretty much everything I need within arm's reach. Drawers to hold prep dishes and untensils, prep knives, plastic, bags, foil, waxed paper, etc. Microwave drawer, MW dish drawer, dishwasher and super-susan nearby, too. Four years later and it still thrills me that it all works so efficiently and well for me.

#2 A good view from family room into the kitchen and vice versa. Before our family room's view into the kitchen was of a big ugly fridge smack in the middle of the back wall. I relocated all that to a side wall, and had an Old World hood over a cooktop built in it's place. Now the rooms flow well and the hood is so much nicer to look at than the fridge!

#3 A spice drawer. Gosh I love this thing! It's just a simple, hard plastic insert that fits into any drawer (cut to size), but it helps keep my spice and herb jars organized and easily accessible. Oh, and they're alphabatized, of course (LOL)!

#4 a light in our deep corner sink cab. My DH thought of it. Our GC had never seen one done before, but he loved the idea. It's just a simple under-the-counter light with a switch, and plugs into the same outlet that our R/O (reverse osmosis water filter) uses. We love the convenience of it and keeping the cab clean and organized in easy with no dark corners to deal with.

#5 Sneaky, easy, extra storage cabs. I had them put in a deeper counter on the eating/bar stool side of the peninsula that divides the kitchen from the family room. This gave me room to add a long bank of shallow (12") cabs there. They hold all my appliances, dish sets and other kitchen things that I don't use every day but want to keep handy (we don't have basements or attics here).


Lynn
---
| | | |
| --- | --- | --- |
| RE: Best Kitchen Decision you made | | |
Layout of your space means more than anything else, in my opinion. If you have great cabs and great appliances and everything else that you can possibly think of and a poorly functioning layout it all means so much less.

Appliances that are the very best you can afford and are purchased with the way you cook in mind is the 2nd biggest thing you should consider. The way you plan to learn to cook should be taken in to consideration also. Many folks decide that they don't need double ovens or a large capacity fridge/freezer or a good vent ( see lolauren's post) or a larger cooktop or any other feature you can think of because they don't currently cook that way. BUT...you are almost certainly not cooking as well as you could/will when you have the optimal space that I referred to above. So keep that in mind.

Plan , plan and plan some more and have enough money saved/ready to borrow to get the things that are going to make it the space that you need...and want...up to a certain point that only you will recognize. Stay out of the rat race to be "timeless" and keep your eye on the $$$ and the practical . Ask for advice and then think it over and ask some more and then finally go with your gut.

After all is said and done there will always be things that you will see in someone else's space or in a magazine or TV or on the KF that you wish you had thought of. There is no way to have it all and you really don't need it all. What you need is a space that works as well as you can possibly get for you and your family . c
---
| | | |
| --- | --- | --- |
| RE: Best Kitchen Decision you made | | |
If you have a good carpenter who's worked on many kitchens you won't need a designer or architect, IMO. Or maybe I lucked out. The carpenter will know exactly what will or will not work, plus they're full of ideas.

Lynn, we did a spice drawer like your's and just love it.

Drawers are another important thing. I had a total of three drawers in my previous kitchen, now I have 24. The ones under the kitchen counters slide out which makes it amazingly convenient.

My own take on garbage drawers. While nice I think they use up too much valuable space. The cabinet bottom under our sink pulls out and we keep the trash there, which I do have to empty every day. I'd rather have the extra cabinet space for stuff instead of trash. Unless you have a huge kitchen. lol
---
| | | |
| --- | --- | --- |
| RE: Best Kitchen Decision you made | | |
One thing I didn't do that I would do, is have the cabs pulled out from teh wall to make deeper countertops. I actually lost about an inch of depth and it took me about a year to stop shoving things into the backsplash thinking I had that extra inch.
---
| | | |
| --- | --- | --- |
| RE: Best Kitchen Decision you made | | |
Oh, another thing I really like in my new kitchen is my Silgranit sink. It's from Blanco and I'm crazy about it! I've had every other type of sink imaginable over the years, and this one is the best for me by far. The color (Anthracite) makes for an easy flow with our dark Silestone counters. And, this sink is a workhorse that I don't have to baby. It never shows scratches or stains and always looks great. Did I mention how much I love my sink????
Lynn

---
| | | |
| --- | --- | --- |
| RE: Best Kitchen Decision you made | | |
You know that common suggestion that you start by tearing out magazine pages or collecting images of what appeals to you from pics on the 'net.

My advice: Don't do it!

Start by carefully measuring your space and thinking about your personal cooking/food pathways. Where does the food come in the house, and is stored? How it gets to the cooking places; what's needed to prep or process the food; what's needed to plate the meals; what's needed to set the table; what's needed when the meal has ended and you have left-overs, trash and dirty stuff to deal with? How does the clean/washed stuff get back to its storage place?

If you think deeply about this, you will begin to develop a sense of function for your space. You'll have some either/or points (size of fridge, range, sink), wall ovens or not, etc. that you may just have to leave blank during the functional design period.

Once you have a good functional plan, then you can populate it with the infrastructure needed to make it work. And with style/design elements that seem attractive to you.

You'll still have some tweaking and give and take as you select the cabs, appliances and etc., but you won't be breaking your heart because you settled on a particular look that can't be achieved without sacrificing good function.

In other words don't think about the "look" you're aiming for until you know you've got the best possible design for you space.

L.
---
| | | |
| --- | --- | --- |
| RE: Best Kitchen Decision you made | | |
Recessed lighting. Love it. Insulation! It was expensive to basically gut the kitchen, but this is an 1875 home and it was the coldest room in the house. Now it's the warmest. I also love my sandblasted radiators, which are lovely and now put out more heat. I'm glad I picked a plain cabinet instead of one with slots (for cookie sheets) cuz space is at a premium and I can fit more cookware in it (cookie sheets are in the stove drawer). I would have gone with a wider pantry because I don't think it really would have looked much more crowded (my kitchen is very awkward, with a front door, back door, basement door, bathroom door and doorway to the dining room plus two windows). Love my LG stove, GE dishwasher and Avantium microwave.

Due to my awkward layout I have a backwards L-shaped area, which is in the pathway to the only bathroom. The kitchen person at Home Depot designed an angled cabinet and counter at the corner and, boy, that was genius!
---
| | | |
| --- | --- | --- |
| RE: Best Kitchen Decision you made | | |
Deciding to get a one level kitchen island. I have a fairly large island and everyone tried to get me to raise the sitting area to bar height, but I am so glad I didn't. I love having all the prep as well as serving area. It makes the best place to make cookies with my babies and it was just what I wanted.
---
| | | |
| --- | --- | --- |
| RE: Best Kitchen Decision you made | | |
We've done 2 custom kitchens now and I'll second some of the above suggestions.

1) Layout. Don't just redo your current layout with new things, but actually think through the best layout for the space. Don't automatically go for a U or G shaped kitchen (my least favorite), but as said above look at your space. Then look at the kitchen forum or other pictures to help you work out your best layout. Even a kitchen designer may not necessarily think of the best for you...but they may also have some great ideas you hadn't considered.

2) This is part of layout, but for our lifestyle, I like a counter-height bar (as part of an island that's all one height) rather than having the island or peninsula split with the taller bar height. I find it so much more functional when I'm cooking alone, when 2 or more are doing prep, and when serving buffet style off the island. I also love a huge island that's 4 ft wide so cabinets open from both sides with the bar stools at the end--even if it's not rectangular (mine isn't).

3) Drawers or pull-outs in lower cabinets. Drawers are preferable and cost the same as pull-outs, but shelves that are as deep as your lower cabinets (22-24 in) are just so much less functional than either--so put in as many drawers as you can afford. Deep ones work great for pots near your cooktop.

4) Adjustable shelves in upper cabinets and in the pantry.

5) Walk-in pantry. We didn't want a corner with either a lazy susan or have dead space, so with just a bit more depth & width I was able to have a walk-in pantry. In one house it used the space behind our curved stairway. That one had an automatic light so when the door opened it came on. We also put at least one or two outlets by the pantry shelves/counter for a toaster oven or other small appliance there. (Even rechargeable things, like a small vac.)

6) As Lynne above mentioned, we faced the frig so it's not the main view when you look into the kitchen. Let the cooktop and vent take that place.

7) At least 2 ways in and out of the kitchen! So many less bottlenecks when multiple people are in the kitchen if you can exit more than one way. Maybe that's why U or G shaped kitchens are not my favs since they often have one entry/exit point.

Things we put in one kitchen that later we thought were not as important as we'd first thought and omitted on the second one:

1) Special knife drawer with cutting board below--much prefer a wooden insert for knives in a standard top drawer with cutting boards totally separate.

2) Flour bins--total waste of good drawer space. Now I keep it in the pantry in rectangular containers.

3) Special appliance shelf for pro mixer that raised to counter height--just an unnecessary thing and it took up more space. Now I keep some small appliances in the pantry. Even our toaster oven is in there, and I love not having it out on the counter.
---
| | | |
| --- | --- | --- |
| RE: Best Kitchen Decision you made | | |
Loves...

Virginia Jet Mist granite in honed
Curved edges of granite
Keeping my backsplash
Deep single bowl sink
Bosch Appliances (especially dual fuel)
Dark chocolate stained floors set off my white cabs
Not getting a built in soapdispenser (hated the one before)

Regrets
Not having more drawers
Over the Range Microwave Oven
Wishing I had a Modernaire hood in barrel shape black
---
| | | |
| --- | --- | --- |
| RE: Best Kitchen Decision you made | | |
Coughing up the extra money to move a doorway. It gave me a much better floor plan. I was trying to work within the existing space, which didn;t work in the first place. I went way over budget. I spent twice as much as I had intended, although I will admit that my original budget was unrealistic.

I also adore my big deep drawers on the bottom. I wish I could have had them everywhere, but in some cases the space wasn't deep enough.

My biggest regret is a tile floor. I hate it. It is cold, hard to stand on and anything dropped smashes to bits. The grout cracked in spots and gets filthy in spite of sealing.
---
| | | |
| --- | --- | --- |
| RE: Best Kitchen Decision you made | | |
We did just an update but I love all the things we did. The top of my list favorites would be:

Getting a stove with multiple convection cooking options

A french door fridge with the water option inside the door

Our silgranit sink (too)

Addition of recessed lighting

Wood floors (so easy on the legs)

Air switch button for the garbage disposal

Widening of our window so I can see!
---
| | | |
| --- | --- | --- |
| RE: Best Kitchen Decision you made | | |
These are great! Lynne, gorgeous kitchen! Our kitchen remodel will be part of an addition so I really need to think about layout as we will be gutting the entire thing. We have a large family and most major holidays we have between 30-40 people who always want to stand around my small island. Non-holidays we still spend the majority of our time between the kitchen and family room that are open to it. This is my first home and I made a lot of mistakes the first couple of years w/o researching. I want to make sure these bathroom and kitchen projects are well thought out as to not waste any more $$.

I love the idea of drawers on the bottom. I hate my current bottom cabinets as everything in the back gets lost. Thanks again! I love hearing everyone's own experiences, you don't get that real world perspective in a magazine.
---
| | | |
| --- | --- | --- |
| RE: Best Kitchen Decision you made | | |
Best decisions, in no particular order:

*Walk-in pantry
*Quartz countertops
*Picking all of my materials (cabinets, counters, backsplash) together, at the beginning of my reno, so I knew I had a cohesive plan at the outset
---
| | | |
| --- | --- | --- |
| RE: Best Kitchen Decision you made | | |
I love that my L shaped kitchen doesn't have a corner...where the corner would be was where the architect made a cased opening into a small l-shaped office for me, and the door to the walk in pantry, which is behind the range wall.

I love my pantry...it is huge and since the ceilings are 10ft...I have tons of storage in there.

I love my KA dual fuel 36" range. Love it. It is lovely, and a dream to cook with.

LOVE my Sharp MW drawer! LOVE my big, 12" deep single bowl sink!

HATE my counter depth KA fridge...too small. Awful.
HATE the stupid round rug I thought would look good under my bfast room table. It doesn't and will be replaced.
---
| | | |
| --- | --- | --- |
| RE: Best Kitchen Decision you made | | |
I agree with those who talked about function.

We were fortunate enough to enlarge and fill our kitchen with what we wanted when we remodeled about 10 years ago.

I reflected after we were done, that if my budget had been less, it would have been best used by enlarging the space and getting the layout to be successful.

If I had kept the original (poor) layout, and remodeled it with beautiful things, it would have been a beautiful kitchen that was as much of a frustration to use as the original, and therefore a big waste.

Biggest mistake was not designing periphery for 4 adults. We have 2 daughters that were in grade school at the time. But eventually we had 4 phones, chargers, sets of car keys, wallets, bags, sunglasses ,etc. in the landing zone. A hot mess.
---
| | | |
| --- | --- | --- |
| RE: Best Kitchen Decision you made | | |
A cast iron white sink instead of a stainless steel one.
---
| | | |
| --- | --- | --- |
| RE: Best Kitchen Decision you made | | |
Is there a way to add drawers to exsisting cabs? I don't want to replace the cabinets.
---
| | | |
| --- | --- | --- |
| RE: Best Kitchen Decision you made | | |
| | | |
| --- | --- | --- |
| RE: Best Kitchen Decision you made | | |
Although it's not in the cards to remodel my kitchen right now, one thing I would keep from this one is the closet that holds ALL of the pots/pans, cookie sheets, appliances, etc. I really like not having them scattered all over the place. I think if you can put all such things in one place, it's great and keeps things well-organized.
---
| | | |
| --- | --- | --- |
| RE: Best Kitchen Decision you made | | |
1 -The 3 foot of cutting board that is part of the countertop next to the sink.

2 - the pot rack -- the pots and pans are so handy.
---
| | | |
| --- | --- | --- |
| RE: Best Kitchen Decision you made | | |
i regret not bumping this kitchen out 4 ft when it was being built---could definitely use abit more storage! i didn't design this kitchen and had very little 'say' about it's design since it is not a custom house...

but, one of the best decisions i made was to change out our 'ordinary' gas cooktop a couple of years ago to a dcs cooktop---love the control you have with the gas and the way it cooks!!
---
| | | |
| --- | --- | --- |
| RE: Best Kitchen Decision you made | | |
I love my kitchen-aide mixer pull-up shelf in it's own cabinet. There is no way I'd want to haul that thing out of the pantry to use it or have it visible everyday. Pop it up, use it, push it back and shut the door.

I love my walk-in pantry. I love the pull out drawers with my pots & pans.

I regret the cut-out for a display area above the fridge & pantry. Nothing fits in there very well & it's a pain in the neck to dust.
---
| | | |
| --- | --- | --- |
| RE: Best Kitchen Decision you made | | |
I'm short, so I love that all of my lower cabinets have pull-out drawers with heavy duty hardware because all of my dishes are in the lower cabinets as well as my pots and pans.

The pull-out spice rack that's in the lower cabinet next to the cooktop is convenient. It's two-sided and each side is just deep enough for one spice container so that all of the spices are lined up and visible. It even fits my oil and vinegar dispensers.

A cabinet with dividers that will fit cutting boards, baking sheets and serving trays is fabulous. Mine is over the double oven stack, but I can just reach the bottom to pull things out.

A sink that is wide enough to put a pan flat in the bottom to scrub, but not so deep that I can't reach the bottom easily.

I would have liked to have electricity in my pantry so that I could keep a cordless handheld vacuum with charger in it.
---
| | | |
| --- | --- | --- |
| RE: Best Kitchen Decision you made | | |
I am very glad I don't have an island, though I wanted one. Walking around that thing in my son's kitchen is a huge nuisance, a nuisance so big he and his wife are thinking of having it moved to the end of their kitchen, to serve more as a divider between the work area and the eating nook, than as the huge obstacle it is now in the center of things.

I love my water glass doors on the china cabinet. It lets the pretty colors of the dishes, etc. show through, but disguises any disarray. It was my carpenter's suggestion, bless his heart.

Also, as I am tall, I am very glad he had the good sense to raise my countertops to their maximum. It makes an enormous difference in my comfort factor while cooking/preparing meals. And I love my hardwood floor, rather than ceramic tiles. Much easier on legs and back, and a cinch to take care of.

I would love a walk-in pantry.
---
| | | |
| --- | --- | --- |
| RE: Best Kitchen Decision you made | | |
Wood Floors.
My back, legs and feet thank me every day.
---
| | | |
| --- | --- | --- |
| RE: Best Kitchen Decision you made | | |
Single most important thing was probably getting the cooktop out of the island and on a wall with an overhead vent. That made my open island and prep sink possible too.

For me, getting rid of the corner "walk-in" pantry was a great decision. It opened up my space and gave me better storage with easier access. The way it had been built, I had 10 foot ceilings and couldn't use a lot of the space. Now I do.

I did a spice drawer, but my jars stand on their bottoms and are labelled on top. Put it in my baking area, which is next to my cooktop, so everything is handy for baking or cooking. Works great for me.

Adding a second DW, creating a breakfast/beverage hutch with fridge drawers in the breakfast room, taking the cabinets to the 10 foot ceiling and going for a large single bowl sink would also make the list.
---
| | | |
| --- | --- | --- |
| RE: Best Kitchen Decision you made | | |
Just thought of another simple, inexpensive idea I had added towards the end of our reno. Like others here have already mentioned, I wanted an upright tray storage area put in above my double wall ovens. Our Before kitchen had this but the wire dividers were too flimsy and the weight of the trays leaning against them caused them, over time, to lean, wiggle and fall out themselves. This time I specified that I wanted heavy duty metal dividers.
As that cabinet was installed, I leaned my tallest platters and cookie sheets on their sides the way I would be storing them and noticed that I still had a lot of extra space above them. So I had the cabinet guy add a shelf towards the bottom to make good use of that extra space. I now store my long narrow serving platters and small serving plates stacked there. I'm sure this explanation sounds confusing, so here's a pic I took of it. They added the finishing molding to the shelf edge a week after I took this pic. With the molding, you can't see any of the small bolts that hold the dividers in place.
Lynn

---
| | | |
| --- | --- | --- |
| RE: Best Kitchen Decision you made | | |
Having lots of drawers everywhere & really considering function when planning. I can clean dishes at trash/sink & load in the dishwasher as well as empty the DW & put away dishes without moving one step.
---
| | | |
| --- | --- | --- |
| RE: Best Kitchen Decision you made | | |
New to the forum here, and I have to say this is just wonderful!

My kitchen is now 11 years old, and I still love it.

I love my reconditioned O'Keefe and Merrit gas range, but I wish I had painted it bisque instead of black.

I love my butcher block counter tops, and I really love the little 24" one next to the range that remains unfinished for chopping, etc.

I love the pine cabinets I had built in Mexico. I'm glad I got two with drawers instead of doors, wish I had gotten drawers all the way around! I should have used polyurethane instead of lacquer to seal them. Oops.

Love my flagstone floors. Should have used something other than lacquer to seal them too.

I don't like my Price-Pfister "Marielle" oil-rubbed bronze faucet. Its finish is peeling off and lime deposits make it look dirty.

I love all of the windows.
---
| | | |
| --- | --- | --- |
| RE: Best Kitchen Decision you made | | |
I think adding the bakery off pantry really allowed the kitchen to open up.
---
| | | |
| --- | --- | --- |
| RE: Best Kitchen Decision you made | | |
These are great, thanks for sharing! I'm thinking I want wood floors as well. For those who installed wood floors, what kind did you use? We put in tigerwood through our family room, living room, study and dining room. Huge mistake, they were gauged and scratched within days. I cried, a lot. It would never hold up to the traffic in our kitchen, thoughts on mixing the different woods? Also curious if anyone used the appliances with the cabinet door faces? how much more expensive were they and do you like them? I would love to see some pictures of the integrated spice racks, that's a problem in my current kitchen.
---
| | | |
| --- | --- | --- |
| RE: Best Kitchen Decision you made | | |
Great and invaluable info! Crescent, I am short and am copying your diswasher next to dish drawer for sure in my next kitchen. Must be heaven!
---
| | | |
| --- | --- | --- |
| RE: Best Kitchen Decision you made | | |
my super super quiet bosch dishwasher, cost more than I ever thought I would consider paying and is was worth every penny..
---
| | | |
| --- | --- | --- |
| RE: Best Kitchen Decision you made | | |
Take an inventory of everything you have in your kitchen and think about how you could reorganize it. I realized I needed cabinets the size of a hutch to hold all of the many papers, pencils, light bulbs and other office items. I now have areas for baking, cooking, food storage, cleaning, office supplies, and even DH's cabinets (barbeque grill utensils, occasional tools, ect)

Also, pick out EVERYTHING before buying ANYTHING. I ordered my cabinets early on and then had a very hard time picking out a granite. Once I got the granite, I was exhausted trying to find a tile floor that would go with both the cabinets and the granite. Then I went to pick out appliances and realized that I wish I had left 6 more inches for the stove. I also realized that the stainless fridge I bought had a finish that wouldn't match any stove or dishwasher out there.
---
| | | |
| --- | --- | --- |
| RE: Best Kitchen Decision you made | | |
I love everything about my new kitchen.. the corner cabinet pullout unit, drawers everywhere, heated tile, appliances.. But the very best decision I made was my shallow pantry wall. I LOVE that thing and it allowed me to have an island in my galley kitchen space with room to spare. It takes up 3 inches of floorspace, but using a header and going into the wall gave my 7 inches of pantry depth.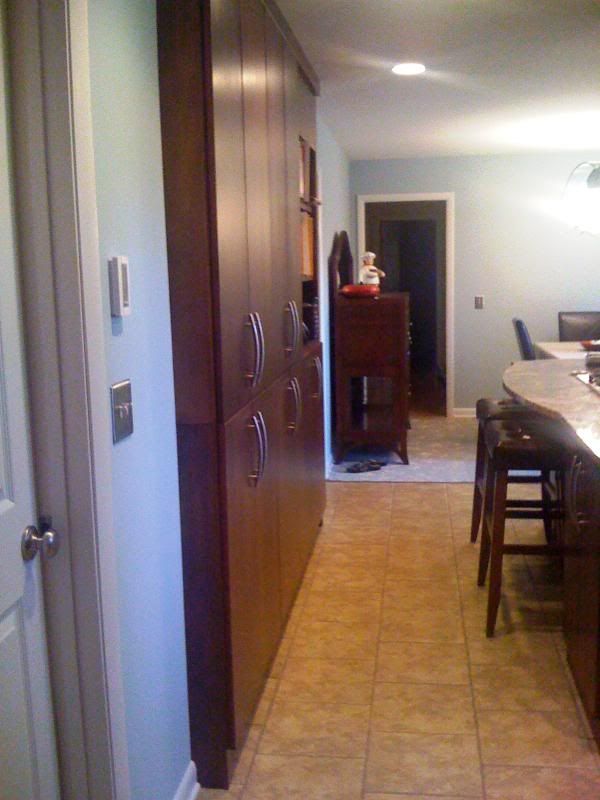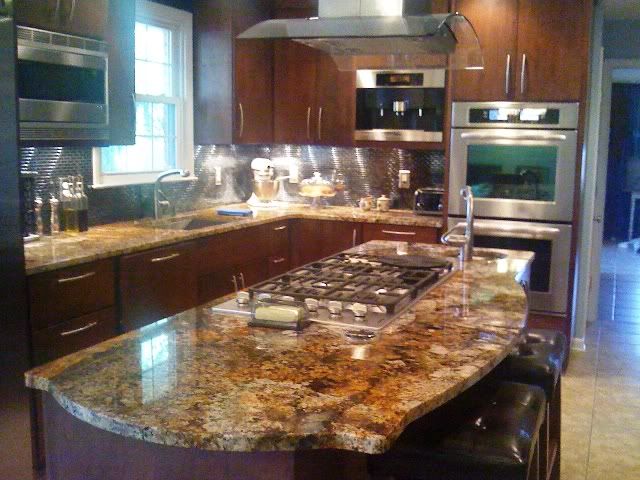 Here is a link that might be useful: finished kitchen - pic heavy
---
| | | |
| --- | --- | --- |
| RE: Best Kitchen Decision you made | | |
I'm renovating my 1948 kitchen now, but 15 years ago, I was online at Home Depot waiting to pay for white linoleum square tiles to freshen up the kitchen and tied us over until we could renovate. Just before I paid, I decided I just can't clean these white tiles everyday and I swapped them for navy ones. BEST DECISION EVER - had the navy tiles for 15 years (but glad now to see them go).
---
| | | |
| --- | --- | --- |
| RE: Best Kitchen Decision you made | | |
One of my favorite things in my kitchen, The Cork floors. They look very similar to wood, self healing so if I accidently drop a knife on it or the dog goes sliding across the floor the hole or scratch mark just disappears. It is so nice to walk on too, almost soft feeling. I loved it so much I put it in my mud room and it has held up beautifully to New England winters with the salt and wet feet being tracked all over it.

Love my Delta hands free faucet. When my hands are dirty from cooking I just tap it on and off with the back of my hand or elbow and it doesn't get all yucky.

I made sure I had plenty of outlets in the kitchen. You never know when your going to have a party and need to plug in heating trays or whatnot in areas of the kitchen you wouldn't normally use. Also put light switches on both ends of the kitchen so depending which way I came in or went out I could always hit a switch rather than waundering in the dark to find the switch when you only had one bank of switches.

recessed lighting. Love it. I had it done so that each half of my kitchen had a seperate bank so that I could use one or both and not have the whole kitchen lit when I didn't need it.

Putting a window over my sink. Sounds silly but I hate doing dishes in the first place and staring at a wall while doing so made it worse. I had the sink and window placed where I could watch the wild life and our animals outside to keep my mind occupied while doing the dishes.
---
| | | |
| --- | --- | --- |
| RE: Best Kitchen Decision you made | | |
The best decision for us was to buy only what we could pay for without borrowing a cent. We didn't want to sacrifice cabinet quality so the project was all diy except countertops. The no dept decision was hard at first because I thought I needed a much bigger kitchen when really what I needed was more working counter space and storage for the little used items. We took out a bulking badly placed sort of pantry thing and added the desperately needed countertop with fabulous drawers underneath and stacked cabinets above, we get all the usual in but gain a countertop. The other change that I love was a small one foot move with the stove away from the corner where all the action was (now no people in my bubble). The other thing I love is the counter height peninsula where my sink lives. This area used to be two levels, boy do I love the extra usable countertop I have gained there as well as the extra 16" at the end of the sink. I kept my otr micro/2nd oven because I don't mind it there (I didn't give in to peer pressure). What I did do though was give a thought to the fact that my future home buyer might want a big beautiful hood (which I do love) so I put pullout 6" spice cabinets on each side of the otr micro/2nd oven. These can be removed and the area would be easy to convert to a fancy exhaust/ hood. I really still love my kitchen a year and a half later. I'm happy with the tweaks made with the existing floor plan. For the way I cook it's perfect for me and the colors make me happy.
---
| | | |
| --- | --- | --- |
| RE: Best Kitchen Decision you made | | |
I am saving this post for my DIL. They are getting ready to
gut their kitchen and all the ideas here are priceless.
Nothing is as helpful as pics and tips from those who have
"paved the way" so to speak.
So many brilliant ideas.
---
| | | |
| --- | --- | --- |
| RE: Best Kitchen Decision you made | | |
Angel, per your request, here are some pics of integrated appliances. These are the ones in my kitchen:
French door refrigerator. I hated seeing the old SS one right in the middle of my focal wall in our Before kitchen. I had the new integrated fridge placed on the side wall in our After kitchen. I love it:

On the opposite side of the kitchen I have my integrated dishwasher I put a red arrow over it so that you can tell where it is. Sorry I don't have a better pic of it:

---
| | | |
| --- | --- | --- |
| RE: Best Kitchen Decision you made | | |
Not the norm, but the best decision I made was to make the kitchen narrower by about 2 feet. This allowed for a built in alcove in the dining room, and extra storage on each end.

The kitchen was just a bit to wide and the sink and cooktop had to be across from each other. Didn't want a bigger island in the middle, and now it's just perfect.
---
| | | |
| --- | --- | --- |
| RE: Best Kitchen Decision you made | | |
This was totally done on accident:

Our dishwasher was placed in the island directly across from the trash pull-out cabinet. The trash pullout is right next to the sink. It makes it very easy to scrape the plate clean, and rinse if needed and then place right in the dishwasher. My trash pulled out and the dishwasher door open all the way meet up exactly so nothing ever drips on the floor! It was genius and all by accident!

The next best decision: I originally ordered a 30'' Shaw Farmhouse sink, in 2007 they were backordered, so I tweaked the design and got the 36'' so I didn't have to wait. I am SO glad I got the bigger sink! It is fantastic especially when we do our annual tomato canning.
---
| | | |
| --- | --- | --- |
| RE: Best Kitchen Decision you made | | |
I knew I wanted a white farmhouse sink, and painted white inset cabinets. Other options might have been more practical or less expensive, but I stuck with my vision, and the kitchen feels like mine. Also love my 2 dish 'drawers' below the peninsula which are easier for my kids to access than upper cabinets. Although it meant extra work, I am glad that I 'shopped around' to get the products that fit our needs, even if it meant checking every store in town over and over again until we found what we wanted.
---
| | | |
| --- | --- | --- |
| RE: Best Kitchen Decision you made | | |
To have 2 different cabinet finishes. The perimeter cabs are a cherry/walnut stain, and the perimeter cabs are glazed ivory. One or the other would have been too much(IMO)and the builder actually tried talking me out of it, but I stood my ground. When the cabinetry was finished the builder, cabinet installer, and others working on the house thought is was one of the most unique kitchens they had ever seen. I've had nothing but compliments. ;)
---
| | | |
| --- | --- | --- |
| RE: Best Kitchen Decision you made | | |
Ours was such a hot mess it wouldn't be difficult to make a MAJOR improvement. DK oak cabinets, with matching DARK laminate on the counter tops and back splash and inadequate light fixtures. We made many esthetic changes which we love but I would say the best choice was the sink. It has three compartments. Two large enough for my largest skillet to sit in and the third always free for disposal and rinsing. It is not a common choice, but anyone who helps me do dishes wants one when we are finished!!
---
| | | |
| --- | --- | --- |
| RE: Best Kitchen Decision you made | | |
Arcy, what sink did you get? I'd love to check it out as I'm in the process of planning my own kitchen.
---
| | | |
| --- | --- | --- |
| RE: Best Kitchen Decision you made | | |
Warming Drawer placed next to the cooktop if yours is separate from the ovens. If you have a traditional stove with cooktop/ovens in one unit, probably not needed.

It seemed like a splurge t the time but we love it.
---
| | | |
| --- | --- | --- |
| RE: Best Kitchen Decision you made | | |
Microwave drawer instead of a microwave in a wall cabinet or on the counter. Hands down best decision, both functionally and aesthetically.

FD refrigerator with separate produce drawer that I can see into from the main fridge, no more produce rotting in the back of the vegetable bin.

Silgranit Super Single sink with offset drain(Cafe Brown), which allowed us to put our trash pullout under the sink.

Drawers in the base cabinets, I really wish I had more! I have two base cabinets other than the sink and corner cabinet that don't have drawers and I really wish they did!
---
| | | |
| --- | --- | --- |
| RE: Best Kitchen Decision you made | | |
fourkids4us It has been over 10 years since we purchased ours. Google Stainless Steal 3 basin sinks..I found one at the Home Depot and Rakuten.com that looked similar. Our middle basin is a very generous. Don't get those dippy ones that are so small.
---
| | | |
| --- | --- | --- |
| RE: Best Kitchen Decision you made | | |
Absolutely love my elevated dishwasher cabinet, so easy on the back. Worst choice, Swanstone sink, it stains and is very hard to clean also it has a plastic collar around the drain basket holder that gets hairline cracks and always looks dirty.
Am I the only one who forgot to plan for a place to keep bread and rolls?
---
| | | |
| --- | --- | --- |
| RE: Best Kitchen Decision you made | | |
- tapmasters (warm, hot, cold) for each sink (2)
- all drawers
- 2 dishwashers
- turbo chef.
---
Post a Follow-Up
Please Note: Only registered members are able to post messages to this forum.
If you are a member, please log in.
If you aren't yet a member, join now!
---
Return to the Home Decorating Forum
Information about Posting
You must be logged in to post a message. Once you are logged in, a posting window will appear at the bottom of the messages. If you are not a member, please register for an account.
Please review our Rules of Play before posting.
Posting is a two-step process. Once you have composed your message, you will be taken to the preview page. You will then have a chance to review your post, make changes and upload photos.
After posting your message, you may need to refresh the forum page in order to see it.
Before posting copyrighted material, please read about Copyright and Fair Use.
We have a strict no-advertising policy!
If you would like to practice posting or uploading photos, please visit our Test forum.
If you need assistance, please Contact Us and we will be happy to help.

Learn more about in-text links on this page here