Return to the Home Decorating Forum
|
Post a Follow-Up
---
| | | |
| --- | --- | --- |
| Cleaning old wood furniture | | |
Posted by
happyladi
(
My Page
) on
Sat, Feb 2, 08 at 14:10
I have an old dining set and the chairs need a good cleaning. The wood is mahogany. I don't want to refinish them, just clean them well and do a little touch up with stain on the bottom of the legs.

Any suggestions on what to use?

Thanks!
---
Follow-Up Postings:
| | | |
| --- | --- | --- |
| RE: Cleaning old wood furniture | | |
Hi Happyladi:

I've always loved Old English to clean and polish wood. The nice thing about it is, it actually removes the appearance of minor scratches due to the stain like quality it possesses.
---
| | | |
| --- | --- | --- |
| RE: Cleaning old wood furniture | | |
If they're scratched or marred or dull, then try some Restor A Finish put on with 4 aught (0000) steel wool, after you clean them. I did this in my bathroom on 20yo cabinets and they look almost brand new + their color didn't change. It even took out some pretty major scratches (like the groves my ds made when he took off the handles).

It costs about $6 and comes in many different wood tones, including mahogany - and it's permanent, unlike the oil in in Old English (which I do like for cleaning, but I used Minwas Wood Cleaner).
---
| | | |
| --- | --- | --- |
| RE: Cleaning old wood furniture | | |
I'm going to agree with Lady above. I love RAF. I got mine at a building supply store, maybe even Lowes or something like that. You can get it in Walnut or other wood tones, or even in neutral. You can wipe it on with a rag or use 0000 steel wool to get off blackened finish on antiques or white rings on furniture. Try it in an out of the way place first, but I think you'll like it.

Red
---
| | | |
| --- | --- | --- |
| RE: Cleaning old wood furniture | | |
Thanks! I notice it comes in mahogany which is what the furniture is. I'm going to try it.
---
| | | |
| --- | --- | --- |
| RE: Cleaning old wood furniture | | |
The very very first thing to do is just go over the wood with a soft rag that's just dampened with tepid water and a very mild soap. (If it hasn't been finished with polyurethane, this IS one of the good uses of Murphy's oil soap.) Wipe gently. Use a baby toothbrush or q-tip for carved areas. Repeat with clear water and wipe dry. This will likely remove a surprising amount of dirt. If it's something that has been waxed and has developed a build-up, the wax may cause products like Howard's or Old English to cover unevenly. (Found this out the hard way.) Liberon Wax and Polish Remover is fantastic for getting a thick build-up of wax and dirt off. Then you can go at it with one of your other products.
---
| | | |
| --- | --- | --- |
| RE: Cleaning old wood furniture | | |
I have lots of antique mahogany furniture - I posted this process several years ago on HGTV Decorating forum and lots of people have tried it and had wonderful results - there was a recent thread with pictures.

1. Wash piece with Murphy's Oil Soap, thoroughly dry

2. Use finest grit steel wool and rub in the direction
of the grain of the wood - you will be removing
old wax not the finish. Go over every inch of the
wood with fine steel wool until you feel you have
gotten the old dirty wax off.

3. Wash again with Murphy's Oil Soap & let dry.

4. This is the most amazing of the steps - Use
Howard's Restor-a-Finish in Mahogany stain on
your piece - it will transform the wood.
Follow directions on the can. It will fill in
water stains and other imperfections - the patina
of the old wood will be intact, and your piece
will just glow.

5. Use Howards Feed N' Wax as a final step following
directions on the bottle.

I guarantee you will be amazed by who well this regimen works. Make sure you don't wax your furniture more than a couple times a year - otherwise, you end up building up wax and dirt. Just dust and buff lightly with a soft, dry cloth.

Here is a picture of a really horrible old chest I bought years ago - the wood was completely dead and dull looking - it was filthy and my husband could not understand why I bought it....after following the process listed above, here is how it turned out.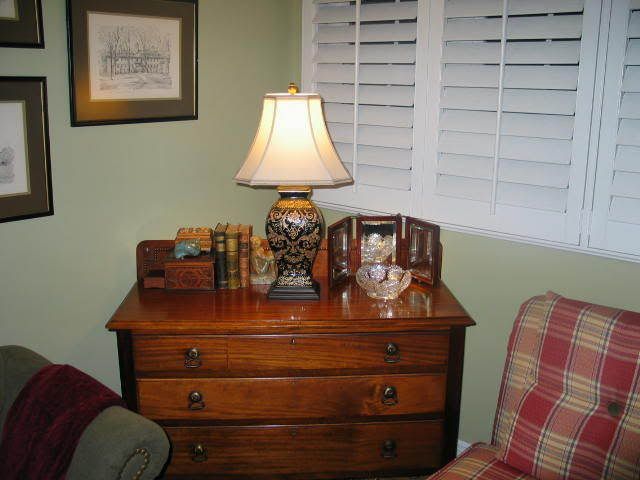 Good luck!
---
| | | |
| --- | --- | --- |
| RE: Cleaning old wood furniture | | |
Cattknap, your piece is beautiful! Thanks everyone.
---
| | | |
| --- | --- | --- |
| RE: Cleaning old wood furniture | | |
This is very good information since I have the same type of project. I am doing old carved dining chairs that have major black in all the intricate places along with scratches.

Okay, I'm armed with 0000 steel wool, RAF, Murphys Soap.

Here is my questions:

I just tried removing the black stuff using the steel wool, It would take me forever to get it all out. Would it be advantageous to use mineral spirits or would restorafinish applied with steel wool remove it?

I also tried a tooth brush with Murphys. Do you recommend the spray Murphys or the concentrate you mix? If you recommend the concentrate you mix, what is the dilution?

Thanks for your help.
---
| | | |
| --- | --- | --- |
| RE: Cleaning old wood furniture | | |
I used the steel wool with some RAF poured on it, rubbing with the grain of the wood for my blackened areas on the antique sideboard I bought through Ebay last year. It takes some elbow grease and a little time, but it came out so very nice.
Red
---
| | | |
| --- | --- | --- |
| RE: Cleaning old wood furniture | | |
Oh my goodness....I just have to thank you for these instructions!!

I have had Restore a Finish for a LONG time - tried it on my kitchen table a few times with not very good results. I think the Murphys oil soap is the ticket - removing the build-up.

I just followed your directions on my DR table and then kit table!! DR had several big white marks - GONE!! Kit table looks remarkably better -
You just saved me from calling my refinisher to redo table tops!!!!!!!!

Thank you, thank you!!
Smiles:)

PS. I even took pics but shutterfly is down. I uploaded them on Tinypic but I don't know where they are!! :)
---
| | | |
| --- | --- | --- |
| RE: Cleaning old wood furniture | | |
Maybe this will work...

I am very happy, thank you again Cattknap!
Redbazel, your piece is beautiful.
SMiles:)
---
| | | |
| --- | --- | --- |
| RE: Cleaning old wood furniture | | |
Wow that table looks beautiful!
---
| | | |
| --- | --- | --- |
| RE: Cleaning old wood furniture | | |
We need to clean a laquer-finished cherry bedroom set. What should be the procedure in order not to harm the finish?
---
Post a Follow-Up
Please Note: Only registered members are able to post messages to this forum.
If you are a member, please log in.
If you aren't yet a member, join now!
---
Return to the Home Decorating Forum
Information about Posting
You must be logged in to post a message. Once you are logged in, a posting window will appear at the bottom of the messages. If you are not a member, please register for an account.
Please review our Rules of Play before posting.
Posting is a two-step process. Once you have composed your message, you will be taken to the preview page. You will then have a chance to review your post, make changes and upload photos.
After posting your message, you may need to refresh the forum page in order to see it.
Before posting copyrighted material, please read about Copyright and Fair Use.
We have a strict no-advertising policy!
If you would like to practice posting or uploading photos, please visit our Test forum.
If you need assistance, please Contact Us and we will be happy to help.

Learn more about in-text links on this page here