Return to the Home Decorating Forum
|
Post a Follow-Up
---
| | | |
| --- | --- | --- |
| Settee vs. sofa? | | |
Posted by
harriethomeowner
(
My Page
) on
Mon, Feb 4, 08 at 13:48
DH and I went furniture shopping. For seating comfort and looks, I loved this settee.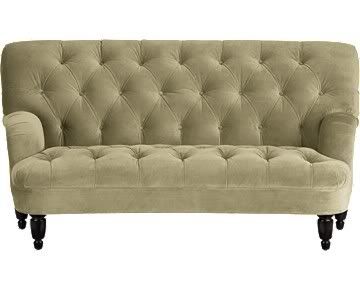 I've picture it here in a tan microfiber, though I'd prefer something like the color of the velvet in the picture of the chair below. The stock fabric is a linen blend that is very thin and probably won't stand up to a single cat claw. We looked through the custom fabrics and found one that was very pretty, but again, it's a thin rayon-polyester blend.
We thought this chair was extremely comfortable, but it doesn't exactly go with the settee, though it does have a lot of curves to it: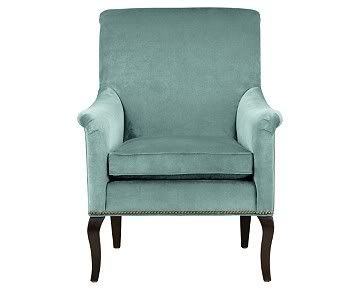 I would get it in the same solid as the settee.
These two pieces would replace the matching couch and chair in this room (sorry this pic is so dark; the rug is a rich red with Persian-style designs in tan, rose, and blue-green):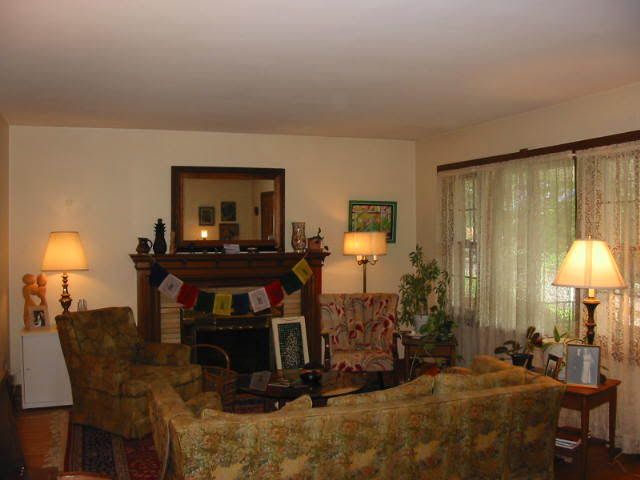 Question 1: those of you who have jettisoned a sofa for a smaller piece like a settee or loveseat, how has that worked for you? Do you miss not being able to stretch out and take a nap?
Question 2: how many legs are too many in one smallish living room? And would it look weird to have three different pieces of upholstered furniture with different leg styles and heights? I know the legs of the chair we would keep are not visible in my picture; they have a cherry stain, which we could probably have matched on the new furniture, but are a completely different style.
Anyway, sorry this is so long and rambling, but any input is appreciated.
P.S.: I know the living room needs some other assistance, but we have to start somewhere ... any ideas about wall color would be appreciated as well.
---
Follow-Up Postings:
| | | |
| --- | --- | --- |
| RE: Settee vs. sofa? | | |
Hi Harriethomeowner.

That's not an unattractive loveseat, but in a living room--which is, ironically, often the least-used room in houses nowadays--comfort is the primary consideration, and there's no way I'd ditch a full size, nap-friendly sofa for a dinky little settee or loveseat, no matter how pretty it might look in the store on some website.

People with big ol' honking great rooms or media rooms often say that since no one ever uses their TV-deprived living rooms anyway, they just use them for show, and that comfort is therefore not an issue. Call me out of the loop, but I can't think of anything sillier than creating a room that you know right from the getgo is uncomfortable. Maybe those folks should ask themselves if that discomfort level is not why no one ever uses those rooms, instead of the other way around. When I see a vacant desert of a room like that--and I see a lot of them these days--I see a textbook case of cause-&-effect, and I rememeber the grim, stiff parlors of the old days. I mean there was a reason they used those rooms for funerals. But like they say, those who cannot remember the lessons of the past are doomed to repeat them.

And if this room, unlike so many others, isn't a superfluous vestigial space in a supersized house, but, rather, a real room that you actually use--and that's what its current comfy look says to me--then all the above goes double. If your LR ain't broke, don't fix it.

Do I love the current upholstery? Not really, but in a room this relaxed & friendly-looking, I could live with it (especially if I painted the walls something compatible with said upholstery, something other than their current bland color, which, rather than lightening up the room, simply makes everything else in the room look dark & muddy) although I might consider re-upholstering your existing pieces, if the fabric's showing wear (and with a bunch of cats roaming around, it probably is) or if you're just simply looking for a new look.

OK, Question 2: can you have too many legs? Sure you can. That's why upholstery shops often add skirts when they reupholster, so rooms don't start looking like Leg City. But since, just as with human bodies, all chairs are not born equal, some chairs need skirts while other chairs look great bare-legged. There is no one answer that applies to everyone. Or every chair. But as far as the matching-woods bit goes--or matching fabrics, for that matter--forget it. Life's hard enough without worrying about inconsequential stuff like that.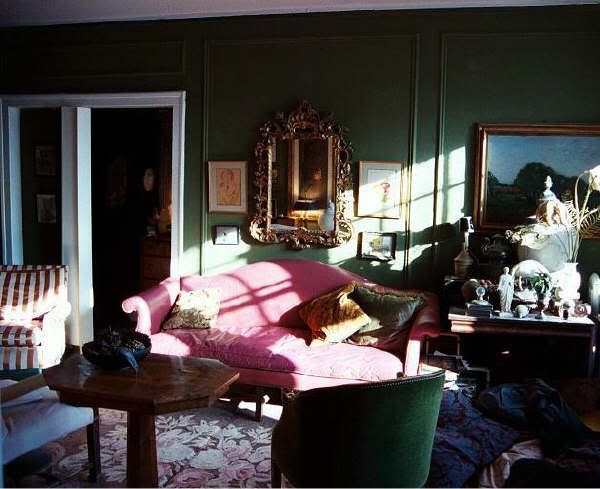 Here's my living room, with its down-cushioned sofa just the right size for a long winter's nap, and its hodge-podge of faded fabics & unfashionable colors and its mismatched woods. You know what I say about all that? Oh, well. If people don't like the magpie look, they don't have to come back. But you know what? They do. Over & over. I must be doing something right, but it sure isn't buying stuff out of catalogs & it isn't matching up my colors.
No, if you ask me, all your welcoming room really needs is a new paint job, some colored or opaque paper shades to create interesting patterns on the walls & some light-colored touches here & there. What it doesn't need--not with those cats--is solid color fabrics. Not pale ones, anyway. And not velvet. But you've got the main thing--the comfort--down just fine. Which means you're already way ahead of a lot of people.
Regards,
MAGNAVERDE.
---
| | | |
| --- | --- | --- |
| RE: Settee vs. sofa? | | |
I did the livingroom sofa exchange for a loveseat once. It was a traditional Queen Anne; beautiful to look at, not bad to sit on - but definitely not a piece of furniture to lounge on or to be able to "put your feet up" comfortably, so I sold it with the house. That's certainly not the case with all loveseats, simply my experience with mine.

I have the lots of legs look in my inherited home. I'm living with my folks' country French which was purchased in 1954 - excellent quality, perfect condition, serviceable - just not my style and I'm slowly replacing it with the cherry Q. Anne pieces which have been biding their time in the basement. The too many legs look can be eliminated by adding even one piece upholstered to the floor. Or a cabinet or chest to the floor as opposed to the usual end or occasonal tables. I replaced a leggy console with a shell carved blockfront chest. I'm betwixt and between with redecorating, needing a new sofa and to have an occasional chair recovered. This particular chair and any new sofa will not show legs so anything else in the room can.

I'm not good at helping others with color choices - my old house livingroom is eggshell, I believe - plaster walls, lots of painted woodwork and mouldings - which coordinates with everything. Not very daring, but there are other rooms in which to be somewhat bolder.
---
| | | |
| --- | --- | --- |
| RE: Settee vs. sofa? | | |
But Magnaverde, that settee is SO comfortable. The seat is 40 inches deep, so a great size to curl up and read. I wish they made it about a foot longer (it's 69 inches). If we get it, we will probably get a sturdy microfiber for the upholstery.

The old stuff in our living room is extremely high quality, a beautiful and unusual tapestry fabric. It's getting more and more faded and worn, and both pieces are sagging and a bit lumpy. That's why we're considering replacing them.
But I'm still not convinced that their time has come yet. Not sure if they have gone from having character to just being seedy.

Any color recommendations for the walls? The room is pretty dark, except for in the morning between 8 and 10, depending on the time of year.
---
| | | |
| --- | --- | --- |
| RE: Settee vs. sofa? | | |
Harriet, I have the exact same exposure you do, except that I get the sun even earlier--about 7 till 8:30 AM this time of year, right about the time I'm scrambling around trying to get out the door and have no time to appreciate the beautiful light streaming in my windows. Well, on days that it's not foggy or snowing in Chicago, anyway. Regardless: the chronic lack of direct sun didn't stop me from painting my walls a dark Canned Spinach green.

Since I can't see your actual room in person, I never recommend specific paint brands or colors, but with your existing furniture, a dark bluish grayish green--think of the dark areas on a piece of bronze sculpture exposed to the weather--or the dead green of a slice of avocado that's been exposed to the air for a few hours : either one of those murky tones livened up with a deep cream or a saffron yellow or the pink of a piece of poached salmon; or maybe the deep grey blush that's overlaid on a ripe plum, accented with celadon green or a Wedgwood blue mingled with copper. Of course, you won't find any of those combinations on anything you can buy right off the floor at the local Home Center store, but then you won't find them in any of yur friends' homes, either.

To find interesting & unusual color effects, don't bother looking in catalogs or shelter magazines ("Oh, look! It's brown & blue! How 2007!")but try instead, say, leafing through early 20th Century children's book illiustrations. I'm not talking about vapid nursery rhymes or alphabet books or even the Oz books, with their solid blocks of pale pastels, but the rich & incredibly moody artwork of guys like Arthur Rackham & N. C. Wyeth & Edmund Dulac & Maxfield Parrish, guys who illustrated tales of adventure & romance,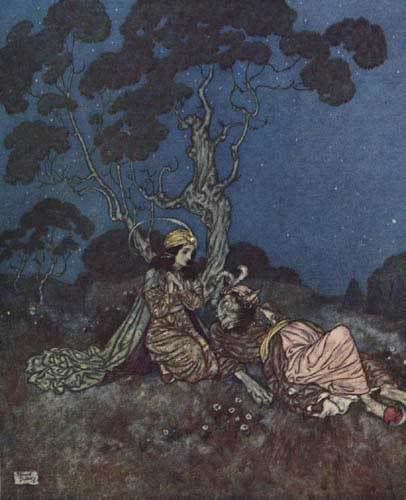 and whose pictures, despite the limitations of early 4-color printing, managed to convey the gleam of pirate treasure in shadowed caves, the infinite blues of the wine-dark sea at sunset, and the fiery glitter of banked rubies & opels on a sorceress' dusky arms. Now that's inspiration. OK, so that's the color thing.
If your existing pieces are as sturdy as you say, it makes even more sense to redo them rather than replace them. It won't cost any less to remake them than to buy brand new pieces, but here's the thing: they'll cost a lot less than new pieces of similar quality, which is the part the Buy New crowd always forgets.
And if you do decide to buy new because of that settee's comfort, maybe there's a way you can squeeze it all in there. And if there's just not enough room for everything and the old stuff's really gotta go, be sure to keep enough of the old tapestry to make big pillows. It's handsome stuff.
Magnaverde Rule No. 12: If nothing's in style, nothing can go out of style.
---
| | | |
| --- | --- | --- |
| RE: Settee vs. sofa? | | |
Count me in on considering a good napworthy couch mandatory for a living room that one actually lives in rather than just looks at. I just bought a settee but it's a supplement to a super-comfy couch, not all by its lonesome. Several apartments ago we only had a loveseat instead of a proper couch because we simply couldn't get a couch up the three narrow, winding flights of stairs in the 1860s tenement building, and it drove us both crazy.

I'll also be apologetically honest, I don't think either of the two pieces you're considering play well with the interesting old chair you're keeping - there's just something about it that isn't working for. Interesting old chair would all too likely stick out like a sore thumb. :-(

Have you looked into having your old set reupholstered? If it's "extremely high quality" it probably has a good solid frame that can be repadded to get rid of the sags and lumps and make it comfy again.
---
| | | |
| --- | --- | --- |
| RE: Settee vs. sofa? | | |
I'm not a professional decorator, but I like the look of that settee. It looks comfy. That said, I absolutely do NOT like the look of the chairs, and I hate matchy matchy furniture in any room.

IMHO, the room should look like yours does now -- as if it evolved over time. As soon as you get three pieces of furniture in the exact same fabric, it looks like you walked into a showroom, said "I'll take that" and plopped it all down in your room without a second thought. My preference is always to make it look like I fell in love with each piece because each chair or sofa or settee or end table just was so comfortable and so "me," that it sort of followed me home, like a new puppy, and it just happened to blend effortlessly with what I already had. You should tie the fabrics together, of course, but do it by picking up the pretty blue in a throw pillow, a rug, a vase, a piece of art on the wall. Make sure the color travels into the next room, too, to ease the transition.

I agree with the others -- a living room should be for living in. Reading chairs, a good napping spot, a game table. Ours even has the TV (going against tradition, I know, but we use that room everyday; the family room has the computers/games in it so we use it everyday, too, just differently).

I vote for the comfy looking settee -- although you might want to look for a longer one -- and COMFY chairs that don't match. What about a smooshy leather chair and then a traditional chair + ottoman in a pattern/floral (I'm not a huge "floral" fan, but we found a floral at Ethan Allen that was a little more stylized that works beautifully on a little tufted reading chair with legs; we paired it with a chunky leather ottoman that had a worn look and a moss-green chenille on the sofa; had some pillows made for the sofa out of the same floral; it all blends nicely together without looking matchy matchy).

If you don't want to work with an ID, I would recommend going someplace like EA, where their designers can help with color/fabric and furniture selections to help create a more evolved over time look.
---
| | | |
| --- | --- | --- |
| RE: Settee vs. sofa? | | |
A lot of interesting comments. Thanks.

Magnaverde, your Rule No. 12 also describes the way I dress. :)

I agree with much of what you say. Yep on the wall color; the PO of our house picked that, and we just haven't gotten around to painting (after 9 years).

I was studying the old couch and chair the other day, and I realized that they are actually two completely different styles. The original purchaser (my sister's ex-husband's grandmother) must have had them custom upholstered. My sister was about to send them off to Goodwill 15 years ago, but I rescued them and have been using them ever since.

I wish there was someplace else I could put that settee. I'm wondering if it would be nice near the front door, maybe in a deep red. Right now, there's a storage bench that was supposed to be where we kept our shoes, but it's not working very well. There are still shoes all over the floor by the door (and there's just two of us living here).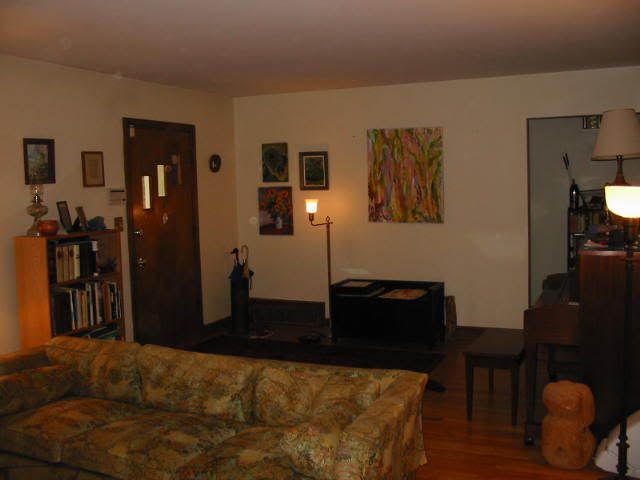 If we ever get around to painting, that far wall might look interesting in an accent color as a gallery -- I have a lot of paintings and other artwork that I haven't found a place for. You may be able to tell that what's up there now just got thrown there kind of haphazardly.
We use our living room a lot. It adjoins the dining room, and we eat dinner there every night, and play with the cats, and sit there and read and entertain friends. Our TV is gathering dust in the basement. I play that piano occasionally, though my good piano is elsewhere in the house.
Speaking of which -- got to go practice. But thanks again for the input. I definitely need to think about this some more.
---
| | | |
| --- | --- | --- |
| Bumping | | |
Just bumping this up in case anyone else has any other advice or insights. TIA.
---
Post a Follow-Up
Please Note: Only registered members are able to post messages to this forum.
If you are a member, please log in.
If you aren't yet a member, join now!
---
Return to the Home Decorating Forum
Information about Posting
You must be logged in to post a message. Once you are logged in, a posting window will appear at the bottom of the messages. If you are not a member, please register for an account.
Please review our Rules of Play before posting.
Posting is a two-step process. Once you have composed your message, you will be taken to the preview page. You will then have a chance to review your post, make changes and upload photos.
After posting your message, you may need to refresh the forum page in order to see it.
Before posting copyrighted material, please read about Copyright and Fair Use.
We have a strict no-advertising policy!
If you would like to practice posting or uploading photos, please visit our Test forum.
If you need assistance, please Contact Us and we will be happy to help.

Learn more about in-text links on this page here