Return to the Home Decorating & Design Forum
|
Post a Follow-Up
---
| | | |
| --- | --- | --- |
| Your "visual clutter" scale | | |
Posted by
Violet.West
(
My Page
) on
Wed, Feb 5, 14 at 13:43
I'm curious to know how people would rate themselves with regard to tolerance for "visual clutter."

By visual clutter, I don't just mean the stuff of life lying around -- magazines, toys, dishes, etc. waiting to be put away -- but the decor "stuff" -- beloved objects, decor items, busy patterns, lots of furniture.

For instance, I lean toward bohemian style decorating, but sometimes too much is too much! Alternatively, I like modern architecture, but having absolutely nothing to look out or lying around seems unnatural to me.

Scale:
1 = all white minimalism
10 = full on boho eclectic every surface covered

I'm about . . . a 6 or 7. What about you?
---
Follow-Up Postings:
| | | |
| --- | --- | --- |
| RE: Your "visual clutter" scale | | |
Probably a 5. And descending.
---
| | | |
| --- | --- | --- |
| RE: Your "visual clutter" scale | | |
yeah, I think I'm descending also. I like cozy, lived-in looking rooms, but things can get too busy!
---
| | | |
| --- | --- | --- |
| RE: Your "visual clutter" scale | | |
Ditto, "5 and descending." Bedroom is a 1, for calm and clean and serenity.

Living room is a 5, for fun and personality and character.
---
| | | |
| --- | --- | --- |
| RE: Your "visual clutter" scale | | |
3.5, ascending.

I am one of very few people who doesn't need to remove much to put a house on the market. Very few things on walls, etc.
---
| | | |
| --- | --- | --- |
| RE: Your "visual clutter" scale | | |
I am losing my hearing to Meniere's disease and I actually love "visual clutter". To me, when done well, it is musical. I am probably a 7 or higher. I am however very organized and have little to no misplaced papers or objects, for that type of clutter I have zero tolerance .
---
| | | |
| --- | --- | --- |
| RE: Your "visual clutter" scale | | |
A 2 and would be living in a 1 if my DH allowed it. I have always hated visual clutter. I admire rooms where people make a lot of things work especially a variety of patterns and colours, but I couldn't live in one. I don't even have patterns on the furniture or drapes and have a very simple geometric pattern on the area rug.
---
| | | |
| --- | --- | --- |
| RE: Your "visual clutter" scale | | |
I'm not sure how to rate myself, and know I'm descending, too but I prefer a warm cozy look, and love my cluttered chock-full glass door cabinets and barrister bookcases displaying special antiques, but only behind glass. Not a fan of a lot out on open surfaces. I tend to like a little more furniture than some, ok maybe a lot, but am sensitive to balance and scale....and although I like patterns, I reach the saturation point for me quickly with what I already have going on, so tend to use a lot of solids and textures....great thought provoking question....hmmmm. Maybe 6 3/4-71/2? But even adding one more thing can put me right over the threshold of my tolerance moving me from contentedness to discomfort!
---
| | | |
| --- | --- | --- |
| RE: Your "visual clutter" scale | | |
Depends on which room of our home you talk about. Bedrooms are probably a 3 (do we have to count our nightstands which have the normal stack of magazines or books, alarm clocks, glasses, etc?). Family room is a 6-7 and descending as soon as I get around to it again (it's up and down). The study which DH mostly uses, and which is also where I have my piano is half a 3-4 (my part) and half an 8 (his side).
---
| | | |
| --- | --- | --- |
| RE: Your "visual clutter" scale | | |
When I was selling my house last year, I went from an organized 7 to a 4 and loved it. But now that I am in my new place I am trying hard to stay closer to 4, but it is a battle. Probably am back to a 6.
---
| | | |
| --- | --- | --- |
| RE: Your "visual clutter" scale | | |
I've been probably at a 6 and am trying to get to a 3 or 4; trying to leave a table with nothing on it, or just one carefully selected object is challenge. The shelves have a ways to go, but a remodeling spree is a good way to purge. I've got boxes of stuff filling the garage, waiting for a yard sale or the trip to Goodwill.
---
| | | |
| --- | --- | --- |
| RE: Your "visual clutter" scale | | |
6 or 7... I love rooms with personality and fun!
---
| | | |
| --- | --- | --- |
| RE: Your "visual clutter" scale | | |
I think I'm a 9, I like a lot of color, stuff on walls, texture and pattern and love the layered look, but to me it's not clutter, it's interest or, as lorbee said, personality.

sandyponder
---
| | | |
| --- | --- | --- |
| RE: Your "visual clutter" scale | | |
I think I'm about a 4 or 5, but definitely descending. Getting rid of stuff makes me happy! Of course, I'm keeping my favorite things. Also, I'm sick of dusting.
---
| | | |
| --- | --- | --- |
| RE: Your "visual clutter" scale | | |
I'd say 4 and descending. I don't like totally minimal, but I had clutter, visual or otherwise. I'm the one who turns off the radio in the car rather than listening to "aural clutter". I'd like it if my very large kitchen island had nothing on it but a bowl of fruit. I can't stand looking at TV walls that are surrounded by pictures. But I do have a large bookshelf (new) on which I've laid out all of our tchotkes. However, they're concentrated, so I'm okay with it!
---
| | | |
| --- | --- | --- |
| RE: Your "visual clutter" scale | | |
7 and holding fast...I love my retro tchotkes! But I am too lazy to layer b/c folding, plumping and arranging all that stuff takes work. I grew up in a house with zero decorating so I think I relish even more having stuff out. My parents followed the Dave Barry school of home neglect - "If we were birds, our nest would consist of a single twig with the eggs attached via Scotch tape."
This post was edited by robotropolis on Wed, Feb 5, 14 at 16:06
---
| | | |
| --- | --- | --- |
| RE: Your "visual clutter" scale | | |
"I'd say 4 and descending. I don't like totally minimal, but I had clutter, visual or otherwise. I'm the one who turns off the radio in the car rather than listening to "aural clutter"."

Ditto on the radio!

I would also say I'm a 3-4. Visual (or auditory) clutter, to me, is very overwhelming. I don't like contemporary or modern design, but I like the minimalism of it. I also gravitate towards items that are functional as my sparse "decor" (eg, throws that are actually used, lamps, plants, etc.)
---
| | | |
| --- | --- | --- |
| RE: Your "visual clutter" scale | | |
I hate auditory clutter too! I especially dislike the music in grocery stores. I don't want to hear stuff like "You Don't Impress Me Much" by Shania Twain for the thousandth time, or "Let's Give Them Something to Talk About"-- UGH!

I could go on- old Bob Seger tunes, Whitney Houston so LOUD on "I Will Always Love You"... There are so many songs that I just don't need forced on me!

Sorry, rant over.
---
| | | |
| --- | --- | --- |
| RE: Your "visual clutter" scale | | |
I think I'm probably at the lower end of the scale right now, but for me, so much depends on the space itself. In an open floor plan, especially one that isn't very big, or without much storage, I need a more minimalist decor. My brain can't easily separate the kids' school stuff or other household odds and ends from the lovely decorative items. I look around, see lots of stuff, some of which I know is headed for the recycle bin, and I get uneasy. Therefore, I limit the decorative items - 'cause I know the minute I recycle those school papers and projects, they'll bring home a whole new stack.

That said, I often enjoy photos of layered rooms. I like the warmth and the depth. I love color and pattern and small beautiful objects. I think my tolerance for visual richness could increase dramatically in a space that had self-contained rooms as well as dedicated spaces and storage for those kid/pet/household items that are currently keeping me on the lower end of the scale.
---
| | | |
| --- | --- | --- |
| RE: Your "visual clutter" scale | | |
Ha! I guess I'm a 9 on the auditory clutter scale -- I always have to have white noise. A fan, music in the car, a CD of birds and rain, ocean sounds, an actual white noise machine at night.

Or some combo thereof. :)
---
| | | |
| --- | --- | --- |
| RE: Your "visual clutter" scale | | |
I'd say around 3. Generally speaking, I like simplicity.
---
| | | |
| --- | --- | --- |
| RE: Your "visual clutter" scale | | |
I'm about a 4, I think. I love cozy touches opposed to sterile modern decor, but less is more works for me. My son & DIL have lived in Denmark for 5 yrs. When we first visited I found Danish homes somewhat stark, but over time I've really come to appreciate the clean lines, colors, woods, and functionality that are common in Scandinavian design. I live in New England and it reminds me of Shaker design, which I've always been drawn to.

I like looking at all types of home decor, but I wouldn't choose to live in a space that was fussy, ornate and multi-layered.
---
| | | |
| --- | --- | --- |
| RE: Your "visual clutter" scale | | |
Im mixed. Our study is rather cluttered: books, artwork, leather sofa, tartan wing backs, rugs, blankets, floor pillows. Everything is about texture and layer in our study. A English professor meets Ralph Lauren vibe, iykwim? I love it. It is probably an 8. OTOH, every other room except the playroom is a 3-3.5. I love those rooms just as much

I could never live in a house where every room was a 6 or higher but one or two would be fine.
---
| | | |
| --- | --- | --- |
| RE: Your "visual clutter" scale | | |
My husband is a 8 and I am a 3-4. The older I get, the more I descend. I like things clean and the more you have, the more to dust and clean!

Also, I am learning to edit myself and keep things that either have sentimental value or help me complete the room's theme and warmth/coolness.

The only place where I may ascend in clutter is on the walls. I don't have a wall of pictures but I love them!
---
| | | |
| --- | --- | --- |
| RE: Your "visual clutter" scale | | |
6 to 7 and descending. Really want a minimalist look, but don't think i'll ever get there.
---
| | | |
| --- | --- | --- |
| Re scale objectivity | | |
Just curious for those who rank themselves on the lower end of the scale, do you count architectural elements as "visual clutter" for I am including my love of them in my high score. To me a 3 room would certainly not have crown moldings, high coffered ceilings, medallions, etc. I thought the scale reflected visual stimulation rather than actually clutter. Maybe we should link an example of a room that we see as a 10, 5 and 1 for a more accurate understanding of what is meant by our interpretation of the question. To me my dining room is a bit higher than my preferred 7, I rate this room 9 in this pic, I have since changed the ring curtains to back tab ones and raised the rod, which interestingly enough brings the room IMO down to an 8.
---
| | | |
| --- | --- | --- |
| RE: Your "visual clutter" scale | | |
I'd say I'm around a 5. However, the more stuff that comes in for our child (clothes, toys, whatever), the more suffocated I feel; it doesn't matter if my stuff is decorating related or not. It just makes me want to throw everything out. I was in the attic today making a pile to donate.
---
| | | |
| --- | --- | --- |
| RE: Your "visual clutter" scale | | |
My living room is what I would rate on the scale a six, Til yesterday I would have given it a five but we added window seats with a patterned texture so it is now a six, but it is very tone on tone and quiet I think without being minimalistic. With this room, although I like it, I really want to live in it up a bit, someone just suggested yellow pillows and with those this ,to me ,might hit my preferred 7 + rating.
---
| | | |
| --- | --- | --- |
| RE: Your "visual clutter" scale | | |
I have no 1 rooms in my home:), but a one is just void of interest, not minimalist , for that, well done, is very interesting and can be much higher than a 5..... a 1 is just plain in my interpretation of the scale. Clear the coffee table and take a way the curved archway and here is what I call a 1.
---
| | | |
| --- | --- | --- |
| RE: Your "visual clutter" scale | | |
I do consider architectural details part of the visual clutter but in most cases these are not "in your face". The contrast between the red and all the white trim calls attention to the architectural detail and makes the room busy. Also the snow flake effect on the corner curio is distracting. As someone who Is descending in visual clutter, I would not highlight the trims,or the back of the curio, and would not have anything on top of the table unless I had some heirloom candlesticks. I would also not have small pictures or pillows. Use pictures as focal point over a buffet server but not to fill space between trims.

Let the table, rug, and curtains be the attention. IMPO!
---
| | | |
| --- | --- | --- |
| RE: Your "visual clutter" scale | | |
Roarah - for me, your DR would probably be a 7-8. To be a 9 it would have a runner on the table, patterned curtains and coloured lampshades. If you want to take the level down a bit take the lampshades off the chandelier and see what happens

WRT to the second picture - now you are defining what a 1 is and we all have different definitions on the scale. If you take the clutter off the coffee table, the curved archway (and the pillows) out for me that isn't a 1, it isn't even a room.

I don't know if this will work but here is a room in similar colours to the one you posted but this is minimalistic and for me stunning
Here is a link that might be useful: minimalist living room
---
| | | |
| --- | --- | --- |
| RE: Your "visual clutter" scale | | |
Good question! I am an 8 but it must be perfection ( as how I define it), anything less drops notches.
I think of 10 as one of chijims way-over-the-top rooms and 8 as multi layered patterns but not cluttery, if that makes sense.

Hoarders anything is not on the chart, btw.
---
| | | |
| --- | --- | --- |
| RE: Your "visual clutter" scale | | |
I rank high - maybe an 8.5, but I don't like meaningless stuff. The visual clutter in my surroundings is family art, things I've found on trips, things that have been passed down, and books. Our house is otherwise neutral - painted in Behr Sandbox with neutral color furniture, with the exception of our bathroom walls and green kitchen cabinets.

The key for me is that the clutter have an association with something special rather than coming from Homegoods. That being said I love farting around in Homegoods and spend my money there on kitchen stuff and linens! ;)
---
| | | |
| --- | --- | --- |
| RE: Your "visual clutter" scale | | |
This calibration to me is interesting. To me, the blfenton link was more of a 2. There was still stuff around.

This is may be closer to a 1, although the windows add to visual clutter:
To me, this is a 8 or 9 - more window treatments and a rug would push it to a 10. Though the shelves are already there.
Quite possibly a 10, or a pillow or two short:
A 10?
---
| | | |
| --- | --- | --- |
| RE: Your "visual clutter" scale | | |
Well, the scale is of course pretty subjective. I tend to agree with gooster above. The second pic (8 or 9) makes me happy.
---
| | | |
| --- | --- | --- |
| RE: Your "visual clutter" scale | | |
Okay...based in the Gooster Scale, I'm closer to a 6.5. I feel better about that.
---
| | | |
| --- | --- | --- |
| RE: Your "visual clutter" scale | | |
Thank you for the clarification Sconway. It helps me understand how others are defining their thresholds and also how others define visual clutter.

Now Blfelton, your posted example to me would be a 4 or 5 for it has a lot for my eyes to take in but is still simple. The tightly spaced lines on the wall mixed with the dichotomy of the extra large square floor tiles is very stimulating thus add interest, or "clutter" even though the furnishings are sparse.
---
| | | |
| --- | --- | --- |
| RE: Your "visual clutter" scale | | |
Sorry I put my DD to bed and came back and posted and missed a lot in between. Gooster, your scale works well for me too. But your first room is to lovely with the view and architecture for me to give a 1. For to me a 1 has no visual stimulation at all and that room simply interests me.
---
| | | |
| --- | --- | --- |
| RE: Your "visual clutter" scale | | |
I guess my rooms fall around 8 on the scale. I like mixed patterns, colors and textures, ornate moldings and curated collections on display. I tend to like one quiet element, though, to ground the room, like neutral walls or neutral upholstery on some large furniture pieces. That said, I want the rooms to be tidy with no misplaced stuff just laying around.

I also enjoy the high contrast look of wood and white that characterizes Scandinavian design, Shaker design and others, but I've yet to have a house that is decorated like that.

I agree with other posters that auditory clutter bothers me much more than visual clutter. I never have the television or music on if I'm not specifically engaged in watching/listening to it.
---
| | | |
| --- | --- | --- |
| RE: Your "visual clutter" scale | | |
I used to be pretty close to an 8 or 9. I consider Mario Buatta, Miles Redd and that style of decorating visually stimulating and something like this would rate my 10


When it's well done, it's very effective, but too often it's not well done.

This to me would rate about a 3, while there is a lot of "Stuff" around, it's so washed of color that it doesn't read busy at all.

This too rates about a 3 on my scale - and I'm trying to rate only within the context of traditional style since it's easy to find minimalistic modern. There is just so much empty space here. Doesn't click my "cluttered" button.

So I guess I'm going to say I'm about a 6 now. Coming down from a solid 8-9.
This to me is about a 6 (traditional style)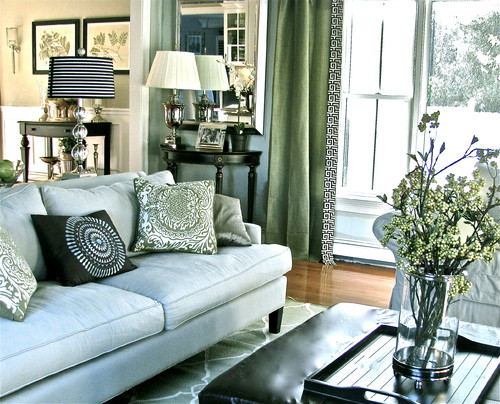 ---
| | | |
| --- | --- | --- |
| RE: Your "visual clutter" scale | | |
Most of my house is a 3 or 4....except I score my husband's office at about a 12.

ML
---
| | | |
| --- | --- | --- |
| RE: Your "visual clutter" scale | | |
I like to be in the 2-3 zone. My house probably won't ever get there, at least not until or unless I"m living in it alone and for many reasons that's not a goal I particularly long for!

I guess we run around a 4-5 in the house as a whole.
---
| | | |
| --- | --- | --- |
| RE: Your "visual clutter" scale | | |
I was thinking I was maybe an 8 until I saw gooster's scale. Now I think 6-7. But as some others have said, it depends on the room. My master bedroom might be a 3. My dining room/library, with bookshelves filled with books and tchotchkes, is probably 8-9. I am very comfortable with a certain amount of visual clutter, as long as it's not junk or truly what I call "clutter" -- stacks of paper, mail, dishes in the sink...I have no tolerance for that kind of clutter. But some books stacked on a table, interesting travel souvenirs, lots of art on the walls, pottery, framed photos, interesting things to look at -- all good, IMO.
---
| | | |
| --- | --- | --- |
| RE: Your "visual clutter" scale | | |
Great visuals mlweaving! and I agree with your scaling mostly although I think there are rooms with more cohesive stuff that work making the ten you posted my nine.
---
| | | |
| --- | --- | --- |
| RE: Your "visual clutter" scale | | |
Here is a link posted by chijim mostly 9-10 rooms to me. One's an 8.
Here is a link that might be useful: chijims pics
---
| | | |
| --- | --- | --- |
| RE: Your "visual clutter" scale | | |
I'd say I'm more than likely a five or at the very least working toward it. Although the console table in the Ladies Parlor is more like a seven or eight. It's mostly natural items I've collected from our land and on travels.
---
| | | |
| --- | --- | --- |
| RE: Your "visual clutter" scale | | |
For me, these are 1...

For me, this is a 9

This is a 10

This is about a 12

---
| | | |
| --- | --- | --- |
| RE: Your "visual clutter" scale | | |
A number of these pictures would be "off the scale" for me - 12 on a scale of 1-10. They raise my blood pressure just looking at the pictures LOL.
---
| | | |
| --- | --- | --- |
| RE: Your "visual clutter" scale | | |
Annie -- yes, much better examples of a 1 -- when you have a living space like the one I selected, you end up getting windows interfering with the nothingness. I wonder if someone paid a good design fee to have a white towel hung like in Pic #2.

I find it hard to settle on what is a five. I'm thinking I want to be a five, but Ive been floating around 7--> 6. I could not live with 1. It would make me OCD.
---
| | | |
| --- | --- | --- |
| RE: Your "visual clutter" scale | | |
Oh, I am definitely about a 3...I get really claustrophobic and "itchy" if there is too much stuff. My eyes need some blank spaces to breathe. Plus...I really believe that having less makes the items you do have shine more. I have always preferred traditional decor, which typically isn't minimal, but as my taste has evolved and I have become (perhaps more sophisticated? Definitely more educated...) I have become ruthless about not having items in my home that arent "special" in someway. If the art I want for a certain spot isn't in my budget at that point, I'd prefer a blank wall to buying something at Home Goods just to fill it.

So while this gives our home which we had built 2 years ago a somewhat "in process" look...I really love it. In fact, as I find pieces to add, I get a little nervous when installed as it immediately looks "cluttered" to me! I call in my ID for a little pep talk, and she puts my mind at ease, lol!

Oh, and Phobe Howard's style is my inspiration. Her rooms never look over-decorated to me.
---
| | | |
| --- | --- | --- |
| RE: Your "visual clutter" scale | | |
I must be a 4 compared to what the pics are. Visual can be very personal trying to pick a number. Annie, those busy rooms are off the scale for me and the pantry gives me a headache.

Mlweaving, your first 3 pic would be lower for me. Except for the filled coffee table which eludes my thinking compared to to room as a whole. I couldn't live in a room like it, too many walls, so maybe you are closer. The last pic would work for me except the mirror corner and corner right next to it in the next room. I'd make them go away comfort wise. Then the room would be work well personally.

With this scale is the fact I always loved RLs layers of yore in plaids/mixed patterns and will always love his trailer. Pulling off this decor wouldn't happen at my end, it takes a unique decorator.

I've recently been saddened by memories of so many things let go of due to family loss. But this scale consideration has given me appreciation for making most of those decisions. Collections crammed together would be a 10. I think there are still boxes stored which would be a 10 and why they haven't been gone through. Moving was never an issue for me in the past, opening up boxes was like finding forgotten treasures.

It is interesting many are stating heading down on the scale. I'm over pillows (except my BD) and drapes for decor. And with so much stuff in rooms shown, how does someone find anything? Dusting less is part of the scale, but it used to be a time to revisit loved memories.
---
| | | |
| --- | --- | --- |
| RE: Your "visual clutter" scale | | |
How much there is to dust would generally be a way of measuring the scale...except for the #10 room above which is actually reasonably sparse in terms of items, but completely OTT on patterns.

I think this for me would be a 5...something on each surface but not too much...room for some pattern, texture and window treatments, but plenty of ease for the eye. Also a rhythm to the room so it feels cohesive.

This would be a 6...the accessories are a bit strong due to their scale.

---
| | | |
| --- | --- | --- |
| RE: Your "visual clutter" scale | | |
Gooster and Annie, I think both posted good visuals for 1 vs 10. While I would hate living in the 1, a 10 would be too much for me. I'm more of a 4 or 5. I'm not sure why, but for me a potted plant on the floor or sitting on a table adds to the visual clutter as well as all those photos on the wall !
---
| | | |
| --- | --- | --- |
| RE: Your "visual clutter" scale | | |
i'm probably a 3 or 4. I would prefer a few overscale things than lots of little knick-knacks. The only exception might be a wall of built in bookcases...but I would loathe dusting them!

DH likes house plants but more than two becomes visual clutter to me. He'd put 10 little pots on an end table if I let him. Give me just one, large potted palm as opposed to table plants.
---
| | | |
| --- | --- | --- |
| RE: Your "visual clutter" scale | | |
Something I haven't seen mentioned is what views are seen from a room. We had occasion to stay in a condo in the heart of Boston that probably would rate as a "2" on most people's scales. Way too minimalist for my taste generally, but it felt perfect in the midst of all the sights and activity visible from each large window.
I also feel the same when I'm in a room that looks out to a vibrant garden area. In many instances the surroundings account for much of the visual and auditory elements in a room.
---
| | | |
| --- | --- | --- |
| RE: Your "visual clutter" scale | | |
I would have said my LR is an 8 until I saw these pics and now I'm rating it no higher than 5. While I think I have quite a lot of things I have little pattern in my LR so it's comparatively calm and no bookshelves filled with stuff like some of those rooms. My bedroom is a 6 as I have several patterns there and a lot of family photos but still fairly restful 'clutter-wise'.

While Miles Redd, Charlotte Moss, Bunny Williams, and Ralph Lauren have all been inspirational to me I've never amassed the number of decorative accessories and art necessary to have my house look like that. Or at least unless I used every decorative accessory I own all at once which I couldn't do. The only way it could happen is if I somehow acquired full-time live in cleaning staff and that's not a lifestyle I would ever want. Even then I could never live with that amount of visual stimulation in every room in my house. Lovely to look at in pictures but perhaps not IRL.
---
| | | |
| --- | --- | --- |
| RE: Your "visual clutter" scale | | |
I could be very happy in the first of Annie's two pictures posted at 7:37. In the second one, that yellow throws me for a loop - it's just not right!
---
| | | |
| --- | --- | --- |
| RE: Your "visual clutter" scale | | |
I am a 3 moving down the scale as I get older and less likey to want to move everything in the room to wash walls every year. I have noticed that I seem to need to be able to see threw the room to be happy with it . A room that is visually blocked reads cluttered to me no matter how minimal the rest of the decore is. My dh just did that too our living room by moving the couch across the room so when I walk into the house the first thing I see is a full view of the back of the couch. When I had two arm chairs with a open end table between them it didn,t feel closterphobick like it does now.
---
| | | |
| --- | --- | --- |
| RE: Your "visual clutter" scale | | |
If the room w/yellow pillows is a 6, I would say it's pretty much where I'm at, minus the small table tchotchkes. I would opt for a rug w/a bit of pattern, since that's the only pattern in the majority of my rooms, the area rug. A couple of pattern pillows would also be ok, but not in bright colors, and a dark, rather than light background, but I don't think that's the direction the decorator is taking.

I can identify w/Williams and Moss, and even Charles Faudree, although he uses way too many small tchotchkes.
---
| | | |
| --- | --- | --- |
| RE: Your "visual clutter" scale | | |
The architecture, the main focus of this room, provides most of the "visual clutter" yet, removing about half of the junk on the flat surfaces would drop it from a 9 to a comfortable 8 and I could easily live with it.
---
| | | |
| --- | --- | --- |
| RE: Your "visual clutter" scale | | |
There is just so much I could not live with in that room, starting with the ruffled skirt on the couch (I don't like ruffles on anything or anyone that's more than a year old :-)). I'd have to remove almost everything on those end tables, and move the chair away from the couch by several feet to make it liveable. It makes me claustrophobic, and that's hard to do in a room with those gorgeous soaring ceilings!
---
| | | |
| --- | --- | --- |
| RE: Your "visual clutter" scale | | |
Interesting that, when I think of cluttered, I tend to think of a particular style such as shabby chic or victorian....but there can be cluttered contemporary rooms...

and sparse traditionals rooms...

---
| | | |
| --- | --- | --- |
| RE: Your "visual clutter" scale | | |
O my my my....I hope this link works. Do not be fooled by the exterior shots. I would rate every room 10+ + + + + + +

http://search.har.com/engine/4302-Colony-West-Dr-Richmond-TX-77406_HAR20308496.htm
---
| | | |
| --- | --- | --- |
| RE: Your "visual clutter" scale | | |
eek. Very nice house, but yeah, mucho overkill, although some of it is Christmas decor. Even the exterior -- I don't like all those busy different roof lines.
---
| | | |
| --- | --- | --- |
| RE: Your "visual clutter" scale | | |
I'm going to say 6.5, with nice accessories. Piles of stuff and everything mis-matched....about a 3.
---
| | | |
| --- | --- | --- |
| RE: Your "visual clutter" scale | | |
Overall I would say I am a 6, I have descended from an 8 or so. My kitchen I like at probably a 4 - less is more in the kitchen. However, I love the Eclectic Home Office above, I could see myself enjoying a room like that full of my collections, but it would have to be limited to one room.
---
| | | |
| --- | --- | --- |
| RE: Your "visual clutter" scale | | |
had to go back and look for the "eclectic home office" -- about half that stuff would be fine for me. I don't like bare walls, but all that stuff is too much.

books -- always visual clutter, but comforting

that's not a pantry--that's a collection.

guys, you can't have "off the scale" rooms, lol! By definition, those would be 10. (so sayeth me)
---
| | | |
| --- | --- | --- |
| RE: Your "visual clutter" scale | | |
Peegee, I want to run screaming in the other direction from that house you just posted a link to! I'm sure it would be a very nice house once it's emptied out.
---
| | | |
| --- | --- | --- |
| RE: Your "visual clutter" scale | | |
How could anyone ever dust all that clutter in the house peegee posted for sale? It looks where we asthmatics will be sent to draw our final breaths. Heaven help me. I have bronchitic asthma today and just looking at it makes me wheeze.
---
| | | |
| --- | --- | --- |
| RE: Your "visual clutter" scale | | |
they probably just hire someone to clean and don't care that more crap = more dust
---
| | | |
| --- | --- | --- |
| RE: Your "visual clutter" scale | | |
Talk about a place in need of staging! Why do I think that the Xmas stuff is up all year round?
---
| | | |
| --- | --- | --- |
| RE: Your "visual clutter" scale | | |
Oh that house is a 10, gives me a very unsettled feeling. Way too much stuff

Probably not at all the same as the house listed, but my mom leaves her Christmas tree up all year. She says it is because she likes the tree a lot, but I really think it has to do with her late husband who was a big Christmas tree fan, he helped decorate the tree when it was put up last. It has been up for over 10 years, despite family offering to help her with taking it down and putting it back up again. Thankfully the rest of her house is about a 7.
---
| | | |
| --- | --- | --- |
| RE: Your "visual clutter" scale | | |
Roarah ... are your window seats custom made? I love them! How about a closer pic?

(Sorry, off topic! Just stumbled into this fun thread!)
---
| | | |
| --- | --- | --- |
| RE: Your "visual clutter" scale | | |
Well, if the house o' mannequins is a 10, I guess my house is only a 7 or so. However, I am not done yet, and if I find something new I like to put up on the wall, I do, and make room for it. Also, I never, ever think about how hard something is to clean before I buy or acquire it, I guess because I hate to clean so don't allow cleaning thoughts into my head.

Here is my LR, the most layered room in the house, although the EIK is now a close second....

Great discussion, and I really appreciate the sharing of pics, I'd love to see more pics of people's homes and what you think your "score" is.
sandyponder
---
| | | |
| --- | --- | --- |
| RE: Your "visual clutter" scale | | |
What is the deal with mannequins? In our last neighborhood a house at the entrance had a mannequin "dinner party" prominently displayed and lit in their dining room. In our new town, at a nice house near the beach, there is a mannequin wearing a fishing hat sitting right in front of a giant picture window.

What the heck?
---
| | | |
| --- | --- | --- |
| RE: Your "visual clutter" scale | | |
That house is gross- and yet so much potential-, and what is it with the dollies, mirrors and birds? on the stairway?

One of my pet peeves, btw, ( aside from dollies attached to picture frames ) is the unbalance that comes from too much stuff on the floor and not enough stuff "up".
A room should be balanced and cohesive from top to bottom.
---
| | | |
| --- | --- | --- |
| RE: Your "visual clutter" scale | | |
Over the years I've really pared down. Perhaps too far because now I'm at about a 4 but I want to be a 6. Looking at these pics, that seems the most comfortable to me.
---
| | | |
| --- | --- | --- |
| RE: Your "visual clutter" scale | | |
9 for things I like
0-1 for random clutter or things out of place.
---
| | | |
| --- | --- | --- |
| RE: Your "visual clutter" scale | | |
I guess I'm a 2. And constantly battling with DH who simply cannot STAND to see a bare surface. He's always putting something on it - a newspaper, glasses, fingernail clippers, his hat, etc.

Now that I think about it, of all the textiles in my home (drapes, curtains, upholstered furniture, rugs, pillows, comforters, sheets, towels, etc.), I have 2 chairs that have a very tiny print, 1 shower curtain with a muted plaid, and 1 area rug with a traditional pattern. EVERYTHING ELSE is one solid color. Gee. I guess I really am a 2.

Now mentally I'm going through my closet . . . . . .
---
Post a Follow-Up
Please Note: Only registered members are able to post messages to this forum.
If you are a member, please log in.
If you aren't yet a member, join now!
---
Return to the Home Decorating & Design Forum
Information about Posting
You must be logged in to post a message. Once you are logged in, a posting window will appear at the bottom of the messages. If you are not a member, please register for an account.
Please review our Rules of Play before posting.
Posting is a two-step process. Once you have composed your message, you will be taken to the preview page. You will then have a chance to review your post, make changes and upload photos.
After posting your message, you may need to refresh the forum page in order to see it.
Before posting copyrighted material, please read about Copyright and Fair Use.
We have a strict no-advertising policy!
If you would like to practice posting or uploading photos, please visit our Test forum.
If you need assistance, please Contact Us and we will be happy to help.

Learn more about in-text links on this page here