Return to the Home Decorating & Design Forum
|
Post a Follow-Up
---
| | | |
| --- | --- | --- |
| Please vote on my great room furniture arrangement | | |
Posted by
OntarioMom
(
My Page
) on
Sat, Feb 1, 14 at 13:39
Hi all,

I am back again, this time with two of my favourite furniture arrangements after having tried out multiple locations for the fireplace, TV, built-ins etc. Thanks to the many people on GW who have given their opinion on my many attempts. Please let me know what you think of this great room set-up. I would love to know which furniture arrangement you think is best of the two options, and what your think of the built-ins. Both options have fireplace and built-ins as per the elevation picture below. The elevation picture shows tinted glass on the side opposite the TV for concealing audio components, and other things. It seems to us to balance the TV side.

Elevation picture:
Here is the furniture arranged in an L shape. I was a little unsure if the extra chair was in the right spot or perhaps should be eliminated.
Here is the version with two couches parallel to the fireplace.
Lastly, here is an out dated floor plan of the open concept space that is around the great room. The kitchen in particular is very different from what is shown. Also, kindly ignore the shading.
So, I would love your vote on whether you like the L shaped arrangement or the one with two couches parallel to the fireplace. Also, any tweaks, comments or changes you would make to the built-ins or any other feature are most welcome.
Thanks in advance!
Carol
This post was edited by OntarioMom on Sat, Feb 1, 14 at 14:32
---
Follow-Up Postings:
| | | |
| --- | --- | --- |
| RE: Please vote on my great room furniture arrangement | | |
How does your family live? We like to stretch out on sofas when watching tv.
In your second option you also get that extra chair for an additional person.

Visually, I like the traditional L shaped seating.
---
| | | |
| --- | --- | --- |
| RE: Please vote on my great room furniture arrangement | | |
Depending on how many people and how often TV is viewed, I would prefer with parallel couches because:

tv would be easily viewable from both chairs, if you mostly have two people watching, but couch viewing wouldn't be ideal except from farthest couch, right side. if you have a larger family watching tv together, then best viewing is pretty much limited to 3 people in comfort. BUT, if people like to lie on the couches to watch, it would work fine to arrange this way - 4 people, two lying down, two in chairs.

In the L view, the best tv watching would be on the couch facing the fireplace, but 3 people in a row isn't comfortable for most. So, say 2 people at each end and one person in the chair. Or two lying down and one in the chair. Best viewing for 3 people only.

In both views, the couch against the wall wouldn't be ideal for viewing tv, unless lying down.
---
| | | |
| --- | --- | --- |
| RE: Please vote on my great room furniture arrangement | | |
A vote for the two-sofas-plus-two-chairs arrangement to allow for lots of folks in the seating area.

Perhaps consider adding swivels to the two chairs -- for maximum flexibility ....OR if you choose two chairs that COULD be used as "host chairs" in the dining room during larger dinner parties -- again -- for more flexibility ....

OR look for two "host chairs" that could be used in a bedroom (either together or in different rooms) and then moved to the dining room for larger dinner parties.

Just a thought!
---
| | | |
| --- | --- | --- |
| RE: Please vote on my great room furniture arrangement | | |
I vote for the second arrangement.
---
| | | |
| --- | --- | --- |
| RE: Please vote on my great room furniture arrangement | | |
Good questions and thoughts ellen and Olychick, I appreciate your votes.

TV viewing will not be the main priority in this room. Conversation and fireplace is the main priority in the great room. Mostly 2-3 max would watch TV here at a time. The kids have a rec room downstairs with game system etc that will be the go to room if a crowd wanted to watch TV. We will put the TV on an arm that can be angled to accommodate seating when needed.

I think I would prefer to watch TV while seated, but some members of the family would be happy for the lying down couch spot.

Do either of you have an opinion on the elevation picture showing the built-ins? Any tweaks or changes here.

Carol
---
| | | |
| --- | --- | --- |
| RE: Please vote on my great room furniture arrangement | | |
teacats,

Good ideas regarding the chairs. Thanks for your thoughts and vote.

yagagal, thanks for your vote.

Carol
---
| | | |
| --- | --- | --- |
| RE: Please vote on my great room furniture arrangement | | |
Hi Carol-
I vote for option 2.

Traditionally we have always lived with and thought of only option 1 but as we walked through our build last night we are striving for option 2. I think the parallel seating will flow best for multi-purpose use. If TV is the main thing, you've got the 2 chairs and the one far couch and then the other someone could lay on. Many times the kids are watching and they want me by them but I am on the computer or reading and I could easy take that other couch.

Are you mounting the TV on the back wall or using it on a stand? I am just curious as we haven't yet decided what we are doing.
---
| | | |
| --- | --- | --- |
| RE: Please vote on my great room furniture arrangement | | |
Since TV viewing is not the priority, I prefer option 2, simply because I like the idea of facing someone while chatting, entertaining, family discussions, etc.
---
| | | |
| --- | --- | --- |
| RE: Please vote on my great room furniture arrangement | | |
I didn't mention before, but I think your built-ins look wonderful. Great idea to balance out the tv on the other side. I like that the tv is kind of tucked back into the corner and having it on an arm will increase your viewing options.
---
| | | |
| --- | --- | --- |
| RE: Please vote on my great room furniture arrangement | | |
@Zen4d: Thanks for those insights. I hadn't specifically thought about how the parallel seating would be perfect for conversations and better than the L.

@ Olychick: Thanks for letting me know you think the built-ins work. We spent just forever thinking through how to solve the TV/fireplace issue.

@Autumn: Thanks again for your inspiration photo that lead to solution number 2 (no surprise you like it best). We will be putting our TV on the wall through the back of the cabinet so it can be on an arm and then directed to different seating as needed.

Here is an update of the elevation picture with a closer approximation of the cabinet colour, wood mantel and a closer match with the planned wall colour.

Anymore comments or votes?
This post was edited by OntarioMom on Sat, Feb 1, 14 at 23:28
---
| | | |
| --- | --- | --- |
| RE: Please vote on my great room furniture arrangement | | |
I prefer the L. I had "dueling sofas" as you show for several years in my old house. When I staged it to see it was the first thing people suggested I change; sofas facing each other were deemed kind of ... confrontational? FWIW, I pass that along.

In your case, what I like about the L is the way the back of one sofa sort of becomes a room divider and makes the space cozier IMHO.

So are you talking smoked glass to the left of the fpl? I think the idea is great; tvs always look so imbalanced to me. Is the house modern? If not maybe you'd prefer some other material that would read dark like the TV; antique mirror?
---
| | | |
| --- | --- | --- |
| RE: Please vote on my great room furniture arrangement | | |
Could you squeeze in an extra chair next to the one you show in the 1st setup? Maybe you could push the one that is there down towards the media center. Or, you could have them side by side instead of at an angle.

Maybe like this? But with smaller chairs if you need, and obviously everything pulled in for the smaller scale.
---
| | | |
| --- | --- | --- |
| RE: Please vote on my great room furniture arrangement | | |
For conversations, I prefer an L shaped arrangement as two sofas across from each other can feel more confrontational. I like akt's suggestion above with extra seating. I also like having extra smaller chairs that are easy to move around for flexibility in a conversational cluster...depending on how many guests one has.
---
| | | |
| --- | --- | --- |
| RE: Please vote on my great room furniture arrangement | | |
I really like the L shaped with 2 chairs that Aktillery just posted. I think there's room for a 2nd chair in your room with the sofas perpendicular. If you Google Phoebe Howard rooms, I really think she does a beautiful job of creating seating areas with 2 sofas and 2 chairs; I've taken inspiration for my new LR from her.

Love the idea of balancing the tv with dark on the other side!!!
---
| | | |
| --- | --- | --- |
| RE: Please vote on my great room furniture arrangement | | |
I like both configurations, agreeing that with #1 you could fit two chairs in the space. With #2, I'd move the chairs closer together so they're a set.

Since you'll have the same furniture pieces either way, just play around with it when the furniture arrives, and you'll probably instantly know what feels right in your room. This is what I'm going to do with the two sofas and two chairs I'm purchasing. I have in mind the configuration aktillery posted above, yet I may choose to change things up now and then.

What TV arm are you using? Have you researched which brand and model is best? I think I'll need one also.
---
| | | |
| --- | --- | --- |
| RE: Please vote on my great room furniture arrangement | | |
I love a room with 2 couches facing each other and have always wanted to do that but I have no room that would work. Great for entertaining and looks so grand because you have the space!
I would try putting just one side table between the two chairs and pull them together. This is a pic of my family room, the two leather chairs are reclining swivels as this is our main tv room. But these 2chairs are always where guests go first :D.
Annette
This post was edited by bocron on Sun, Feb 2, 14 at 9:43
---
| | | |
| --- | --- | --- |
| RE: Please vote on my great room furniture arrangement | | |
Thanks everyone for your thoughts!

@Mtnr: Thanks for your info. Our house will not be modern. It will be more transitional leaning slightly towards traditional. I love the idea of antique mirror!!!

@Aktillery: Thanks for the new room arrangement idea. I will draw it out and see how it works. The room on the fireplace wall, once you take out both staircase and walkway is only 12 feet 7.5 inches. We have loads of length on the window wall to work with (@ 20 feet depending on how long the dining room table is).

@Annie: Thanks for returning with some more good thoughts and your vote. We had thought those two chairs would be reclining chairs so less movable. However, we will think about some movable chairs in our small living room at the front of the house that can be
moved into the great room when there is a crowd.

@Jackson: I am very glad you like the idea of balancing the non TV side with a dark glass cabinet. That idea just came to me. However, I have never seen it done or see anyone propose it before so I hope it will look good in real life. Thanks for your vote on Aktillery's room suggestion. I will Google Phoebe Howard right away for more ideas!

@jujubean. Thanks for your input. The TV purchase is DH's job. However, it will be a LCD to minimize glare issues. I believe he decided on a 42 inch will is not that large compared to most new TVs. I did not want too large here as I don't want the TV to overpower the room. I will ask him what brand when he gets home.

It is true that we can play with the furniture after it has arrived. The only trick is we need to be precise with the location of any floor plugs.

@bocron. Thanks for posting your room arrangement. Those reclining chairs look very comfy. Your room looks to be a good size to me, but more square than our room (usable space in ours is 12 feet 7.5 inches by around 20 feet). We will play with the idea of a table between the two chairs.

@Everyone: One thing I do like about layout 2 (couches parallel) is the direct opening between the dining room and the great room. I see walking in right in between the two chairs to the great room from the dining room. I like that we can see the fireplace without any obstacles with layout 2. Other than that I do like the idea of having a couch directly facing the fireplace (version 1 L shape or with Aktillery version).

I do feel we need to decide to work out the best placement of floor plugs. Maybe we can find floor plug spots that work for any of the proposed arrangements. Any thoughts on floor plug locations?

Thanks,

Carol
---
| | | |
| --- | --- | --- |
| RE: Please vote on my great room furniture arrangement | | |
I was wondering about the brand of the arm itself as opposed the TV. Thanks for any feedback you can offer.
---
| | | |
| --- | --- | --- |
| RE: Please vote on my great room furniture arrangement | | |
Your two couch facing option is what I have in our main family room. The chairs belong one to me-swivel, down rocker and one to DH-his recliner. Our kids lay on the couches when they join us. I will say that if you put the TV on one of those telescoping arms people occupying the "far" couch will have a good angle to view the TV but those on "near" couch will lose their view. But you can adjust it so well that most will be fine. For parties/family time everyone can join in conversation together. It is great.
---
| | | |
| --- | --- | --- |
| RE: Please vote on my great room furniture arrangement | | |
Another vote for the L-shaped arrangement. Obviously, these things are subjective, but something about the flow of two sofas facing each other is less than pleasing to my eye.
---
| | | |
| --- | --- | --- |
| RE: Please vote on my great room furniture arrangement | | |
@bebetokids: Thanks for sharing what works for your family and for your vote and insight.

@Nusaboutplants: Thanks for voting. Flow is important and I agree subjective.

All:

Here is a drawing of Aktillery's version that others liked too. I am unsure of what if any additional end tables I would need for this layout. While I quite like this arrangement, there is quite a bit of walking from kitchen and dining room to enter the great room. Have I got the arrangement right Aktillery?

@Jujubean: Sorry we have not researched the arms for the TVs yet. DH said all he found out so far is the arm takes up about 4 inches of depth when folded into wall.

Lets call this layout 3. Anyone want to change their vote for this one instead? Anyone see any issues with this layout or anything they would tweak.

Thanks!
---
| | | |
| --- | --- | --- |
| RE: Please vote on my great room furniture arrangement | | |
I like it! I think if you can scoot the 2 chairs a bit toward the fireplace you'll have enough room to slip through to enter the room between the sofa and chairs. I'd probably look for a small round "martini" table to go between the chairs and add a floor lamp there as well.
---
| | | |
| --- | --- | --- |
| RE: Please vote on my great room furniture arrangement | | |
Carol-I am on the edge! I think #3. I like that you essentially have 2 conversation groupings, or one more geared for TV and the 2 chairs for conversation if the case may be. I am so glad you've laid all this out - I think I'll just keep watching your thread and use yours-LOL! I am wishing our stairs were turned like yours are. It does give the room a 'break'.
---
| | | |
| --- | --- | --- |
| RE: Please vote on my great room furniture arrangement | | |
Hi Autumn,

Yes you and I should plan this together. Is your dining room in the same spot as mine too? I do like version 3, but it does seem a long way to enter from kitchen or dining room. If I move the chairs closer to the fireplace, then the TV is not able to be viewed by those in the chairs. I may try to arrange lighting, floor plugs etc for both arrangements (version 2 and 3) and see where we go from there.

For what it is worth the ID at the furniture shop did not like version 3 (too closed in and too crowded she said). She would sell me as much furniture either way (version 2 and 3 uses same amount of furniture) so her answer seemed honest.

So, you said your DH was not going for the third built in (the one opposite side of the TV). Will you just have the fireplace and TV -- so essentially 2 sections? Did you show him the balance with the dark glass on non TV side?

Are you getting custom cabinets for these built-ins? that will be our next puzzle to see if we can do RTA assemble cabinet boxes. We have a custom cabinet door company nearby so that would be where we get the doors.

Carol
---
| | | |
| --- | --- | --- |
| RE: Please vote on my great room furniture arrangement | | |
I like the second option. In the L shaped version the back of the sofa is a blockade to the rest of the room. Maybe I am not understanding the drawing but the sofa does seem like a barrier.
---
| | | |
| --- | --- | --- |
| RE: Please vote on my great room furniture arrangement | | |
Jackson,

Thanks for your suggestions and ideas to finish off layout 3.

Holly-kay,

Thanks for your vote. I agree with you the L shape and also version 3 does have a sofa as a barrier between the dining room and the great room. Some like that kind of room divider though.

Carol
---
| | | |
| --- | --- | --- |
| RE: Please vote on my great room furniture arrangement | | |
Carol-
I agree on the barrier and sometimes I think I would like it and sometimes no. What I DO like is what the ID said - same amount of furniture so essentially you have 2 potential layouts that you can use as you see fit and THAT is awesome.

Here is ours - so our kitchen is where your dining room is. We have about 8' from the perimeter of the island and where I think the back of the couch will be. Plenty of space there. We are discussing furniture needs for the future. Our current couch is rather long - 7.5 feet... I think if we weren't doing a whole house at once I would have pursued RTA but it's too overwhelming. We purchased 2 36" (with filers to accommodate the depth of the stone) wide vanity height cabinets from the KD. It was about $900 for the 2 of them.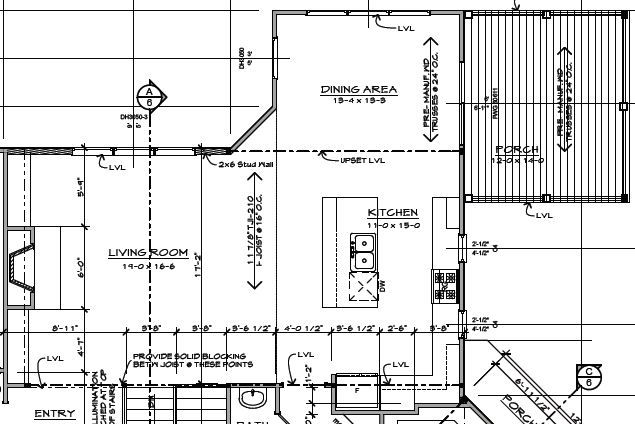 I showed him the balance - all he sees is $ signs! So yes for now 2 sections. :( He said my 'visions' are more than we can afford. Hahaha - not that he's off base there.
We wil likely end up with a hybrid similar to this (of course we don't have the windows and we DO have a hearth). He is adamant about not having a shelf or anything above the TV. We are still in negotiations....lol. :)
---
| | | |
| --- | --- | --- |
| RE: Please vote on my great room furniture arrangement | | |
Hi Autumn,

Thanks for your floor plan. It helps to visualize. You got a good price on your cabinets. In one of your drywall pictures, you do show arches on each side. Will you just have wall for now to the left of the fireplace or will you buy a shelf like in the picture above?

We will also have a hearth, I think. I really like raised fireplaces which I associate with a hearth (raised fireplaces can be seen from a great distance away). However, I can see from your picture above (and others I've seen) that you can raise a fireplace without a hearth too.

Just to clarify the ID at the furniture store did not like the U arrangement (layout 3 with L and two chairs facing window). She said it was too closed in. It was my thought to plan the electrical to accommodate either of the layouts, not hers. This ID really liked the parallel couch arrangement. If you meet with your ID at some point in the future, can you ask her opinion on the different layouts that you are considering and report back (please)?

BTW you have 1 foot more width in your great room than we do (as we lose width to the staircase). We both lose 3 feet so to speak for a walkway. So you have 13 1/2 feet to work with and we have 12 feet 7. 5 inches. So you may be able to do the U Shape easier than we can.

Carol
---
| | | |
| --- | --- | --- |
| RE: Please vote on my great room furniture arrangement | | |
Sure Carol-meeting ID at the house tomorrow to talk paint. We are going to stick with current furniture for a while (couch, love seat and one large chair-too large) but I will see what she has to say anyhow

I understood your ID was concerned with crowding for #3-I was trying to convey that since it's the same furniture pieces you could use either layout if you so choose. So maybe #2 is your standard but if say your were having a gathering or whatnot and you felt like switching it up your could do #3.

We do have both arches but dh insists that the window side will be TV and no shelf. Left side will be cabinet and one shelf. Crown will not encompass the built ins and fireplace, just the mantle as in pic 2. :(

ID agrees with me on balance but dh is insisting it will be fine and not worth the extra cost. We will all be at the house together tomorrow...hoping to sway him. But he is right when it comes to budget. We still have closet organization to think about as well and several non-exciting but essential items were over budget. :(

I am not tying to hijack your thread, we do have similar layouts and 'opportunities' to ponder. :)
---
| | | |
| --- | --- | --- |
| RE: Please vote on my great room furniture arrangement | | |
Ontariomom, I really enjoyed your thread here as I am in a similar bind with my new living room or I should say maybe a bit closer to Autumns bind in that really I need all new furniture. My biggest problem is the need for floating furniture but the desire to have a reading chair with a lamp (and electric near) where I can also see the TV (where your fireplace is) but also where I don't completely block the pool view.

Looking forward to pictures when you are done!
---
| | | |
| --- | --- | --- |
| RE: Please vote on my great room furniture arrangement | | |
@jterrilynn: We too will be buying new furniture for this great room. Is your project a reno or already built? If you have a basement or crawl space below can you put in a floor plug for the reading lamps to avoid cords going across the room? Do you have a floor plan you want to post for ideas.

@Autumn: you are not hijacking this thread at all. It is helpful to work through the layout with others who have similar room sizes and fireplace locations.

Carol
---
| | | |
| --- | --- | --- |
| RE: Please vote on my great room furniture arrangement | | |
Ontariomom, Mine is a downsize remodel in Florida so no basement. Oddly I had an off wall floor plug in my last house and never used it once in thirteen and a half years. However, that plug was in a strange place on the floor between entries where one could not really put furniture due to walkway flow. In this house I would love to have that weird floor plug.
---
| | | |
| --- | --- | --- |
| RE: Please vote on my great room furniture arrangement | | |
I vote for option 1 and then option 2. We have been through the floor outlet ordeal 2 times now in two different homes. I would wait until your furniture is where you want it and then install outlets, Just don't get new furniture like I did and then have to cover one of the outlets like I did. In our newest home, we lived with our furniture arrangement for a couple months and just now installed them. The previous owner had one in the middle of the floor which did not work for any furniture arrangement I could think of!
I would start with the two sofas, put them in the room and see how it feels. Then order one or two chairs depending on what layout you choose. I do like L arrangements and having a floating sofa like option 1 looks great with a sofa table behind it.
---
| | | |
| --- | --- | --- |
| RE: Please vote on my great room furniture arrangement | | |
To my eye, a "barrier" between the two areas of the room is desirable.

The two areas serve different functions. It seems to me that one reason we have so many open floor plans is to have the light, volume and openness of a very large house, but squeezed into a more normal footprint. But at the end of the day, you want to watch TV in a spot that feels cozy and protected. An L does that. Face off does not.

Only my opinion of course.
---
| | | |
| --- | --- | --- |
| RE: Please vote on my great room furniture arrangement | | |
Karen,

thanks for your input. Yes deciding on floor plugs is a pain. I can't imagine why your previous owners put one in the middle of the room (maybe that was a random builder decision). We have selected our furniture, but not ordered it yet. Perhaps we will ask the electricians to leave quite a bit of wire on the floor plug at rough in so we can tweak the location if needed (DH could cut the hole in the sub floor when things are finalized. We will be finishing our basement right away though so can't wait forever. We are living in the house as it is being constructed (or re-constructed as it is a gut/addition) and have been trying out different arrangements.

Kitschykitch,

Thanks for your input. I think that trying out different couch spots is going to be important for me as certain spots may feel cozier than others.

Carol
---
Post a Follow-Up
Please Note: Only registered members are able to post messages to this forum.
If you are a member, please log in.
If you aren't yet a member, join now!
---
Return to the Home Decorating & Design Forum
Information about Posting
You must be logged in to post a message. Once you are logged in, a posting window will appear at the bottom of the messages. If you are not a member, please register for an account.
Please review our Rules of Play before posting.
Posting is a two-step process. Once you have composed your message, you will be taken to the preview page. You will then have a chance to review your post, make changes and upload photos.
After posting your message, you may need to refresh the forum page in order to see it.
Before posting copyrighted material, please read about Copyright and Fair Use.
We have a strict no-advertising policy!
If you would like to practice posting or uploading photos, please visit our Test forum.
If you need assistance, please Contact Us and we will be happy to help.

Learn more about in-text links on this page here