Return to the Home Decorating & Design Forum
|
Post a Follow-Up
---
| | | |
| --- | --- | --- |
| Bungalow Bath Finished! | | |
Posted by
equest17
(
My Page
) on
Fri, Feb 15, 13 at 13:06
Thanks for all the help, you wonderful Gardenwebbers! During the remodel process, I posted questions on the Bath forum, too, but I got lots of support over here on Home Decor, so here is the reveal!

We just finished a budget bathroom addition to our 1924 bungalow. We love our very original house and have been doing a (mostly) DIY full restoration for the past year and a half. But the house only had one small bathroom downstairs and we couldn't convert any of the existing rooms because of water supply and drain issues. So we hired a general contractor and had a gable addition put on the upstairs rear of the house for a ÔÇťfamily bathÔÇŁ (it's essentially the master bath, but since it's off the hall, it can serve the other bedrooms, too). I designed the gable and layout, and sourced/purchased all the materials and fixtures. To stay within our tight budget, I bought from eBay, Craigslist, and sales/clearance at the local big box stores. We also laid the floor and painted. As expected with any old house remodel, we had a number of snags and unexpected changes, but we're very pleased overall, especially given our budget constraints.

The attic space before the addition:

And after: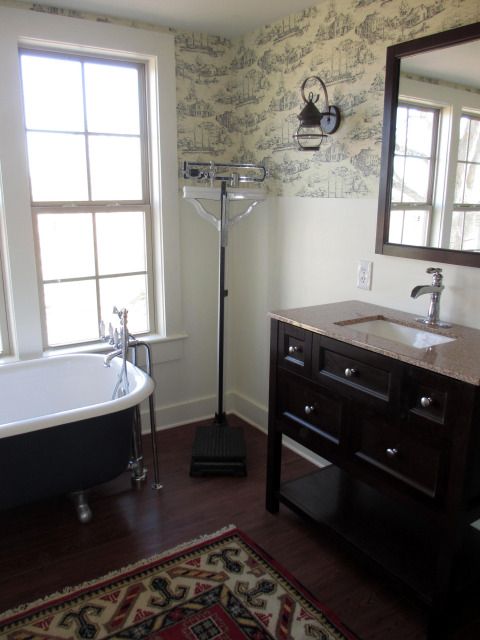 And because my husband insists a bathroom needs privacy (although we overlook 30 acres of pasture!), here's a night shot with the cafe curtains I hung.
When I can stomach the expense, I'd like to install top-down, bottom-up cellular shades, but these are cute and cheap for the time being. The room still lacks the Craftsman wainscoting, the matching lantern over the tub, a doorknob, shelves for the niche, and some accessories. But we're so excited and relieved to be at this point. There were days I thought it would never end, and nights I feared my vision had run amok. But the pangs are over and I would do it all again!
I regret not having more closed storage, but it wasn't an oversight. To preserve the symmetry of the house, we matched the gable addition to the existing front gable. That gave us a rather square room with lots of floor space in the middle and large triple windows. We couldn't bump a closet into the knee wall space on either side of the gable, and I couldn't figure out how to build one in and keep an attractive and functional arrangement of fixtures. The new toilet ended up 15ÔÇŁ from the wall because of a floor joist, so I had that section of the wall furred out and a built-in niche framed. I plan to have doors made eventually, so that will hide the less attractive bathroom necessities. And our downstairs bathroom has a large, deep closet, so lesser used items will just be stored there.
My other big regret is the flooring choice. I don't like tile, and we wanted a wood look in keeping with the 3ÔÇŁ pine throughout the upstairs. We've used luxury vinyl planks in a bathroom before and were very happy. But I was limited in choices this time because only one brand came in a narrow width. Novalis has 4ÔÇŁ planks, while everyone else has 6ÔÇŁ. I took a chance on the cheap Novalis, and I regret it. They scratch, burnish, and dent like crazy. And they have a grooved texture that holds the dust and dirt so I have to sweep with the ÔÇťgrainÔÇŁ to clean the floor. They seem to stick pretty well and were easy to install, but I won't use them again. Hopefully the worst wear and tear is over now that the workmen are done, but I'll have to live with all the flooring scars.
If anyone wants the details, here are the basics:
Vanities: St. Paul 36ÔÇŁ espresso (special buy at Home Depot)
Tile: Merola cobalt and white basketweave for shower floor and niche; Lowes stock subway tile for field; Lowes clearance white chair rail and pencil liner for accents; Mapei Silver grout
Marble: Home Depot thresholds for niche shelving and shower curb
Faucets: Delta Victorian chrome shower and vanity faucets; Price Pfister Savannah floor mount tub faucet and risers
Tub: antique 1920's Kohler from local flea market, painted BM Hale Navy
Toilet: Danze Orrington
Lighting: clearance exterior lanterns from Lowes
Flooring: Novalis vinyl planks in Gunstock
---
Follow-Up Postings:
| | | |
| --- | --- | --- |
| RE: Bungalow Bath Finished! | | |
Wow! That looks fabulous. We really need to redo our second floor bath so I am always on the lookout for inspiration.

Our project will require removing and closing up two huge walls of glass block (ugh!) and the quotes we're getting for a very "builder basic" finished bath are in the high $50k's. Ain't no way that's going to happen.

I love the wallpaper. Okay, I just love it all. It does not say "done on a tight budget" at all.
---
| | | |
| --- | --- | --- |
| RE: Bungalow Bath Finished! | | |
Very nice!

Love the windows, tub, shower and especially the shower curtain! Welll done.
---
| | | |
| --- | --- | --- |
| RE: Bungalow Bath Finished! | | |
Wow,I used to own a 1926 bungalow with the one small bath on the 1st floor. How much was it to add a gable on the house and add all that plumbing? Great results! Add deep rectangular baskets for towels, extra toilet paper, under those sinks. Lovely.
---
| | | |
| --- | --- | --- |
| RE: Bungalow Bath Finished! | | |
Beautiful job! Luxurious bath to indulge yourself in!
---
| | | |
| --- | --- | --- |
| RE: Bungalow Bath Finished! | | |
Wowzers! What a change!

I was thinking that you could add a narrow backless bench in the middle of the room. That would give you a place to lay your pj's or undies while bathing or showering. It would also be a nice place to perch while putting on socks. In fact, you could choose a storage bench with a hinged top which could provide a place to store clean towels or act as a dirty clothes hamper.
---
| | | |
| --- | --- | --- |
| RE: Bungalow Bath Finished! | | |
| | | |
| --- | --- | --- |
| RE: Bungalow Bath Finished! | | |
Ohohoh..sweet!! I love that attic shot :) Living in and renovating an 1890 attic I can empathize with the surprises.

You did a stellar job and it sure comes across as very high end. I agree a bench would be perfect. I wish I had opted for the vanities and not pedestal sinks but as you say we all have great hind sight !! Lovely !! c
---
| | | |
| --- | --- | --- |
| RE: Bungalow Bath Finished! | | |
Thanks everyone. I really appreciate the nice compliments (but per the recent thread, I don't mind helpful comments, either)! I suppose budget means different things to different people, but when I saw what others were spending just to renovate an existing bath, I kind of felt we were in the "budget" category!

Grlwprls, that seems really high for builder grade finishes! Of course, we live in Alabama where labor is cheap, but everything was done to code with permits. I got quotes as high as $60k for the whole job, but that included $15k for fixtures, which I certainly hope would be better than builder grade.

EG3d, I can give more details privately if you're considering a similar project, but the whole thing was under $14k. We planned it well to line up over water supplies downstairs and tied the drain into the existing stack, but we did have to reroute the water heater vent, which was a pain. Oh, electrical was separate since we had the whole upstairs rewired simultaneous and found a great electrician separate from our GC, but I don't think it would have been too much more since the open walls of the new addition were the easy part!

Fun2Bhere, what a great idea! I was just asking DH where he would put his clothes and if he wanted some kind of coat tree or something to drape them on. I originally thought I might put a little upholstered chair in the left corner where the antique washstand is instead, but it looked funny angled in beside the toilet. The middle floor space is unnecessarily generous, so your suggestion might work. I'm going to give the layout a week or two and then see what needs to be tweaked (move towel bars, install hooks, decide what to store where), but I'll definitely keep a bench in mind.
---
| | | |
| --- | --- | --- |
| RE: Bungalow Bath Finished! | | |
Wow, looks fantastic! Love that toile wallpaper.
---
| | | |
| --- | --- | --- |
| RE: Bungalow Bath Finished! | | |
Trailrunner, I know you have an old Alabama house, too, so I'm sure you understand! That attic space was downright scary with the unknown. You can see wires and cables snaked everywhere, unprotected junctions, ducts leading who knows where, etc, etc, etc.

There weren't too many surprises thankfully, except the one that changed the gable dimensions! As the framers were cutting the rafters out, the back porch started to pull away because it wasn't attached like it should be. So the gable got one foot shorter and one foot wider and no one thought to tell us. I had to rework the vanities and change the doorswing, which felt like the end of the world at the time, but wasn't too bad in retrospect.

Chardie, thanks. I like toile, and the family that owned this house for three generations has a strong tradition of sailing, so it felt appropriate ;-)
---
| | | |
| --- | --- | --- |
| RE: Bungalow Bath Finished! | | |
It's absolutely gorgeous! Did you make or buy the shower curtain?
---
| | | |
| --- | --- | --- |
| RE: Bungalow Bath Finished! | | |
That is flat out gorgeous!
---
| | | |
| --- | --- | --- |
| RE: Bungalow Bath Finished! | | |
What a thoroughly delightful bath! You did a wonderful job.
---
| | | |
| --- | --- | --- |
| RE: Bungalow Bath Finished! | | |
| | | |
| --- | --- | --- |
| RE: Bungalow Bath Finished! | | |
That's one beauty of a room, equest!
---
| | | |
| --- | --- | --- |
| RE: Bungalow Bath Finished! | | |
Wow! Beautiful. And if that was done on a budget, I'd love to see what you could do without a budget :-)

I love the lights! It would never have occurred to me to use outdoor fixtures, but they are perfect.
---
| | | |
| --- | --- | --- |
| RE: Bungalow Bath Finished! | | |
Can I just say that I want to come over and bathe in your space? Is that too weird?!

Very welcoming, and I love the toile paper. How do you feell about the shower curtain with the wall treatment, IRL? From my screen, they seem complimentary without being outright matchy-matchy. I always admire the ability to mix and match seemingly different textures and designs.

Wondering about your grout color choice, as I am debating mine for my kitchen bs. Do you like the mapei silver?
---
| | | |
| --- | --- | --- |
| RE: Bungalow Bath Finished! | | |
| | | |
| --- | --- | --- |
| RE: Bungalow Bath Finished! | | |
I love it! My jaw actually dropped when I saw the finished pictures. :) That doesn't look at all like it's in an attic at all!

As the owner of a bungalow with an unfinished attic (which currently looks much like your "before" pic), I'm always super interested in how people build out that space. Would love to see more if you're willing!
---
| | | |
| --- | --- | --- |
| RE: Bungalow Bath Finished! | | |
That is one of the most beautiful bathrooms I've ever seen. I love so many things about it! Enjoy.
---
| | | |
| --- | --- | --- |
| RE: Bungalow Bath Finished! | | |
Just stunning. Please enjoy it - and forget about all of those regrets. I hope it makes you happy each time you walk in the room.

ps. your tile in the shower is perfection.
---
| | | |
| --- | --- | --- |
| RE: Bungalow Bath Finished! | | |
Ok, now you have to show us the rest of your house!
Everyone here who agrees with me, raise your hands!
Amazing transformation and the fact that it is DYI, double amazing.
---
| | | |
| --- | --- | --- |
| RE: Bungalow Bath Finished! | | |
Absolutely amazing, and, quite frankly, a great example where "low" budget made it so much more personable, creative, and attractive than a cookie-cutter "designer bath." I actually like your curtains much more than honeycomb shades. The tub in Hale Navy is genius and unique, the toile, the rug. Just really great!
---
| | | |
| --- | --- | --- |
| RE: Bungalow Bath Finished! | | |
That is JUST gorgeous!! I love the space, and the onion lamps, and the tile....everything!!

Nancy
---
| | | |
| --- | --- | --- |
| RE: Bungalow Bath Finished! | | |
I love it. Beautifully done. Enjoy it!
---
| | | |
| --- | --- | --- |
| RE: Bungalow Bath Finished! | | |
Wow, thank you; thank you!

Gracie, I have fabric to sew a shower curtain and I still might eventually, but I got in a pinch and purchased this one from Target.

Jillinnj, definitely check out the exterior lighting section. I get tired of seeing the same old sconces everywhere, and I really love the unique selection of outdoor fixtures. Plus, a lot of them are Craftsman style, which works with my bungalow.

Rovo, come over for a soak anytime! I think the shower curtain colors work really well, but I'm still debating about the scale of it with the wallpaper. I needed something to work in the odd pinkish-beige of the vanity counters, and the Target shower curtain has the navy blue and dark beige on a creamy background. Everything else was too stark white or too ivory. I may still sew the custom one I was planning.

The Mapei Silver grout is lovely. I tested several and really liked that this had enough depth to show up as "vintage" but not too depressing. No undertones that I've noticed, so I think it works with a lot. Do try to find the matching caulk, though, because Lowes doesn't carry it in stock and I bought a different brand thinking it would match. It's a bit darker and I wish I had held out for the color matched version.

Stella and Ellen, I've attached a link below with our kitchen remodel. We're still working on the rest of the house, but I may be able to scrounge up some decent shots of some other rooms.
Here is a link that might be useful: Our bungalow kitchen update
---
| | | |
| --- | --- | --- |
| RE: Bungalow Bath Finished! | | |
That is stunning. I do agree a bench or a couple ottomans might cut down on the open space a bit (although I also know it is ok to leave some open space) and add a place to sit.
You did a great job!!!!
---
| | | |
| --- | --- | --- |
| RE: Bungalow Bath Finished! | | |
| | | |
| --- | --- | --- |
| RE: Bungalow Bath Finished! | | |
| | | |
| --- | --- | --- |
| RE: Bungalow Bath Finished! | | |
| | | |
| --- | --- | --- |
| RE: Bungalow Bath Finished! | | |
I could live in that bathroom. Geat job!
---
| | | |
| --- | --- | --- |
| RE: Bungalow Bath Finished! | | |
Wow, I love your bathroom. I am considering a redo of our master bath and I think I just found my inspiration! Would you mind providing both the dimensions of your space and the dimensions of your shower stall?
---
| | | |
| --- | --- | --- |
| RE: Bungalow Bath Finished! | | |
Thanks localeater! That's pretty high praise, to be someone's inspiration picture ;-). The finished interior is 10'4" wide by 12'6" long. The ceiling is only seven feet high because the whole upstairs is that way and the new gable had to tie in at the original ridge line. I don't necessarily recommend those dimensions (and some of it wasn't planned, as mentioned in a reply above). An almost square room was difficult for a bathroom layout where you want more wall space and less center floor space. It was built over existing load bearing walls downstairs (we happened to have three right below it), so we worked with what we had to keep the budget in check.

The shower is 60" x 37 1/2" on the outside. We were going to use a preform pan which is 60x36, but our tile guy said he would build us a custom base after the shower was already framed. I would have gone larger if I'd known, but we just sistered on an extra 2x4 for a little extra width, hence the additional odd 1 1/2". It's quite roomy, much more so than a tub of the same dimensions since you don't have the thick walls and sloped sides.
---
| | | |
| --- | --- | --- |
| RE: Bungalow Bath Finished! | | |
Wow is all I can say. You did such a beautiful job. It is now functional while still looking like a room that could belong in a 1924 bungalow. We were looking at 1920s houses to purchase, and one of our requirements was 2 baths. Had I seen how you guys tackled this problem, I may have been able to widen the search! And the cost of that certainly seems reasonable for all that you got. Did it change the look of the outside of the house at all? Or did you just claim existing space?

And if you feel like sharing more pics, I'd be happy to look. I love that style of house and it looks like you have beautiful taste!
---
| | | |
| --- | --- | --- |
| RE: Bungalow Bath Finished! | | |
Wow, that is a beautiful bathroom!
Great job, and congratulations!
---
| | | |
| --- | --- | --- |
| RE: Bungalow Bath Finished! | | |
Thanks for the info! Would have not even thought about the caulk issue...
---
| | | |
| --- | --- | --- |
| RE: Bungalow Bath Finished! | | |
Love it!! We used the same lights in our lakehouse bathroom (in Alabama - we love AL btw). I also love the wallpaper! And, I enjoyed revisiting your kitchen from last year too!!
---
| | | |
| --- | --- | --- |
| RE: Bungalow Bath Finished! | | |
Beautiful! Funny about the curtains for privacy. ;)

If you get a chance and have the inclination, could you tell us about or post a picture of exterior changes to your house. Your bath has such nice high ceilings and no slanted ones (which I love the look of and which often come with attic renovations). Did you just raise the roof to get the clean angles? Just curious. As much as I would love to convert our attic, that will never happen, but I do daydream and want to be accurate when I do-ha!
---
| | | |
| --- | --- | --- |
| RE: Bungalow Bath Finished! | | |
It's spectacular! I love how spacious it is and the style fits the age of the home so well. You said it's the master and is off the hall too. Does it have a door into each?
---
| | | |
| --- | --- | --- |
| RE: Bungalow Bath Finished! | | |
How lovely! Thanks for sharing. We're hoping to create a guest bath in the over-garage suite we began work on last spring. Ours will be smaller - & w/out a tub - but yours is inspiring.

Took a quick peek at the link of your kitchen redo. I will go back to spend more time admiring. I have always wanted to live in a bungalow!
---
| | | |
| --- | --- | --- |
| RE: Bungalow Bath Finished! | | |
That is really gorgeous! Great job!
---
| | | |
| --- | --- | --- |
| RE: Bungalow Bath Finished! | | |
Thanks Kellie. Yes, it did change the exterior, but we tried to do it sympathetically. I don't have any current exterior photos, but here is the front of the house and the side before.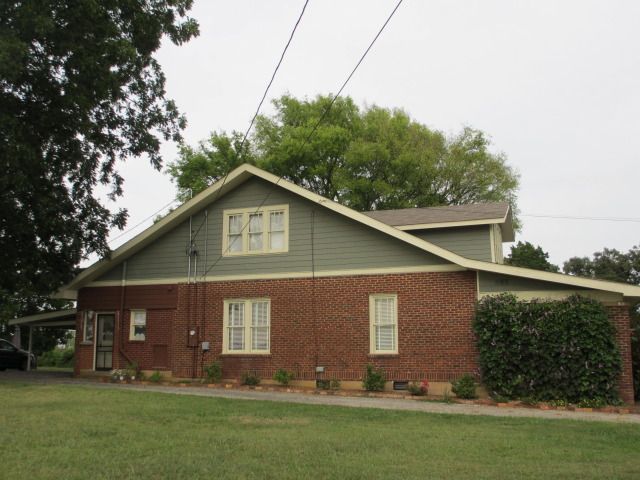 The new bathroom is on the back of the house, an almost mirror image of the front gable.
Here are a few photos from earlier this summer when we got the house listed on the Alabama Registry. I have since refinished the dining and living room floors so they flow nicely with the kitchen we did last year.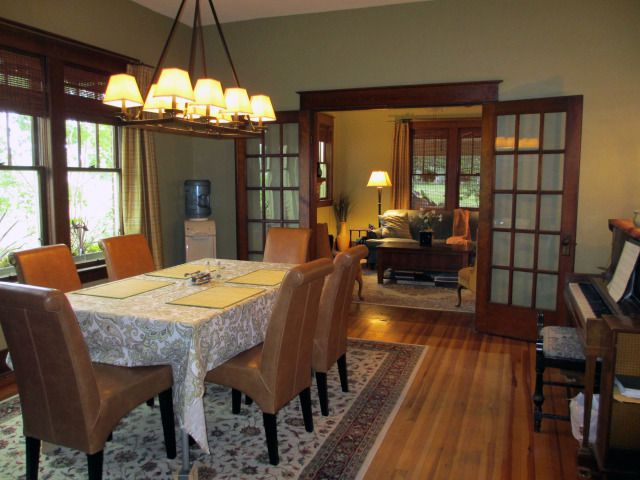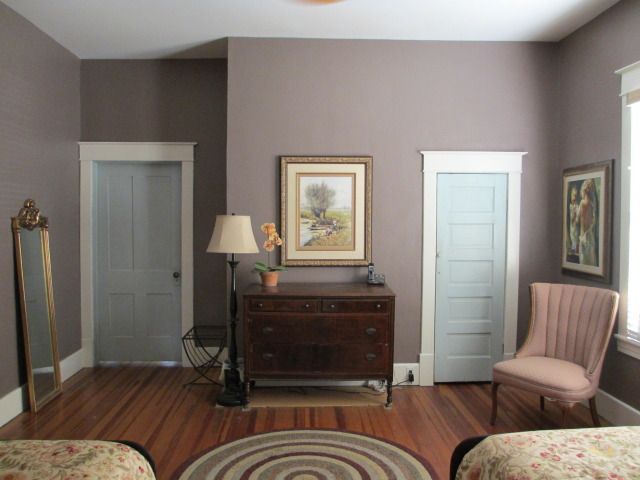 Cyn427, here is the view from the bathroom window.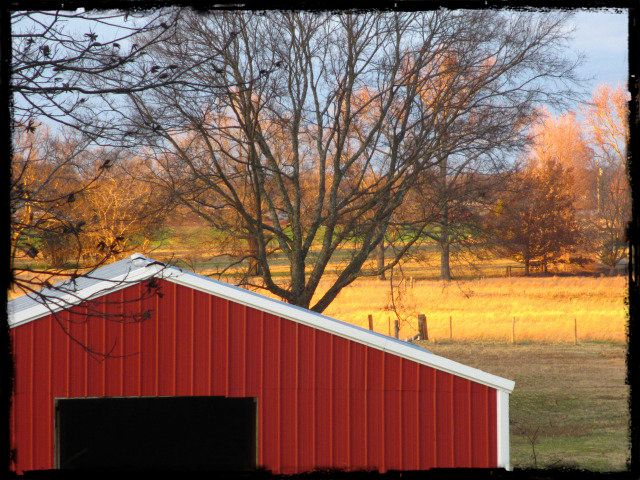 It's a beautiful view, but the horse boarders do come and go from the barn at random times, so I can't count on privacy. I give my DH a hard time about the curtains, but they are probably a necessity!
The upstairs is kind of hard to explain, but it originally had two large rooms on each side of the central hall and the little front gable. One of the large rooms was never finished, but the rest had all wood walls and a level seven foot ceiling. The new bath is a gabled dormer off the back, but the unfinished room will be our future master bedroom. We loved the higher ceilings, so we kept the vault in there. It lead to spray foam insulation everywhere, as it was the best choice for sealing an old house and let us keep the vaulted ceiling. Here is a photo of that room in progress where you can see the sloped ceiling.
Marti, the bath is technically just the upstairs hall bath, but it's right outside the door to our future MBR. We thought about trying to put a connecting door through, but it didn't work out because of the low sloping roof line beside the gable. Since we can't have kids, it'll just be us up there, unless we really have a houseful of guests. The downstairs bath is more like you were thinking; it has a door to the bedroom (the purple one I posted above) and another to the mudroom. So it could serve as a true master bed/bath combo if someone needed first floor living.
Here's a view of the upstairs floor plan with the new bath (although it was before the gable dimensions changed and the door swing had to be switched).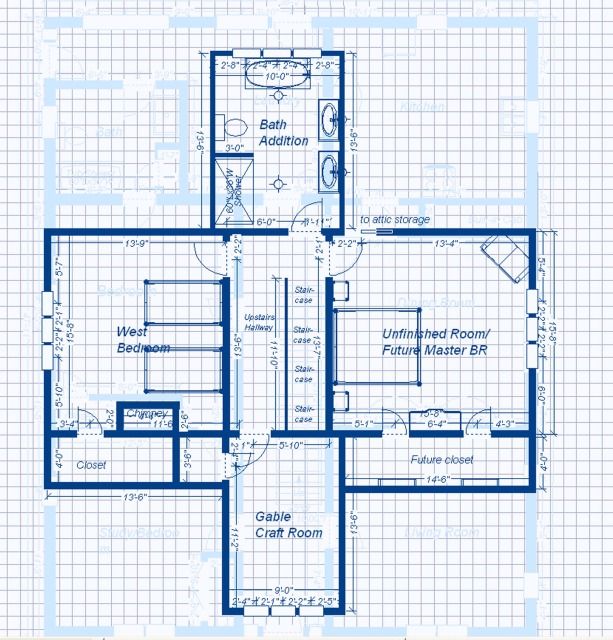 Lake_Girl, that's funny you had the same idea with the sconces. I'm sad Lowes discontinued them, but it allowed me to buy them on clearance (although I had to go to two different stores to find enough). I'm not from Alabama (ninth state I've lived in in just over three decades), but we've adjusted over the past few years and found many things to like about it. Are you near Lake Guntersville, by any chance?
---
| | | |
| --- | --- | --- |
| RE: Bungalow Bath Finished! | | |
No, not Lake Guntersville. Alabama has so many great lakes from Martin, to Weiss, to Wedowee and on. It's beautiful up north and of course there's the gulf down south.
I really like that light fixture from Lowes. We also have the larger version outside of the exterior doors. I didn't know it was discontinued though.
---
| | | |
| --- | --- | --- |
| RE: Bungalow Bath Finished! | | |
Oh, I am in love! What a wonderful bungalow and setting! Your kitchen is delightful (love the cabinet color) and the floors are lovely. The purple/grey bedroom with those blue doors-so pretty. In fact all the paint colors are perfect. The entire place is a dream. Thanks for posting the pictures.
---
| | | |
| --- | --- | --- |
| RE: Bungalow Bath Finished! | | |
Equest, this is just gorgeous! Love all of it, and can't believe it's a budget addition. Are you near Guntersville? That is my hometown and we don't live far away now. When you mentioned sailing it could have been any of Alabama's lakes or rivers or the Gulf.
---
| | | |
| --- | --- | --- |
| RE: Bungalow Bath Finished! | | |
Lake_Girl, you might still be able to order the lanterns online, but they aren't available in Lowes anymore. I actually bought the displays at two stores and got the last one in the box. I bought one of the larger lantern size and am in the process of converting it to a pendant version to hang over the tub. I hope it works out, but if not, it was cheap and no big loss.

Thanks so much Cyn. I wish I had photos of the living and dining rooms with the refinished floors. It really brightened it up. We've come a very long way from the almost condemned condition in which we purchased the house, but it's generous praise like yours that makes me realize we aren't crazy for loving it so!

Outsideplaying, thank you for commenting. We were really blessed to have the loadbearing walls and water/drain access; that is what kept the budget fairly reasonable. And I accumulated deals for about four months before construction began, so having a big shop in which to store everything was great!

I'm probably about an hour from Lake Guntersville. I've actually never been, but I hear it's beautiful. I don't know where the family historically sailed, but we're just a mile or two from the Tennessee River, so I imagine it was there. The heir (from whom we bought the house) keeps a big sailboat down in Pensacola now, so it could have been anywhere!

Just like Maria Von Trapp, here are a few of my favorite things about the bath!

Furniture style vanities: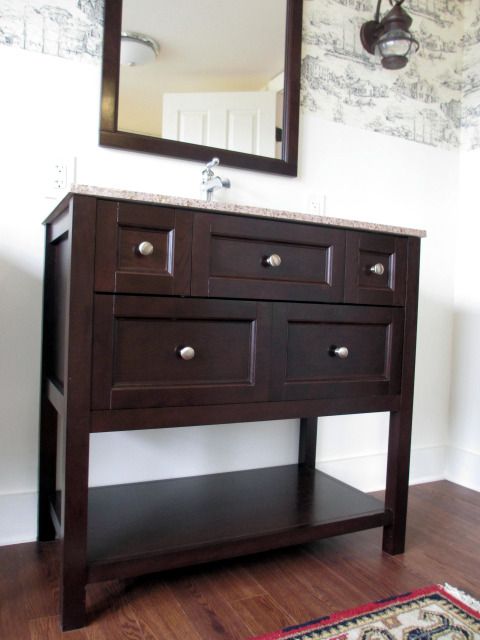 (BTW, thanks everyone for input about the mirrors. We went vertical and I really love it, but I think horizontal would have worked, too.)
Floor mounted faucet: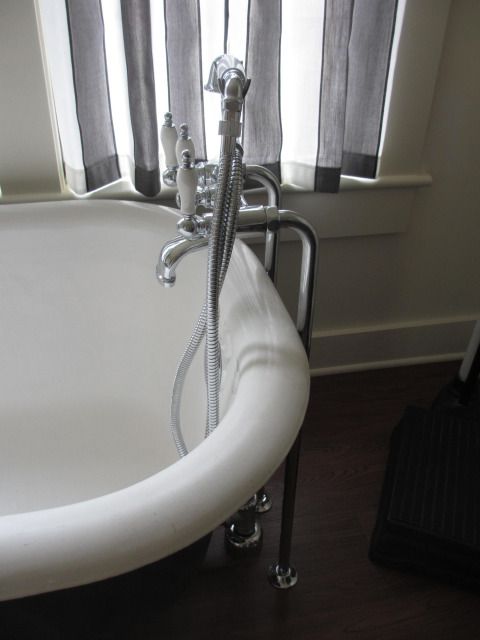 Shampoo niche: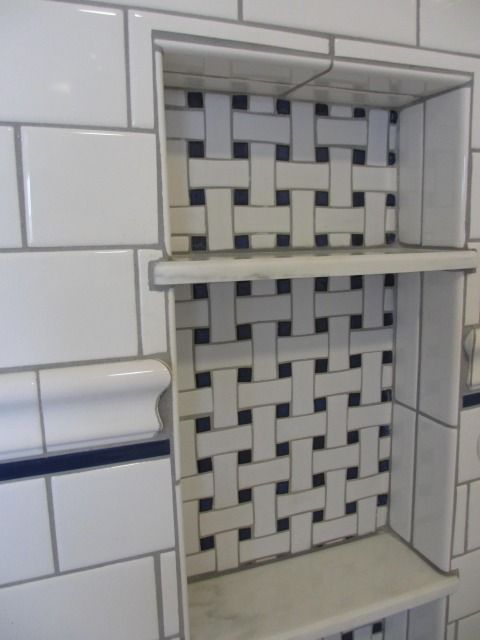 Open faucets:

Those cute onion lanterns: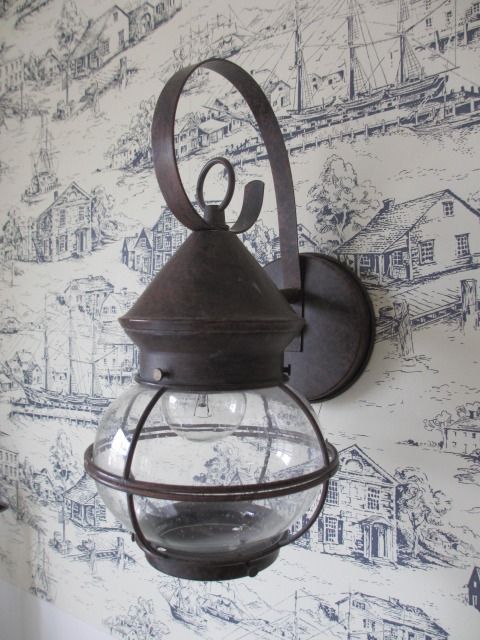 ---
| | | |
| --- | --- | --- |
| RE: Bungalow Bath Finished! | | |
Post a Follow-Up
Please Note: Only registered members are able to post messages to this forum.
If you are a member, please log in.
If you aren't yet a member, join now!
---
Return to the Home Decorating & Design Forum
Information about Posting
You must be logged in to post a message. Once you are logged in, a posting window will appear at the bottom of the messages. If you are not a member, please register for an account.
Please review our Rules of Play before posting.
Posting is a two-step process. Once you have composed your message, you will be taken to the preview page. You will then have a chance to review your post, make changes and upload photos.
After posting your message, you may need to refresh the forum page in order to see it.
Before posting copyrighted material, please read about Copyright and Fair Use.
We have a strict no-advertising policy!
If you would like to practice posting or uploading photos, please visit our Test forum.
If you need assistance, please Contact Us and we will be happy to help.

Learn more about in-text links on this page here