Return to the Home Decorating Forum
|
Post a Follow-Up
---
| | | |
| --- | --- | --- |
| Plantation shutters. Half window only? | | |
Posted by
ponydoc
(
My Page
) on
Wed, Feb 27, 08 at 12:52
Hi everyone,

I am new to this forum but have been reading/posting on the homebuilding and kitchen forums.

We are building a new home - in fact starting to move in this weekend. We are in a private area- rural, lots of windows with good views. We are doing esentially no window treatments except for two bathroom windows. We have a first floor bathroom with a very large double hung that looks to the front porch. Had the shutter guy out today to give me estimates for shutters for these two windows only. I wanted shutters on the bottom 1/2 only. He said that most people were unhappy with bottom only shutters and encouraged us do the whole window. Our house is a colonial/farmhouse type and I think bottom shutters would be just fine. These are $$$$$ treatments - it would cost 500/window for full shutters. They are the nice Polywood type.

I am going with 1/2 shutters unless someone can show me they will look bad! LOL

Any experience here?

PD
---
Follow-Up Postings:
| | | |
| --- | --- | --- |
| RE: Plantation shutters. Half window only? | | |
Are you going to do a valance treatment over the window? I think a valance with a 1/2 shutter would look pretty.
---
| | | |
| --- | --- | --- |
| RE: Plantation shutters. Half window only? | | |
I love our half shutters in the bathroom - wouldn't want it any other way. We've had them up for about 5 years and I still love them. They keep the bathroom light and bright but private, and we have a variety of options - open all the way, closed all the way, closed with just the louvers open, etc. Go for it, PD!
---
| | | |
| --- | --- | --- |
| RE: Plantation shutters. Half window only? | | |
The shutters on my family room windows go only halfway up, and I prefer that (the photo doesn't show it especially well). They are there principally for privacy -- I wanted the rest of the window open to let in the light and view without obstruction. If that's what you want, don't let anyone talk you out of it.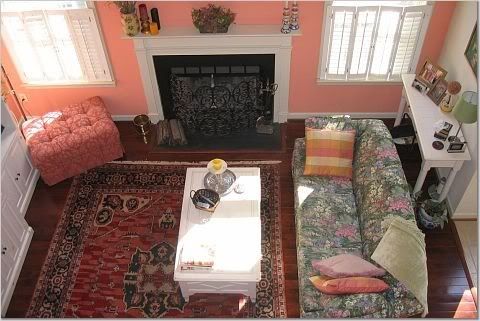 ---
| | | |
| --- | --- | --- |
| RE: Plantation shutters. Half window only? | | |
A girlfriend built a house a few years ago and they wanted shutters on their first floor windows. One of those was a bath and one a bedroom. They did "the towel test" in which she stood in the room w/ a towel wrapped around her (like just getting out of the shower). He went outside and stood on the porch, the driveway and the street to see how much he could "see". They determinded that 1/2 was not enough and full was not what they wanted.

They ended up going w/ 2/3rd shutters and LOVE them that different height. The saleslady wasn't too sure about that since she had never sold any that height. After they were all installed, the same saleslady LOVED them and the look and took pics of the house for their showroom. She said that few folks think about the "view" factor until they are installed and it is too late! Then they have to either re-order another pair for the top ($$!) or figure out a WT.

Just thought you might want to double check your "view" inside as well as outside! LOL!
---
| | | |
| --- | --- | --- |
| RE: Plantation shutters. Half window only? | | |
I love the look of shutters on the bottom half of a window without valance espeically in a bathroom. Go for it..
---
| | | |
| --- | --- | --- |
| RE: Plantation shutters. Half window only? | | |
I did shutters on a large kitchen window with a custom fabric shade on top. The shade was made short so it only pulled down to the top of the shutters. It was very pretty.
You might want to consider making the shutters slightly more than half. It could look chopped in half if it's exactly half of the window (depends on what you want to see from outside I suppose.
---
| | | |
| --- | --- | --- |
| RE: Plantation shutters. Half window only? | | |
We had half-height shutters in a old house and I loved them -- very practical. They hid the fence but showed the treetops.

I asked the window-treatment person for bottom-up shades in our master bath but allowed myself to be talked out of them when she said they looked funny. And I always regretted it!

Get what you want!
---
| | | |
| --- | --- | --- |
| RE: Plantation shutters. Half window only? | | |
There is less chance of warp or sagging if you do the whole window.
---
| | | |
| --- | --- | --- |
| RE: Plantation shutters. Half window only? | | |
karenforroses, I love your little shutters. Can you tell me where you bought them? Was it on-line or locally? Thanks
---
| | | |
| --- | --- | --- |
| RE: Plantation shutters. Half window only? | | |
I did my windows in the breakfast area that way and I love it. I've considered valances but we've lived with it just like this for over a year. The rest of my house has full shutters but for certain areas I like the half. Privacy isn't an issue for us at the table since the next house is pretty far away and this end of the house is high anyway. I love the way it opens up the view. I say do it!
---
| | | |
| --- | --- | --- |
| RE: Plantation shutters. Half window only? | | |
Thank you Thank you!!''

I am doing the half windows. Our windows are large, but with the shutter you wont' be able to see in. We live in the middle of 65 acres so we are not worried about someone seeing from a distance - just people seeing from the porch. It's my MILs bathroom ( she will be living with us) on the first floor. We also decided to do the main bath on the second floor as it's the one overnight guests would use. If it were just us..... well LOL - gawk awasy!

Here's the curtain we are using on the top of the MILs window with the half shutter.

Thanks again. Now my window treatments for the whole hose ( 30 some windows!) are done!
PD
---
| | | |
| --- | --- | --- |
| RE: Plantation shutters. Half window only? | | |
Brutuses, we ordered them on-line, but I noticed the other day that Lowes is carrying the same brand. (I can't remember the name of them, or I'd give you the source - it's been about 5 years - but the ones at Lowes are definetely the same. They will measure and special order them.
---
| | | |
| --- | --- | --- |
| RE: Plantation shutters. Half window only? | | |
I am just now researching this same thing. I just ordered faux wood 2" blinds for two bedrooms from J.C. Penny. Really good sale. But the shutter prices were to much $$$$$. I think they quoted me $141.00 per window.
I have found some good pricing at netshutters.com around $65.00 for the same window. These are in my kitchen are I need the cafe shutter 19 1/2" wide & I need 26" high. That is just beyond the sash.
Now in the master bath I am also doing the cafe shutter and I have three windows mulled together. I need the shutter to be 75" long and 32" high. Again, netshutters had the best price.
I asked on this forum about blinds and shutters and someone on here said she got some from this company and was happy with them. They are not the same quality as hunter douglass but lots less $$$$$
Does anyone know where the top of a cafe shutter should be? I thought that it should just about cover the window latch. So I figured 1 inch above the window sash!!
---
Post a Follow-Up
Please Note: Only registered members are able to post messages to this forum.
If you are a member, please log in.
If you aren't yet a member, join now!
---
Return to the Home Decorating Forum
Information about Posting
You must be logged in to post a message. Once you are logged in, a posting window will appear at the bottom of the messages. If you are not a member, please register for an account.
Please review our Rules of Play before posting.
Posting is a two-step process. Once you have composed your message, you will be taken to the preview page. You will then have a chance to review your post, make changes and upload photos.
After posting your message, you may need to refresh the forum page in order to see it.
Before posting copyrighted material, please read about Copyright and Fair Use.
We have a strict no-advertising policy!
If you would like to practice posting or uploading photos, please visit our Test forum.
If you need assistance, please Contact Us and we will be happy to help.

Learn more about in-text links on this page here