Return to the Home Decorating & Design Forum
|
Post a Follow-Up
---
| | | |
| --- | --- | --- |
| Foyer Table Help | | |
Posted by
grlwprls
(
My Page
) on
Fri, Feb 15, 13 at 12:46
Sigh. First, let me be clear that these are boudoir lamps. I know. They were in my grandparents' bedroom for *decades*. So long that even though my grandmother passed a few years ago, they still smell faintly of her perfume. Second, the mirror belonged to my husband's great grandmother.
We inherited these things because we "lived in New Orleans." Of course, we don't live there now, but I have a sentimental attachment to both pieces - so they are "non-negotiables".
Our first floor is generally two rectangles, fairly open to each other, until you get around the corner to the kitchen.
Admittedly, these over the top lamps don't really go with the rest of our first floor aesthetic, but I need to create cohesion with accessories.
To refresh, here's the (still being accessorized) family room: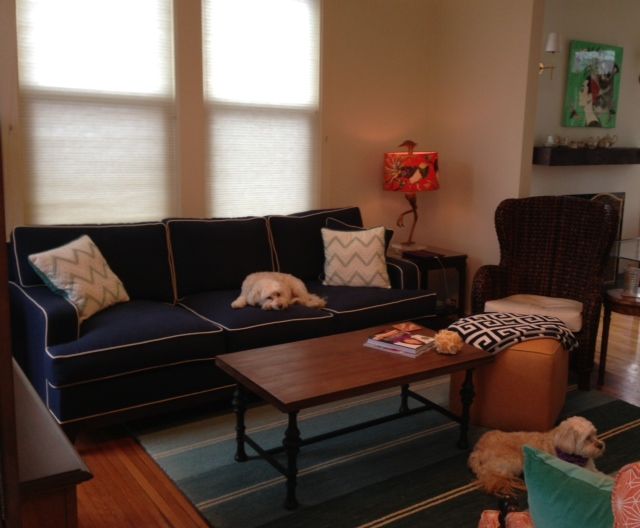 How would you blend these more ornate pieces into this overall scheme? Since I hang out in kitchens, if dimensions would help - table top, lamp height, etc. - I can provide them. Obviously, right now it isn't working and I honestly have no solid ideas.
---
Follow-Up Postings:
| | | |
| --- | --- | --- |
| RE: Foyer Table Help | | |
I would make a trumeau out of a large sheet of plywood, paint, add moldings, attach your mirror to it to bal out the lamps. A painting above the mirror could be added as well
I could also see having a piece of marble, granite, etc cut to fit the cabinet top, sine the lamp pair is OTT...run with it.
A trumeau would also be an homage to New Orleans.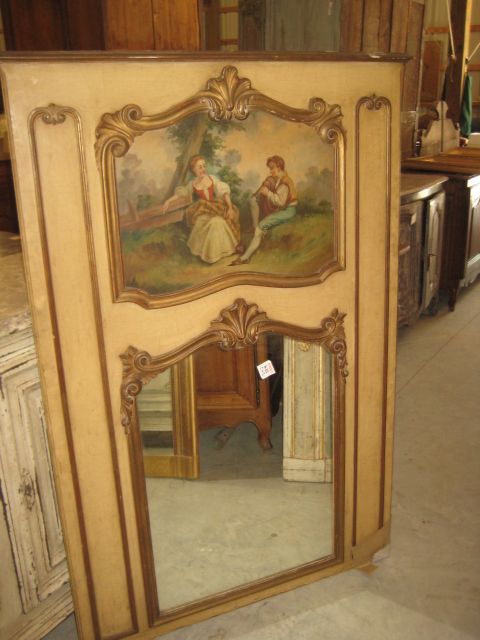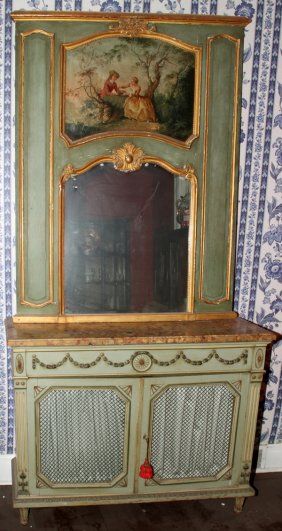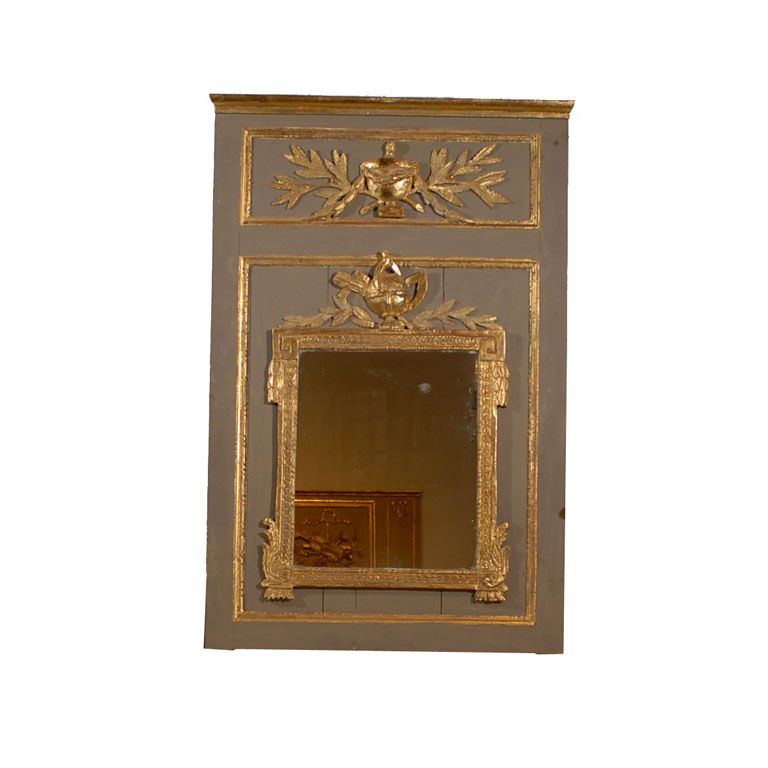 ---
| | | |
| --- | --- | --- |
| RE: Foyer Table Help | | |
First of all, I love your sideboard and family room.

I think the mirror can easily work with the sideboard. But the lamps are pretty overwhelming. Do have to stay on sideboard or they be anywhere in the space?

I was thinking maybe of putting them on either side of the navy sofa.
---
| | | |
| --- | --- | --- |
| RE: Foyer Table Help | | |
I would put the lamps back in a bedroom, like a very romantic guest room with lace, ruffles, etc.
---
| | | |
| --- | --- | --- |
| RE: Foyer Table Help | | |
How about different shades on your lamps? White, maybe. Black looks too stark. Then get a peice of thin stone (granite or something like it) in a light color for the top of your beautiful cabinet...love the carving. You could even use a peice of glass and put a longish crocheted doily under it. Now for the mirror.....I like what chijim pictured with a picture above the mirror, but if you change out the shades, put something lighter on the top of your chest, hang the mirror about one or two inches higher, you may not need anything else..I would add a pretty low vining plant between the two lamps..
---
| | | |
| --- | --- | --- |
| RE: Foyer Table Help | | |
maybe paint your foyer table??
---
| | | |
| --- | --- | --- |
| RE: Foyer Table Help | | |
Yes, I think we're off to a good start lightening up the top of the buffet. And I will definitely look into changing the shades. I love black lampshades, but perhaps a cream or gold would work better in this application.

Sadly, we don't have a guest room, really, and my husband is sort of dead set against these living in our bedroom (as am I, really. They are so not my real style, but the funny thing is, they work better in this house than they did in my New Orleans house - which was a corner grocery store)

It just so happens that I'm having the countertops in my kitchen installed Monday, so I'll check into having a remnant fabricated for the top. Easy enough to raise the mirror - I hung it there because there was a hanger already installed there and that sucker is heavy - as is the buffet. Maybe if I sweet talk my contractor his guys can move it. Maybe I can even faux up a trumeau...or just a framed accent color. The foyer is pretty...blah. I seriously cannot wait until the new 5 panel door is delivered for the power room. Because a hollow core door right next to the dining room table? Dear lord, *no*.

Excellent guidance, everyone. Thanks. I'm starting to feel like this is more doable.
---
| | | |
| --- | --- | --- |
| RE: Foyer Table Help | | |
Here are similar lamps with lighter shades. Just so you can see how they look.
---
| | | |
| --- | --- | --- |
| RE: Foyer Table Help | | |
I would decorate my house to match the mirror and lamps! Beautiful! I've seen similar lamps on buffet tables, big and bulky and they were perfect. I was so used to seeing tall & skinny buffet lamps (I have two), and now I realize lamps like your's look even better.

However, if you don't decorate in that style, the lamps won't work in the foyer. If you do keep them there, I like the idea of white or cream shades also.

The mirror is to die for.
---
| | | |
| --- | --- | --- |
| RE: Foyer Table Help | | |
I absolutely love chijim's suggestion. The 3rd photo looks like a great inspiration look. I wonder if shades like that would work on your lamps.
---
| | | |
| --- | --- | --- |
| RE: Foyer Table Help | | |
Without doing something along the lines of what chijim suggested, I'm not seeing how to really make them work in that space. The only other thing I thought of (and many will consider as blasphemy of some sort) is to paint them in some solid color -- white, gray, orange, etc. --, add more modern shades, and go all Jonathan Adler/Dwell with the vignette.
---
| | | |
| --- | --- | --- |
| RE: Foyer Table Help | | |
I love that the lamps still smell faintly of your grandmothers perfume.

I think you should lean more into the delightful aspect of the lamps rather than try to blend them in. As chijim is suggesting, try exaggerating on their style in that portion of the room. Maybe a bold wallpaper on that wall or an oriental on the floor in saturated colors pulled from the lamps. Or both.
---
| | | |
| --- | --- | --- |
| RE: Foyer Table Help | | |
I'm with French_Fry - paint the table! It will look smashing in a fun color - orange or bright green come to mind. Or paint it black, which I love for a table. If you do that and maybe paint the wall, I think the black shades will work. The lighter shades are nice too but there is something chic about a black shade.
This post was edited by mamorella on Sat, Feb 16, 13 at 13:59
---
| | | |
| --- | --- | --- |
| RE: Foyer Table Help | | |
Love Jim's trumeau idea but would keep it simple like the 5th one in the bdrm he posted. Much easier to accomplish as a DYI, and the horizontal weight would better balance the scene. I'd also add a stone top in a richly veined remnant, though I can see black with gold veining as easily as a light stone, especially with the black shades though I'd install a gold or rose interior to enrich them whether lit or not. The other thing I'd do is a damask stencil in a tone on tone (could be an eggshell in the same or slightly darker white) or adding a cream moire paper on at least the wall behind the credenza. If that would drive you nuts then consider a soft color paint in the foyer even if it opens into the other areas. The unadorned white works against the heirlooms as they almost cry for OTT as Jim said. It wouldn't bother me that the foyer reads differently than the other parts of the house; in fact, I have a more traditionally furnished foyer despite the rest of my furniture being more contemporary. Pay homage to your family heirlooms and celebrate them in this confined space. And as you know from your time there, many NOLA homes are alive with vibrant quirkiness, a dash of color and a touch of mystery and that's a great way to welcome guests.
---
| | | |
| --- | --- | --- |
| RE: Foyer Table Help | | |
I'd love to see another photo from straight on to get a better idea. It's possible that the mirror is too small for the lamps and hence chijim's suggestion.
---
| | | |
| --- | --- | --- |
| RE: Foyer Table Help | | |
When you say "non-negotiable", does that mean they have to stay in the foyer? I would move them to a bedroom as someone else suggested. If you have a large bathroom, they could be fabulous in that setting as well since baths can often be a spot for ornate over-the-top decor! I have things that are also dear to me that aren't quite my style, but I find ways and/or places to help them fit into my home and not be disruptive to the rest of the things in any particular area.
---
| | | |
| --- | --- | --- |
| RE: Foyer Table Help | | |
Couldn't the lamps go on each side of a couch? They are a bit big for the hall table and kind of detract from it..
---
| | | |
| --- | --- | --- |
| RE: Foyer Table Help | | |
I think that the lamps or the mirror have to move. It's too much over the top detail to have them all there together. The mirror would be easier to integrate elsewhere, so I'd vote to do a simple beveled mirror there with no frame as a backdrop for the lamps. Then put the mirror over a fireplace or in a powder room or some other location. Put lighter shades on the lamps, and do a darker wall color. I can really see a rich purple gray working well there--or a navy blue like your couch. It will look modern and yet echo the frilliness of the lines of the lamps. That will also make the buffet work better when you can see a contrast between the wall color value and it's value.
This post was edited by GreenDesigns on Sun, Feb 17, 13 at 10:21
---
| | | |
| --- | --- | --- |
| RE: Foyer Table Help | | |
Non-negotiable generally means that, either they go here, or they go nowhere. Sadly, my remuddled 1920's house just doesn't have very many walls where things can be hung of this size. We don't even have a single bedroom where there is more than 30" of continuous wall space where you won't run into a wall, a door, or a (don't even ask) sliding hollow core "barn door". Then, add in the complication that someone decided to build a gigantic closet between two rooms so that the windows die into the corner formed by the closet. The second floor is really a wreck thanks to remuddling that we cannot afford to remedy at this point. We were able to smooth out some of the first floor wrinkles, but we couldn't perform miracles in terms of reworking the space. It's funny, all these case goods seemed so *tiny* in our house with 15' ceilings, but in this little 1920s cottage they seem immense.

The lamps go even less with my living room than with the foyer in my mind, so I'm genuinely surprised at the suggestions to put them in the family room!

As you can see the foyer table/former buffet is 68" and it is the *only* wall in the entire downstairs where it had any hope of fitting. This is what I mean about tiny wall spaces. Theoretically, it would fit on one wall in the dining room, but then we couldn't have a rug in there. The layout of this house has been a complication, for sure! And the foyer is small...a 4x6 rug is the only size that will fit in there because of where the stair landing falls.

I'm going to mock up some of these suggestions and see where that gets me. Ideally, I'd love to have an open console table in the foyer, but then I'd have nowhere to put that (expensive) buffet and I think my husband would kill me...
---
| | | |
| --- | --- | --- |
| RE: Foyer Table Help | | |
I'd be afraid that white or cream shades will make them look even more like they belong in a bedroom and possibly wash them out. Looks like the figures have a lot of pink, but is there a blue or green that you could pull out of them to tie in with the living room? That would give you some color there as well.

Try laying a table cloth or towel across the top of the buffet to see if you really like a lighter top. It might wash out with the figures and the wall. If you are willing to paint the wall, then the lighter top and/or lighter shades might be better, but I want to see more color in there somewhere -- colored shades, color or black buffet top (again, test the idea with some fabric - a runner, table cloth, towel or anything that will let you easily change and test ideas).
---
| | | |
| --- | --- | --- |
| RE: Foyer Table Help | | |
Paint the buffet in bright white -- which would actually help the lamps to blend into the setting.

Then paint the frame of the mirror in bright white too -- a fresh modern look.

Re-hang the mirror a bit higher on the wall to compete with the lampshades.

Move the lamps further out to the sides -- this is a matter of playing with inches -- try to move them a bit -- and then stand back and look again.

Try the black lampshades after you re-paint -- OR experiment -- and paint a paper lampshade in hot pink.
---
| | | |
| --- | --- | --- |
| RE: Foyer Table Help | | |
I, too, live in an older home with lots of windows and very little wall space for furniture so I think I understand your dilema. We've had to get rid of many things because of it.

I think your buffet is beautiful. The wall you have it on looks like a good match. The mirror is lovely and so are the lamps. Pieces that have meaning are worth keeping around.

I'd still love to see a photo straight on to get a better idea if raising the mirror would help. No sense in adding another hole in your wall if it won't. It would also give a better perspective of the lamps in relation to the buffet. The black shades look great too.

A larger piece of artwork might balance things out better than the mirror, but that's only an though..

Don't get discouraged - there's always something that will work and if you are happy, that's what is important!
---
| | | |
| --- | --- | --- |
| RE: Foyer Table Help | | |
If there is a blue or green you could pull out of the lamps perhaps you could use it to paint the buffet. Then do some old gold rub and buff on the carvings and edges. But I would probably just pack up the lamps I would wait until you are in a house with a guest room or dressing room for yourself where they would look great because they were suited to their context. Wait and use them in your forever house. Or if this is the forever house, put them away until you can convert one of the kids bedrooms to a guest area.
---
| | | |
| --- | --- | --- |
| RE: Foyer Table Help | | |
Although it's hard to wrap your head around painting a lovely wood piece, I think yours would look really nice painted.

I will post two photos of pieces that have been painted. Both are from places that I have personally purchased from or had my pieces painted. I would not take on the project myself, but that's just me. I'm just showing you these as examples.

Seeing the other room in your home, I think the piece would look great in a dark tone - even a deep gray or navy.

I love the lamps. And because they are so special to you - I absolutely think you can make them work there.
---
| | | |
| --- | --- | --- |
| RE: Foyer Table Help | | |
Post a Follow-Up
Please Note: Only registered members are able to post messages to this forum.
If you are a member, please log in.
If you aren't yet a member, join now!
---
Return to the Home Decorating & Design Forum
Information about Posting
You must be logged in to post a message. Once you are logged in, a posting window will appear at the bottom of the messages. If you are not a member, please register for an account.
Please review our Rules of Play before posting.
Posting is a two-step process. Once you have composed your message, you will be taken to the preview page. You will then have a chance to review your post, make changes and upload photos.
After posting your message, you may need to refresh the forum page in order to see it.
Before posting copyrighted material, please read about Copyright and Fair Use.
We have a strict no-advertising policy!
If you would like to practice posting or uploading photos, please visit our Test forum.
If you need assistance, please Contact Us and we will be happy to help.

Learn more about in-text links on this page here