Return to the Home Decorating Forum
|
Post a Follow-Up
---
| | | |
| --- | --- | --- |
| calling Palimpest please | | |
Posted by
decordummy
(
My Page
) on
Sun, Feb 19, 12 at 12:38
Awhile ago someone posted a link to a site where you could create designs with tile and then change the grout colours. I thought maybe it was your post? If so could you please post it again? Many thanks.

http://ths.gardenweb.com/forums/load/decor/msg0211384723037.html?16273
---
Follow-Up Postings:
| | | |
| --- | --- | --- |
| RE: calling Palimpest please. | | |
| | | |
| --- | --- | --- |
| calling palimpsest please | | |
Palimpsest please forgive the spelling error.
---
| | | |
| --- | --- | --- |
| RE: calling Palimpest please | | |
This sounds familiar, but I can't remember if it was me who posted it or not. I will have to look in my bookmarks.
---
| | | |
| --- | --- | --- |
| RE: calling Palimpest please | | |
Thanks very much Palimpsest.
---
| | | |
| --- | --- | --- |
| RE: calling Palimpest please | | |
I have figured out it was me, and I can visualize playing with the tile colors, now all I have to do is remember the site :(
---
| | | |
| --- | --- | --- |
| here's one | | |
At American Universal you can create tile patterns with Octogon and Dot but I don't think this is the one you mean.
Here is a link that might be useful: American Universal
---
| | | |
| --- | --- | --- |
| RE: calling Palimpest please | | |
I'm not sure about the original link either, but since the other thread you referenced was about grout color, here are some tools all allow you to play with different grout colors, after choosing color blends of tiles, so maybe these will help. The first two are tile companies that sell custom blends of glass tiles:

Susan Jablon Custom Mosaic Blend Designer

Hakatai Custom Blend Tool, and Custom Gradient Tool

These last two are companies that cater to mosaic artists:

The Joy of Shards Grout Color Simulator

If you play with any of these, you start to get a feel for how much the grout color affects the end result. I sometimes play with mosaics, and it's really amazing how choosing the right (or wrong) grout color can make or break a piece. (Actually for me it can be slightly terrifying at times.) I often do test boards on a scrap of wood to really get a feel for the end result, too, and that helps.
---
| | | |
| --- | --- | --- |
| RE: calling Palimpest please | | |
Thank you Palimpsest and Mudhouse. The one that I was thinking of was Hakatatai (but very glad to have the additional sites as well). It really helped me to understand how the grout colour affects the overall look, I'm hoping it may help Martinca too.
---
| | | |
| --- | --- | --- |
| RE: calling Palimpest please | | |
Yes! Thank you pal, and mud ( vaudeville team?,) ...and deco. You are all great to so generously offer this help! Marti ( op from orig. thread)
---
| | | |
| --- | --- | --- |
| RE: calling Palimpest please | | |
I forgot about Hakatai, because it is glass and I was picturing ceramic. Thanks for reminding me it has this tool.
---
| | | |
| --- | --- | --- |
| RE: calling Palimpest please | | |
| | | |
| --- | --- | --- |
| RE: calling Palimpest please | | |
OH Thanks for all these links. Bookmarked this thread.

I agree mudhouse. It can be terrifying to choose the wrong color grout. Also smearing grout=cement all over your work and hoping you get it off soon enough but not too soon.

I just did our kitchen back splash. Took me a couple of weeks to work up the nerve for the grout. Pictures not for the faint heart. LOL I have a different way of decorating. WAY different.
Here is a link that might be useful: Pictures 145 to 157 And some of that grout smearing going on.
---
| | | |
| --- | --- | --- |
| RE: calling Palimpest please | | |
Idaho, nice work! I would love to do something creative in my kitchen too, but no plan in place yet. The only thing I've done inside the house so far is a small border in a bathroom. Working on real house walls is still scary. You're brave.

On my last project I worked with a much drier/stiffer grout mix, which kept my messiness tamped down, and I find I can grout smaller areas at a time with less stress about the timing as you mentioned. DH wisely keeps a wide berth when I'm grouting.

You've obviously mastered glass cutting, too. I'm still a low-level tile cruncher. Here's a potting bench counter we built for my greenhouse a few years ago. The thing in the middle with round holes is a painted metal grill I can remove to sweep dirt into a bin below. This was just terra cotta colored grout (dirt colored, duh) so not too stressful.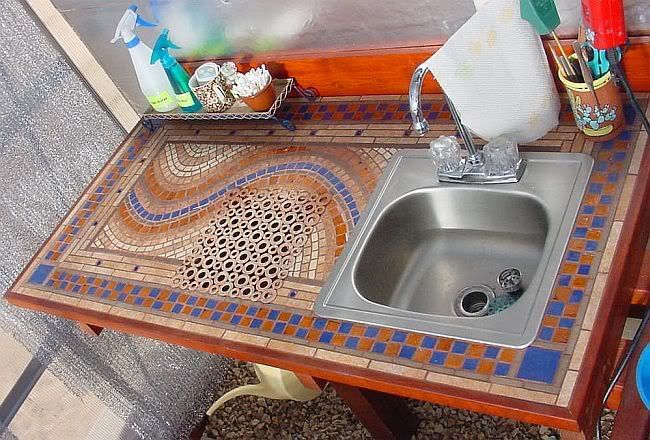 ---
| | | |
| --- | --- | --- |
| RE: calling Palimpest please | | |
mudhouse that is great. Love the removable grill idea.What is your silver wall behind the sink?

Yes doing it on walls can be scary. I got over that. This is our forever house and could care less about resale. When we are gone it all goes to an animal sanctuary. So for once in my life I am going to play. I grouted the glass panels I made before adding them to the walls. I still had to go over all the joins so it smeared more then I really had planned on. It was fairly easy wiping down the panels it was the joins that was tricky. I am glad I did it.

As far as cutting glass I can do a little of it. But what I did here was hit and miss because nothing had to be very accurate. Grab yourself a cutter and just go for it. Do not push too hard and keep the cutting wheel oiled a bit.
---
| | | |
| --- | --- | --- |
| RE: calling Palimpest please | | |
The silver wall is foil-faced insulation for the cold north wall of the little greenhouse. The silver curtain stuff to the left is woven aluminum shadecloth. I was disappointed that my greenhouse looked like the Starship Enterprise with the materials required for practical purposes, so was glad to add some funky warmth with the tile colors.

Thanks, I had wondered about doing panels for a backsplash (that way, if someone wanted to change them, they could remove the panels without destroying all the work, too.) If/when I have a forever house, I'll be dangerous. Thanks for the encouragement on glass cutting.
---
Post a Follow-Up
Please Note: Only registered members are able to post messages to this forum.
If you are a member, please log in.
If you aren't yet a member, join now!
---
Return to the Home Decorating Forum
Information about Posting
You must be logged in to post a message. Once you are logged in, a posting window will appear at the bottom of the messages. If you are not a member, please register for an account.
Please review our Rules of Play before posting.
Posting is a two-step process. Once you have composed your message, you will be taken to the preview page. You will then have a chance to review your post, make changes and upload photos.
After posting your message, you may need to refresh the forum page in order to see it.
Before posting copyrighted material, please read about Copyright and Fair Use.
We have a strict no-advertising policy!
If you would like to practice posting or uploading photos, please visit our Test forum.
If you need assistance, please Contact Us and we will be happy to help.

Learn more about in-text links on this page here